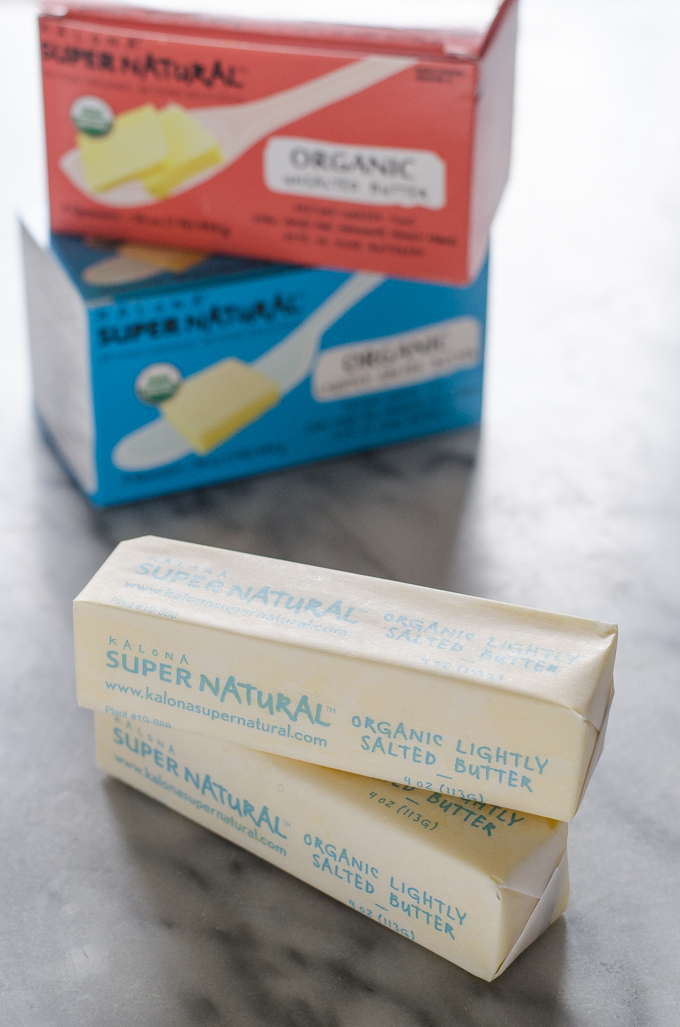 Today we're going to be talking about a subject that's near and dear to my heart: organic, grass-fed butter! If you know me for long, you learn that butter is one of my greatest passions (hence the name of my blog). Life without butter would be pretty bleak for me. ? So of course I jumped at the opportunity when my friends at Kalona SuperNatural asked me to talk about their pasture-grazed butter!
Let's dive in: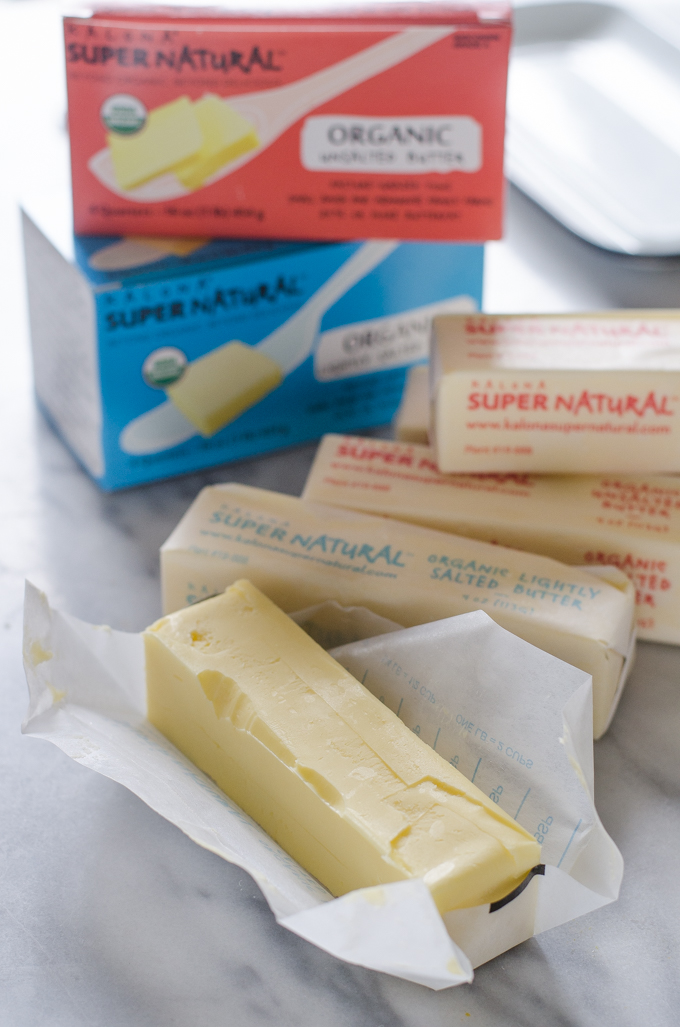 Ingredients:
Kalona SuperNatural lightly salted butter has just two ingredients: Certified Organic Grade A Sweet Cream and Celtic Sea Salt. I am super impressed that the folks at Kalona put in the extra effort to source good-quality, unrefined sea salt in their butter. Other organic brands just put "salt" on the ingredient list. So you can't really tell if it's a high-quality salt, or just highly processed table salt.
Their unsalted version (great for recipes that call for unsalted butter) contains just certified organic cream.
Benefits:
The cows that produce the cream for Kalona SuperNatural butter live on small Amish and Mennonite family farms in Iowa. They're pasture-grazed and grass-fed, which means that they're on pasture for a minimum of 120 days per year.
Cream from pasture-grazed cows is nutritionally superior for a few reasons:
First of all, when cows are allowed to roam freely and basically live the way God intended them to, they're much less likely to be chronically ill. The thought of cows that live in such bad conditions that they need routine shots gives me the shivers. I don't want to regularly consume that milk/cream.
Milk from grass-fed cows contains higher levels of omega-3 fatty acids, which are so important for good health. You must get them from your diet since your body doesn't produce them.
The omega-3 fatty acid that is higher in grass-fed milk is ALA (alpha-linolenic acid), which reduces the risk of heart disease.
Butter from grass-fed cows is higher in fat-soluble vitamins A, D, and K2, which are vital nutrients.
And that's just touching on some of the benefits of pasture-grazed vs feedlot milk/cream!
You can read more about the benefits of grass-fed milk and butter in this study entitled Greener Pastures, in this article from Dr. Axe about the nutrition of grass-fed butter, and on the Kalona SuperNatural website.
Quality:
The cream used for Kalona SuperNatural butter is special because of the way it's processed. Instead of being ultra-pasteurized, it's vat-pasteurized at just 145 degrees F. This is rare, even for most organic brands. It's the next best thing to raw butter! Perfect if you live in a state (like mine) where it's illegal to sell raw milk products in stores.
By the way, Kalona SuperNatural lightly salted butter took second place at the Iowa State Fair this year!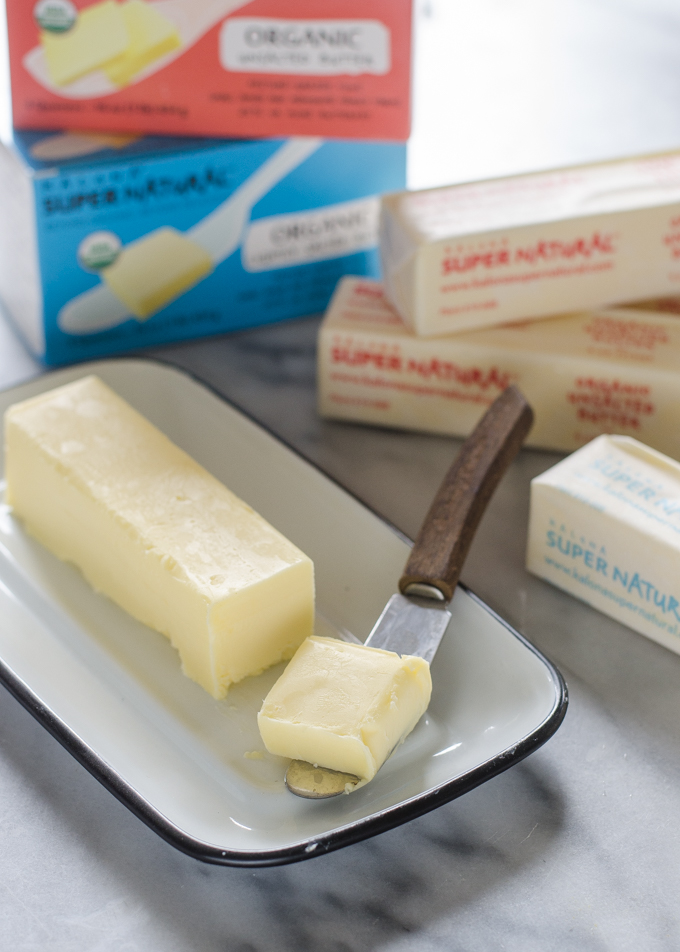 What Does Kalona SuperNatural Butter Taste Like?
I would describe the taste of Kalona SuperNatural butter as fresh, clean, and sweet. It's lightly salted. If you prefer a butter that doesn't have a super salty flavor, this is definitely a good choice.
How Can You Use Grass-Fed Butter?
A better question would be: How can you NOT use grass-fed butter? I seriously put butter on so many things. I've even put it on scrambled eggs. ?
Here are a few ideas for how to use grass-fed butter:
Add a pat to your rice bowls – this is seriously one of my favorites!
Fry your eggs, saute your veggies, and sear your steaks in it.
Most casseroles will have a huge flavor and texture benefit if you serve them with butter. I think of it kind of like a sauce!
Instead of leaving your pizza crust on your plate, spread it with butter – yum!
Top mashed, roasted, or baked potatoes with it.
Spread generously on sourdough bread or crackers.
Don't even think of eating Thanksgiving stuffing without adding a pat of butter!
Your life will never be the same after you put butter on hashbrowns.
If you'd like to take the flavor of your baked goods to the next level, try browning your butter!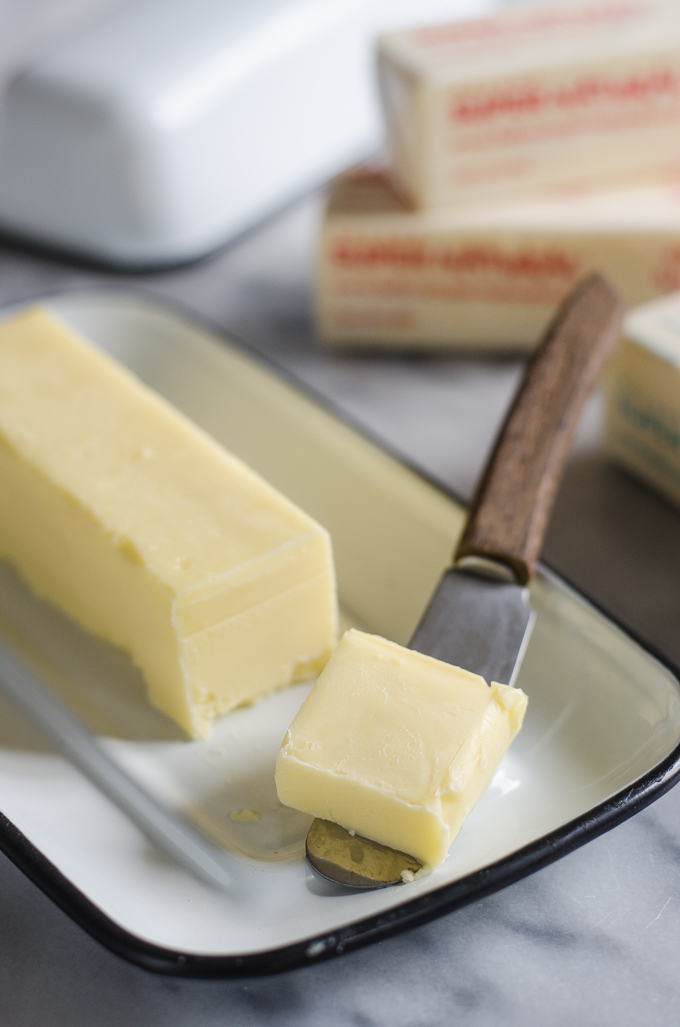 And here are just a few recipes that call for butter:
Breakfast:
Main Dish:
Side Dishes/Snacks:
Baking:
What are some of your favorite ways to use butter?