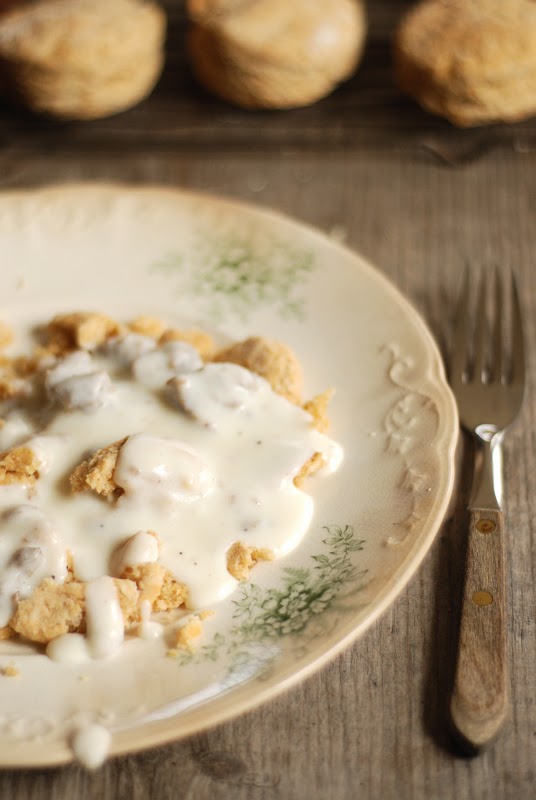 This post was originally published on November 9, 2010 on Cooking for Seven. It has been one of my favorite meals (breakfast, lunch or supper) for many years. I still use this recipe today. Speaking of which, I've been meaning to make this again…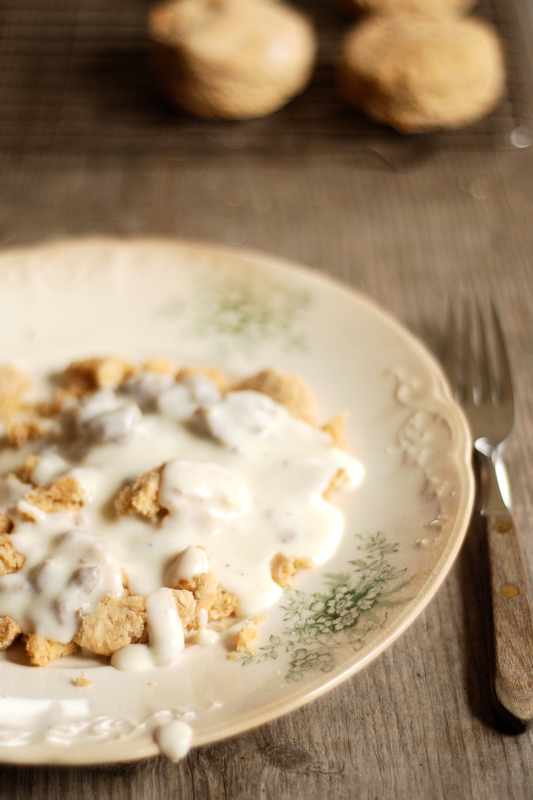 When I was a little girl (around eight or ten) I would always request Biscuits and Gravy for my birthday. To me, there was no meal more delicious.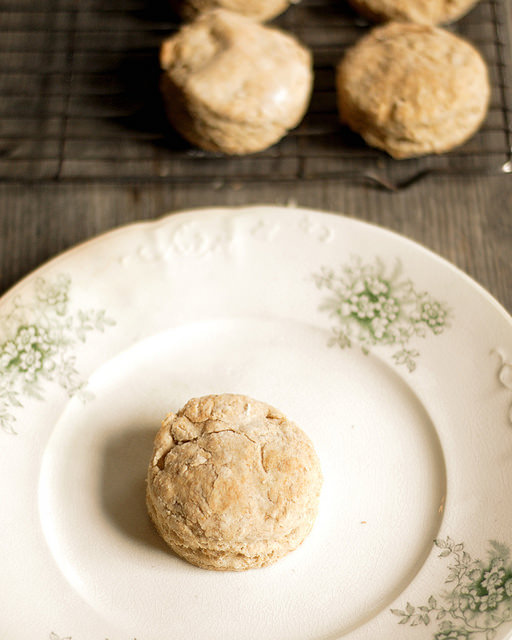 Hot, homemade biscuits.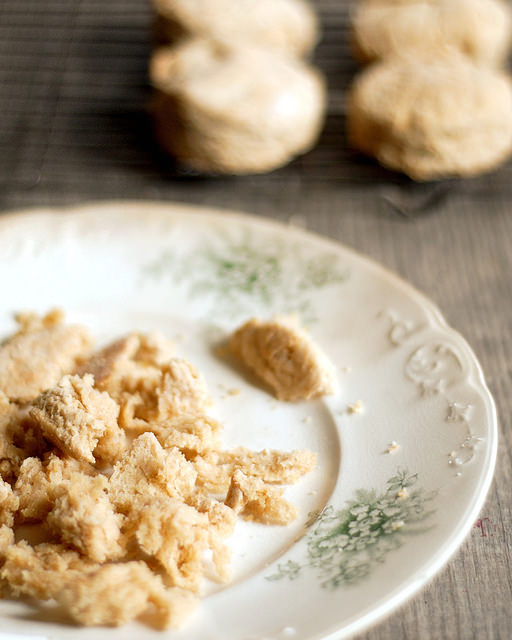 Crumbled, ready to receive some gravy goodness.
Notes:
I have included my favorite recipes for homemade sausage, gravy, and biscuits. You could, of course, use store-bought sausage, but I find that it is often filled with MSG.

We usually double or 1.5 times the biscuit recipe. One recipe makes about 12 biscuits.

I know this recipe looks long, but it's definitely worth it.
Homemade Biscuits & Gravy
For the Biscuits: (Makes about 12, double if desired)
2 cups (8 oz) whole-wheat pastry flour, divided
2 teaspoons baking powder
1/4 teaspoon baking soda
1/2 teaspoon sea salt
6 tablespoons cold butter, cut into small pieces or lard
3/4 cup plus 2 tablespoons buttermilk, plus more if needed
1 1/2 teaspoons salt
1/2 teaspoon rubbed sage
1/2 teaspoon rubbed summer savory
1/8 teaspoon ground nutmeg
3/4 teaspoon marjoram
1/2 teaspoon ground pepper
1 pound ground pork
12 tablespoons butter or lard
3/4 flour
1 1/2 teaspoons salt
3/4 teaspoon black pepper
6 cups milk
1) In a medium bowl, whisk together 1 3/4 cups flour, baking powder, baking soda, and salt. Add the butter and toss lightly with a fork to coat the butter with flour. Using a pastry cutter, a fork, two knives, or your fingertips, cut the butter into the flour. Work quickly to keep the butter firm.
2) Add 3/4 cup buttermilk; stir with a fork until the dough gathers into one large lump. Add more buttermilk if necessary.
3) Transfer dough to a flat surface sprinkle with remaining 1/4 cup flour. Roll the dough to coat with flour then pat out into a rough rectangle about 1/2-inch thick and fold into thirds. Repeat the patting and rolling. Pat the dough out to a thickness of about 1 inch. Using a 2-inch round cutter, cut out biscuits and place onto an ungreased baking sheet, placing the biscuits 1 inch apart as they will spread.
4) Bake 10-12 minutes or until the biscuits are golden brown.
1) Mix all seasonings with the pork thoroughly.
2) Crumble into a pan. Cook on medium heat until no longer pink. Set aside.
1) Melt butter in a saucepan set over medium-low heat. Blend in the flour, salt, and pepper. Cook over medium-low heat, stirring, until smooth and bubbly.
2) Slowly stir in milk. Increase heat to medium and cook, stirring constantly, until mixture thickens and comes to a boil. Boil and stir one minute. Add the sausage and stir.
Crumble one or two biscuits onto your plate. Ladle some gravy over the top. Season with salt and pepper to taste. Enjoy!
Serves approximately eight.