Tender blueberry scones made with Greek yogurt and topped with a lemon-yogurt glaze.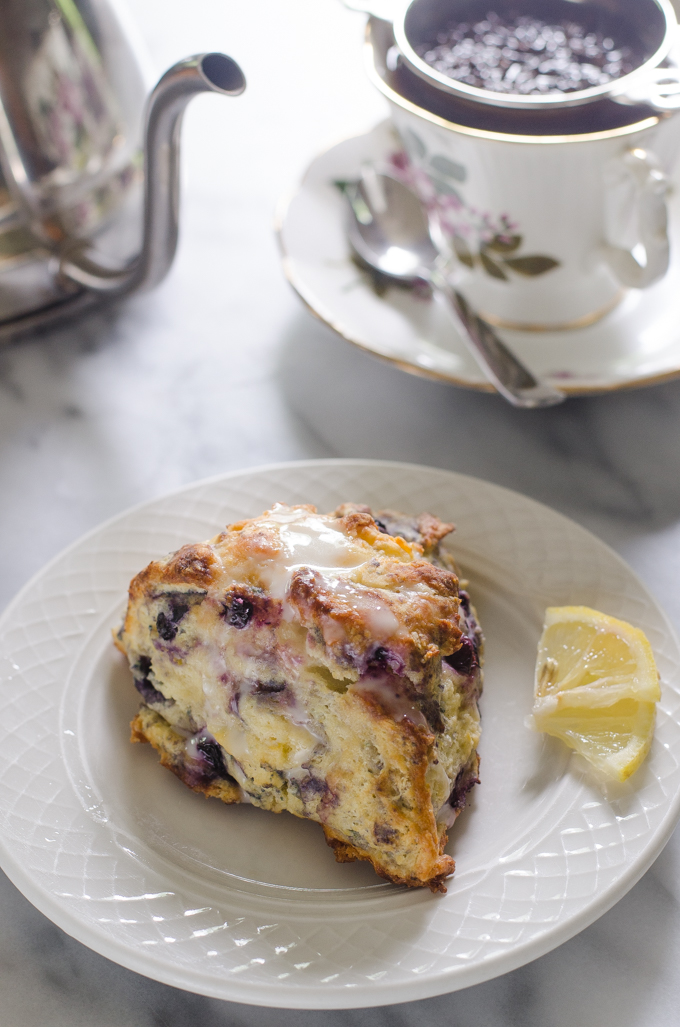 I used to think that scones were the dry, boring part of tea party food. Then I learned how to make soft, tender scones. Sure, they aren't proper and traditional. But they are scrumptious.
These blueberry scones are made with Greek yogurt and kissed with lemon. Then you drizzle them with a lemon-yogurt glaze for an extra bit of tangy goodness. These would be perfect for a summer tea party!
Blueberry Scones Ingredients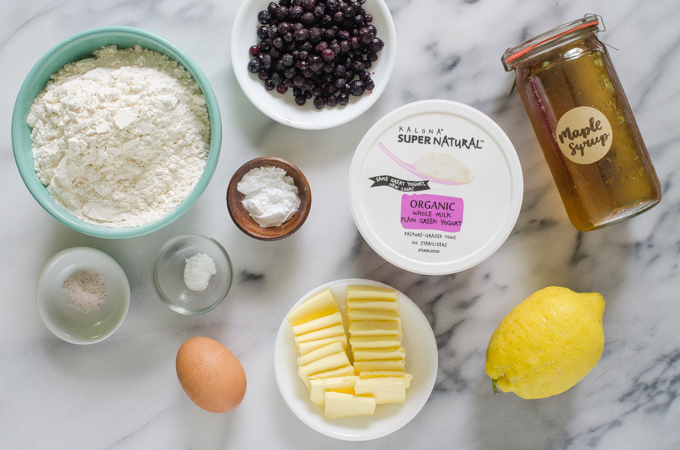 Okay, let's chat ingredients. You'll need flour, salt, baking powder, baking soda, an egg, butter, a lemon (you need the juice and the zest), maple syrup, Greek yogurt, and blueberries. If at all possible, make sure to buy WILD blueberries. Their flavor is worlds better than domesticated blueberries.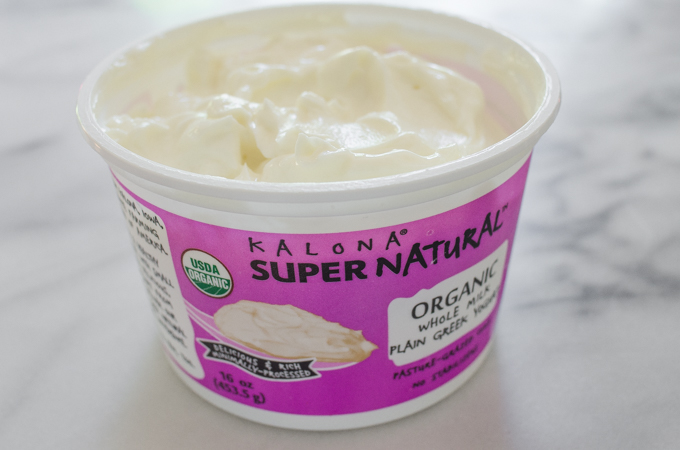 Now before we get into making these blueberry scones, let's chat a bit about Greek yogurt.
Have you ever heard of Greek yogurt before? It's essentially yogurt that has been strained to remove some of the whey. This makes for a thicker yogurt that has a higher protein content. If made properly, it has a consistency similar to sour cream!
The folks at Kalona SuperNatural do Greek yogurt right: it's made with organic, pasture-grazed milk that is minimally processed. That means that it's non-homogenized, and pasteurized to just 161° F (that's less than I usually heat my milk to make homemade yogurt!). The milk is then cultured for 24 hours to make yogurt, and then strained using a special piece of equipment. The whey that is strained off doesn't go to waste, either: it's sent off to make whey protein!
The result is a tangy, thick Greek yogurt full of nutrients. Perfect for baking into these blueberry scones!
Okay, let's make them!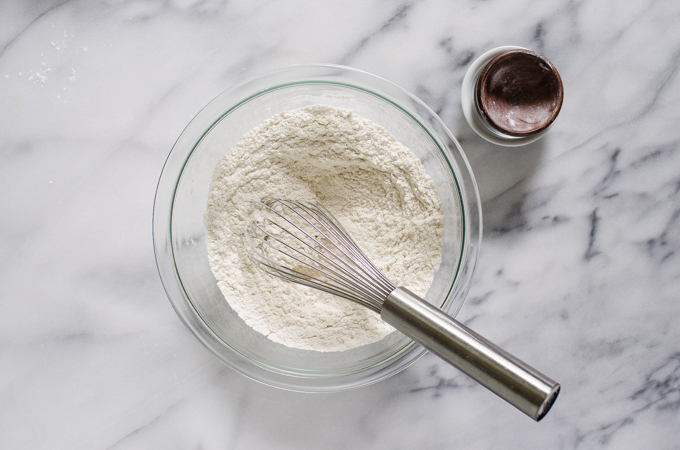 Start by whisking the dry ingredients together in a bowl.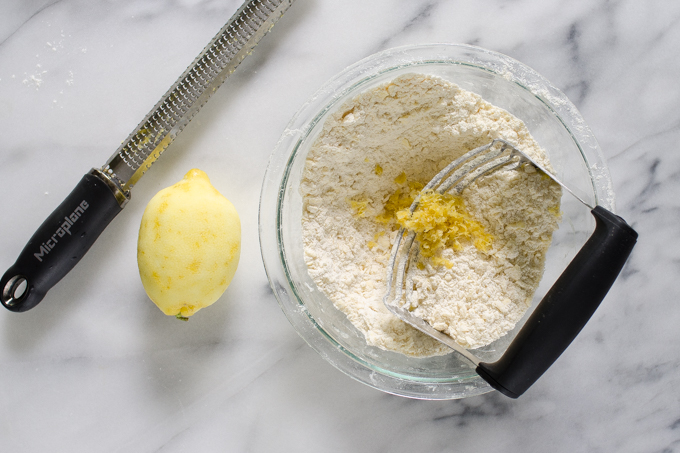 Next, cut in the butter and lemon zest.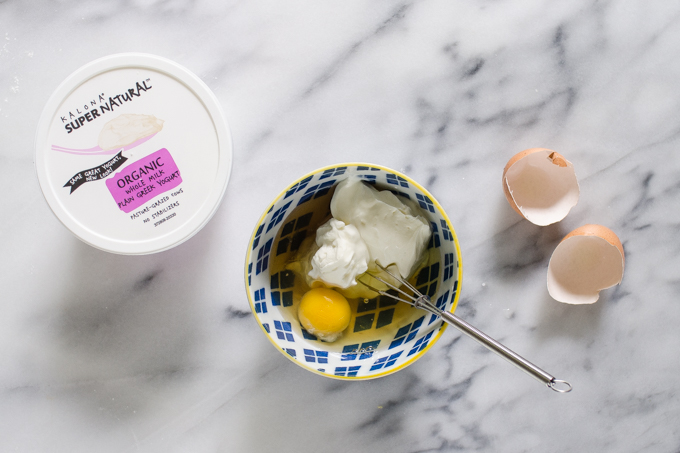 In a separate, small bowl, whisk together the Greek yogurt, maple syrup, and egg.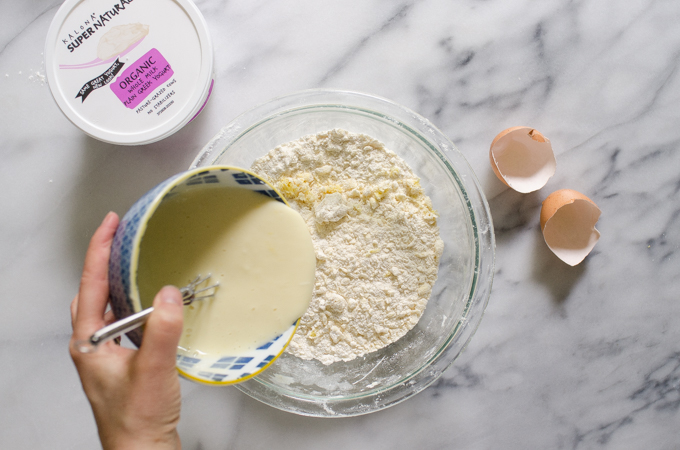 Now pour the dry ingredients into the wet ingredients.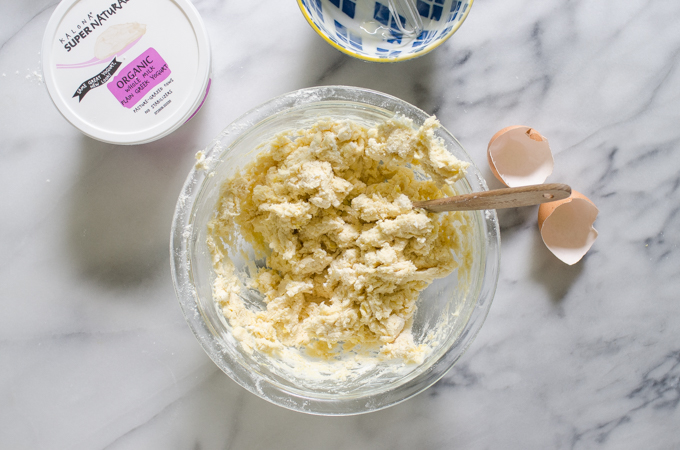 Stir together to make a sticky dough.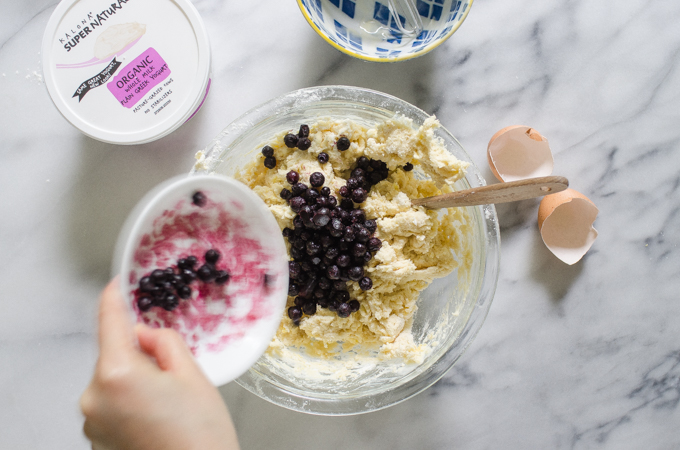 Add the blueberries…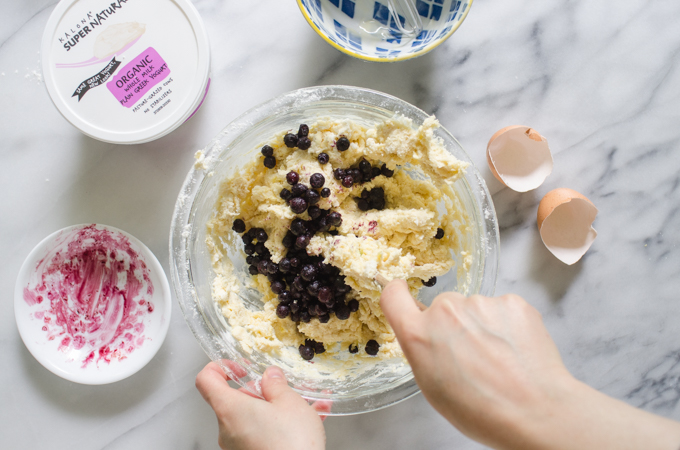 …and gently toss to combine. You don't want to go too crazy on the stirring or your blueberry scones will turn completely purple.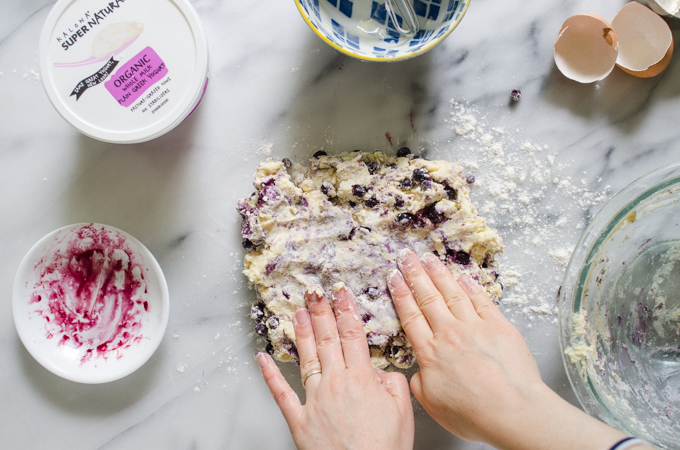 Scrape the dough out onto a generously floured work surface and pat out into a rectangle.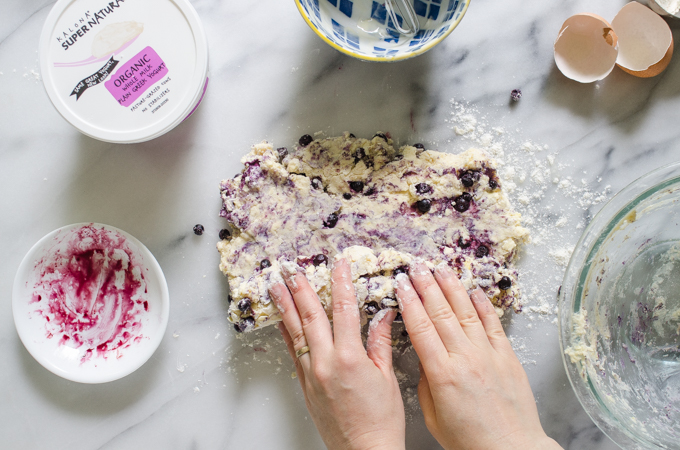 Roll that rectangle up jelly-roll style.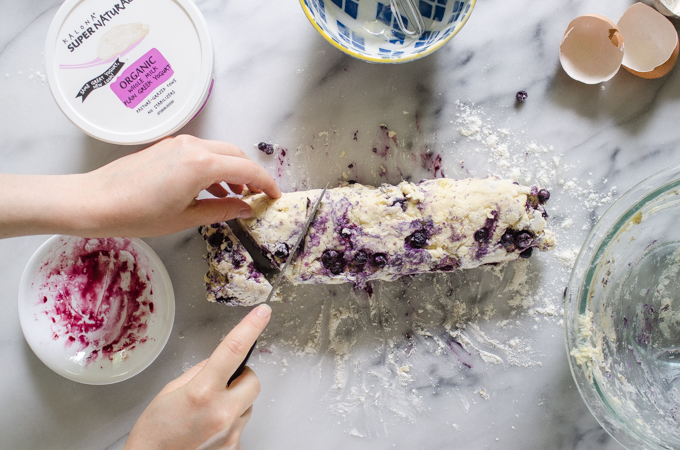 After that, cut the log of dough into triangles.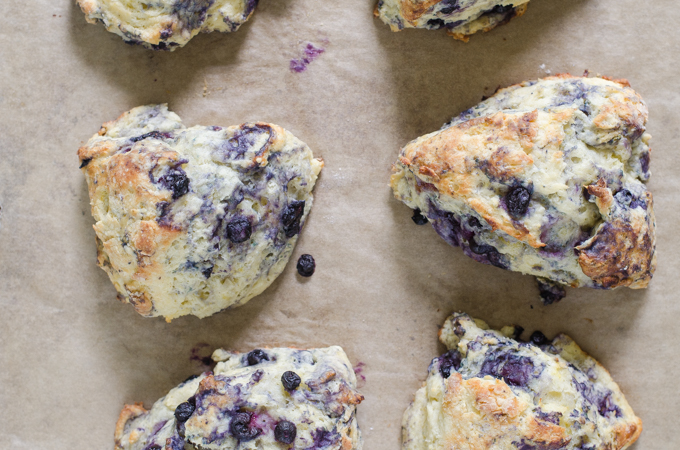 Place on a parchment-lined baking sheet and bake at 425°F for 12-14 minutes, or until cooked through and golden brown.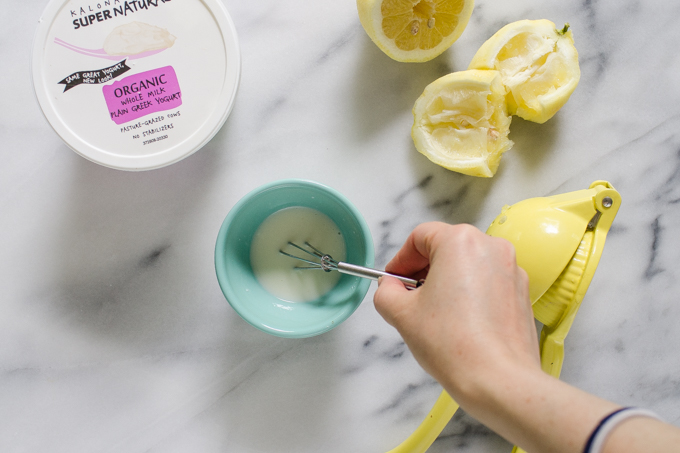 Meanwhile, whisk together some more Greek yogurt, lemon juice, and powdered sugar for the glaze.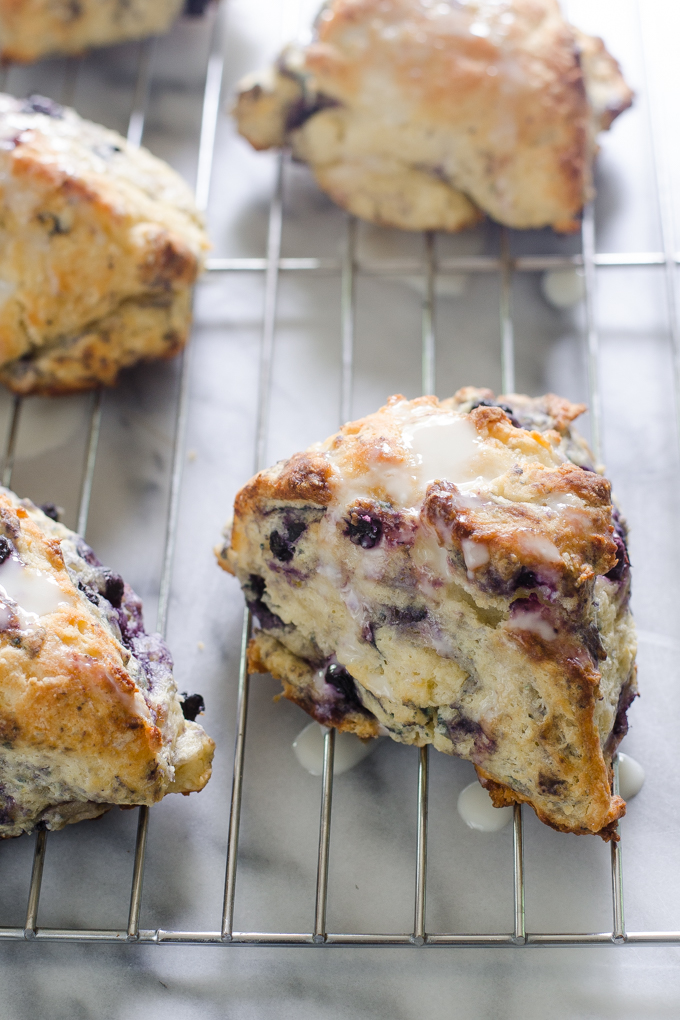 Drizzle all over the tops of the scones.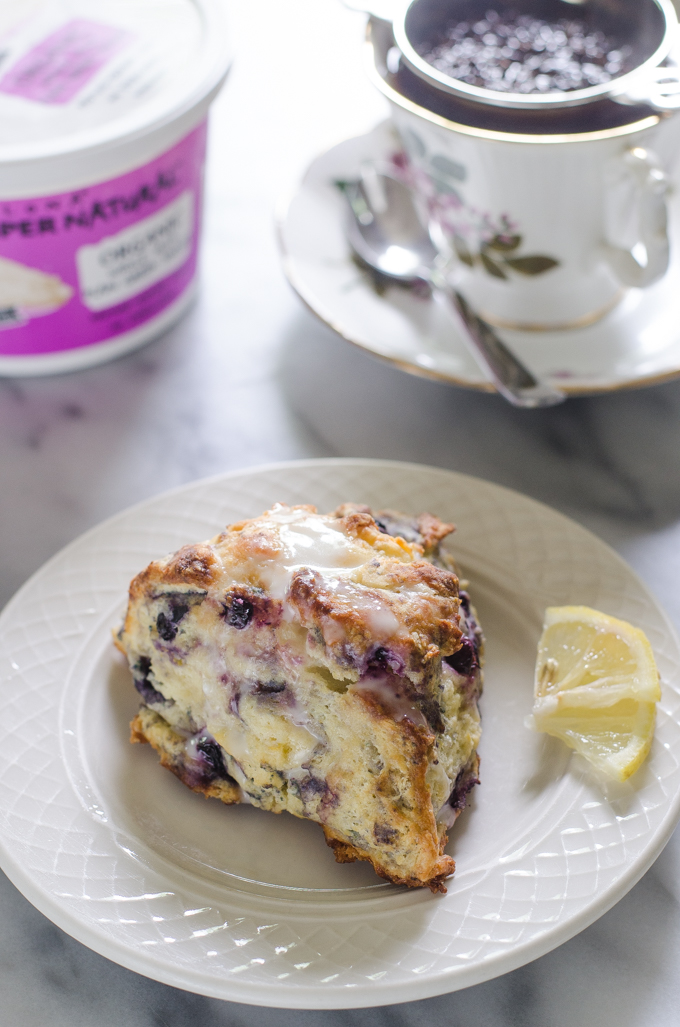 Serve spread with grass-fed butter or Devonshire cream if desired and your favorite tea off to the side.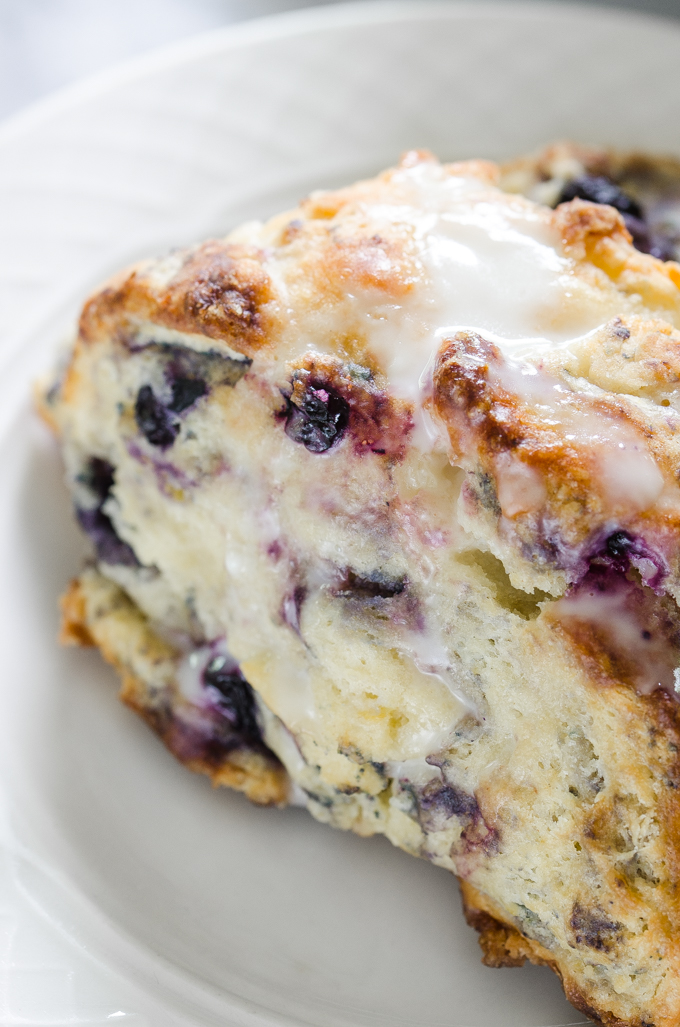 NOTES:
The dough is intentionally sticky – this makes for softer scones, almost like a drop biscuit. If you prefer a drier scone, you can cut back on the Greek yogurt and butter a bit.
As I mentioned, PLEASE, if at all possible, find frozen wild blueberries – skip the large domesticated ones!
This makes enough to kiss the scones with the glaze. If you like your scones simply dripping in glaze, you might want to double it.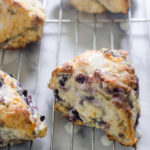 Blueberry Scones with Greek Yogurt and Lemon
Tender scones filled with blueberries and topped with a Greek yogurt lemon glaze.
Ingredients
For the Scones:
1 1/2

cups

organic all-purpose flour

1

tbsp

baking powder

1/4

tsp

baking soda

1/2

tsp

unrefined salt

1

tbsp

lemon zest,

from an organic lemon

6

tbsp

cold salted butter,

cut into pieces

1

egg,

beaten

3

tbsp

maple syrup

1/2

cup

Kalona SuperNatural Greek yogurt

+ more if needed

1/2

cup

frozen wild blueberries
For the Glaze:
1

tbsp

Kalona SuperNatural Greek yogurt

1

tbsp

organic powdered sugar

1

tsp

freshly squeezed lemon juice
Instructions
To Make the Scones:
Preheat oven to 425° F. Line a cookie sheet with parchment paper and set aside.

In a medium bowl, whisk together the flour, baking powder, baking soda, and salt. Using a pastry blender, cut in the butter pieces and lemon zest until the butter pieces are no larger than the size of a pea.

In a small bowl, whisk together the egg, maple syrup, and Greek yogurt. Add the wet ingredients to the dry ingredients and stir to form a dough. Add more Greek yogurt as needed to get a soft, somewhat sticky dough. Fold in the blueberries gently.

Scrape the dough out onto a floured work surface. Pat out into a rectangle. Roll the rectangle up jelly-roll style. Cut the dough into about 6 triangles. Place on the prepared baking sheet.

Bake in preheated oven for 12-14 minutes, or until the scones are golden brown and cooked through. Remove to a wire cooling rack and allow to cool for 5 minutes.
To Make the Glaze:
Meanwhile, as the scones are baking, make the glaze: whisk together all of the glaze ingredients in a small bowl.

After the scones have cooled for 5 minutes, drizzle all over with the glaze. Serve warm.