This Shepherd's Pie recipe is the perfect meal for a cold evening.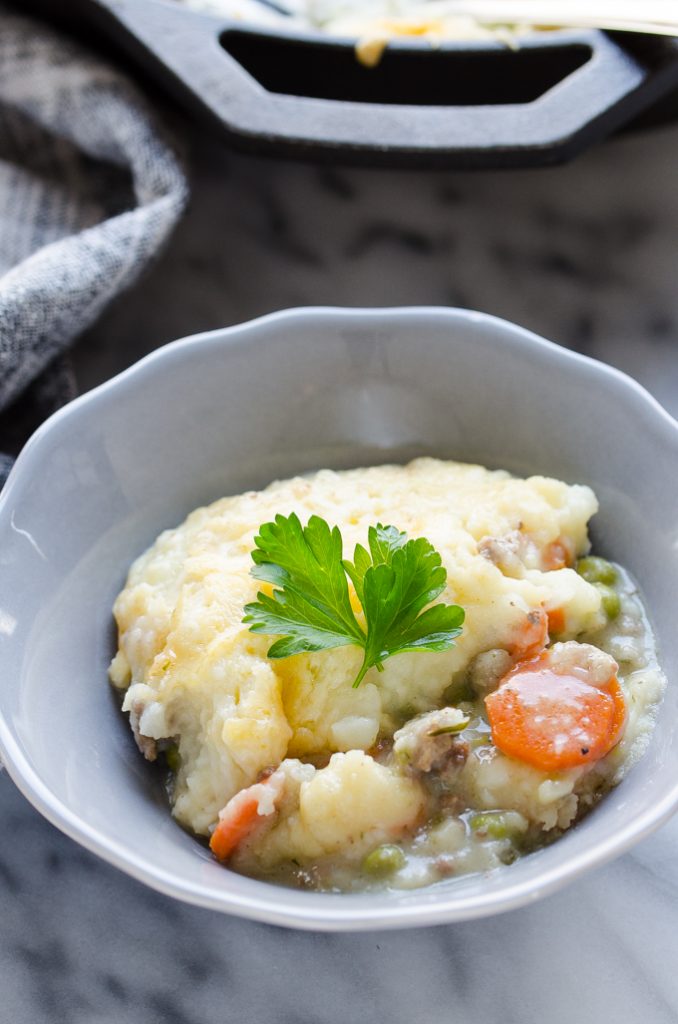 You know how there are supposedly 7 stages of grief? Well, when it comes to this never-ending winter, I feel like I'm somewhere between the depression and acceptance stages. We've hit that last leg of the season where it feels like it really will never end and there's no point in even dreaming about spring. It will never happen.
I mean, I know that warmer days are just around the corner. But my heart sinks when I look at the forecast and there's nothing above mid 30s. I'm just aching to be able to let my kids run around and play outside again.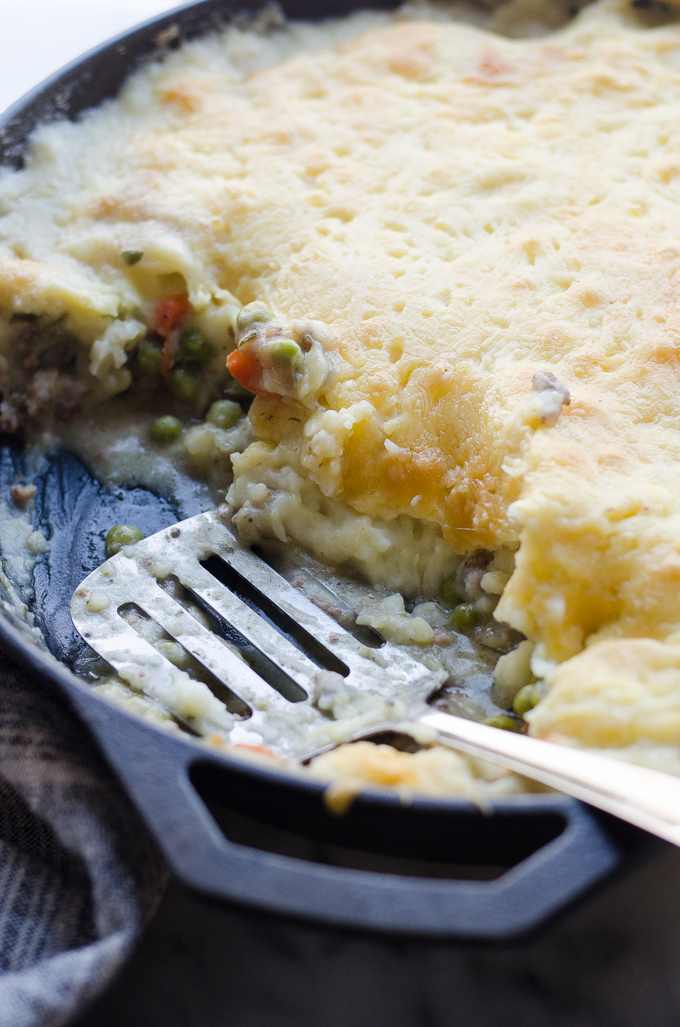 In the meantime, I'm going to keep this Shepherd's Pie recipe in the meal rotation. After all, I have to remind myself that one of the perks of cold days is that hot, comforting suppers are oh-so-appealing.
Before we dive into the particulars of this recipe, I have to make a confession: I never liked Shepherd's Pie growing up. Mom would make it to use up leftovers, and it usually had green beans (which were not my favorite vegetable at the time). But once I gave it a try as an adult (and made some ingredient substitutions), I realized that it's actually an easy and scrumptious meal. Also, my mom never put cheese on top of hers. Cheese makes everything (or nearly everything) 10x better. Am I right?!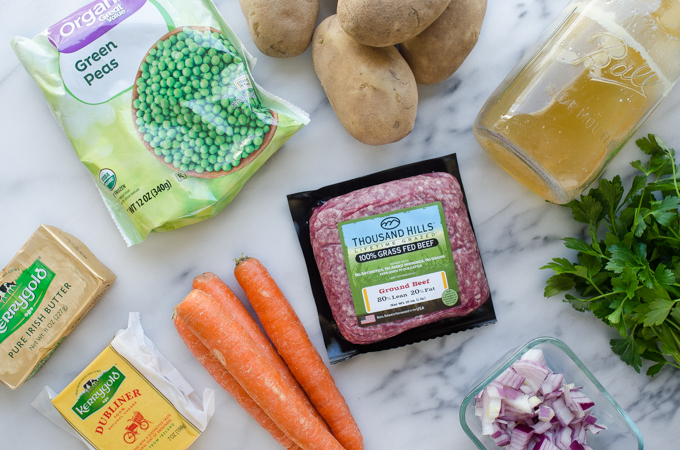 Here are the ingredients that I like in my Shepherd's Pie: Ground beef, onions, carrots, peas, parsley, chicken broth (or beef broth if you have it), potatoes, and cheese (Kerrygold Dubliner is AMAZING). You'll also need some milk and flour to make the sauce and butter for cooking and in the potatoes.
Definitely don't feel bad about switching out ingredients if there are any that aren't your favorite. Shepherd's Pie is easy to customize!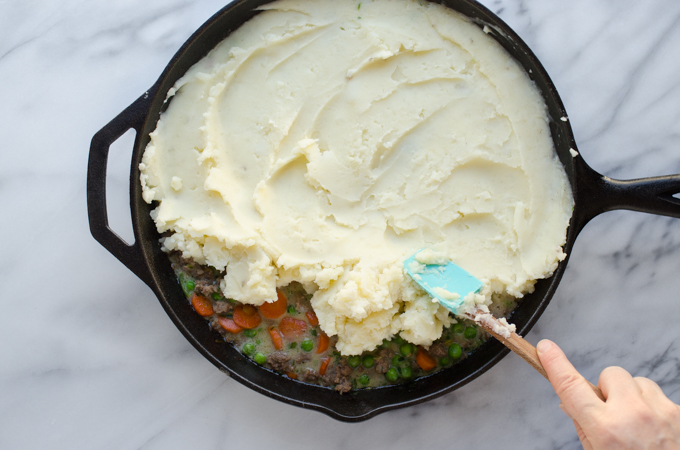 You can saute and bake the shepherd's pie in the same skillet, or transfer the filling to a 13×9 pan – whatever you prefer! Make sure to spread the mashed potatoes over filling as evenly as possible.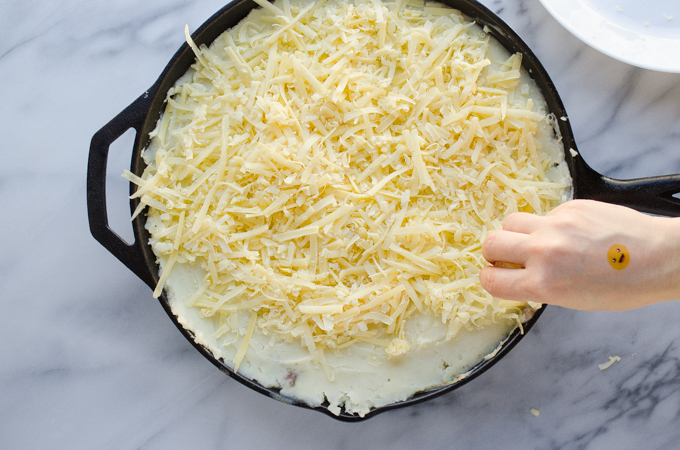 Top with a good heavy layer of cheese.
Sorry about the emoji on my hand. Long story short: Helen got some tattoos for her birthday and wanted to share one with Jim. He decided he wanted nothing to do with it after I had already peeled the backing off of it. Not wanting to waste it, I went ahead and put it on my own hand. Not my first choice of a tattoo…?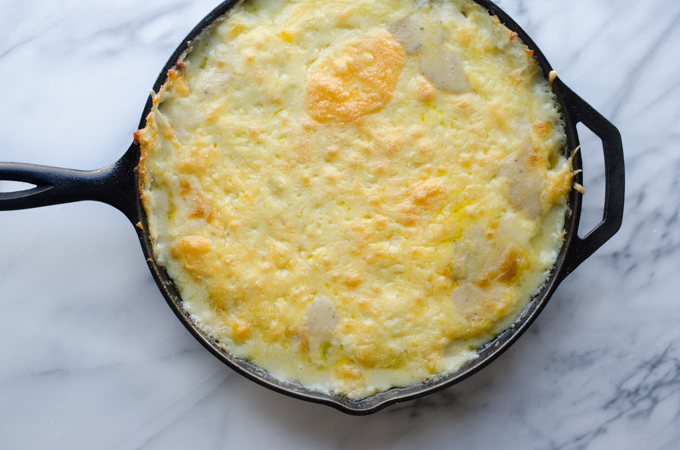 Bake until the cheese starts to brown. Oh man…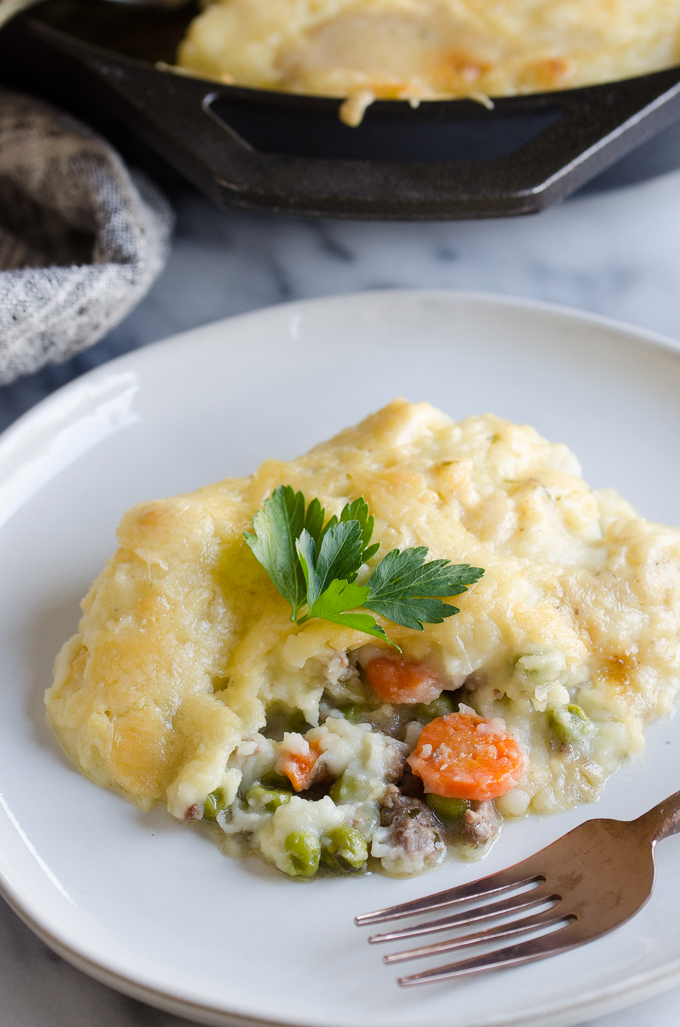 You know the drill by now: serving with grass-fed butter is an absolute must.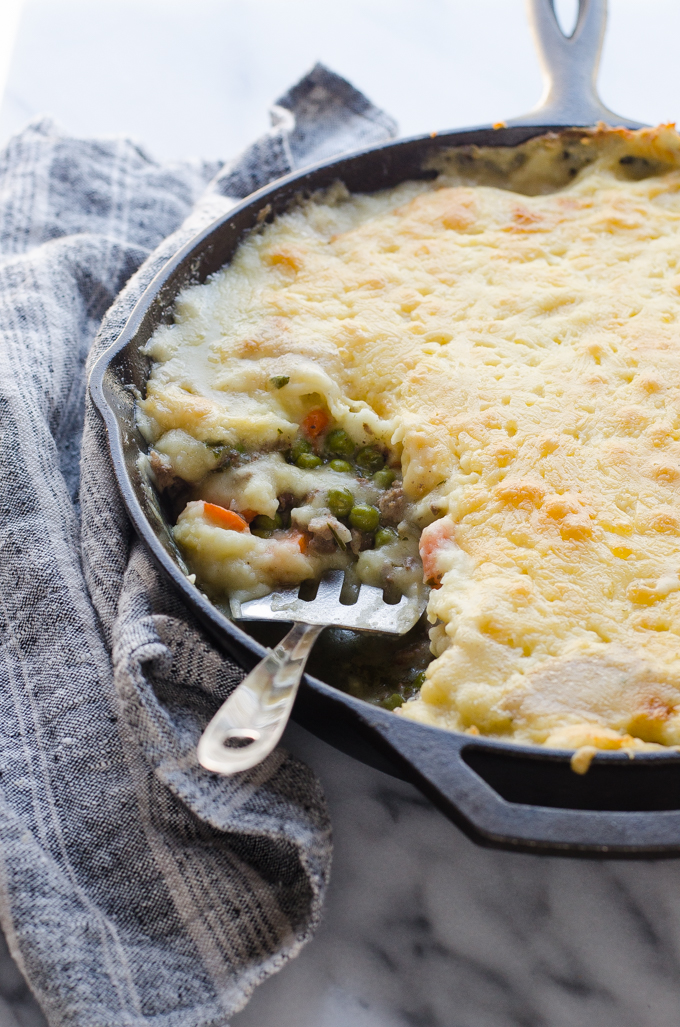 Shepherd's Pie definitely won't be one of the pretties meals you'll ever make, but it sure is scrumptious.
Did you eat Shepherd's Pie growing up? Did you like it, or was it not your favorite?
NOTE: Here's a Whole30 (or lazy day) hack: leave out the sauce and use only the meat and vegetables as the filling. I've done this many times and it's still delicious! And of course you'll want to use coconut oil instead of butter for cooking and in the potatoes, substitute potato water or coconut milk for the liquid in the potatoes, and leave off the cheese to make this Whole30 compliant.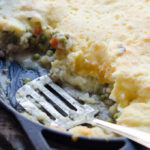 Shepherd's Pie
This Shepherd's Pie recipe is the perfect comfort food meal for chilly evenings.
Ingredients
For the Potatoes:
5

medium russet potatoes

peeled and quartered

1/3

cup

whole milk

1/4

cup

grass-fed butter

salt to taste
For the Filling:
2

tablespoons

grass-fed butter

1/2

medium onion, chopped medium

4

medium carrots, peeled and thinly sliced

1

pound

grass-fed ground beef

salt and pepper to taste

2

tablespoons

organic all-purpose flour

1

cup

chicken broth

1

cup

whole milk

8

ounces

frozen sweet peas

1/4

cup

chopped parsley
For the Topping:
7

ounces

shredded cheese

(sharp cheddar is very good)
Instructions
For the Potatoes:
Place the potatoes in a saucepan, cover with water, and salt generously. Bring to a boil over high heat. Once the water comes to a boil, cover, turn the heat down to low, and cook for 20 minutes or until the potatoes are completely tender.

Drain the water. Put the milk and butter in the pot, cover, and wait for the butter to melt. Mash with a potato masher. Taste and add salt if needed.
For the Filling:
Meanwhile, preheat the oven to 375 degrees F.

Melt the butter in a large (12-inch) cast iron skillet over medium heat. Add the onions and carrots and cook until tender, about 10 minutes. You can cover the pan to make the veggies cook faster. Season with salt and pepper and remove from the pan.

Add the ground beef to the empty pan and cook until no longer pink, seasoning with salt and pepper.

Sprinkle the flour over the beef. Cook for 2 minutes. Slowly add the milk and chicken broth. Bring to a boil, stirring often, and boil for 1 minute. Stir in the peas and parsley. Taste and adjust seasonings if necessary.
For the Topping:
Either transfer the filling to a 13x9 pan, or keep in the skillet. Spread the mashed potatoes on top. Sprinkle with the cheese.

Bake in preheated oven until the cheese turns golden brown, about 30 minutes. Serve with grass-fed butter.