This healthier Chocolate Cake with Raspberries and Cream Cheese Frosting is a scaled-down version (baked in 6-inch cake pans) for a child's birthday party (it's also lower in sugar).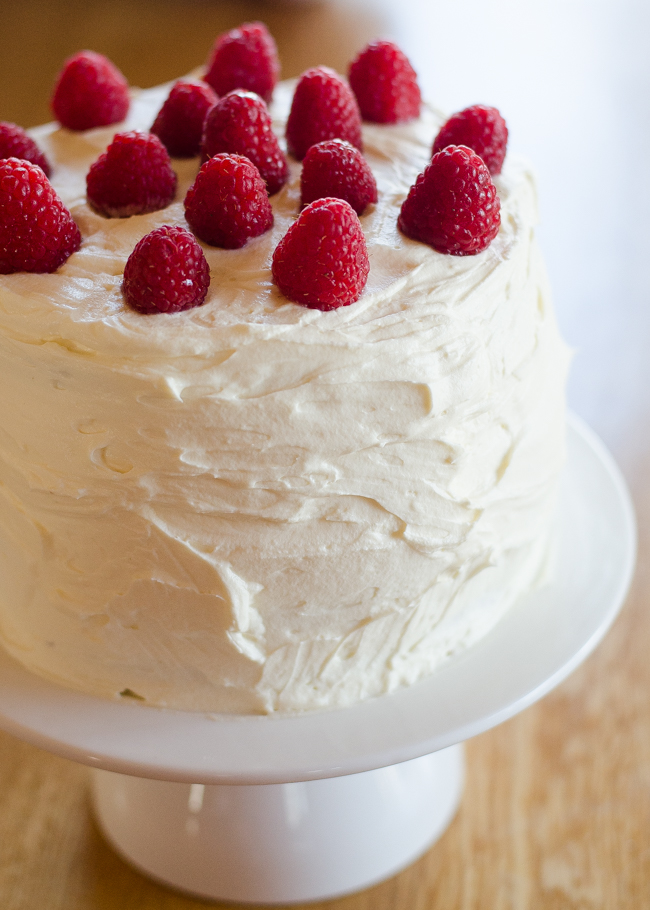 February is birthday month for my kids. Their birthdays are a week apart. So I decided it would be best to combine their parties into one. As they get older I'd like to do more individual parties to make them feel special, but right now I don't think Jim could care less as long as he gets to eat cake. 😉
I asked Helen what kind of cake she wanted for her birthday, and I was impressed by the flavor combination she settled on: chocolate cake with strawberries and white frosting. Unfortunately there were no nice-looking strawberries in the store (this time of year is pretty dismal in the fresh berry department in northern Minnesota), so I got raspberries instead. Helen didn't mind the substitution at all.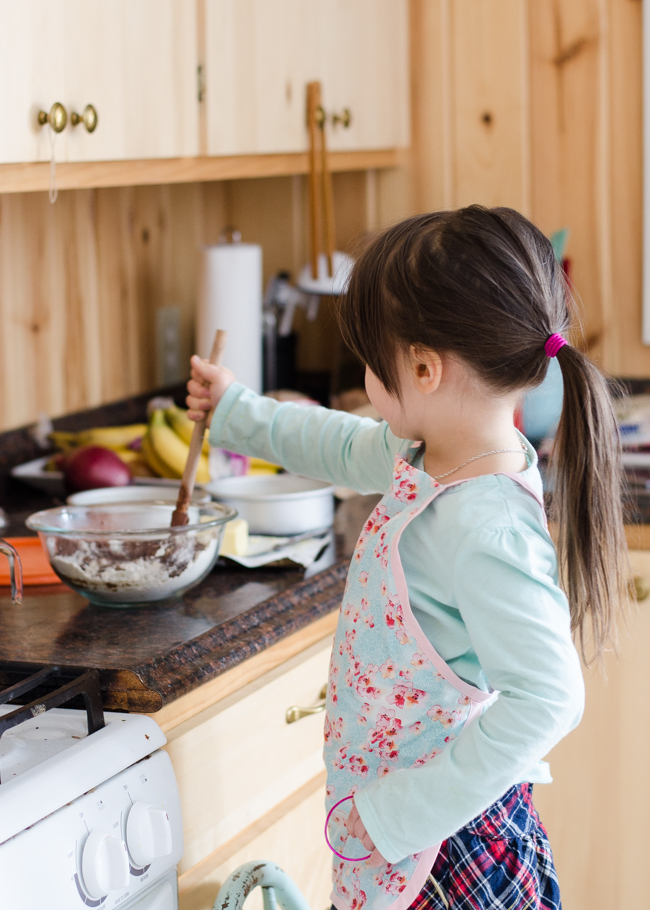 Of course I cut the amount of sugar in half for this chocolate cake. I didn't think my kids needed loads of sugar on top of the excitement of a birthday party.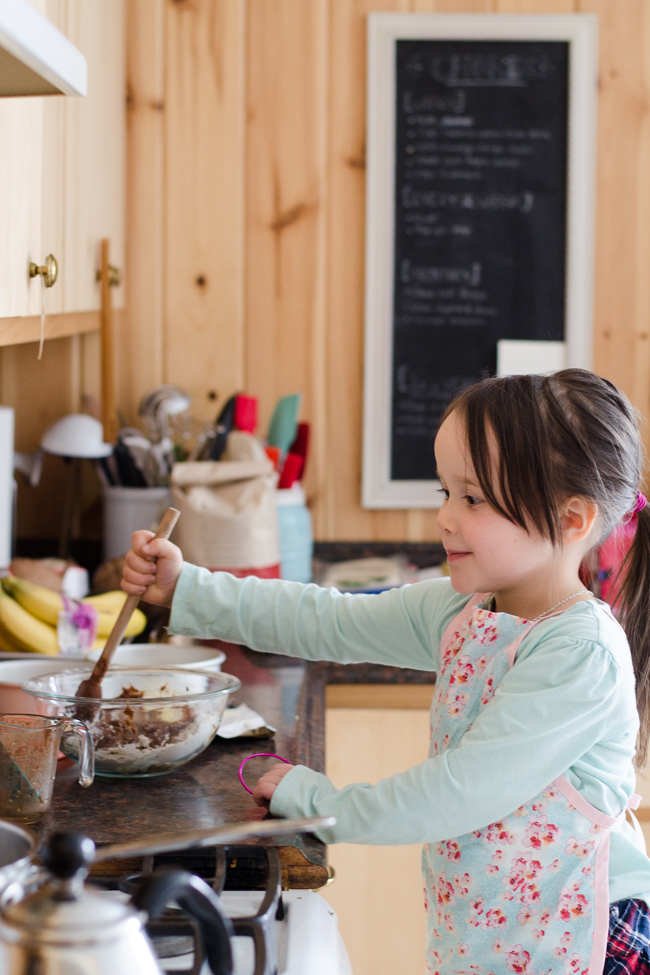 Helen was very excited to get to help make her cake. I'm hoping she'll continue to share my love of cooking in years to come!
I love how Helen had to clutch her pink bangle while she stirred the cake. And that she chose to wear a plaid skirt with this mint shirt. ?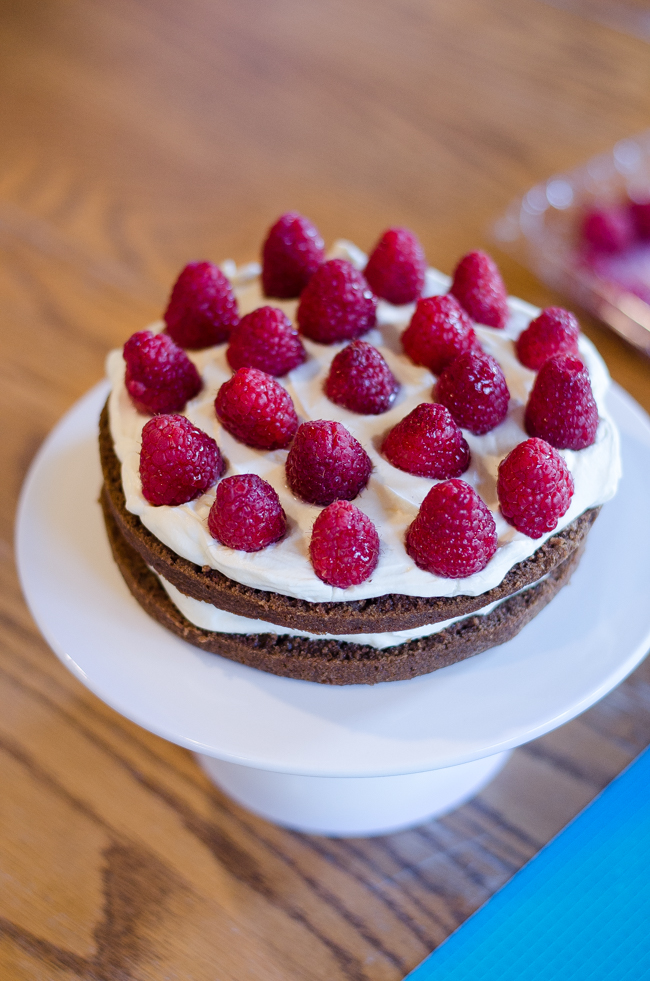 To assemble the chocolate cake, I chose cream cheese whipped cream (lightly sweetened with maple syrup) for the frosting. I did a layer of raspberries in the middle.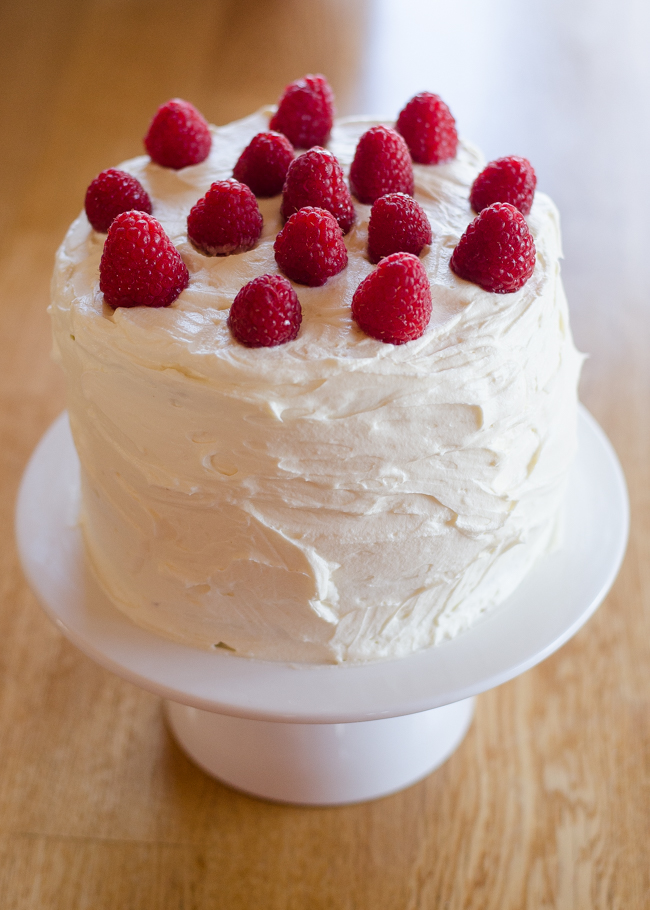 Then I frosted the entire outside and top of the cake, and poked raspberries on top. Why are my cakes almost always a little lopsided?! Oh well. The kids didn't care.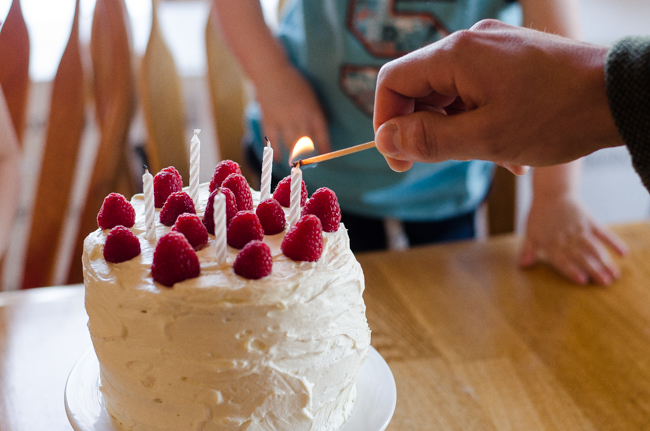 Reuben lit the cake…
James watched with anticipation.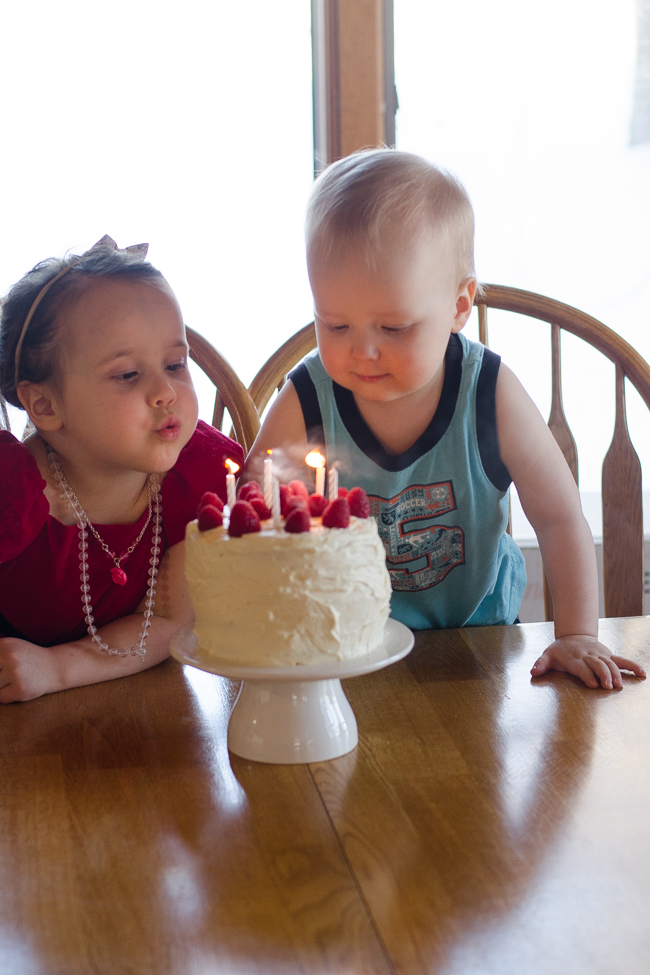 They blew out the candles together. Not sure how much James contributed…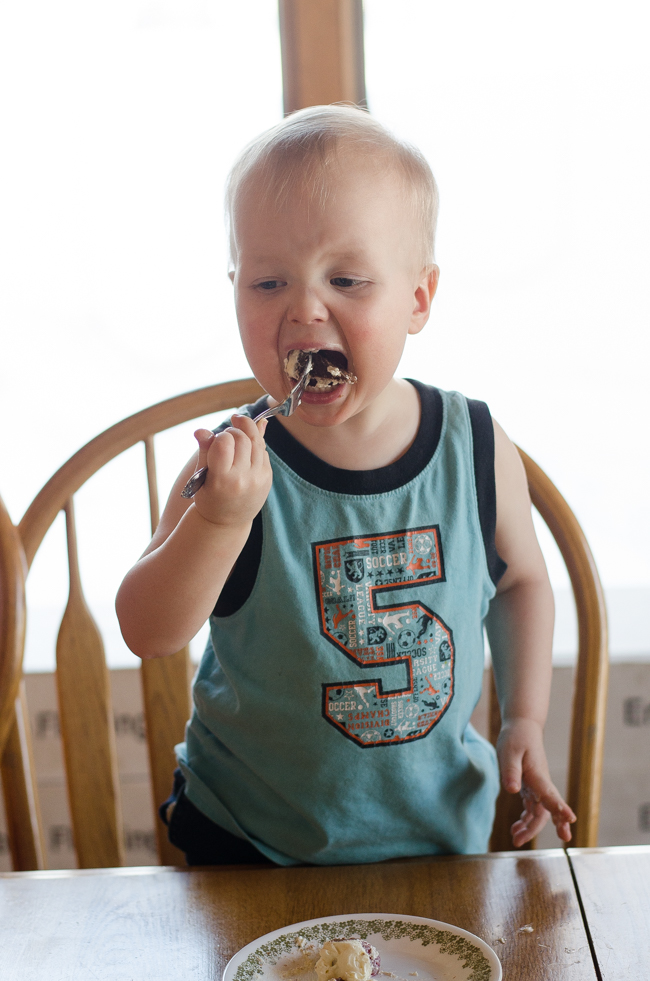 He loved the cake! I had to limit how many pieces he ate. ?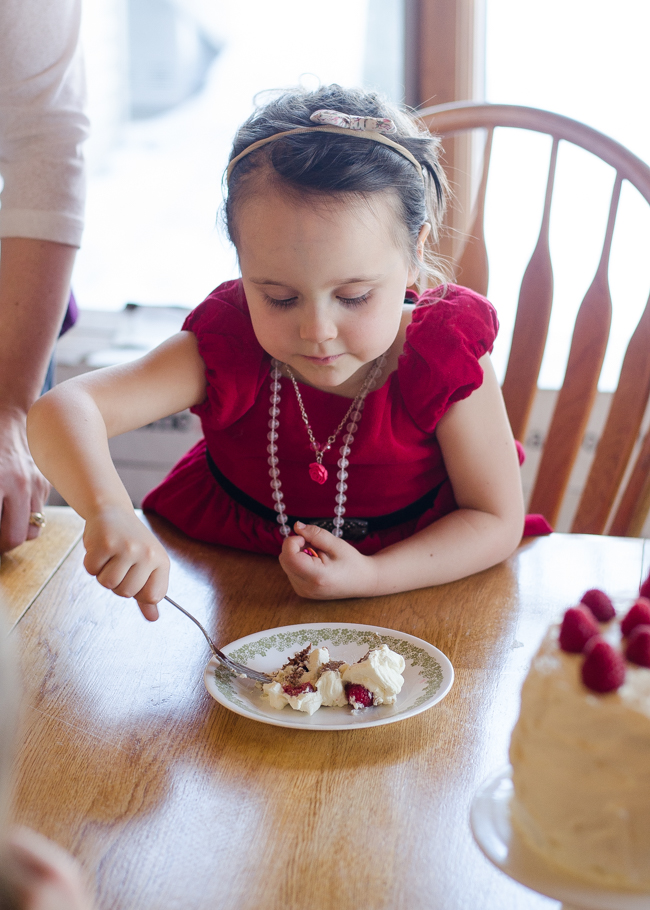 Helen loved it too. So I think it was great success!
I'm including the recipe here, but I must note: this was baked with kids in mind. If you're used to very sweet dessert, this will probably not appeal to you. I really enjoyed it because I already limit my sugar intake, but feel free to increase the amount of sugar to your personal taste. The original cake recipes had twice as much sugar, for reference. This was based off of my Chocolate Layer Cake with Peanut Butter Frosting. So make that instead if have a sweet tooth. 🙂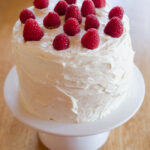 Chocolate Raspberry Layer Cake with Cream Cheese Whipped Cream Frosting
A lower-sugar cake for your little one's birthday!
Ingredients
For the Cake:
1

cup

organic all-purpose flour

1/2

cup

sucanat

1/4

tsp

unrefined salt

2

tablespoons

(heaping) cocoa powder

9

tablespoons

grass-fed butter

(1 stick + 1 tablespoon)

1/2

cup

boiling water

1/4

cup

buttermilk

2

whole

eggs

1/2

tsp

baking soda

1/2

tsp

pure vanilla extract
For the Frosting + Finishing
8

ounces

organic cream cheese

softened

2-3

tablespoons

pure maple syrup

2

cups

heavy whipping cream

1/4

tsp

pure vanilla extract

1

carton

fresh raspberries
Instructions
For the Cake:
1) Preheat oven to 350 degrees F (175 C). Butter two 6-inch round cake pans and line with a round of parchment paper on the bottom.

2) In a medium bowl, whisk together the flour, sucanat, and salt.

3) Boil the water. Meanwhile, melt the butter in a small saucepan. Stir in the cocoa powder, then the boiling water; boil for 30 seconds and remove from heat. Pour over the dry ingredients and give it a gentle stir.

4) Whisk together the buttermilk, egg, baking soda and vanilla. Stir into the chocolate batter and mix just until combined.

5) Pour into the prepared pans and bake until a toothpick comes out nearly clean, about 20 minutes (check at the 15 minute mark). Remove from oven and allow to cool in the pans for 10 minutes before turning out onto a cooling rack. Cool completely before cutting and frosting.
For the Frosting:
Place the cream cheese and maple syrup in a large mixing bowl and beat with a hand mixer until smooth. Add 1/4 of the cream and mix until smooth. Add another 1/4 of the cream and beat again. Add the remaining cream and beat until thick enough to spread as frosting. Add the vanilla extract and beat until incorporated.
To Assemble:
Cut each layer of cake in half. Place one round onto a cake stand. Top with some of the frosting. Place another layer of cake on top. Add a layer of frosting, then poke some raspberries into the frosting. Add a third layer of cake and another layer of frosting, then end with the last layer of cake.

Frost the top and sides of the cake with the remaining frosting. Poke the remaining raspberries on top of the cake.

Serve immediately. Store any leftovers, well wrapped with plastic wrap, in the refrigerator.