This sourdough pie crust has a long fermented dough for health, and is super flaky and a tiny bit tangy.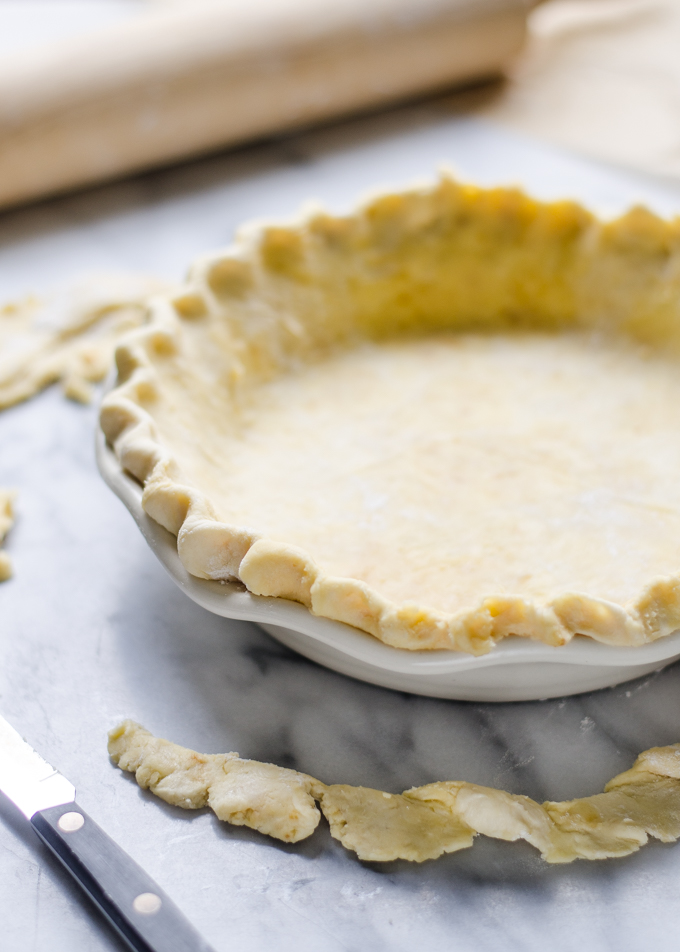 I am continually amazed by the vast array of things you can make with sourdough. And it's not just a healthy substitute for your go-to recipes. Oh no. Every sourdough recipe I've tried is BETTER than any version of that dish I've made before.
Take this sourdough pie crust for instance. I went into making it fully expecting it be an okay, acceptable pie crust. But it's actually the flakiest, most tender pie crust I've ever made. I'm no wizard when it comes to pie crusts, and this one was outstanding.
Let me show you how to make it for yourself!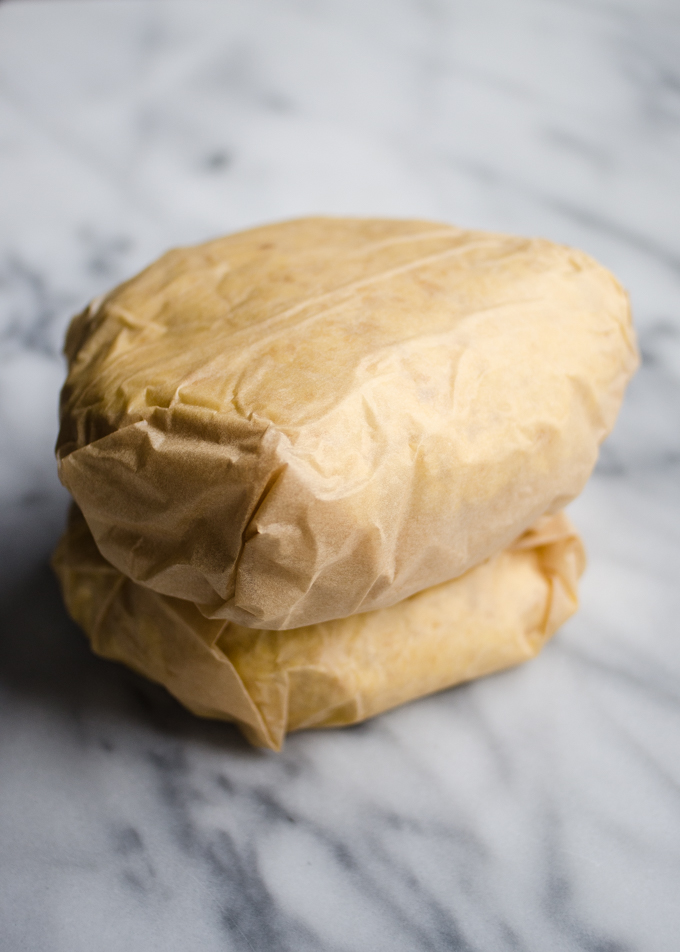 Mixing the Dough
In the morning of the first day, feed your sourdough starter. That evening, when the sourdough starter is ready to go, mix together your dough. Then put it in a bowl and cover it with a plate. Leave it on the counter overnight to ferment.
The next morning, divide the dough in half and wrap each half in parchment paper. Put the dough in the refrigerator to chill, at least 1 hour.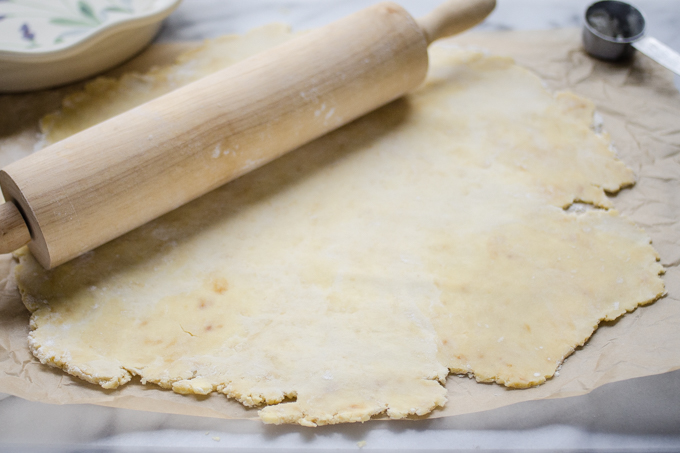 Rolling the Dough
Now it's time to roll out the dough for your sourdough pie crust! Sprinkle the parchment paper and the top of the dough with flour. Next, flip the dough and flour the underside (which is now the top) with flour as well. Then roll the dough out to a few inches bigger than your pie plate.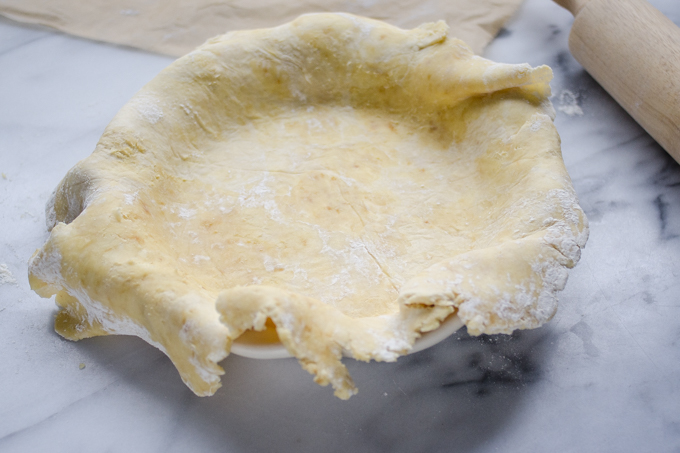 Shaping the Crust
Transfer the dough to the pie plate. I find it's easiest to pick up the piece of parchment paper, invert the dough into the pan, and peel the parchment paper off the top.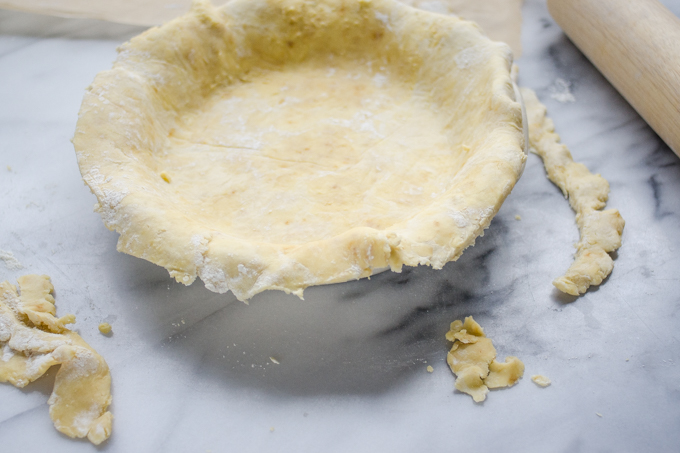 Trim the excess dough off of the edges of the crust. Make sure to save the scraps for later!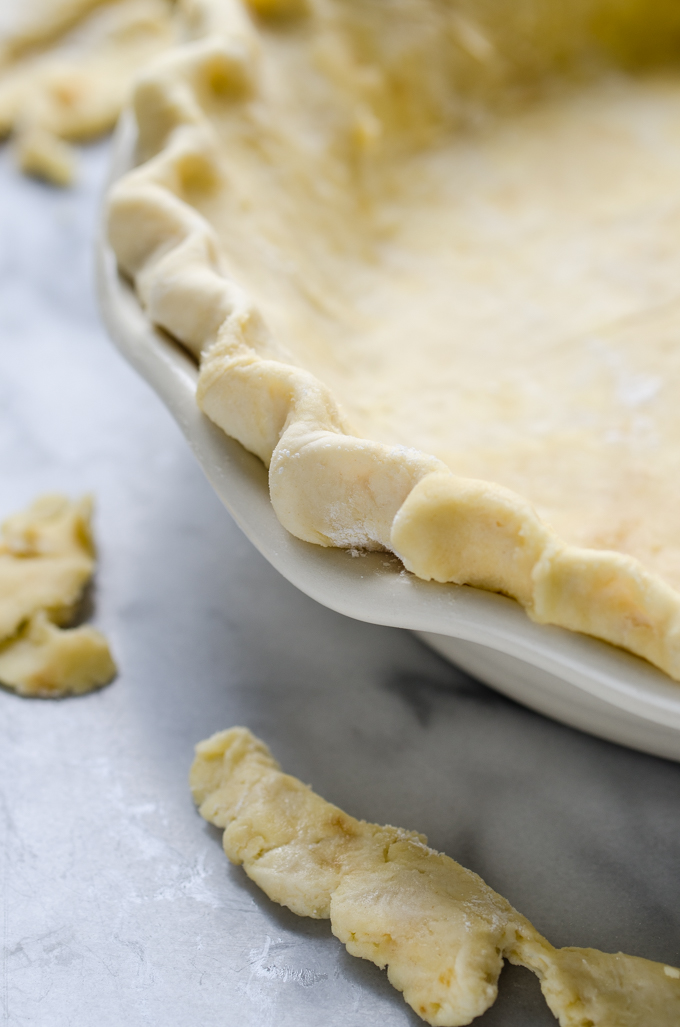 At this point you can seal/decorate the edges as you like. If this is a single crust pie, like pumpkin, you can go ahead and crimp the edges. But if you're going to put another crust on top, wait until you fill and top the crust to seal the edges.
How Does Sourdough Pie Crust Taste?
This crust has a slight tang from the sourdough. But if you didn't know it was sourdough, you wouldn't be able to detect it. Basically, it adds a lovely flavor that isn't overpowering.
If you have a sourdough starter, I highly recommend giving this pie crust a try. Use it for all your fall/Thanksgiving pie needs, or whenever you get a pie craving!
More Sourdough Recipes: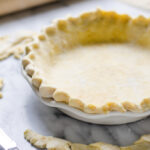 Sourdough Pie Crust
This sourdough pie crust is long fermented and super flaky and a tiny bit tangy.
Prep Time
1
hour
20
minutes
Total Time
8
hours
20
minutes
Ingredients
2

cups

organic all-purpose flour

1

tsp

unrefined sea salt

1

tbsp

sucanat or sugar

1 1/2

cup

cold butter, cut into 1/2-inch pieces

1

cup

sourdough starter, unfed

(see note)
Instructions
Place the flour, salt, and sucanat in the bowl of food processor. Pulse to combine.

Add the butter pieces and pulse until the butter pieces are no larger than pea-size.

Dump the mixture into a large bowl. Add 3/4 cup of the sourdough starter and use your hands to mix it into the dough. Mix/knead just until the dough comes together in a cohesive ball. Add more starter as needed to achieve the right consistency.

Cover the bowl with a plate and let it sit at room temperature for 7-12 hours.

After the fermentation, divide the dough in half. Shape each half into a flattened disc and wrap with parchment paper. Place in the refrigerator until completely chilled, about 1-2 hours.

After the dough is chilled, you can use it in your recipe!
Recipe Notes
An "unfed" sourdough starter is one that has been fed 8-12 hours previously and can pass the float test. I suggest feeding your sourdough starter around noon, making your dough at night, and letting it ferment overnight.
This recipe was tested with a 100% hydration starter: basically, feed your starter with equal weights of flour and water.
Recipe adapted from Cultures For Health