This Starbucks Peach Green Tea Lemonade recipe is a refreshing and delicious drink for hot days when you don't want too much caffeine!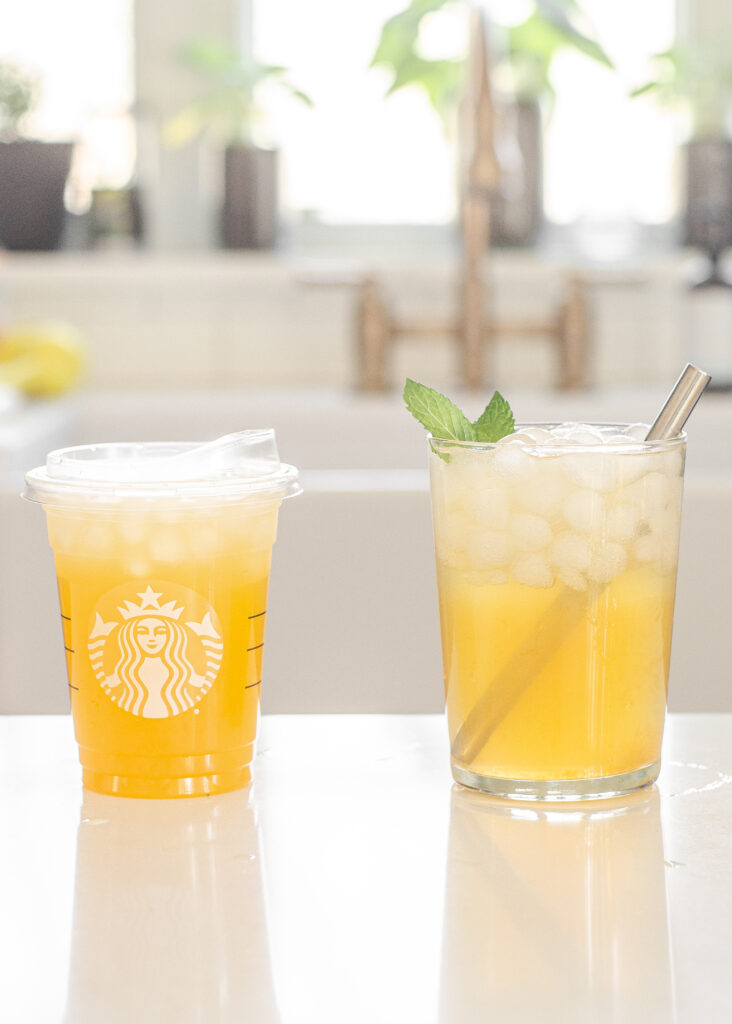 If you're looking for a refreshing iced drink with a moderate caffeine boost, this peach green tea lemonade recipe is perfect for you.
I like how you get both the green tea and mint flavors from the tea, as well as the tang from the lemon and sweetness from the summery flavor of peach.
I went out and taste tested the Starbucks peach green tea lemonade so I could accurately recreate it for you. And today I'm going to share 3 different ways you can make it at home!
The first two versions utilize premade peach drinks, and the last version is made completely from scratch!
This is such an easy recipe to make at home!
Okay, let me show you how to make your own DIY version of this iced peach green tea lemonade!
Here's a video in case you learn better that way!
The written tutorial is below!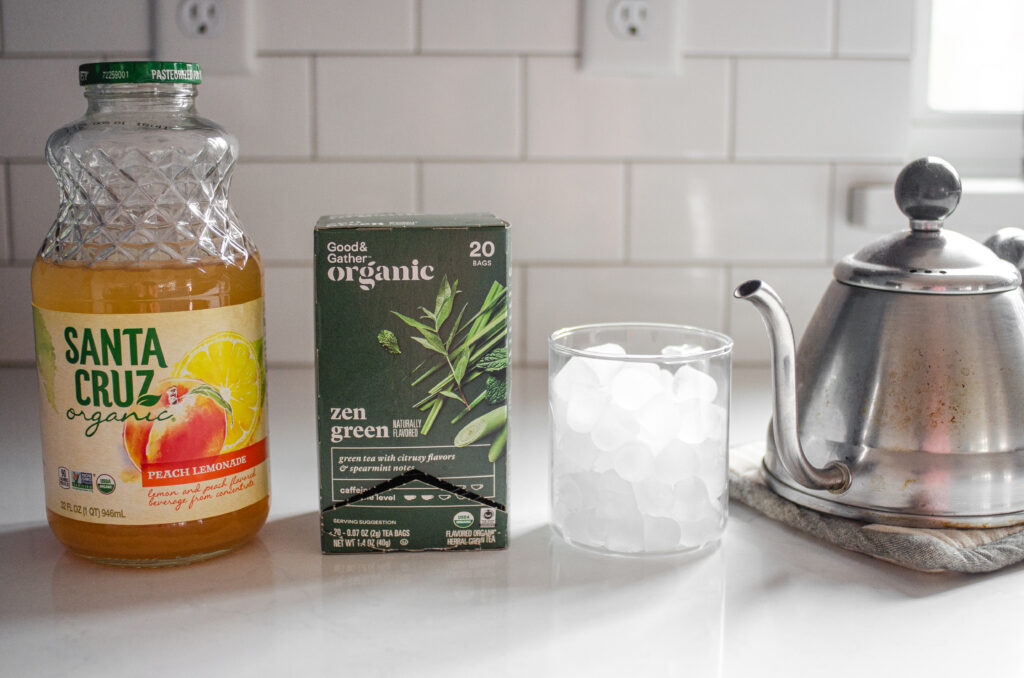 Method 1: Ingredients
This method is great for busy people because it uses so few ingredients!
Here's everything you'll need for the first method:
Peach Lemonade: I found this organic Santa Cruz Peach Lemonade, which is just perfect for making this drink! It really makes it so easy to mix together since it combines 2 ingredients into 1. It's best put the lemonade in the refrigerator to chill first since it won't cool down your drink as well if it's at room temperature.
Lemon Mint Green Tea Bags: Now, as far as I know, Starbucks uses the Teavana Jade Citrus Mint tea bags. But you can find similar teas in grocery stores. I like to use the Good and Gather Zen Green Tea from Target because it's organic and fair trade (sadly, I think it's discontinued!). Tazo Zen green tea is really similar as well. Basically you're looking for a green tea that has lemon grass, lemon verbena, and mint. The Yogi Green Tea Kombucha is also really similar.
Hot Water: Pretty self explanatory! Use the temperature of water that your tea recommends.
Ice Cubes: I like to use my mini ice cube tray, which is made in the USA!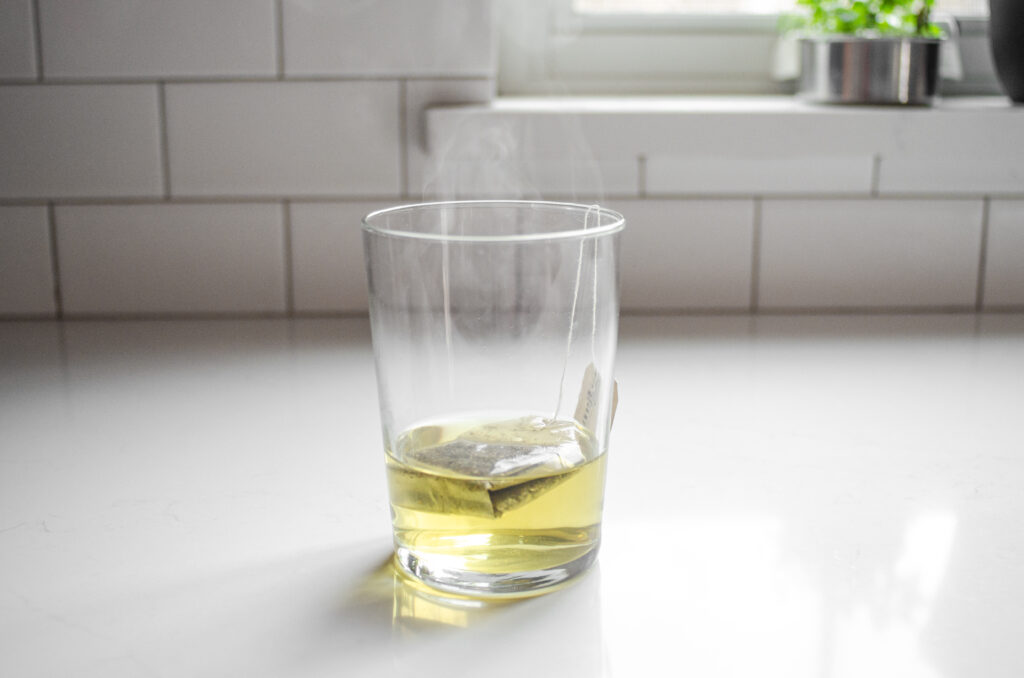 How to Make Starbucks Peach Green Tea Lemonade:
Okay, to make the peach green tea lemonade, start by brewing your tea.
Place 1 tea bag in a heat-proof 12 ounce glass. Pour ½ cup of boiling water on top, and allow to steep for 3 minutes.
Now you have a green tea concentrate!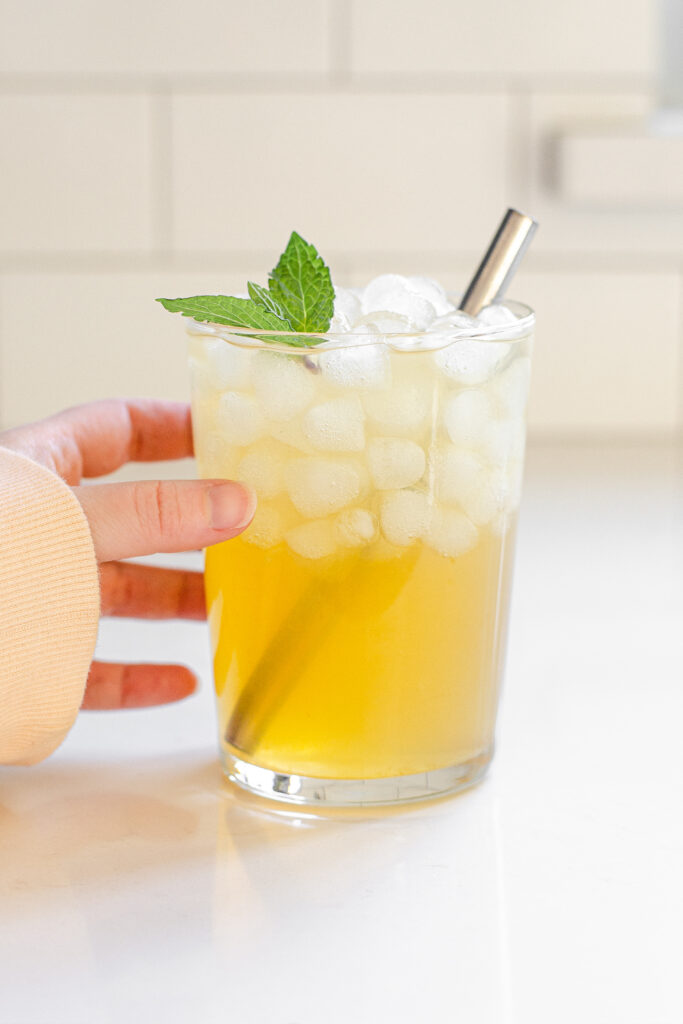 Remove the tea bag, and pour ⅔ cup of the cold peach lemonade on top and give it a mix. Now just fill the cup the rest of the way with ice, and you're good to go!
That was stupid easy.
You could also put this in a cocktail shaker if you prefer, but I don't find that necessary.
Mmm…now you have a lovely tart cold drink!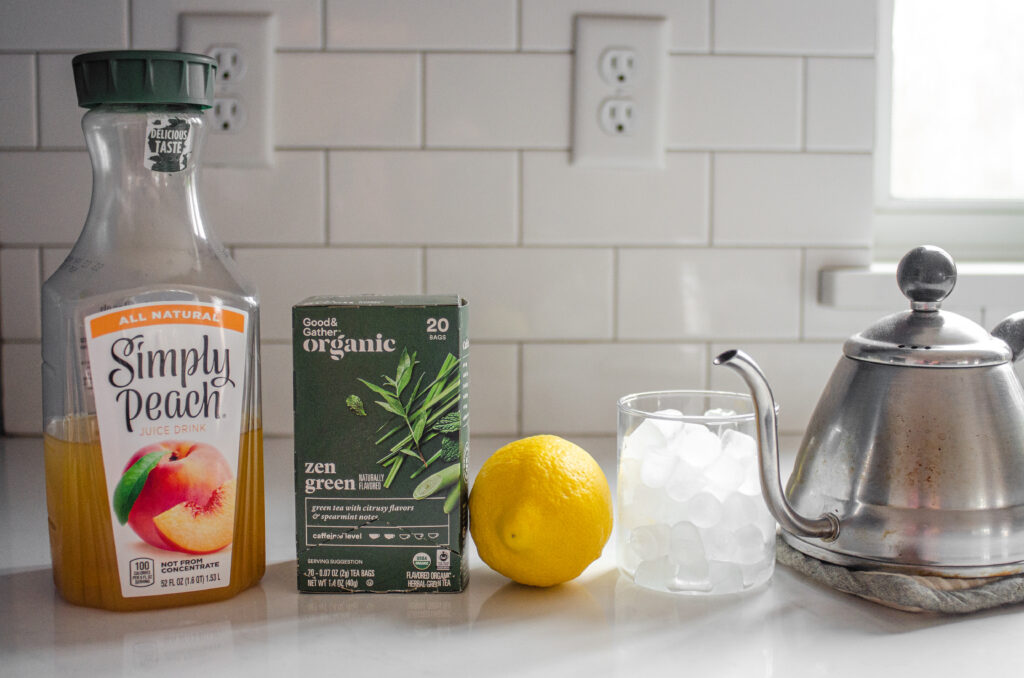 Method 2: Ingredients:
Now if you don't have access to peach lemonade, no fear, I have another way to easily make this.
The method is basically the same as the previous recipe, but we're going to switch out and add a couple of ingredients.
Instead of the peach lemonade, we'll be using this Simply Peach drink. You can find this at Target or Walmart, and it's really yummy all by itself as well!
But since it isn't a lemonade, we'll use some fresh lemon juice to add that sourness instead of having to make homemade lemonade.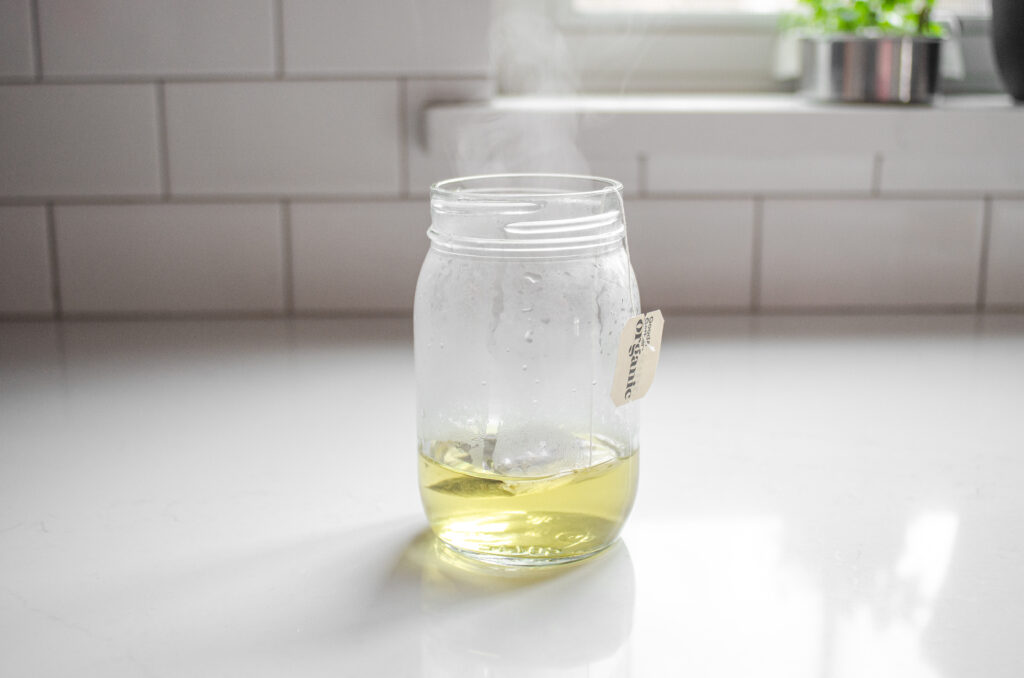 Okay, brew the tea the same way we did before: Pour ½ cup of boiling water over a tea bag in a heat-proof glass.
A pint mason jar is a good idea here because it's heat proof and it's the perfect size!
Allow the tea to steep for 3 minutes.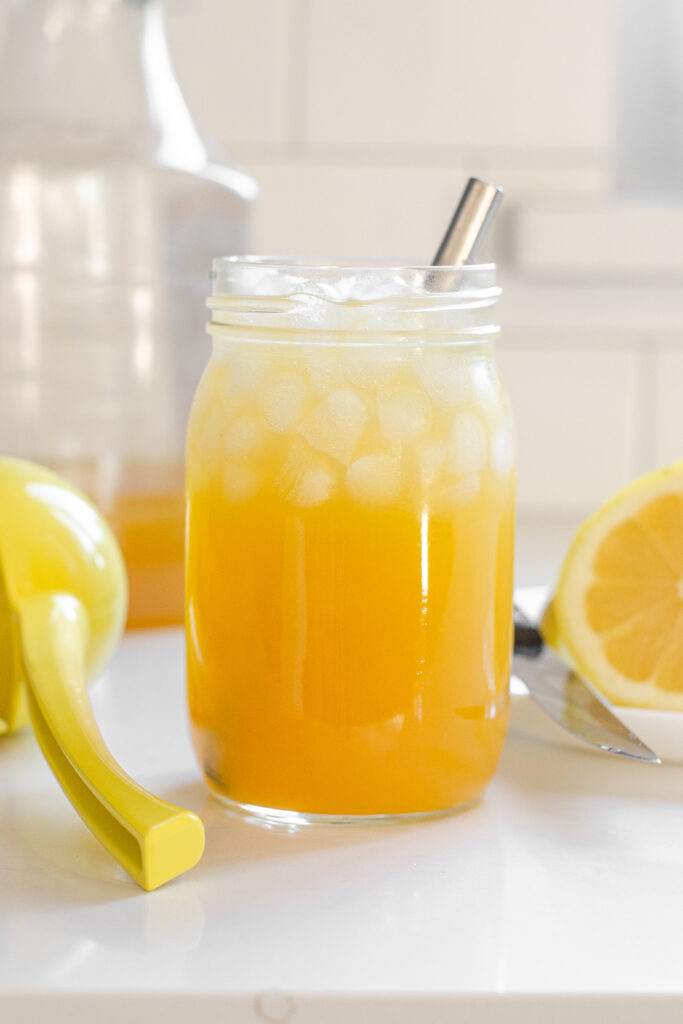 Remove the tea bag, and pour ⅔ cup of the peach drink into the glass. Add 1 tablespoon of freshly squeezed lemon juice. Top off with ice, and you're good to go!
This one actually tastes the closest to the Starbucks version. It contains natural flavor, which really brings out the peach flavor.
It does require you to use fresh lemon juice, but the flavors are really lovely.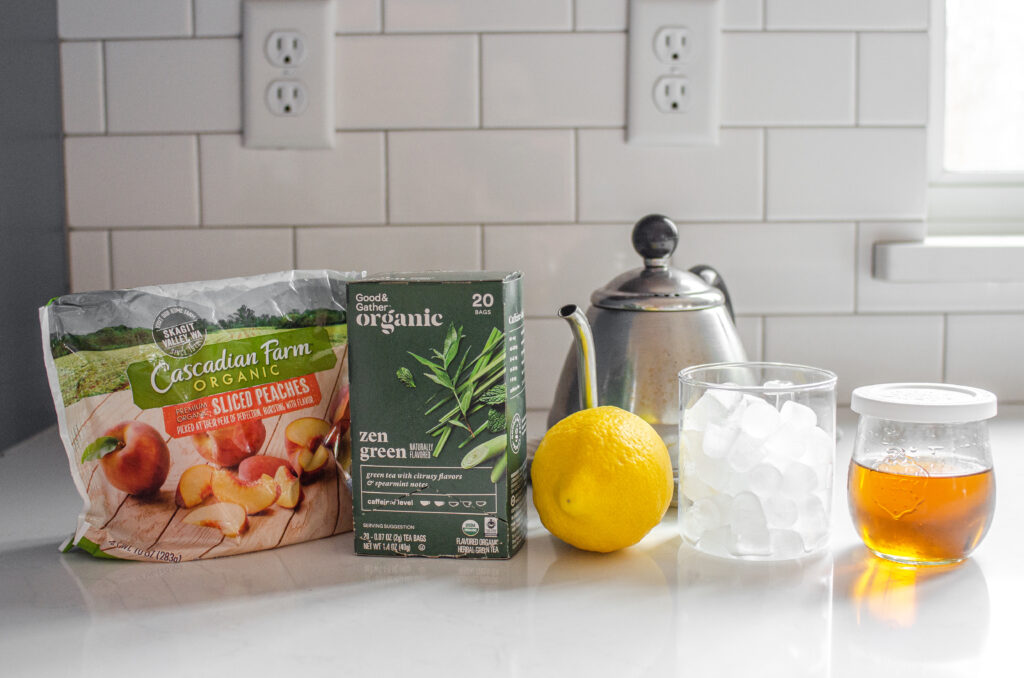 Method 3: Ingredients
And finally, I have a method that doesn't require any premade drinks, and uses real peaches! This one is going to be made a bit differently than the first two methods.
Here's what you'll need:
Frozen peach slices
Lemon Mint Green Tea
Fresh Lemon Juice
Maple Syrup
Hot Water
Ice
You can substitute simple syrup or sugar for the maple syrup if you prefer.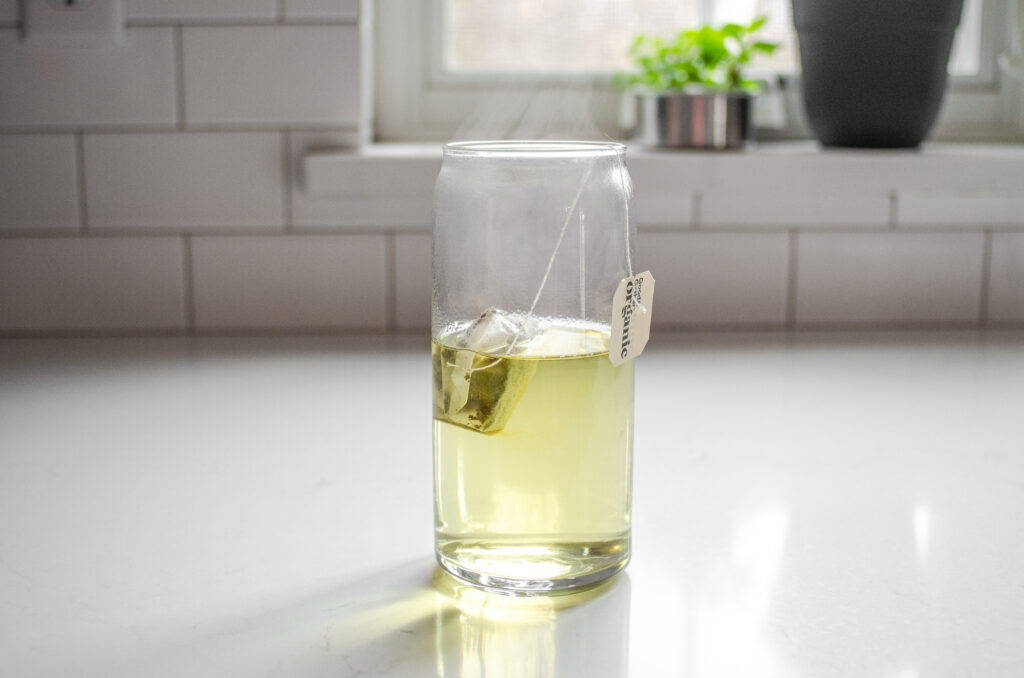 We'll start by brewing the tea again, but this time we'll use 1 ⅓ cups water (boiling, of course).
After the tea has steeped for 3 minutes, remove the tea bag.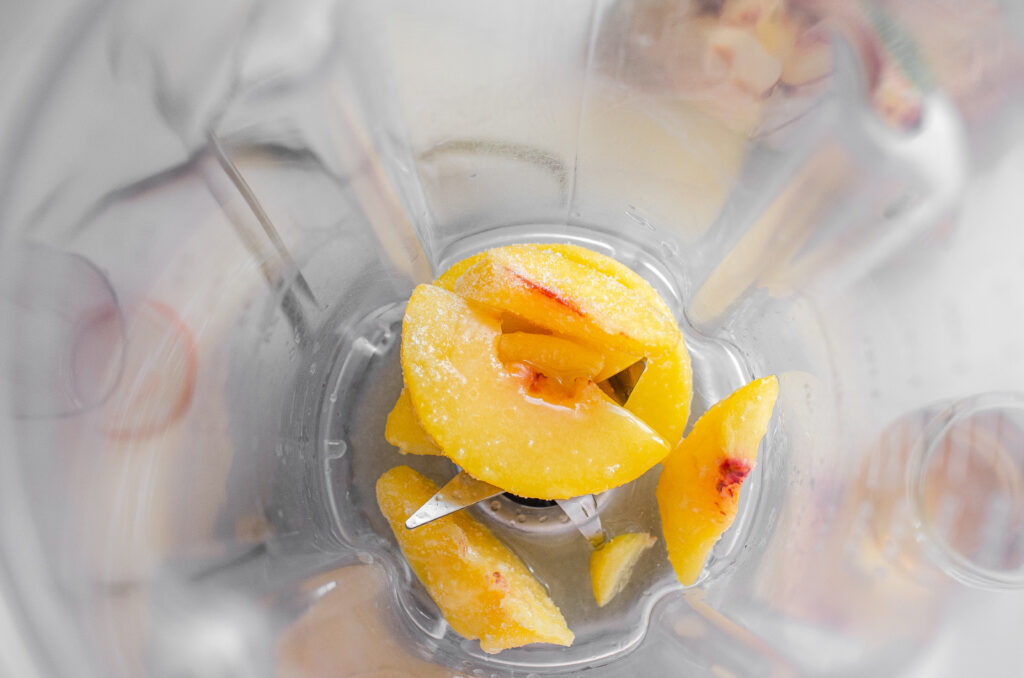 Place 5 frozen peach slices into a blender pitcher.
Add 1 tablespoon of fresh lemon juice and 1 tablespoon of maple syrup (or simple syrup).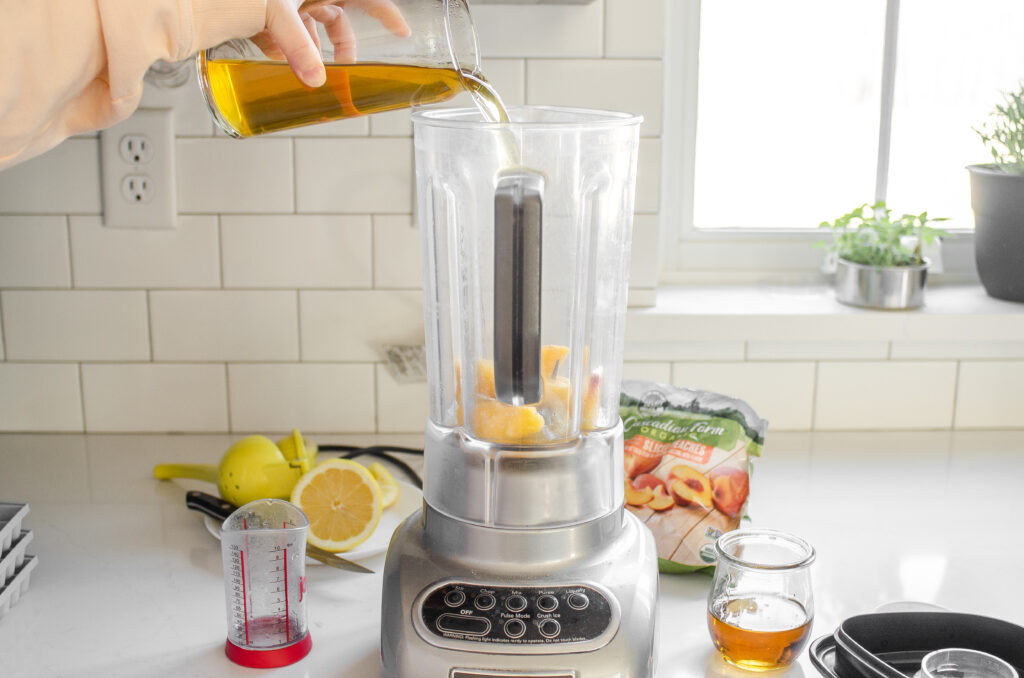 Now carefully pour the warm tea on top of the peach slices. The frozen peaches will help to cool the tea down.
Now put the lid on your blender, and place a kitchen towel on top to catch any spills. Please be VERY careful with the warm tea.
If it's too hot, let it cool down before blending. You don't want to burn yourself with hot tea!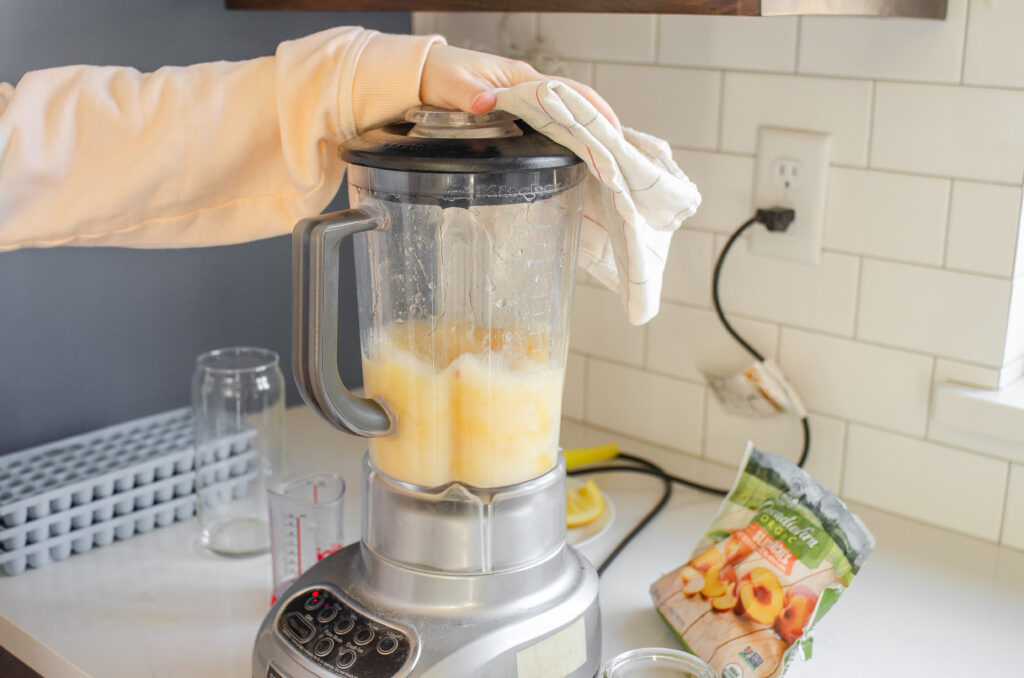 Okay, turn the blender on, and blend until everything is really smooth.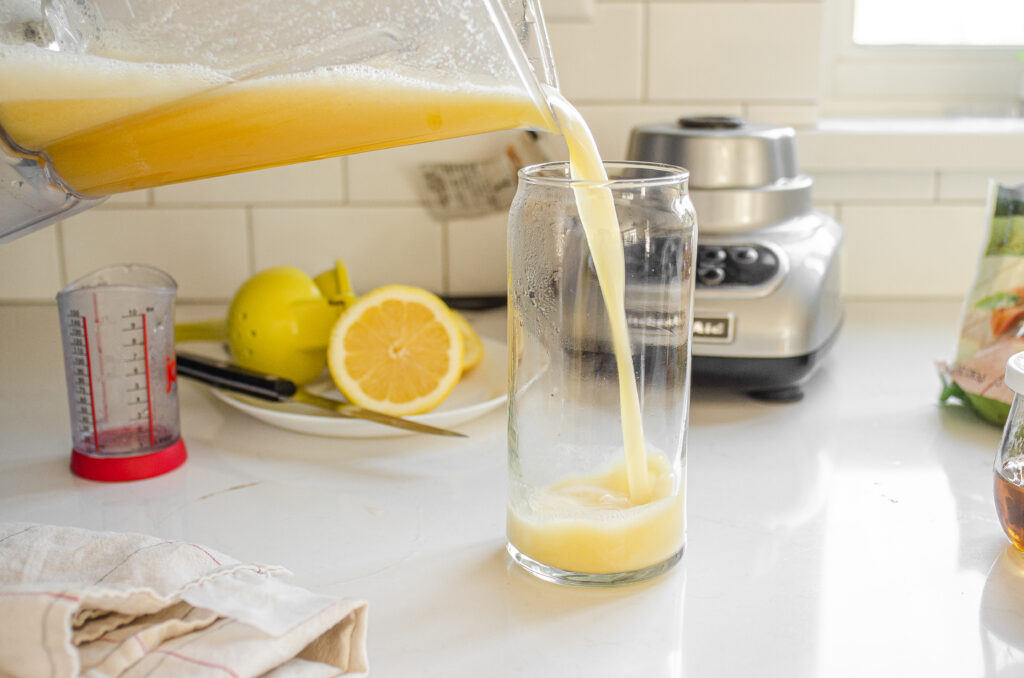 Pour into a tall glass…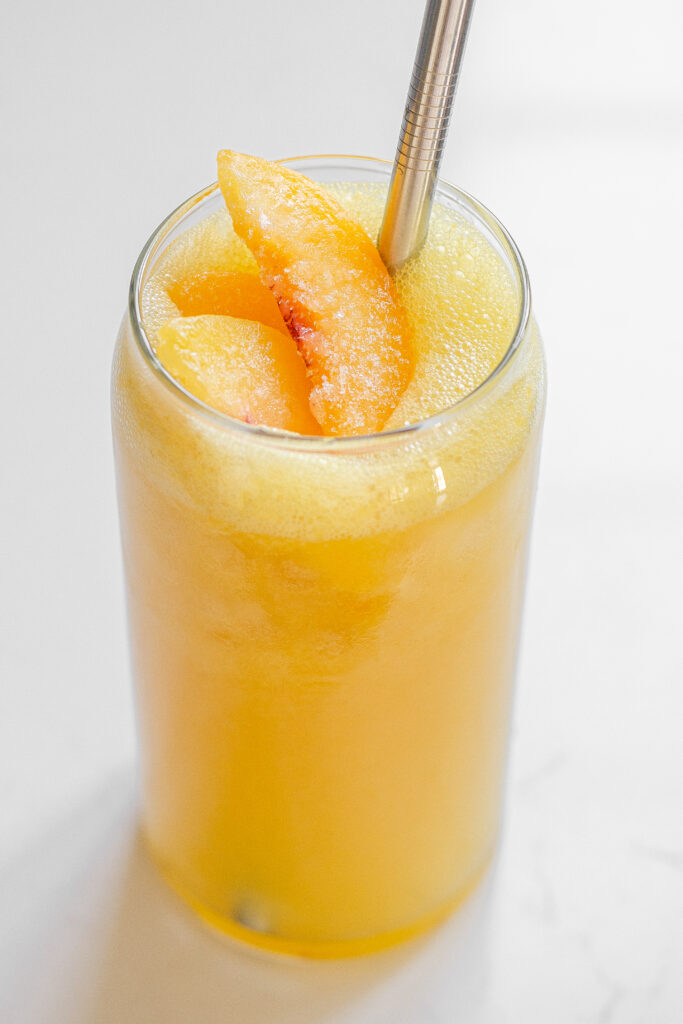 And top with ice!
This version has the least peach flavor of the three since it doesn't contain natural flavorings. But it also has the brightest color, and the most natural ingredients.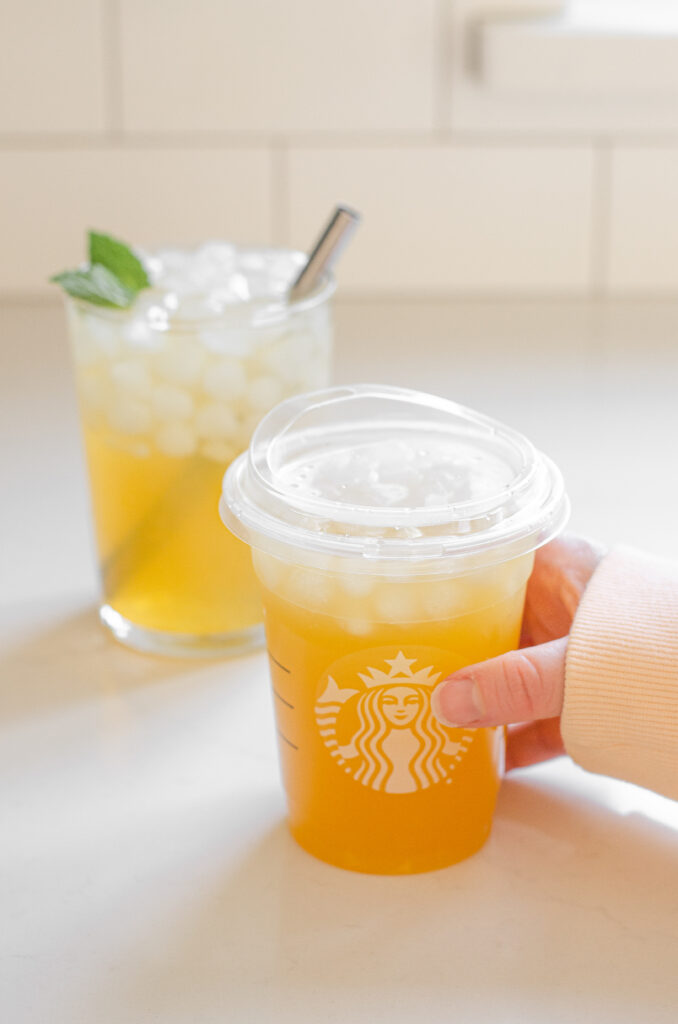 FAQ:
Here are a few frequently asked questions:
How much sugar is in a peach green tea lemonade from Starbucks?
A tall Starbucks peach green tea lemonade contains 14 grams of sugar. A Grande size contains 18 grams of sugar, and a venti contains 27 grams of sugar. If you opt for the Trenta, you'll be ingesting 36 grams of sugar.
All in all, it definitely doesn't have the highest sugar content of all the Starbucks drink!
My homemade version that uses the peach lemonade contains just slightly more sugar than the Starbucks version.
The method that uses Simply Peach drink contains 16.5 grams of sugar in 1 recipe.
And the method that uses fresh peaches, which is equivalent to a Starbucks Venti, contains about 16 grams of sugar.
Does the Starbucks Peach Green Tea Lemonade Have Caffeine?
Yes! Since it's made with green tea, which contains caffeine, it's definitely caffeinated. But it doesn't contain as much caffeine as coffee.
A tall peach green tea lemonade contains 20 mg of caffeine, whereas a tall cold brew contains 155 mg of caffeine. Quite the difference!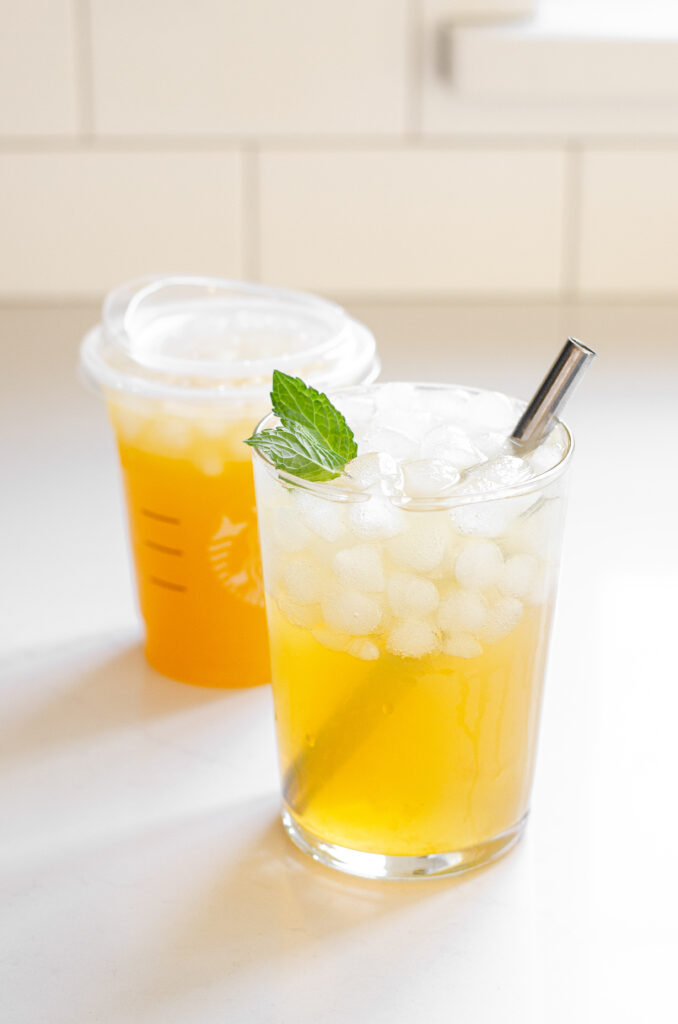 Is Starbucks Iced Peach Green Tea Lemonade Gluten Free?
While the ingredients in the Starbucks Peach Green Tea Lemonade don't directly contain gluten, Starbucks does not guarantee that any of its products are allergen free. They don't have a dedicated gluten free kitchen, so drinks could always become contaminated.
What Does Starbucks Put in the Peach Green Tea Lemonade?
Starbucks uses ice, lemon mint green tea, peach juice (it's actually a peach flavored juice which is made mostly of water and white grape juice concentrate, not real peach juice), and lemonade. Starbucks' lemonade contains lemon oil for an extra boost of lemon.
How Much Does a Homemade Iced Peach Green Tea Lemonade Cost?
Now besides having more control over the ingredients, the other advantage to making this at home is that you'll be saving money. A tall Starbucks peach green tea lemonade will set you back $3.85. But a 12 ounces serving of my homemade version will only cost about 40 to 65 cents. That's crazy!
If you use the frozen peach method, it will set you back more like $2, depending on if you use organic ingredients. It will be more like $1.50 if you use conventional frozen peaches.
Now if you'd like to learn how to save even more money by skipping Starbucks, make sure to check out my other Starbucks copycat recipes!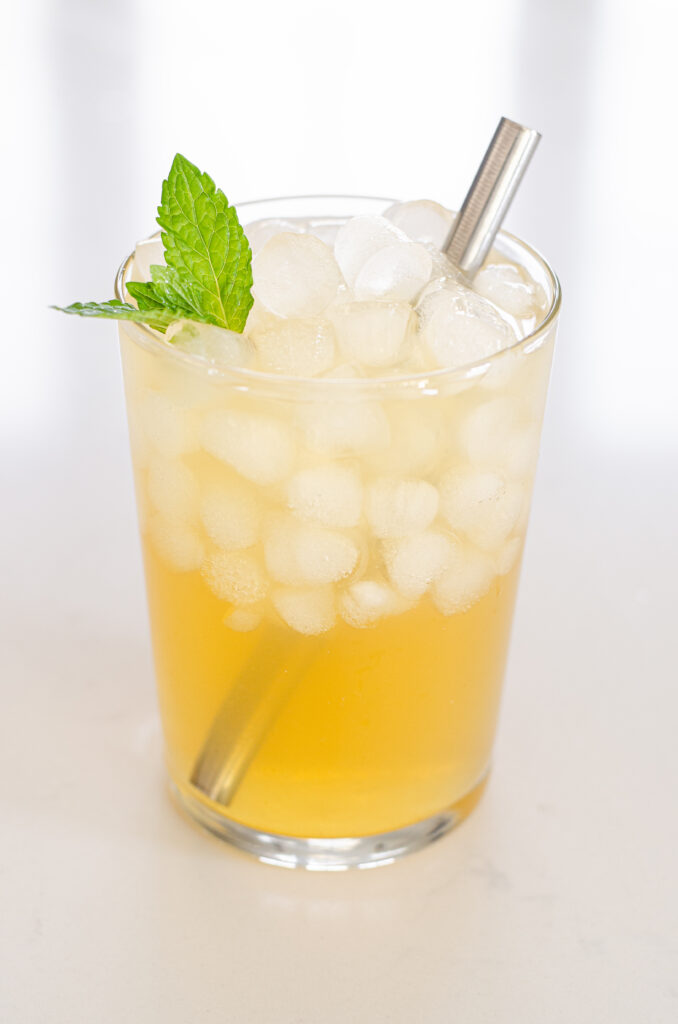 Summer Starbucks Drink Recipes:
Hot Starbucks Drink Recipes:
Starbucks Peach Green Tea Lemonade
This refreshing iced green tea is made with peach and lemonade!
Ingredients
1

bag

Zen green tea

(see note)

½

cup

hot water

⅔

cup

peach lemonade

(see note)

ice cubes to fill cup
Instructions
Place the tea bag in a 12 to 16 ounce heat proof glass. Pour the hot water on top and allow to steep for 3 minutes. Remove the tea bag.

Pour the peach lemonade on top of the hot tea. Add ice cubes to fill. Stir well to evenly chill the drink and enjoy immediately!
Recipe Notes
A zen green tea contains mint, lemongrass, and lemon verbena. I like the Good and Gather Zen green tea, but Tazo and Teavana also make a similar tea.
I use the Santa Cruz peach lemonade.
You can substitute Simply Peach drink and a tablespoon of lemon juice for the peach lemonade.
To make this completely from scratch, brew the tea with 1

⅓ cups of hot water.

Place 5 frozen peach slices in a blender and add 1 tablespoon each of maple syrup and lemon juice. Pour the warm (not hot!) tea on top, place a tea towel on top of the blender, and blend until smooth. Pour into a large glass and top with ice. Give it a good stir and enjoy!