This dirty chai latte recipe is a wonderful way to get all those amazing fall flavors without going to a coffee shop!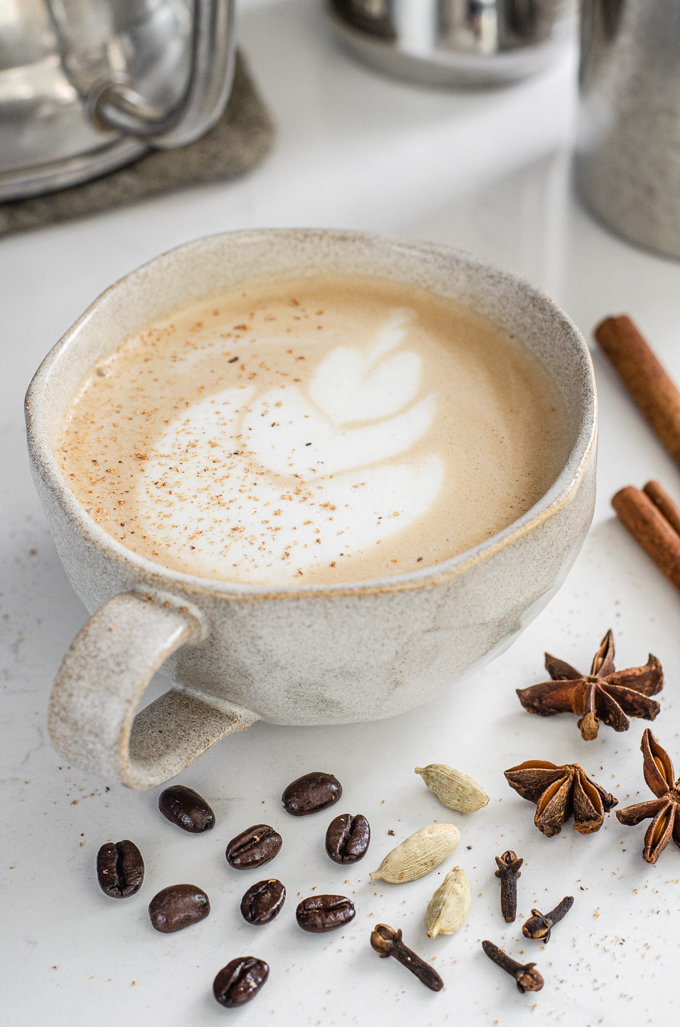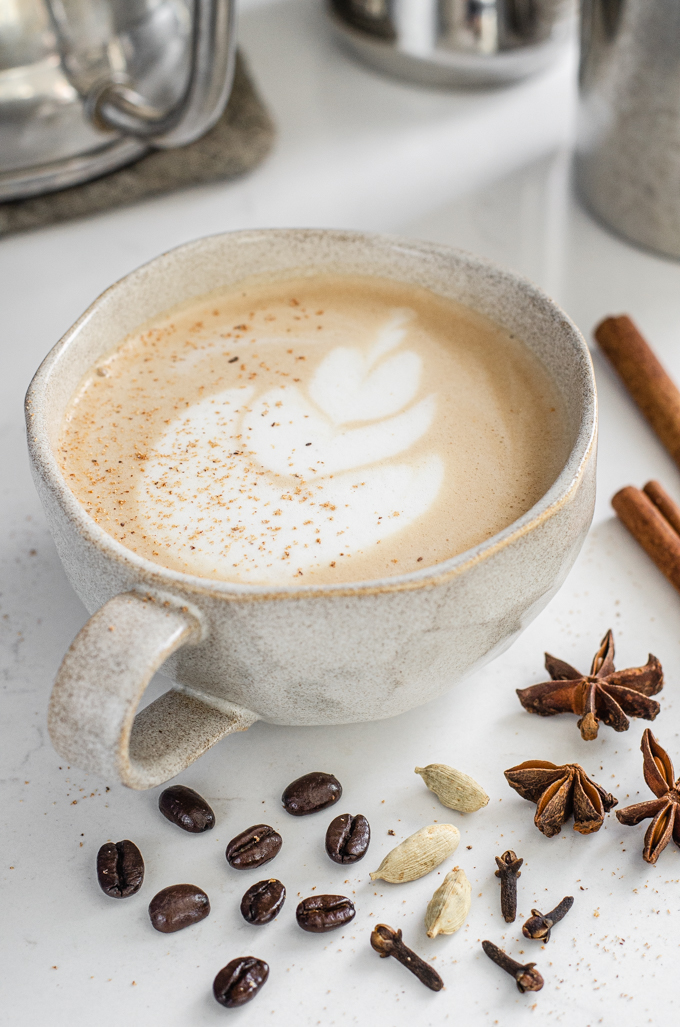 If you're looking for a fun way to mix up your fall drink routine, I've got the perfect idea for you: A dirty chai tea latte!
Okay, let's chat about it:
What is a Dirty Chai Latte?
A dirty chai latte is basically a chai latte that has a shot of espresso added. The addition of the coffee makes it "dirty" or "naughty."
So the difference between a chai latte and a dirty chai latte is simply the added coffee: that's all!
You can make a double dirty chai latte by adding two shots of espresso instead of one.
What Does a Dirty Chai Latte Taste Like?
It tastes a lot like a pumpkin spice latte, without the added earthiness of the pumpkin puree.
It has those hints of ginger, cinnamon, cardamom, cloves, and black pepper blended with the smoky coffee flavor.
The pairing of coffee and chai tea together is a match made in heaven IMO.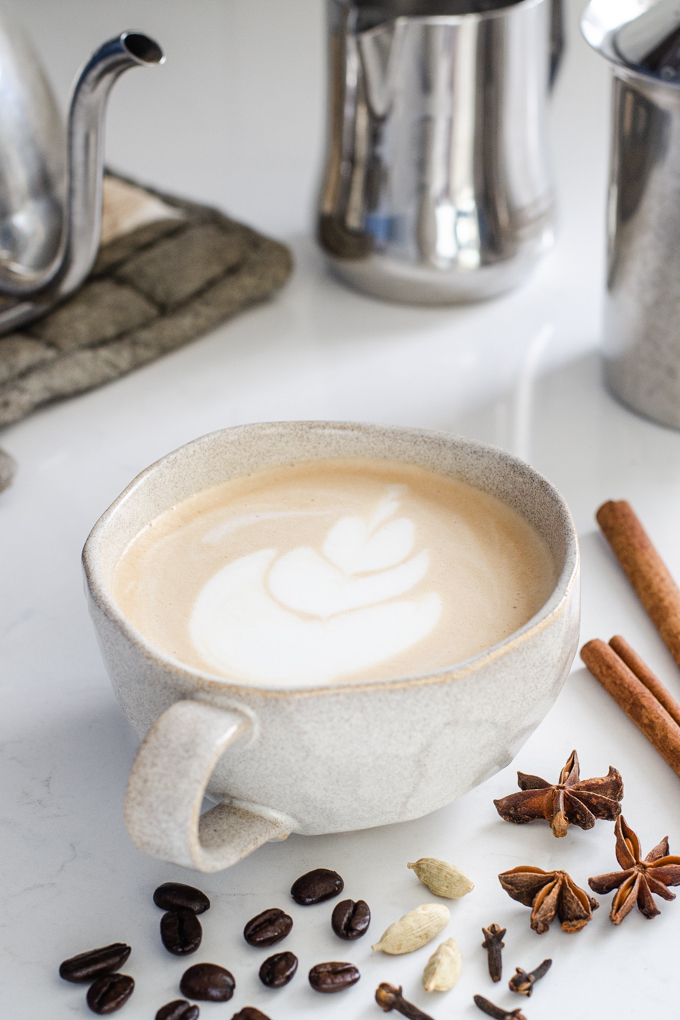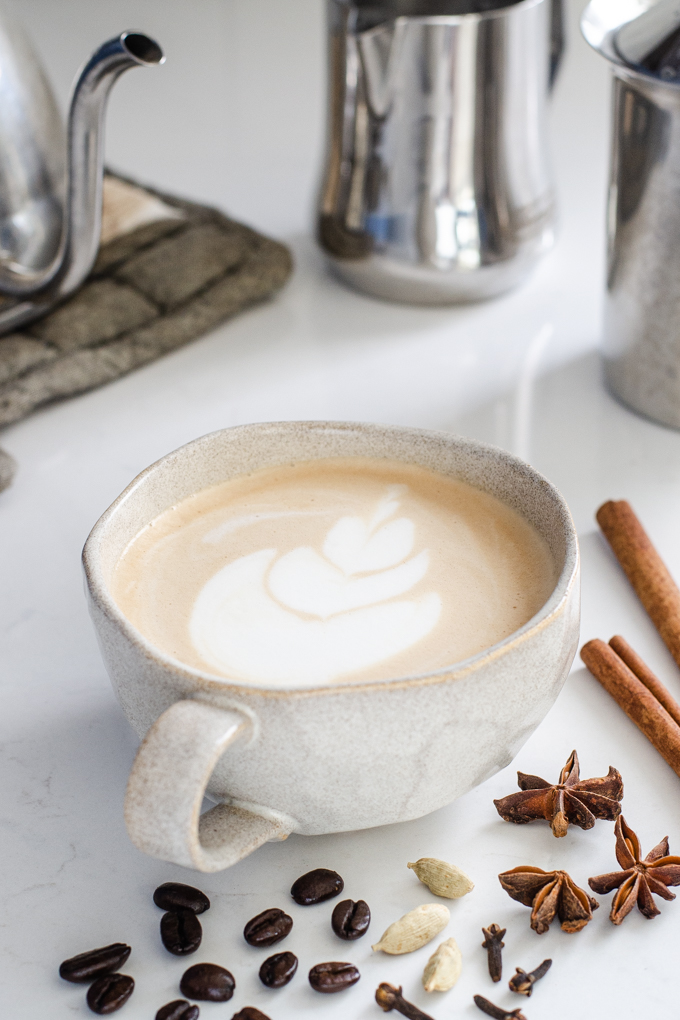 What is in a Dirty Chai Latte?
If you're talking about the Starbucks version, the ingredients are milk, water, espresso, and chai tea concentrate.
A dirty chai latte isn't actually on the main Starbucks menu: you have to order a chai latte and ask for a shot or two of espresso to be added.
I'll show you what I like to add to my homemade dirty chai latte below:
Dirty Chai Latte Ingredients: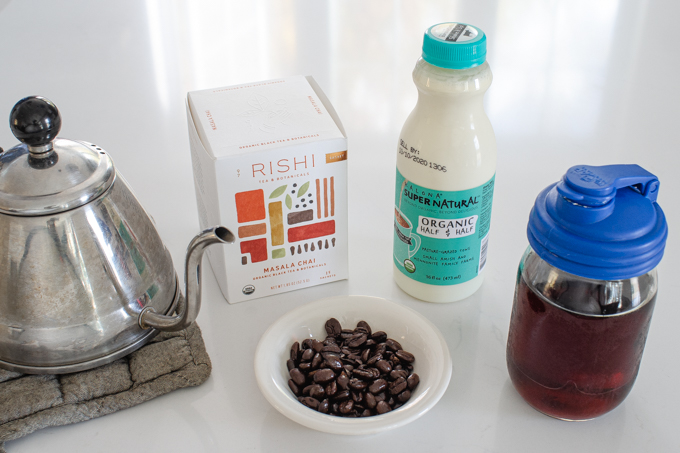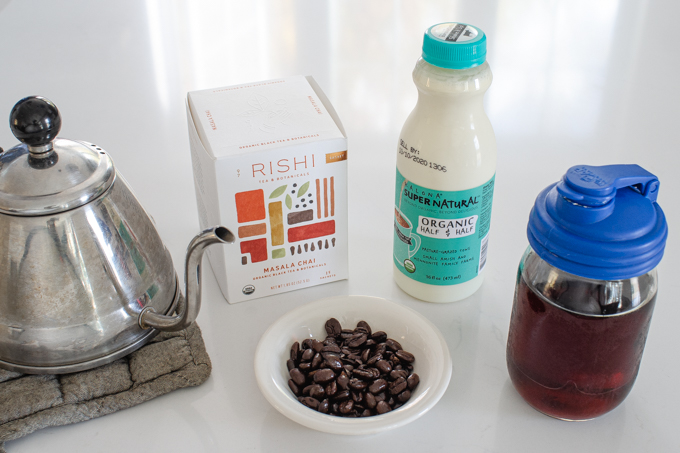 For a DIY dirty chai, the ingredients are pretty similar. But I switched up a couple of ingredients to make it even better.
You'll need:
Hot Water: You'll need boiling water to brew the tea, and hot water to brew the coffee.
A Chai Tea Bag: See notes at the bottom of this post for how to substitute loose leaf tea and chai tea concentrate.
Coffee Beans: You can also use ground coffee. I don't own a burr grinder yet, so I just used the grinder at my grocery store set to espresso.
Maple Syrup: I think maple syrup is lovely in a dirty chai latte, but see notes for substitution ideas.
Half and Half: Now, I like to use half and half instead of milk because it makes the latte creamier. Since you're using water for the tea and the coffee, that's quite a bit of water in the drink.
So the added cream ensures that it's nice and rich.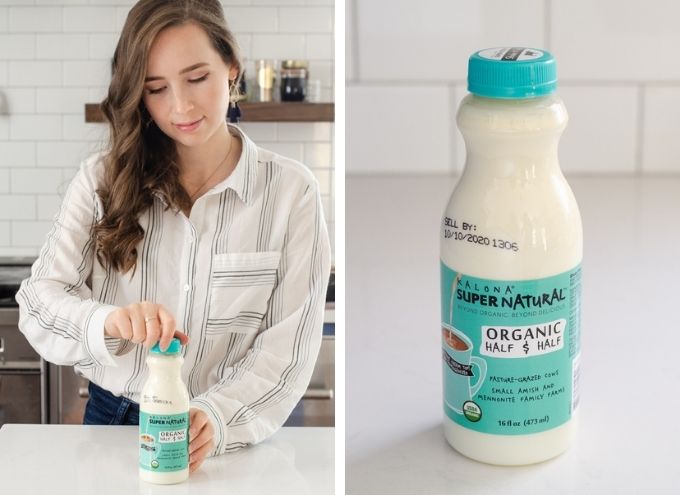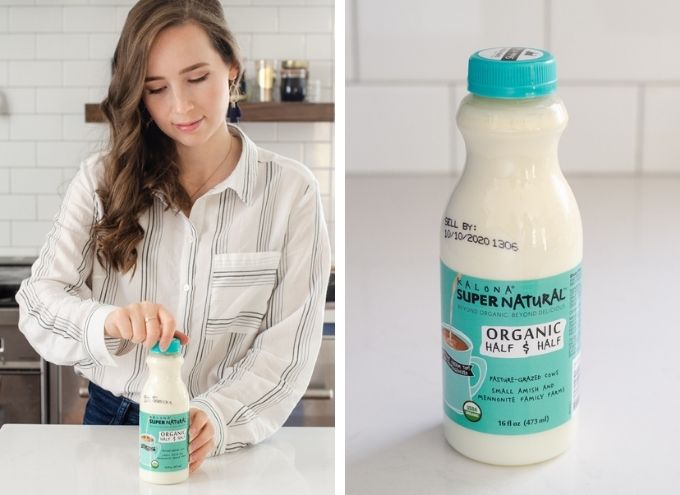 Can we chat about half & half for a minute?
I love Kalona SuperNatural half and half for making creamy, dreamy lattes.
Not only does it taste yummy, it has some awesome health benefits as well:
It's made with certified organic milk from pasture-grazed cows. You can read about why milk from pastured-grazed cows is nutritionally superior in my Kalona SuperNatural butter review post.
Since it's batch pasteurized to just 145° F, it's pretty much the next best thing to raw milk!
It's non-homogenized, which is a rare find, even for organic half & half!
I find that it's the perfect amount of creaminess for homemade lattes (or breves, if you want to get technical).
How to Make a Dirty Chai Latte: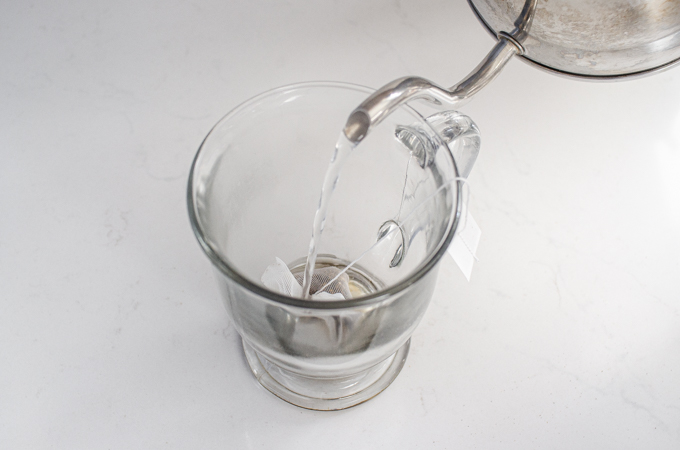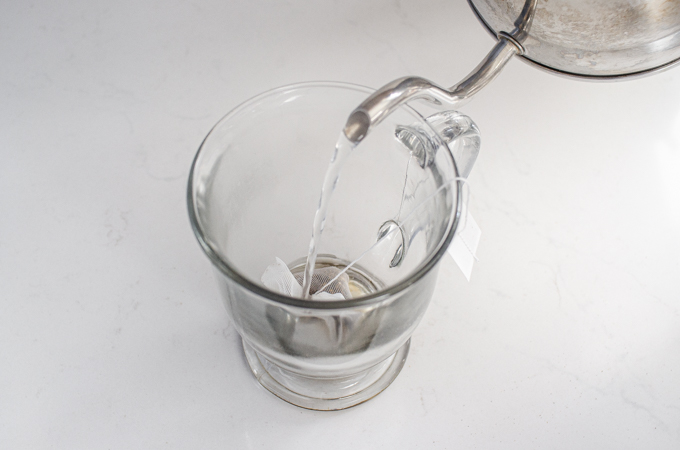 The steps to making a dirty chai latte are pretty simple:
Brew the tea.
Brew the coffee.
Add the sweetener.
And froth the milk. That's it!
Brewing the Tea:
First, you want to get your tea brewing.
Pour a little bit of boiling water over a chai tea bag in a mug.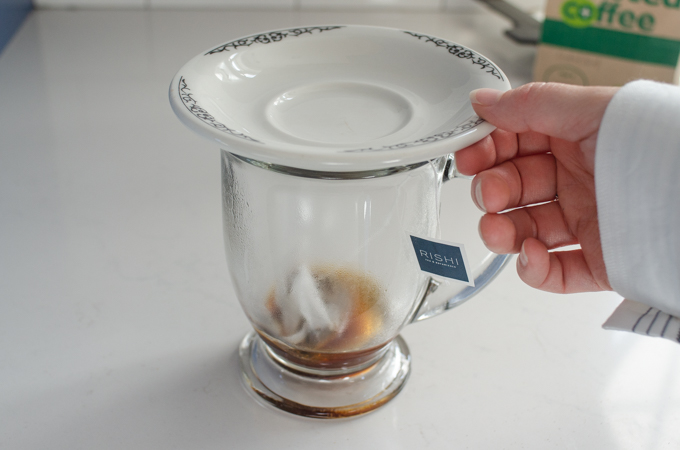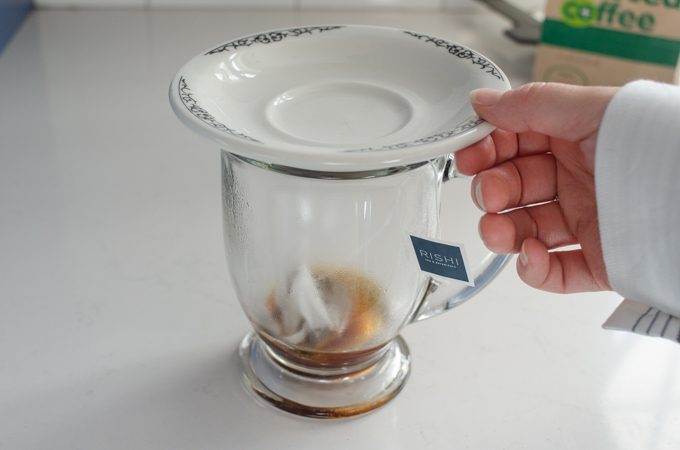 Place a small plate on top of the mug. You want to do this because it keeps the heat inside the mug and helps the tea to steep.
Since you're using such a small amount of water, the water can cool down too quickly if you don't cover the mug.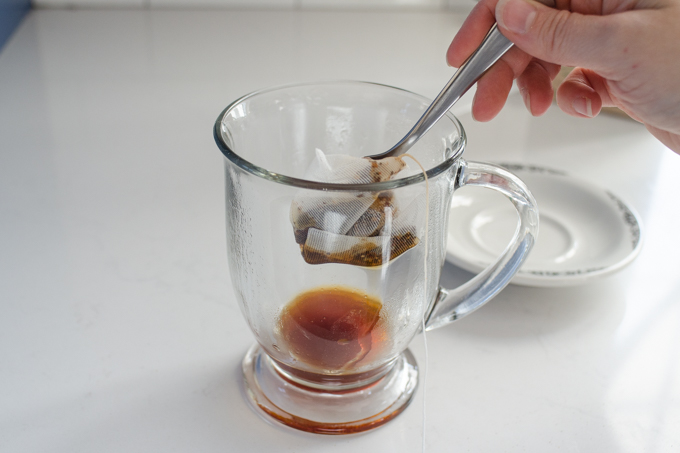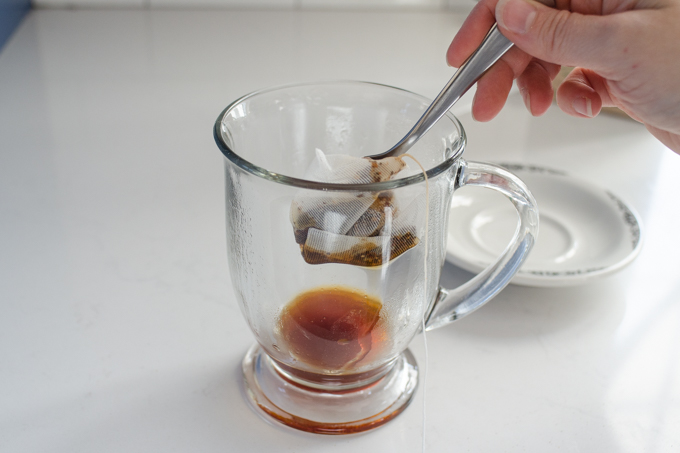 Steep the tea for 5 minutes.
Squeeze the tea bag out into the mug and discard or reuse the bag.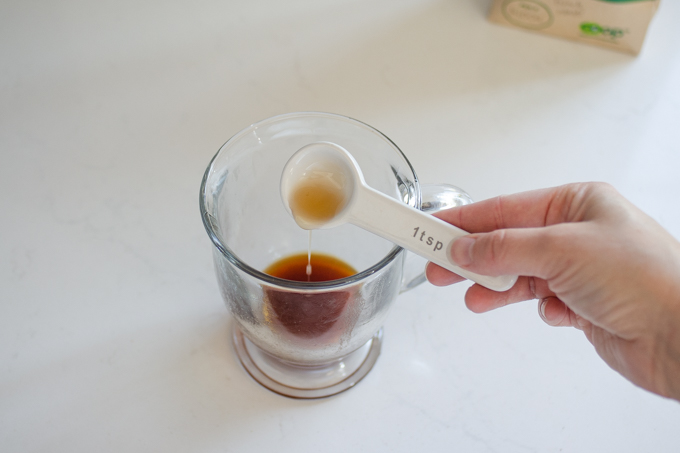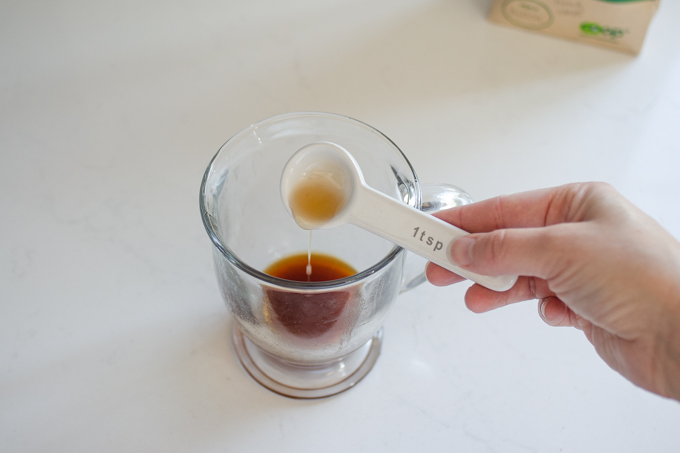 Pour a teaspoon or two of maple syrup into the tea.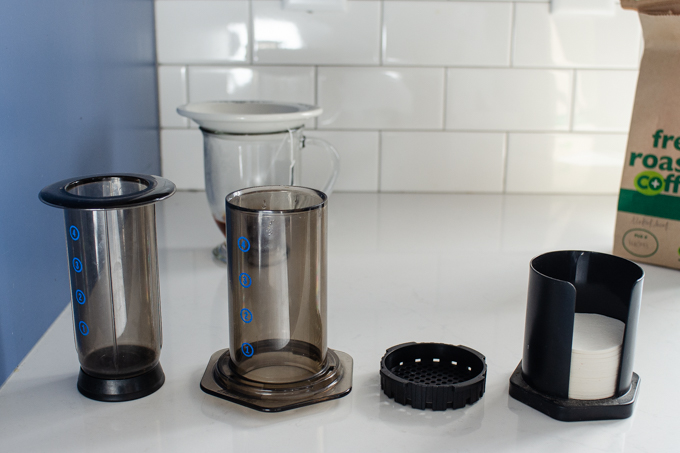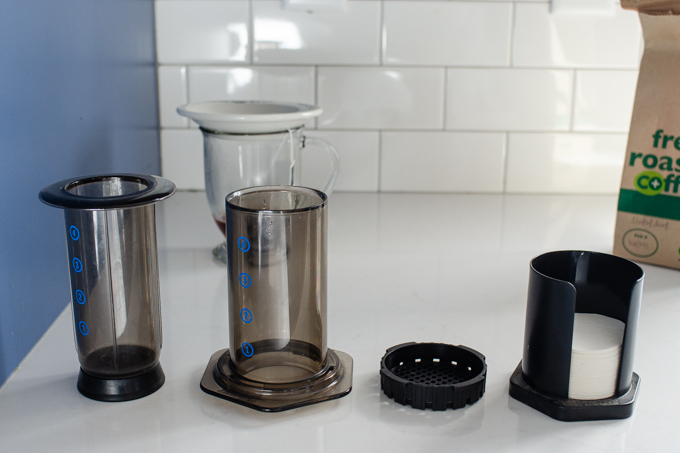 Brewing the Coffee:
Now it's time to make the coffee!
I personally like to use an Aeropress because it's the best simulation of espresso without owning an espresso machine that I've tried. (Full disclosure: Aeropress gifted me this press almost 9 years ago).
If you're lucky enough to own an actual espresso machine, you can substitute a shot of espresso.
If you don't own either an Aeropress or an espresso machine, you can substitute 2-4 tablespoons of very strongly brewed coffee.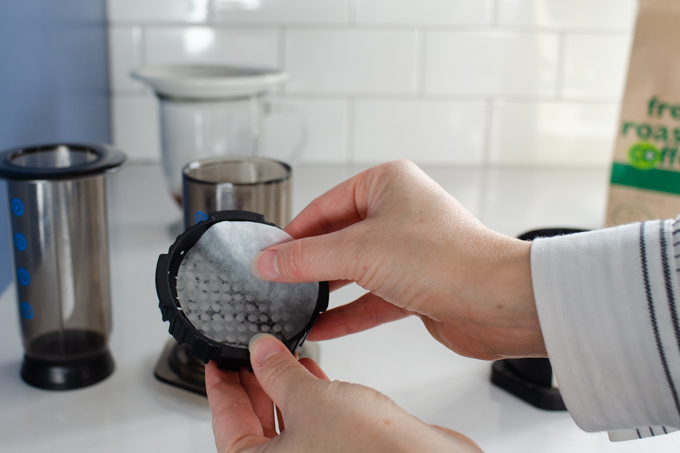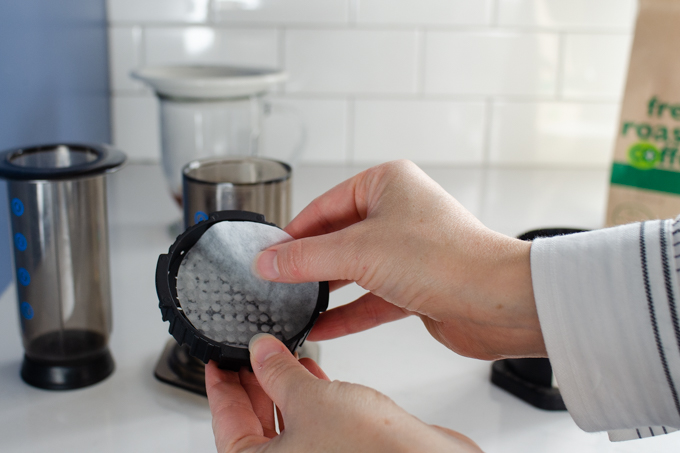 To use an Aeropress, dampen a paper filter and place it in the filter cap.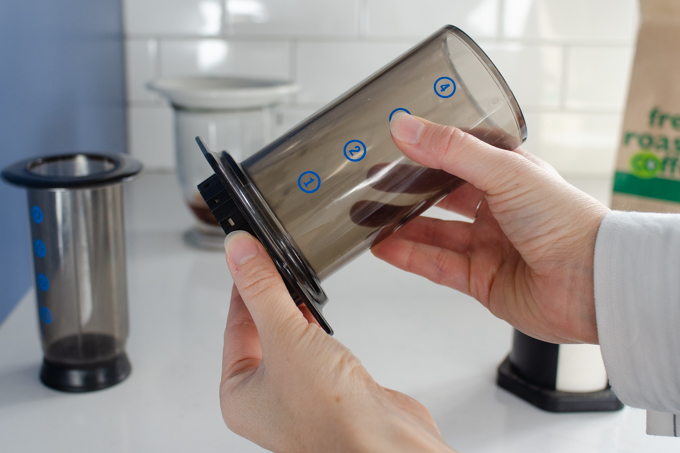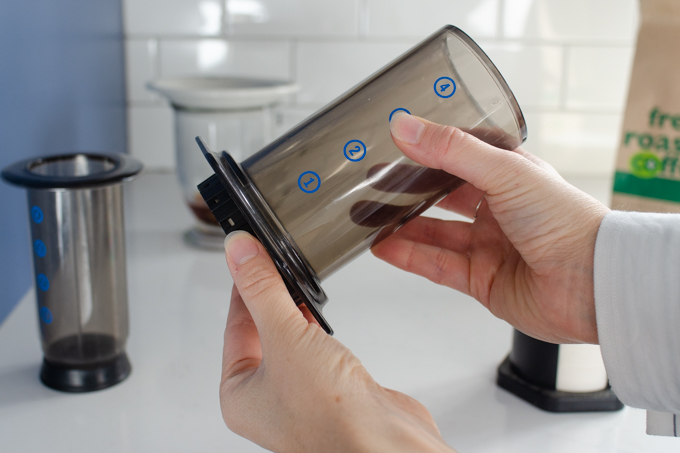 Screw the filter cap onto the bottom of the chamber of the Aeropress.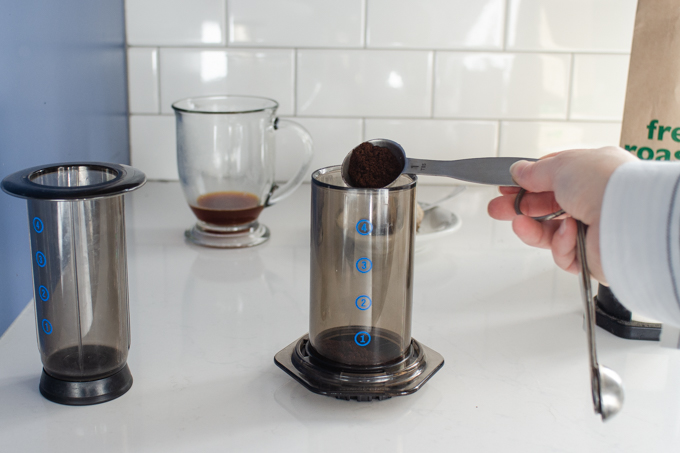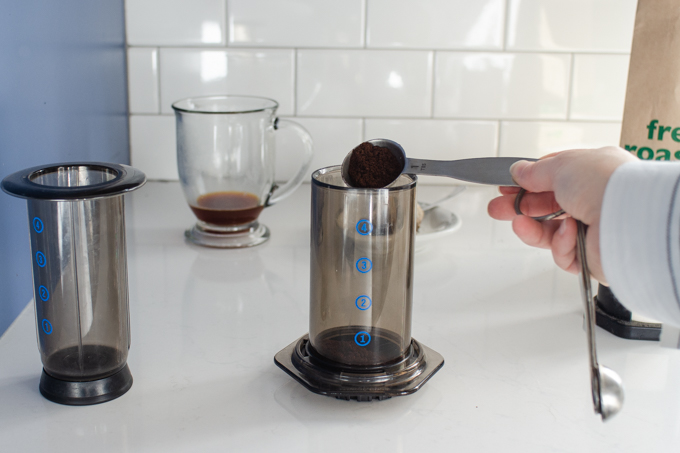 Add three tablespoons of finely ground coffee.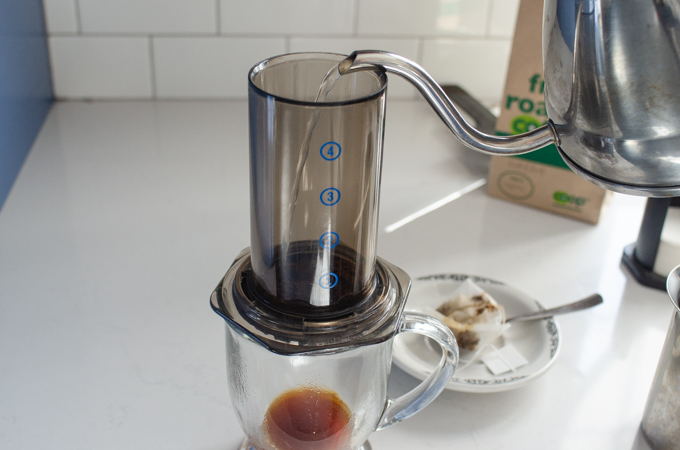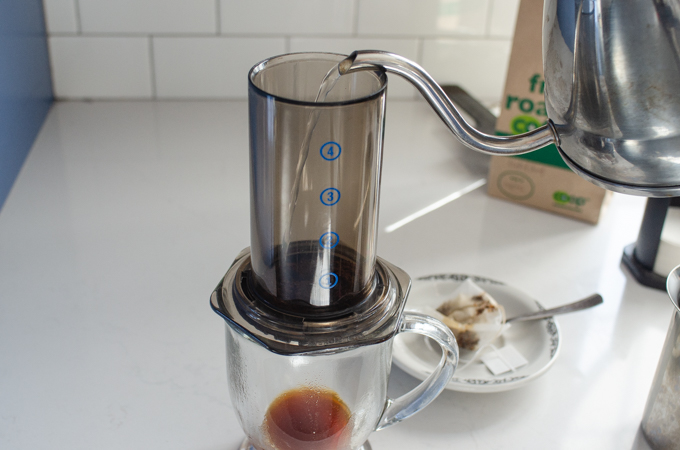 Put the chamber over the mug of tea and pour hot water (175° F or 80° C) up to the middle of the 1 on the side of the press.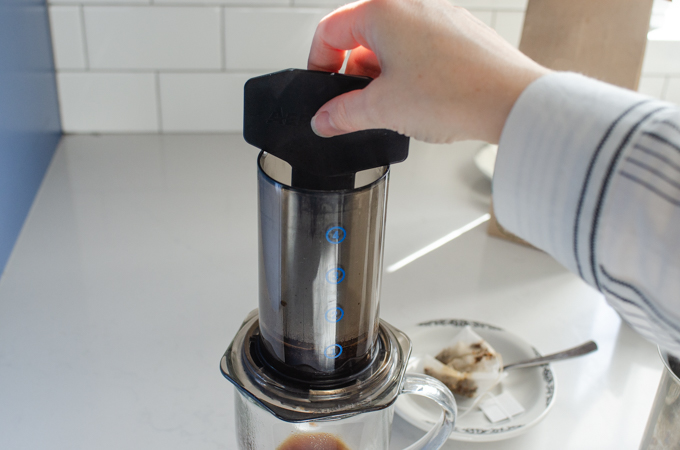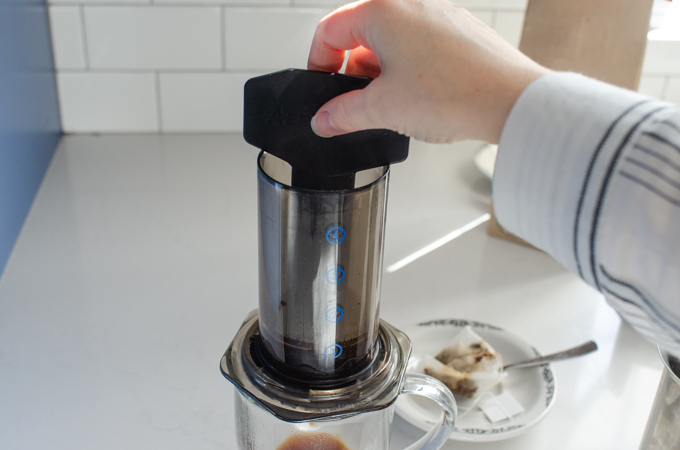 Stir the coffee grounds and water together with the stir stick.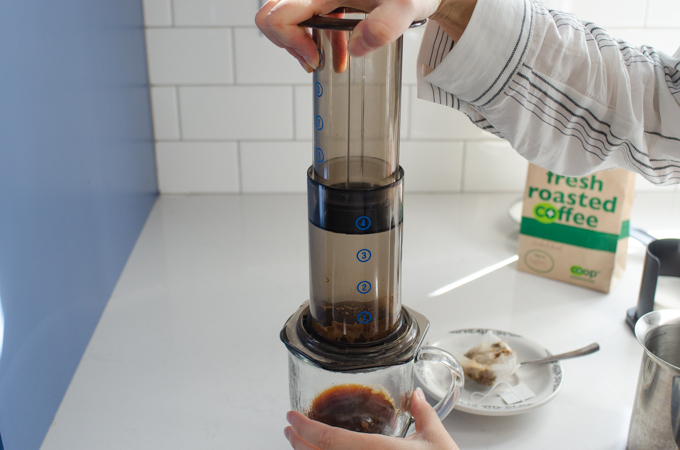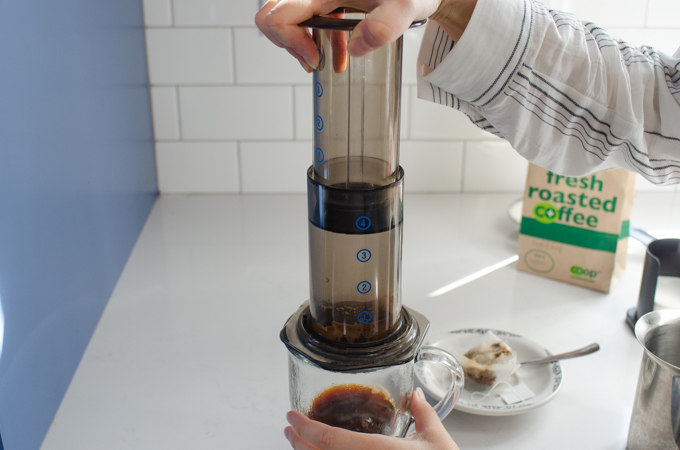 Plunge the Aeropress down, going all the way to the grounds and pressing on them with the plunger.
I know it isn't recommended to touch the grounds with the plunger, but it's what I do. ?‍♀️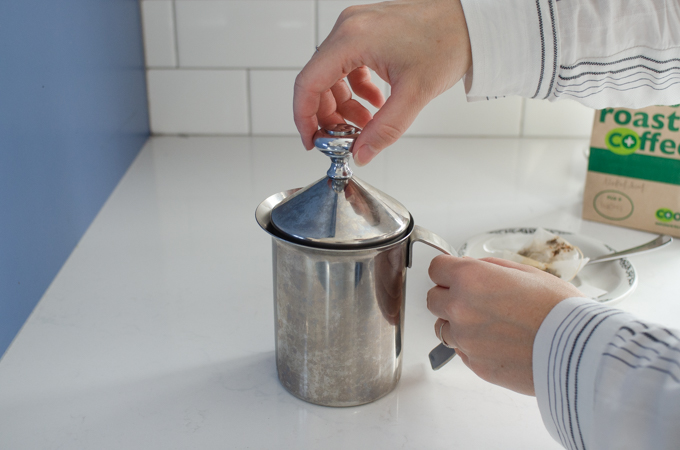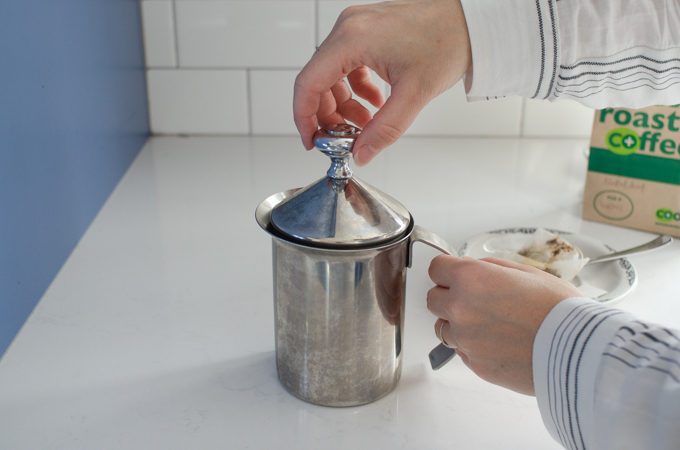 Frothing the Half and Half:
Heat the half and half to about 150° F (65° C) over the stove.
From here, there are several ways you can froth the half and half. Check out my 8 Ways to Froth Milk Without a Machine post on The Pioneer Woman's blog to learn how.
I personally like to use a hand pump milk frother to do the job.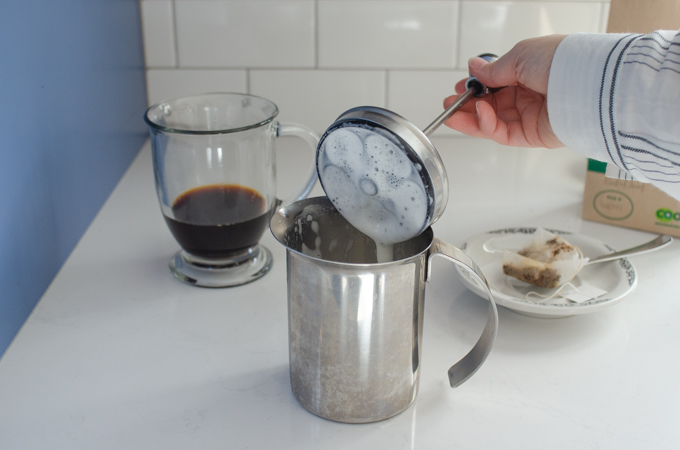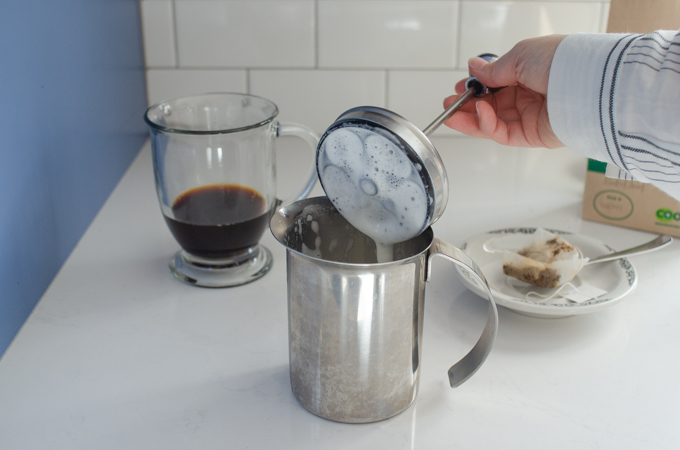 I prefer the texture of milk frothed this way vs with a handheld stick frother.
But it is more difficult to clean up afterwards.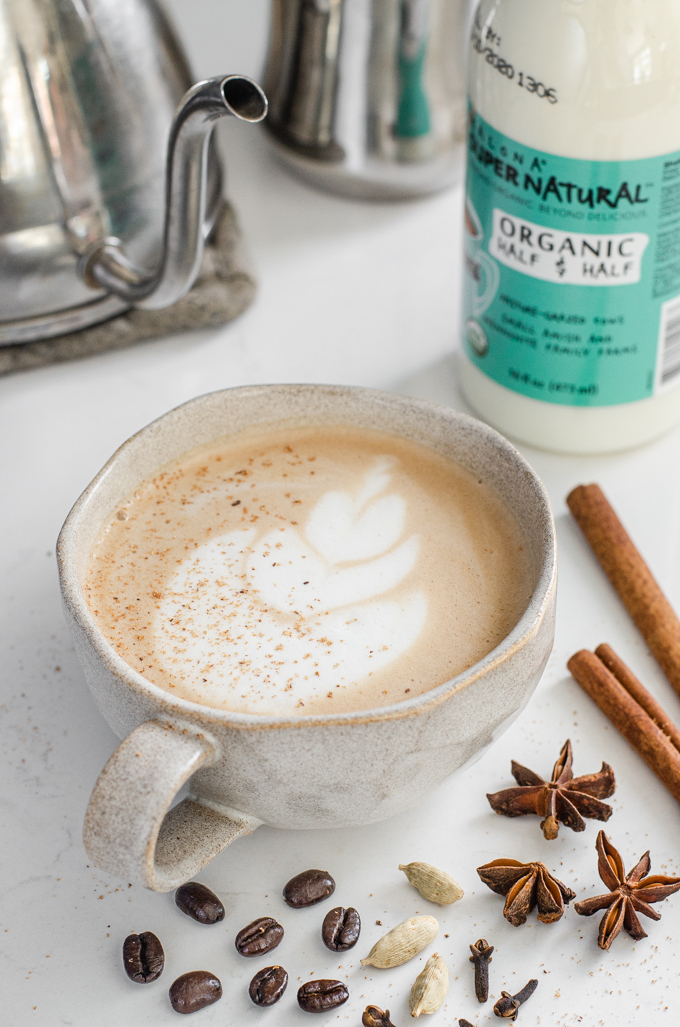 Now pour the frothed milk over the chai tea/coffee mixture in the mug, and you've got yourself a dirty chai latte!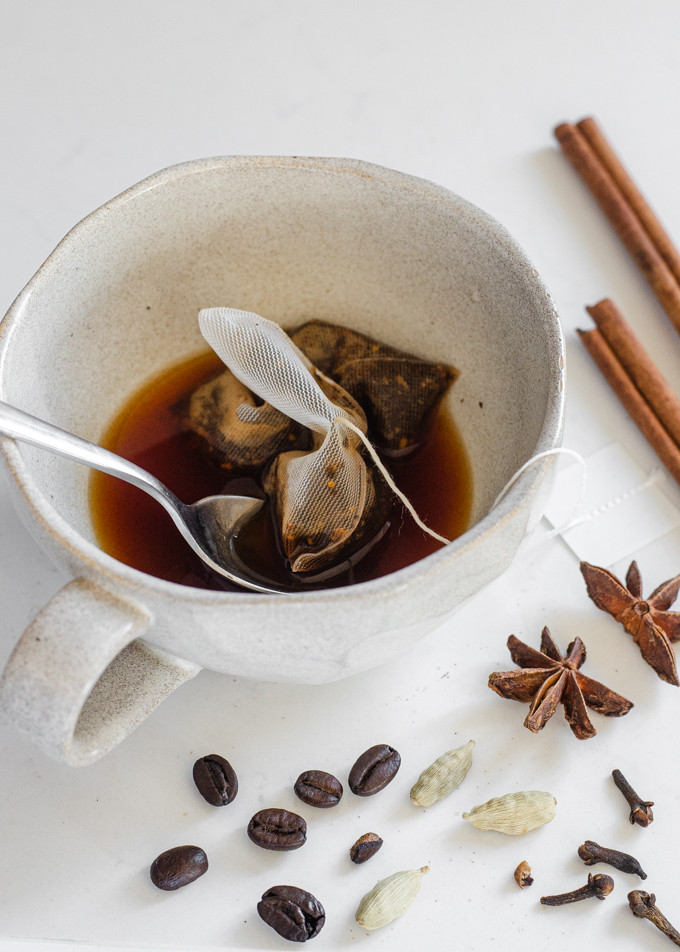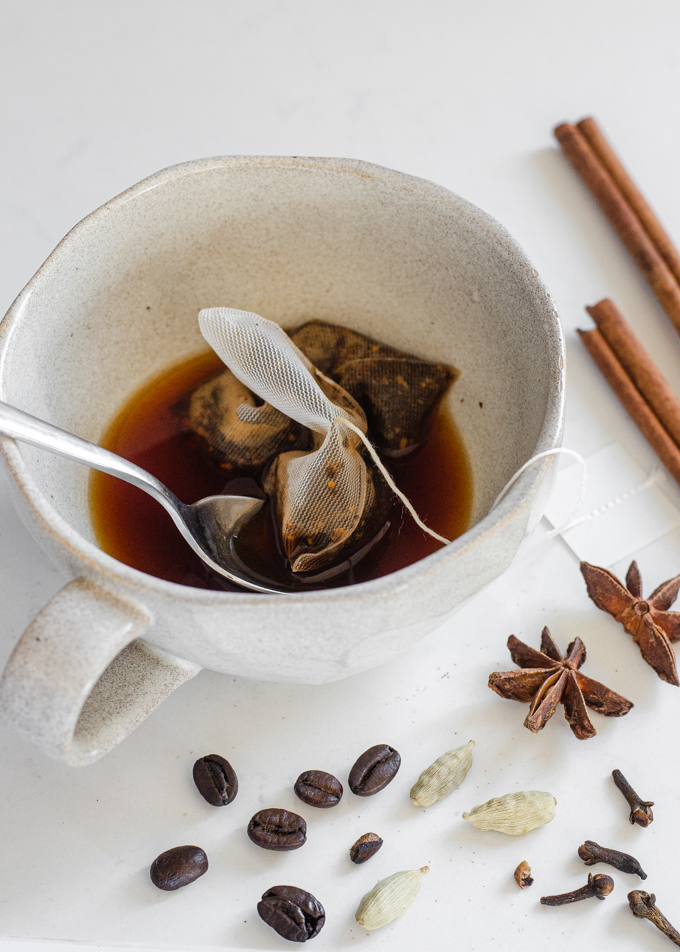 NOTES:
I like the flavor of maple syrup, but you could also sweeten this dirty chai latte with honey, sugar, or a pre-made coffee syrup.
To make a dirty vanilla chai, simply add ¼ teaspoon of vanilla extract. You could also use about 1 to 2 teaspoons of vanilla syrup instead of maple syrup.
Instead of a chai tea bag, you can use 2 teaspoons of loose leaf chai tea, or 2 to 3 tablespoons of chai tea concentrate (leave out the water if using concentrate).
I personally really like the flavor of Rishi Masala Chai, but Equal Exchange Chai Tea is also good. The Equal Exchange chai is stronger, but tends to be more one-note. The Rishi chai is a tiny bit weaker, but has a more full, bright flavor profile.
More Latte Recipes:
More Copycat Starbucks Recipes:
Here's a Video Tutorial for Y'all:
Thanks to Kalona SuperNatural for sponsoring this post! I ? their half & half!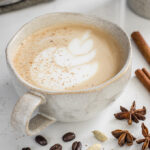 Dirty Chai Latte Recipe
A chai latte made "dirty" with the addition of coffee!
Ingredients
1

bag

chai tea

3

tbsp

boiling water

1

tsp

maple syrup

(see note)

1

shot

espresso

(see note)

2/3

cup

Kalona SuperNatural organic half & half
Instructions
Place the chai tea bag in a mug. Pour 3 tablespoons of boiling water on top. Cover the mug with a small plate and allow to steep for 5 minutes. Squeeze the water out of the tea bag into the mug and set the tea bag aside.

Pour 1-2 teaspoons of pure maple syrup into the mug.

Heat the half & half to 150°F (65°F). Froth the warm half & half (see note).

Pour over the tea/coffee mixture in the mug. Serve immediately.
Recipe Notes
You can use 1-2 teaspoons of maple syrup, or to taste. 1 teaspoon = lightly sweetened.
You can substitute 2-4 tablespoons of strongly brewed coffee for the shot of espresso.
I like to use an Aeropress to brew the coffee. To make using an Aeropress, place 3 tablespoons of finely ground coffee into the filter-lined chamber. Fill to the 1 line with 175 F (80 C) water, stir, and press.
If you don't have an espresso machine, you can froth the half & half using a handheld pump frother, French press, blender, etc.