These sourdough tortillas use a long fermentation process with wild yeast, which is better for your health and lends some amazing flavor! With just 5 simple ingredients, they're easy to make as well!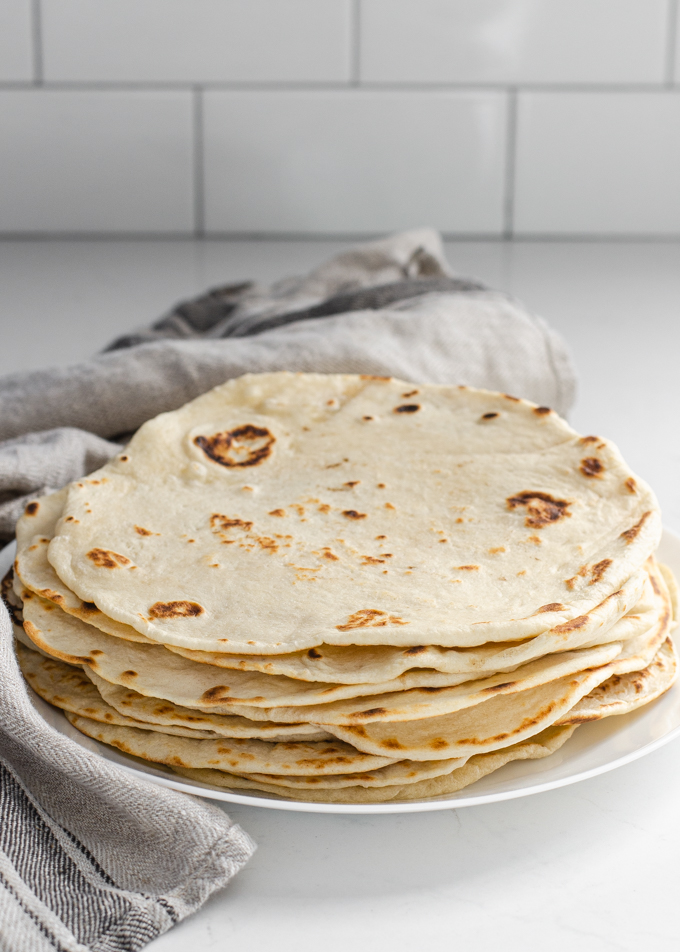 Can you make tortillas with sourdough starter?
Yes. You certainly can. And I'm going to show you exactly how!
Homemade tortillas are delicious.
And homemade sourdough tortillas are simply out of this world amazing.
Now, you might think that it's too much work to make your own flour tortillas. But the flavor is well worth the effort. If you've never tasted a fresh-from-the-skillet tortilla, you're in for a real treat.
Of course it's more of a treat than an everyday thing. But you might be surprised by how often you're willing to make these once you try them!
This is a great recipe if you're a beginner sourdough baker because it only requires 1 rise time since it's a flat bread. Thus you don't have to worry about your bread rising perfectly.
Okay, let's dive in and make them!
Here's the video tutorial:
Ingredients for Making Sourdough Tortillas: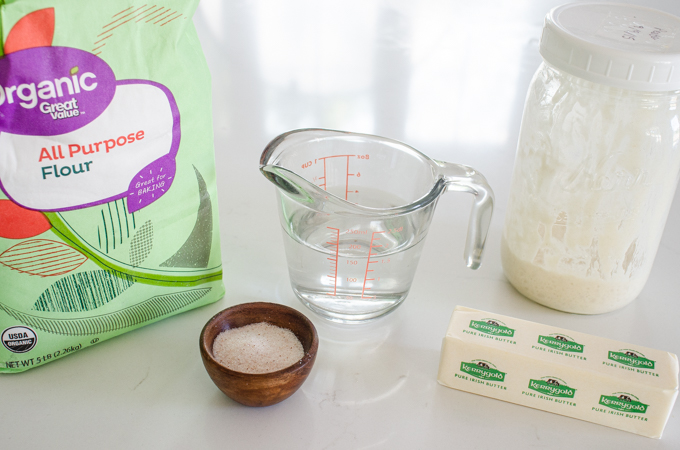 Note: Some links are affiliate. All opinions are 100% my own, of course! If you click a link and make a purchase, I will earn a small commission. This has zero impact on the price you pay, and it helps Buttered Side Up out! Thank you!
The wonderful thing about this sourdough tortilla recipe is that it only requires 5 simple, basic ingredients:
Active Sourdough Starter: Make sure to use an active starter here. This recipe is NOT formulated to use a sourdough discard, but feel free to experiment since this is a little more forgiving than bread. If you don't have your own sourdough starter already, make sure to check out my How to Make a Sourdough Starter post. I keep my starter at 100% hydration, which simply means that I feed it equal weights, not volumes, of water and flour.
Water: You can use room temperature or slightly warm water. There's not need to use hot water, and it might scald your hands so I recommend avoiding it! If your kitchen is cold, it's a good idea to use warm water so it gives your starter a jumpstart.
Flour: I like to use organic all-purpose flour. Not only is it healthier for you, it's healthy for your sourdough starter as well! I haven't experimented with using whole wheat flour or another whole grain flour to make these, but you should be able so successfully substitute

⅓ to ½

of the white flour with whole wheat.
Salt: I always use unrefined sea salt, but you can use regular table salt as well.
Butter: No surprise here: grass-fed butter is my go-to! I like to use a fat that's solid at room temperature rather than something like olive oil or avocado oil. You could substitute coconut oil or lard if you like. I just use regular butter, but you could also use unsalted butter.
Mixing the Dough: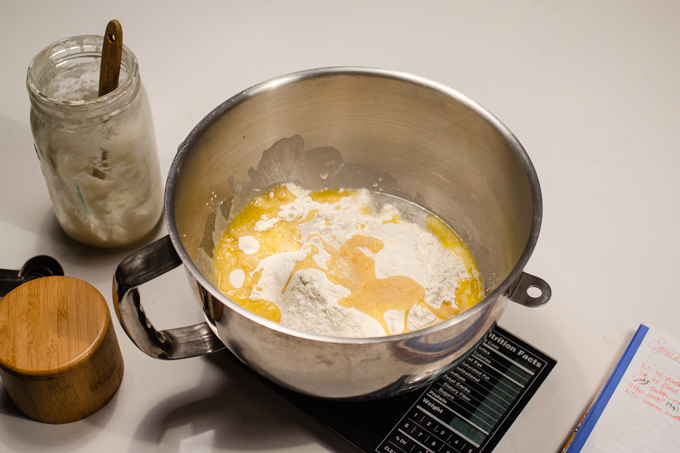 First, place all of the ingredients for the sourdough tortillas in the bowl of a stand mixer.
No need to separate out the dry ingredients and the wet ingredients! Just dump them all in.
I personally like to weigh my ingredients when working with sourdough. That way you don't use too much flour, ending up with dry tortillas.
But I included volume measurements as well.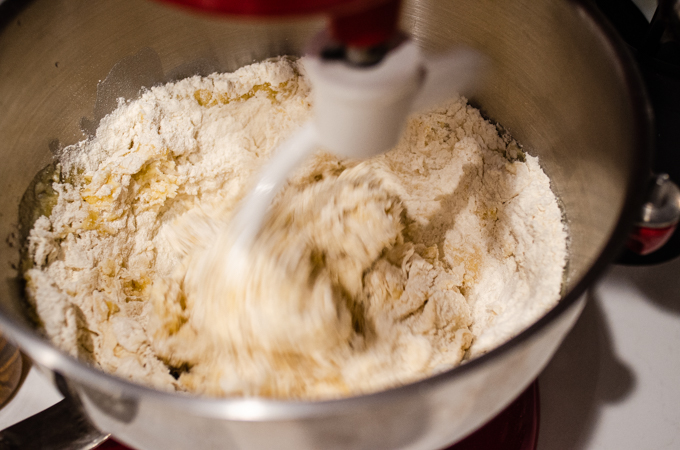 Next, place the bowl of the stand mixer on the machine. Turn it on to medium-low.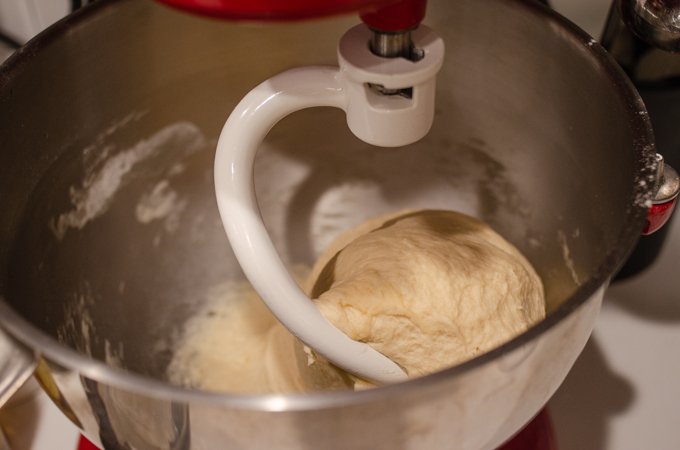 Finally, mix until a smooth tortilla dough forms, about 5 minutes.
You want it to be a soft dough, but not too sticky.
Fermenting the Sourdough Tortillas: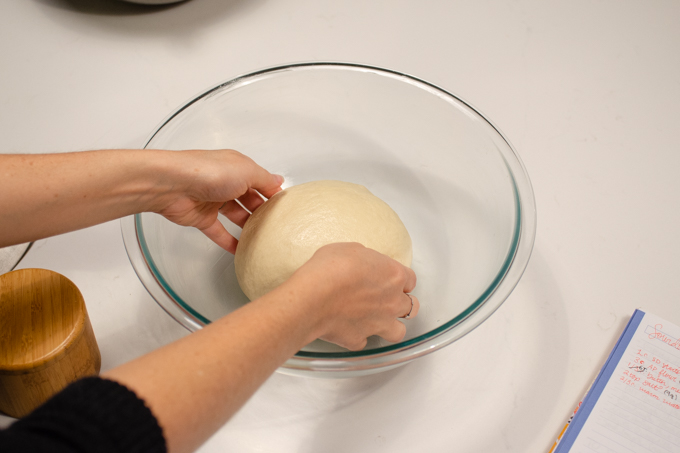 Place the smooth ball of dough in a greased large or medium bowl, turning once to grease the top.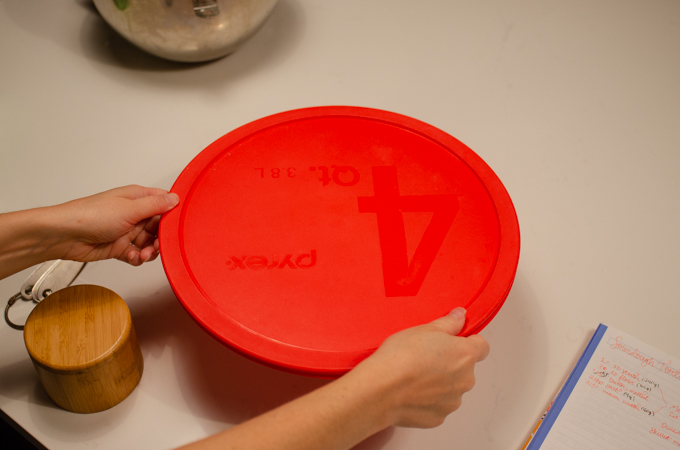 Cover with a lid (or plastic wrap/a tea towel if your bowl doesn't have a lid).
BTW, if you do a lot of cooking with sourdough, I highly recommend investing in a set of glass bowls with lids. This is the set that I have. Since sourdough ferments for many hours, the top of the dough can dry out if not properly covered.
It's easier on your wallet if you don't have to use plastic wrap all the time!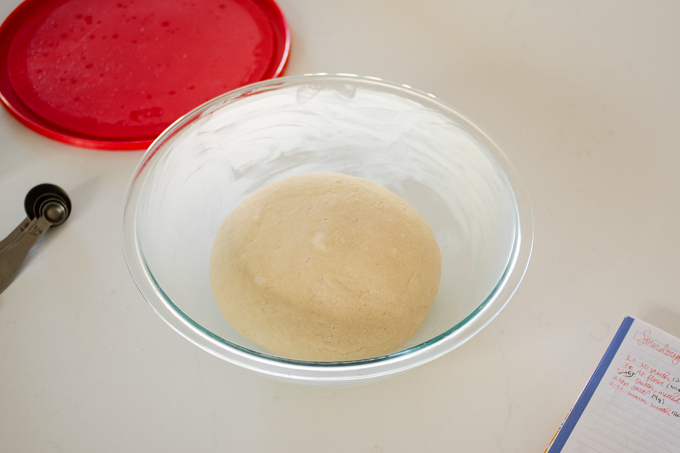 Let the dough ferment for 8-12 hours. You can go longer than that as well, but the gluten will break down more as it ferments longer.
Rolling the Tortillas: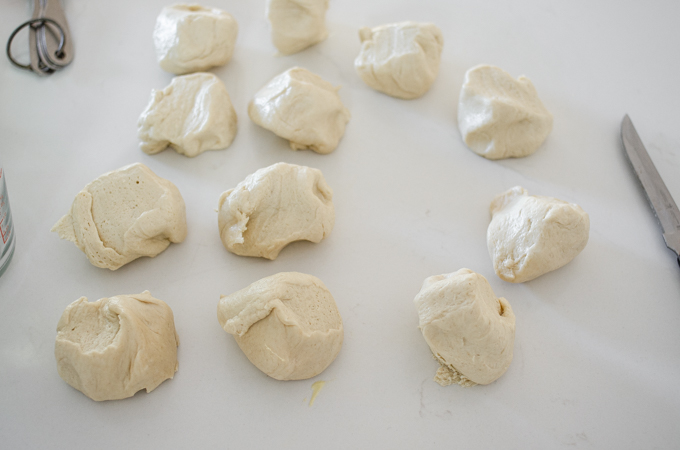 Plop the dough out onto your counter. Divide it into 12 equal pieces.
If you want smaller tortillas, divide the dough into 16 dough balls.
Quick tip: If you want your tortillas to be exactly even, you can weigh the dough and divide it by the number of tortillas you want to make.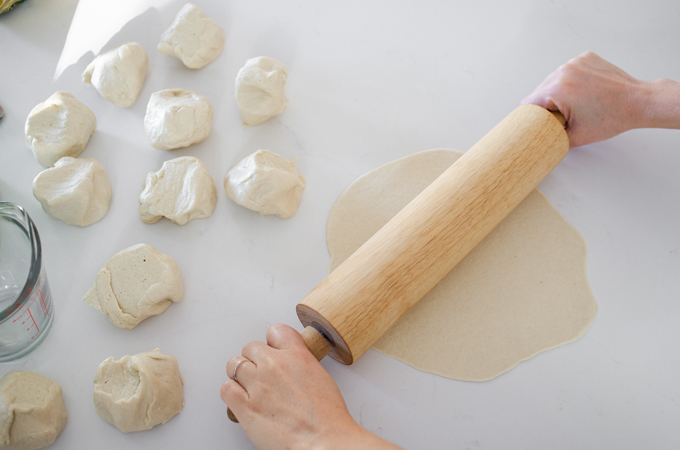 Using a rolling pin, roll a piece of dough out until it's about 1/8 inch thick.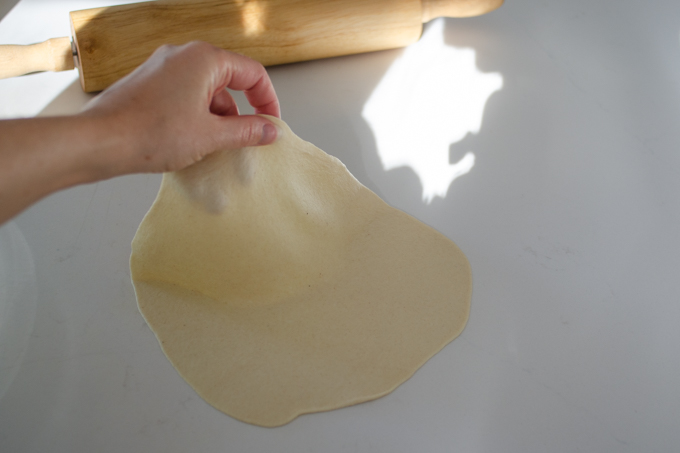 I find that I don't need to use parchment paper or grease or flour my counter to keep the sourdough tortillas from sticking. But if you find them hard to peel off the counter, you can rub a little bit of butter on the counter or use a floured surface.
If you find that it's difficult to get the dough to roll out, you can always let the dough rest for 10 minutes, then try again.
Cooking the Sourdough Tortillas: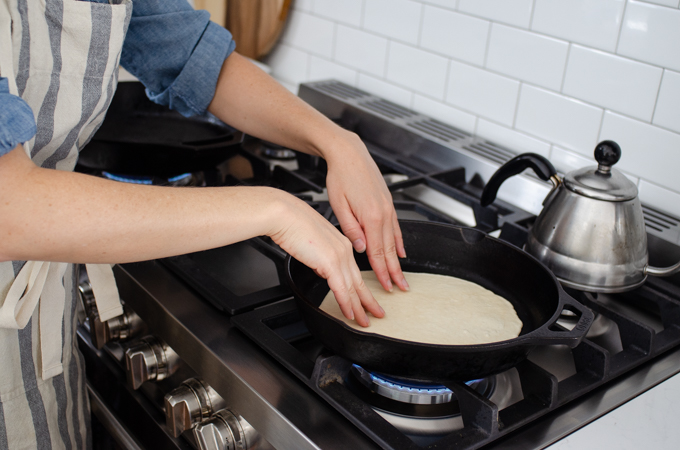 Preheat a dry cast iron skillet over medium-high heat. I find it best to use a large cast-iron skill (my favorites are my 10-inch or 12-inch skillet).
If you have more than one skillet, get both of them going! That way you'll cook these sourdough tortillas twice as fast.
And if you own a cast iron griddle, feel free to use that!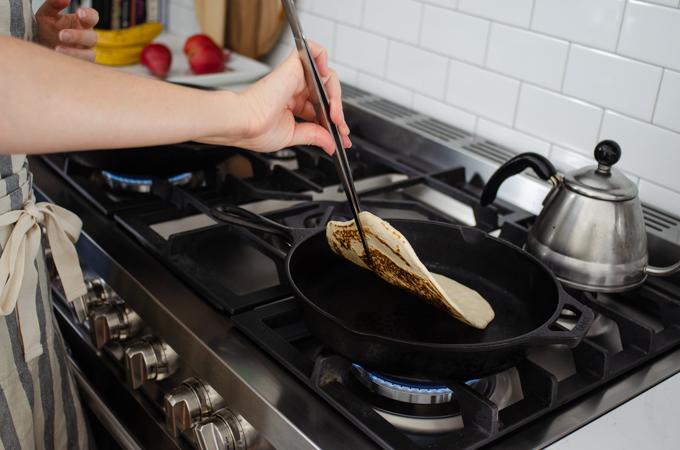 Cook for about 30-60 seconds on the first side, or until the underside starts to turn golden brown. Flip and cook for an additional 30-60 seconds on the other side.
Make sure that you don't over cook these! You want them to stay nice and soft.
Keep in mind that I have a gas stove, so if you own an electric stove it may cook differently!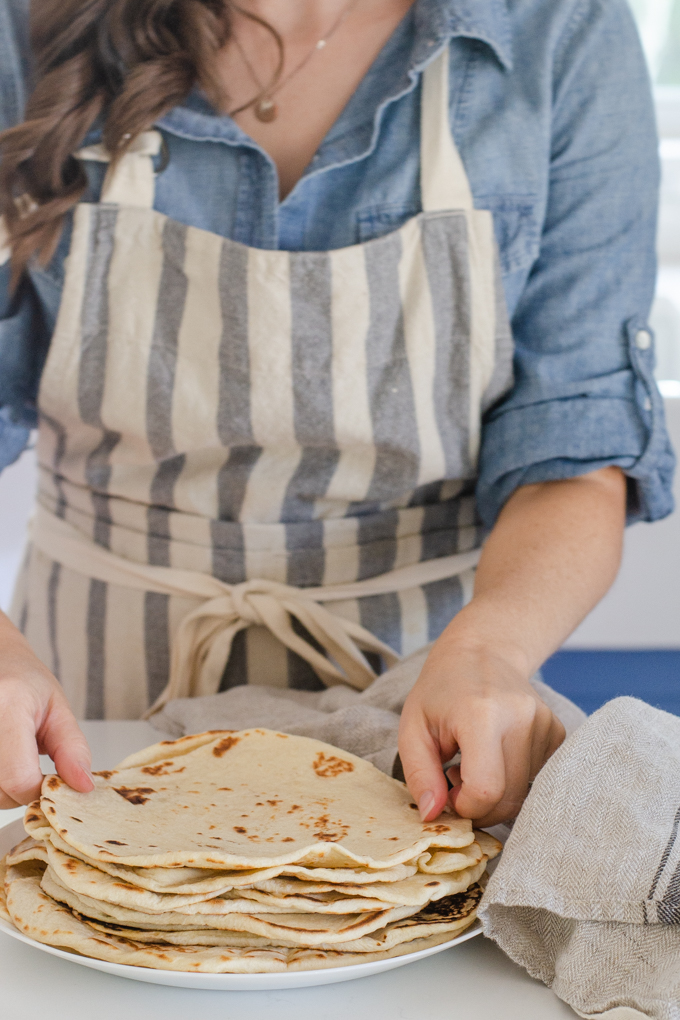 Stack the cooked tortillas on a plate wrapped in a clean tea towel as you finish cooking them. That way they'll stay warm!
You could also wrap them in a paper towel, but a tea towel is preferable.
Continue with the next tortilla, and repeat until all of the tortillas have been cooked.
Storing: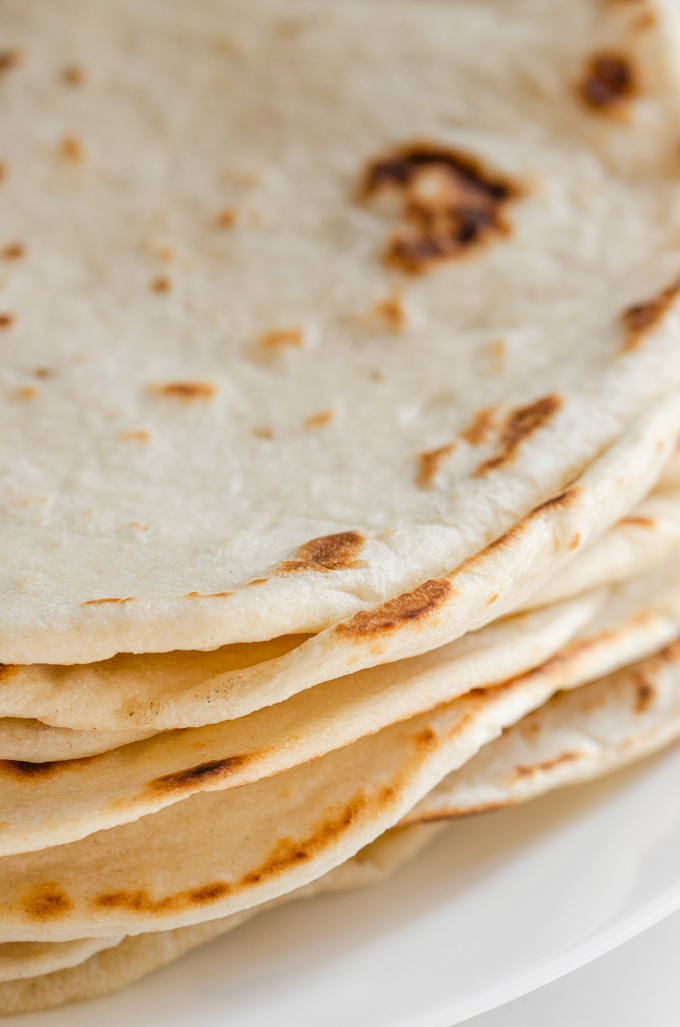 Store in an airtight container at room temperature for up to 3 days. You can use a plastic bag or a glass storage container.
You can also freeze these in a ziplock bag for longer storage.
Serving: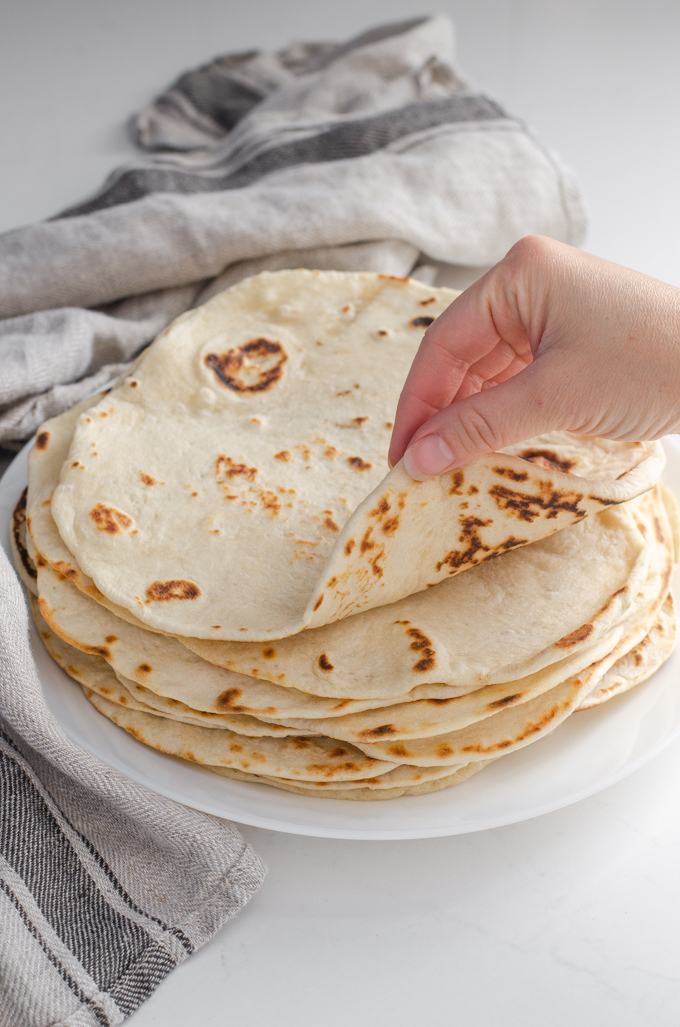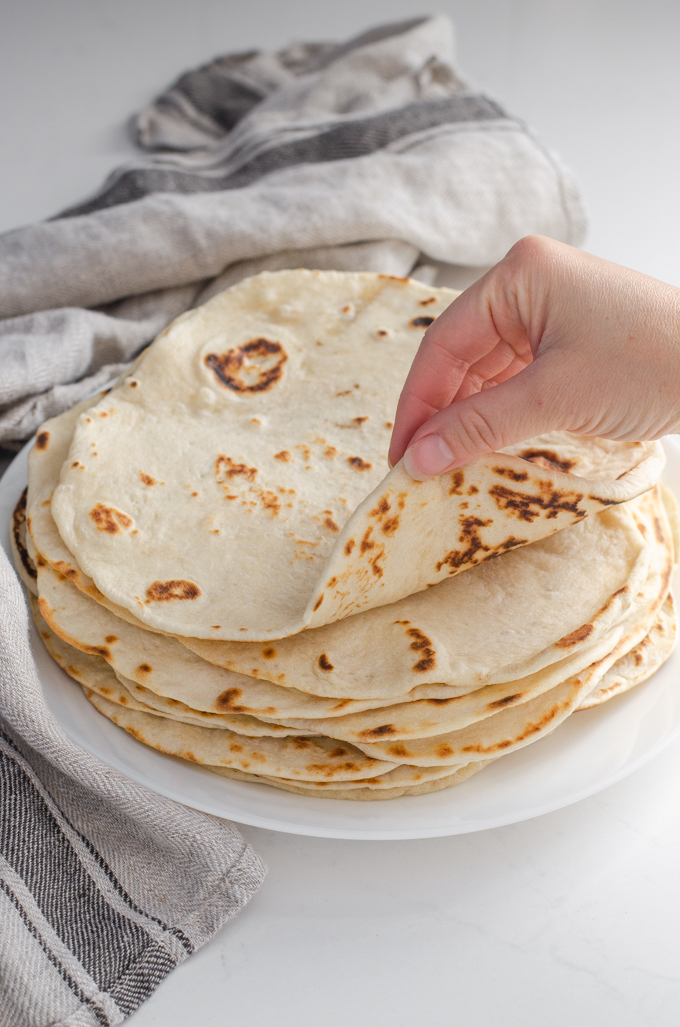 There are so many ways you can serve these delicious sourdough tortillas.
They can replace store-bought tortillas wherever you would normally use them.
So obviously, you can use them for soft tacos (taco night, anyone?), burritos, enchiladas, quesadillas, fajitas, etc.
Also, you can use them as pizza crusts.
They're also fabulous wrapped around a brat (make sure to butter the tortillas and serve with fried onions).
Speaking of which, you could use them to make a sandwich wrap.
So that's my easy sourdough tortillas recipe! What's your favorite way to eat a sourdough tortilla? Let me know in the comments!
More Easy Sourdough Recipes:
More Sourdough Recipes to Try:
Recipe Card:
Yield: 12 tortillas
Sourdough Tortillas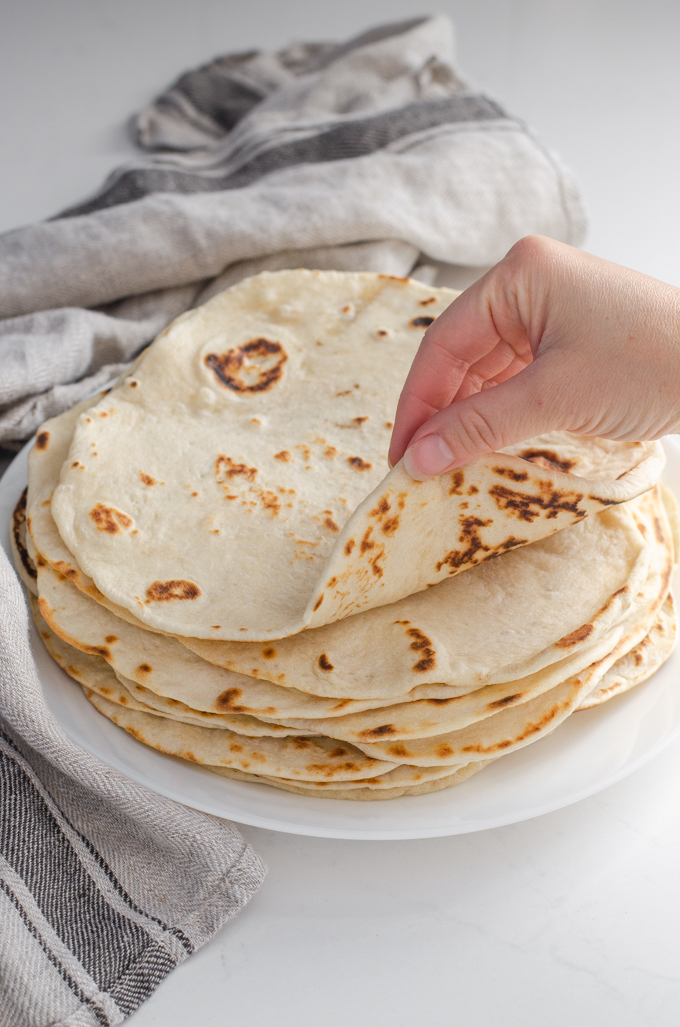 This sourdough tortilla recipe only requires 5 ingredients, and the dough is a dream to work with!
Total Time
12 hours
30 minutes
Ingredients
2/3 cup warm water, (160 grams)
1 cup active sourdough starter, (240 grams)
3 cups organic all-purpose flour, (415 grams)
2 teaspoons unrefined sea salt, (9 grams)
6 tablespoons grass-fed butter,, melted
Instructions
Place all of the ingredients in the bowl of a stand mixer. Place on the machine and fit with the dough hook. Knead to make a smooth dough, about 5 minutes.
Place the dough in a greased large glass bowl. Turn once to grease the top of the dough. Cover with a lid (or plastic wrap/tea towel) and all to ferment at room temperature for 8-12 hours.
Place the dough on your work surface. Divide into 12 equal pieces. Roll each piece out to a circle that's about ⅛-inch thick. If the tortillas want to stick to your work surface, you can always grease or flour it.
Preheat a cast iron skillet over medium-low heat. Fry the tortillas for about 30-60 on each side, until they begin to turn dark brown in spots. Don't over-cook!
As the tortillas get done cooking, stack them up on a plate.
Serve immediately or store for later use (see note).
Notes
Storing: Store in an airtight container at room temperature for up to 3 days. You can also freeze these for longer storage.
Nutrition Information:
Yield:
12
Serving Size:
1 grams
Amount Per Serving:
Calories:

185
Unsaturated Fat:

0g
Updated on May 5, 2023