This Sourdough Dutch Baby or German Pancake is yeasty and melt-in-your-mouth delicious!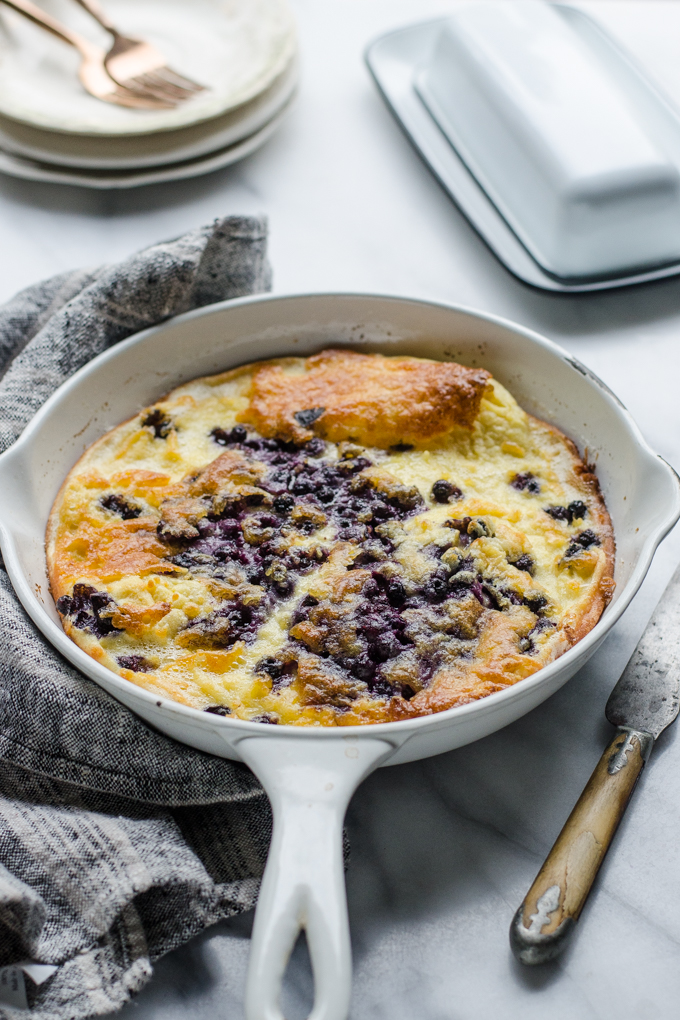 If you've been a reader of Buttered Side Up for a while, you know that I have a thing for Dutch Babies/German pancakes. The flavors and textures are sublime and satisfying. There's just enough egginess, and just enough pancake-like texture.
Lately I've been into transforming as many recipes as possible to make them sourdough-friendly. This isn't just because sourdough has some pretty amazing benefits: the taste is also fantastic! You may have a preconceived notion that sourdough is almost unbearably tart. But if you treat it correctly, it's pleasantly yeasty without that overwhelming tang.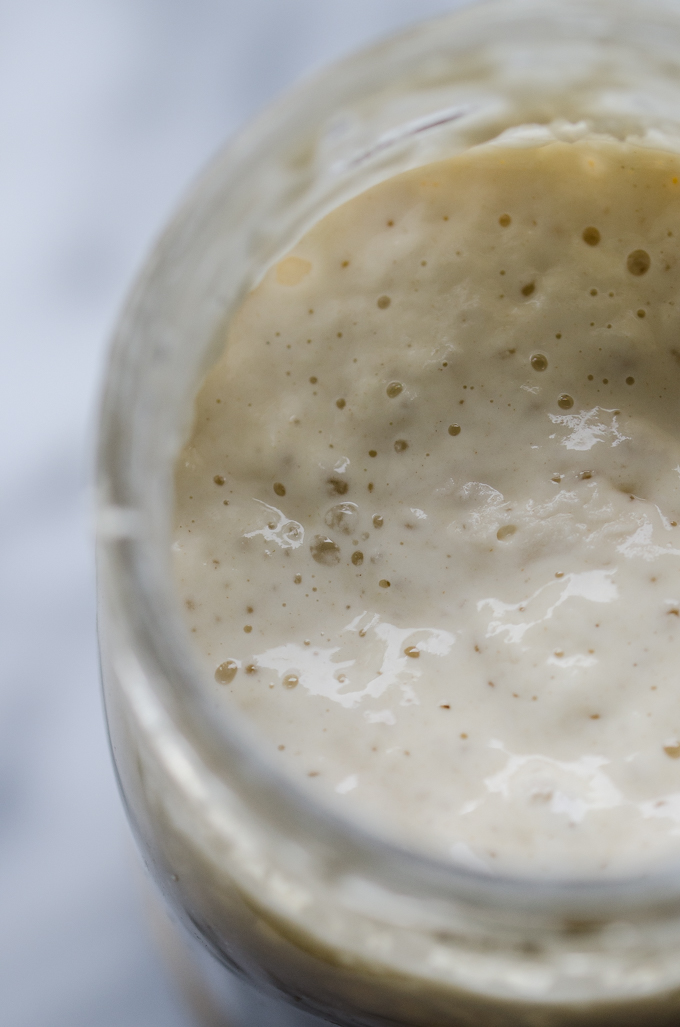 Feeding the Sourdough Starter
It starts the evening before: feed your starter and let it do its thing overnight. In the morning, it should be bubbly and light. You're looking for about 12 hours of fermentation.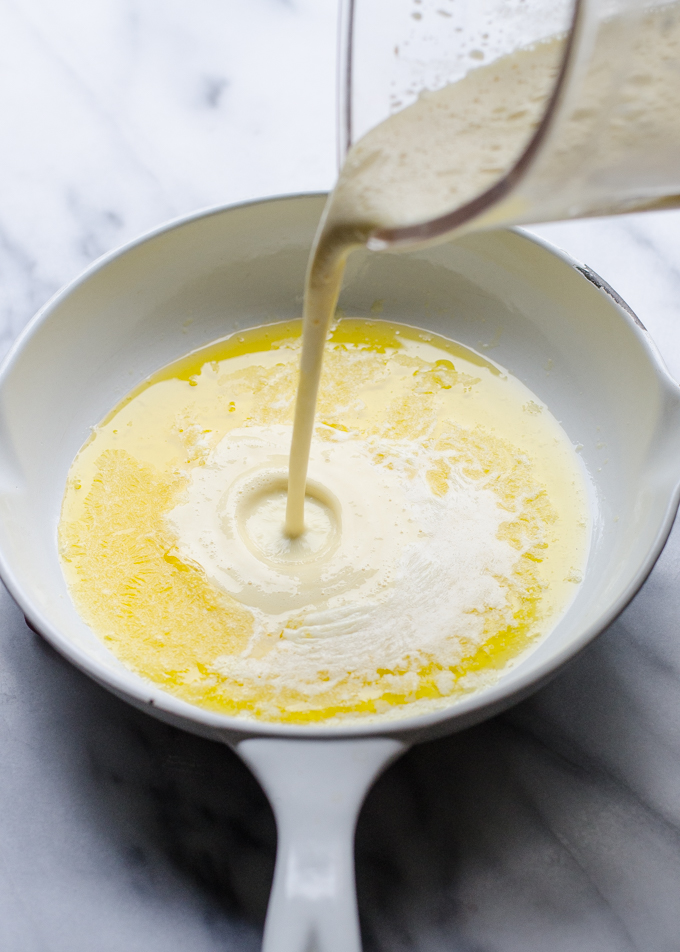 Mixing the Batter
The thing I love about this sourdough Dutch baby recipe is that is uses the starter exclusively. That means you don't use any unfermented flour in the batter!
And it's almost effortless to mix up the batter: simply toss all ingredients in the blender, and give it a whirl.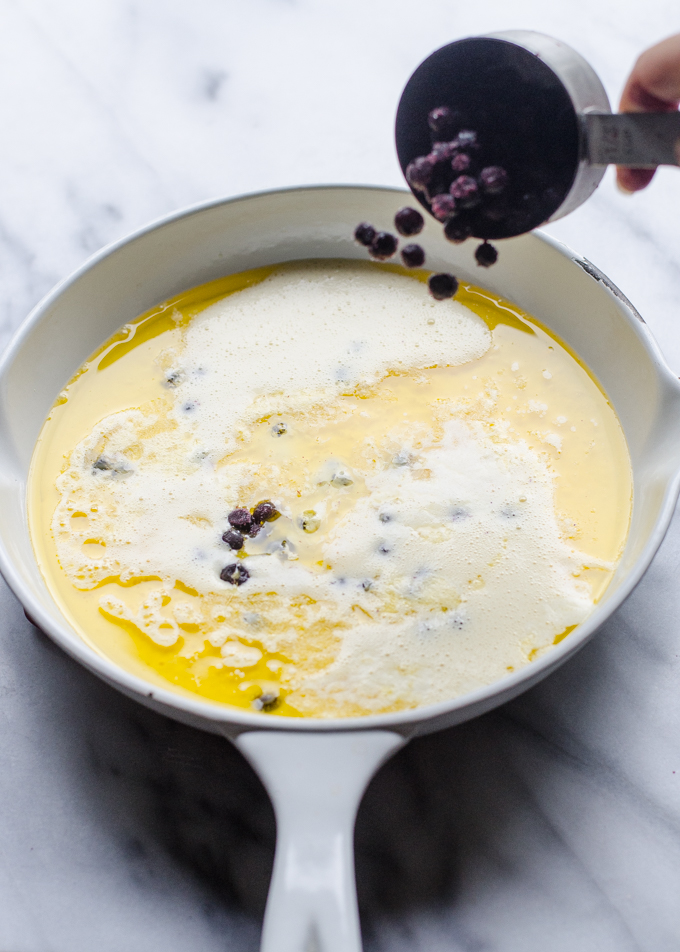 You can add a wide variety of toppings. Go the sweet route with vanilla extract and fruit. Or go the savory route with meat, cheese, vegetables, and herbs. I'll have to do a post sometime about the most amazing savory German pancake that I made…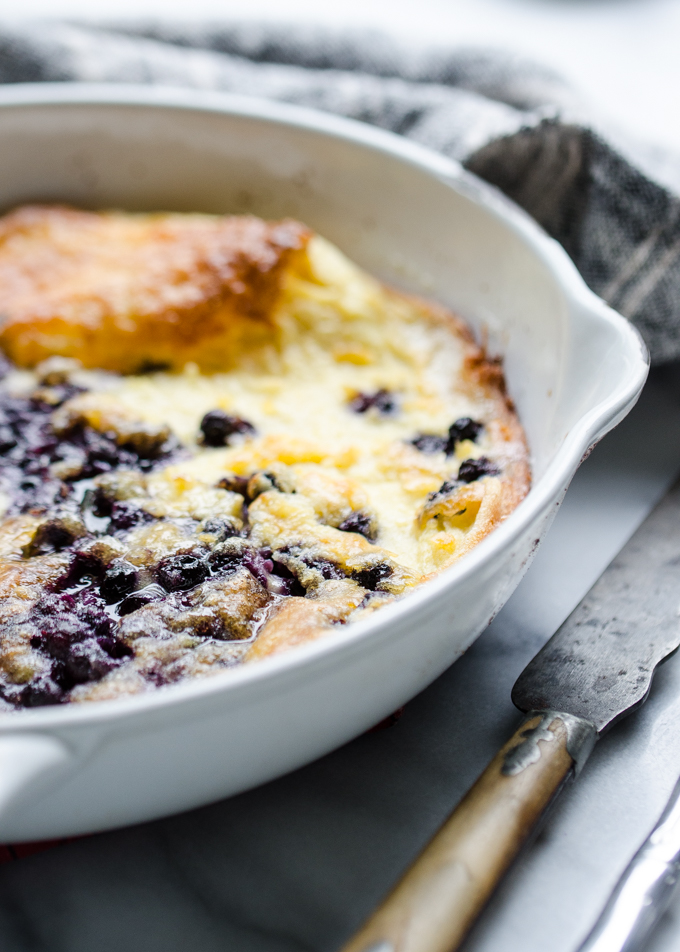 Baking Time
Slide it into the oven, and bake for 15-20 minutes, or until deep golden brown and puffed. Sourdough Dutch Baby (AKA German Pancake) doesn't get as light and airy as a regular oven pancake, but the way it melts in your mouth is so pleasant.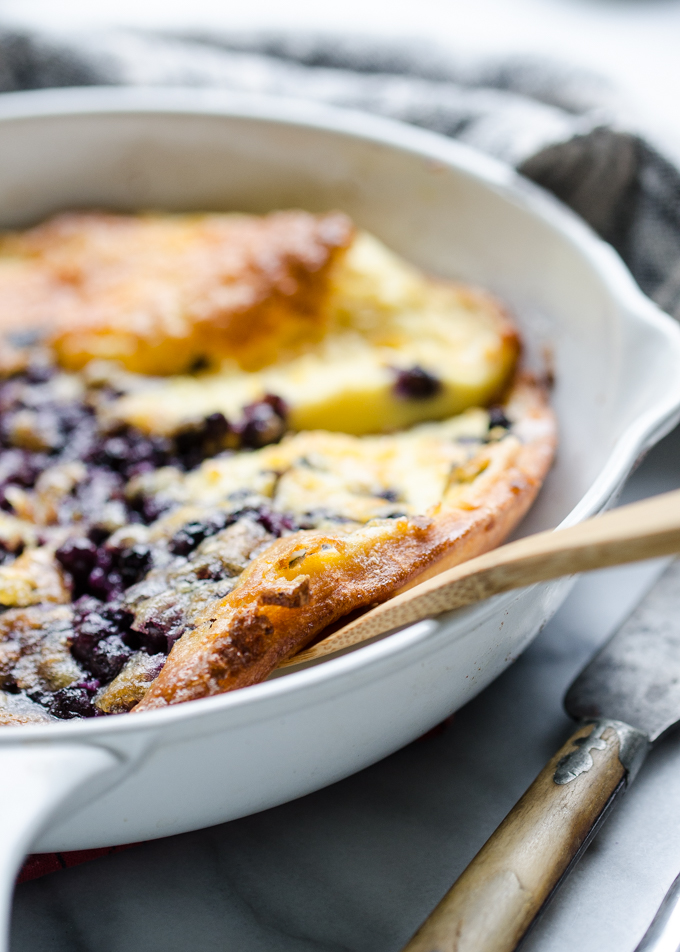 I hate to say this, but you *almost* don't need extra butter since it bubbles up and tops the pancake. But I usually add a slice or two anyway. What can I say? I'm addicted.
More Dutch Baby/German Pancake Recipes: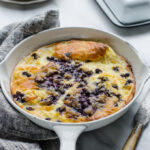 Sourdough Dutch Baby/German Pancake
This puff pancake is yeasty and melt-in-your-mouth good!
Ingredients
6

tbsp

butter

grass-fed

6

large

eggs

(see note)

320

grams

sourdough starter

(see note)

1/3

cup

whole milk

1/2

tsp

unrefined salt

1

tbsp

pure maple syrup

optional

1

tsp

pure vanilla extract

optional

2/3

cup

wild blueberries or other berries

optional
Instructions
Preheat oven to 425 degrees F (218 C). Place the butter in a glass 13x9-inch baking dish and put in the oven to melt. Keep an eye on it so it doesn't burn! Remove from oven once melted.

Place the remaining ingredients except for the blueberries in a blender. Blend for 1 minute, making sure everything is well combined.

Pour the batter over the melted butter in the baking dish. Sprinkle the blueberries evenly on top if desired.

Bake in preheated oven for 15-20, or until the edges are deep golden brown and the pancake has puffed up. Serve with extra butter and a drizzle of maple syrup if desired.
Recipe Notes
You can use 5

duck eggs

in place of the chicken eggs if you like. It's amazing!
For the starter, feed it the evening before with 160 grams flour and 160 grams water. Let ferment overnight. It should sit for about 12 hours after being fed, and be bubbly and light.
For the photos in this post, I halved the recipe and baked it in a 9-inch Le Creuset skillet.
Recipe adapted from

Cultures for Health

.