This Savory Dutch Baby is a delicious savory version of the more traditional oven puff pancake!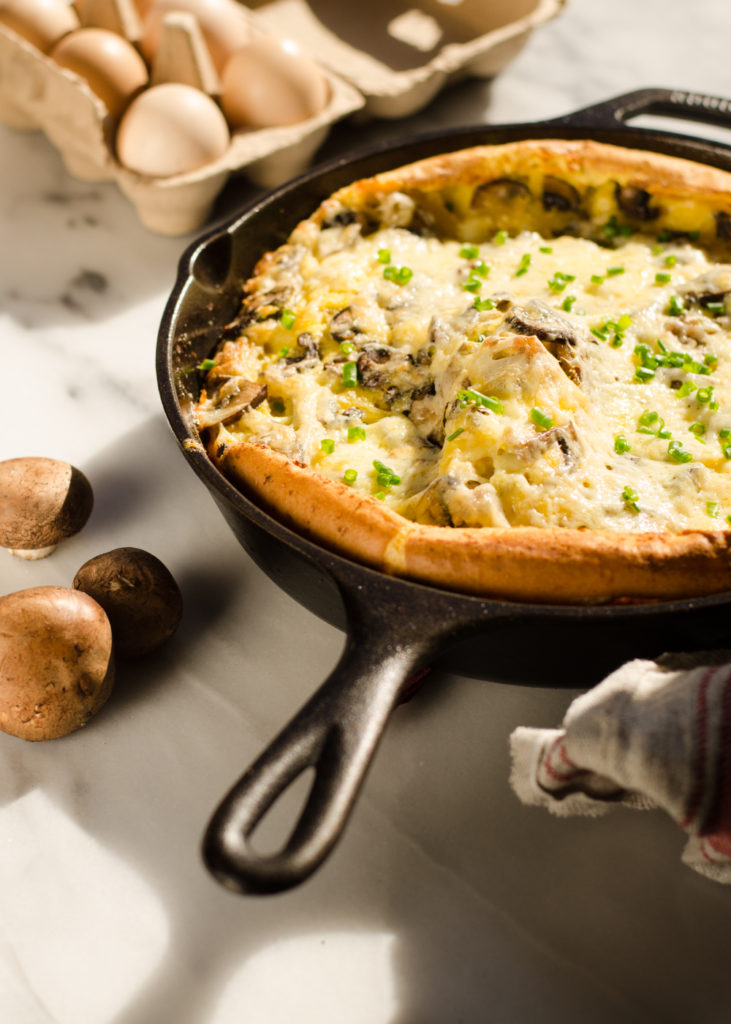 During the week, I basically make 2 breakfasts: some variation on eggs (scrambled, fried, omelette), or smoothies. The kids are usually starving when they get up and I have no time to dilly dally and make a fancy breakfast.
The weekend is another matter. I love spending a little extra time on breakfast and making something that I wouldn't have time for on a weekday. I'm willing to make the kiddos wait a bit for something special.
My favorite thing to make is Dutch babies (AKA German pancakes, oven pancakes, or puff pancakes). They make my heart sing because of the flavors, but they're a cinch to make. Win-win.
Simply throw all of the batter ingredients into a blender and whizz it up, pour into a buttered pan, sprinkle on some toppings, pop it into the oven, sprinkle on some cheese, and wait patiently for it to be finished baking.
While the Dutch baby is baking, I like to do my oil pulling, take a shower, do some meal planning, unload the dishwasher, or generally get ready for the day.
This savory Dutch baby pancake is topped with sausage, mushrooms, cheese, and chives. It's a great way to mix up your usual, traditional Dutch baby routine (ours is blueberry Dutch baby – so good, but you need a break every once in a while!).
Okay, let me show you how to make this savory Dutch baby recipe!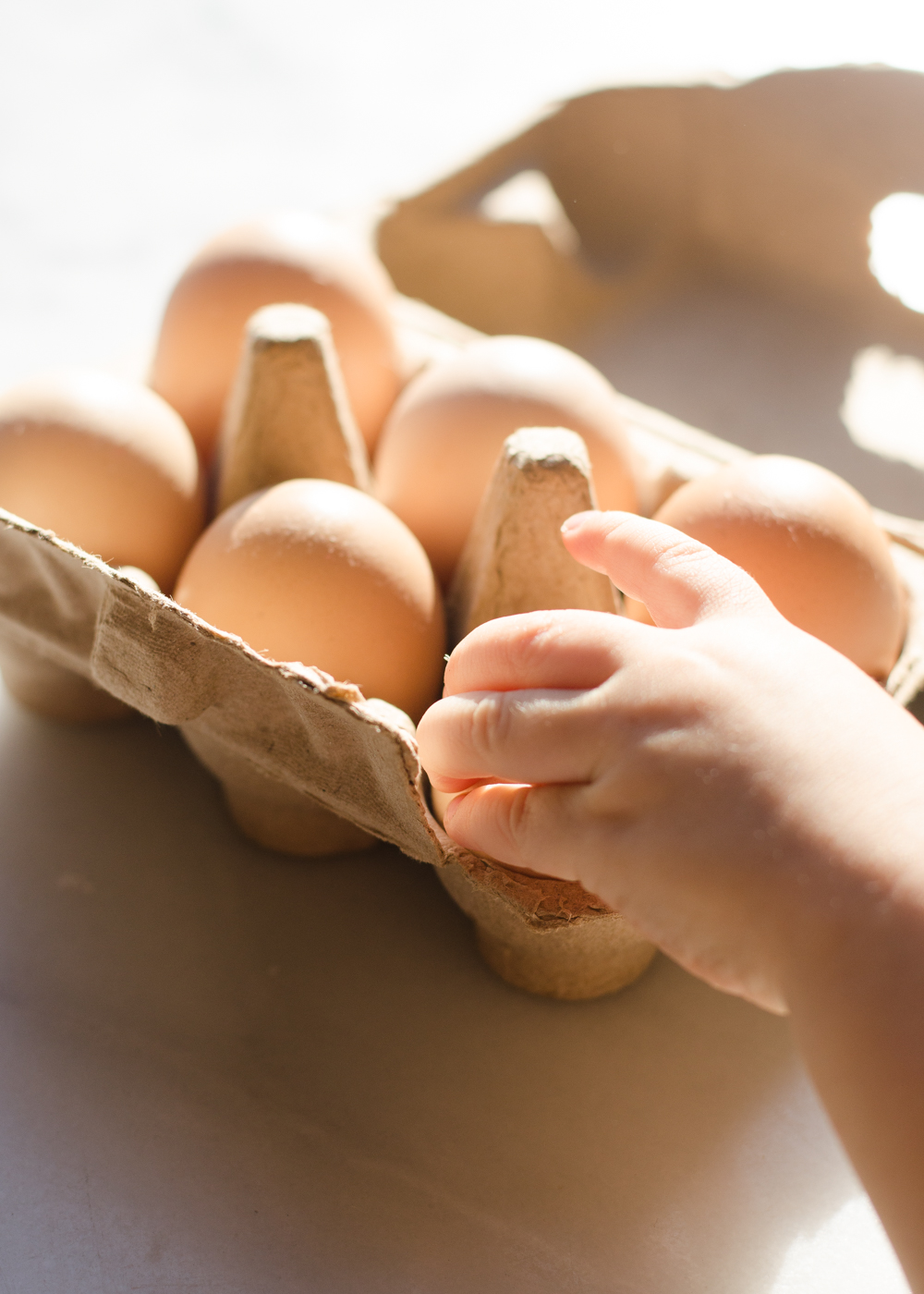 (That's Jim's chubby little hand)
Ingredients:
Eggs: I like to source pastured eggs, but any eggs will work! I use large eggs for this recipe.
All-purpose flour: Organic all purpose flour is really nice. All purpose einkorn flour would also work!
Milk: I use organic grass-fed whole milk, but again, any milk should work just fine.
Salt: I use unrefined sea salt, such as Redmond's Real Salt. Feel free to substitute whichever salt you have on hand. If you use kosher salt, you may want to increase the amount slightly. If you use table salt, you may wish to decrease the amount slightly.
Black pepper: I like freshly ground black pepper. I don't recommend using white pepper.
Butter: You know me! I love grass-fed butter. Use salted butter for the best flavor. Unsalted butter will still have a buttery flavor, but it will taste more like oil.
Baby portabella mushrooms: Baby bellas have a pretty mellow flavor, but you could always substitute shiitake or another type of flavorful mushroom.
Breakfast sausage: Make sure to cook your breakfast sausage beforehand. You could also use bacon or ham instead.
Shredded cheese: I like cheddar, but you could use a little parmesan cheese or another hard cheese instead. Keep in mind that if you use a stringier cheese that will affect the texture in the final pancake.
Chives: Fresh chives add a lovely freshness to this savory Dutch baby. You could use other fresh herbs such as thyme or rosemary if you prefer.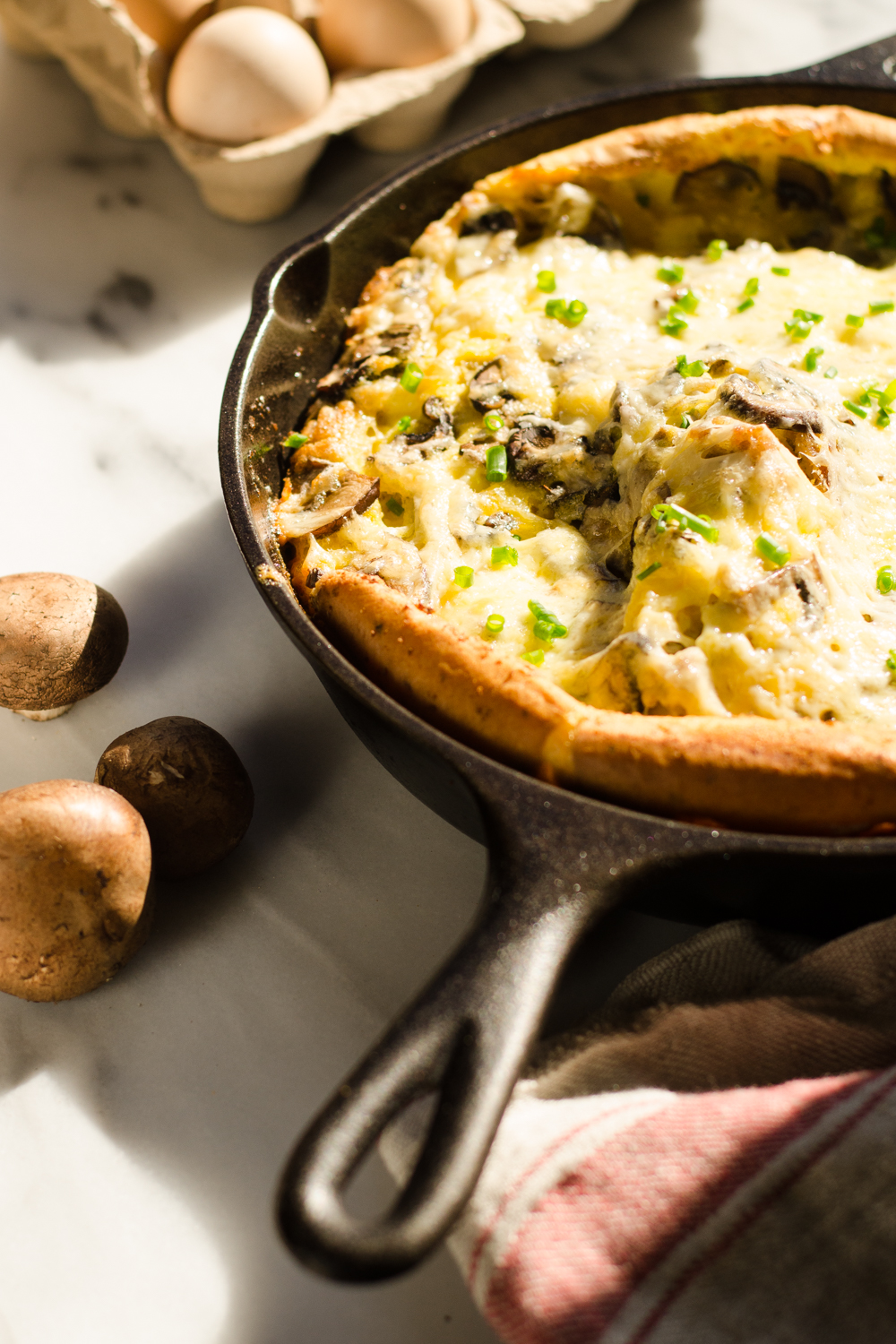 How to Make a Savory Dutch Baby Pancake:
Step 1: Prepare Your Ingredients
Before you begin, make sure to cook your breakfast sausage or bacon. Grate the cheese and thinly slice the mushrooms and chives.
Step 2: Preheat oven and Melt Butter
Preheat your oven temperature to 425 degrees Fahrenheit (218 Celsius). Place the oven rack in the center of the oven.
Melt the butter in a 10-inch cast iron skillet over medium-high heat. Make sure you use an ovenproof skillet!
Step 3: Mix together the Batter
Place the eggs, flour, milk, salt, and pepper in a blender in that order. Blend on medium high speed until very well combined.
You can also mix together the batter in a large bowl with a whisk. The more you beat the batter, the more the Dutch baby will puff up!
You don't need to let the batter rest before baking!
Step 4: Par-Bake the Savory Dutch Baby
Once the oven is preheated, pour batter over the melted butter in the hot pan.
Sprinkle the sausage and mushrooms on top.
Place in the preheated oven and cook for 12 minutes.
Step 5: Sprinkle on Cheese
After the savory Dutch baby has cooked for 12 minutes, sprinkle the cheese on top.
Bake for an additional 8-10 minutes, or until the pancake is golden brown, puffy, and has risen up the sides of the pan.
Step 6: Serve
Remove the the oven and sprinkle the chives on top.
We always get ridiculously happy when the Dutch baby is finally ready to be eaten. I slice it up and add loads of grass-fed butter.
We usually eat all but one or two pieces. It's perfect for snacking later…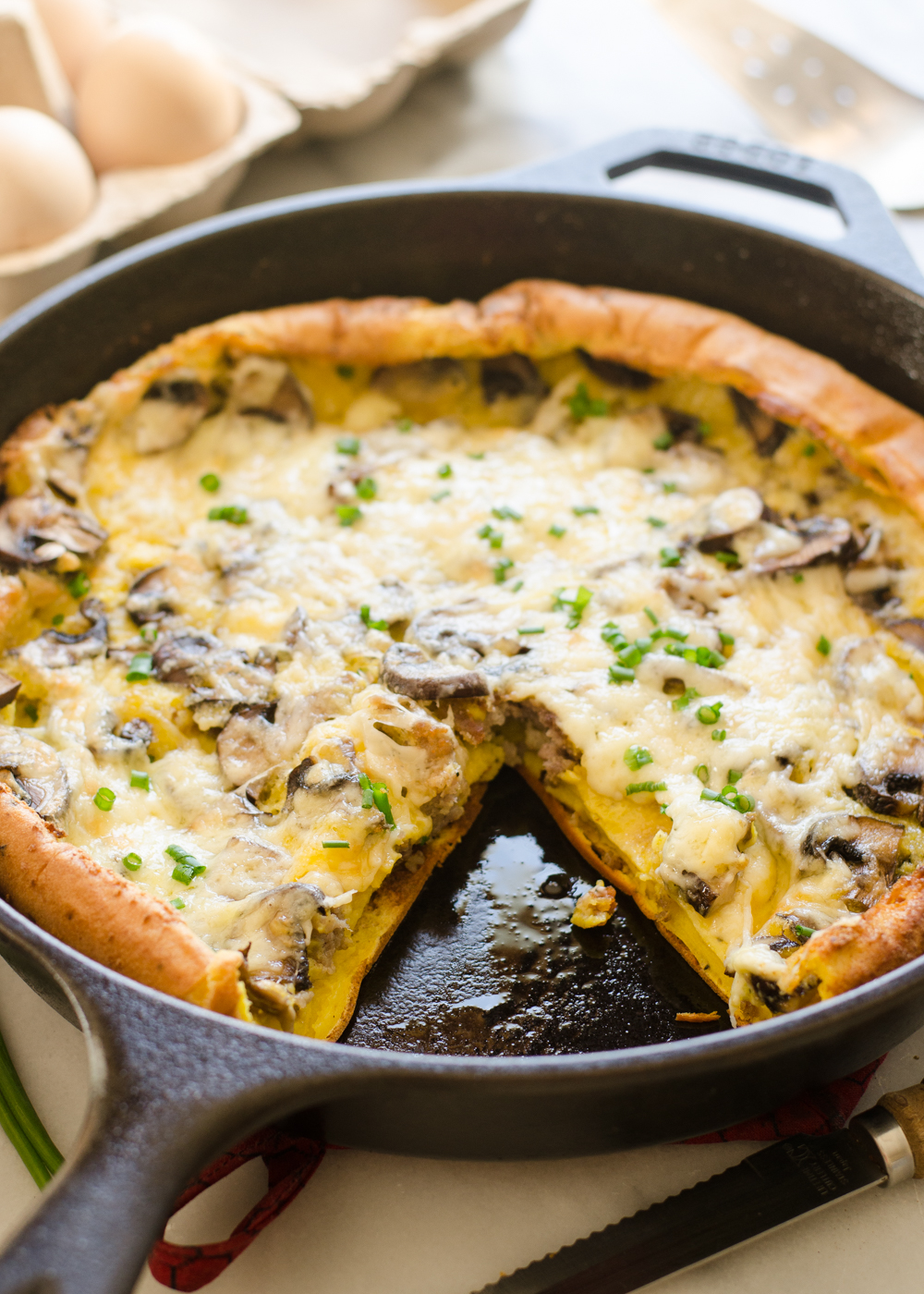 Variations:
You could add a little bit of minced garlic when you sprinkle on the cheese.
Sprinkle a green salad or some sliced cherry tomatoes on top to add extra freshness!
You could add a little bit of thinly sliced red onion along with the sausage and mushrooms if you're an onion fan!
Smoked salmon and capers sounds delicious!
If you like your savory breakfast to have a bit of sweetness, try drizzling on a very small amount of maple syrup!
This would also be great for a last-minute supper or a hearty brunch dish. Easy, filling, and nourishing if you use good ingredients.
Have you ever made a Dutch baby? What are your favorite toppings?
More Dutch Baby Recipes:
More Healthy Breakfasts: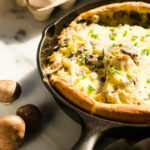 Savory Dutch Baby Puff Pancake
Ingredients
4

large eggs

2/3

cup

organic all-purpose flour

2/3

cup

whole organic/grass-fed/local milk

1/2

teaspoon

real salt

1/4

teaspoon

freshly ground black pepper

4

tablespoons

grass-fed butter

2

ounces

baby bella mushrooms

thinly sliced

1/2

cup

cooked breakfast sausage

1

cup

shredded cheese

I used cheddar

3

chives

finely chopped
Instructions
Preheat oven to 425 degrees F. Melt the butter in a 10-inch cast iron skillet.

Meanwhile, add the eggs, flour, milk, salt, and pepper to a blender in that order. Blend until very well combined.

Once the oven is preheated, pour the batter over the melted butter in the skillet. Sprinkle on the mushrooms and sausage.

Bake in preheated oven for 12 minutes. Sprinkle on the cheese and bake for an additional 8-10 minutes, or until puffy and deep golden.

Remove from oven and sprinkle with the chives. Serve hot with grass-fed butter.