These egg muffin cups are filled with cottage cheese, bacon, and bell peppers! They're a great meal-prep breakfast idea.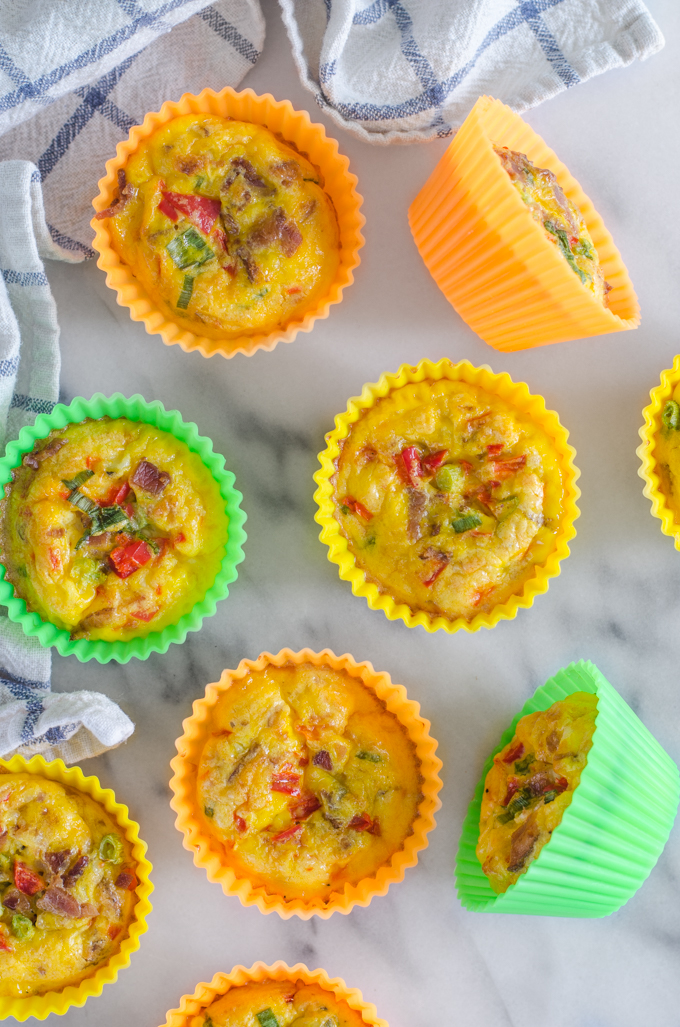 Finding a delicious protein-packed breakfast can be a real challenge. I eat eggs for breakfast several times a week. It's a healthy breakfast, but honestly, it can get kind of boring. These egg muffin cups are a wonderful alternative way to eat your eggs. They're packed with protein (12 grams in 2 muffins), easy to throw together, and only require 8 simple ingredients!
Egg Muffin Cups Ingredients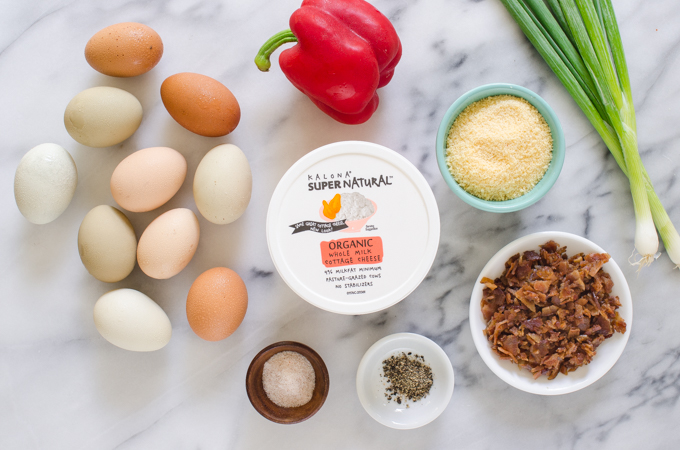 Here's everything you'll need: eggs, cottage cheese, Parmesan cheese, salt and pepper, bacon, a red bell pepper, and green onions.
I recommend that you cook the bacon until it's quite crispy since it tends to soften in the muffins. You could easily substitute ham (which wouldn't require prior cooking) or sausage if you prefer. Also feel free to switch up the veggies. I think mushrooms would be awesome, but my kids would probably revolt. Just keep in mind that really watery vegetables could result in softer muffins.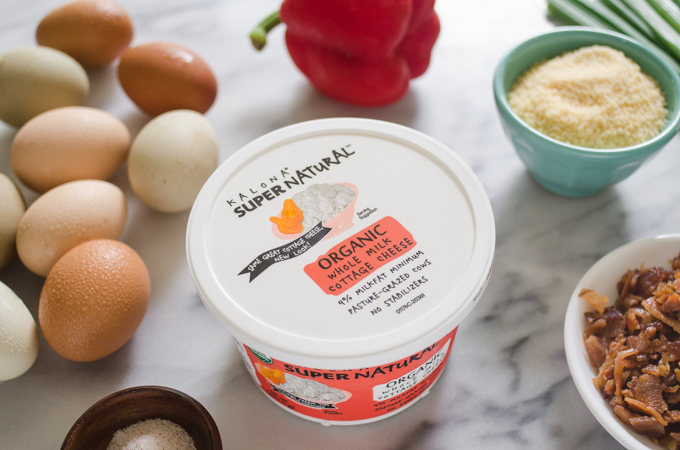 Let's talk a bit about cottage cheese.
I'm a fan of cottage cheese because it's a milk product that's high in healthy fats and protein, and low in sugar. It's a delicious way to consume dairy if you're aiming to cut back on your sugar consumption.
Many cottage cheeses on the market are made with low-quality, highly processed milk, stabilizers, and even gums. Not at Kalona SuperNatural! They start with pasture-grazed milk and pasteurize it to just 161°F. It's non-homogenized just like all of Kalona SuperNatural's products. Even the salt they use is high quality: Celtic sea salt! All of these factors are rare when it comes to store-bought cottage cheese. You can check out Kalona SuperNatural's FAQ page if you have any questions about how their cottage cheese is made.
How to Make Egg Muffin Cups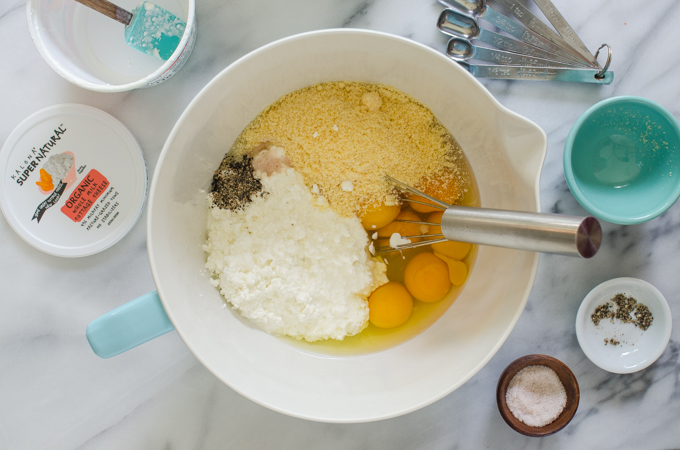 Now let's get back to making these egg muffin cups!
Start by putting the eggs, cottage cheese, Parmesan cheese, and salt and pepper in a large mixing bowl.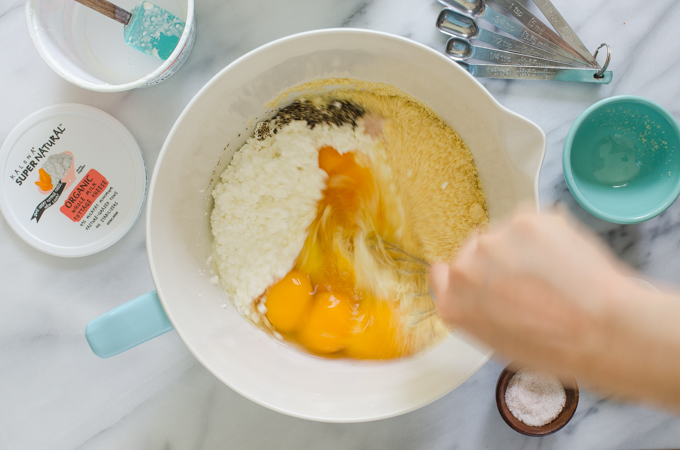 Whisk everything together until the eggs are uniform.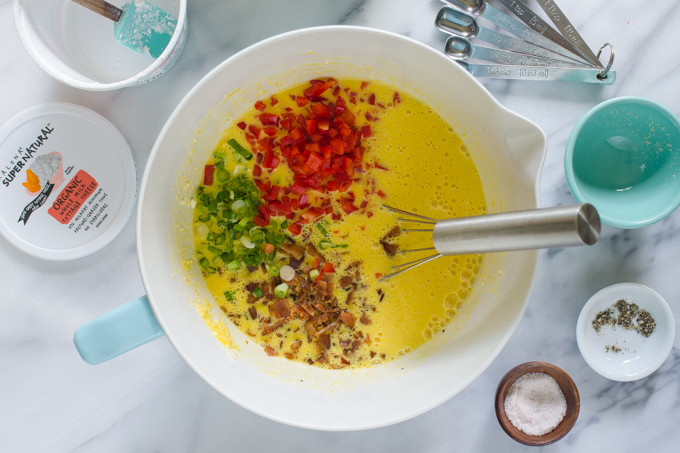 Add the bacon, green onions, and bell pepper. Mix until well combined.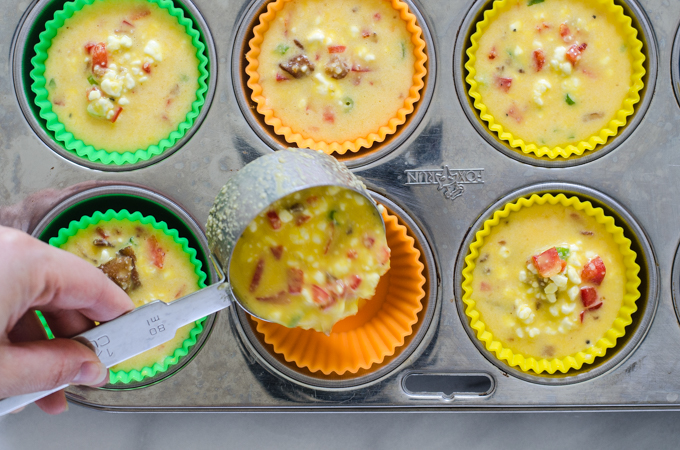 Place about 1/3 of a cup of the "batter" into each of 18-20 muffin cups. Do not use paper liners for these egg muffin cups. Trust me on this one. The paper sticks badly, and you'll end up wasting some of your precious muffins. I highly recommend getting some reusable silicone muffin liners. If you don't have any or don't wish to purchase them, you can always grease your muffin cups, or bake the batter in ramekins instead.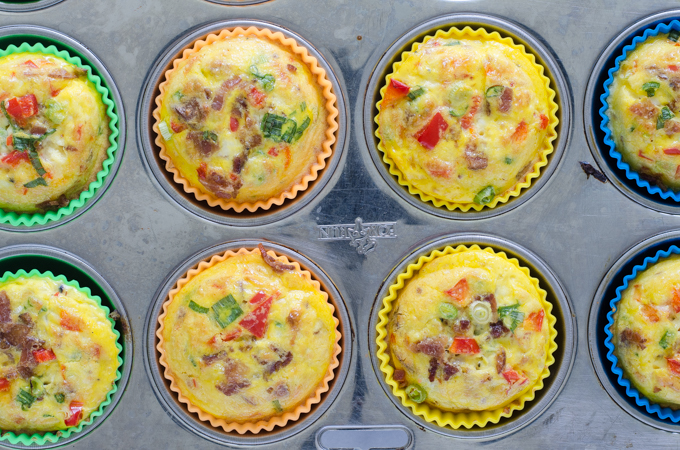 Bake in a 375° oven until the muffins are cooked through and beginning to brown. This can take anywhere from 25-30 minutes.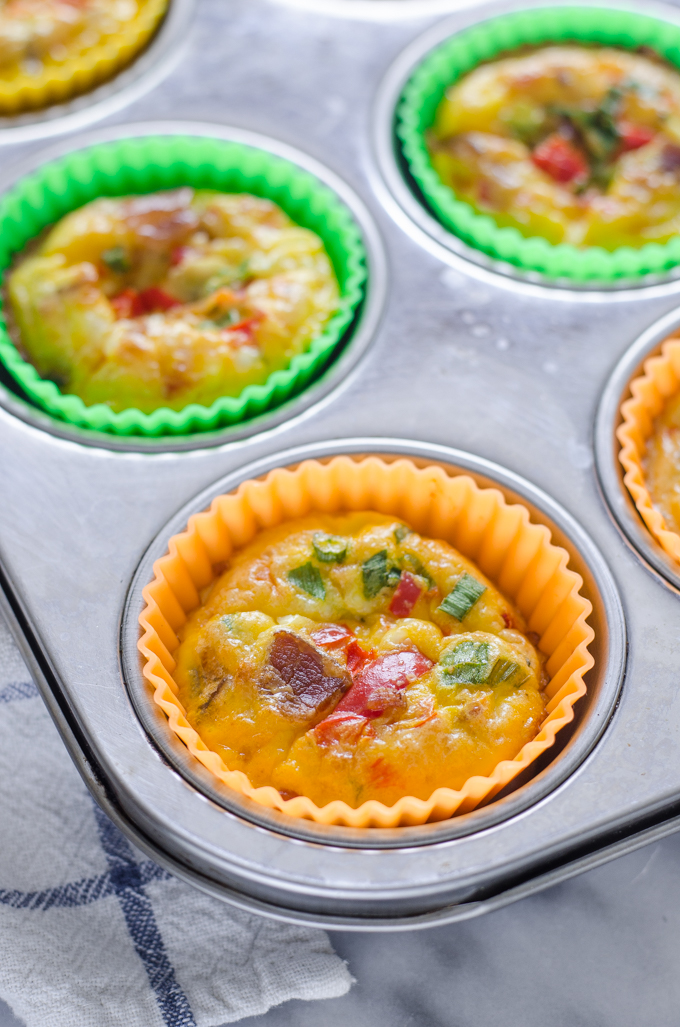 Allow to cool for a bit before eating. The muffins will puff up in the oven, and then sink a bit as they cool. This is the nature of flourless muffins, and there's not much you can do about it. It doesn't affect the flavor!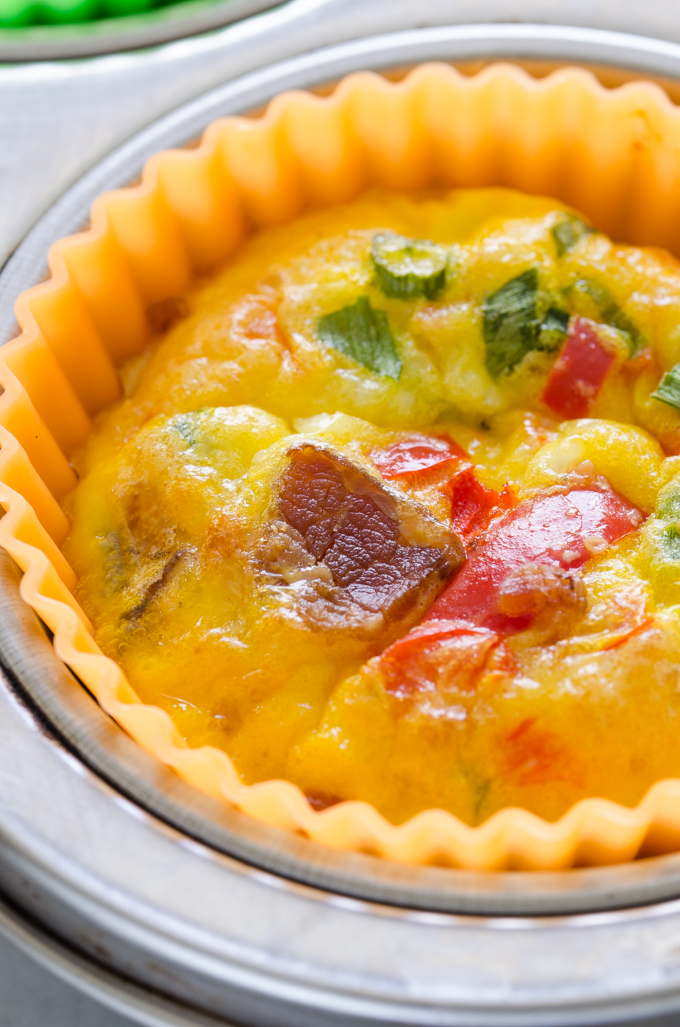 You can eat these immediately, or store in the refrigerator for meal prep. I'm sure you could reheat them, but we just eat them cold. We'll have them for supper one night, and lunch the next day. The kids like to take them outside for a picnic.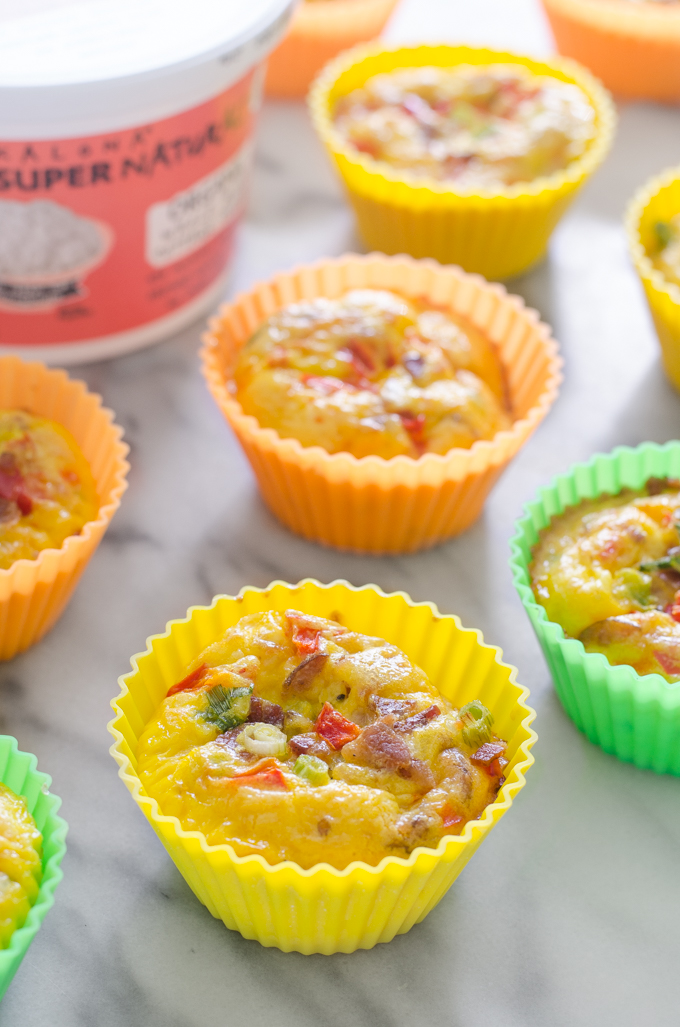 If you're eating a KETO or low-carb diet, you can enjoy these egg muffin cups as-is. If not, you could serve them with a side of fruit or toast.
How do you like to get your protein in the morning?
More Breakfast Recipes: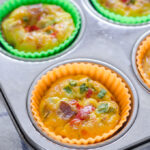 Egg Muffin Cups with Cottage Cheese, Bacon, and Peppers
These egg muffins are a delicious, low-carb breakfast option!
Ingredients
10

whole

eggs,

preferably organic/pastured

2

cups

Kalona SuperNatural whole milk cottage cheese,

1 whole 16-oz container

1/2

cup

grated Parmesan cheese

1/2

tsp

unrefined sea salt

1/2

tsp

freshly ground black pepper

8

oz

nitrate-free bacon,

cooked and chopped

2

whole

green onions,

finely chopped

1

whole

red bell pepper,

finely chopped
Instructions
Preheat oven to 375°F. Line 2 muffin tins with 18-20 silicone muffin liners (do not use paper), or butter or spray with avocado oil. You could also use ramekins if you don't own silicone liners.

Place the eggs, cottage cheese, Parmesan cheese, salt, and pepper in a large mixing bowl. Mix until well combined and the eggs are uniform. Add the bacon, green onions, and red peppers. Mix until everything is well combined.

Pour about a scant 1/3 cup of the "batter" into the prepared muffin cups. You want to fill each cup about 3/4 full. Bake in preheated oven for 25-30 minutes, or until the cups are cooked through and lightly browned on top.

Remove from oven and allow to cool for 5-10 minutes before serving. Store any leftovers in the refrigerator.
Recipe Notes
Recipe adapted from Healthy Happy Thriving and Dinner at the Zoo.