These kefir smoothie recipes combine some awesome ingredients to make a delicious and nutritious breakfast with no added sugars! Whether you use your own milk kefir or a store-bought version, these are a wonderful way to start your day!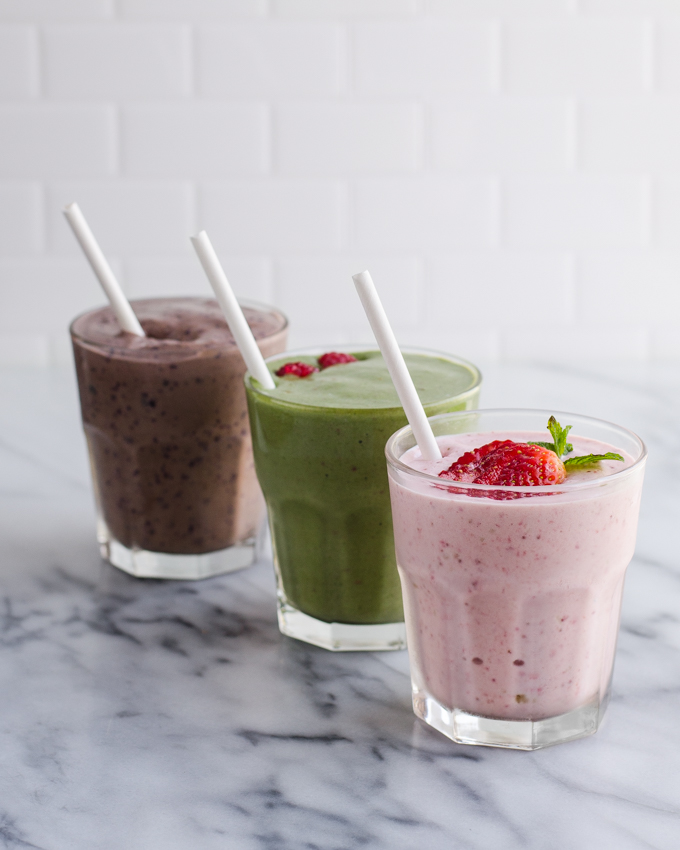 One of my favorite things to make for breakfast is smoothies. Not only are they delicious and refreshing, they allow you to pack a bunch of nutrient-dense foods all into one meal.
It's a great way to kickstart your day.
Today I'm sharing three healthy kefir smoothie recipes that have very different flavor profiles despite having a common base ingredient!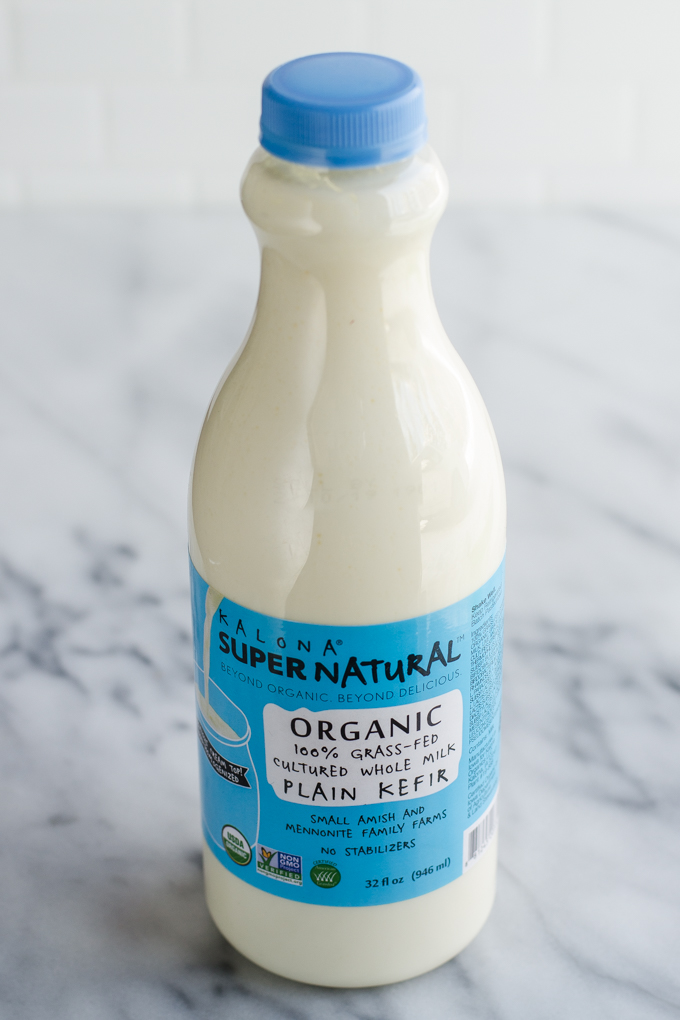 What is Kefir?
All three of these easy smoothie recipes contain an amazing ingredient that I consider a superfood: Kefir!
What exactly is kefir, you ask? It's basically milk that has been cultured with beneficial probiotics.
Kefir is kind of like yogurt's cousin. It's usually less thick than yogurt, and lends itself nicely to drinks. Like smoothies!
You can use homemade kefir in these recipes (just make sure to strain out the kefir grains first!), but let's talk about one of my favorite kefir brands!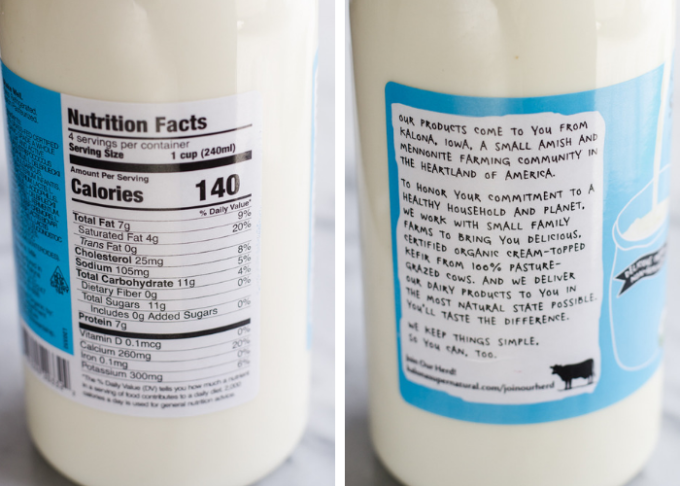 Why I Love Kalona SuperNatural Kefir:
Kalona SuperNatural is definitely my favorite store-bought kefir. It's one of the few brands that make real-deal full-fat kefir. Another rarity: it's non-homogenized!
It also doesn't contain any stabilizers (it's full-fat so it doesn't need any!). To top it all off, it's certified 100% grass-fed.
But I wouldn't be as excited about this kefir if it didn't taste good, too! I love that it's creamy and mild – not overly sour!
Now, let's jump in and I'll show you some awesome smoothies that you can make with kefir!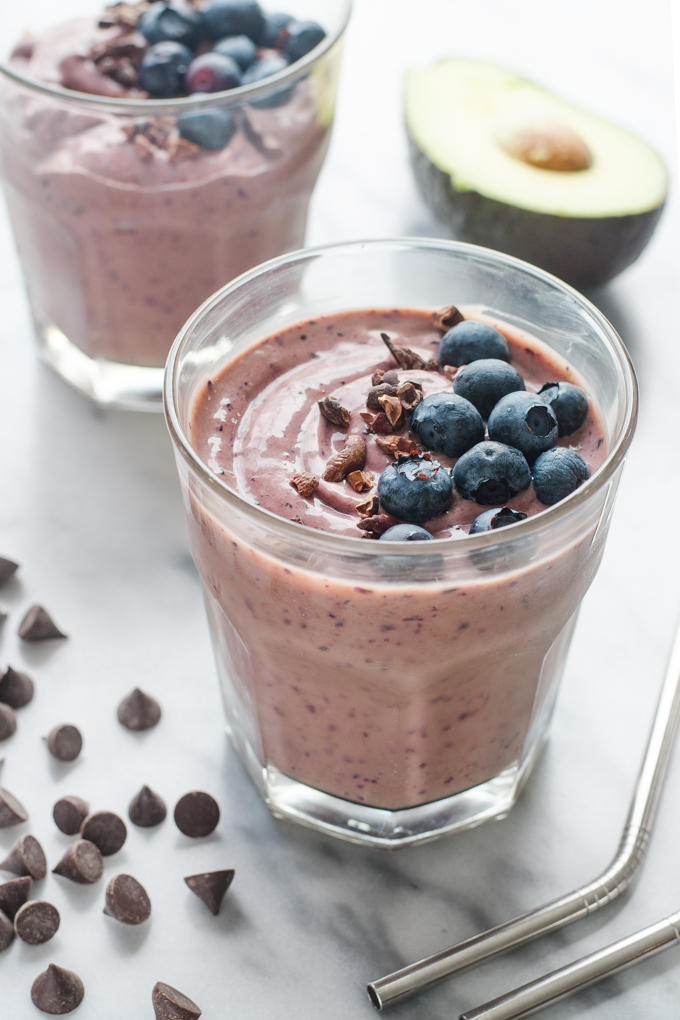 Blueberry Chocolate Kefir Smoothie Recipe
First up, we have this delicious Blueberry Chocolate Kefir Smoothie.
This flavor is my kids' favorite smoothie of the three because: CHOCOLATE.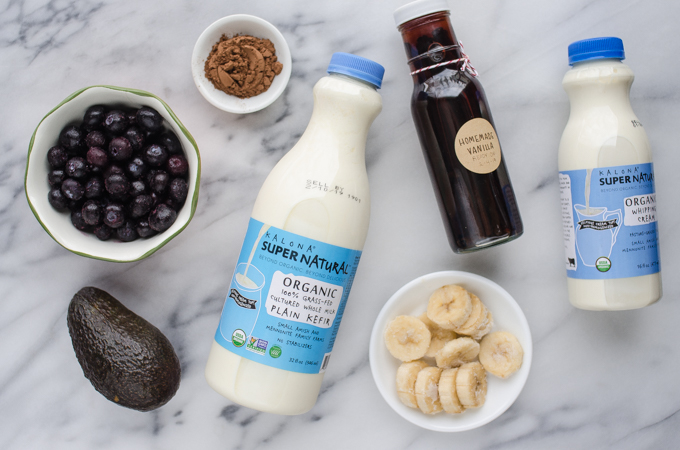 Here's everything you'll need to make this smoothie:
Frozen blueberries: wild blueberries would be amazing here! The reason I don't recommend using room temperature or fresh fruit is that your smoothie won't be as thick if you do.
Unsweetened cocoa powder: Dutch processed or regular will work here.
Vanilla extract: This helps to round out the flavors of this smoothie.
Cream: Adding a splash of cream makes this smoothie more luxurious and adds extra healthy fats from quality dairy products!
Frozen banana: This helps to add smoothness to the smoothie (ha!) and sweetness.
Half of an avocado: Okay, here's the specialty ingredient in this smoothie. It may sound weird to include an avocado in a sweet, fruit smoothie, but it works!
Kefir: Of course this is a kefir smoothie, so there's no need to explain this ingredient choice.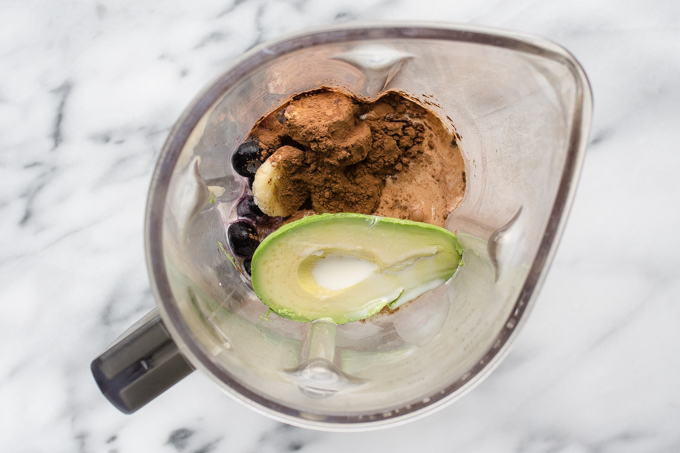 Place everything in the blender and give it a whirl until completely smooth.
And there you have a delicious, probiotic smoothie!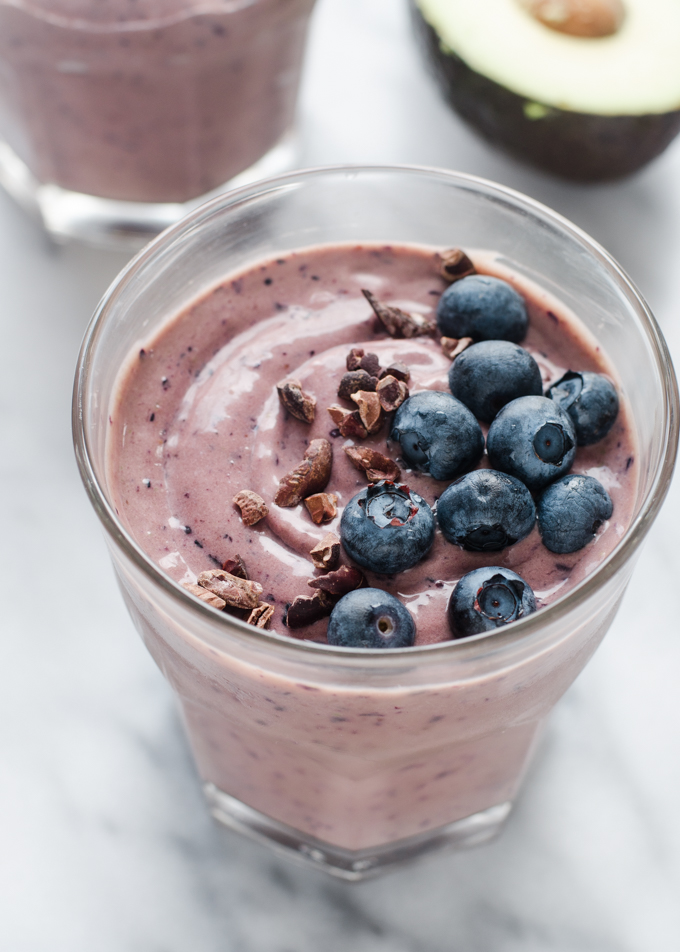 It's amazing how well these flavors play together! I hadn't tried blueberries and chocolate as a combination for smoothies before, but it's really good!
The avocado adds some healthy fats and creaminess, and the kefir lends and bit of tang to the situation. Yum!
For presentation, you can put a few fresh blueberries on top and add a sprinkle of cacao nibs.
I don't find it necessary, but if you are wishing for any of these smoothies to be a little sweeter, you can add some maple syrup to sweeten it up!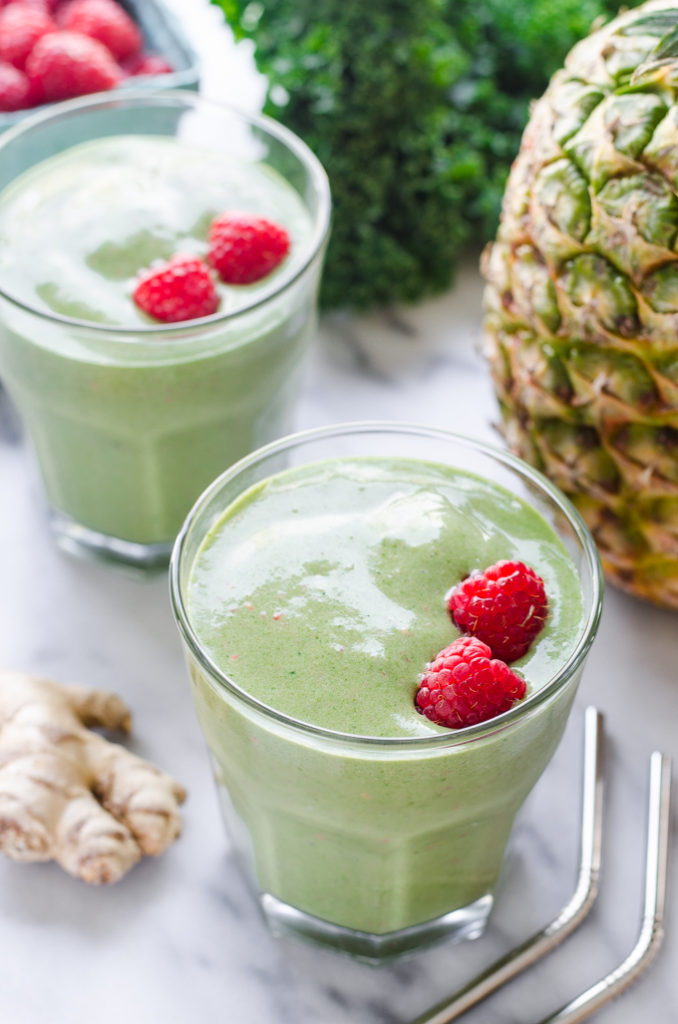 Superfood Raspberry Green Kefir Breakfast Smoothie
Up next we have this Green Superfood Kefir Smoothie.
This is a great healthy breakfast for those days when you're craving something fresh, or you need to round out your greens quota.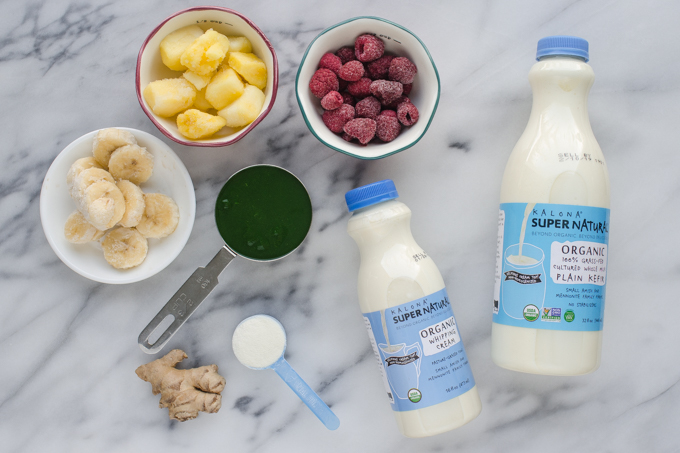 Here are the ingredients you'll need:
Frozen bananas: Again, frozen bananas are what give this smoothie a nice creamy texture.
Frozen pineapple: This adds a bit of tang and freshness to the flavor profile.
Frozen raspberries: For a little extra zing, I like to add frozen raspberries as well. They also lend some extra antioxidants to the mix! And of course frozen berries help to thicken up the kefir smoothie.
Kale puree: (learn how to make kale puree in this post),
Ginger: It may seem strange to add ginger to a smoothie, but it works! It's so fresh and warm and lovely.
Collagen peptides: To boost the amino acids in the smoothie, add a scoop of collagen peptides!
Cream: Again, I really like to add cream to my smoothies to make them rich and, well, creamy!
Plain Kefir: Of course you can't forget the star ingredient!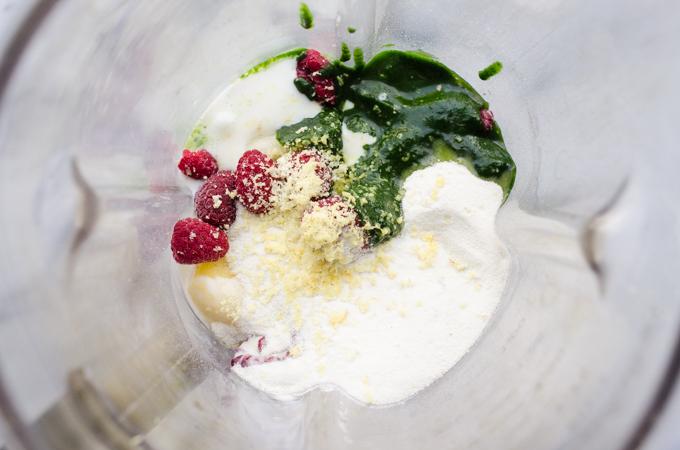 Throw it all in the blender, and away you go!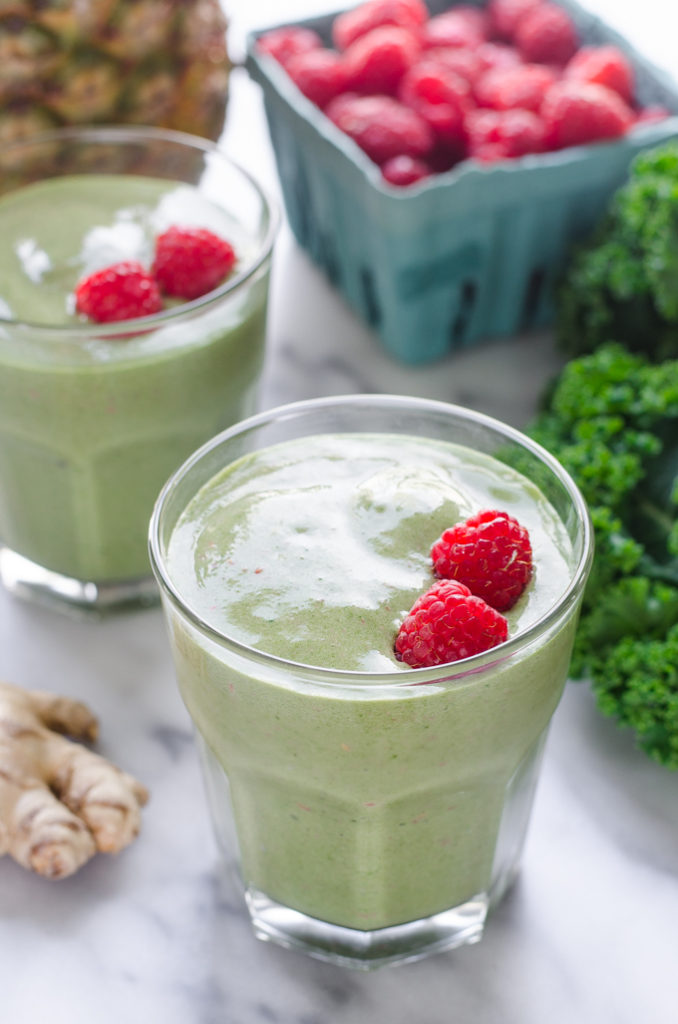 Pour into a cup and throw some fresh raspberries on top if desired. You could also sprinkle some chia seeds on top for a little bit of crunch!
I consider this one a superfood smoothie because it has some powerhouse ingredients:
raspberries for antioxidants
kale for vitamin C, more antioxidants, and anti-cancer properties
ginger for immune support
collagen peptides for joint health and protein
kefir for healthy fats and good probiotics. Probiotic-rich foods actually help out your immune system by promoting gut health!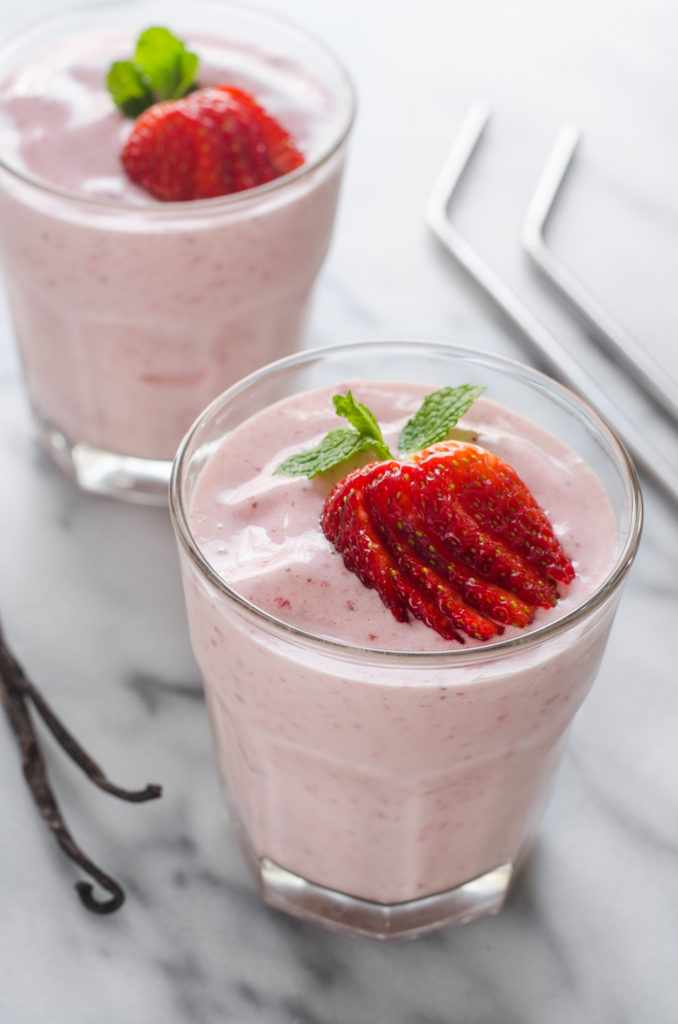 Strawberry Cheesecake Kefir Smoothie
If you're looking for a delicious but healthy treat, this Strawberry Cheesecake Smoothie fits the bill.
It's completely naturally sweetened, and tastes like a milkshake!
This one is great for busy mornings because the ingredients are really simple and require very little prep.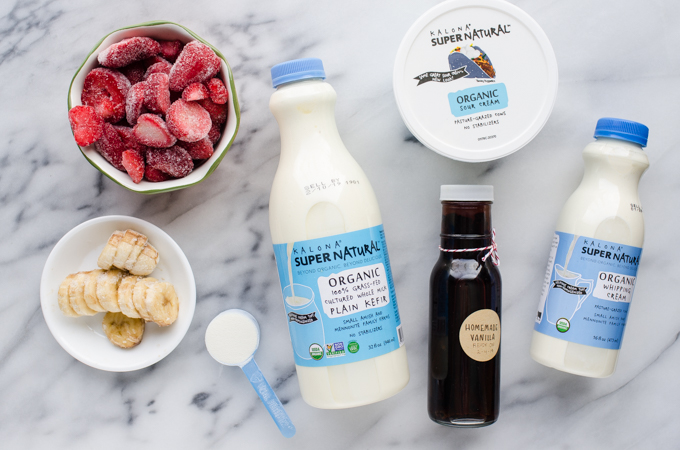 All you need is:
Frozen bananas: Again these add that extra creaminess and sweetness to the smoothie.
frozen strawberries:
Collagen peptides: Kefir is already a good source of protein, but this lends this smoothie a little extra protein. Now collagen peptides aren't a complete protein, but you could whey protein powder instead, which is a complete protein.
Sour cream: In addition to the kefir, I like to add some sour cream for extra tang. This helps to give this smoothie that cheesecake flavor.
Cream
Vanilla extract
Kefir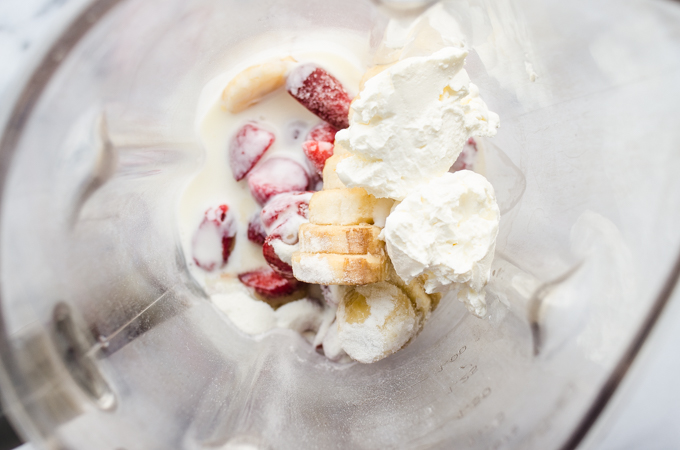 Again, just plop it all in a blender and whiz it up until smooth!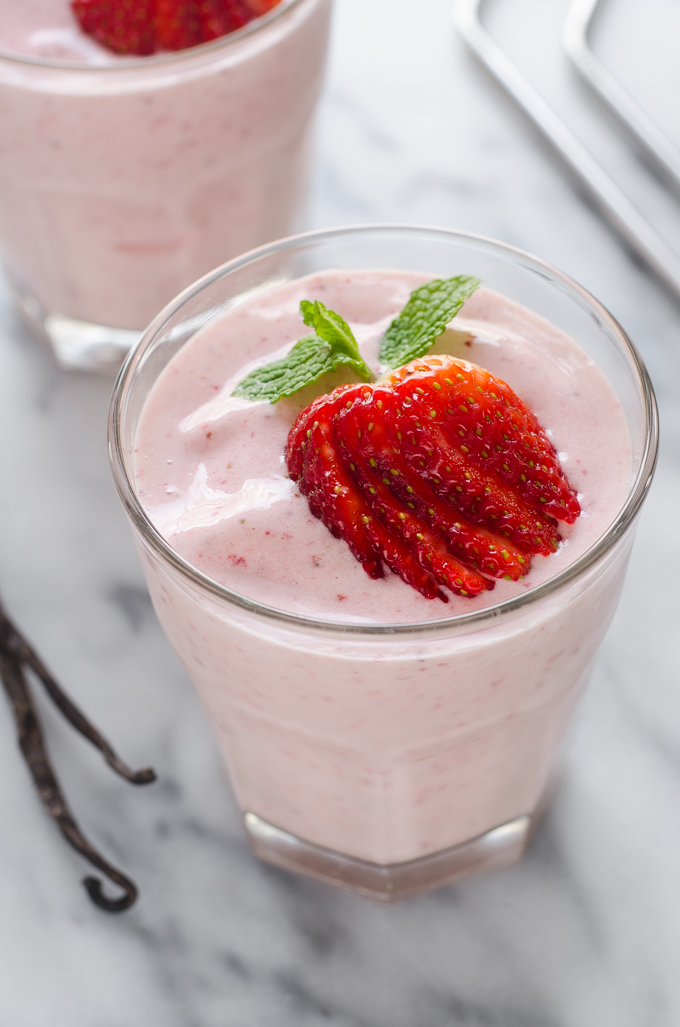 This one's definitely a kid pleaser!
It has mellow flavors, and tastes like a strawberry cheesecake milkshake (without the unhealthy sugar bomb, of course).
But it's still a healthy smoothie recipe since it uses quality ingredients.
You can make this even more pretty by putting some fresh strawberry slices on top, and even a sprig of mint.
Also, you could make any of these into a kefir smoothie bowl! Just make sure to blend it up nice and thick, and pour into a bowl instead of a glass!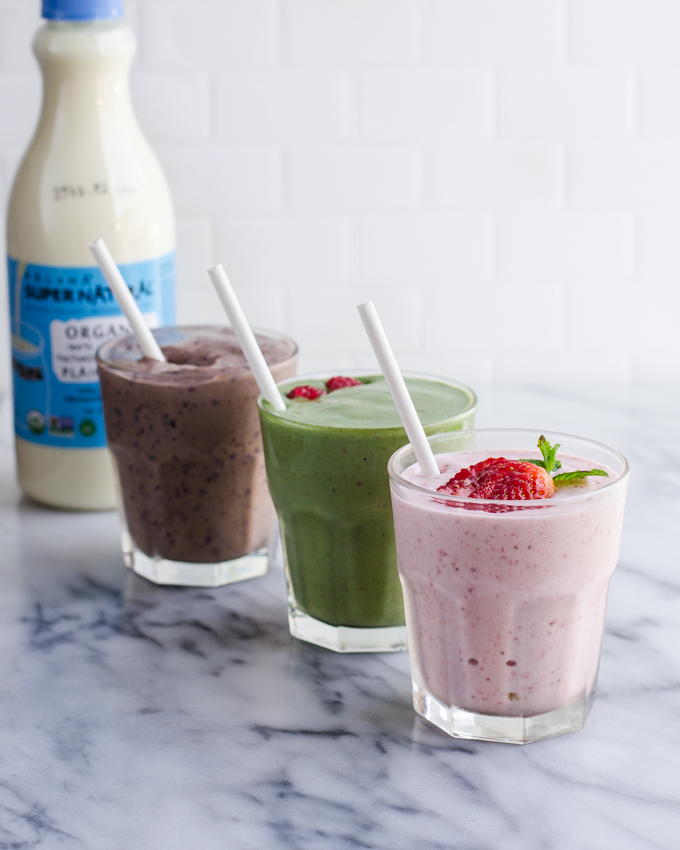 So there you have it: three easy recipes for healthy kefir smoothies you can make to start your day off right.
Which flavor would you try first?
All printable recipes are below!
More Easy Breakfast Recipes: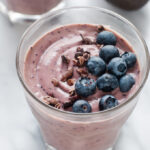 Blueberry Chocolate Avocado Smoothie
Sounds like a strange combination, but it's delicious!
Ingredients
1/2

avocado

1/2

banana,

sliced and frozen

1

c

frozen blueberries

4

tsp

unsweetened cocoa powder

3/4

c

Kalona SuperNatural whole milk plain kefir

3

T

Kalona SuperNatural whipping cream

1/2

tsp

pure vanilla extract
Instructions
Place all ingredients in a blender and blend until smooth, adding more kefir or cream to achieve desired consistency. Serve immediately.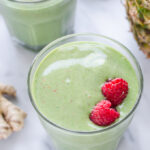 Superfood Raspberry Green Smoothie
A nutrient-packed smoothie.
Ingredients
2/3

c

kale puree

(see note)

1/4

tsp

grated ginger

1/2

banana

sliced + frozen

1/2

c

frozen pineapple chunks

1/2

c

frozen raspberries

2

scoops collagen peptides

3/4

c

Kalona SuperNatural whole milk plain kefir

2

T

Kalona SuperNatural whipping cream

as needed
Instructions
Place all ingredients in a blender and blend until smooth, adding more kefir or cream as needed to achieve desired consistency. Serve immediately.
Recipe Notes
Follow the instructions in this post to make the kale puree.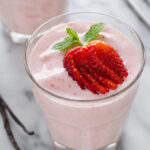 Strawberry Cheesecake Smoothie
A healthy smoothie that tastes like a strawberry milkshake!
Ingredients
1 1/2

c

frozen strawberries

1/4

banana

sliced + frozen

3/4

c

Kalona SuperNatural plain whole milk kefir

2

T

Kalona SuperNatural sour cream

2

T

Kalona SuperNatural whipping cream

1/4

tsp

vanilla

2

scoops collagen peptides
Instructions
Place all ingredients in a blender and blend until smooth, adding more kefir or cream as needed to achieve desired consistency. Serve immediately.