This Energizer Green Smoothie contains loads of good-for-you ingredients, including kale, blueberries, yogurt, and ginger!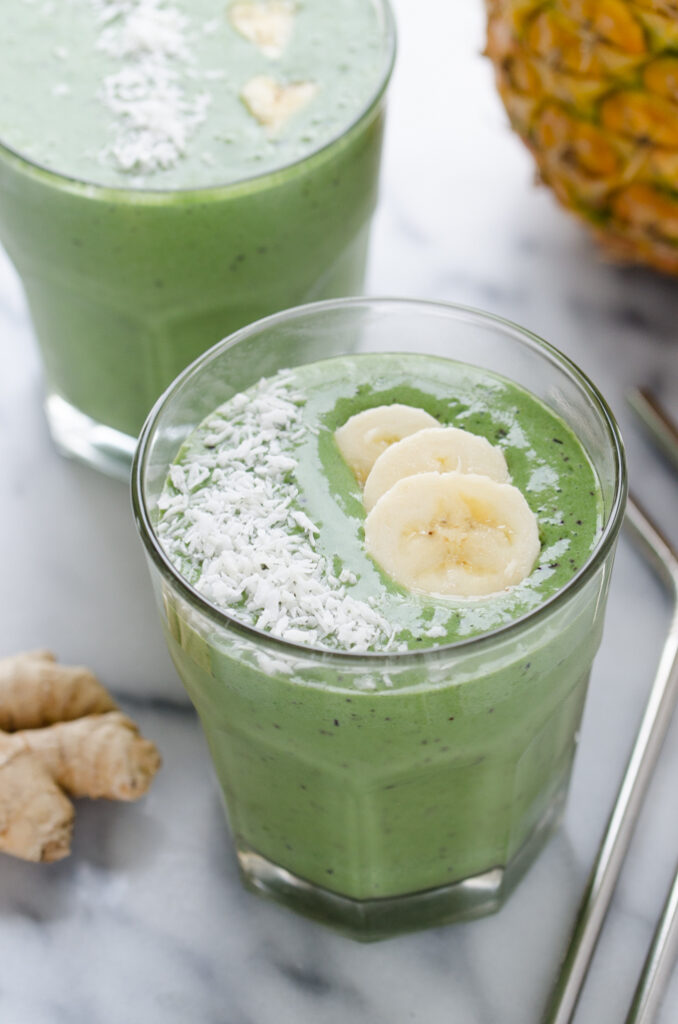 While we were in Florida, I learned to love a new flavor combo: fruit + ginger!
Our wonderful airbnb hostess had the fridge stocked with freshly pressed juice on our arrival. It was a combination of starfruit from her backyard, apple, lemon, and ginger. "Ginger?" I thought. "Well, that's probably gonna taste gross."
But I was wrong. I was very wrong.
That was some of the best juice I've ever tasted. It was sweet with just a hint of savory from the ginger. So good.
A few days later, I ordered a green smoothie while we were out and about, and it also contained ginger. I was sold. And I knew I needed to try to recreate that smoothie once we got home.
What You'll Need to Make This Green Smoothie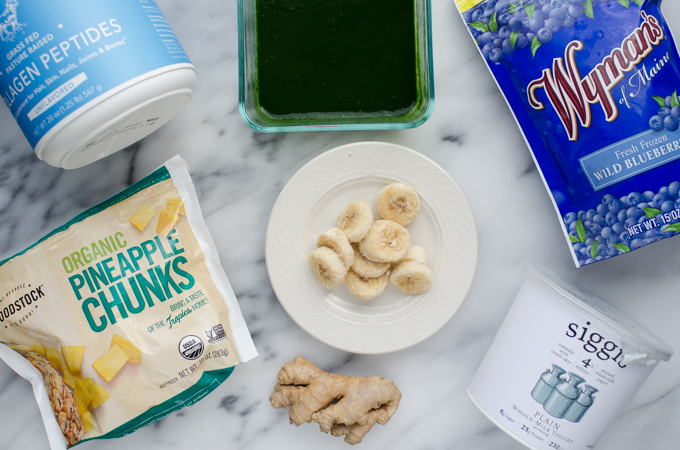 I'm not 100% sure of every ingredient that went into that green smoothie, but I put in as many of the same ingredients as I could. I'm guessing they made theirs with juice and ice cubes, but I prefer to use a protein/fat-rich liquid in my smoothies. So of course I opted for whole milk and cream. I also added a couple of scoops of collagen peptides
.
For the green part of this green smoothie, I used pureed kale. You can learn how to make this yourself in my How to Prep Your Greens for the Week post. It's so worth it to prep ahead.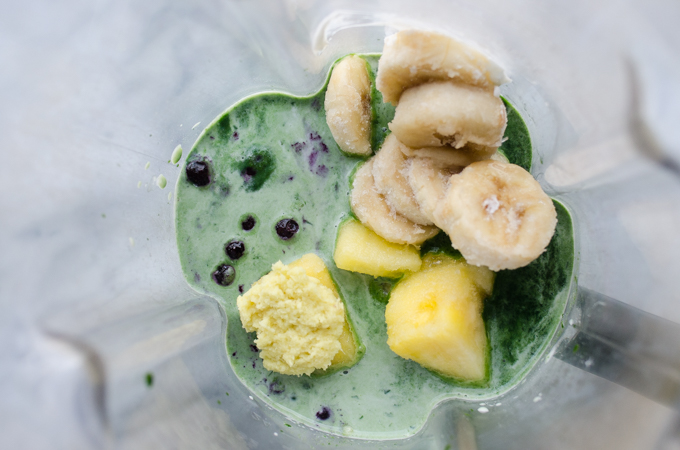 Now just throw everything into your blender and let 'er rip until it's completely smooth.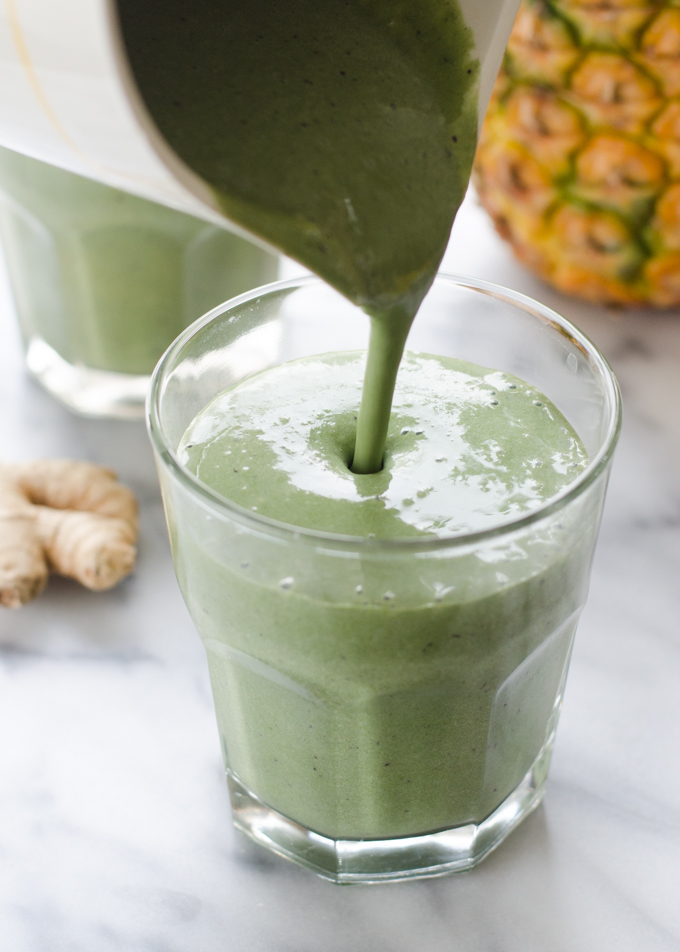 This green smoothie is full of good-for-you ingredients. It contains about half a bunch of kale, so it's kind of like drinking a salad, no? Other awesome benefits include probiotics from the yogurt, antioxidants from the blueberries, aminio acids from the collagen, potassium and vitamin B6 from the bananas, and vitamin C and manganese from the pineapple. Ginger has many health benefits, including regulating blood sugar, decreasing inflammation, and possibly fighting cancer as well. You can read more about the benefits of ginger here.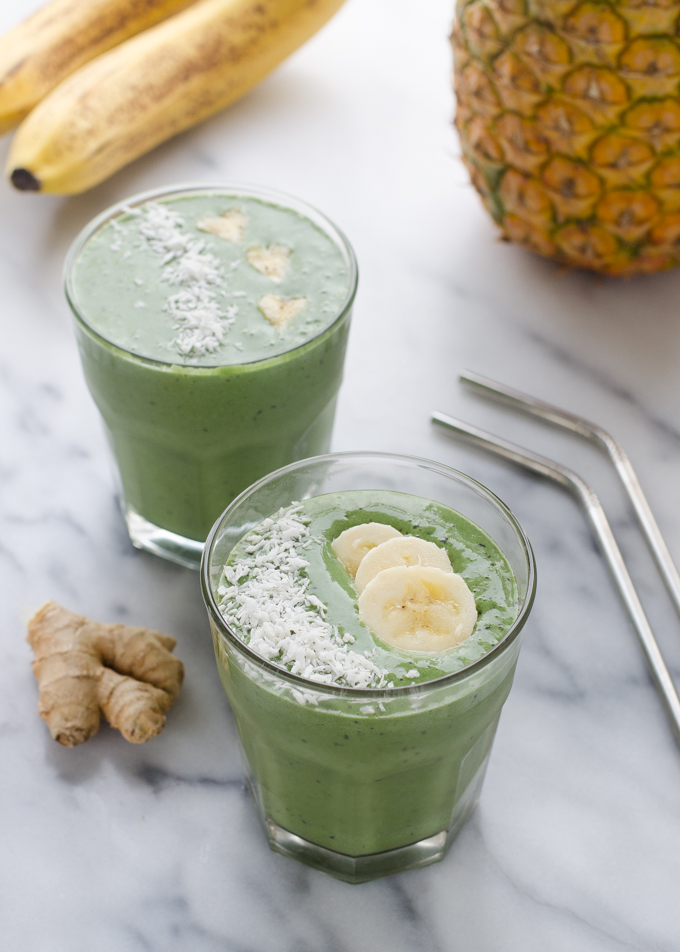 One thing to note: ginger can be quite pungent, so you might want to start out with just half a teaspoon if you aren't used to the flavor and work up from there. Or, if you're already a ginger fanatic, you can increase the amount to your taste. I think 1 teaspoon is about right.
Have you ever been skeptical of a flavor combo, only to change your mind once you tasted it?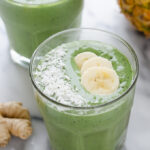 Energizer Green Smoothie
This green smoothie is packed with good-for-you ingredients like kale, blueberries, collagen, and yogurt.
Ingredients
3/4

cup

kale puree

see note

1

teaspoon

grated ginger

1/2

whole

banana,

chopped and frozen

1/2

cup

frozen pineapple

1/4

cup

frozen blueberries

2

scoops

collagen peptides

1/3

cup

whole milk

2

tablespoons

heavy cream

1/2

cup

whole milk yogurt

(Greek yogurt works as well)
Instructions
Place all ingredients in a blender and blend until completely smooth.