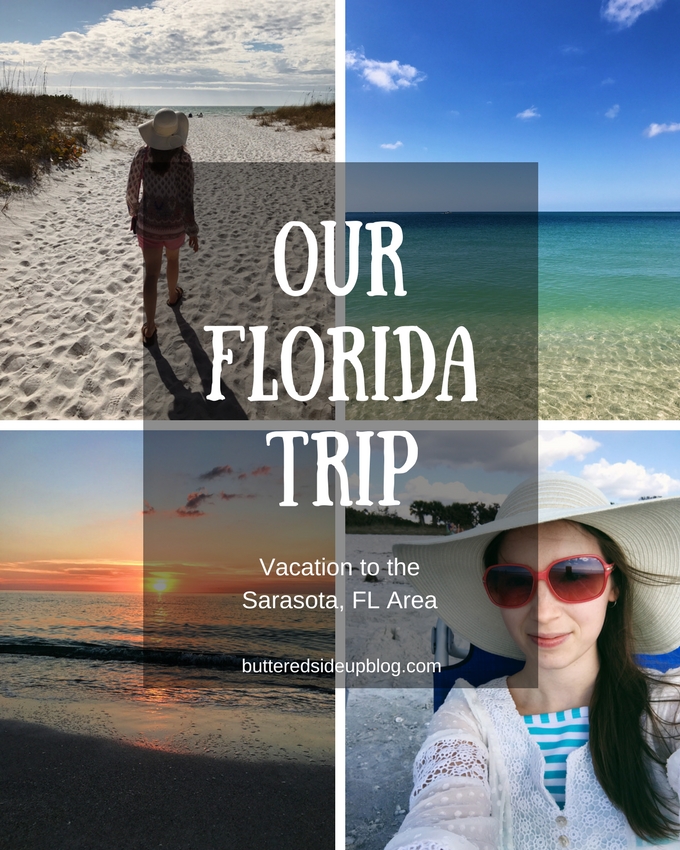 This winter I decided that it was high time we took a vacation. Our last major get-away was our honeymoon (which was 6 years ago).
If you know us well, you know that I'm the mover and shaker and Reuben is the practical one. Travel isn't high on his priority list. But I priced out some flights to Florida, and they were only $87! Plus I found an airbnb for a reasonable price. So even though we have plans of building our first house soon (eek!), I convinced Reuben to take a leap of faith and hop on a flight.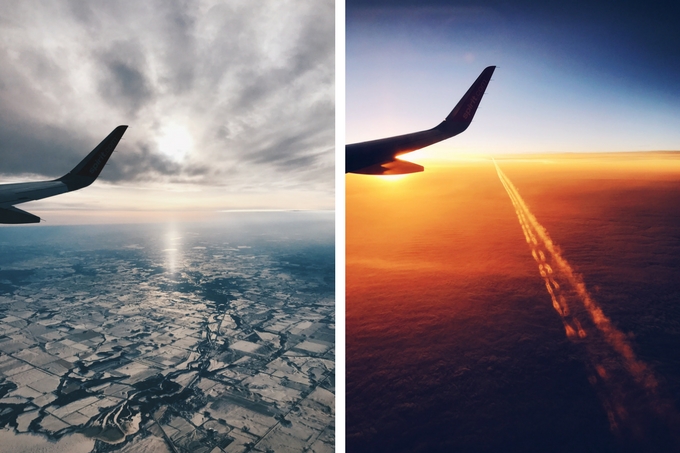 We had never flown commercially before (and I had never been on an airplane in my life). So it was an exciting experience for me. Everything was new and interesting. The seasoned traveler that sat next to us probably thought I was crazy with all the pictures I took out of the plane window. ?
Our airbnb: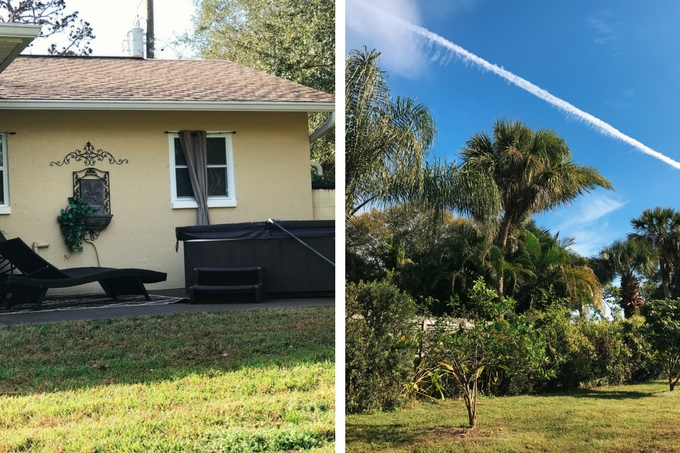 I originally wanted to find a place RIGHT ON THE BEACH. But by the time I looked at houses, only the more expensive ones were left. And I got to thinking: if we got a place right on the beach and I wanted to go outside in the evening, I'd probably be sharing a space with party animals and drunks. So we opted for a more private place off of the beach.
And I'm so glad we did!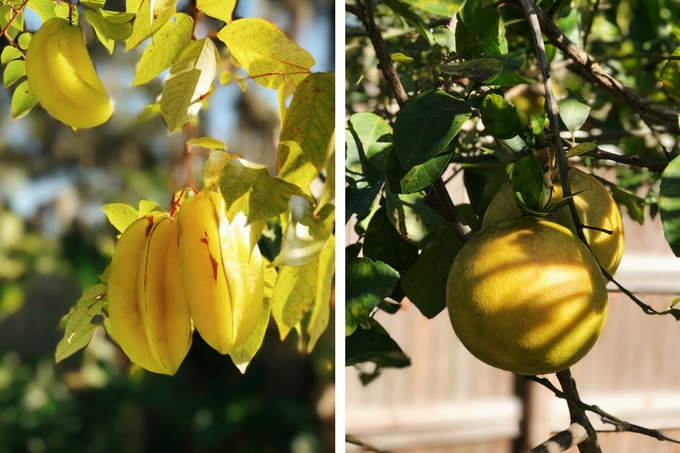 Our airbnb was even nicer than the pictures! There were fruit trees right in the backyard, a sauna, hot tub, paddle boards, kayaks, bikes, and more!
This was our ride for the week: a Chevrolet Camaro convertible. We had reserved a VW Beetle convertible on a discount car rental website, but the salesman upgraded us to this! It was pretty fun to tour around in, once we figured out how to make the back window roll up. ?
Beaches We Visited: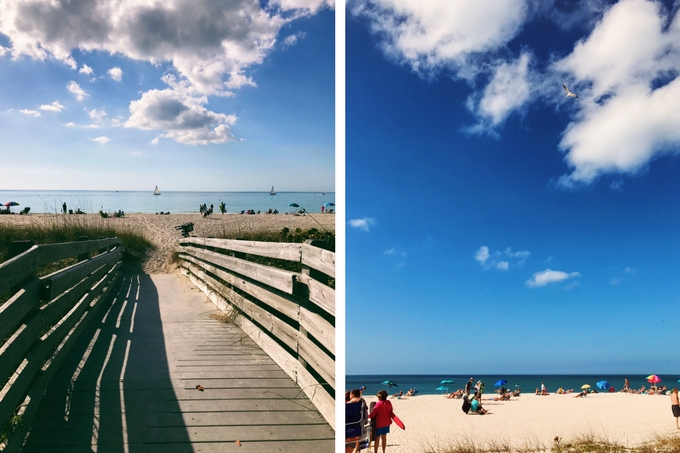 Nokomis Beach
We stayed in Nokomis, so of course we had to check out the public beach.

I must admit that I didn't think we would spend much time here. But as it turns out, it was one of my favorite beaches! The water was the prettiest color of all the beaches we visited, and it was only a couple of minutes from our airbnb.

It probably wouldn't be the best beach for kids – there were a lot of shells that hurt our feet to walk on, and the drop off was pretty steep. But if you just want to relax on the sand and collect shells, this is a lovely spot.

The sunset on our first evening at the beach was the prettiest we saw all week!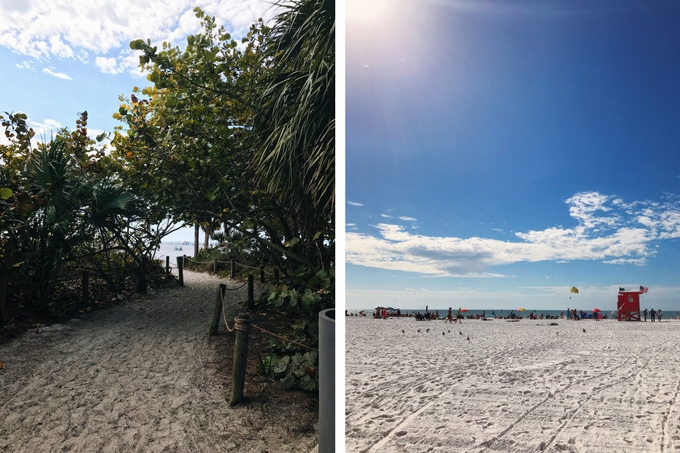 Siesta Key Beach
This was the beach that I had originally wanted to find an airbnb directly on. But everything was quite expensive here! I figured we could drive here every day if we really wanted to. In hindsight, I think that would be okay if you don't have kids along. Otherwise you'd want a place directly on the beach.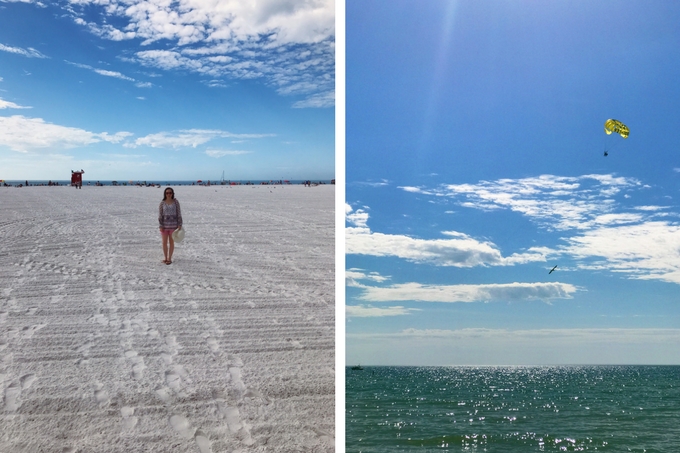 The sand here really was amazing. Like cornstarch! And there was a vast expanse of it. It's hard to convey with a photo just how wide the beach is. And the dropoff is really gradual – I saw kids out a ways into the water, and it was only up to their knees!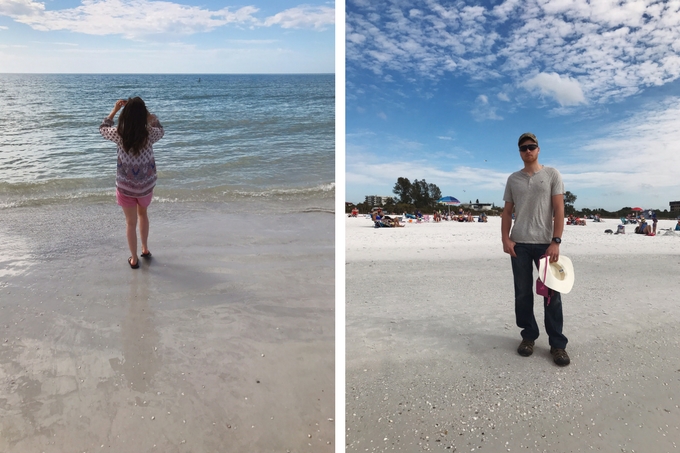 One downside to Siesta Key beach was no changing rooms! There are only public bathrooms for changing into your swimsuit. So you might want to change before going to the beach. Also, one day we went was pretty windy, and the sand got EVERYWHERE.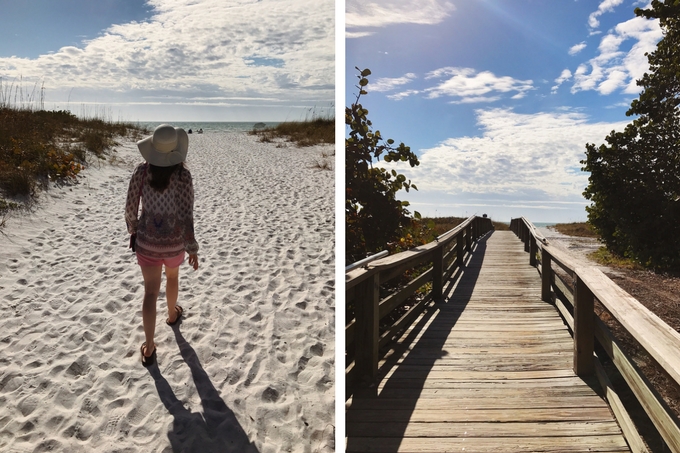 Longboat Key
I'm not exactly sure what the name of this beach is. But it was a public beach just before Beer Can Island on Longboat Key.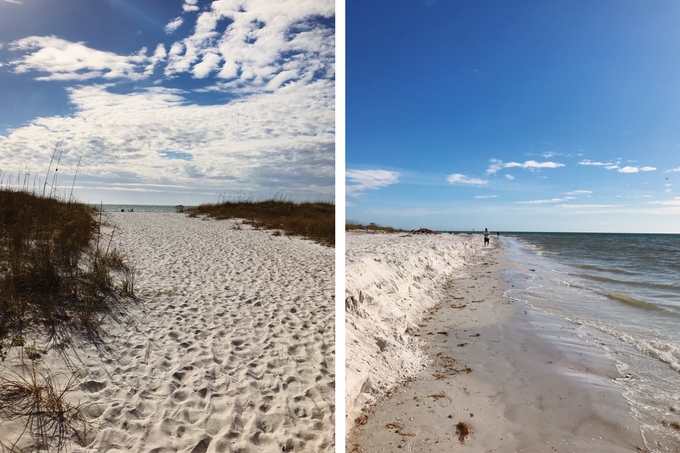 It was a small, quiet beach. The sand was nice. There were still people there since it was a gorgeous day, but if you're looking for something more out-of-the-way, this beach might be for you.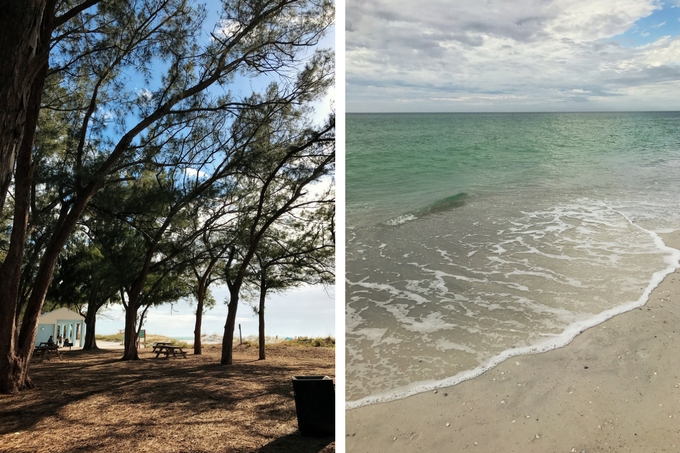 Coquina Beach
This was the first beach we came to when we crossed over to Anna Maria Island from Longboat Key. There was horrendous traffic going onto Anna Maria Island, so we stopped here to wait for it to die down.
I really appreciated that this beach actually had changing stalls. But it was kind of a disappointment because as soon as we changed into our suits and got onto the sand it got cloudy. BUT we did see some dolphins! I even got a video of them (see the vlog below).
BTW – does anyone know what kind of trees those are in the photo above? They looked like some type of pine trees…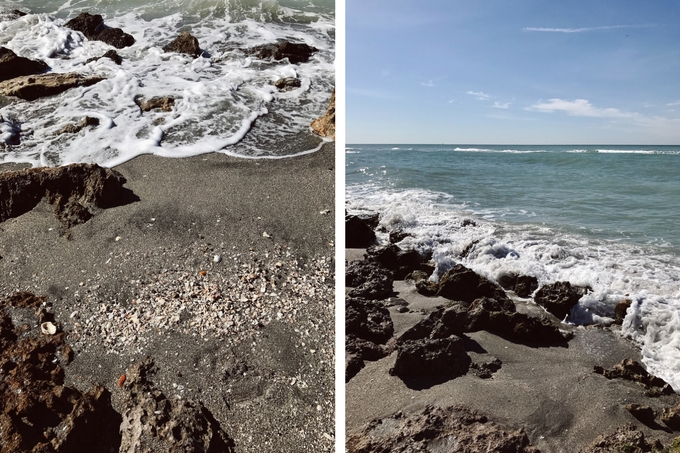 Caspersen Beach
This beach had a totally different vibe than the ones we had visited before. It was very rocky and the sand was dark. It's know for being a good spot to hunt for shark teeth. Several people found them while we were there, but we didn't have the patience to search them out. I almost lost one of my favorite flip-flops to the crazy waves here.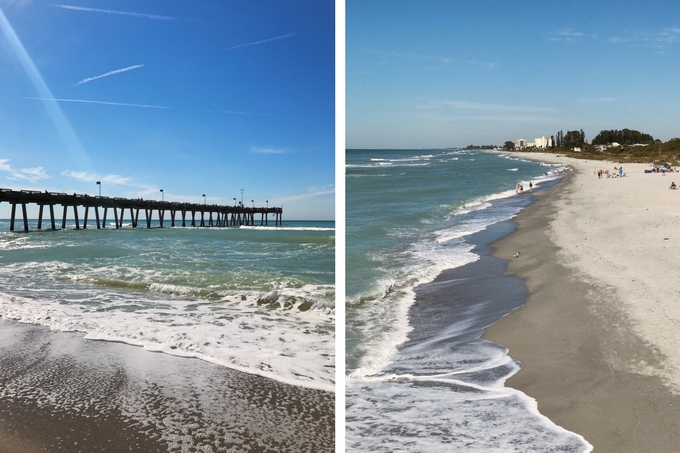 Venice Beach
A few miles north of Caspersen beach is Venice Beach. And right on the beach is the Venice Fishing Pier. It was neat to get to walk out over the gulf and see if from above.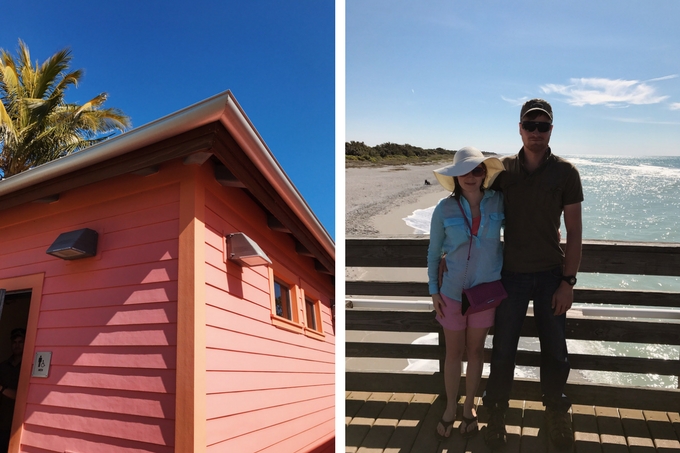 While Reuben was taking a picture of me on the pier, a random dude offered to get one of us together. So we awkwardly posed while he snapped a photo.
Restaurants We Visited: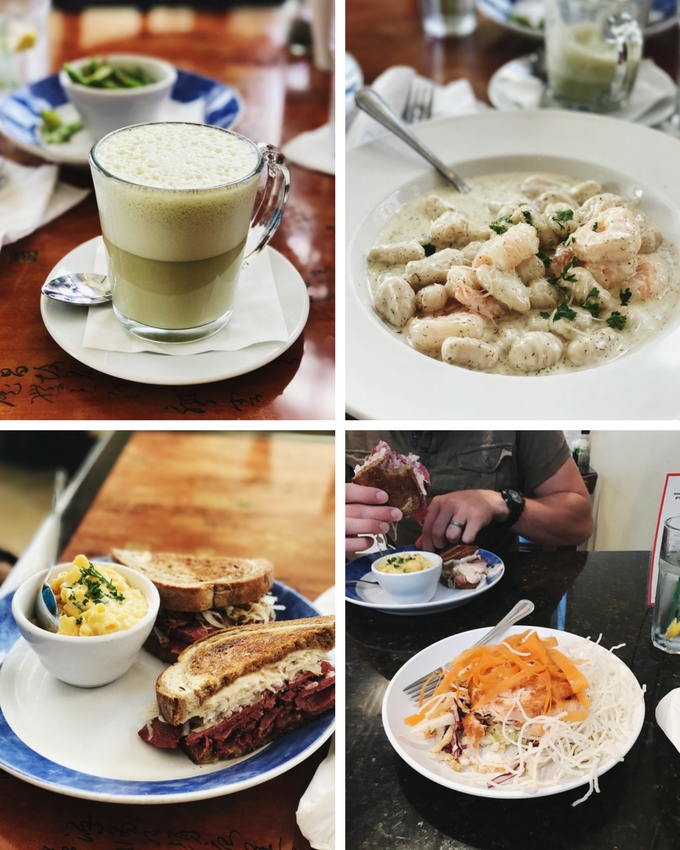 This was one of the more natural options close to where we were staying. The first time we went here I got my infamous matcha latte (I was still doing Sugar Free January so I asked it to be unsweetened, but it was obvious that is was sweetened when it came). I also had some shrimp gnocchi. It was delicious. Reuben got a Reuben sandwich (ha!) with a side of mac and cheese. The second time we went here I got a Thai salmon salad and Reuben got a Reuben sandwich again.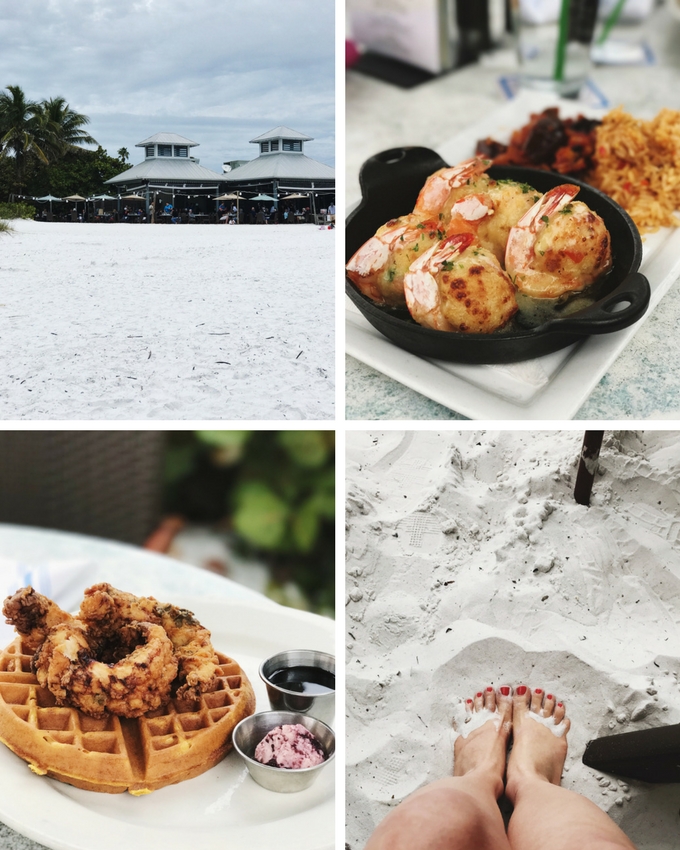 I had read about this restaurant before we left for Florida. It sounded amazing to get to sit with your toes in the sand and watch the sunset.
The food was definitely overpriced. It wasn't bad, just too much money for what it was. I ordered the stuffed shrimp and it came with a side of rice and marinara eggplant. Reuben got the chicken and waffles with blueberry butter.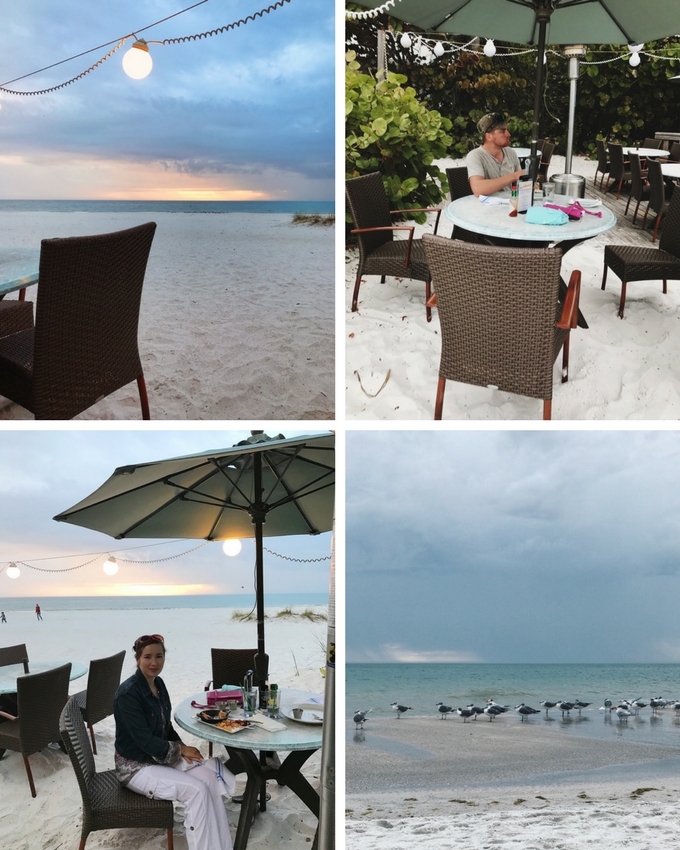 Unfortunately it was pretty cloudy and cold on the night we went. The heater next to our table wasn't working, so I had to go to the car and change into pants to keep from freezing to death. Poor Reuben didn't bring a jacket. The clouds did dissipate just a bit as the sun was setting, but it also started to rain. I'm glad we went here, but I wish it would have been a nicer evening.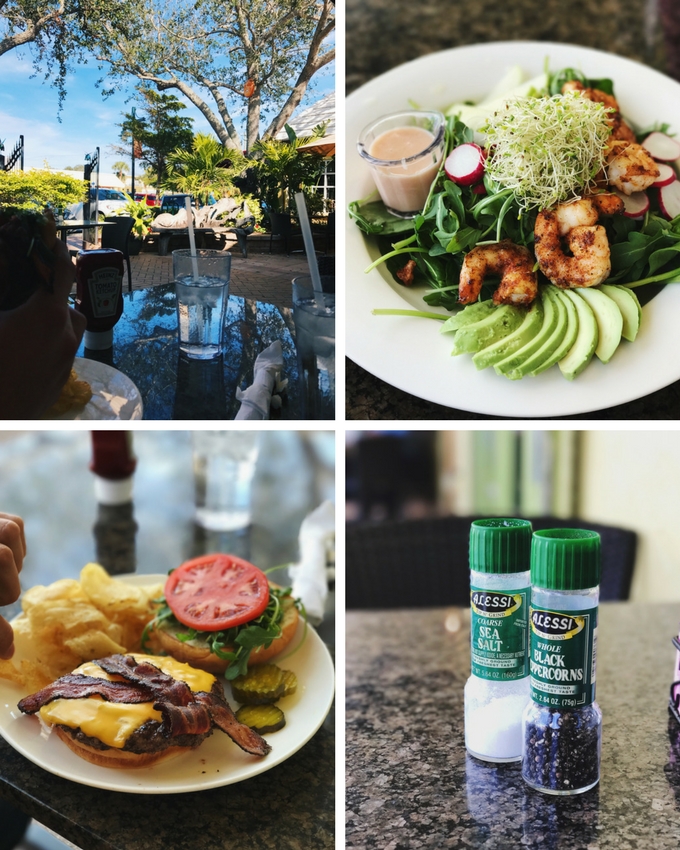 This was a quaint little spot on Siesta Key. It was fun to get to sit outside. I had a shrimp salad with greens, a granny smith apple, radishes, spiced walnuts, an avocado, sprouts, and a ginger dressing. It was yummy. Reuben had a burger with chips.
Something interesting: Most of the restaurants we visited in Florida (even the fast food joints) had these salt and pepper grinders on the table.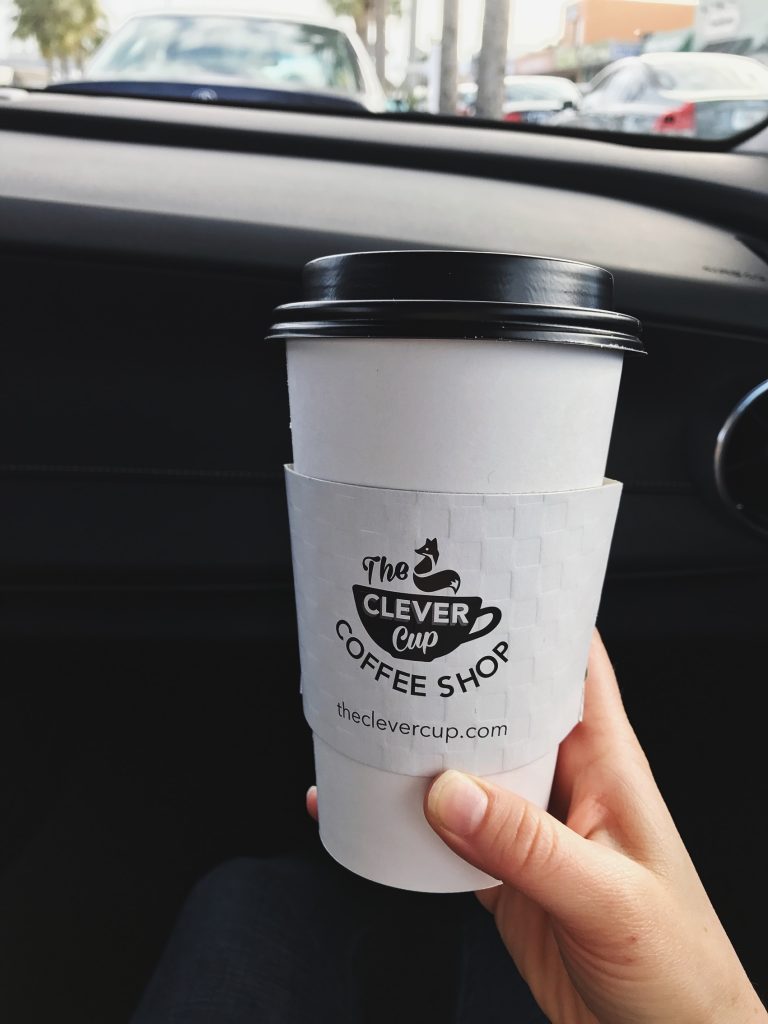 I was feeling like some coffee after that salad for lunch. So I found a spot that offered organic milk. It was really good coffee (Reuben like it even though it was unsweetened). Unfortunately I forgot to ask for decaf, so I only drank half of it to avoid the jitters (Reuben drank the rest).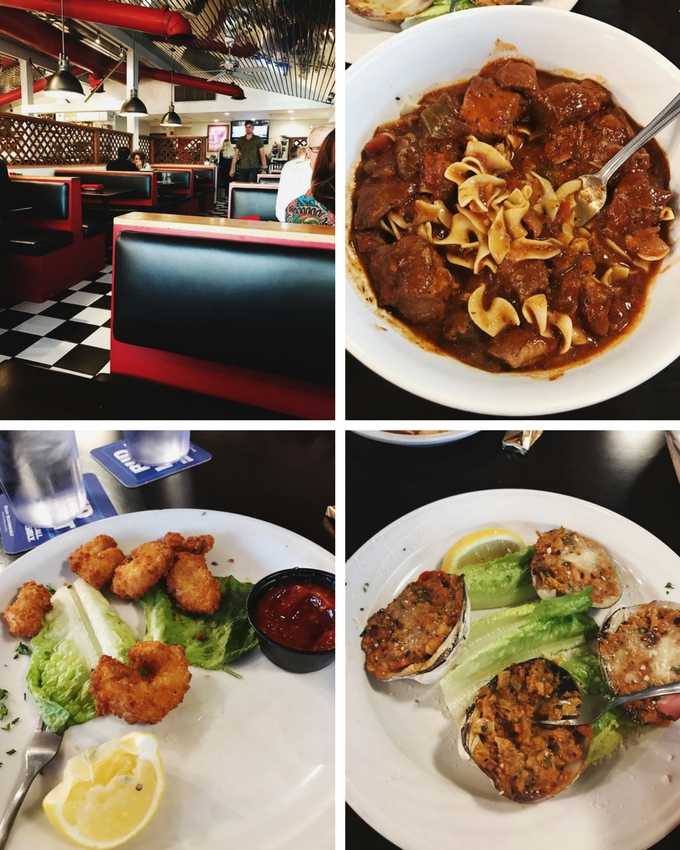 This was a major disappointment. It was a place that Guy Fierri had visited for Diners, Drive Ins, and Dives, so we figured it had to be decent. But everything we got was sub-par. I'm sure the goulash would have been really yummy for some people, but they used a spice that we didn't care for. The shrimp seemed like something you would pull out of the freezer. And the stuffed clams weren't anything to write home about. The decor was fun, but that was about it. Womp womp.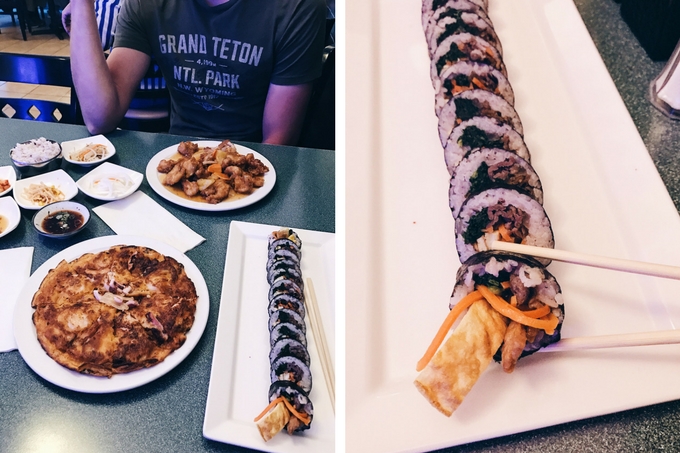 On our last night in Florida, I convinced Reuben to go to a Korean restaurant. I got the seafood pancake and a gimbap roll (I wasn't able to finish everything), and Reuben got some sweet and sour chicken with pineapple. It was yummy food, but I was getting done with eating out at this point.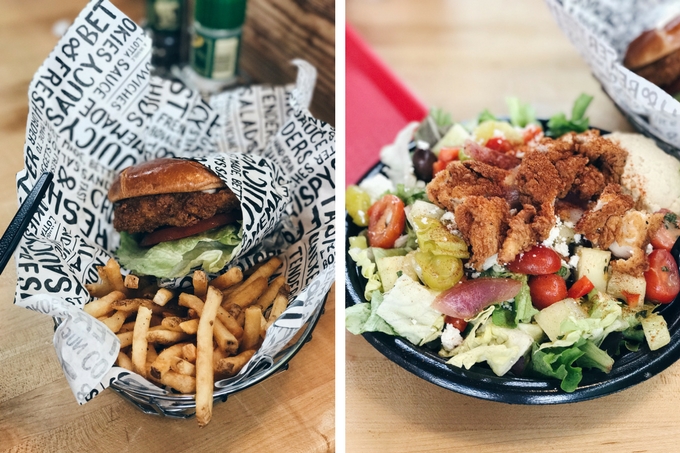 PDQ
We went to PDQ on the night we flew into Florida, and again the day we flew out. The first time I had a grilled chicken sandwich, which didn't really thrill me. But the fries! They were the best I've had in a long while.
The second time I got a Greek salad with tomatoes, olives, feta, pickled peppers, chicken, and hummus. It was delicious! I need to try to recreate it.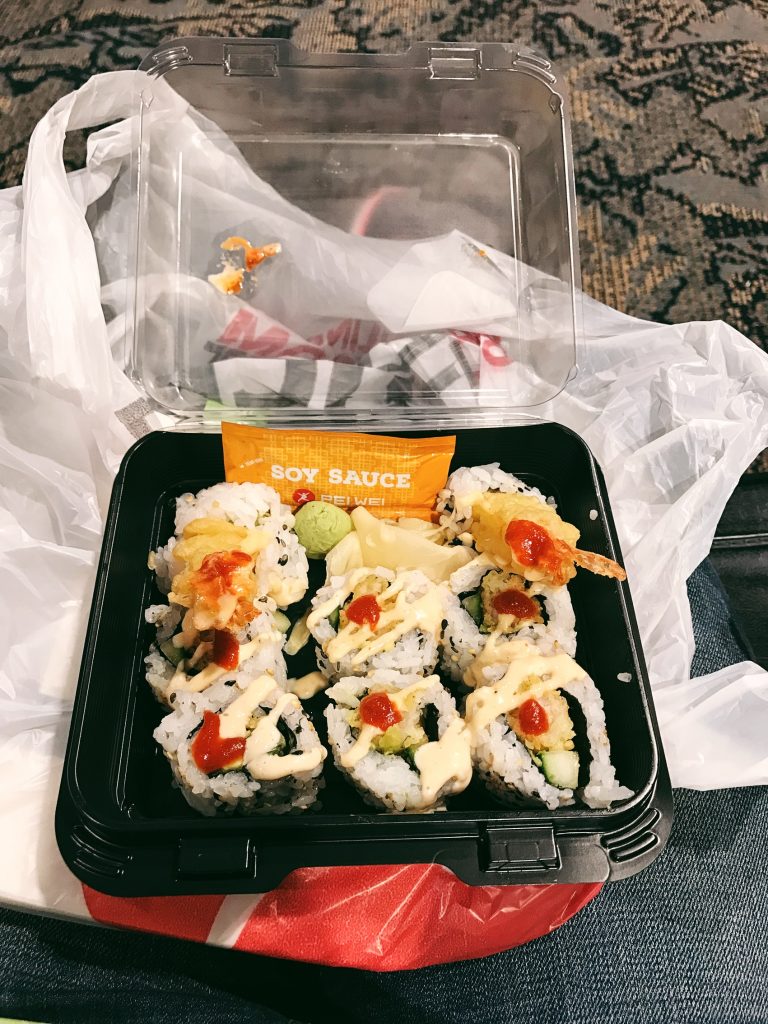 Pei Wei
For my very last meal in Florida, I got some sushi at the Tampa airport. I wasn't feeling like worrying about raw fish, so I got the tempura shrimp roll. It was pretty good for airport food!
Here's a little vlog of our Florida trip:
So there you have: Where we went and what we ate on our Florida trip! Let me know if you have any further questions about our trip. 🙂
Where was the last place you went on vacation?