This Sourdough Banana Bread recipe is made with discard, so it's a wonderful way to use up any excess sourdough starter you have hanging around! This simple recipe is perfect for sourdough beginners!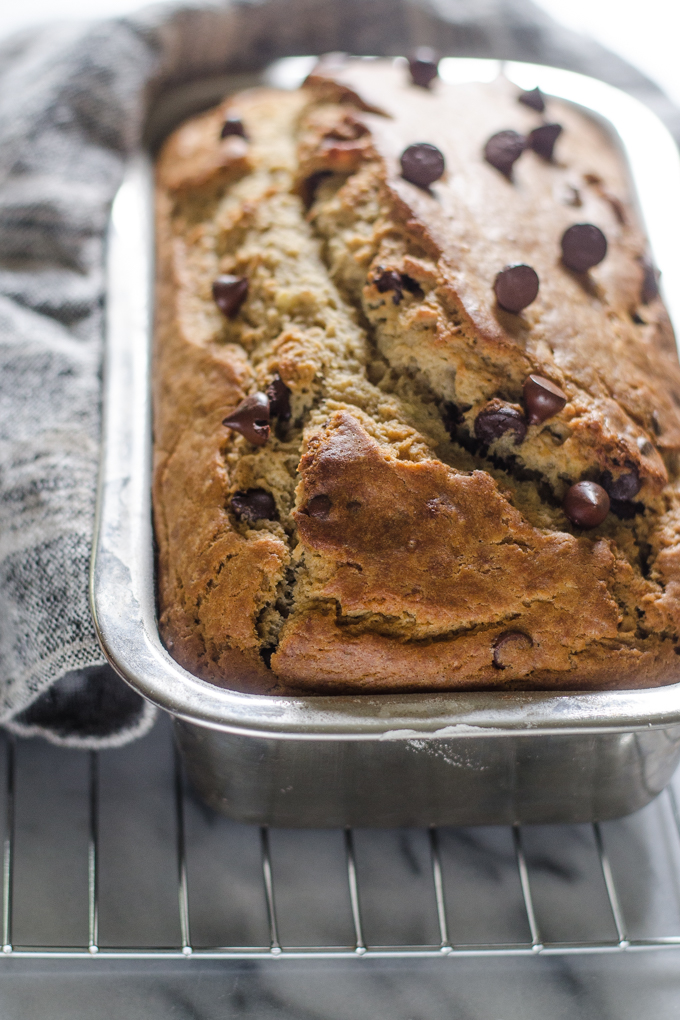 Do you have extra sourdough starter discard that you just hate to throw out?
Here's something delicious you can make with it: Sourdough Discard Banana Bread!
This recipe doesn't require a long fermentation time, so it's a great beginner's sourdough recipe.
And the flavor and texture are wonderful. My dad described it as "smooth."
Here are the really simple steps for making this yummy treat:
Ingredients: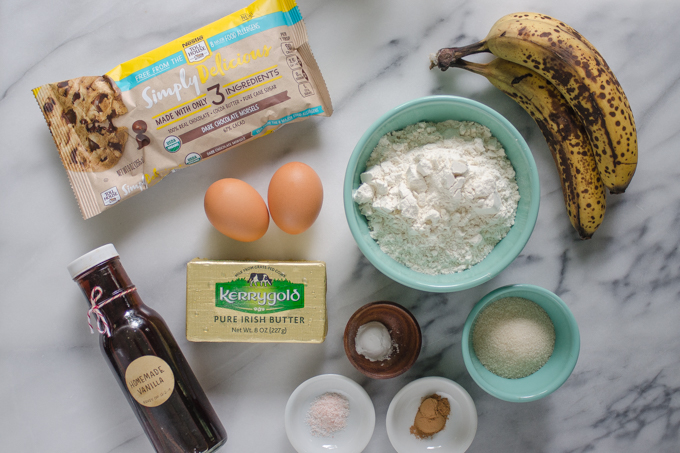 First, here are the ingredients you'll need to make it: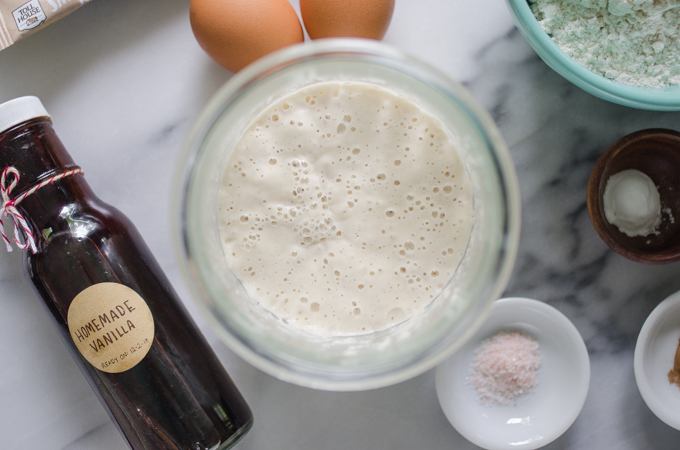 And not to forget: active sourdough starter!
An active sourdough starter means it's been fed 8-12 hours previously, is bubbly, and passes the float test.
Since this recipe doesn't rely on the sourdough starter to raise the banana bread or make a fermented dough, it's less important that it's at ideal maturity.
So you could use up your excess sourdough discard in this recipe as long as it isn't tooooo old.
But bubbly and active is ideal! Not strictly necessary, but ideal!
If you're new to sourdough, you can check out my How to Make a Sourdough Starter From Scratch post. If this is your first time baking with sourdough, make sure to go over my Sourdough Starter Troubleshooting post so you can avoid any common mistakes!
By the way, I like to use a kitchen scale to measure out my sourdough starter. It makes the cleanup SO much easier! I use about 220 to 240 grams of sourdough starter to equal 1 cup.
How to Make Sourdough Banana Bread: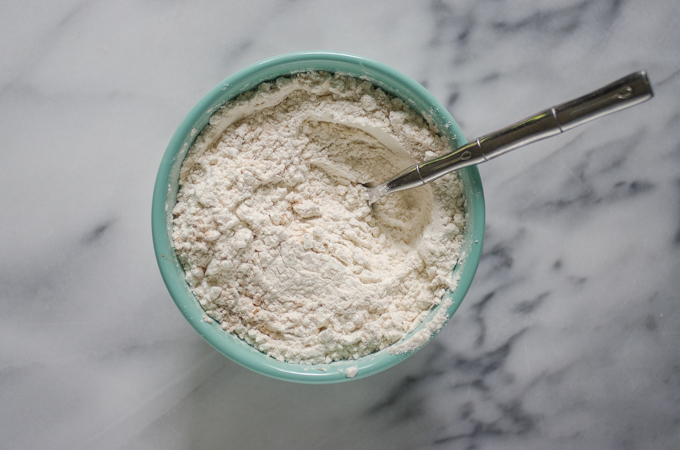 Go ahead and get your oven going now: preheat it to 350°F.
Prepare your loaf pan by greasing and flouring it, or lining it with parchment paper.
Start by mixing together the dry ingredients in a small bowl.
You're going to use less flour than you usually would in a loaf of banana bread because the sourdough starter contains some flour.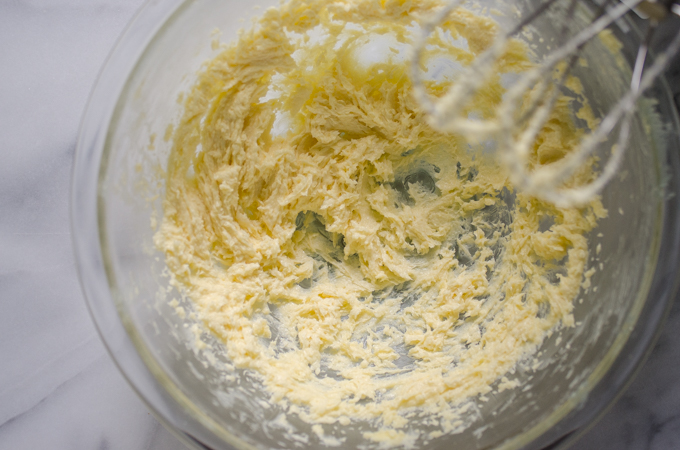 Next, in a large mixing bowl beat the butter and sugar together until light with a hand mixer on medium speed.
This could also be done with a small stand mixer, but if your machine is high capacity you may find that it doesn't whip this smaller amount of butter very well.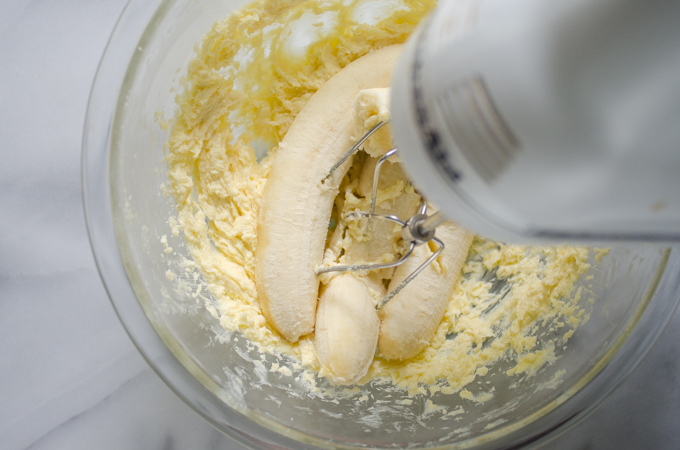 Mashing the Bananas:
Quick tip: you can just add the brown bananas to the butter and sugar mixture and use the hand mixer to mash them!
I'm so glad that I discovered this method of "mashing" the bananas – there's no need to dirty up a potato masher!
Make sure to watch the video at the end for a demonstration of this mashing method!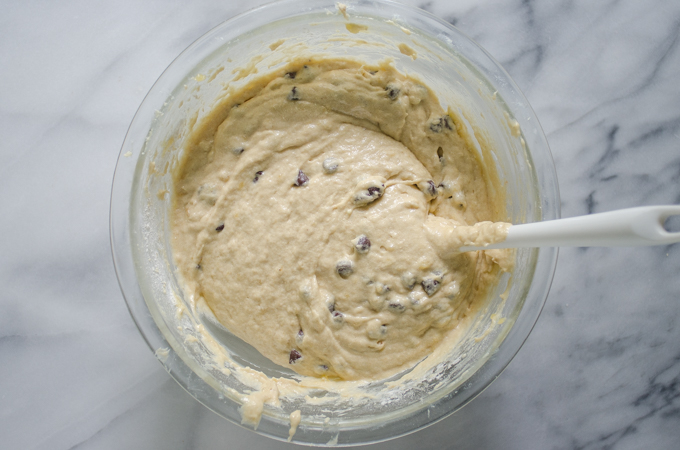 Add the rest of the wet ingredients to the bowl.
Then add the dry ingredients and mix just until combined. You don't want to over-mix the batter!
Gently fold in the chocolate chips.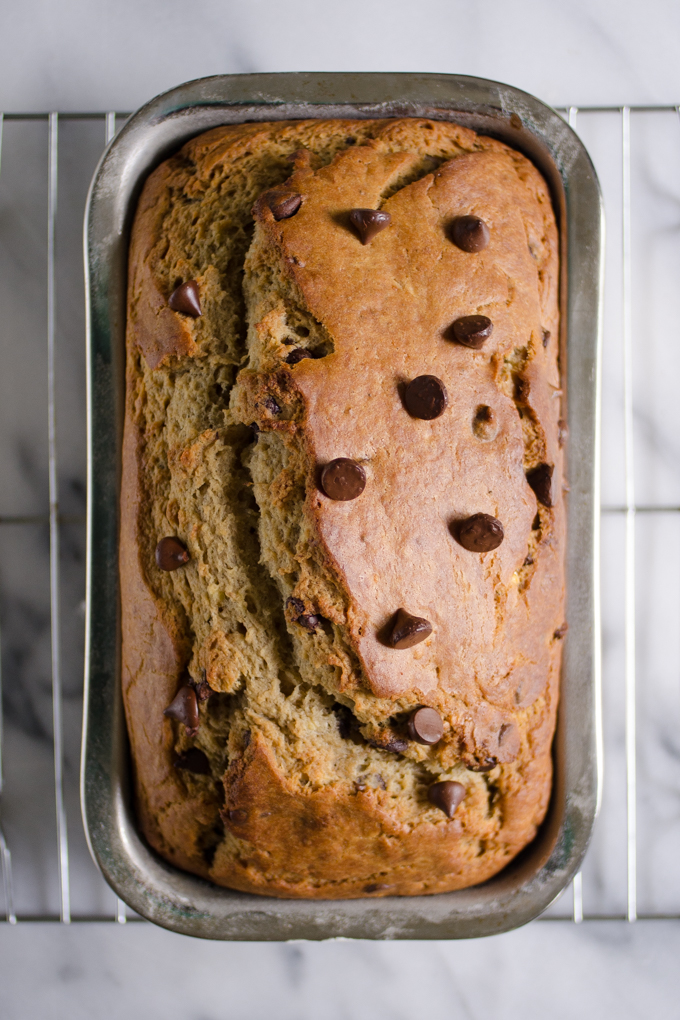 Baking Time:
Bake in the prepared loaf pan in the preheated oven for 60-70 minutes, or until a toothpick inserted in the center comes out clean.
Don't over-bake it or (obviously) it will be dry!
Quick tip: If you find that the top of the banana bread is getting too dark before it's done in the center, you can always tent it with aluminum foil partway through baking.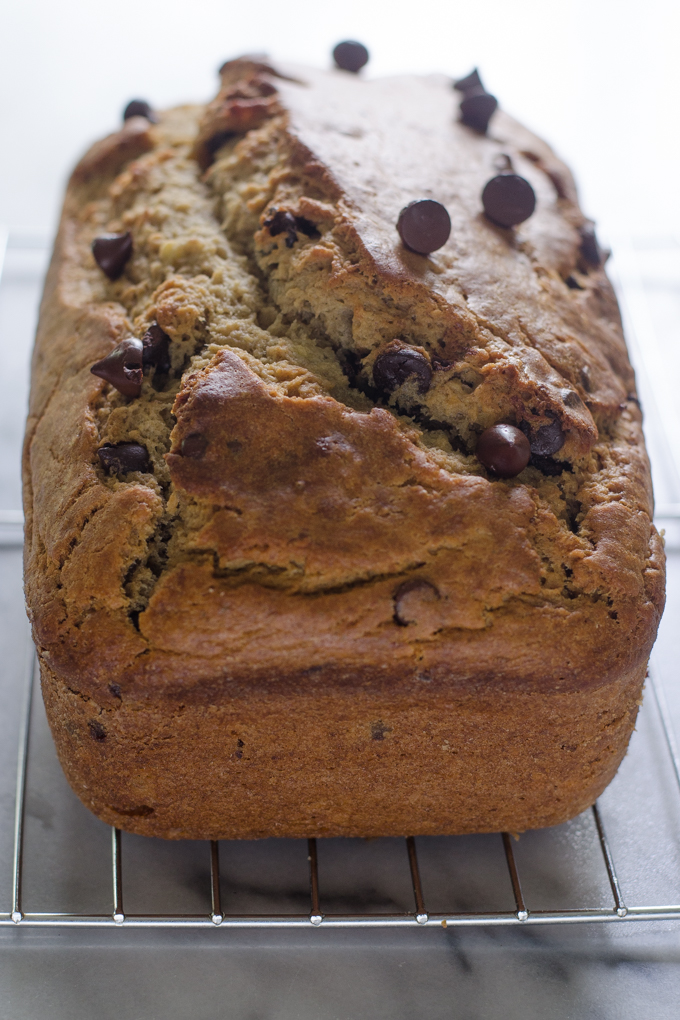 Allow the bread to cool in the pan on a rack for 10 minutes before inverting and allowing to cool at least until just warm.
I won't ask you to do what I cannot and wait until it's completely cool to slice.
But please wait until it's warm, not hot!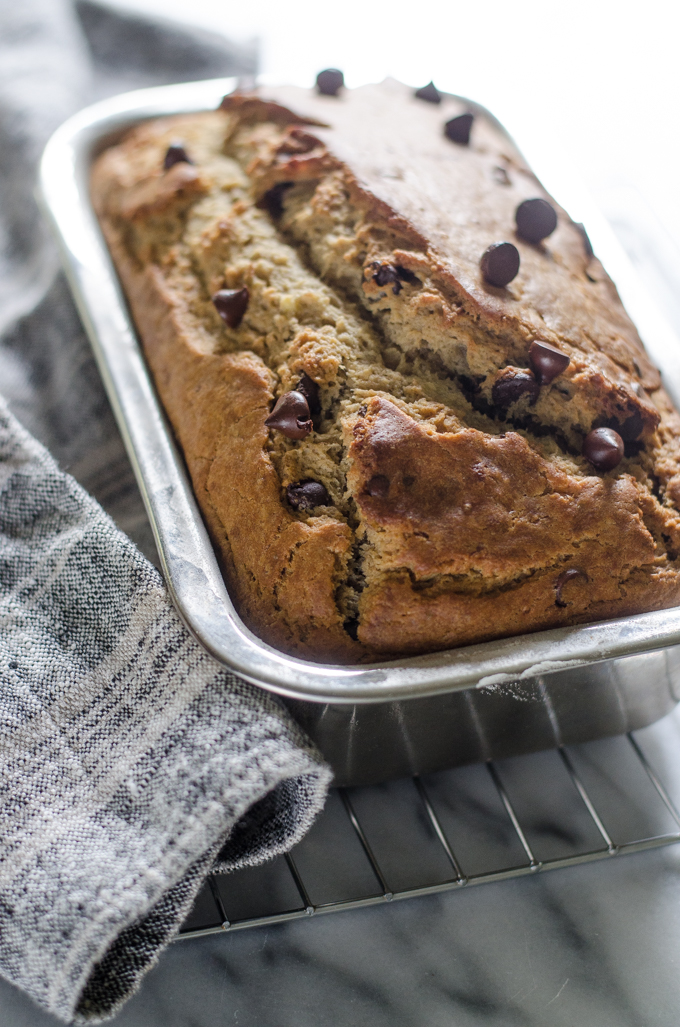 So that's how to make my sourdough chocolate chip banana bread! Here are a few notes to go over before you dive in and make it:
NOTES:
Here's a video tutorial for you!

More Sourdough Recipes:
More Sourdough Discard Recipes: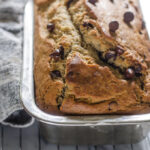 Sourdough Banana Bread with Chocolate Chips
A super easy sourdough recipe - great for beginners!
Ingredients
1 1/2

cups

organic all-purpose flour

1

tsp

baking soda

1/2

tsp

unrefined salt

3/4

tsp

cinnamon

1/2

cup

grass-fed butter,

softened

1/4

cup

cane sugar

3

medium very ripe bananas

2

large pastured eggs

1

tsp

pure vanilla extract

1

cup

active sourdough starter

(see note)

1

cup

dark chocolate chips
Instructions
Preheat oven to 350°F. Butter and flour an 8.5x4.5-inch loaf pan, tapping out the excess flour.

In a small bowl, whisk together the flour, baking soda, salt, and cinnamon. Set aside.

In a large bowl, cream the butter and sugar together until light. Add the bananas and beat until the bananas are well "mashed." Add the eggs and vanilla and beat until well combined. Add the sourdough starter and mix just until incorporated.

Add the dry ingredients and gently mix on low speed just until combined. Add the chocolate chips and gently fold them in with a spatula.

Scrape the batter into the prepared loaf pan. Bake in preheated oven for 60-70 minutes, or until a toothpick inserted near the center comes out clean.

Allow the loaf to cool in the pan on a rack for 10 minutes before inverting on the rack to cool completely (or at least until just warm). Serve with grass-fed butter.
Recipe Notes
An active sourdough starter is one that has been fed about 8-12 hours beforehand, and is bubbly and passes the float test.
I keep my starter at 100% hydration, which means that I feed it equal weights, not volumes, of water and flour.
Recipe adapted from Pinch My Salt.
Updated on September 23, 2022