This easy KETO crepes recipe is made with just 7 simple ingredients! With just 2.75 grams of net carbs, they're a great low-carb option!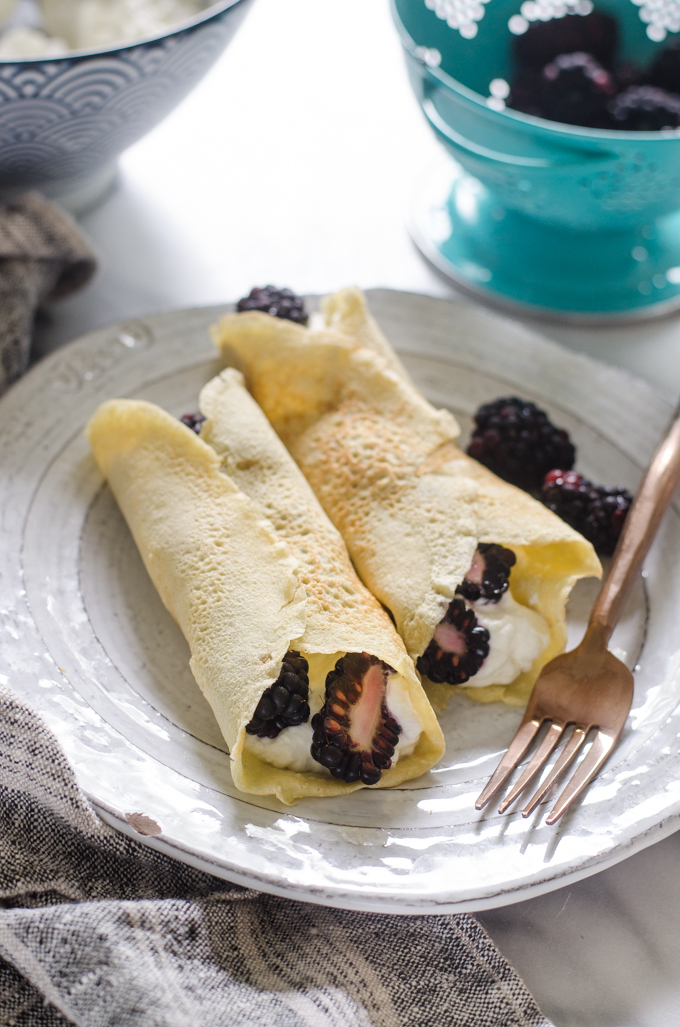 Just because you're eating low-carb doesn't mean you have give up on crepes forever.
These KETO crepes are a fun and delicious breakfast or brunch treat. They're a great way to mix things up and get out of your usual breakfast rut.
Plus they only require 7 simple ingredients, so there's no need to buy a gazillion specialty items.
Let's dive in a make them!
KETO Crepe Ingredients:
Note: Some links are affiliate. All opinions are 100% my own. If you click a link and make a purchase, I will earn a small commission. This has zero impact on the price you pay, and it helps Buttered Side Up out! Thank you!
See, this ingredient list isn't so scary: no xanthan gum or anything like that!
Eggs: I try to source pasture raised and/or organic eggs when possible. You'll be using the egg white as well as the egg yolks.
Cream: I'll discuss this more in a minute!
Butter: I like to use grass-fed butter in these. But I'm sure you could substitute melted coconut oil or avocado oil.
Vanilla: Adding a splash of vanilla really enhances the flavor of these crepes. Please use pure vanilla extract!
Cinnamon: A touch of cinnamon makes for some even more tasty KETO crepes!
Blackberries: I like to use berries to fill these low-carb crepes since they tend to be lower carb than other berries.
Coconut flour: The coconut flour is probably the ingredient that you would have the most difficulty finding, but even regular supermarkets are carrying it now. Check around and you should be able to find it. Bonus: since these don't contain any wheat flour or almond flour, the grain free and nut free!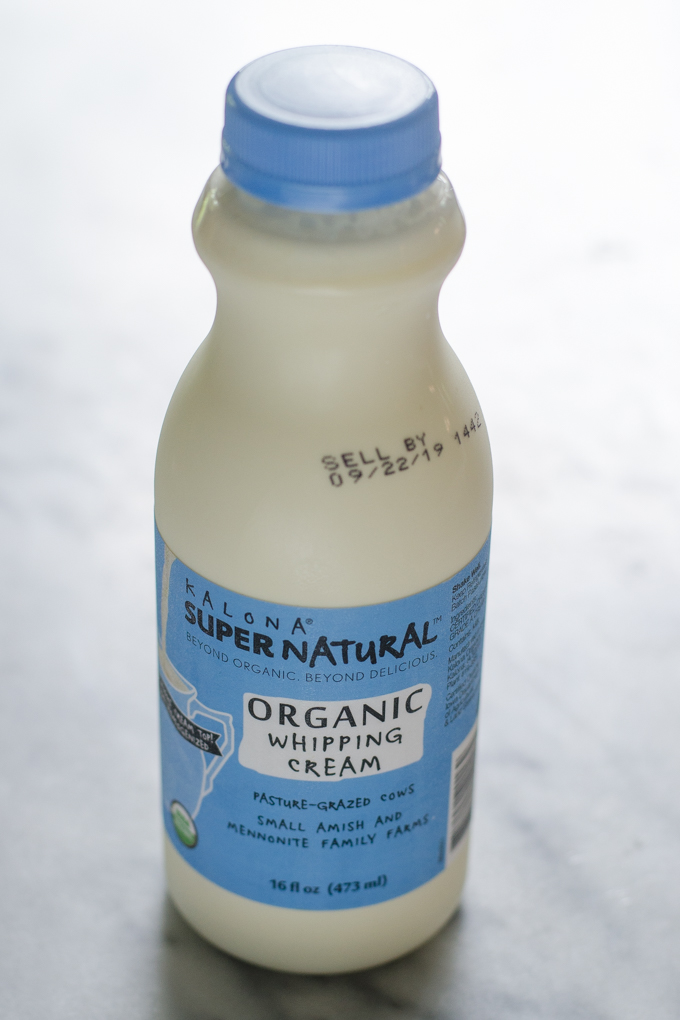 Can we chat about cream for a second?
You guys know that I'm a huge fan of Kalona SuperNatural. Their whipping cream is my personal favorite. I love that it's made with cream from pasture-grazed cows, and that it only contains one ingredient: organic cream.
Most creams on the market, even organic ones, contain stabilizers and other additives in the forms of carrageenan, Polysorbate 80, gums, etc., which I try to avoid.
Beyond simple ingredients, Kalona SuperNatural whipping cream is less-processed in other ways: It's non-homogenized and gently pasteurized to just 145°F. All of these factors are so rare to find!
Plus the flavor is just really good. These are the reasons I highly recommend it.
Okay, back to making the KETO crepe recipe!
How to Make KETO Crepes: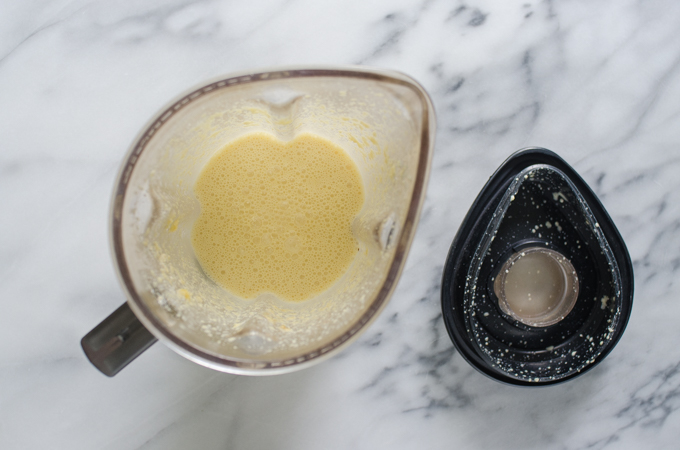 It's incredibly easy to make the batter, guys.
Simply put everything in the blender (I'm sure you could use a food processor as well), whiz it up to create a smooth batter, and let it sit for 10 minutes.
Letting the batter rest allows the coconut flour to absorb the liquid.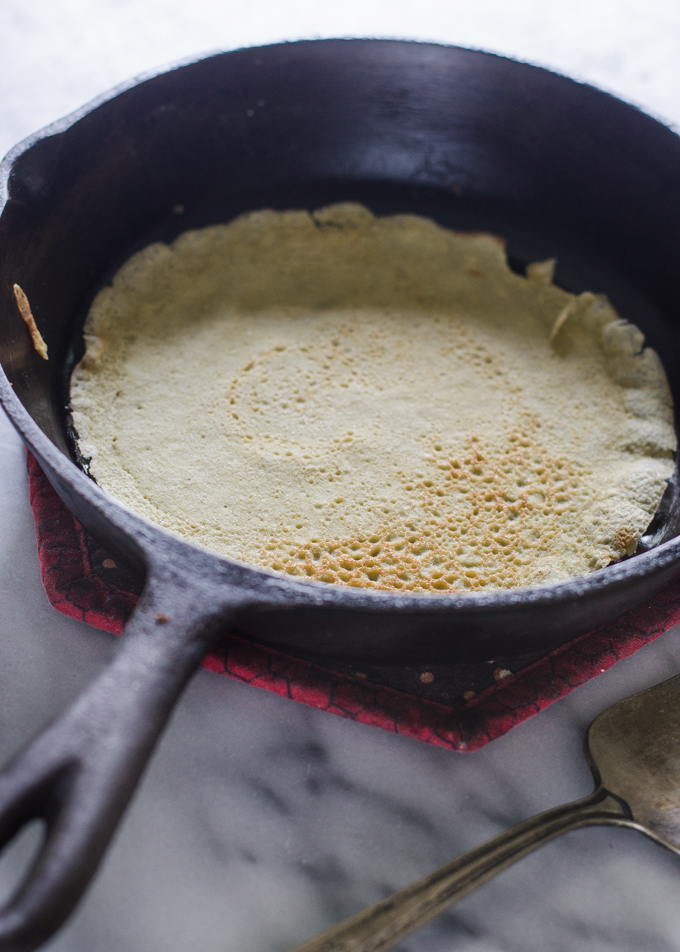 Fry the crepe batter in a hot pan (I like to use a cast iron skillet) over medium-low heat with a little butter. A special crepe pan would make this even easier, but it isn't necessary!
You'll want to use a scant 1/8 cup of batter for each crepe. Pour it into the hot pan and move the pan in a circular motion to cover the bottom with the batter.
Cook until the crepe is beginning to brown on the first side. Flip and let the crepe cook until it begins to brown on the second side.
Keep in mind that the first crepe is usually a little mangled, but the rest should turn out better!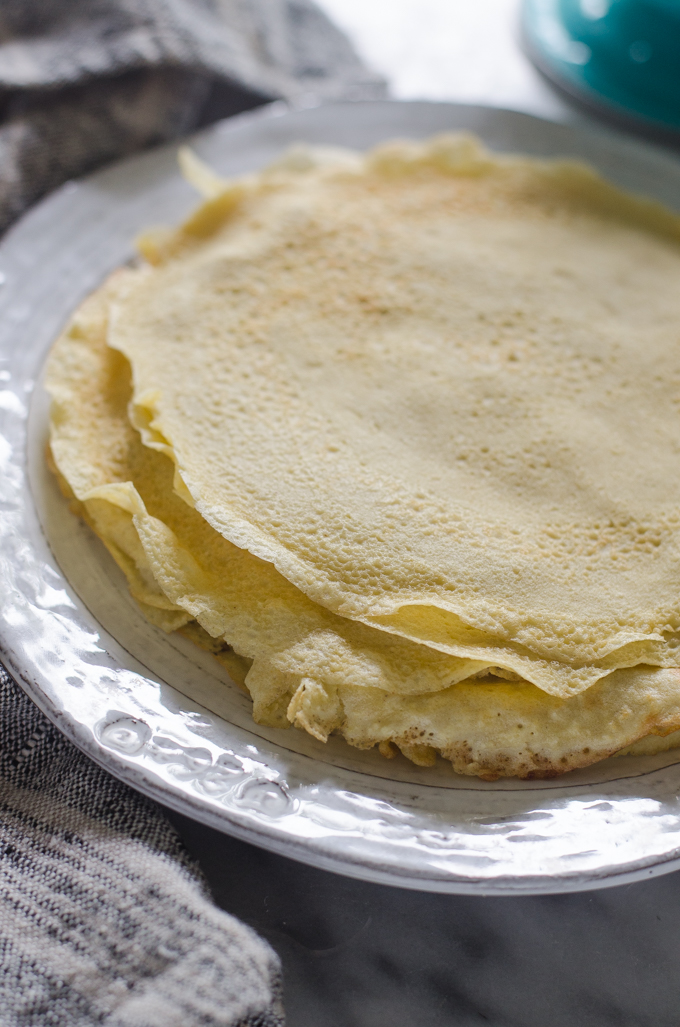 Stack them up on a plate as you finish them. This will keep these thin pancakes warm and soft as you cook the rest.
Don't they look like traditional crepes?!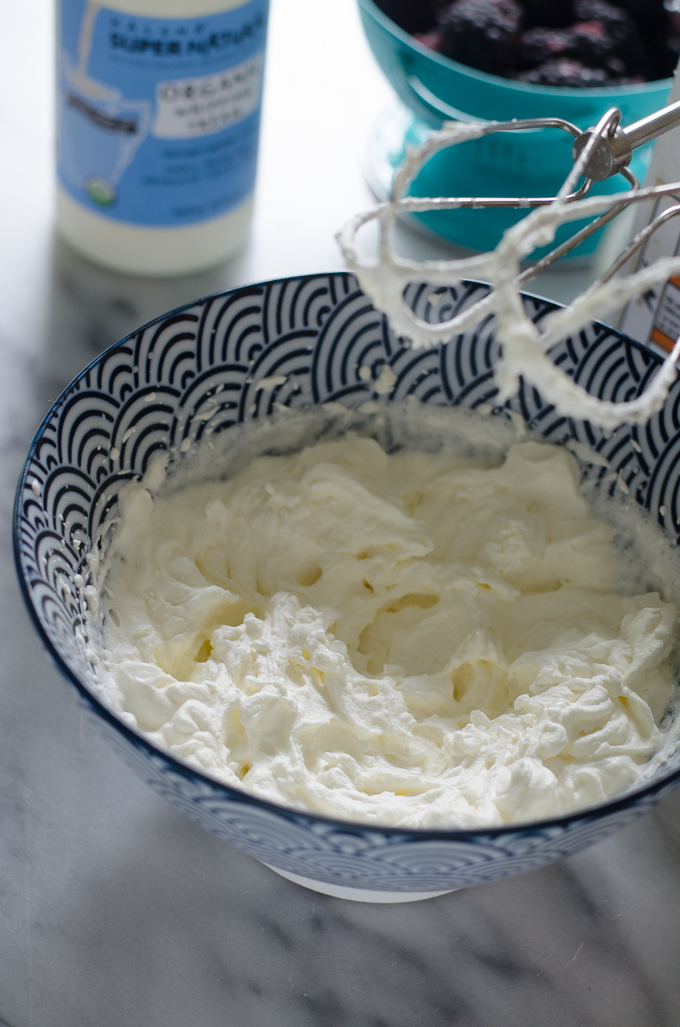 KETO Crepe Filling:
Now you're gonna want to finish your KETO crepes with a low-carb filling!
I like to use vanilla whipped cream. It's made with just 2 simple ingredients: whipping cream (you could also use heavy cream) and vanilla extract! Just whip them together until stiff peaks form.
You could also opt for cream cheese whipped cream, which sounds absolutely scrumptious!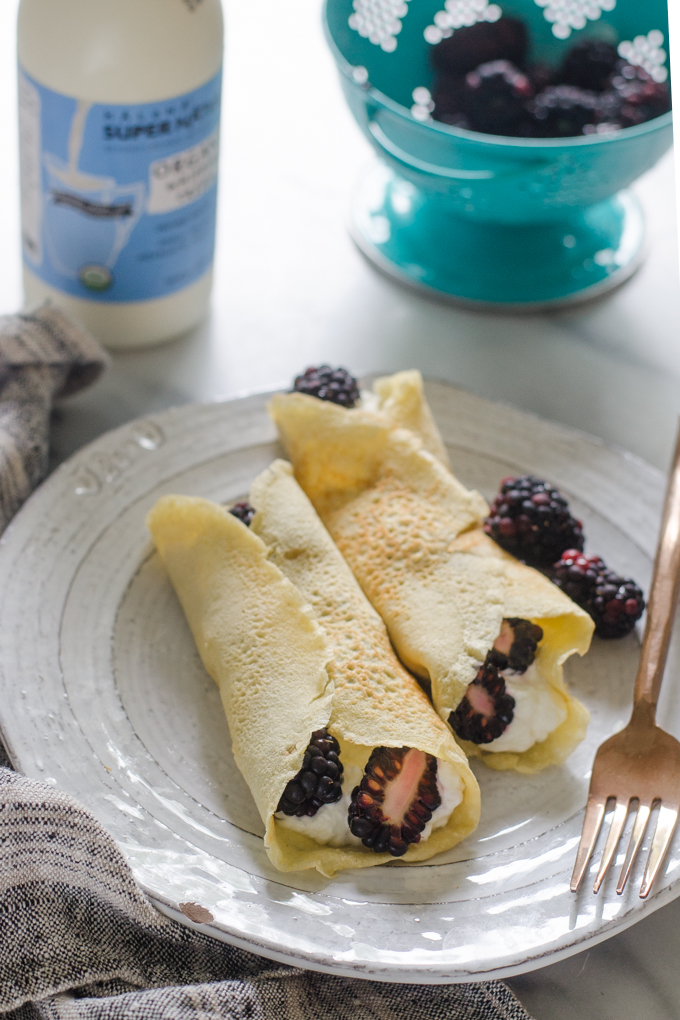 Now for the best part: filling the crepes!
Since berries are lower in carbs than other fruits, I recommend using them in your crepes. Blackberries are still in season in September, so I like to use those this time of year.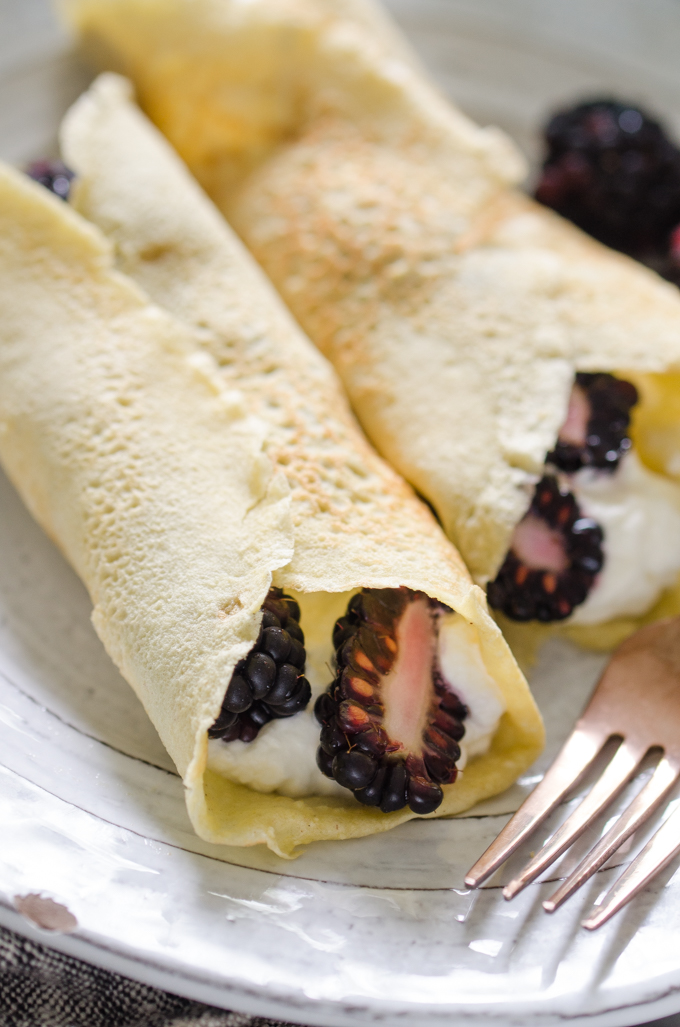 Carb Content:
These crepes contain 7 grams of carbs, 4.25 grams of fiber, and 2.75 g net carbs.
They also contain 23 grams of fat and 8.75 grams of protein.
Notes:
If you'd like a little sweetness in your KETO crepes, you could add a low-carb sweetener that's compliant with the KETO diet such as stevia or monk fruit extract. I personally don't like the flavor of natural low-carb sweeteners, so I prefer to have unsweetened whipped cream.
You can switch it up and use other berries such as raspberries, blueberries, strawberries, etc.
If you'd like to try savory crepes instead of sweet crepes, you could simply leave out the vanilla extract. Fill the crepes with savory fillings such as fried veggies, scrambled eggs, feta cheese, bacon, etc.
If you have any leftovers, you can store them in an airtight container in the refrigerator for up to 5 days.
More Low-Carb/KETO Recipes:
So that's my delicious KETO crepes recipe! If you make this recipe and enjoy it, please come back and leave it a five star rating!
What are YOUR favorite fillings for crepes?
Recipe Card:
Yield: 12 crepes
KETO Crepes with Whipped Cream and Blackberries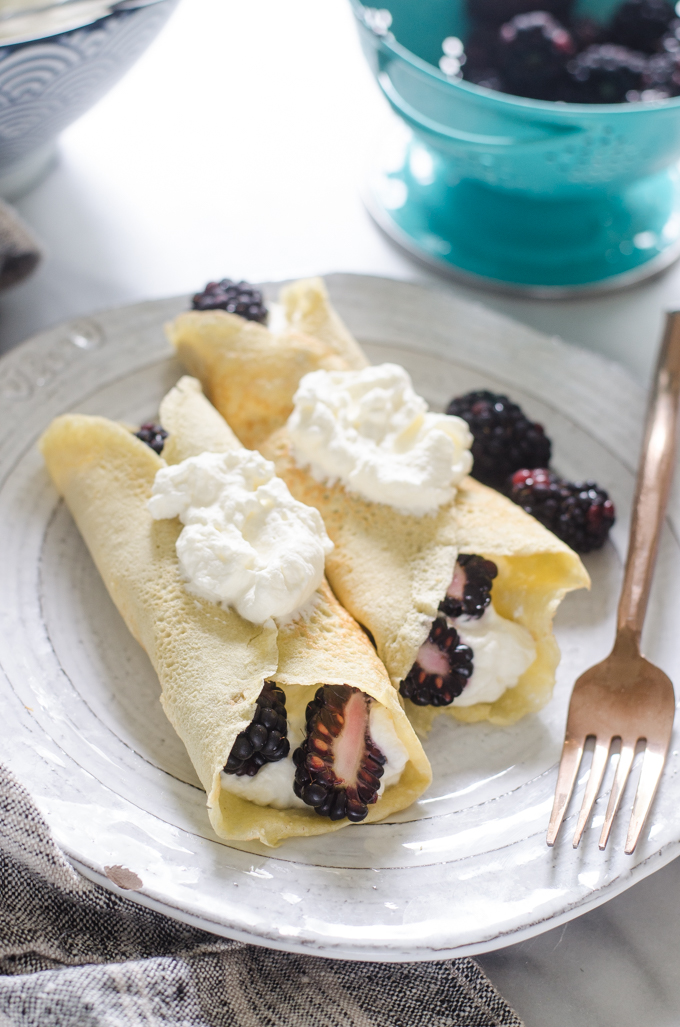 Low-carb crepes filled with whipped cream and fresh berries.
Ingredients
For the Crepes:
4 large eggs,, preferably pastured
1/2 cup Kalona SuperNatural whipping cream
1 1/2 tsp pure vanilla extract
2 tbsp salted butter,, melted and cooled
3 tbsp coconut flour
1/4 tsp ground cinnamon
butter for the frying pan
For the Filling:
3/4 cup Kalona SuperNatural whipping cream
1/2 tsp pure vanilla extract
fresh blackberries or other berries of choice
Instructions
For the Crepes:
Place all ingredients in a blender and blend until smooth. Let sit for 10 minutes to allow the coconut flour to absorb the liquid. Blend again just before frying the crepes.
Preheat a 6-inch cast iron skillet over medium-low heat for 5 minutes. Add a small amount of butter, and swirl to cover the bottom of the pan. Pour in a scant 2 tablespoons of batter and swirl the pan so that the batter covers the bottom of the pan.
Cook until the crepe is beginning to brown on the bottom. Run a metal spatula around the edges of the crepe to loosen. Carefully grab the edge of the crepe with both hands and quickly flip it over. Be very cautious to not burn yourself! Cook on the other side until beginning to brown. Remove to a plate. Repeat with remaining batter, adding more butter to the pan as needed.
For the Filling:
Place the cream and vanilla in a deep bowl. Whip with a hand mixer until stiff peaks form (or soft peaks if that's what you prefer).
To Serve:
Place a crepe on a plate. Spread with some of the whipped cream. Place the berries on top. Roll up the crepe and eat with a fork.
Recommended Products
As an Amazon Associate and member of other affiliate programs, I earn from qualifying purchases.
Nutrition Information:
Yield:
12
Serving Size:
1 grams
Amount Per Serving:
Calories:

88
Total Fat:

23g
Unsaturated Fat:

0g
Carbohydrates:

7g
Net Carbohydrates:

2.75g
Fiber:

4.25g
Sugar:

3.75g
Protein:

8.75g
Post updated on September 23, 2023