This KETO Friendly Shrimp and Asparagus Alfredo is delicious whether you're going low-carb or not!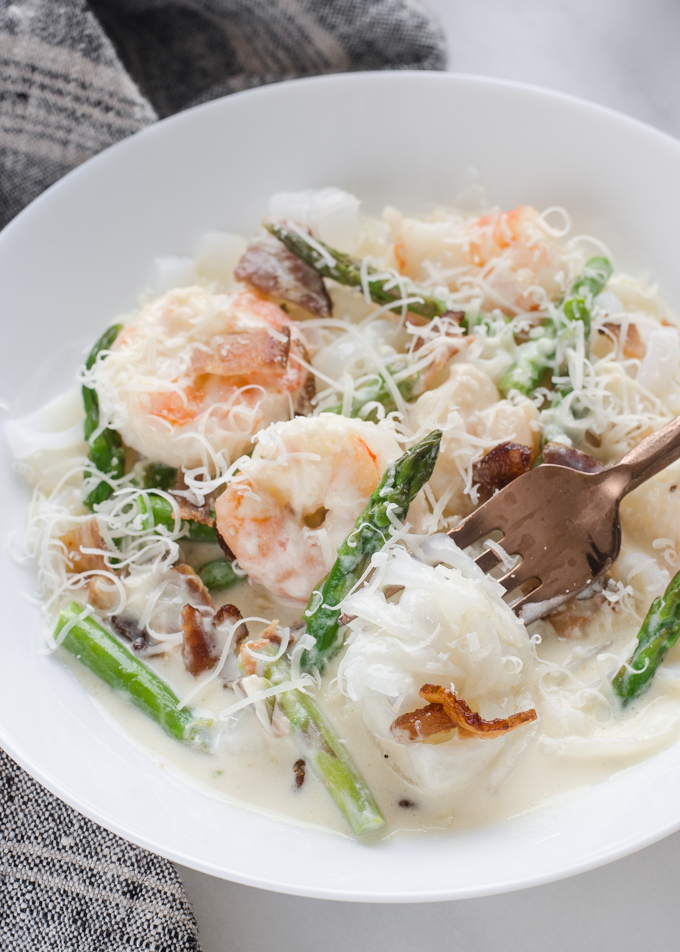 When I was a teen and just starting to branch out with what I ordered at restaurants, I nearly always chose chicken and broccoli Alfredo. It felt so fancy to 13-year-old me.
Then we started making it at home, and I could enjoy it as often as I wanted. Our go-to recipe was a "cheater" Alfredo that required you to make a roux as the base, and used mostly milk.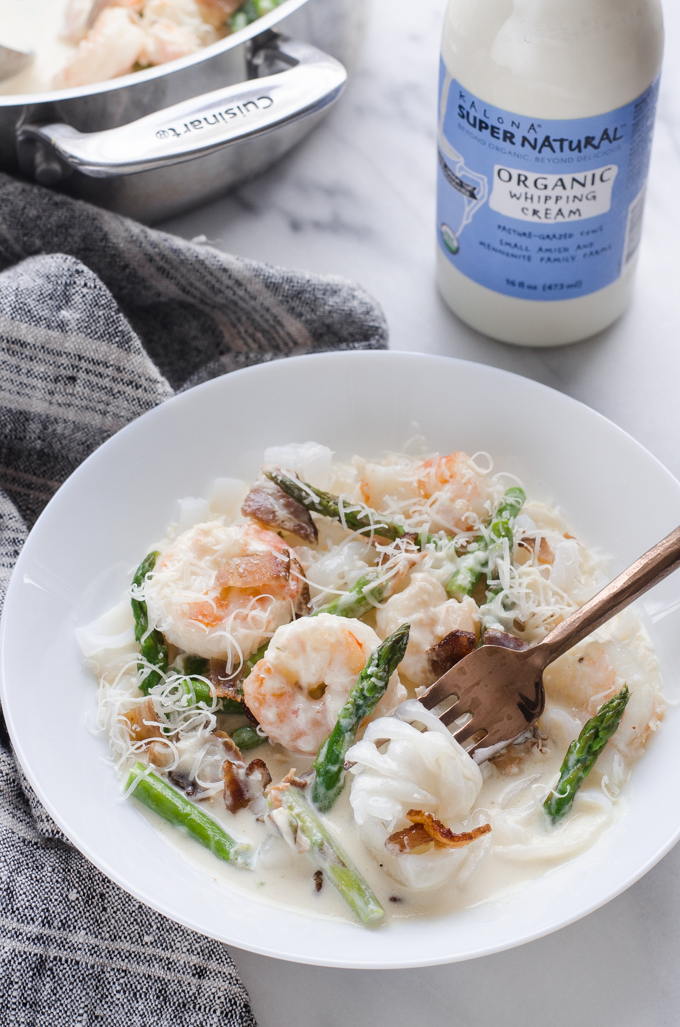 But it wasn't until recently that I discovered the more simple (and arguably more authentic) version of homemade Alfredo. It calls for just a few, high-quality ingredients, and is naturally gluten free and low carb. Perfect for if you're following a KETO diet!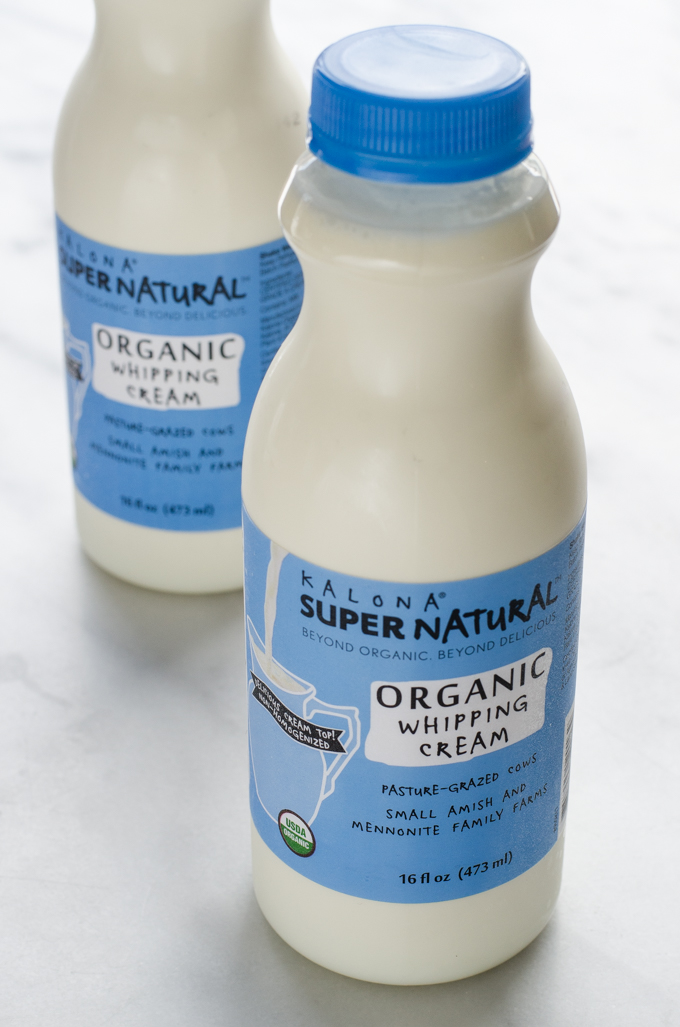 I'm super excited to be working with Kalona SuperNatural in the upcoming months. I've been using and loving their products for YEARS, and I'm more than happy to be sharing that love with all of you!
Here are the reasons I adore Kalona SuperNatural products:
Their milk/cream comes from organic, grass-fed cows on small farms. Grass-fed cows are healthier, and as a result, their milk is better for you!
They are one of the few companies that sell milk/cream that is both low-temperature pasteurized AND non-homogenized. Even most organic milk on the market is treated at a very high temperature that destroys the good bacteria in milk. At Kalona, the milk is gently pasteurized to kill off the bad bacteria, and help preserve the good bacteria. It's basically the next best thing to raw milk.
It tastes fantastic. Period. My daughter had a glass of Kalona milk the other day, and exclaimed: "Mom, that is the SO creamiest milk ever." It's just good.
But let's jump back to making this delicious KETO Shrimp and Asparagus Alfredo
KETO Shrimp and Asparagus Alfredo Ingredients: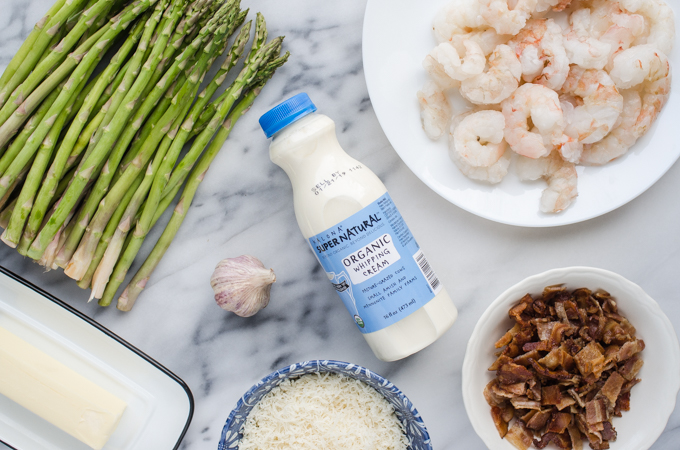 The list of ingredients is short and uncomplicated: asparagus, shrimp, bacon, parmesan, butter, garlic, and whipping cream (of course!).
How to Make KETO Shrimp and Asparagus Alfredo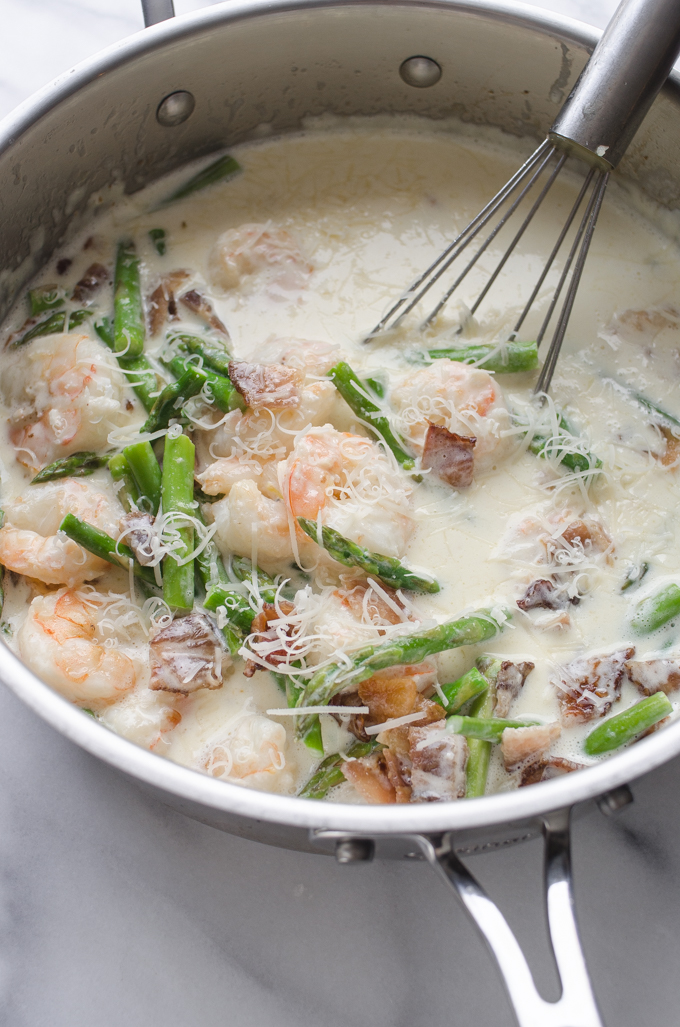 The process of making this Alfredo is very simple as well: Just cook up the shrimp and asparagus and remove to a plate. Then melt the butter in the empty pan, saute the garlic for a couple of minutes, and add the cream. Heat the cream until steamy hot and simmering, then stir in the Parmesan. Cook until thickened, add the shrimp and asparagus back to the pan, and sprinkle in the bacon!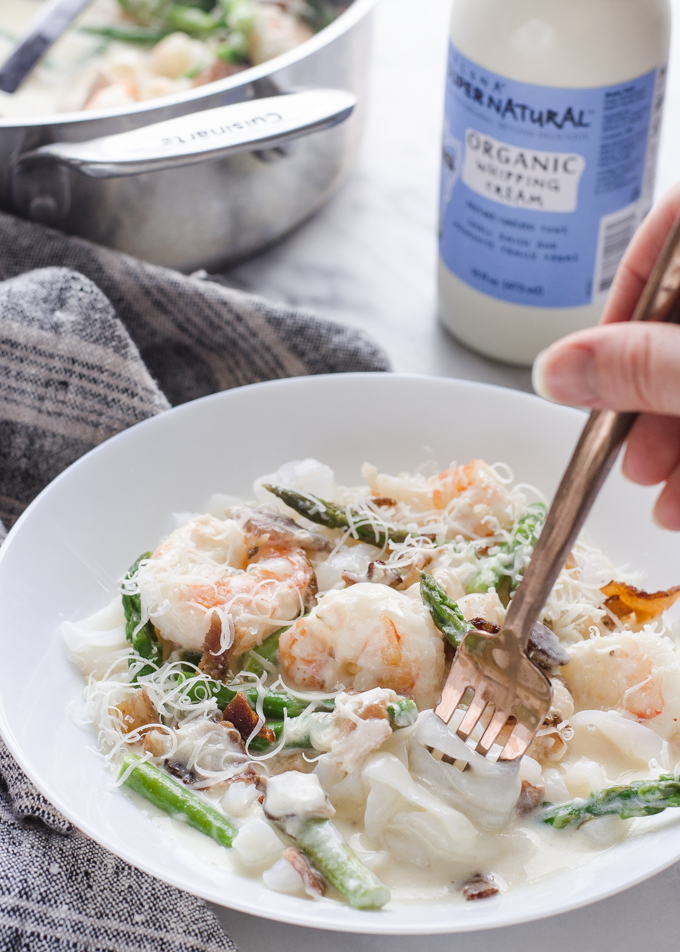 Serve with extra Parmesan on top. Yum!
I served mine with zero-calorie konjac noodles, but you could do zucchini noodles, spaghetti squash, etc. Or, if you're not on a KETO diet, this is pretty bomb on regular noodles as well.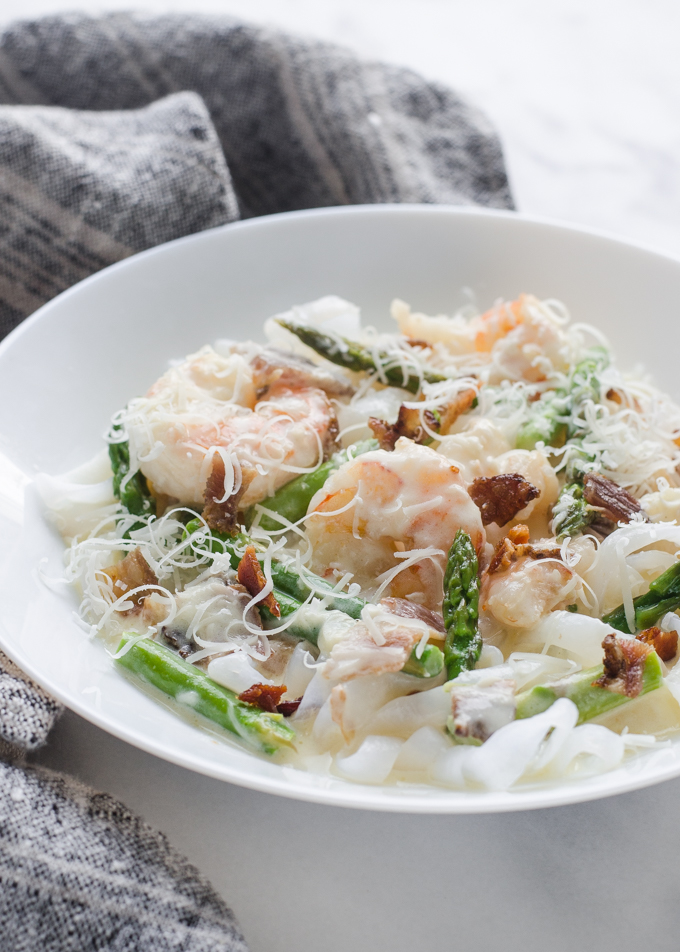 What was YOUR go-to food order at a restaurant as a teen?
More Delicious Dinner Recipes: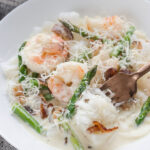 KETO Shrimp and Asparagus Alfredo
This low-carb Alfredo recipe is delicious whether you follow a KETO diet or not!
Ingredients
2

tbsp

butter

1

pound

raw deveined, shelled shrimp,

preferably wild-caught

1

bunch

asparagus,

about 1 pound

1/2

cup

butter

2

cloves

garlic,

minced

2

cups

Kalona SuperNatural whipping cream

2

cups

shredded Parmesan cheese

salt and pepper to taste

8

ounces

bacon,

cooked and chopped

extra Parmesan,

for serving
Instructions
Melt the butter in a large skillet set over medium heat. Add the shrimp and cook until the underside is opaque, about 2-3 minutes. Flip and add the asparagus. Season to taste with salt and pepper. Cover and cook for 3-4 minutes, or until the asparagus is tender crisp and the shrimp is cooked through. Drain any liquid and remove shrimp and asparagus to a plate.

Melt the 1/2 cup butter in the now-empty skillet set over medium-low heat. Add the garlic and cook for 2 minutes. Add the cream. Bring to a simmer and simmer for 2 minutes. Stir in the cheese and cook until thickened, about 3-6 minutes. Taste and add salt and pepper if needed.

Add the shrimp and asparagus back to the pot and give it a good stir. Serve over low-carb noodles with bacon sprinkled on top and extra Parmesan.
Recipe Notes
Inspired by Health Starts in the Kitchen, and sauce recipe adapted from Yellow Bliss Road