Hey friends! Today I'm joining forces with Sizzlefish to bring you this Korean Inspired Shrimp Rice Bowls recipe! I'm working with them because they offer wild seafood, which is really important to me. They sent me this shrimp to share with y'all. Hope you enjoy!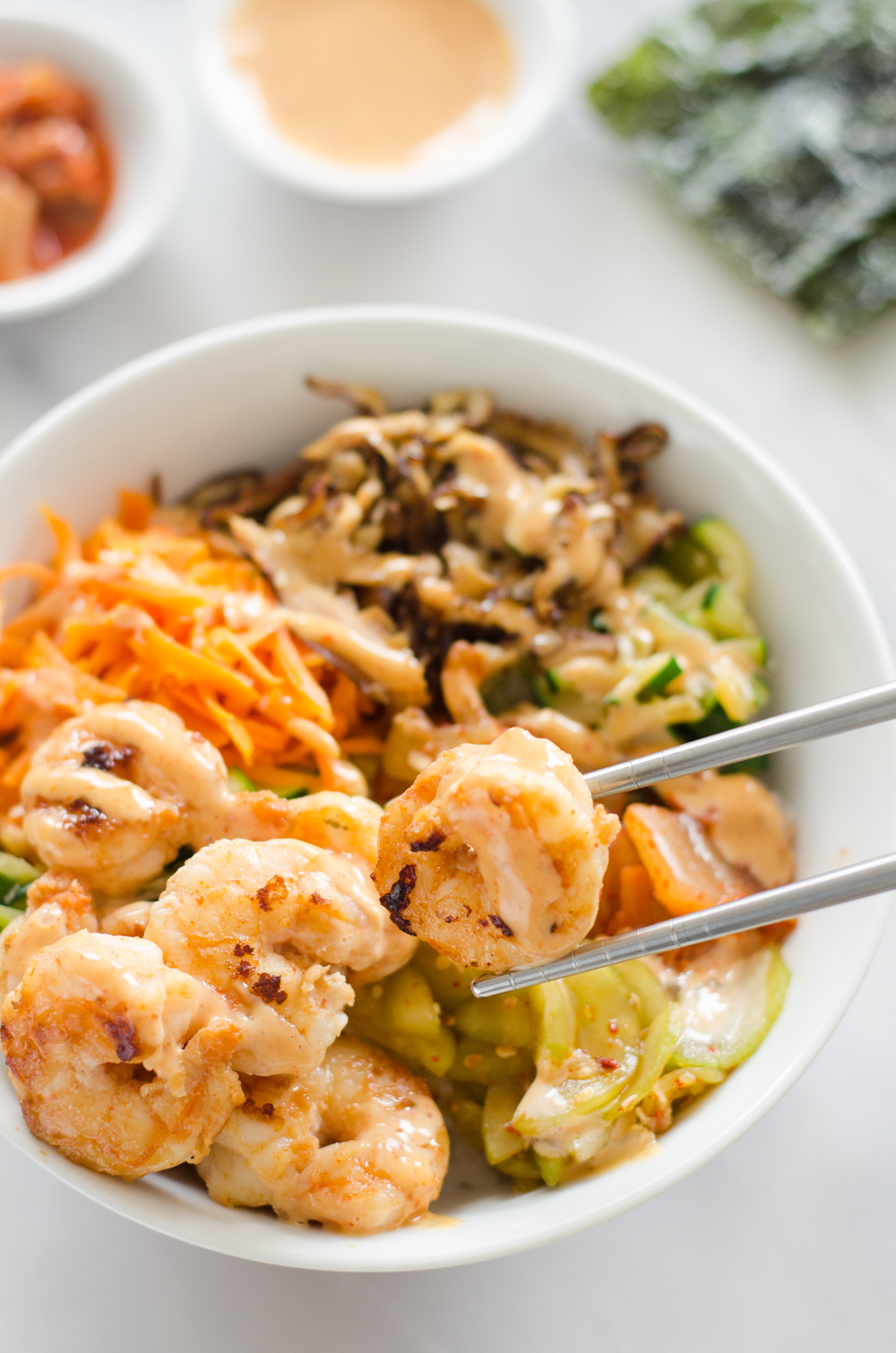 Over the past few years, I have fallen madly in love with Korean cuisine.
The flavors are bold and spicy and exciting. There is a great variety and diversity of dishes, so you're bound to find something you enjoy, no matter your tastes.
After making some of the classic recipes such as bibimbap and japchae, I have started to experiment with adding Korean flavors to my everyday cooking. I like to add gochujang and other Korean ingredients to my scrambled eggs, soups, etc.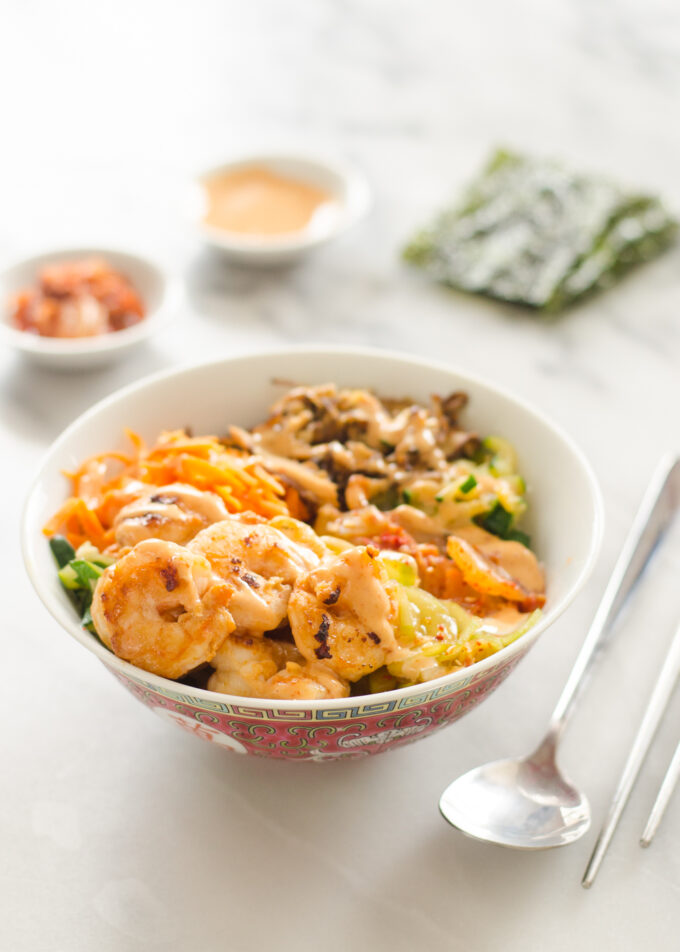 When Sizzlefish asked if I'd be interested in trying out some of their wild seafood, I thought these shrimp rice bowls would be a lovely recipe to share with y'all. It's different enough to excite your taste buds, but easy enough to pull off on a weeknight.
But the reason I wanted to work with Sizzlefish is because I find it difficult to source wild shrimp in our town. And I think that purchasing wild vs farmed shrimp is important. Sizzlefish carries Wild Gulf Shrimp, product of USA, no additives.
If you're interested in purchasing from Sizzlefish, make sure to use the coupon code ButteredSideUp to get 10% off your order!
Note: not ALL of the seafood on Sizzlefish is wild-caught: only the Atlantic salmon, catfish, and trout are farmed. All the rest is wild!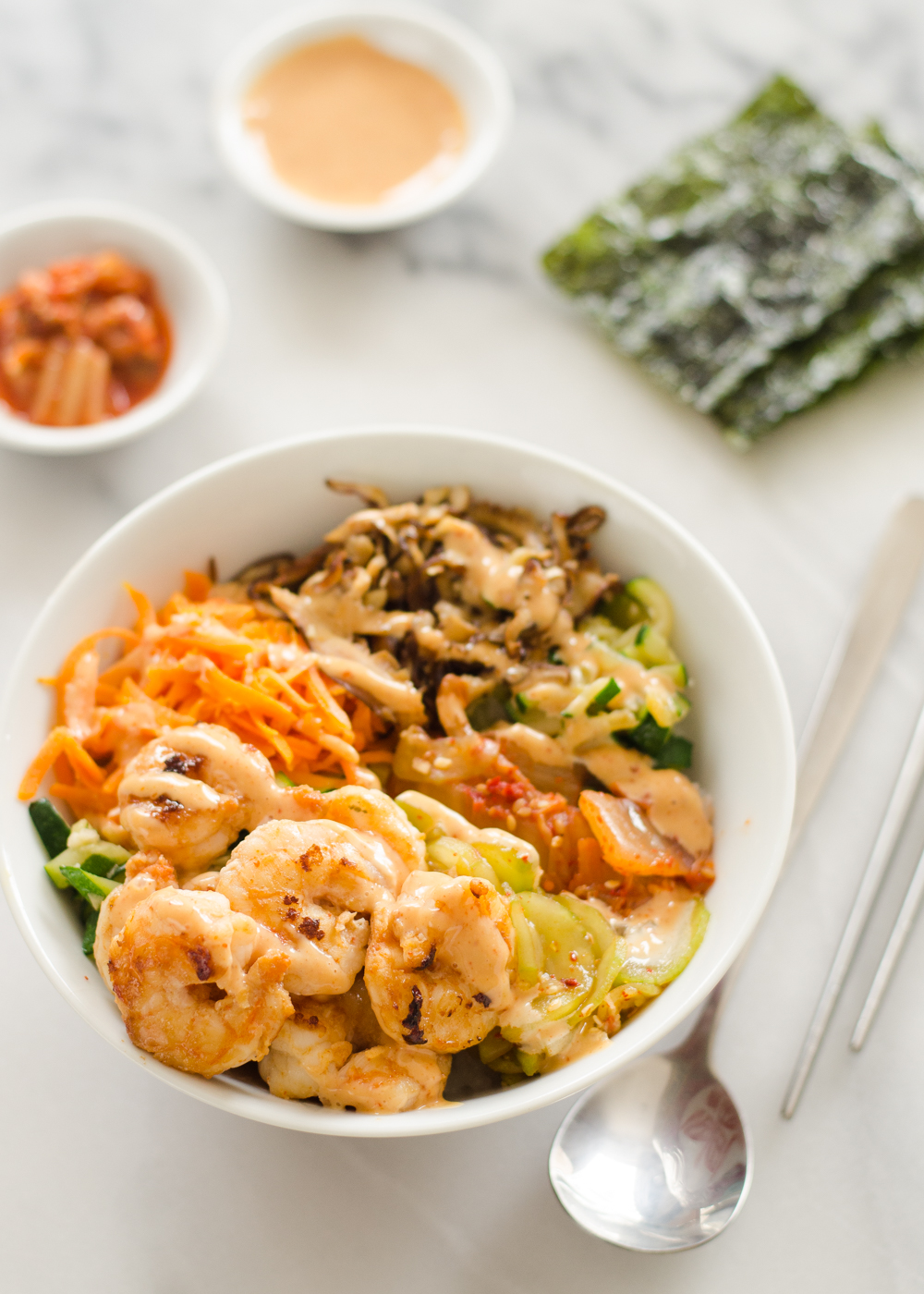 These shrimp bowls are bursting with flavor. The vegetables are sautéed briefly to retain their freshness. The shrimp are marinated in a spicy-sweet sauce. The rice helps to cool everything down a notch. The gochujang mayo brings it all together.
Shoot. Now I want a bowl.
NOTES:
The only really different ingredients in this recipe are the gochujang (고추장 – basically a Korean hot sauce) and gochugaru (Korean hot pepper powder). I recommend getting a non-GMO gochujang – I haven't been able to find an organic version yet. I'd like to try making my own sometime!
It's important to use TOASTED sesame oil. I made the mistake of using regular sesame oil when I was first starting out with Korean cooking, and it just doesn't impart the same flavors as the toasted sesame oil.
The section on cooking the veggies may seem long or complicated. It really isn't. You're simply sautéing the veggies one at a time. If you prefer you can definitely just sauté and season them all at once (except for the cucumbers). They won't be as pretty since their colors will mix together, but it will taste just as good.
You don't have to serve this with short-grain rice – long grain or whatever you have on hand will do.
If you aren't a fan of spicy food, simply decrease the gochujang and gochugaru. You can also replace them with sriracha if you prefer. The flavors will just be a little different.
American-style hot pepper flakes are NOT the same as Korean gochugaru. You can use regular chili flakes if you prefer, but you'll want to decrease the amount drastically unless you like things spicy.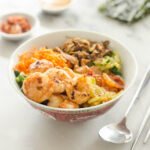 Spicy Korean Shrimp Rice Bowls
My take on Korean Bibimbap. So good!
Total Time
1
hour
20
minutes
Ingredients
For the shrimp:
1

teaspoon

non-GMO gochujang

2

teaspoons

toasted sesame oil

2

teaspoons

soy sauce

1

clove

garlic

1

teaspoon

sugar or maple syrup

2

teaspoons

rice vinegar

10

oz.

wild shrimp

2

teaspoons

avocado oil

for frying
For the veggies:
1

medium cucumber

peeled & thinly sliced

1

teaspoon

toasted sesame seeds

1/4

teaspoon

gochugaru

2

medium carrots

shredded

1/2

medium zucchini

julienned

3

oz.

shiitake mushrooms

stems removed & thinly sliced

3

teaspoons

toasted sesame oil

2

cloves

garlic

minced

1

teaspoon

soy sauce

more to taste

3

teaspoons

avocado oil

for frying

For the gochujang mayo:

3

tablespoons

mayonnaise

1

teaspoon

non-GMO gochujang

Cooked short-grain rice

kimchi, and seaweed for serving, optional
Instructions
For the shrimp:
In a shallow glass storage container, whisk together the gochujang, sesame oil, soy sauce, garlic, maple syrup, and rice vinegar. Add the shrimp and toss to coat. Place in the refrigerator and allow to marinate for at least 1 hour.
For the gochujang mayo:
In a small bowl, whisk together the mayo and gochujang.
Cucumbers:
Place the cucumbers in a shallow bowl and sprinkle with 1 teaspoons of salt. Let sit for 5-10 minutes and squeeze + dump out the excess water. Add the sesame seeds, gochugaru, 1/3 of the garlic, and 1 teaspoon toasted sesame oil and stir. Refrigerate until ready to use.
Zucchini:
Heat a medium-sized cast iron skillet over medium-high heat. Add a teaspoon of avocado oil. Add the zucchini and 1/3 of the garlic and sauté until tender crisp, about 3 minutes. Season to taste with salt. Stir in 1 teaspoon toasted sesame oil. Remove from skillet to a plate.
Carrots:
Add another teaspoon of avocado oil and sauté the carrots until tender crisp, about 3 minutes. Season to taste with salt. Remove from pan to the plate.
Mushrooms:
Add another teaspoon of oil and sauté the mushrooms for about 3 minutes, or until becoming soft. Add remaining garlic and sauté 2 more minutes. Remove from heat and stir in 1 teaspoon toasted sesame oil and soy sauce to taste. Remove to plate.
To finish:
In the now-clean pan, heat 2 teaspoons avocado oil over high heat. Add the shrimp and cook until pink and opaque in the center, about 2-3 minutes per side.

Place some rice in a bowl. Arrange the veggies and shrimp on top. Add kimchi and toasted seaweed if desired. Top with gochujang mayo. Devour.
NOTE: Some links are affiliate. All opinions are my own. If you click on a link and make a purchase, I will make a small commission. This has zero impact on the price you pay, and it helps to keep Buttered Side Up running. Thank you so much!