We celebrated Helen & Jim's birthday a bit early this year. I didn't want them to miss out on a party if the baby decided to make an appearance. Good thing I planned ahead!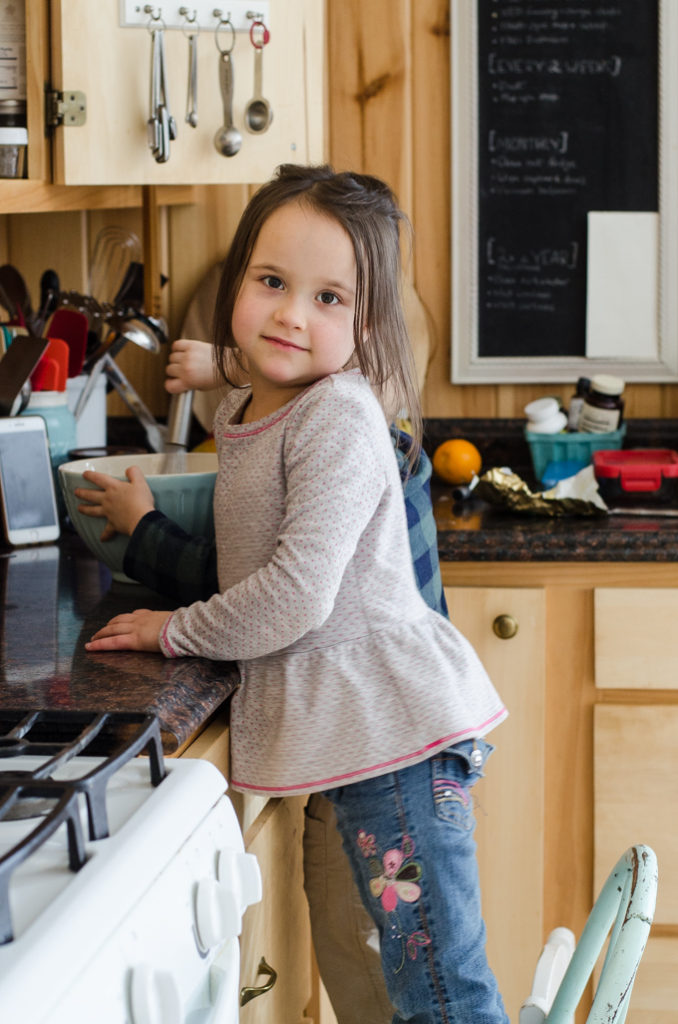 Helen and James both love helping out in the kitchen whenever they can, so I decided to let them in on the cake-baking action.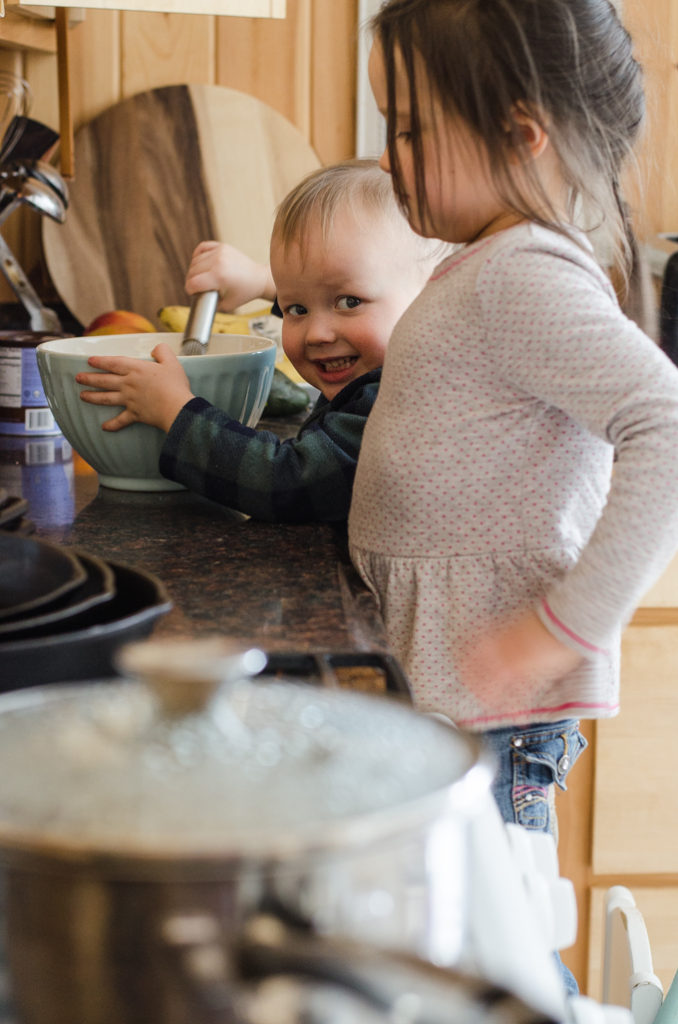 Of course a fight or two usually breaks out about who gets to do which job, but it's still a fun experience to have them helping me bake.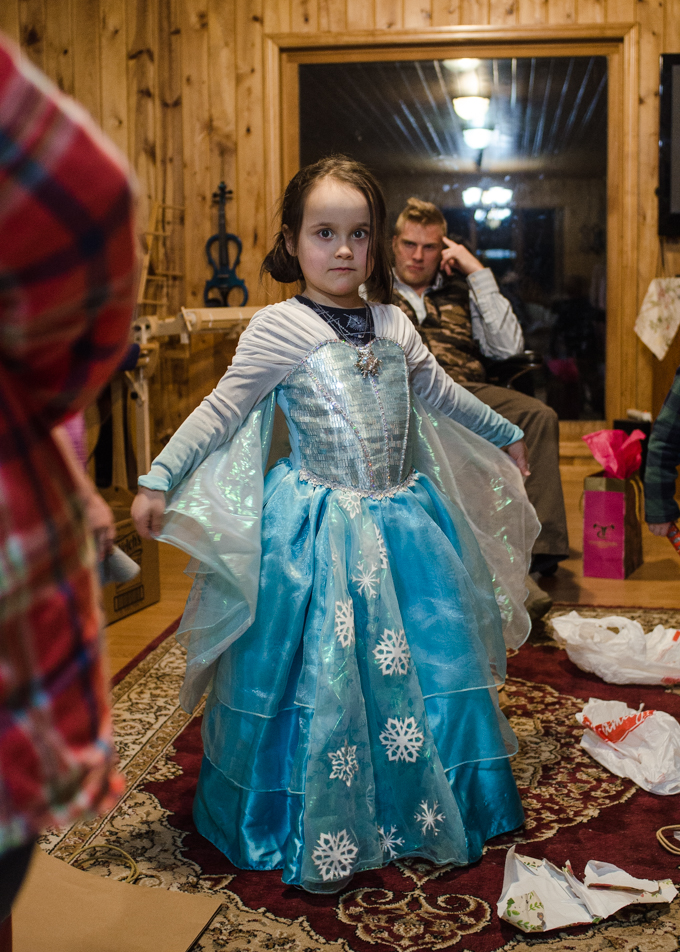 For their birthday presents from Reuben and I, I decided to do costumes this year. Helen had been wishing for an Elsa dress for months, so I found her one secondhand on Poshmark.
She had a very subdued reaction at first. I think she was a bit overwhelmed. But she has been wearing it at some point nearly every day since, and tries to sneak it to other people's houses when we go for a visit.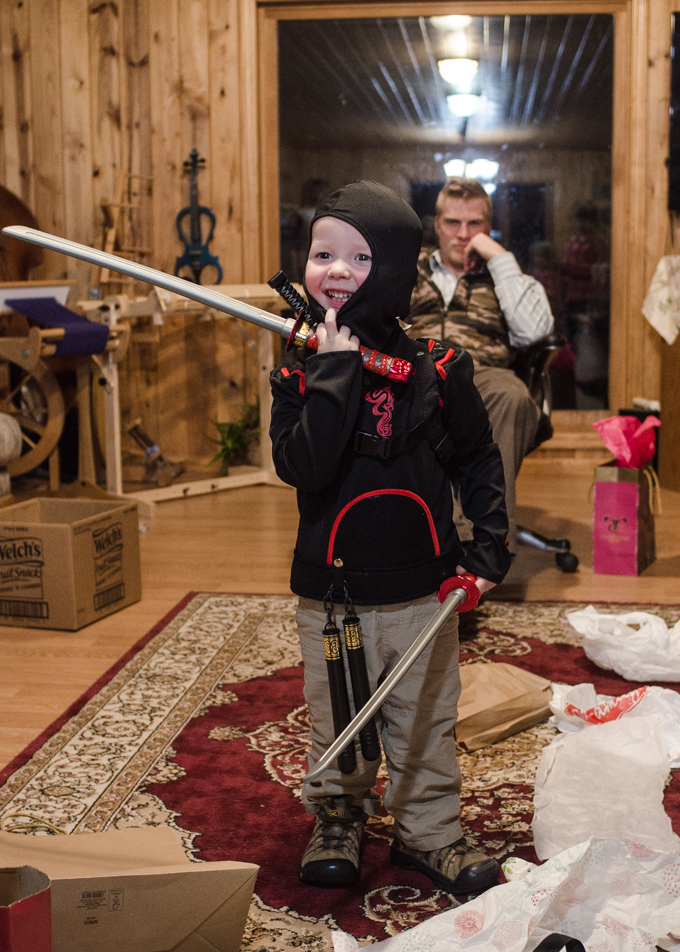 For James, I had been saving up a ninja outfit that I found on Poshmark a while back. I wasn't sure if he would care for it, but it turns out that he adores it and has been wearing it nearly every day as well.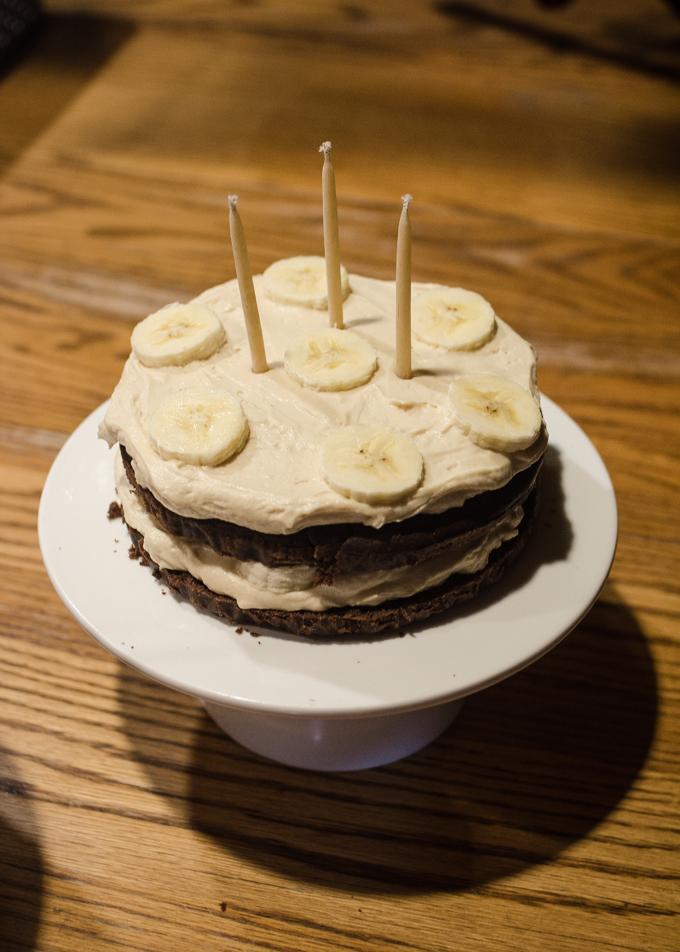 James wanted a chocolate cake with bananas for his birthday, and I decided to add a peanut butter frosting. Jim requested a blue frosting, but I didn't feel like trying to figure out a natural way of making blue frosting. I'll have details about how to recreate this cake at the end of this post.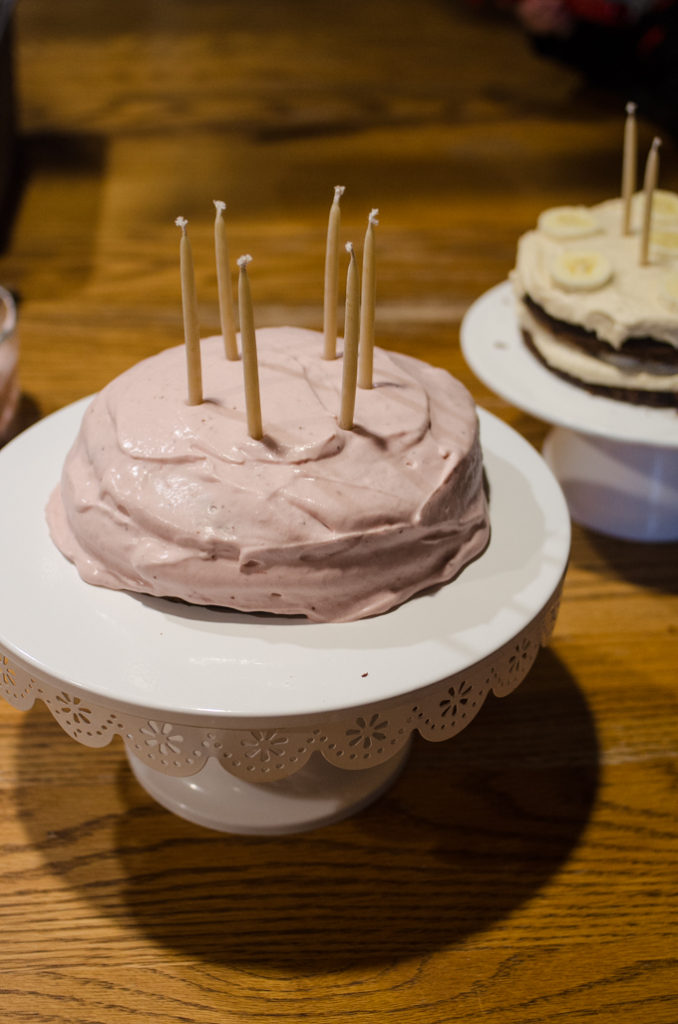 Of course Helen wanted a pink frosting, so I made a cream cheese whipped cream frosting and added strawberry puree and beet powder. It turned out pretty well!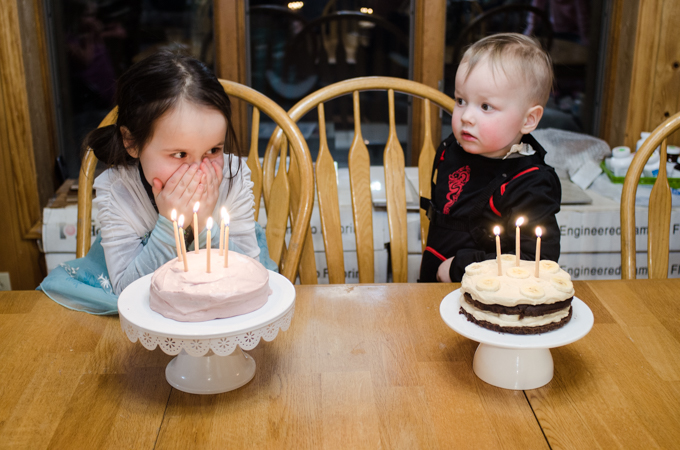 Excited to eat their cakes!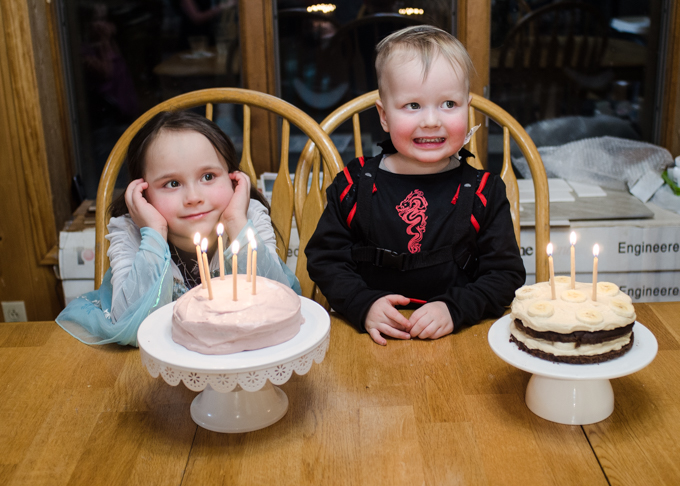 Helen: "Let's get this show on road already!" Jim: "Is this how I'm supposed to smile for photos?"
Cake Details:
Jim's Cake (Chocolate Peanut Butter with Banana)
I baked a full batch of the chocolate cake recipe that I used last year for the kids' birthday, and used on of the cakes for Jim's cake.
I made the cream cheese frosting like I did last year, but I added a couple of dollops of peanut butter as well.
To assemble, I sliced the cake in half, spread some of the frosting on the bottom half of the cake, added banana slices, put the second half of the cake on top, spread more of the frosting on top, and finished with banana slices.
Helen's Cake (Chocolate with Strawberry Cream Cheese Frosting)
I used the other half of the chocolate cake.
I made a strawberry puree by simmering frozen strawberries and blending with an immersion blender. Then I cooled it off in the freezer for a few minutes and added it to the cream cheese frosting base. I added a bit of beet powder as well to give it a darker pink color.
To assemble, I cut the cake in half, spread some of the frosting on the bottom half, topped with the other cake half, and spread the top and sides with more frosting.
Both kids liked their cakes, so I'd call that a success!
xoxo
Erica