This Salmon en Papillote recipe is a super simple way to infuse flavor into your baked salmon! This easy recipe is great for weeknight meals!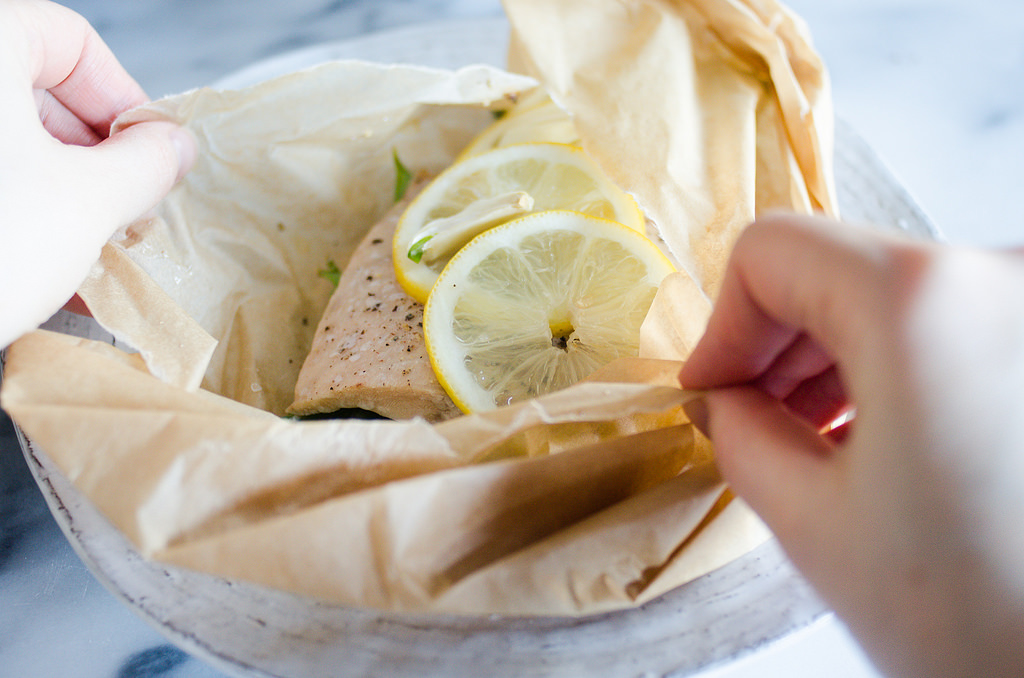 I've seen recipes for fish en papillote (fish baked in parchment) floating around the internet for YEARS. But I didn't try it out for myself right away.
The name was so fancy, it had to be a complicated recipe.
Or so I thought.
What is the En Papillote Method?
In reality, en papillote (AKA paper) is a super easy way to infuse flavors into your fish.
En papillote is a cooking method that involves baking food in a parchment paper packet.
Basically, you encase whatever you're baking in parchment paper, which allows the flavors to mingle together.
It's a great alternative to aluminum foil packets!
Okay, let me show you how to do it!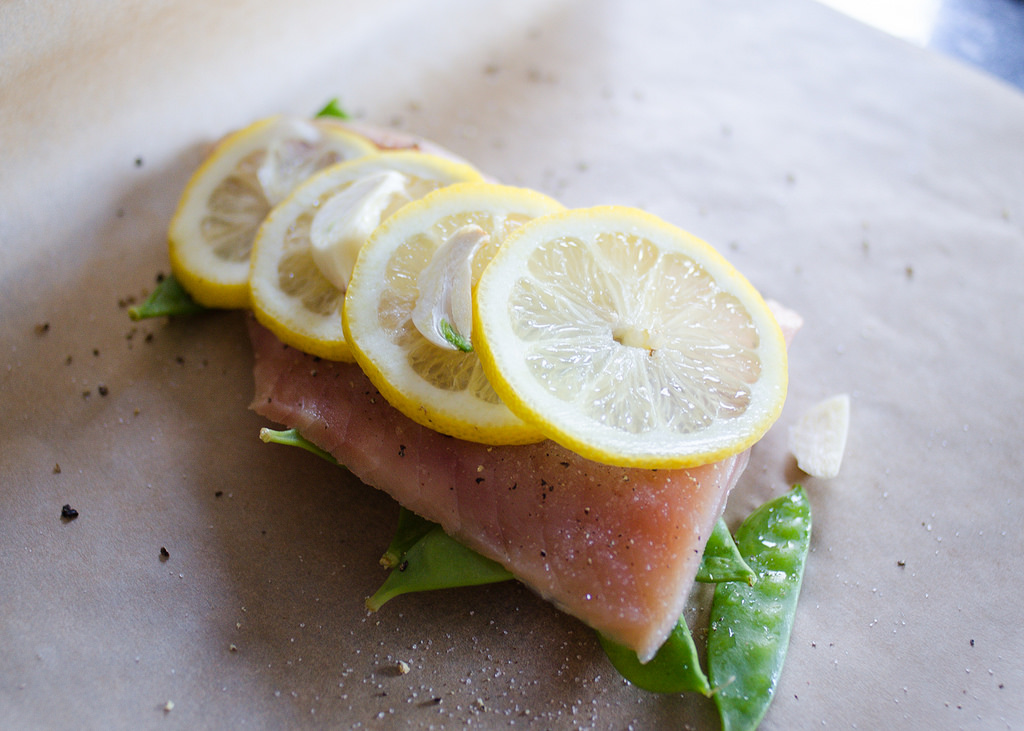 Ingredients:
You really only need a few simple ingredients to make this salmon sing with flavor! I'll talk about other flavor combinations later on in the post, but here's a great flavor combo:
1 cup snow peas: You could also use any other quick-cooking vegetable. Asparagus would also work great! Thin green beans could be a good option as well.
2 thin salmon fillets: You can use fresh salmon fillets, or you can use thawed frozen salmon. You can remove the skins, or leave them on – whichever you prefer! You could technically use another kind of thin fish fillet if you prefer.
Salt and black pepper to taste: Since the ingredients are so simple, make sure to use a good amount of salt and pepper to enhance those flavors! I like to use unrefined sea salt, but you can also use kosher salt if you prefer.
1 organic lemon, thinly sliced: There's just something about fresh lemon! I recommend using an organic lemon since the peel/lemon zest will come in contact with your food. If you were just using the lemon juice, it would be less important to purchase organic.
2 cloves garlic, sliced: This is where some serious flavor comes in! If you want an even stronger garlic flavor, you can mince the garlic instead of slicing it.
2 pieces of parchment paper: This recipe makes 2 servings, but feel free to increase to fit your needs! You'll need a piece of parchment paper for each piece of salmon you're baking.
How to Make Salmon en Papillote:
Start by placing a parchment sheet on a baking sheet. The piece of parchment paper should be big enough to wrap around the salmon filet. Again, you'll need make a parchment packet for each salmon fillet.
Next, place half of the snow peas on one half of the piece of parchment paper.
Put a salmon fillet on top of the snow peas.
Sprinkle with salt and pepper to taste.
Finally, place half of the lemon slices and garlic slices on top of the salmon.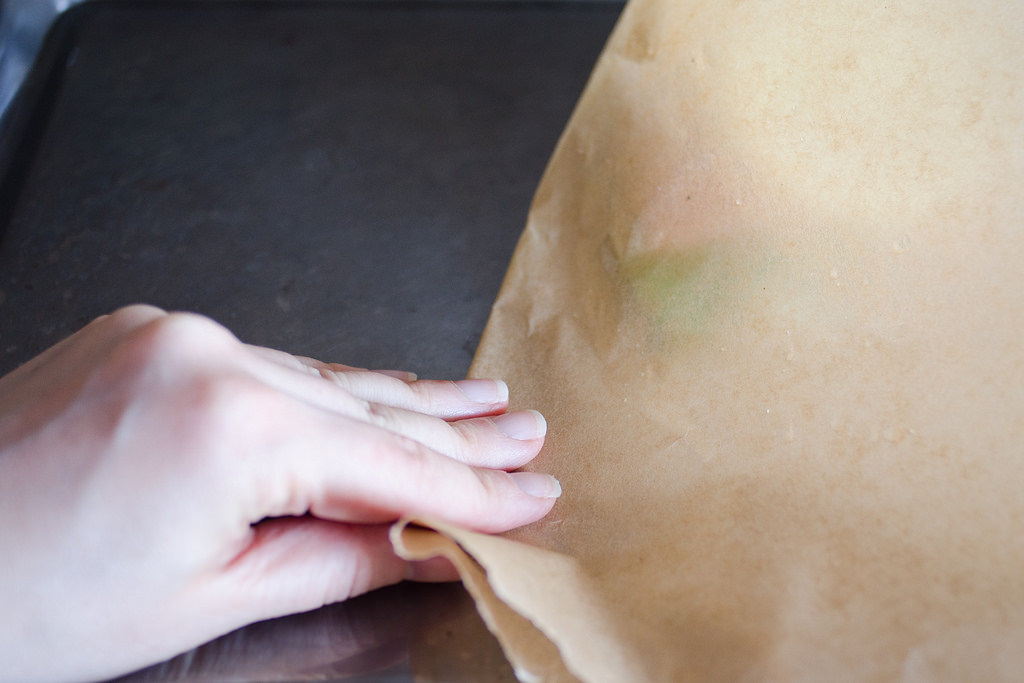 Fold parchment paper in half over the fish and make a nice, sharp crease.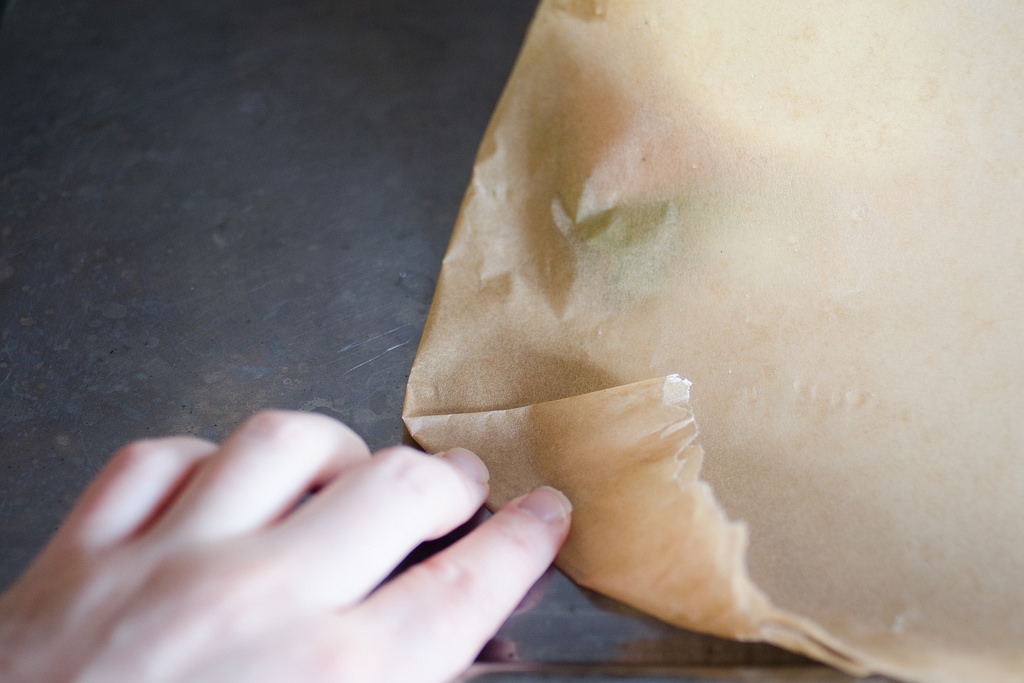 Now it's time the seal the parchment!
Start folding over small pieces of the parchment and crease them.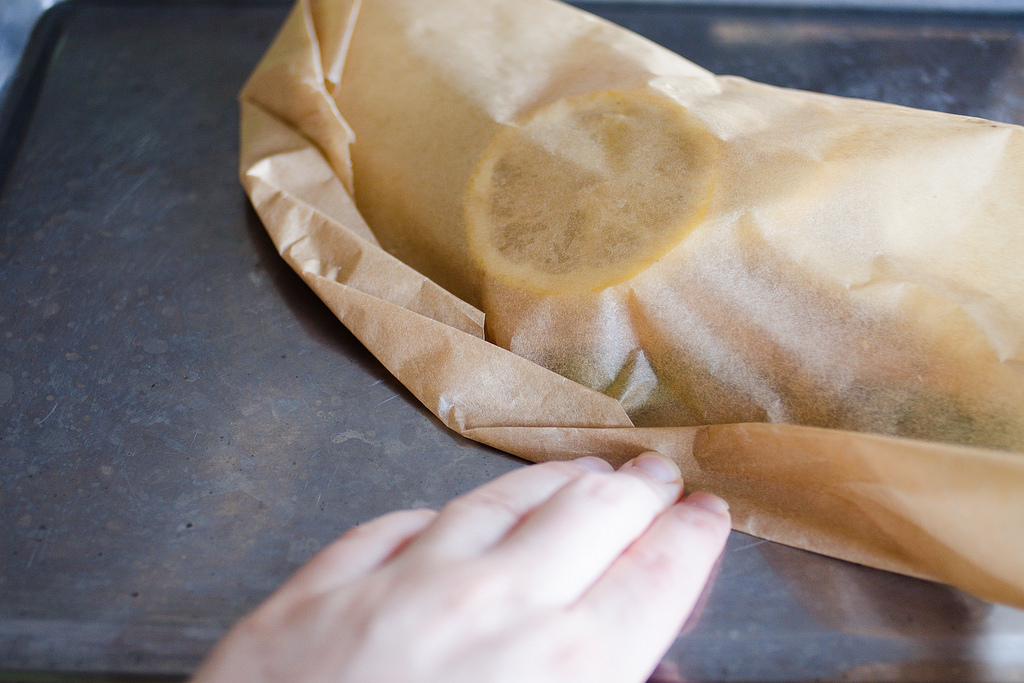 Continue along the open edge of the parchment, folding and creasing as you go…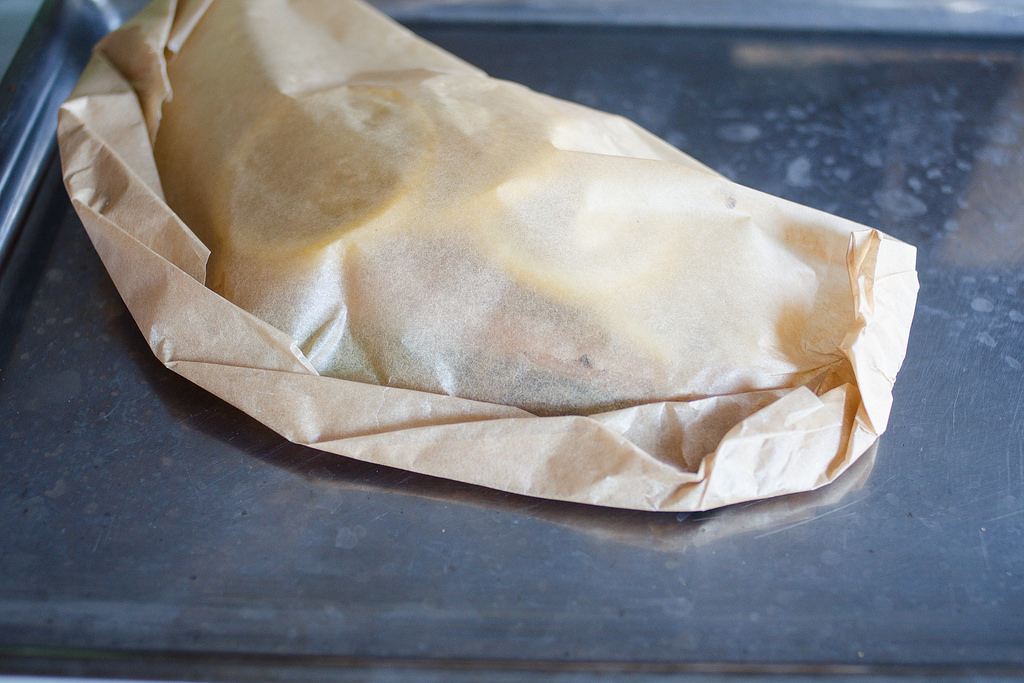 …until the parchment paper pouch is completely sealed! You want a nice tight seal.
Repeat with the remaining ingredients.
Transfer the sheet pan to a preheated 350 degree F (176 C) oven.
Bake until each piece of salmon flakes easily.
This is probably the most difficult part of cooking in parchment – you would have to tear open your package to see if it's done baking.
Judging by the thickness of my filet, I was pretty certain it would be perfect in 16 minutes.
You can also just stick an instant read thermometer into the fillet through the parchment paper to check for doneness.

Open your packet and enjoy!
This is a fun way for kids to enjoy salmon since everyone gets their own packet to open!
It can also impress dinner guests because if feels fancy to serve individual fish packets.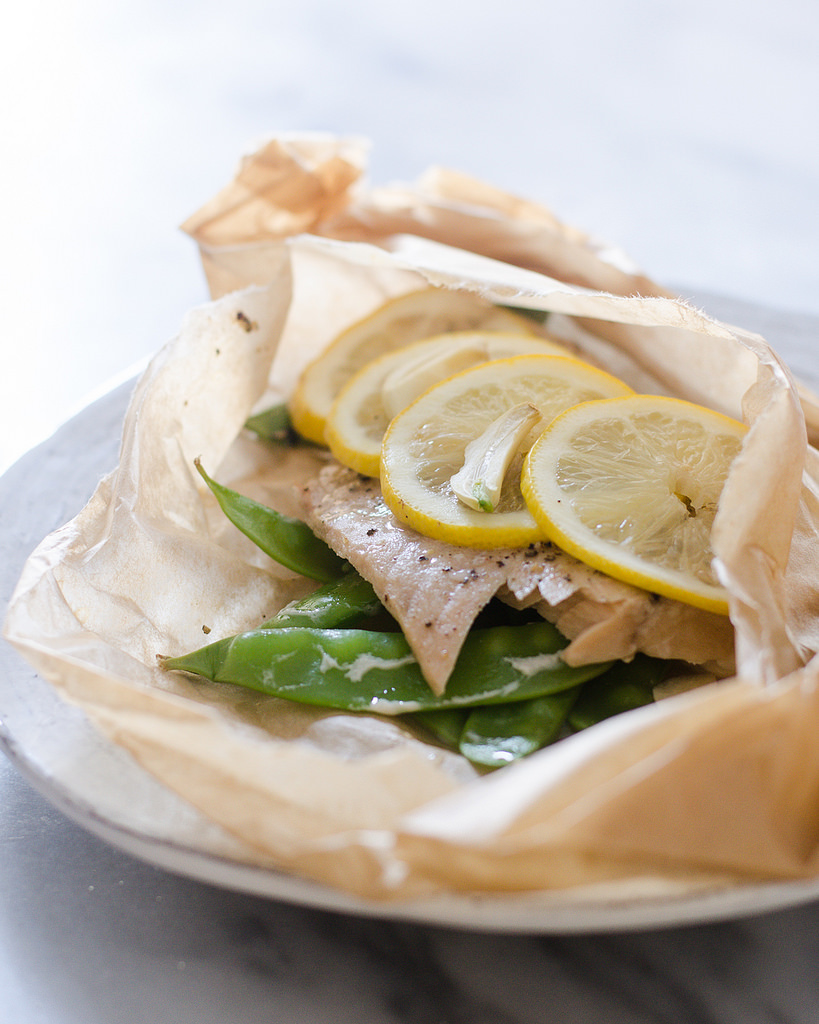 NOTE: Some links are affiliate. All opinions are my own. If you click a link and make a purchase, I will earn a small commission. This has zero impact on the price you pay, and it helps Buttered Side Up out!
Variations and Substitutions:
There are endless flavor combinations when it comes to Salmon en Papillote! I definitely encourage you to use your imagination, but here some ideas to get the creative juices flowing!
Fresh herbs: Fresh dill, rosemary, or thyme would be really lovely!
Different Vegetables: Instead of snow peas, you can use any vegetable that cooks quickly. For example, you could use bell peppers sliced thinly, asparagus, thinly sliced onion, mushrooms, thin green beans, etc.
Oils and Butters: My basic recipe doesn't call for an oil, but feel free to drizzle a little olive oil on top of the salmon. You could also use thin slices of butter, or even compound butter! Yum!
Different Seasonings: The other day I baked salmon with soy sauce, coconut aminos, garlic powder, and ginger powder. Yummy! Don't be afraid to try other seasonings as well!
What to Serve with Salmon en Papillote:
Now arguably the little packets could be a meal all by themselves. But I prefer to have a starch with my meal. Here are some ideas:
White Rice: Make sure to check out my post about why I eat white rice instead of brown rice in case you have questions!
Mashed potatoes: So basic, but so good. Here's my sour cream and dill mashed potatoes in case you're looking for a fun variation on a classic.
Root vegetables: You could roast up or boil carrots or parsnips or turnips.
Sweet potatoes: You could either roast them or mash them.
Roasted Little Potatoes: These are SO good and would go so well with this salmon.
Squash: Another great way to get in your carbs is with squash. It's a complex carbohydrate, and it's delicious!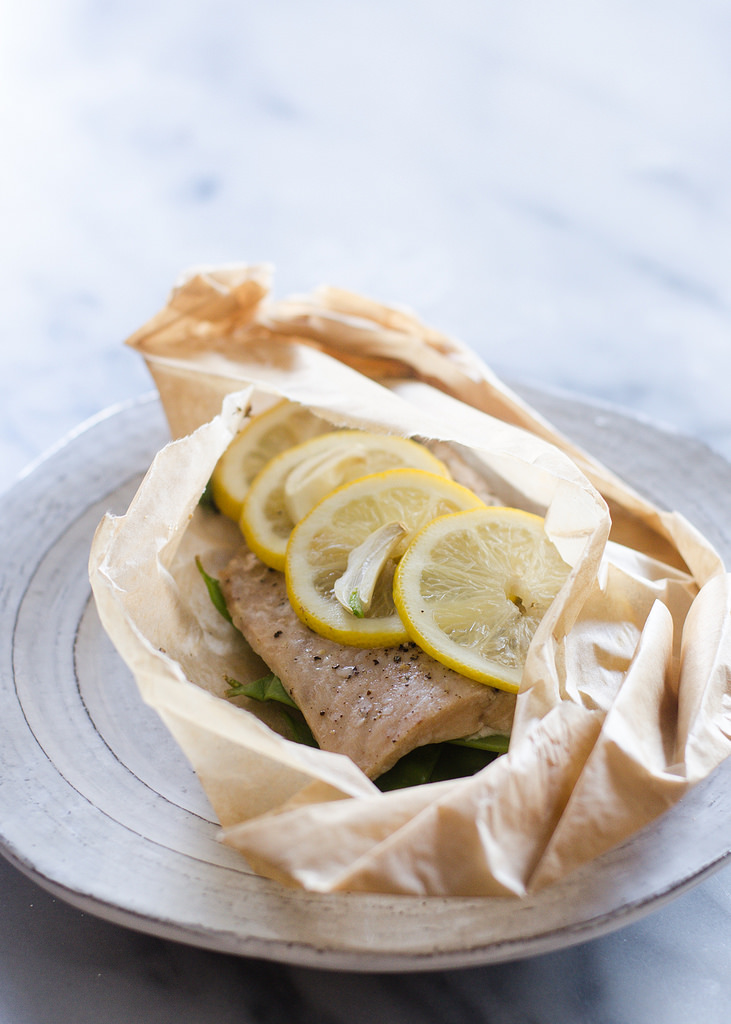 How to Pronounce Papillote:
From research I have done, it's pronounced "pah-pee-YOTE" — my French readers can correct me if I'm wrong!
Notes:
If you use snow peas, they will definitely still be crunchy by the time the salmon is done cooking. If you prefer your peas tender, you should sauté them on the stove instead.
Also, my fillets were pretty thin. If your fillets are much thicker, you'll want to increase the cooking time.
More Main Dish Recipes: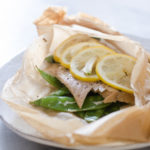 Salmon en Papillote
Ingredients
1

cup

snow peas

or any other quick-cooking vegetable (asparagus would be nice)

2

thin salmon fillets

skins removed

salt and pepper to taste

1

organic lemon

thinly sliced

2

cloves

garlic

sliced
Instructions
Preheat oven to 350° Fahrenheit (176° Celsius).

Place a piece of parchment paper on a rimmed baking sheet. On one half of the piece of parchment, place 1/2 cup snow peas. Place a salmon filet on top and season to taste with salt and pepper. Top with the lemon and garlic slices.

Fold the parchment over the salmon and seal the edges by making small folds all around the open edge.

Bake in preheated oven for 15-20 minutes (I baked mine for 16), or until the salmon flakes easily (USDA recommends cooking until thickest part of salmon registers 145° F, but this will result in drier salmon).

Remove from oven and let rest for a minute or two. Serve immediately.
Recipe Notes
Adapted from Martha Stewart.
If you use snow peas, they will definitely still be crunchy by the time the salmon is done cooking. If you prefer your peas tender, you should sauté them on the stove instead.
Also, my fillets were pretty thin. If your fillets are much thicker, you'll want to increase the cooking time.
Originally published on April 18, 2016 at 10:00