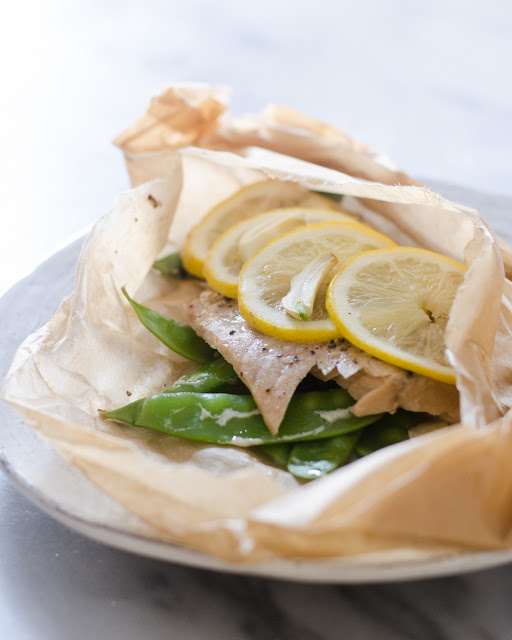 NOTE: Some links are affiliate. All opinions are my own.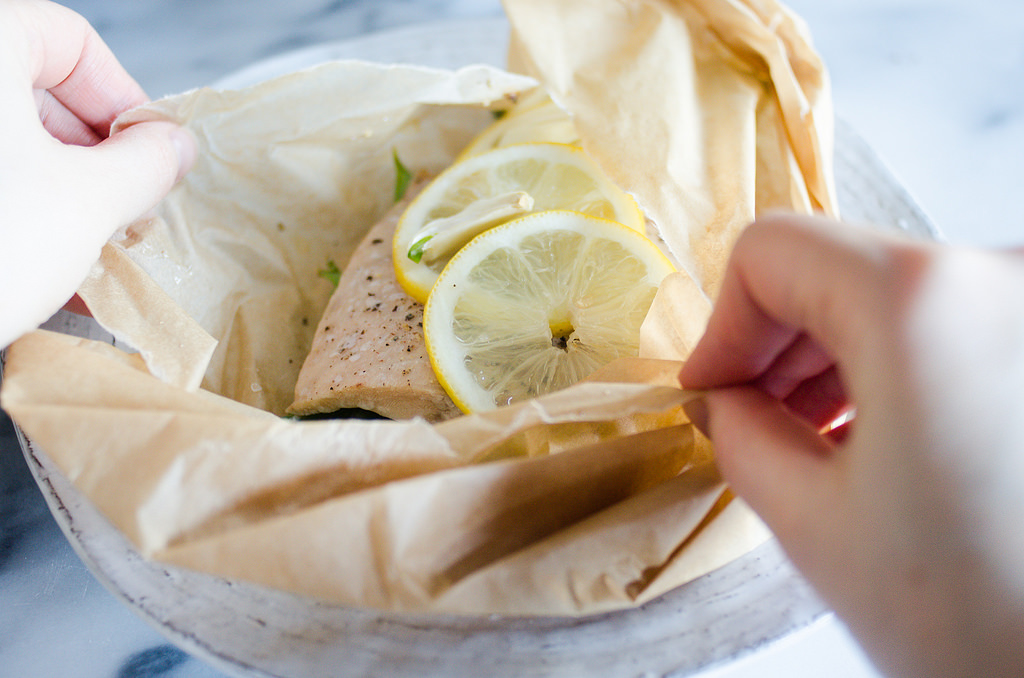 I've seen recipes for fish baked in parchment floating around the internet for YEARS. But I didn't try it out for myself until a couple weeks ago. The name was so fancy, it had to be a complicated recipe. Or so I thought.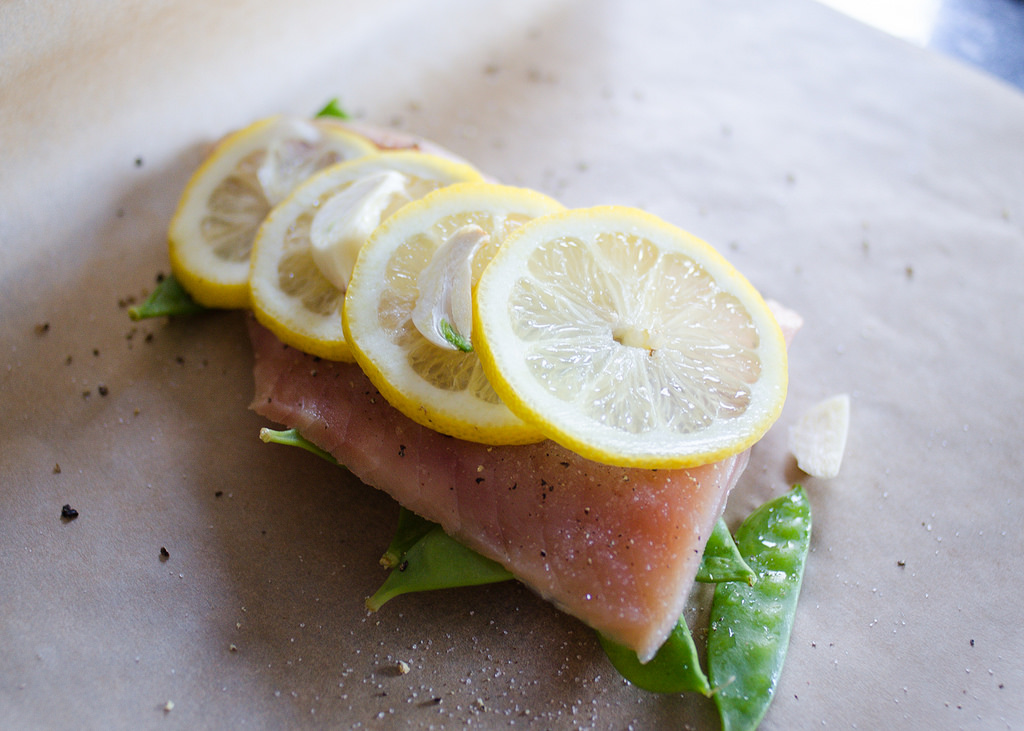 In reality, en papillote is a super easy way to infuse flavors into your fish. Here's the process:
Start by putting your ingredients on one half of a piece of parchment paper.
Here I used snap peas, salmon, salt and pepper, lemon slices, and sliced garlic.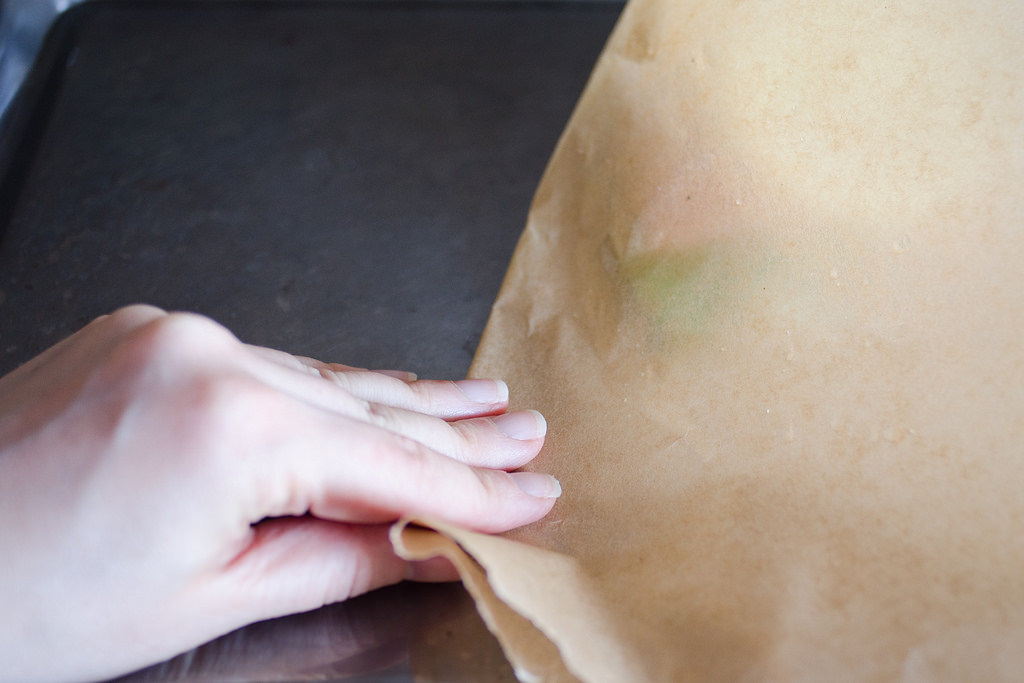 Fold the the parchment paper in half over the fish and crease.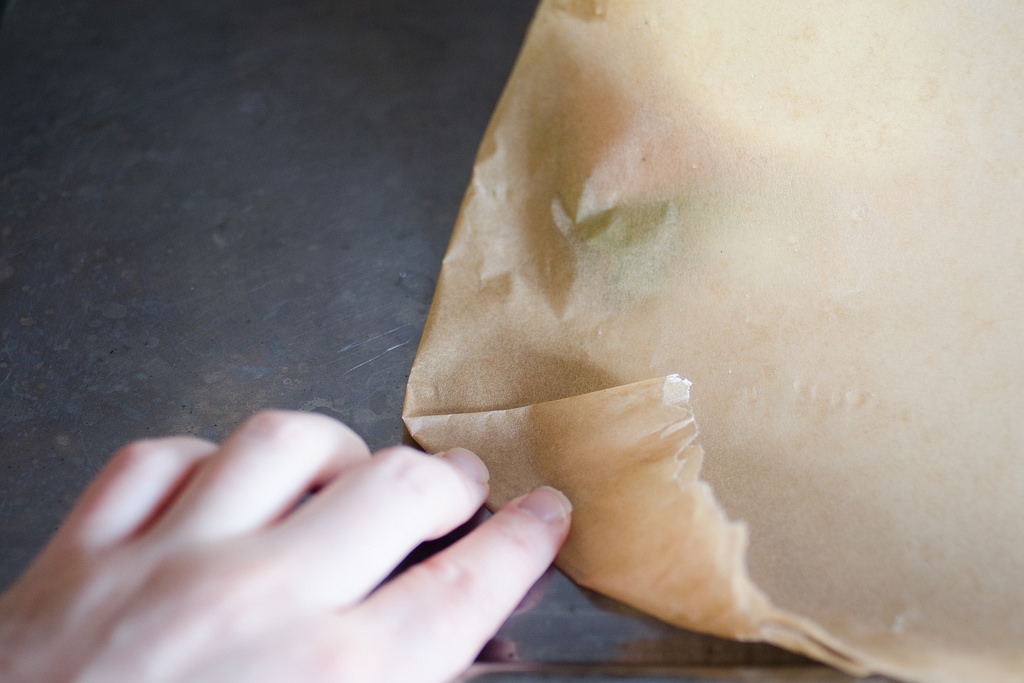 Now, it's time the seal the parchment! Start folding over small pieces of parchment and crease them.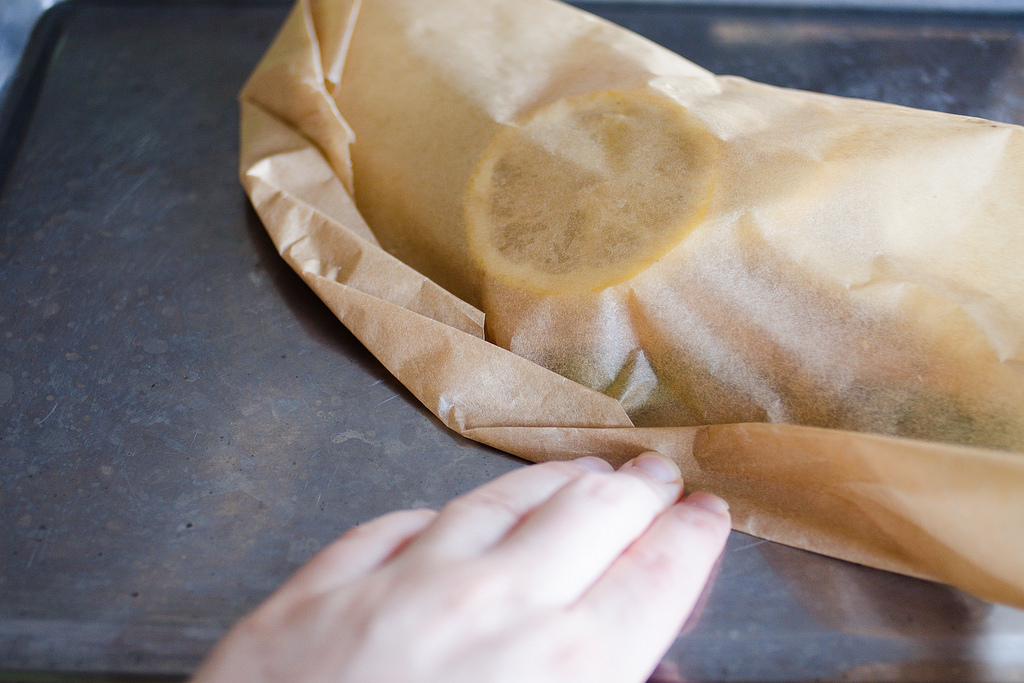 Continue along the open edge of the parchment…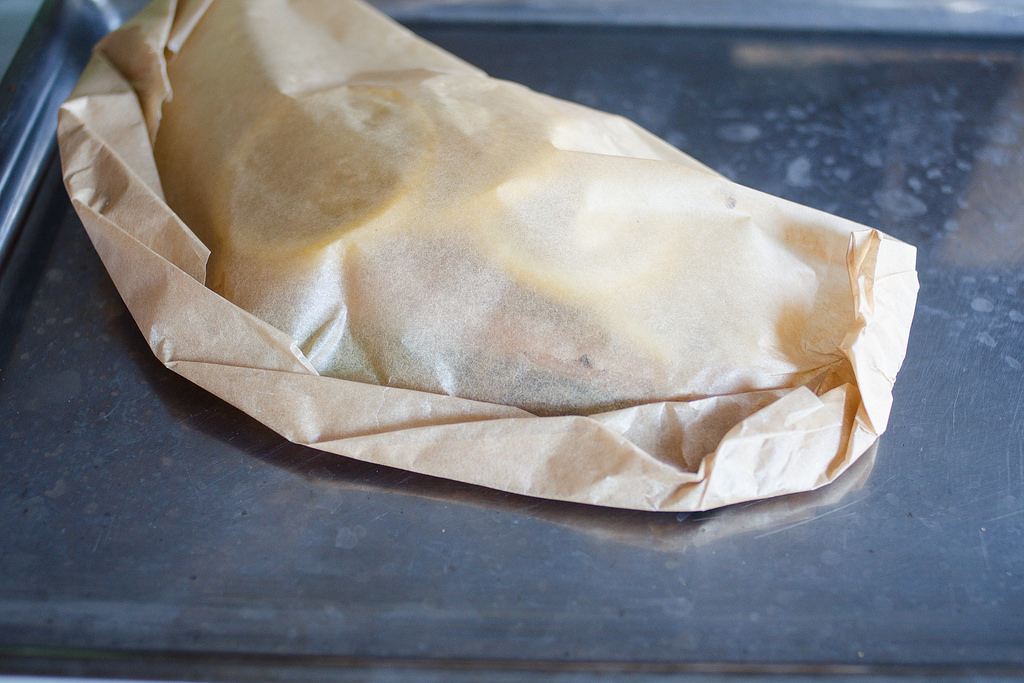 …until the package is completely sealed!
Bake until the salmon flakes. This is probably the most difficult part of cooking in parchment – you would have to tear open your package to see if it's done baking. Judging by the thickness of my filet, I was pretty certain it would be perfect in 16 minutes.

Open your packet and enjoy!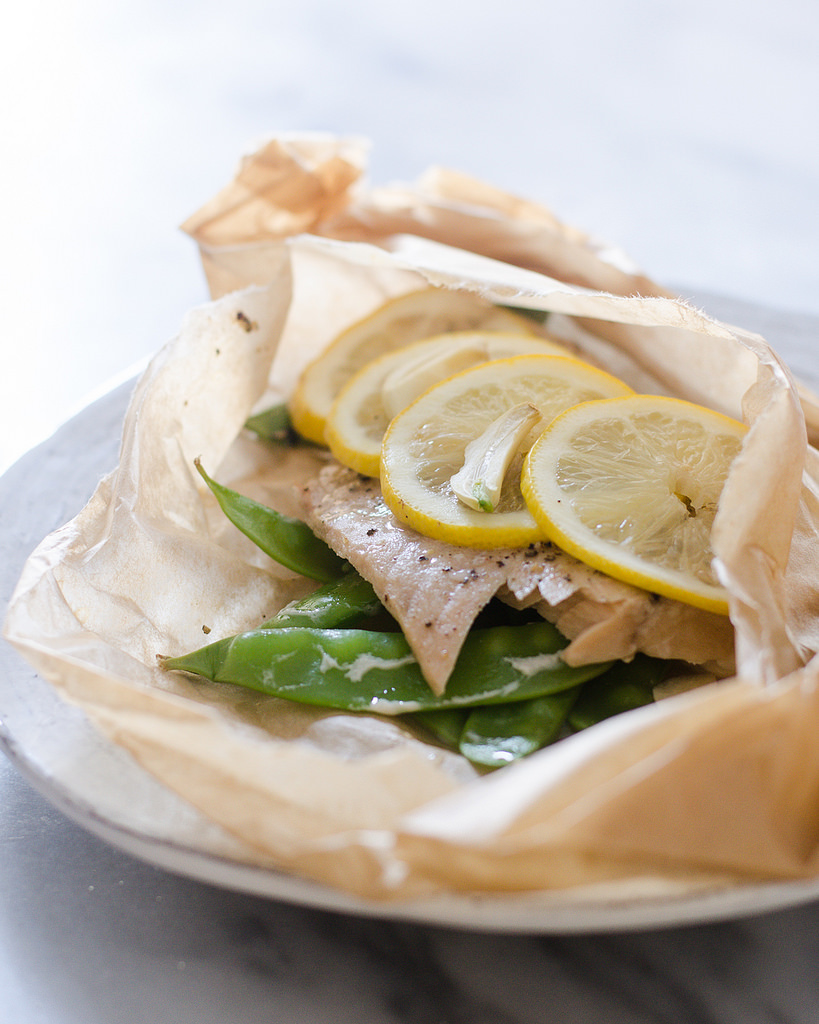 Now, I showed how I baked the salmon with some classic, simple flavors, but you can definitely customize it to your liking! Just take the basic method and cooking time and switch up the other ingredients. The other day I baked salmon with soy sauce, coconut aminos, garlic powder, and ginger powder. Yummy!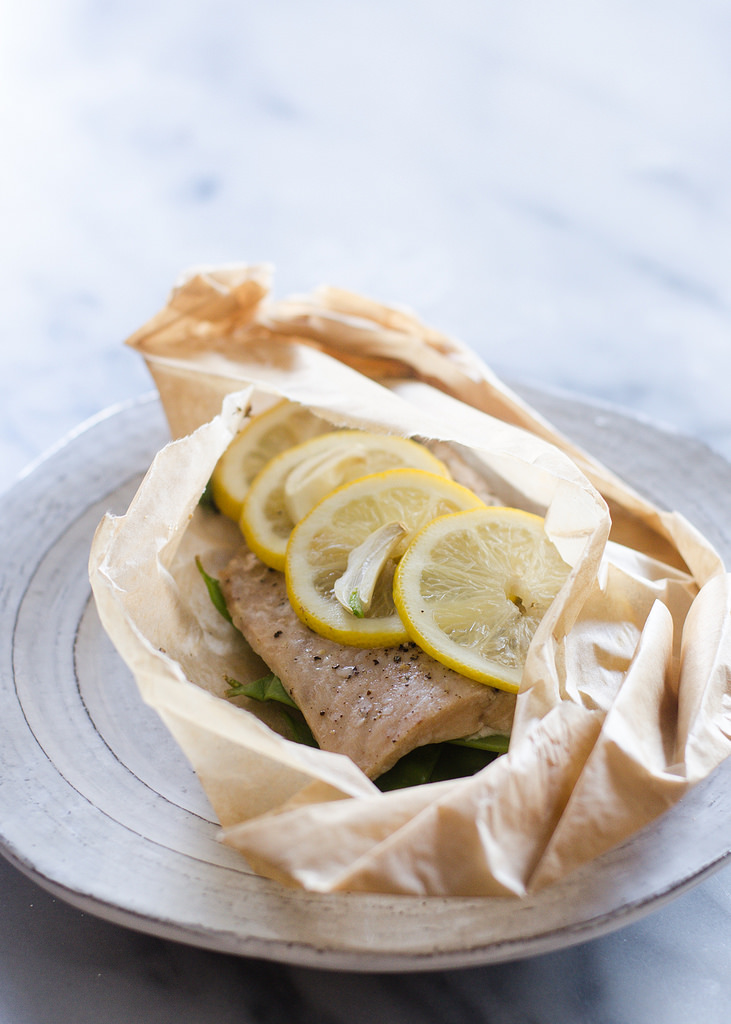 Oh, and from research I have done, it's pronounced "pah-pee-YOTE" — my French readers can correct me if I'm wrong.
NOTE: If you use snow peas, they will definitely still be crunchy by the time the salmon is done cooking. If you prefer your peas tender, you should saute them on the stone instead.

Also, my fillets were pretty thin. If your fillets are much thicker, you'll want to increase the cooking time.


Salmon en Papillote
Adapted from Martha Stewart | Makes 2 serving | PRINT
INGREDIENTS:
1 cup snow peas, or any other quick-cooking vegetable (asparagus would be nice)
2 thin salmon fillets, skins removed
salt and pepper to taste
1 organic lemon, thinly sliced
2 cloves garlic, sliced
DIRECTIONS:
Preheat oven to 350 degrees F (176 C).
Place a piece of parchment paper on a rimmed baking sheet. On one half of the parchment place 1/2 cup snow peas. Place a salmon fillet on top and season to taste with salt and pepper. Top with the lemon and garlic slices.
Fold the parchment over the salmon and seal the edges. Bake in preheated oven for 15-20 minutes (I baked mine for 16), or until the salmon flakes easily (USDA recommends cooking until thickest part of salmon registers 145 F).
Remove from oven and let rest for a minute or two. Serve immediately.