Hey, friends! Today I'm working in collaboration with ButcherBox to share this Grass Fed Roast Beef Dinner with y'all. Hope you enjoy! If you click on a link and subscribe to ButcherBox, I will earn a commission. All opinions are, of course, my own! Thank you for supporting Buttered Side Up.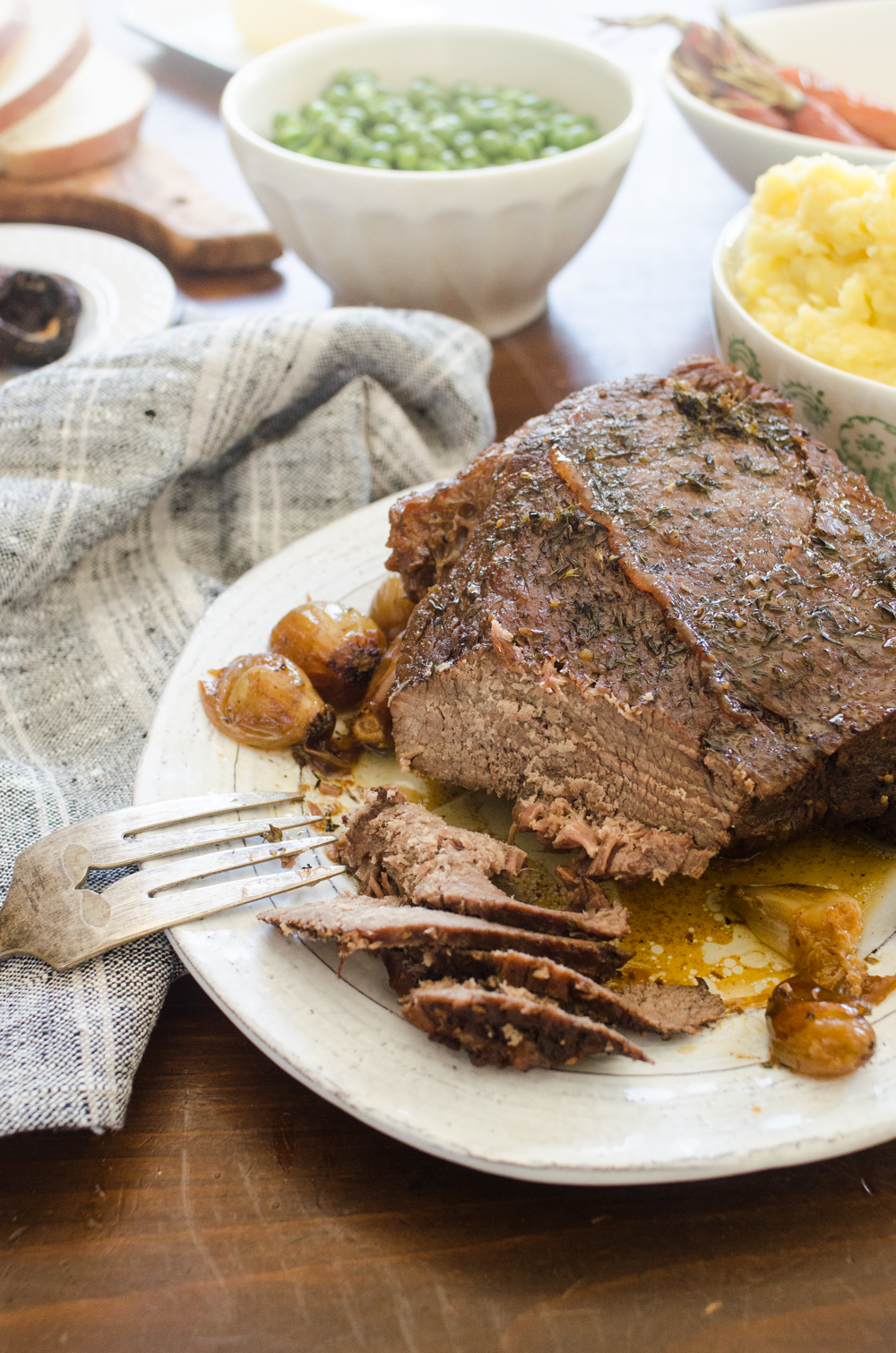 A roast beef dinner brings me back to my childhood. My grandma is a master of this comforting meal. With a deft hand she seasons and stirs and fidgets with ingredients to make them give the best of their flavor. My mom can also pull off an amazing roast beef dinner. It was one of my favorite meals growing up.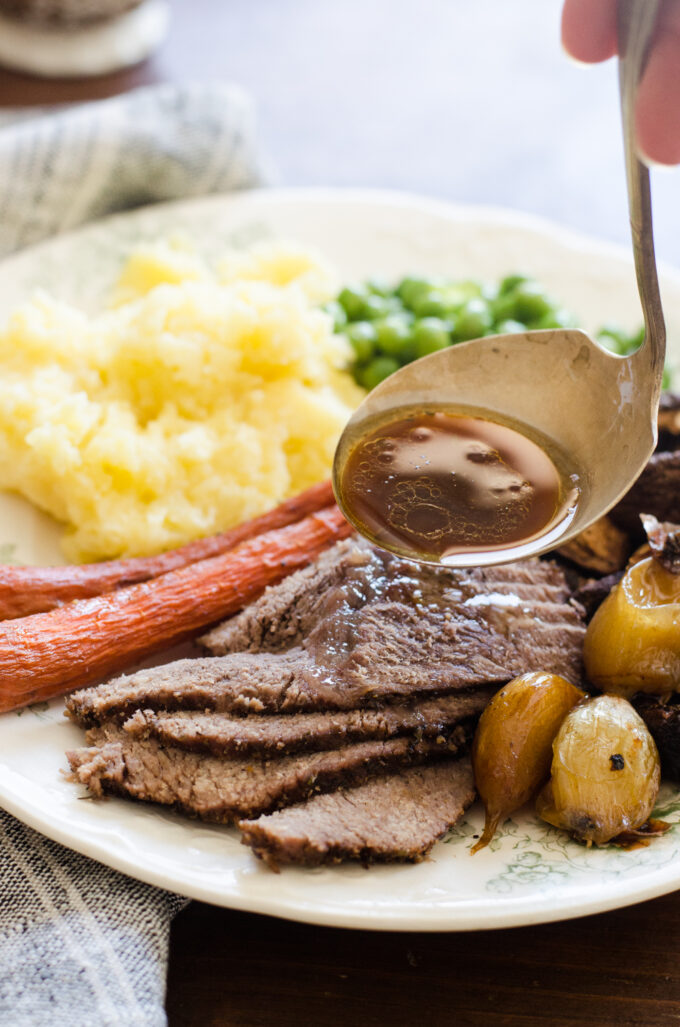 I have always wanted to be able to recreate that nostalgic meal. But cooking large pieces of meat has always intimidated me. People that have done it a million times (I'm looking at you, Grandma!) insist that it's the easiest thing ever. I'm always skeptical of such claims.
But believe me when I say, this grass fed roast beef dinner is very easy to pull off. If I can do it, you most certainly can.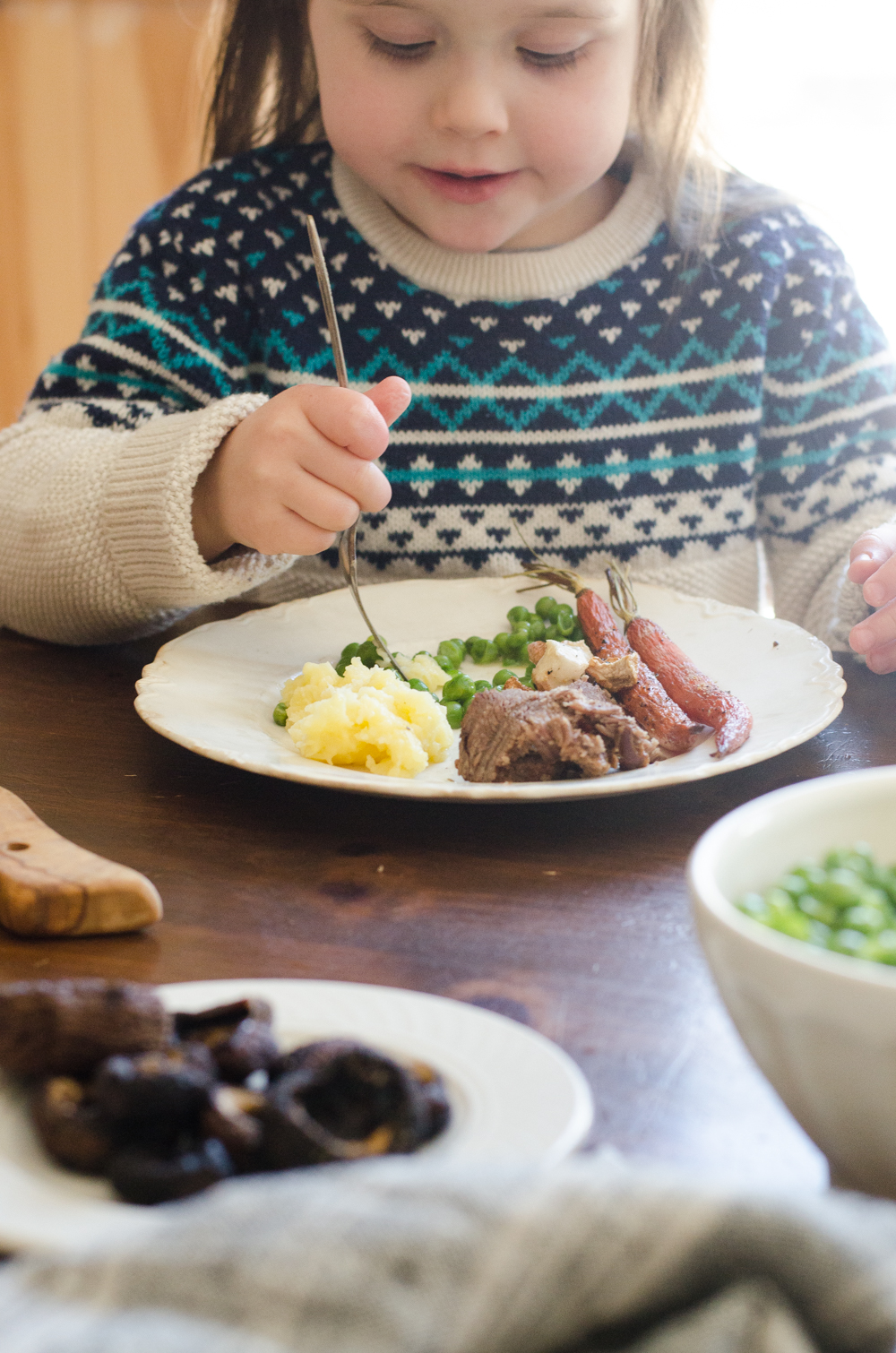 Of course, starting with a good roast is essential. This chuck roast from my ButcherBox was tender and delicious – that is of utmost importance. But just as import to me is the origin of the meat. Over the past few years, choosing grass fed beef has become a priority.
To quote ButcherBox:
"Did you know that 97% of the beef for sale in the U.S. is grain-fed and processed in feedlots? Because of the crowded (and often filthy) conditions, these cattle are fed antibiotics to help prevent the spread of disease. The cattle are also unnaturally obese due to the administration of growth hormones and fatty fillers like GMO corn, soy, and in some cases even animal byproducts and candy! As a result you get a piece of meat tainted with antibiotics and hormones."
I don't know about you, but I don't want to be giving that kind of food to my children.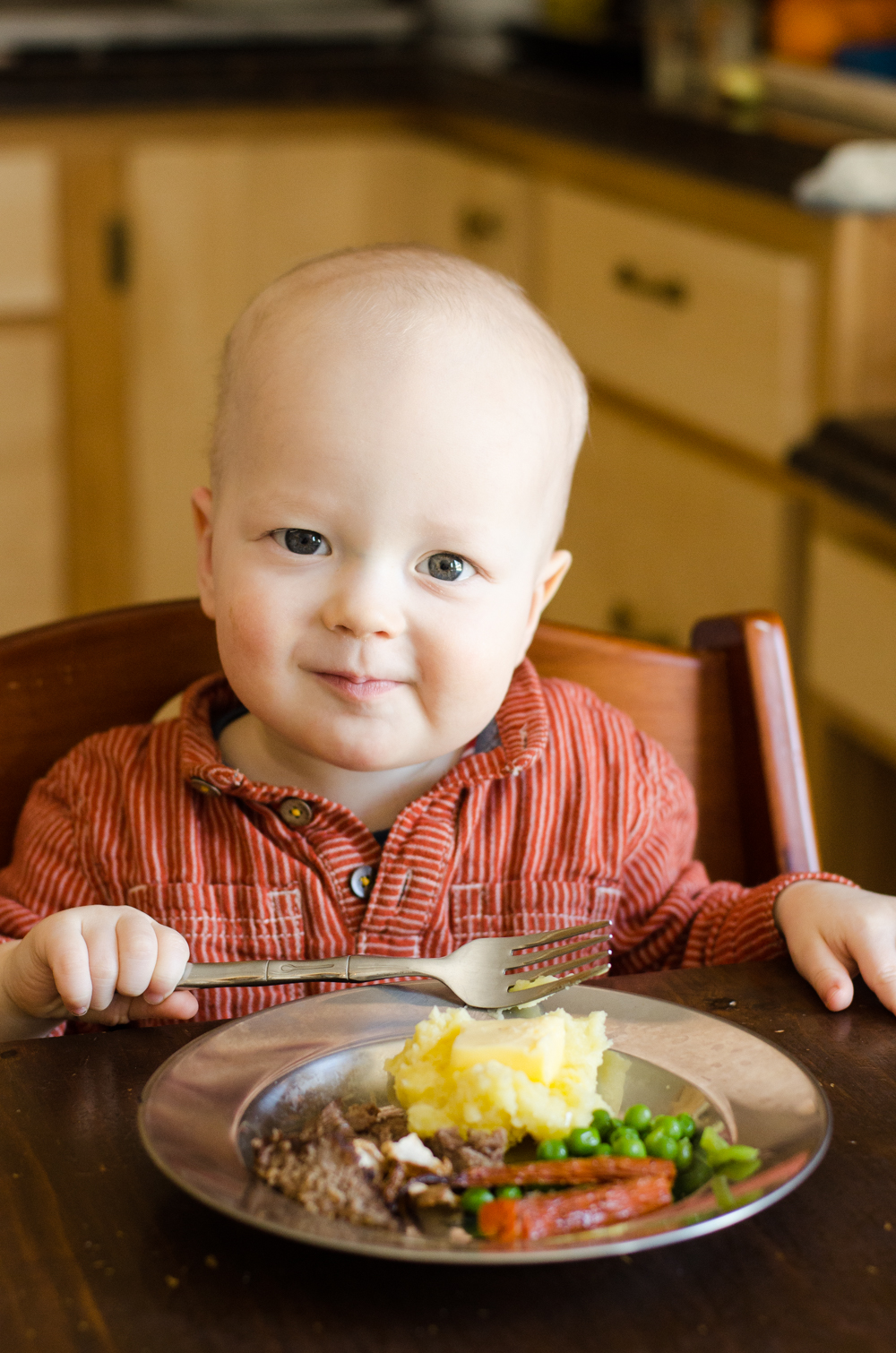 That's why I choose to work with ButcherBox: I heartily believe in and support their purpose – to make grass fed beef available across the country! I'm so happy to be able to feed my children high-quality meat.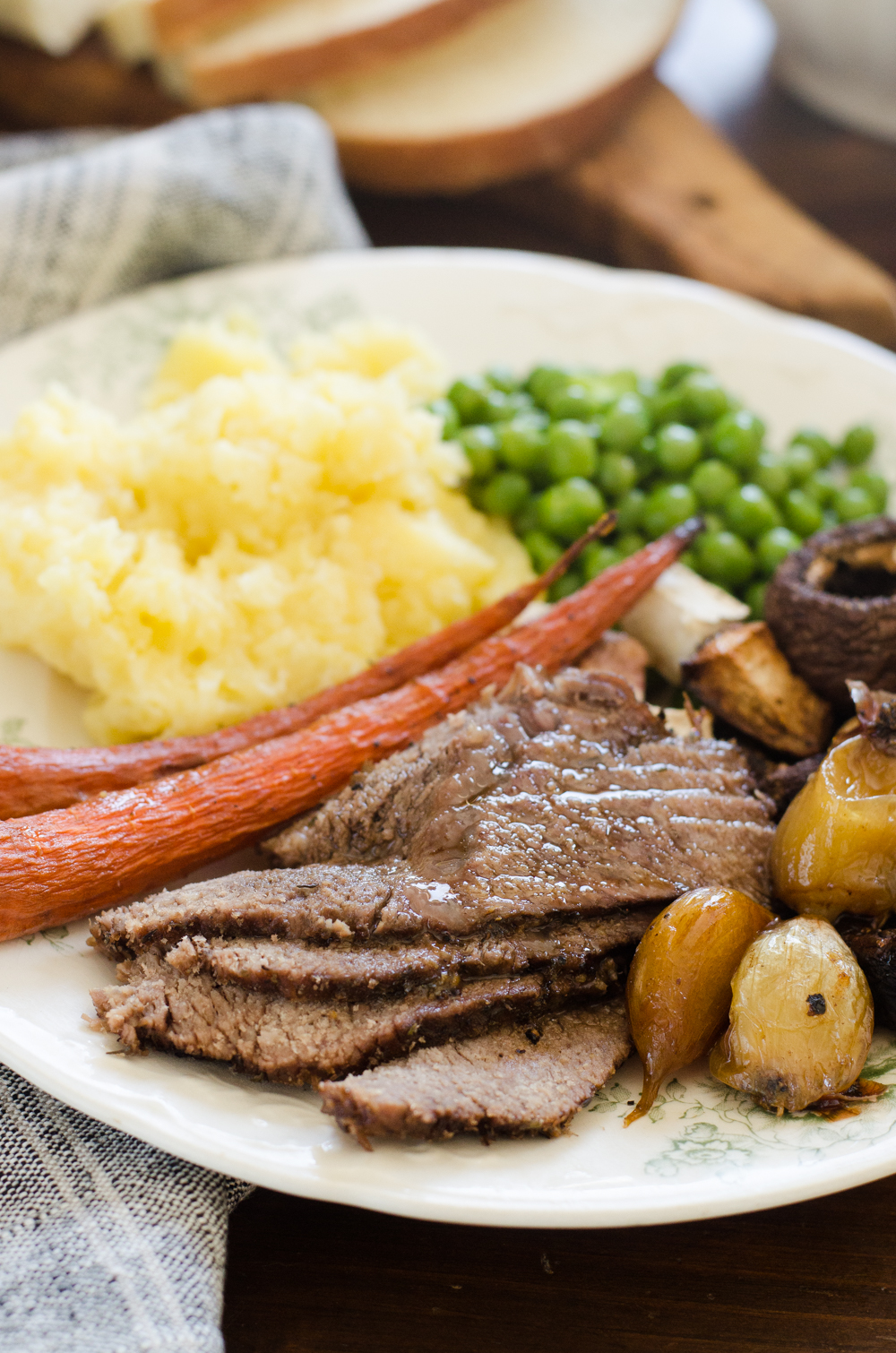 If you'd like to try out ButcherBox for yourself, make sure to use my coupon code "BUTTERED10" to receive $10 off, FREE shipping, plus a FREE CHUCK ROAST!
But hurry: this offer is good from April 3 – April 17 only!
If you'd still like to try out Butcher Box, make sure to use my link for a special discount:
Oh, and if you're still intimidated about cooking a roast beef dinner, watch my short video to see how easy it really is:
NOTES:
This roast is cooked low and slow to make for a super tender end product.
You can definitely sub out different vegetables if you prefer. However, if you choose fast-cooking veggies such as snow peas or asparagus, make sure to roast them for a shorter amount of time.
If you can't find shallots, just use about 1/2 of a regular onion and roughly chop it.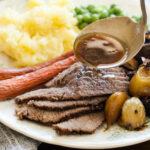 How to Cook a Roast Beef Dinner
Total Time
2
hours
15
minutes
Ingredients
For the roast:
2 1/4-

pound

grass-fed beef chuck roast

2

tablespoons

avocado oil

2

tablespoons

grass-fed butter

salt and pepper to taste

4

cloves

garlic

skin still on

6

shallots

skins removed

1

teaspoon

dried thyme

1

cup

water

to deglaze
For the roasted vegetables:
10

parsnips

washed and cut in half lengthwise (you can also use diced turnips),

10-12

carrots

washed or peeled (slice them in half lengthwise if they are large),

10

portobello mushrooms

stems removed,

avocado oil

salt and pepper to taste
For the mashed potatoes:
2

pounds

organic russet or gold potatoes

peeled and cut into quarters

1/2

cup

reserved cooking water

1/2

cup

1 stick grass-fed butter

milk or cream to achieve desired consistency

optional

salt and pepper to taste
For the peas:
10

ounces

frozen peas

2

tablespoons

grass-fed butter

salt to taste
Instructions
For the roast:
Start cooking about 2 hours and 15 minutes before you plan to serve.

Preheat oven to 300 degrees F.

Heat an enameled cast iron Dutch oven over medium-high heat. Add the avocado oil and butter. Once the butter is melted, add the roast. Season the top side generously with salt and pepper to taste. Cook until the underside is deeply golden, about 2-4 minutes. Repeat the seasoning and searing on all side of the roast. Remove roast to a plate.

Pour the water into the pan and use a wooden spatula to scrape up the cooked-on bits on the bottom of the pan. Return the roast to the pan and add the garlic and shallots around it. Sprinkle the top of the roast with the thyme.

Cover and place in oven for 2 hours, or until completely cooked and tender.
For the roasted veggies:
As soon as the roast is in the oven, place the carrots, parsnips, and mushrooms on a rimmed baking sheet. Drizzle with avocado oil and sprinkle with salt and pepper to taste. Place in the oven next to the roast and cook until tender, about 1 hour 45 minutes or so.
For the mashed potatoes:
1 hour before you're ready to serve, start working on the potatoes: peel and quarter them and place them in a pot. Cover with water and turn the heat to high. Generously salt the water.

Once the water comes to a simmer, cover and turn the heat down to low. Simmer until the potatoes are completely fork tender, about 20 minutes. Drain, reserving 1/2 cup of the cooking liquid.

Place the butter in the pan and cover. Once the butter is mostly melted, pour in the reserved liquid and season with salt. Mash, adding milk or cream to achieve desired consistency (optional - you can also just add more water).
For the peas:
10 minutes before you're ready to serve, start the peas: place the frozen peas in a small saucepan. Add a small amount of water and salt to taste. Cover and turn heat to medium. Cooking until water is boiling and peas are heated through. Drain water and add the butter.
To serve:
Remove roast to plate or cutting board and slice across the grain. Serve with the cooking juices from the pot and the mashed potatoes and vegetables. Try not to die from happiness.