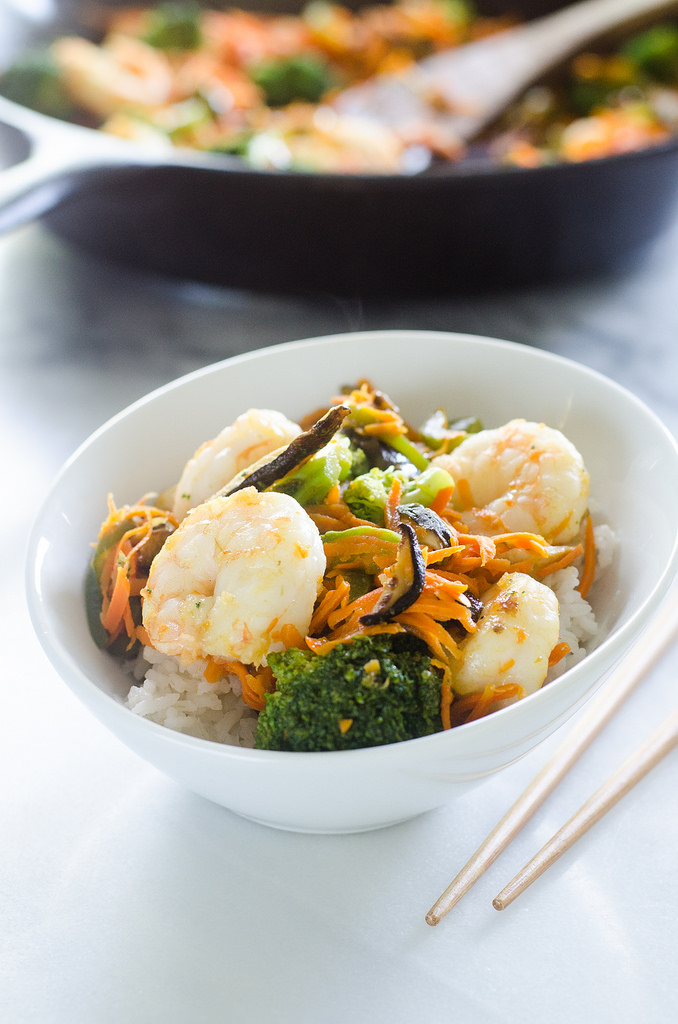 In my recent reader survey, y'all asked for more healthy main dish recipes. So I thought I'd show you one of my favorite quick-and-easy suppers: Shrimp Stir-Fry!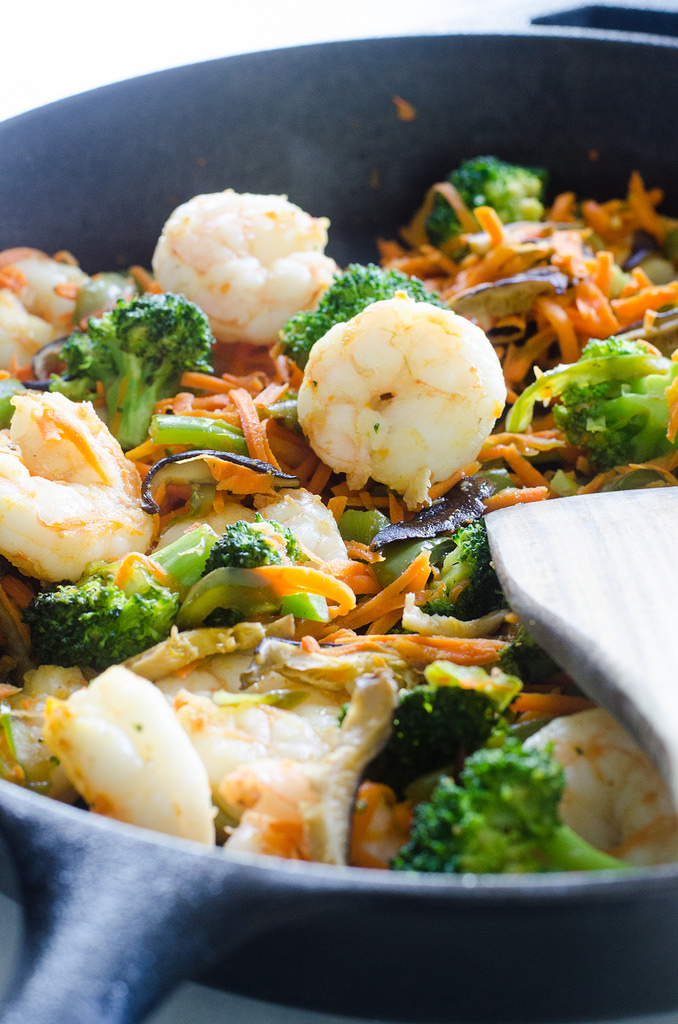 I think all of us have at some point been strapped for time and scrambling for an idea for what to make for supper. Your husband and kids are staring at you because they were hungry YESTERDAY. You desperately want to call in some takeout, or pack everyone up and head to the nearest restaurant.
But in the time it takes for the delivery guy to make it to your house or for your food to arrive at the restaurant, you can have this healthy 30-minute stir fry on the table.
I actually lied: this recipe only took me 26 minutes to complete from start to finish. I was working quickly, but I wasn't going at breakneck speed.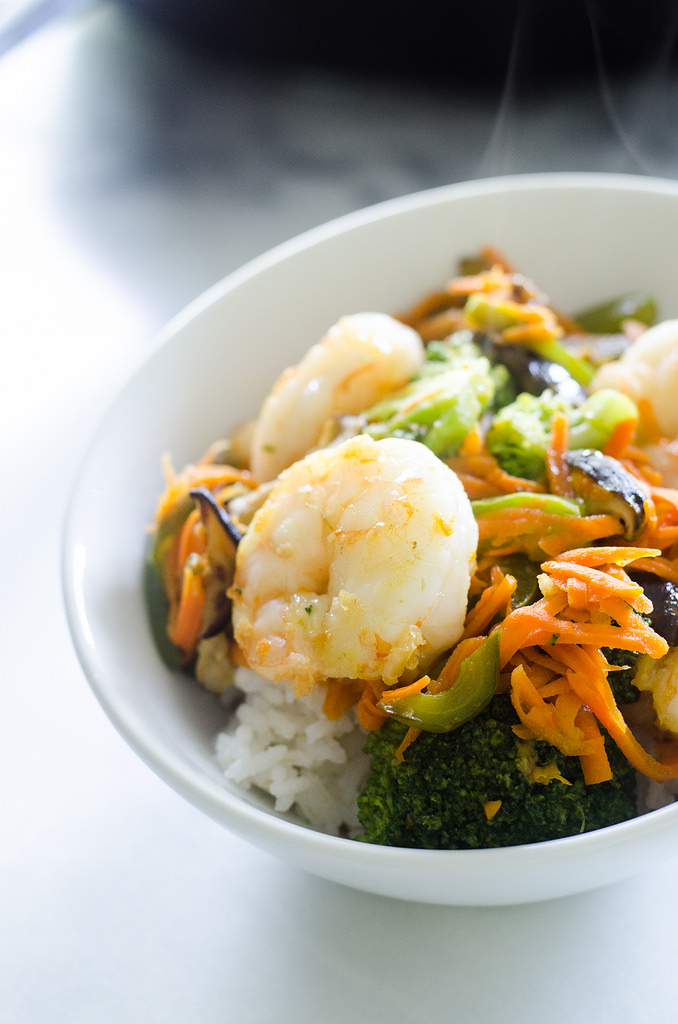 WHAT MAKES THIS RECIPE HEALTHY?
Shrimp are loaded with vitamins and minerals: Vitamin A, Vitamin B12, Niacin, Selenium, Iron, Phosphorous, Zinc, Copper, and more! Make sure to source wild shrimp when possible.
This recipe has 3 different kinds of veggies: broccoli, carrots, and green peppers!
Shiitake mushrooms contain phosphorus, manganese, riboflavin, niacin, and more! Research also suggests that they help to fight cancer!
Coconut aminos are a great soy-free alternative to soy sauce.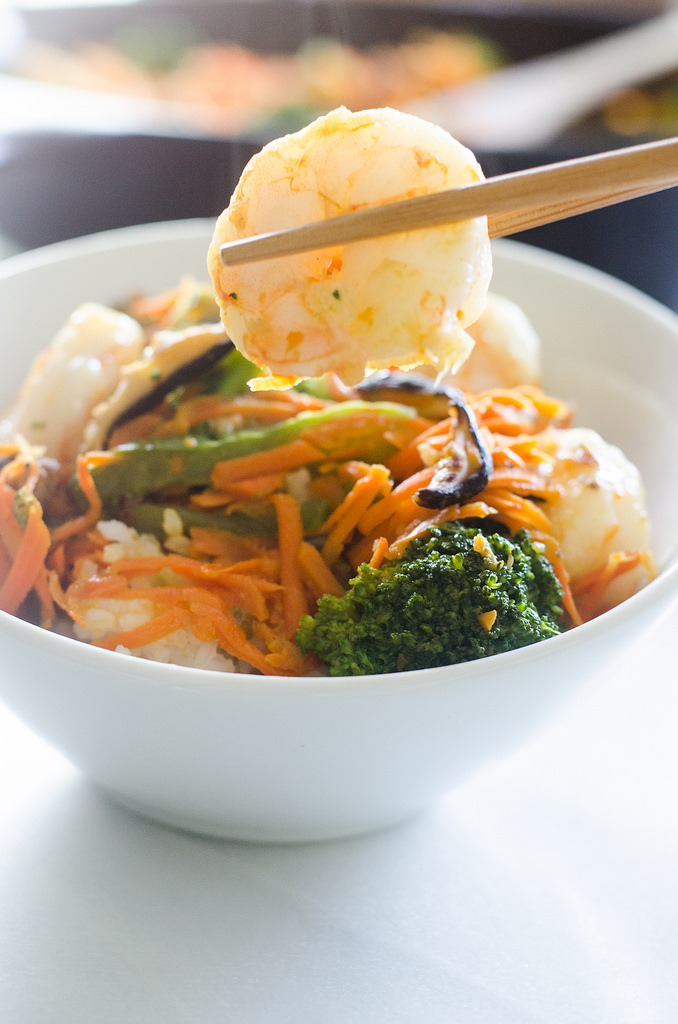 HOW IS THIS RECIPE READY IN UNDER 30 MINUTES?
I chose a few key ingredients and cooking methods that make this dish come together in a flash:
Shrimp cooks super fast. In fact, there's always the danger that you can over-cook it!
I sliced the veggies thinly so they would soften quickly.
I got my pan suuuuuper hot and stirred the veggies often.
I cooked the veggies together instead of individually. This isn't as pretty as when you clean the pan out after sauteing each ingredient separately, but it speeds up the cooking time.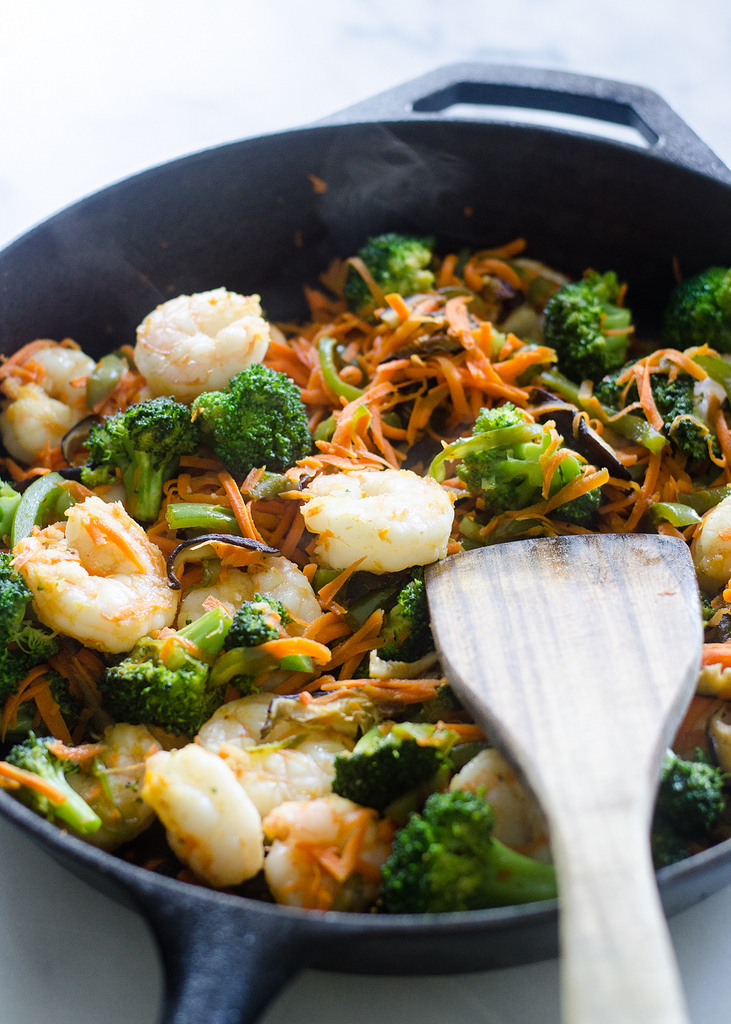 CUSTOMIZATION:
You can easily customize this dish to your preferences:
Swap out beef or chicken if you don't have shrimp on hand. Thinly sliced steak cooks very quickly.
Use your favorite veggies in place of the ones I suggest, or do a "clean out the fridge" and use up whatever veggies are languishing in your crisper.
Don't care for shiitake mushrooms? You can definitely use baby bella or button mushrooms instead.
If you like a bit of heat, add some hot sauce when you add the coconut aminos and ginger.
Reuben doesn't care for the flavor of ginger, so I went light-duty on it. If it were just for me, I would add at least twice as much. 😀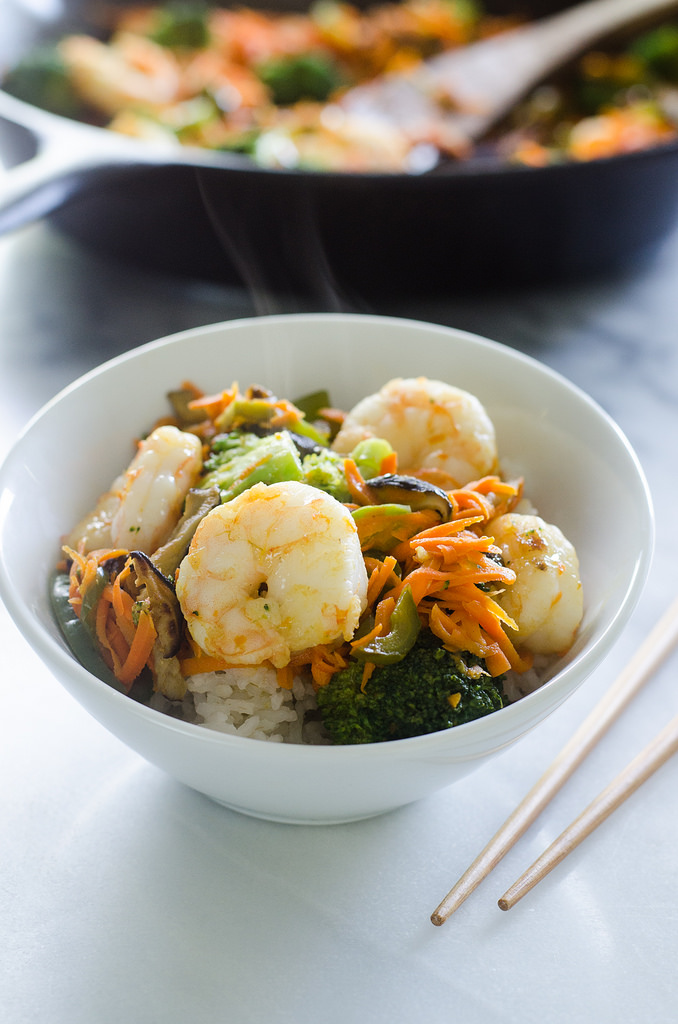 GREAT STIR-FRY CONDIMENTS TO HAVE ON HAND:
These add flavor without adding to your cooking time:
What are YOUR favorite stir-fry condiments?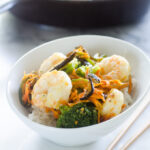 30-Minute Shrimp and Shiitake Stir-Fry
An easy and healthy weeknight dinner idea!
Ingredients
2

tablespoons

avocado oil

2

oz.

fresh shiitake mushrooms

thinly sliced,

1

green bell pepper

thinly sliced,

1

medium head broccoli

cut into medium florets,

salt and pepper

to taste,

1/2

teaspoon

ground ginger

2

tablespoons

coconut aminos

1

lb

large raw wild-caught shrimp

2

large carrots

peeled and shredded

1

medium clove garlic

minced

1

teaspoon

toasted sesame oil

organic white rice for serving

optional
Instructions
Begin by putting your rice on to cook, if using.

Heat a large cast iron skillet over high heat. Add 1 tablespoon avocado oil. Add the mushrooms and cook, stirring occasionally, for 2 minutes. Add the peppers and broccoli and cook 5 minutes. Add salt and pepper to taste, ginger, and coconut aminos.

Add more oil to the pan, if needed. Add the shrimp and cook for 2 minutes. Flip the shrimp over and add the carrots and garlic. Cook until shrimp is done. Remove from heat and stir in the sesame oil. Taste and adjust seasoning if needed (add more salt and pepper, coconut aminos, etc.).

Serve over rice (if desired) with kimchi, pickled ginger, more coconut aminos, and sriracha.

Nutrition data sources: Self Nutrition Data, Dr. Axe
NOTE: Some links are affiliate. If you click on them, I will earn a small commission. All opinions, of course, are mine alone. Thank you for supporting Buttered Side Up!