This Cheesy Chicken and Broccoli Casserole is a healthier take on the traditional recipe.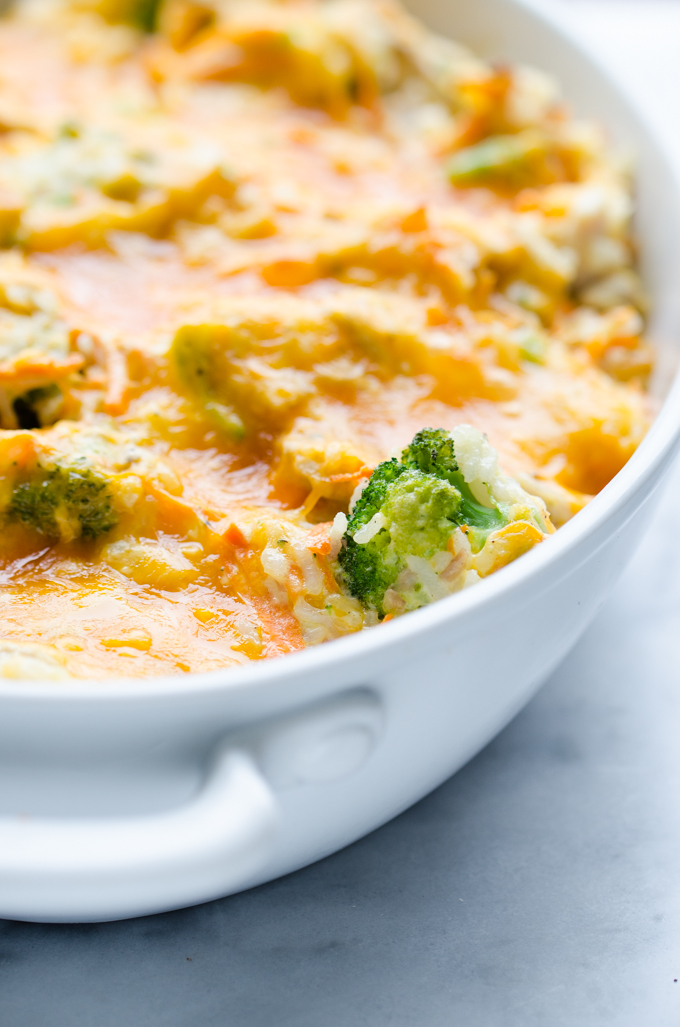 Here in northern Minnesota, casseroles are a winter staple. Truth be told, we love them all year long. Except we don't call them casseroles: we call them hotdishes! The word "casserole" comes from a French word that means sauce pan. The origin of "hotdish" isn't certain, but it's pretty easy to figure out what it means: A one-pan meal that is baked in a dish until hot.
I personally use "casserole" and "hotdish" interchangeably, but some folks will vehemently tell you that it's a hotdish, NOT a casserole. So just be careful if you ever visit Minnesota. 😉
When I was a teen and beginning to delve into the wonderful world of cooking, I turned up my nose at the thought of hotdishes. After all, they aren't that sophisticated. But after Reuben and I got married, I realized that hotdish was one of his favorite meals! He didn't really care for some of the "fancier" dishes I prepared. He liked all-in-one meals that were easy to eat. So I had the learn to make and respect the humble hotdish.
These days, I absolutely love casseroles/hotdishes. They're easy, they save money, and they're scrumptious! Win-win-win. One downside to most casserole/hotdish recipes is that they contain some ingredients that are questionable on the health front. Canned soups, French fried onions, corn flakes, etc. are common ingredients. But it's so easy to make recipes healthier with some ingredient substitutions.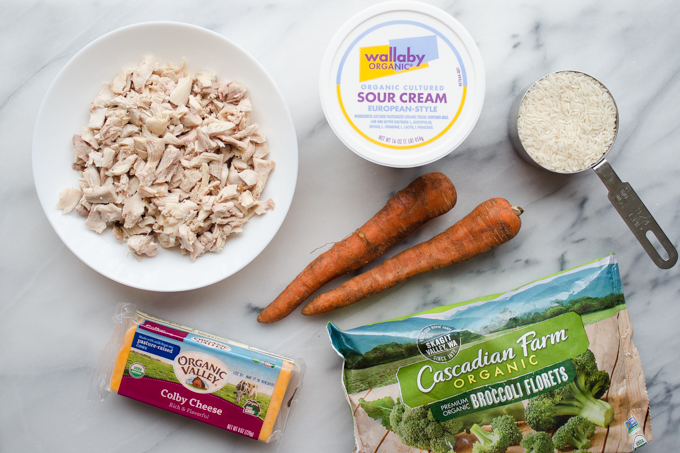 Ingredients for Cheesy Chicken and Broccoli Casserole
For example, instead of canned soup, I used sour cream in this recipe. You can definitely make your own healthy canned soup to go in recipes, but sour cream is a great time-saving substitute. I omitted the cornflake topping that some recipes call for. Also, to give this dish an extra kick of veggies, I added shredded carrots. They look similar to the cheese, so it's a great way to disguise them for picky eaters.
And, you know me: I used all organic ingredients.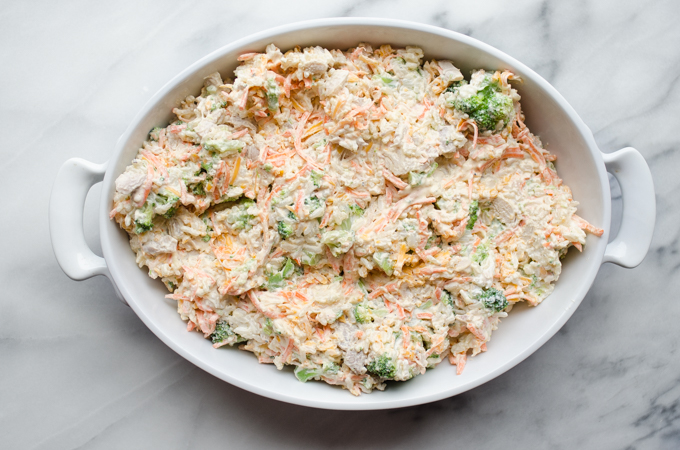 The process for making this Cheesy Chicken and Broccoli Casserole is SO easy. Just mix everything together but a bit of the cheese.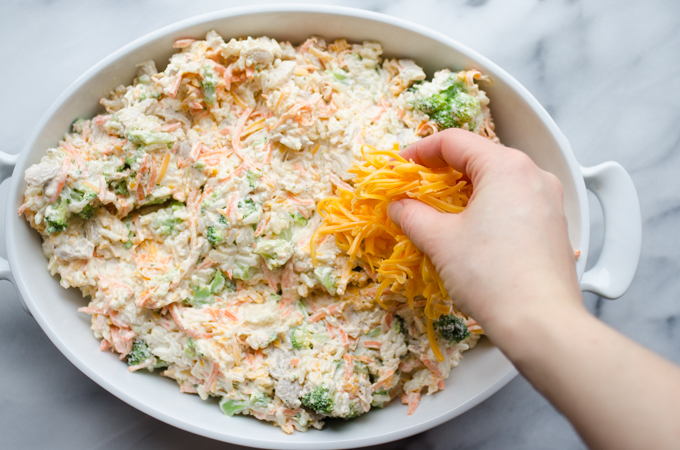 The extra cheese goes on top of the hotdish.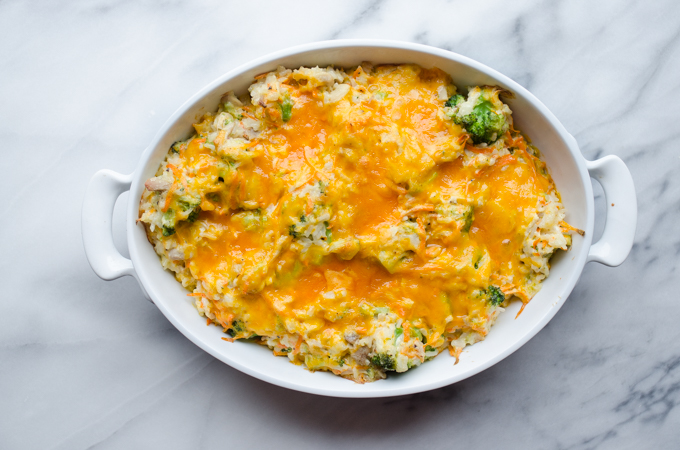 Then you just pop the whole thang into the oven for about 35 minutes, or until everything is hot and bubbly.
Hmmm…for some reason the flavors of this dish just bring me back to my childhood!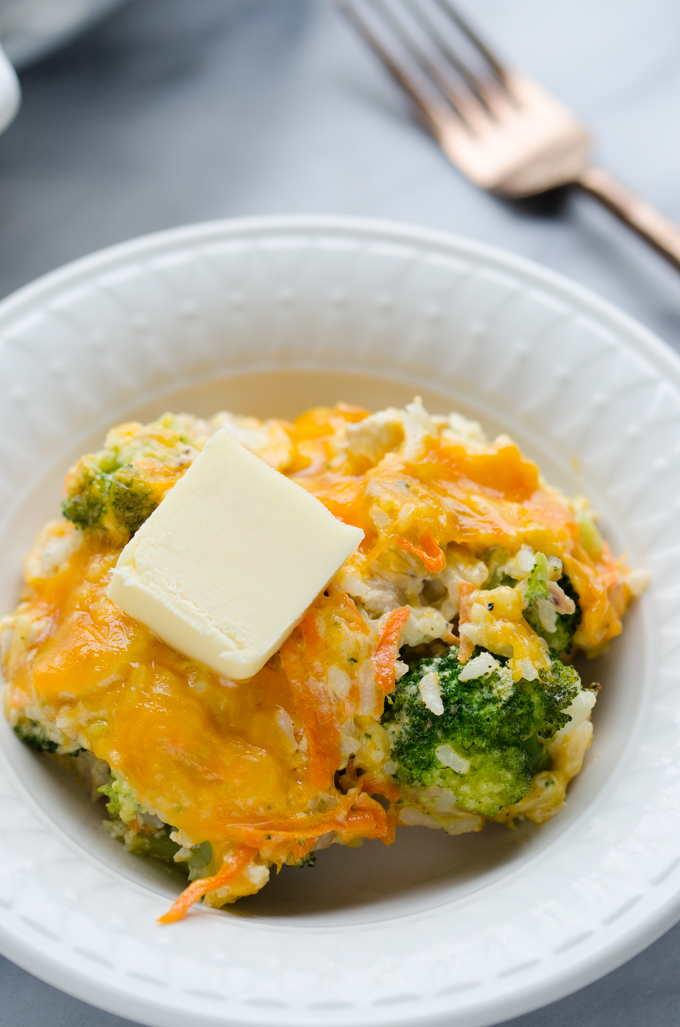 As with ALMOST any casserole, I have to top this Cheesy Chicken and Broccoli Casserole with some grass-fed butter. What can I say? It's kind of like a necessity sauce for me.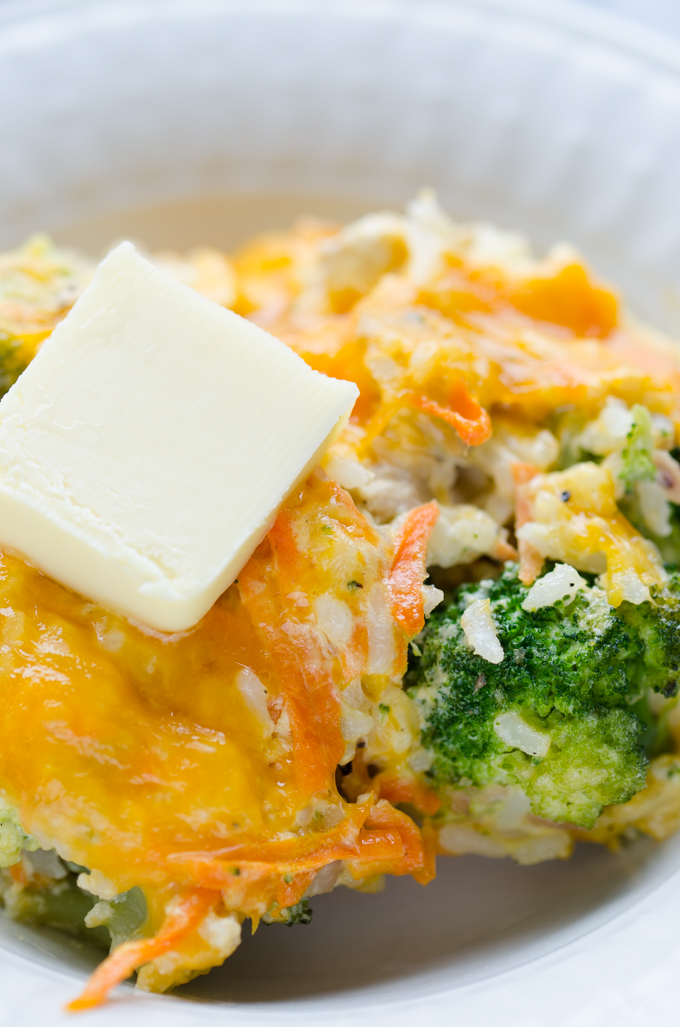 BTW: I highly recommend paying a little bit extra and getting broccoli florettes instead of pieces for this recipe. The florettes are much more tender than the stalks, and will have a better chance of getting done in the oven.
Also, I'd like to know: Do you say casserole or hotdish?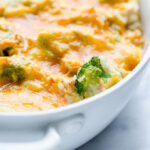 Healthier Cheesy Chicken and Broccoli Rice Casserole
Ingredients
For the Rice:
3/4

cup

long grain white rice

1

cup

water

1/2

tsp

salt
For the Casserole:
2-3

cups

chopped cooked chicken

10

ounces

frozen broccoli florettes

2

medium

carrots, peeled and shredded

1 1/2

cups

sour cream

3/4

teaspoon

salt

pepper to taste

8

ounces

shredded cheddar cheese,

divided

butter, for serving
Instructions
For the rice:
Place all of the rice ingredients in a heavy bottomed saucepan over high heat. Once it comes to a boil, cover the pan and turn the heat down to low. Cook until tender, about 15-20 minutes. You can also use 2 cups of leftover rice.

Preheat oven to 350 degrees F.

Mix together the rice, chicken, broccoli, carrots, sour cream, salt, pepper, and 2 cups of the cheese. Spread in a 13x9-inch baking dish. Sprinkle the remaining cheese on top.

Bake in preheated oven until hot and the cheese is bubbly, about 30-35 minutes. Serve with butter.