This Stuffed Pepper Casserole recipe is for those of us that can't get enough of the filling part of stuffed pepper!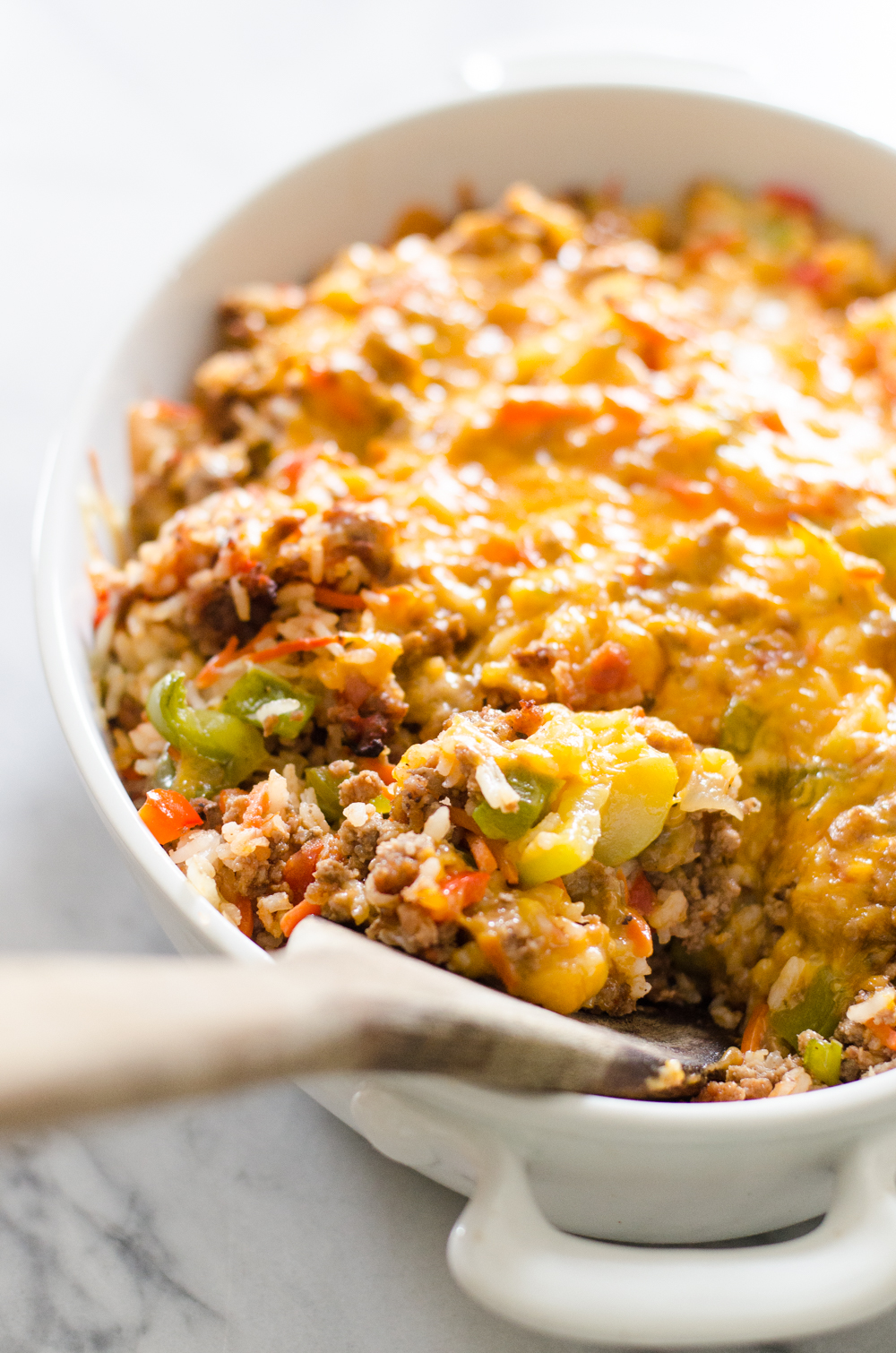 I am so happy to announce that my third sister had her baby, and they're all safe and sound! Little Charlotte arrived two weeks ago in the middle of the day.
She's the only one of the 2016 Berge girl babies that has an appreciable amount of hair. In fact, her (very blond) 2-year-old sister was a bit taken aback when she saw all the dark locks…I think she was used to seeing bald babies!
Ingredients for Stuffed Pepper Casserole: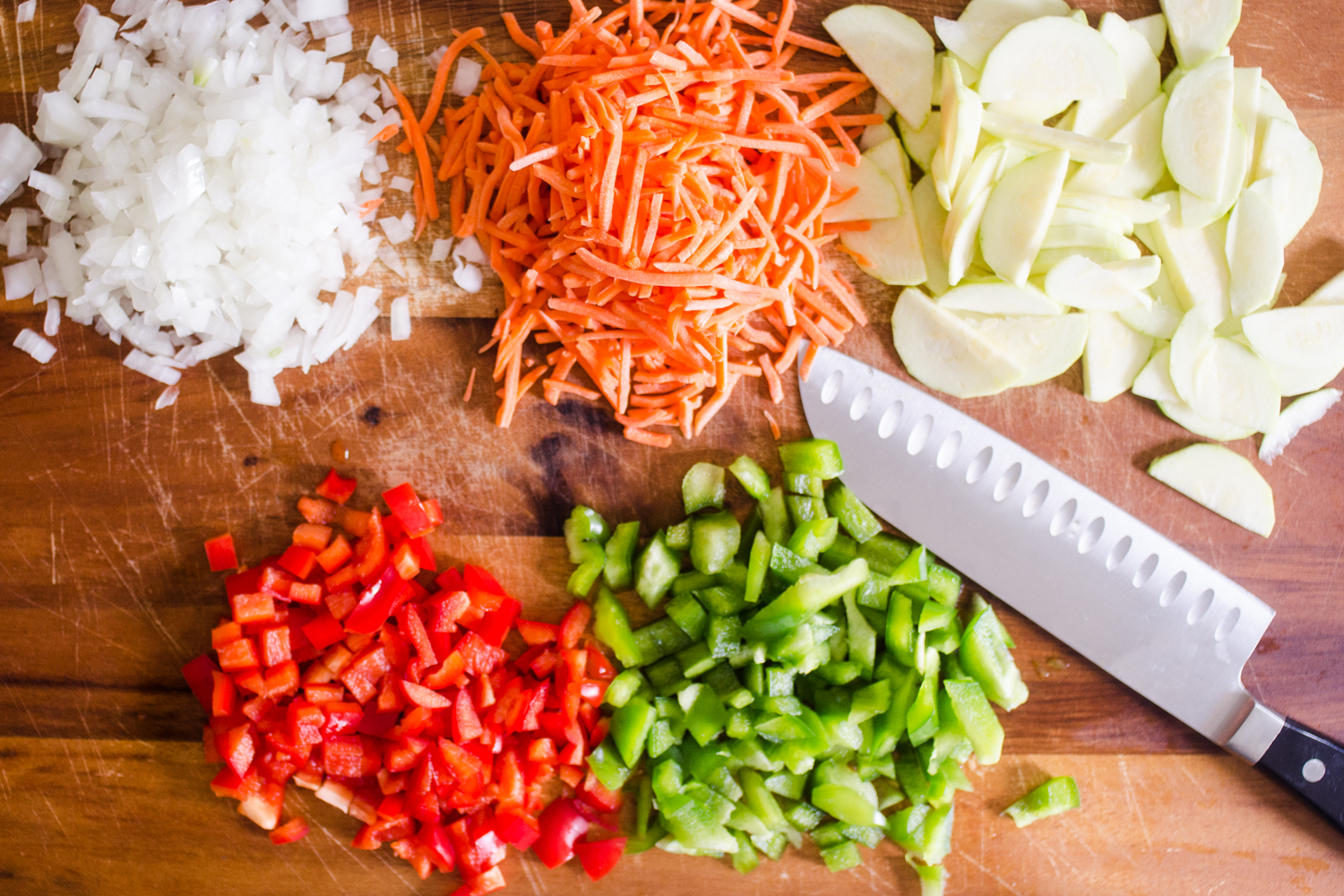 The day my sister had her baby, I made this Stuffed Pepper Casserole for supper (and for the blog, of course). I cooked it in the afternoon since the Minnesota light is horrendous in the evening this time of year.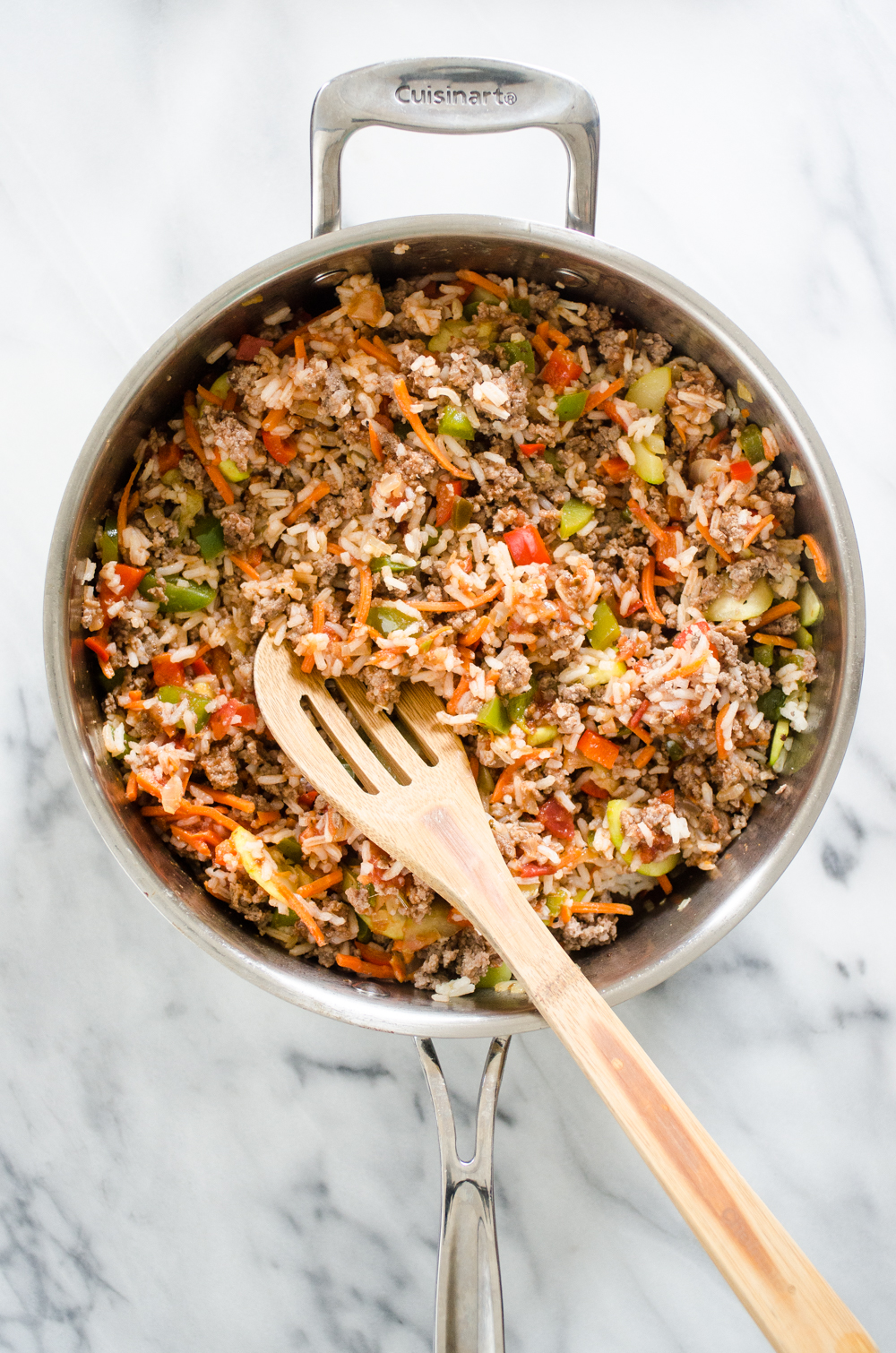 As I was mixing it up and photographing the stages, I sent my sister and bro-in-law a Facebook message (including pictures), wondering if they'd like to partake of my creation. My bro-in-law replied that my sister was famished (who wouldn't be after having a baby!). So I brought the casserole upstairs when it was finished. And of course I got to see and hold little Charlotte for the first time. What a doll! The perks of living in the same house as your sister. 🙂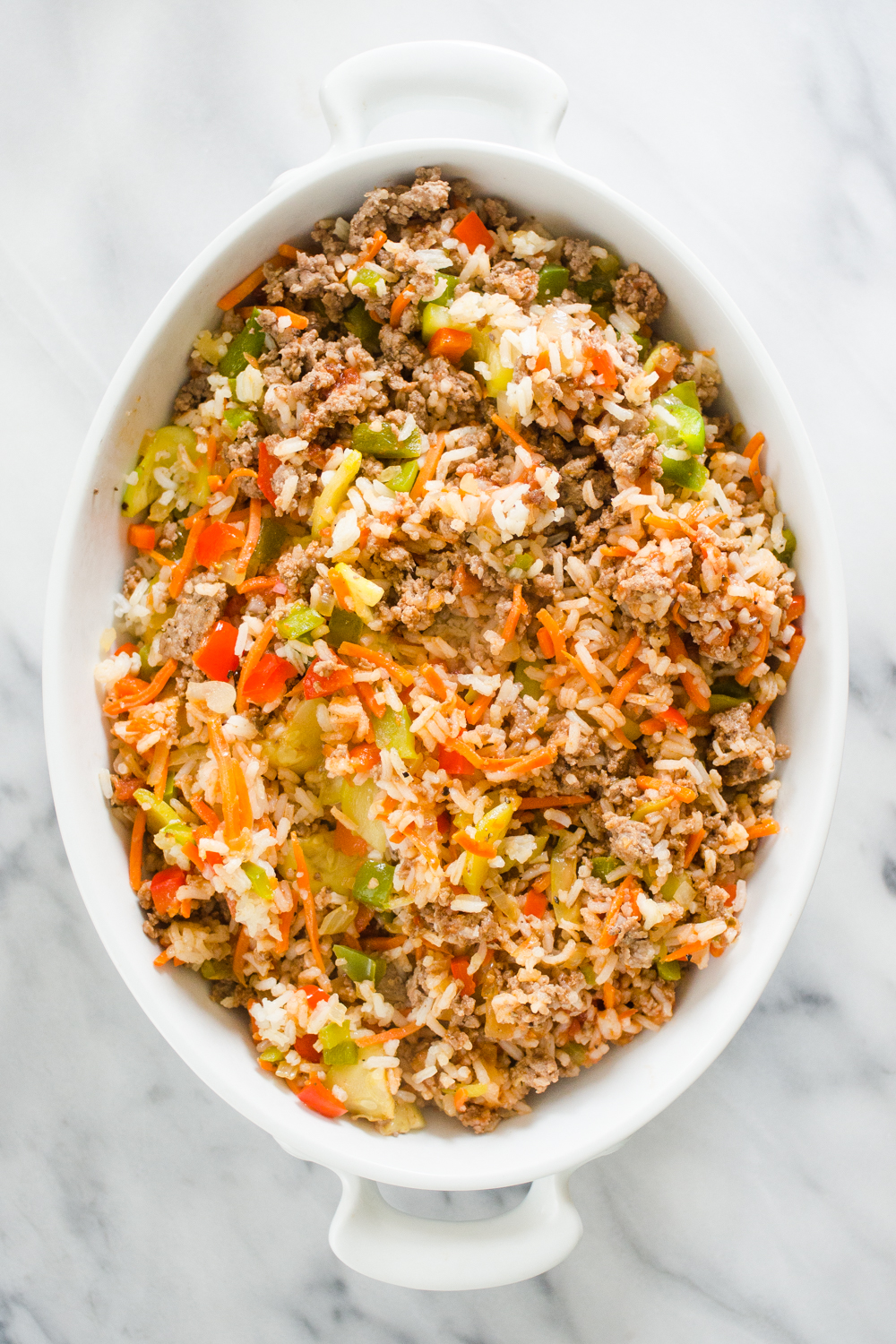 It was so nice to have supper already made when Reuben got home. So often I'm having to rush around to finish last minute preparations. It's nice to relax and enjoy my little family a bit before we tuck in.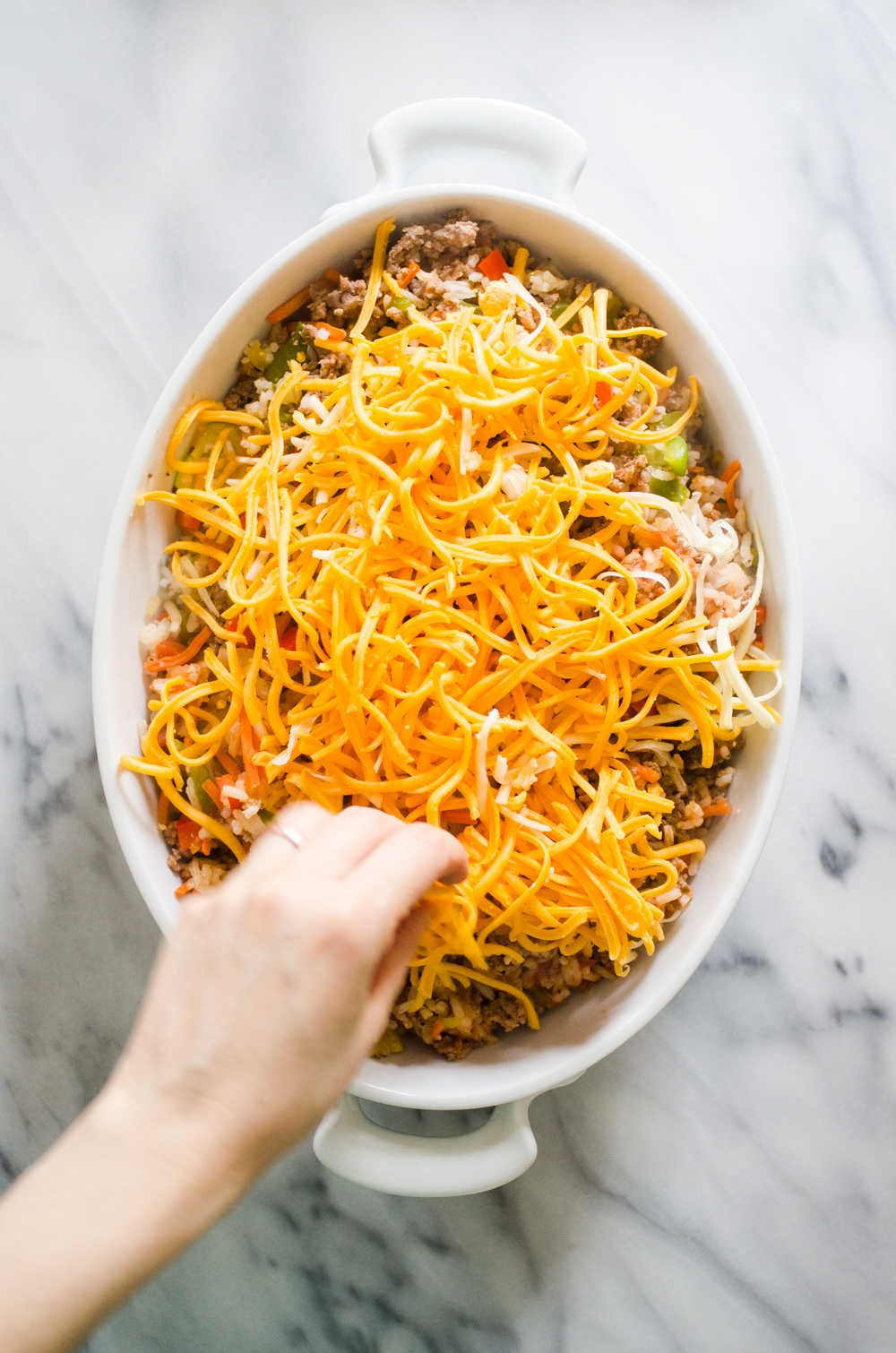 This Stuffed Pepper casserole was conceived out of my desire to eat it.
I really like the flavor of stuffed peppers. But, if I'm honest, I'll admit that the ratio of peppers to filling is off for my tastes: I could usually eat twice as much of the stuffing.
In the back of my mind I had the idea for a hotdish (that's what we call casseroles here in Minnesota). I'm pretty sure I had seen something similar on Pinterest. But I decided to wing it and make up my own recipe, using up vegetables I had in the fridge.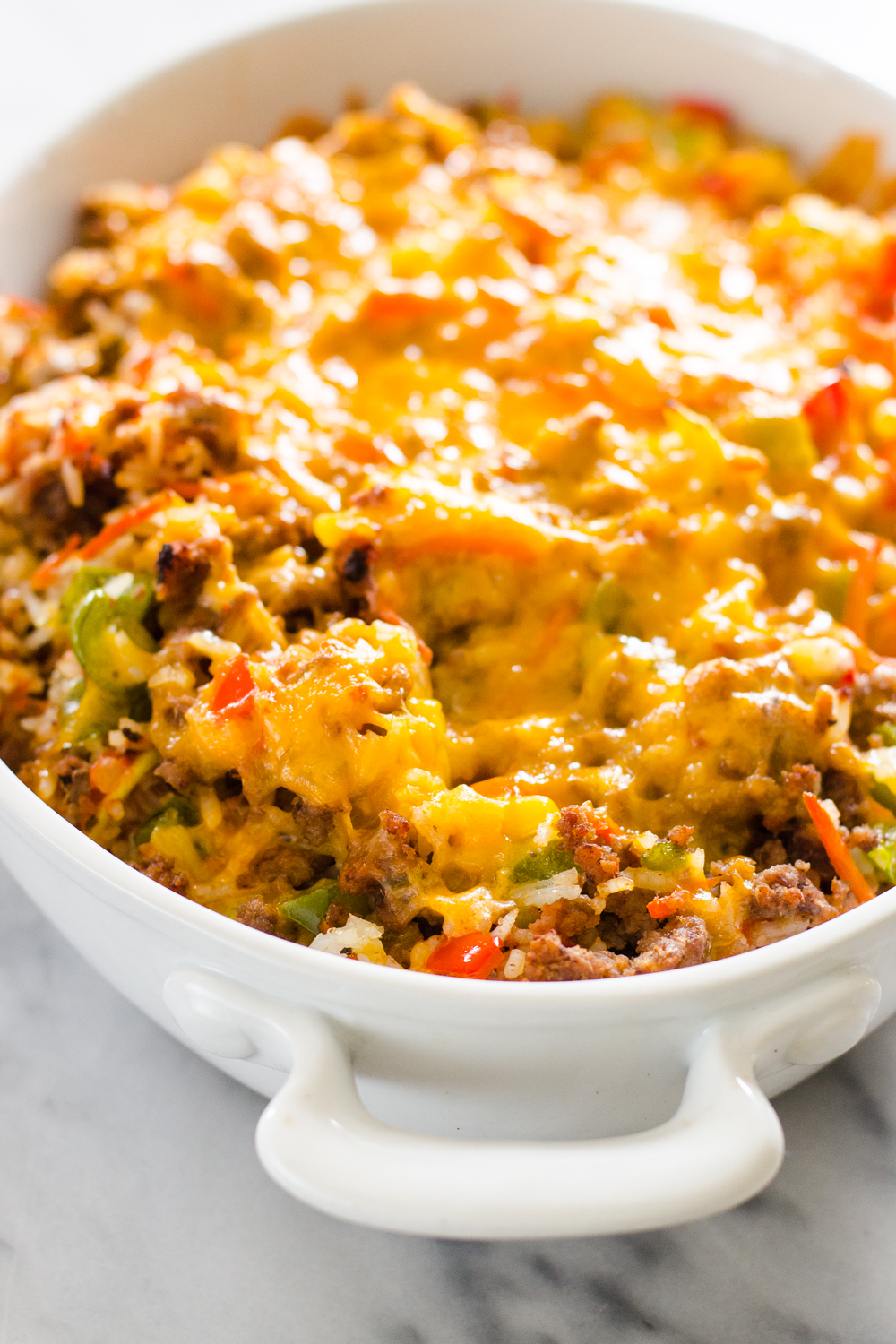 And it was a big hit with Reuben! It's such a satisfying, comforting dish. Perfect for chilly fall/winter nights.
Also, I made a little video for those of you that are more visual:
NOTE: I included carrots, zucchini, and onions to pack in extra veggies. Feel free to use up whatever vegetables you have in the fridge. Keep in mind that milder-tasting veggies won't compete with the other flavors in the casserole.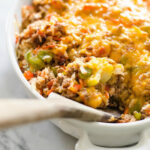 Stuffed Pepper Casserole
A comforting casserole. For those that can't get enough of the Stuffed Pepper filling.
Ingredients
For the rice:
- 3/4 cup organic dry long grain white rice

- 1 1/2 cups water

- 3/4 teaspoon Real Salt
For the casserole:
- 1 pound grass-fed/local ground beef

- 2 tablespoons grass-fed butter

- 1/2 medium onion

finely chopped

- 1 large organic bell pepper

I used half red, half green

- 1/2 organic zucchini

cut in half lengthwise and thinly sliced

- 1 cup organic peeled

shredded carrots

- 1 cup organic salsa

- 2 cups shredded cheddar or Colby cheese

- salt and pepper

to taste
Instructions
For the rice:
Place the rice, water, and salt in a medium saucepan. Bring to a boil over high heat. Cover, turn heat down to low, and cook until tender, about 15 minutes.
For the casserole:
While the rice is cooking, prep the rest of the casserole.

Preheat oven to 350 degrees F (175 C).

In a large skillet set over medium heat, cook and crumble the ground beef until no longer pink. Add salt and pepper to taste. Remove from pan and set aside.

Melt the butter in the now-empty skillet over medium heat. Add the onion and cook 3 minutes. Add the pepper and zucchini and cook 5 minutes. Add the carrots and cook for 5 more minutes, or until everything is tender. Add salt and pepper to taste. Stir in the rice, salsa, and beef.

Transfer the filling to a 13x9-inch pan. Top with shredded cheese.

Bake in preheated oven for 15-20 minutes, or until the cheese is melted.

NOTE: Some links are affiliate. All opinions are my own. If you click on a link and make a purchase, I will make a small commission. This has zero impact on the price you pay, and it helps to keep Buttered Side Up running. Thank you so much!