Print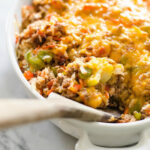 Stuffed Pepper Casserole
A comforting casserole. For those that can't get enough of the Stuffed Pepper filling.
For the casserole:
- 1 pound grass-fed/local ground beef

- 2 tablespoons grass-fed butter

- 1/2 medium onion

finely chopped

- 1 large organic bell pepper

I used half red, half green

- 1/2 organic zucchini

cut in half lengthwise and thinly sliced

- 1 cup organic peeled

shredded carrots

- 1 cup organic salsa

- 2 cups shredded cheddar or Colby cheese

- salt and pepper

to taste
For the rice:
Place the rice, water, and salt in a medium saucepan. Bring to a boil over high heat. Cover, turn heat down to low, and cook until tender, about 15 minutes.
For the casserole:
While the rice is cooking, prep the rest of the casserole.

Preheat oven to 350 degrees F (175 C).

In a large skillet set over medium heat, cook and crumble the ground beef until no longer pink. Add salt and pepper to taste. Remove from pan and set aside.

Melt the butter in the now-empty skillet over medium heat. Add the onion and cook 3 minutes. Add the pepper and zucchini and cook 5 minutes. Add the carrots and cook for 5 more minutes, or until everything is tender. Add salt and pepper to taste. Stir in the rice, salsa, and beef.

Transfer the filling to a 13x9-inch pan. Top with shredded cheese.

Bake in preheated oven for 15-20 minutes, or until the cheese is melted.