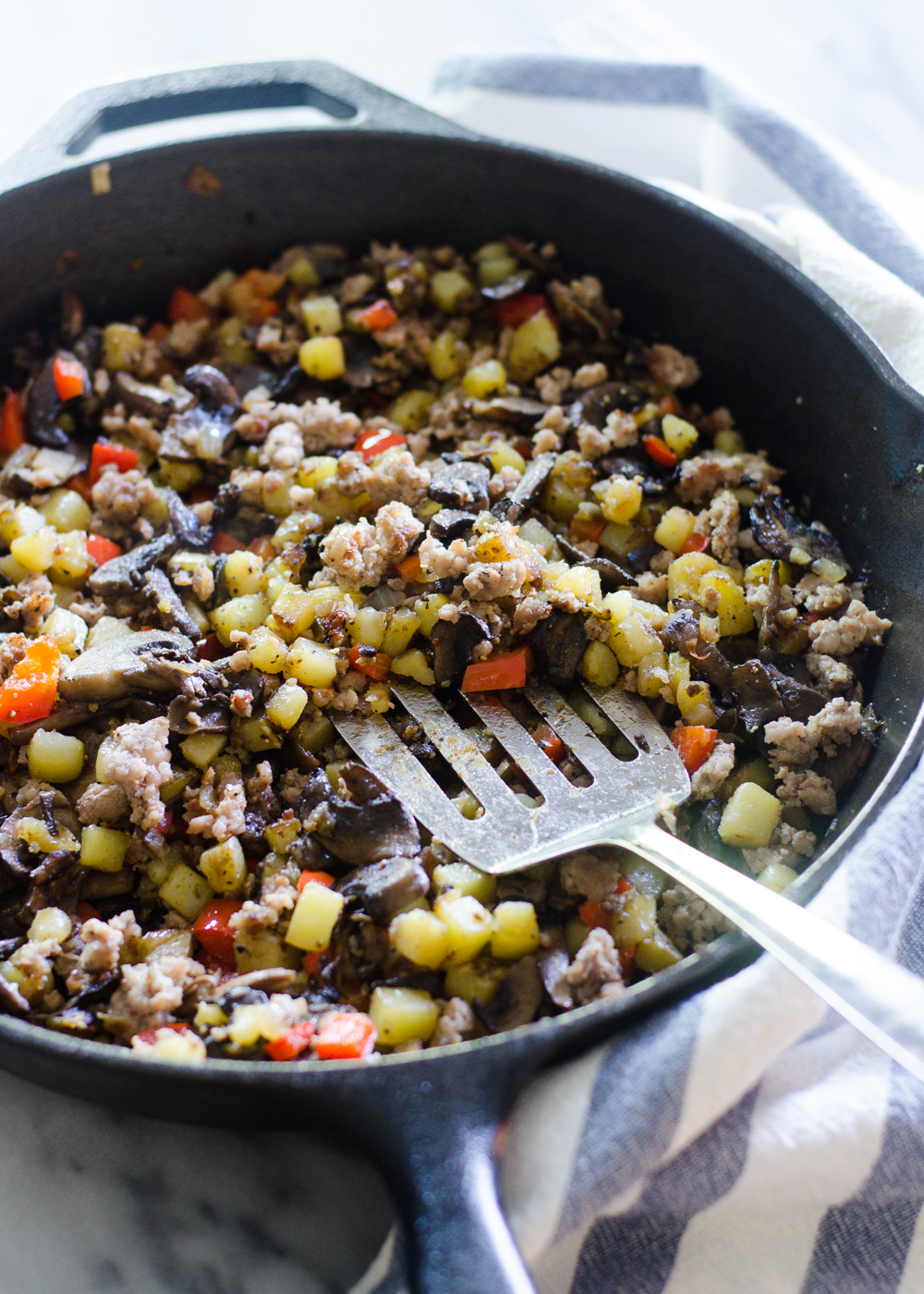 Can I let you in on a little secret? I rarely eat this hash for breakfast (unless there happens to be leftovers). When I wake up from a night of nursing James, I'm STARVING. And I have about 5 spare minutes to make myself and Helen breakfast before the little man gets fussy.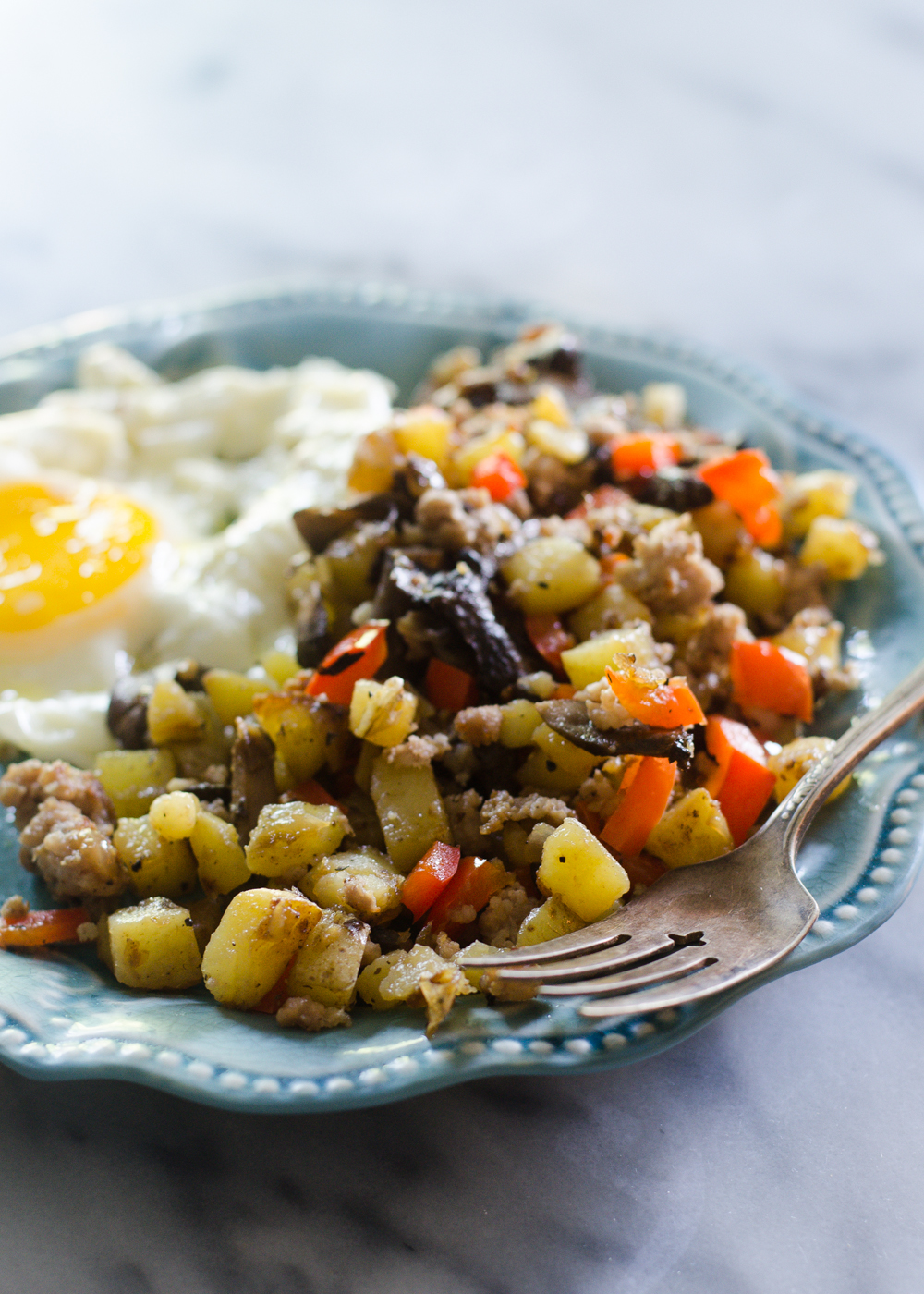 So I make this delicious hash for supper instead!
I love all the flavors that it has going on: carby potatoes, sagey sausage, fresh peppers, and savory mushrooms.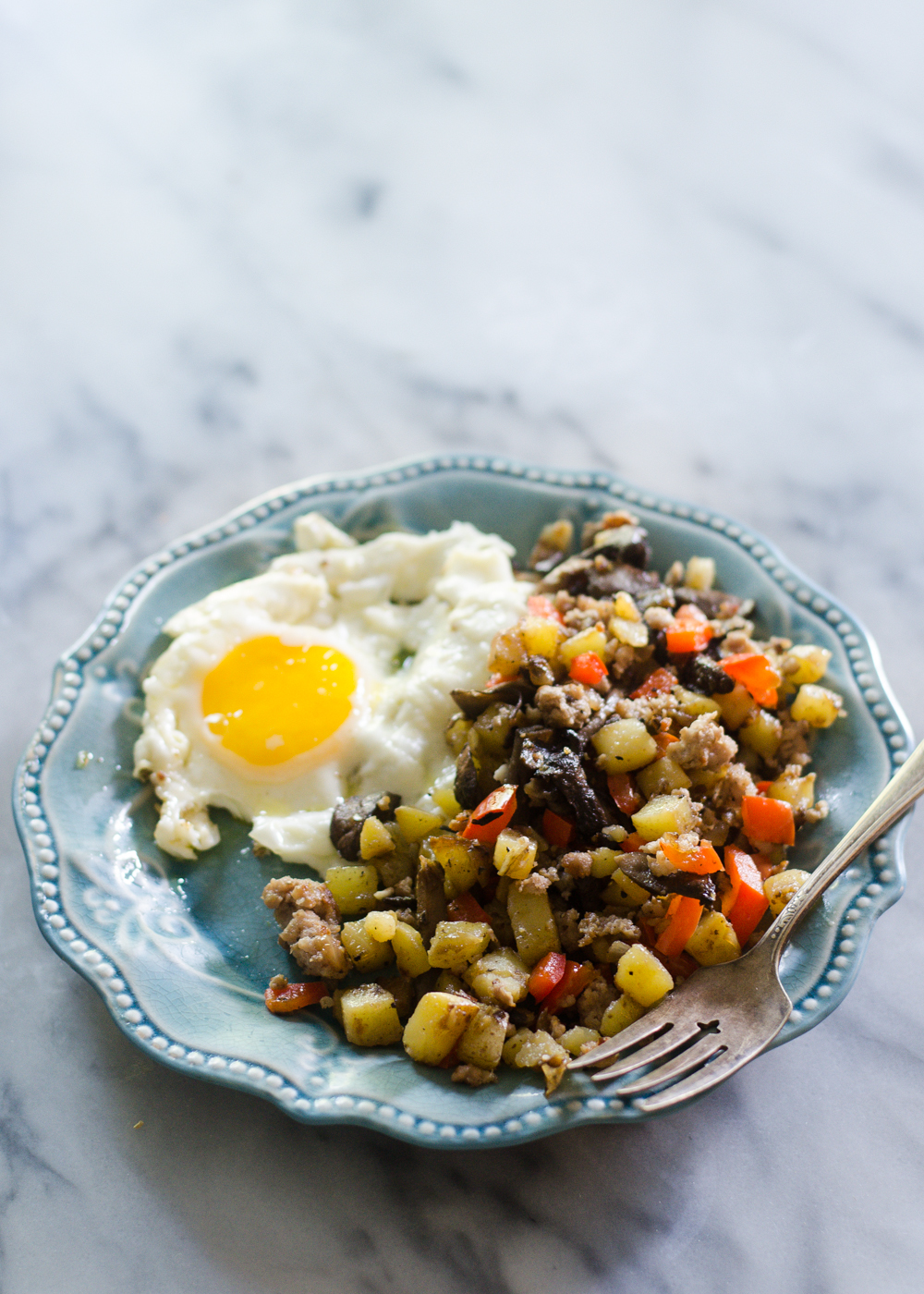 Of course I eat it with a few tablespoons of butter. Because: butter takes a good thing and makes it sublime. Yessir.
Oh, and as you can see, I'm still perfecting my sunny-side-up game. Any tips would be much appreciated!
Don't forget, if you make this or any of my recipes, snap a picture and share it on Instagram or Twitter with the hashtag #butteredsideuprecipe
Notes:
Sometimes I add spinach to the mix as well. I didn't have any on hand, so it was left out.
If you have another favorite ingredient that you like in your hash, by all means throw it in!
Sausage Breakfast Hash
recipe by Erica Kastner | Serves 3-4 | 40 mins | PRINT
Ingredients:
1/2 pound pork breakfast sausage (I used homemade)
2 tablespoons butter or ghee,
2 medium potatoes (I used Yukon Gold), diced small,
1/3 medium onion, diced small,
8 ounces portobello mushrooms, sliced,
1/2 large red bell pepper, diced small
salt and pepper, to taste
Directions:
In a medium skillet, brown the sausage until no longer pink. Set aside.
Preheat a large cast iron skillet over medium heat. Add the potatoes and cook for 3 minutes. Add the onion, season with salt and pepper, and cook until the potatoes and onions are al dente, about 10 minutes. Add the mushrooms and cook for 5 minutes. Add the peppers and cook until everything is tender, about 10 minutes.
Stir in the breakfast sausage. Season to taste with salt and pepper.
Serve immediately with lots of butter. Store any leftovers in the refrigerator.