These sourdough pancakes are made with an overnight batter and a secret ingredient!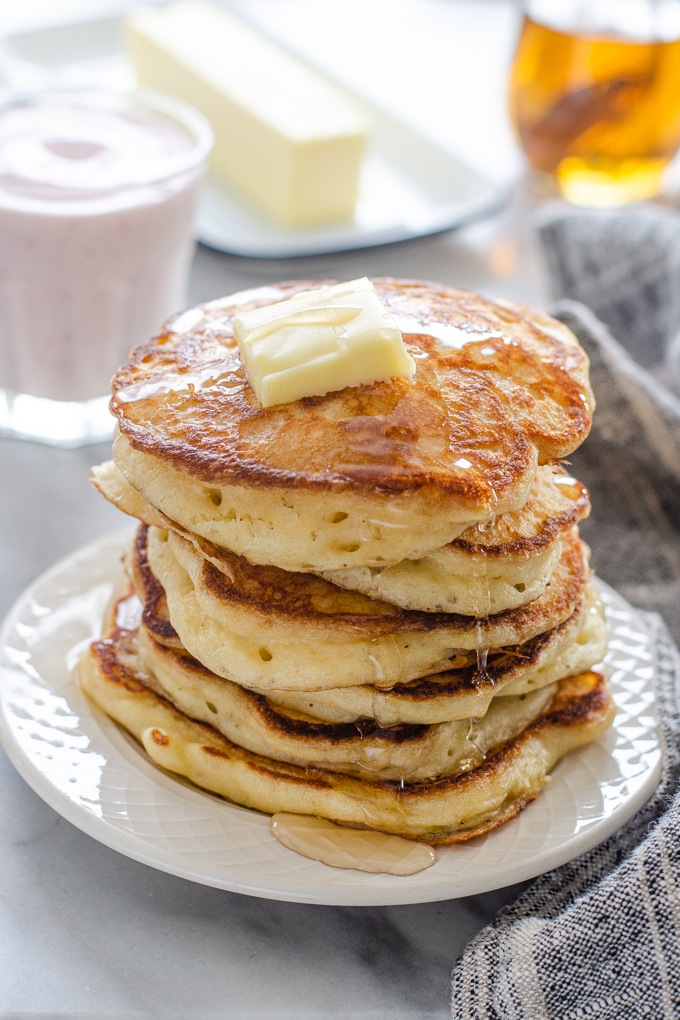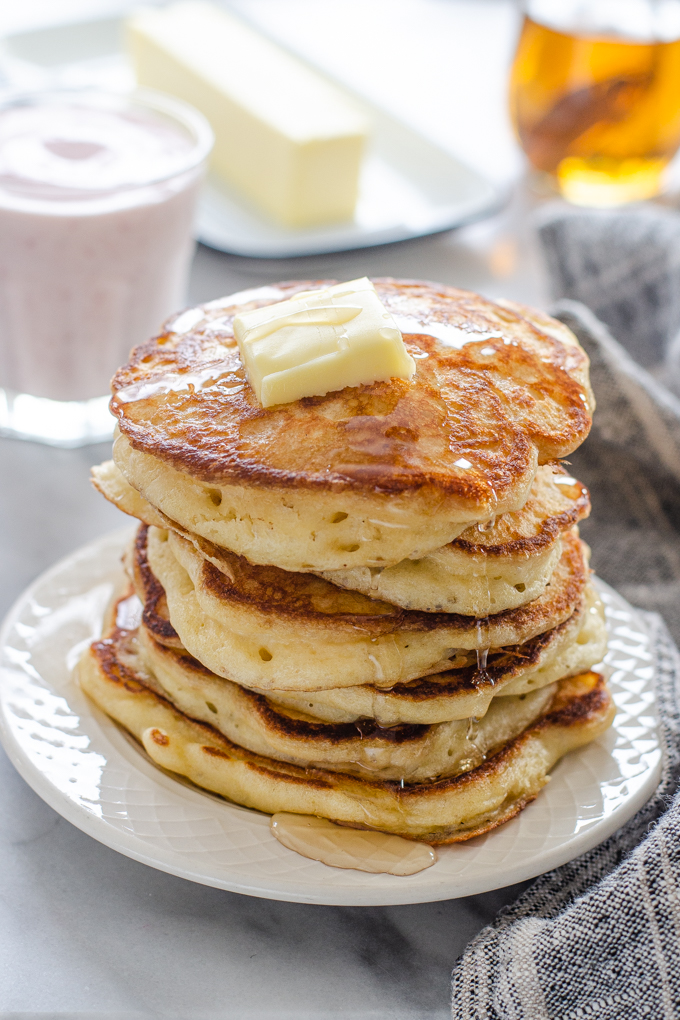 I'm usually hesitant to call one of my recipes "the best." In fact, in the 7 years I've shared recipes on Buttered Side Up, I've only given 3 recipes that title.
It just feels pretentious when I haven't tried all the recipes out there. There MIGHT be one that's slightly better than mine! How do I know?!
But I feel confident in calling these THE BEST pancakes I've ever made. They're light and fluffy and have a wonderful tang from the sourdough and a secret ingredient I'll reveal shortly.
Plus these sourdough pancakes are fermented overnight. That way you can mix up the batter the night before, add a few more ingredients in the morning, and voila! You've got yourself some awesome pancakes.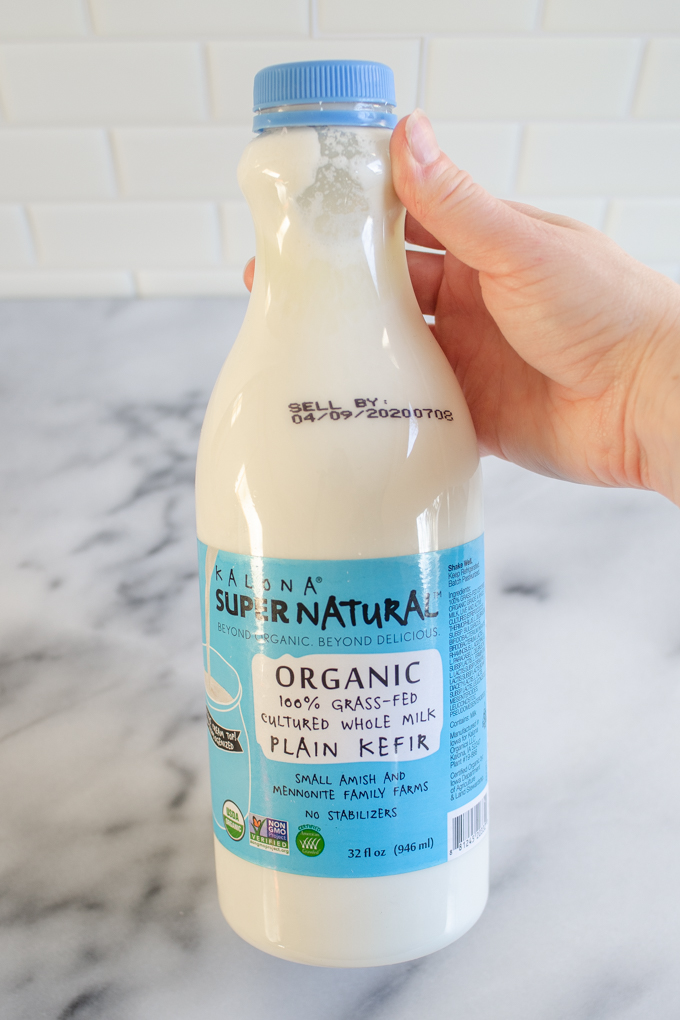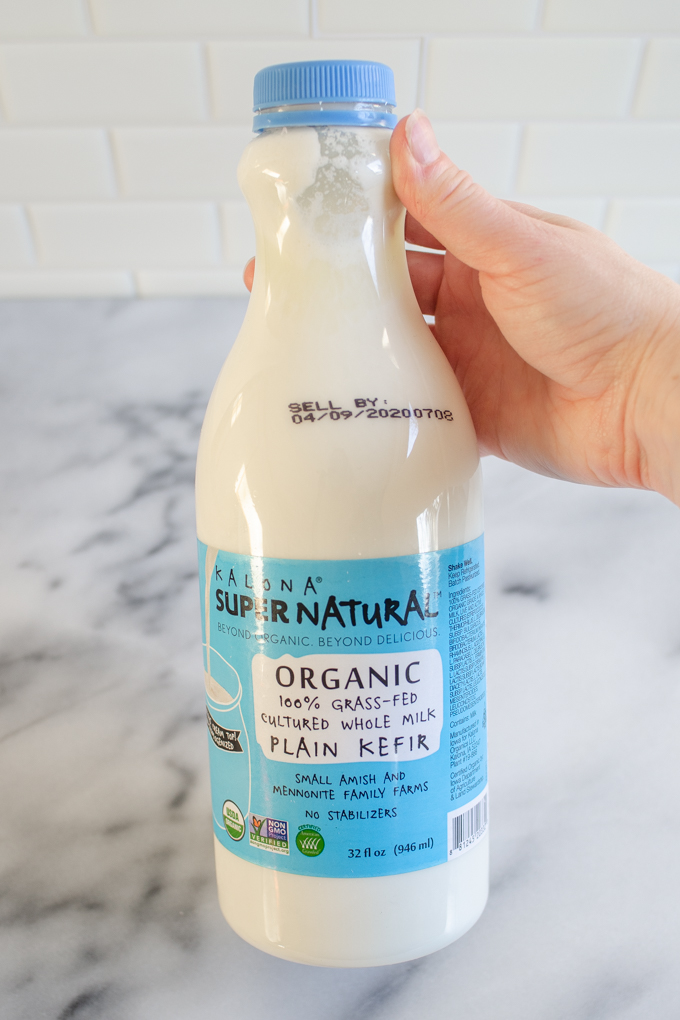 Okay, okay, you're wondering what that secret ingredient is…it's Kefir! I've been making pancakes with it since I was a teenager. I don't know exactly what it is about kefir, but it makes phenomenal pancakes.
And you know me: I'm a big fan of Kalona SuperNatural kefir. I love that it's 100% grass-fed, certified organic, batch pasteurized to just 145° F, and non-homogenized. We all love it, including Anya. I don't have a proper sippy cup for her ATM (my other kids wrecked the ones I have), so I feed it to her with a spoon. ?
Fun fact: Kalona SuperNatural kefir is made the traditional way with actual kefir grains!
Now let's makes some sourdough kefir pancakes!
Ingredients: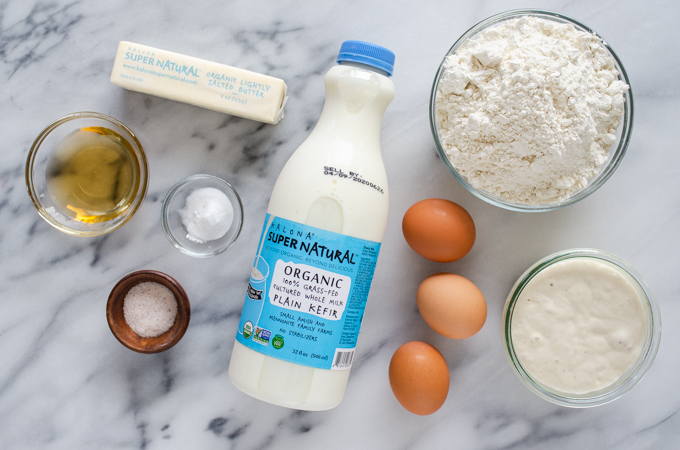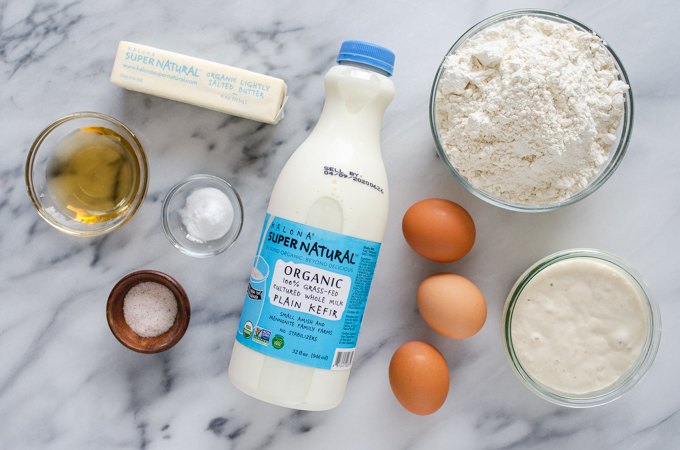 Here's everything you need: flour, sourdough starter, eggs, kefir, salt, baking soda, maple syrup, and butter.
How to Make Sourdough Pancakes: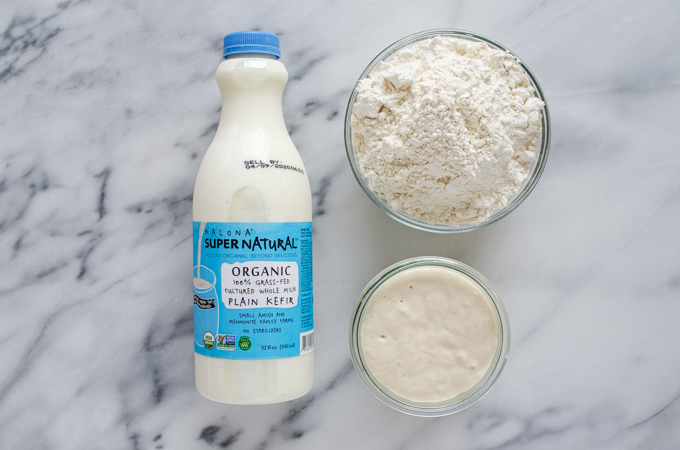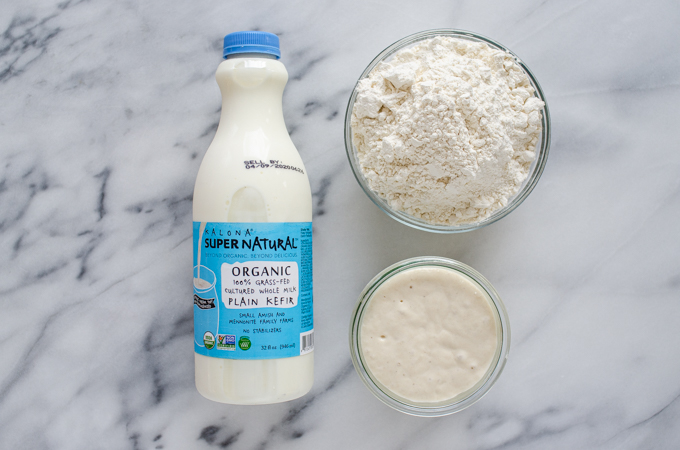 First, you'll need to make the overnight batter. Stir together the flour, sourdough starter, and kefir. Let the batter ferment at room temperature overnight.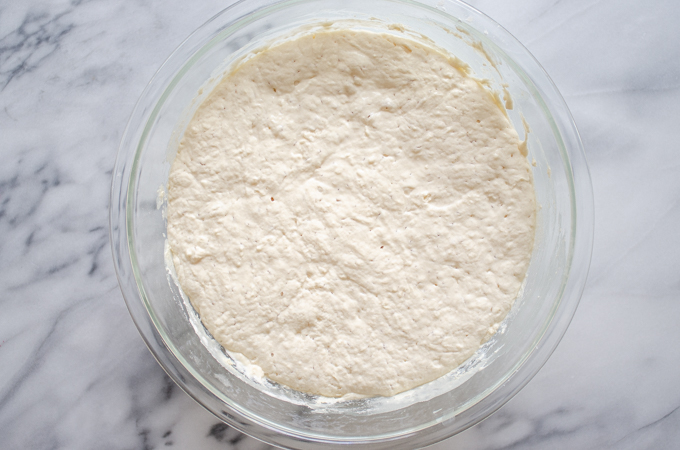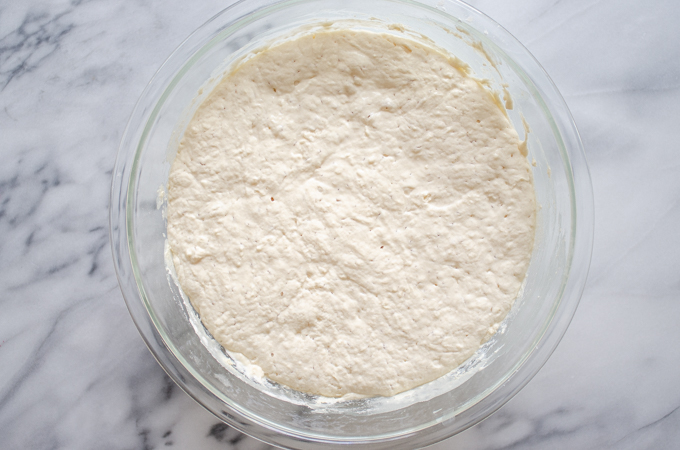 The next morning, it should have doubled and become quite bubbly.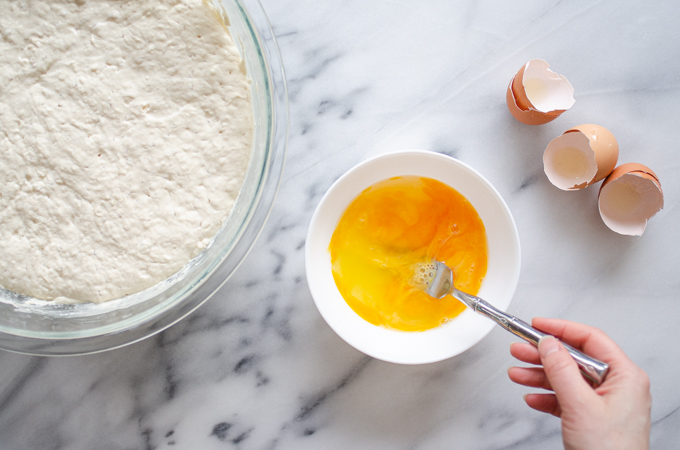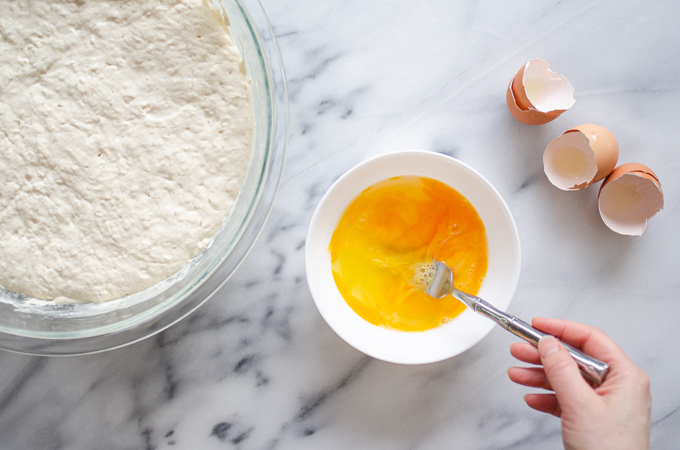 Now it's time to add the rest of the ingredients. Lightly whisk three eggs…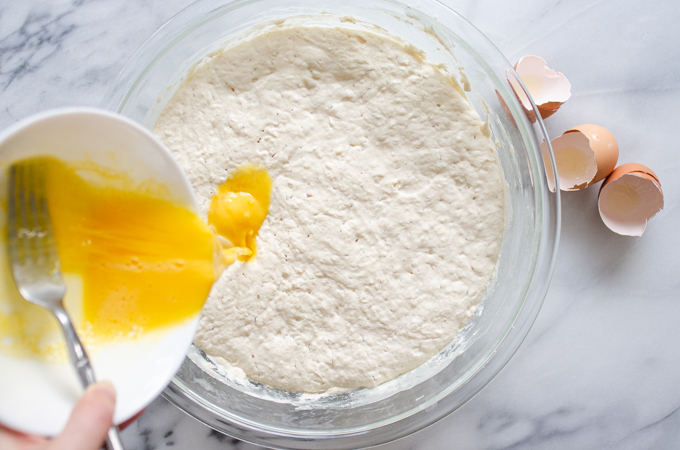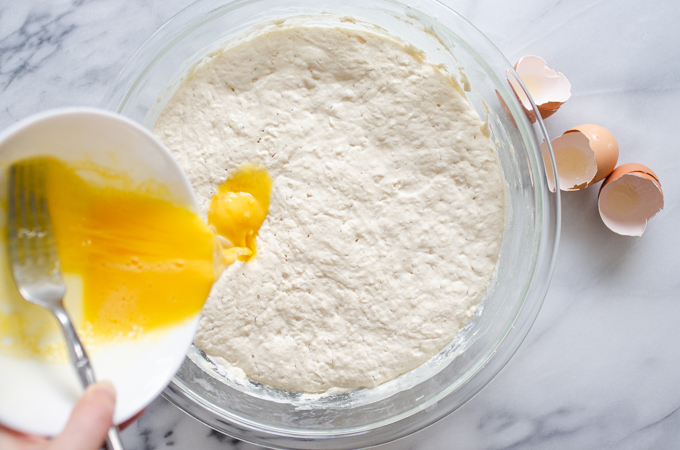 …and pour them over the batter.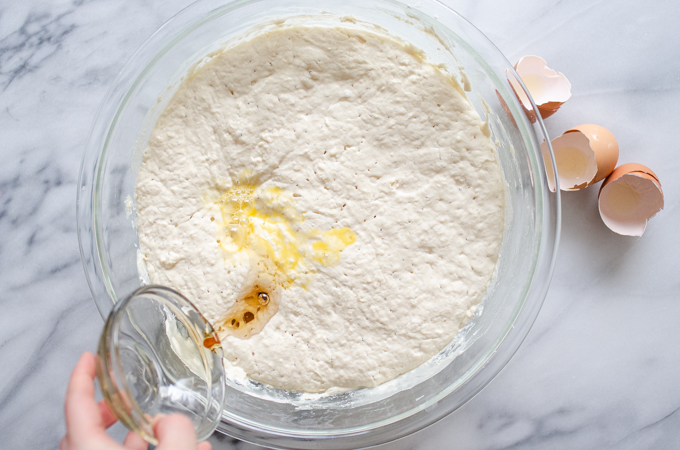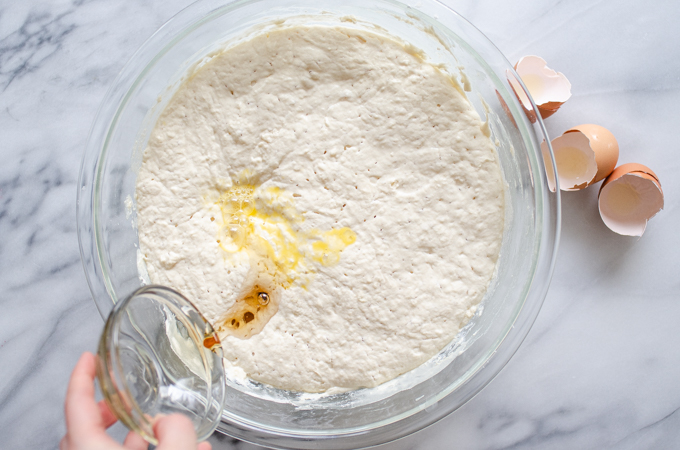 Add the maple syrup…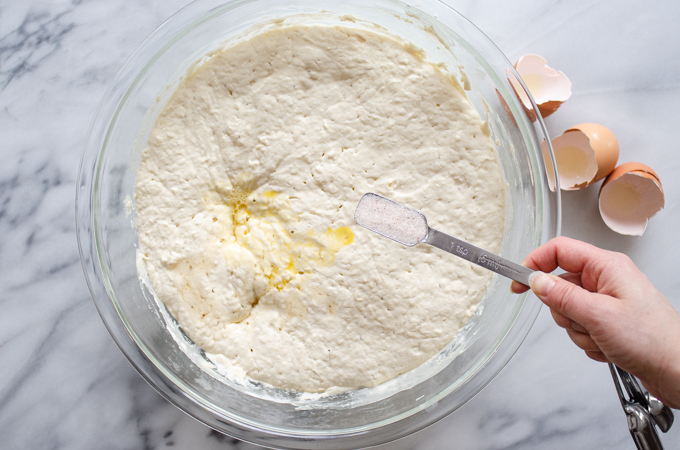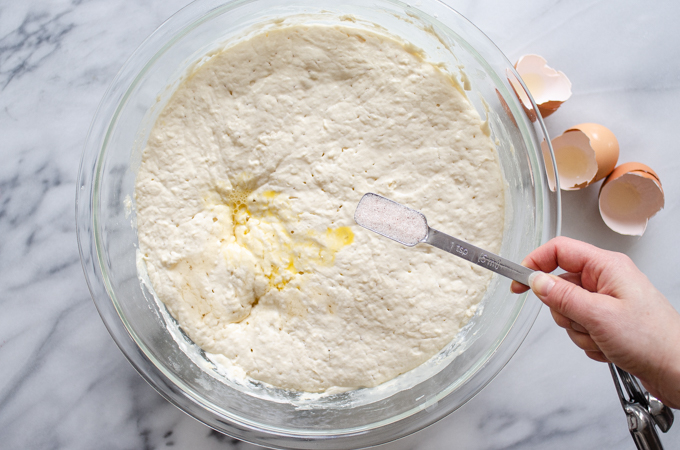 …then the salt.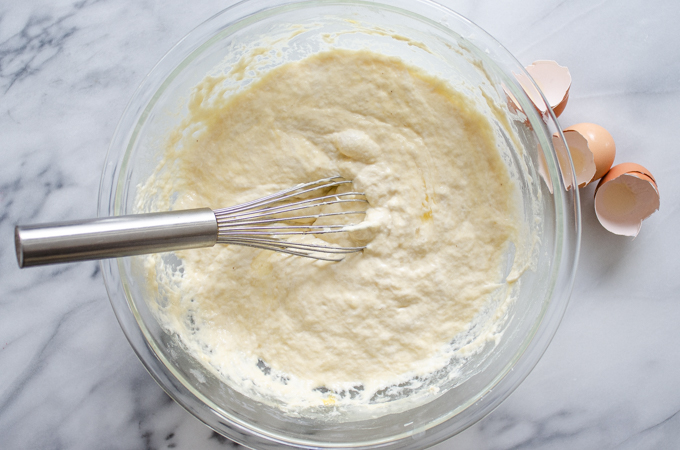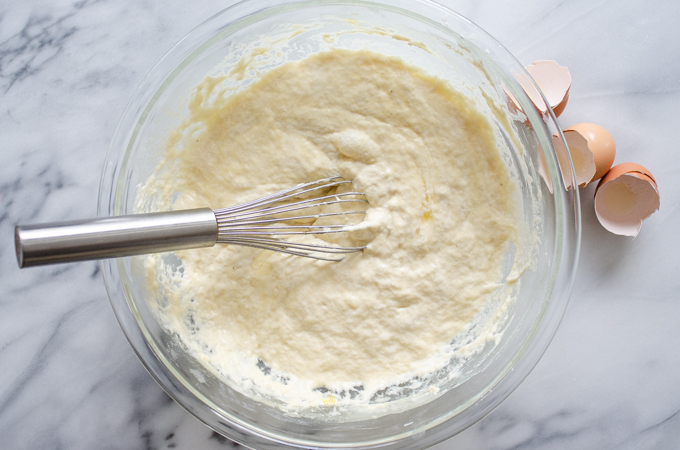 Whisk them in.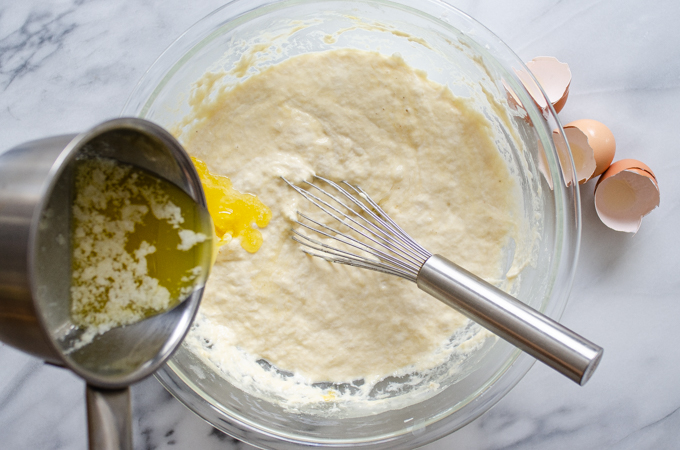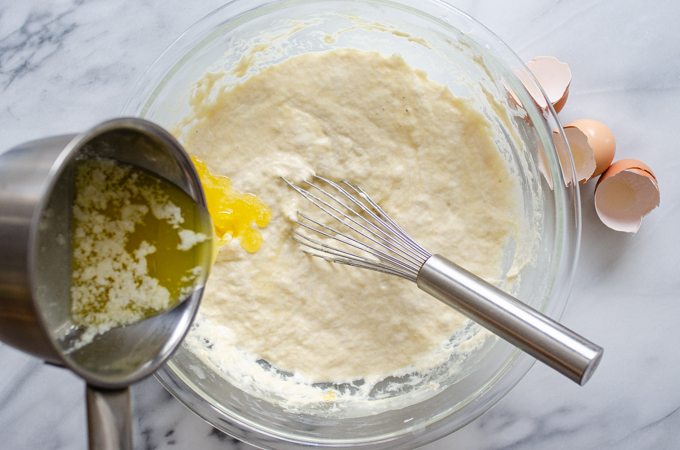 Pour in the butter and whisk again.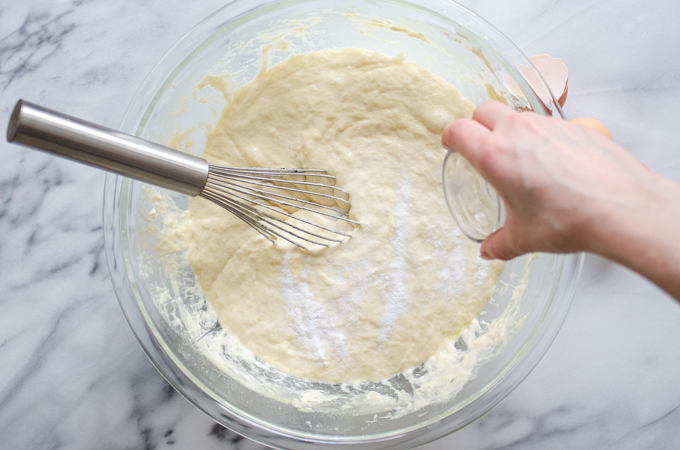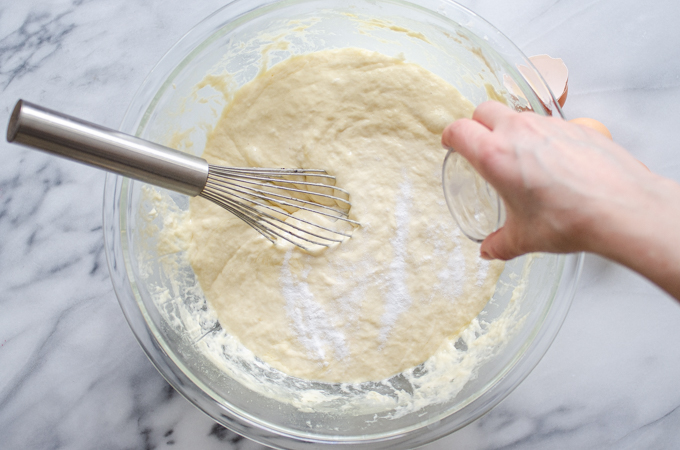 Sprinkle the baking soda over the batter. Give it one final whisk.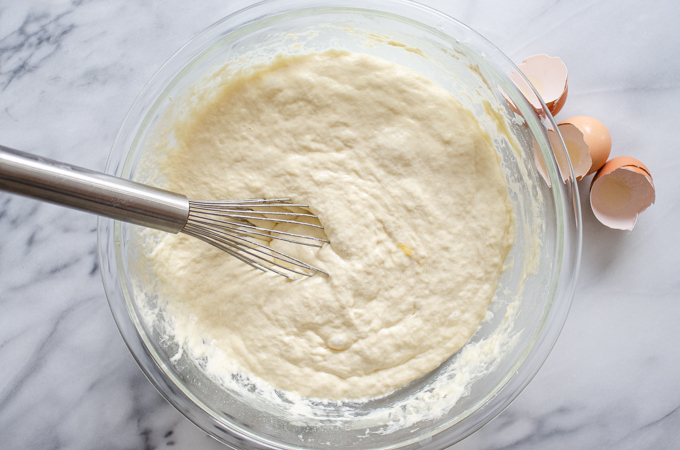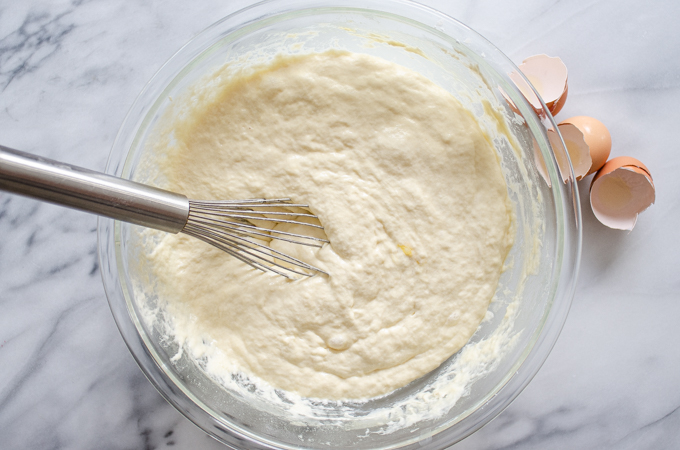 The batter will puff up once you whisk in the baking soda.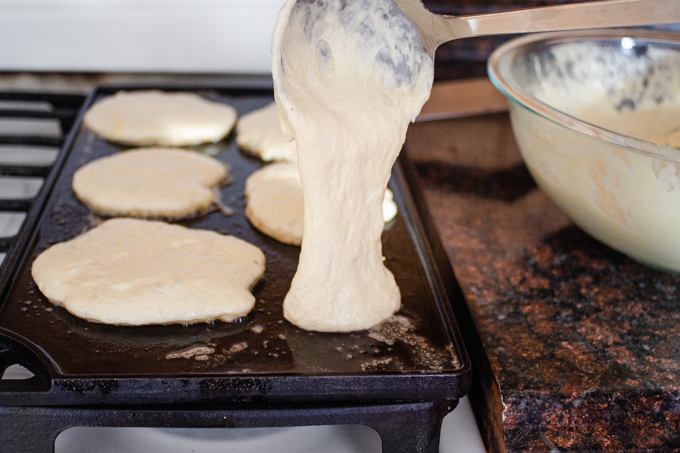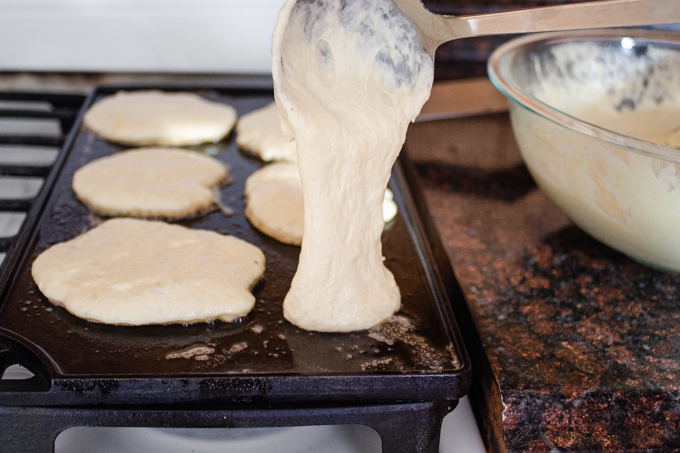 At this point you're going to think, "Erica's crazy. This batter is way too thick for pancakes." That's what I thought when I made the first batch of these sourdough pancakes (besides referring to myself in the third person). But even though the batter is quite thick, these pancakes are light and fluffy.
The key is to make sure that you let your batter ferment long enough. I tried fudging and using an under-risen batter, and the pancakes weren't quite as dreamy.
If your kitchen is chilly, it will probably take a good 10-12 hours for the batter to ferment properly. So if you're planning on eating the pancakes at 8:00 in the morning, mix together the batter at 8:00 in the evening.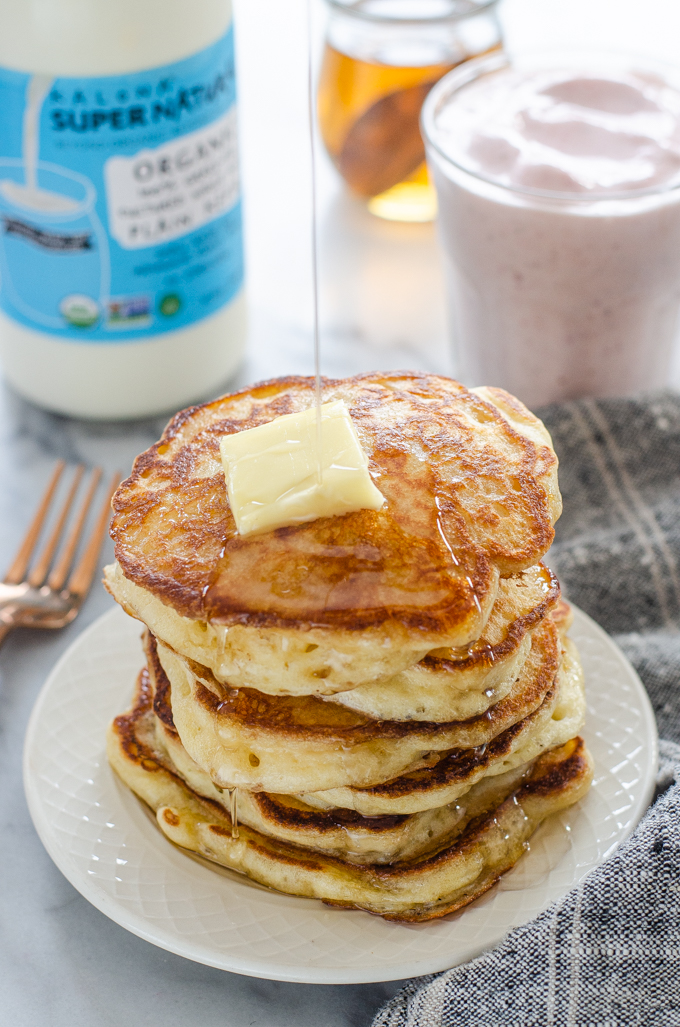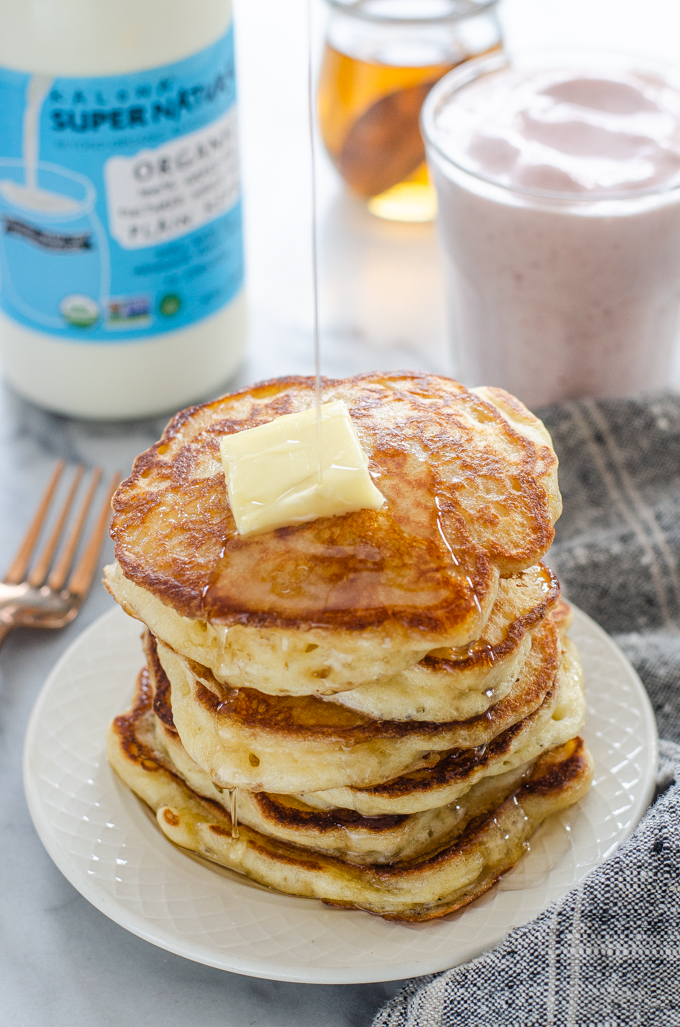 Serve with lots of butter and a drizzle of maple syrup.
You can also serve these pancakes with a glass of cold kefir (we like it plain!) or a kefir smoothie for an extra boost of protein and fat and some good probiotics.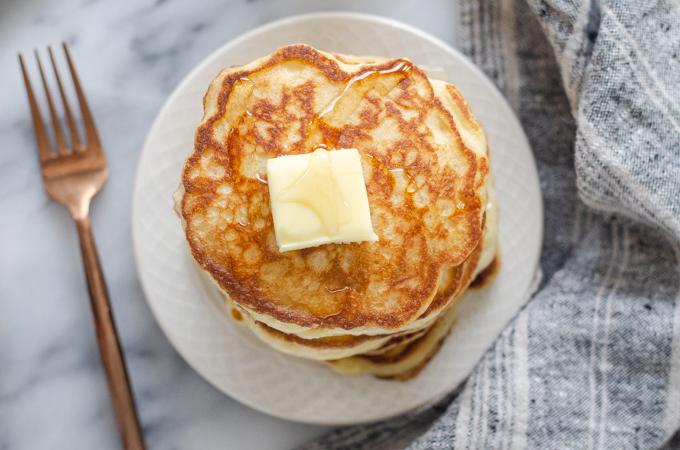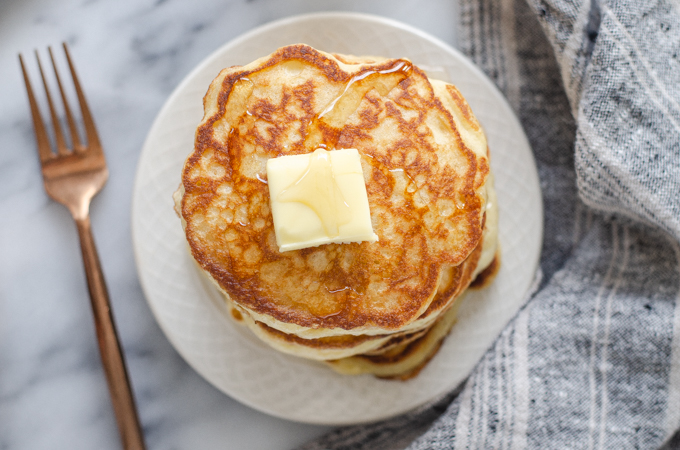 NOTES:
Of course you could mix your batter up in the morning and let it ferment all day to have them as breakfast-for-supper.
If the batter seems way too thick, you can go ahead and thin it out with some extra kefir.
I like to fry these pancakes in butter, which results in crispy, delicious edges. Add a new pat of butter with each batch you fry. You could also fry them in ghee or avocado oil.
Feel free to experiment with adding blueberries (wild blueberries would be best), or serving these sourdough pancakes with fresh berries and whipped cream.
More Sourdough Recipes: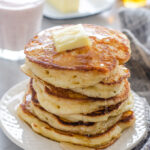 Sourdough Pancakes
These sourdough pancakes are made with an overnight batter and kefir!
Total Time
8
hours
45
minutes
Ingredients
1

cup

active sourdough starter

(240 grams)

2 1/4

cups

organic all-purpose flour

(323 grams)

2

cups

Kalona SuperNatural plain kefir

(500 grams)

6

tbsp

Kalona SuperNatural lightly salted butter, melted

(84 grams)

3

large eggs,

lightly beaten

3

tbsp

pure maple syrup

(41 grams)

1

tsp

unrefined sea salt

1

tsp

baking soda

extra butter for frying
Instructions
The Night Before:
In a large mixing bowl, whisk together sourdough starter, flour, and kefir. Cover and allow to ferment overnight, or about 8-12 hours (see note).
The Next Morning:
Whisk in the butter, eggs, maple syrup, and salt. Sprinkle the baking soda on top of the batter and whisk just to combine well. The batter will be quite thick, but you can thin it out with extra kefir if needed.

Preheat a cast iron skillet or griddle over medium heat. Add a good amount of butter. Ladle the batter onto the hot skillet. Cook for about 2 minutes, or until the bottoms are nicely browned and the pancakes are bubbling in the center. Flip and cook for an additional 2 minutes, or until nicely browned on the bottom as well.

Repeat with remaining batter, adding more butter with each batch.

Serve hot with lots of butter and a drizzle of maple syrup.
Recipe Notes
An active sourdough starter is one that has been fed about 8-12 hours previously, and is bubbly and passes the float test.
You want to make sure that the overnight batter is properly fermented, otherwise the pancakes won't be as fluffy. If your kitchen is chilly, this could take 10-12 hours. So if you want to eat your pancakes at 8:00 in the morning, mix up the overnight batter at 8:00 the night before.
You can reheat the pancakes in a toaster.