This simple strawberry syrup recipe is perfect for adding to your favorite drinks to get that sweet strawberry flavor, or drizzling over pancakes and waffles!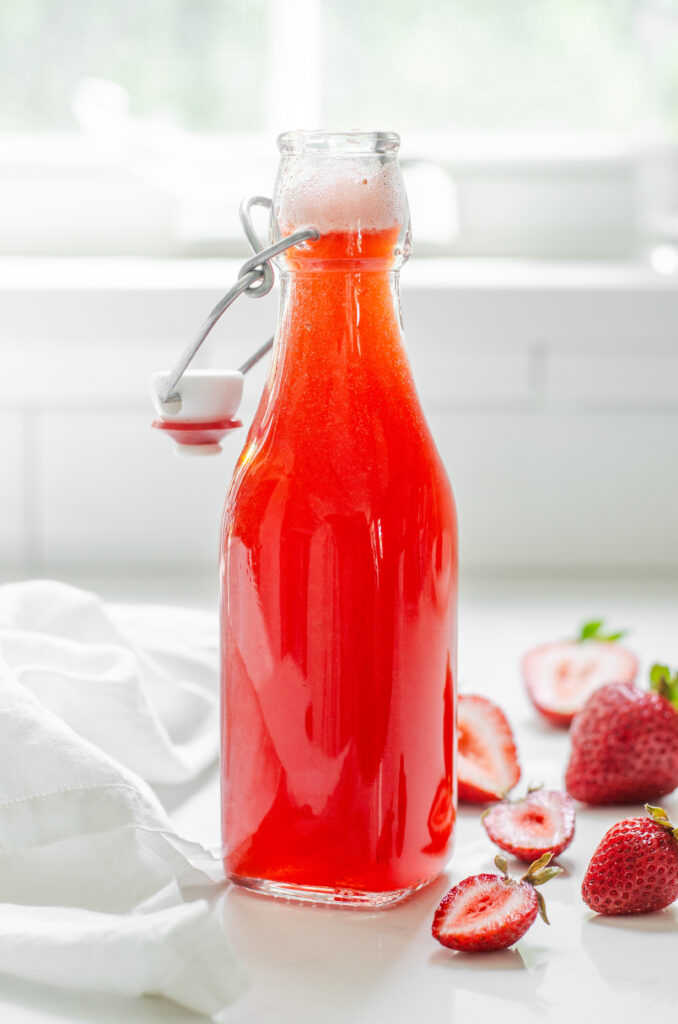 Are you looking to take your homemade drinks to the next level? Forget about store-bought syrups and give this simple strawberry syrup a try!
Not only is it a more natural and cheaper alternative, but it's also surprisingly simple to make.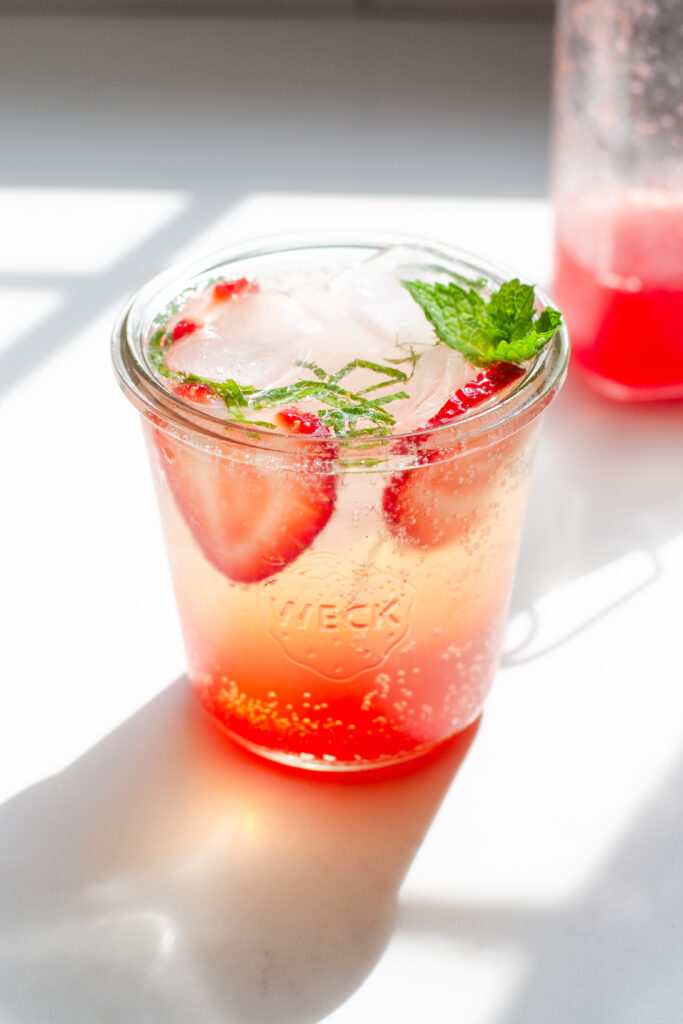 In this post I'll show you how to create your own strawberry syrup that's perfect for cocktails, sodas, iced lattes, mocktails, etc. I'll also provide you with some ideas on how to use it to jazz up your drinks!
This easy recipe only requires a few basic ingredients and techniques.
Okay, let's get started!
Here's a video tutorial in case you learn better that way. The written tutorial and recipe are below!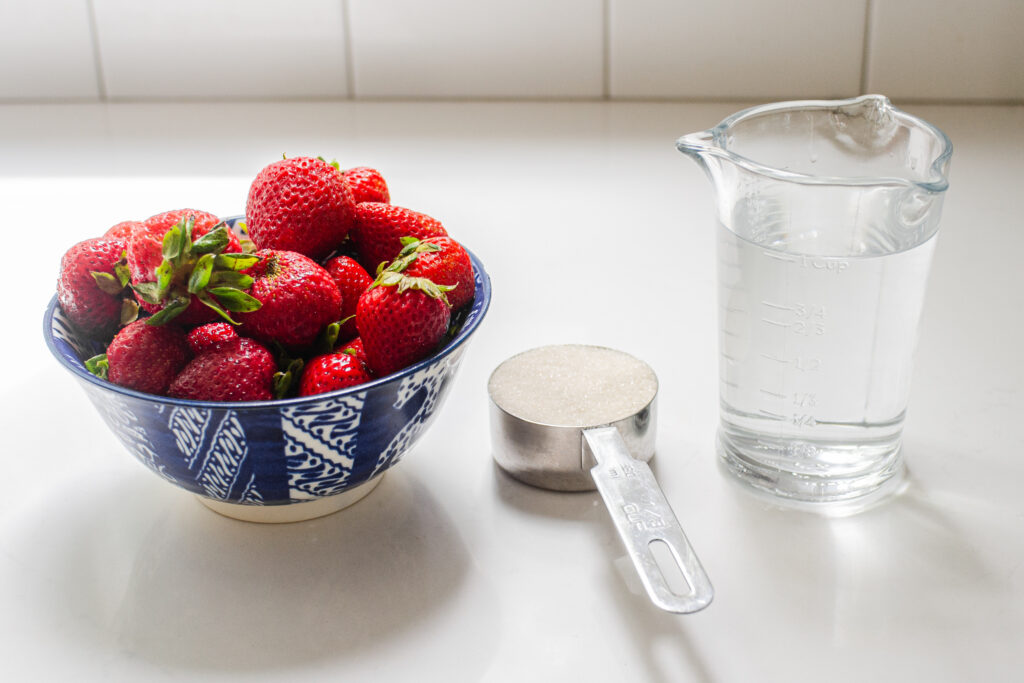 Note: some links are affiliate. All opinions are 100% my own, of course! If you click a link and make a purchase, I will earn a small commission. This has zero impact on the price you pay, and it helps Buttered Side Up out! Thank you!
Ingredients:
You only need a few (3, to be exact!) simple ingredients to make this in your own kitchen:
2 cups Strawberries: You can either use fresh strawberries or frozen strawberries. This would be a great recipe to make during the peak of strawberry season (make sure to freeze any extra sun-ripened strawberries for later!), but it can also be made in the winter since you can use frozen strawberries. Fresh fruit will cook up quicker than frozen, of course!
1 Cup of Water: You'll need the water to help the strawberries cook. Please use filtered water.
1/3 to 2/3 Cup Sugar: You can use the lower amount of sugar if you prefer a more tart syrup flavor. The higher amount of sugar will preserve the syrup longer, and it will also be a thicker syrup. I like to use 1/2 cup. If you opt for granulated sugar (AKA white sugar) or organic cane sugar, the syrup with have a more vibrant red color. But you can also use sucanat, brown sugar, maple syrup, coconut sugar, etc. Keep in mind that those sweeteners will impart a slight flavor to the syrup.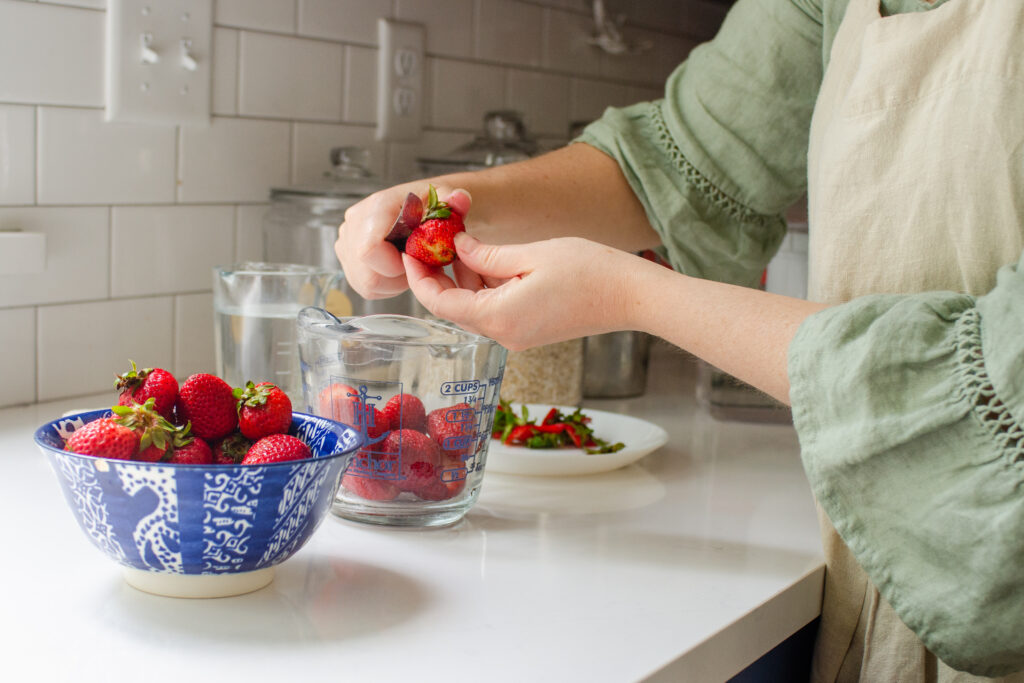 How to Make the Strawberry Syrup:
Okay, let's quickly go over the simple steps to make this strawberry syrup:
Obviously you'll want to begin by washing your fresh berries and removing the green tops. You can skip this step of course if you use frozen strawberries.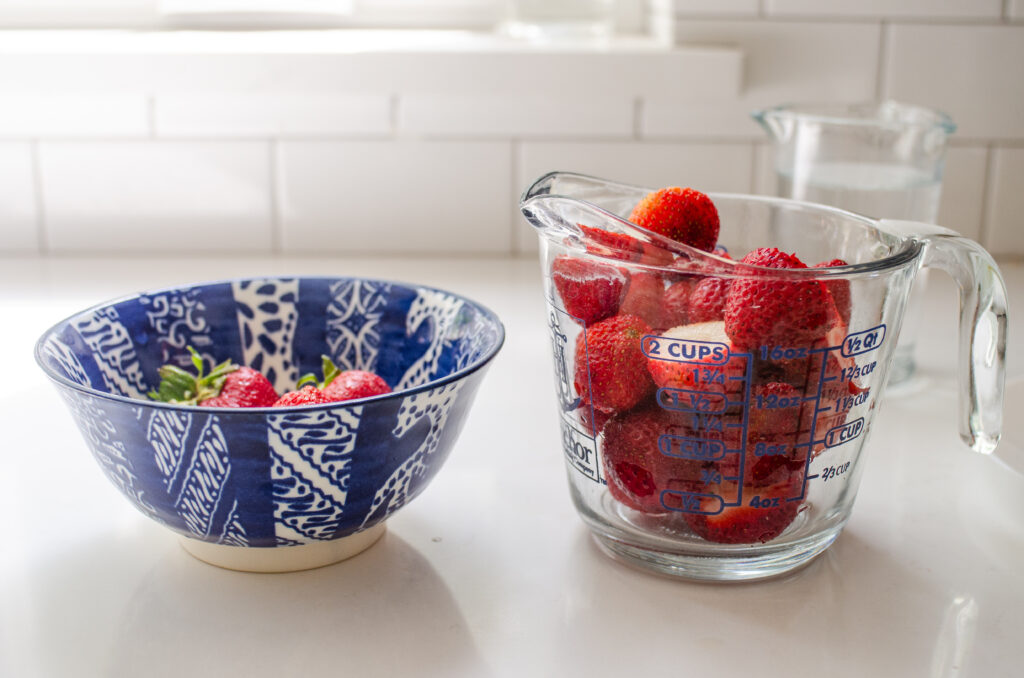 You want 2 generous cups of the cleaned and de-stemmed strawberries.
I like to use a liquid 2-cup measuring cup for this.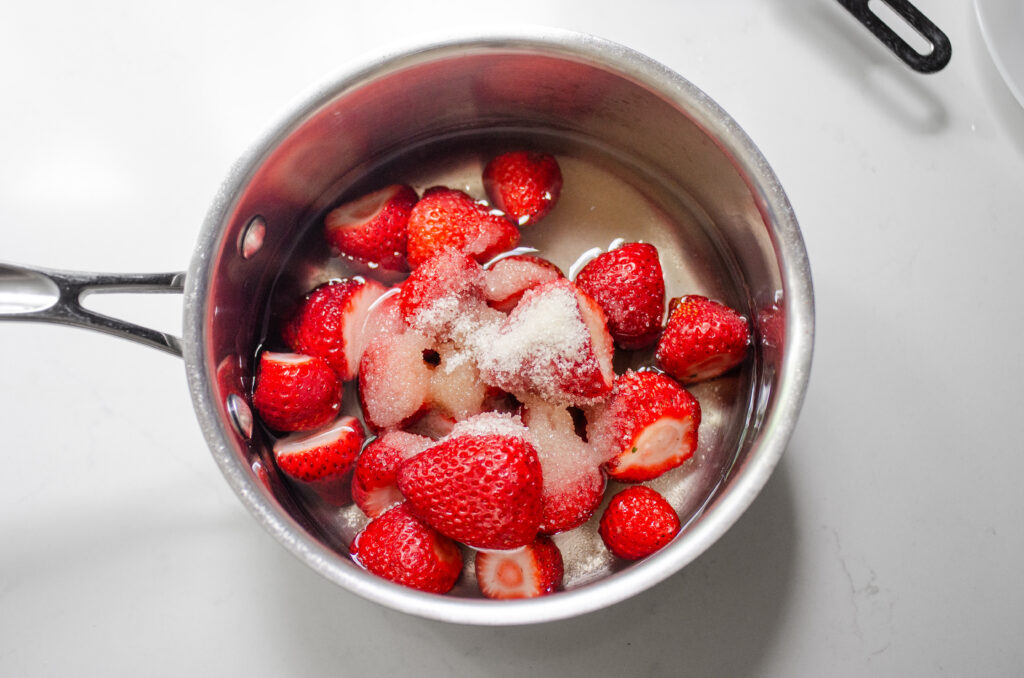 Place the strawberries, water, and sugar in a small saucepan.
I use this 1.5 quart saucepan from Cuisinart (available on Amazon), and it's just about perfect.
I've also use a medium saucepan (3 quart), and it works just fine.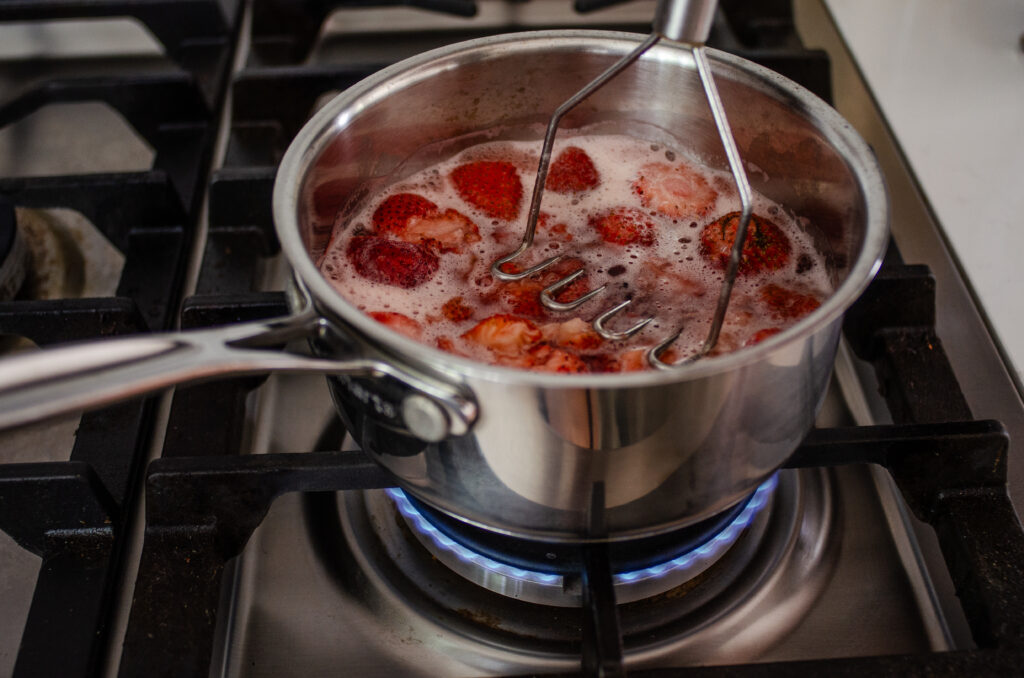 Cooking the Syrup:
Place the pan on the stove over medium-high heat and bring the mixture to a boil.
Turn the heat down so that you maintain a simmer. Stir occasionally to ensure the sugar dissolves and nothing gets burned.
My top tip is to mash the strawberries with a potato masher after they begin to soften. I like this mini masher (available on Amazon).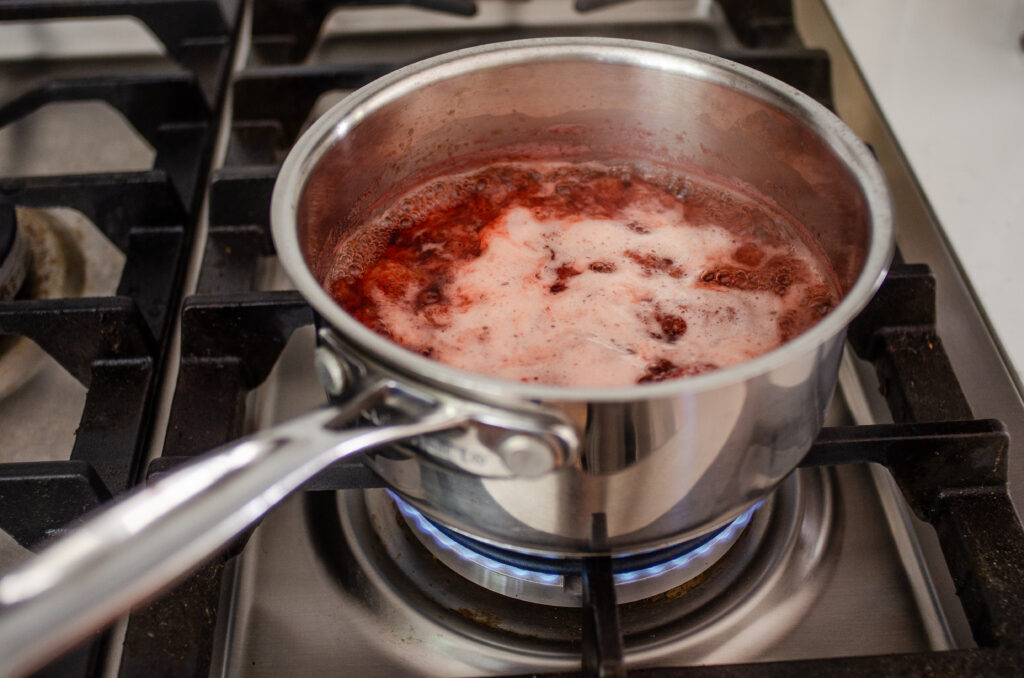 Simmer for a total of 15 minutes.
The mixture should have turned a lovely red color, and thickened somewhat.
If you feel like there's still a lot of excess water, you can simmer for a few more minutes to reduce it further.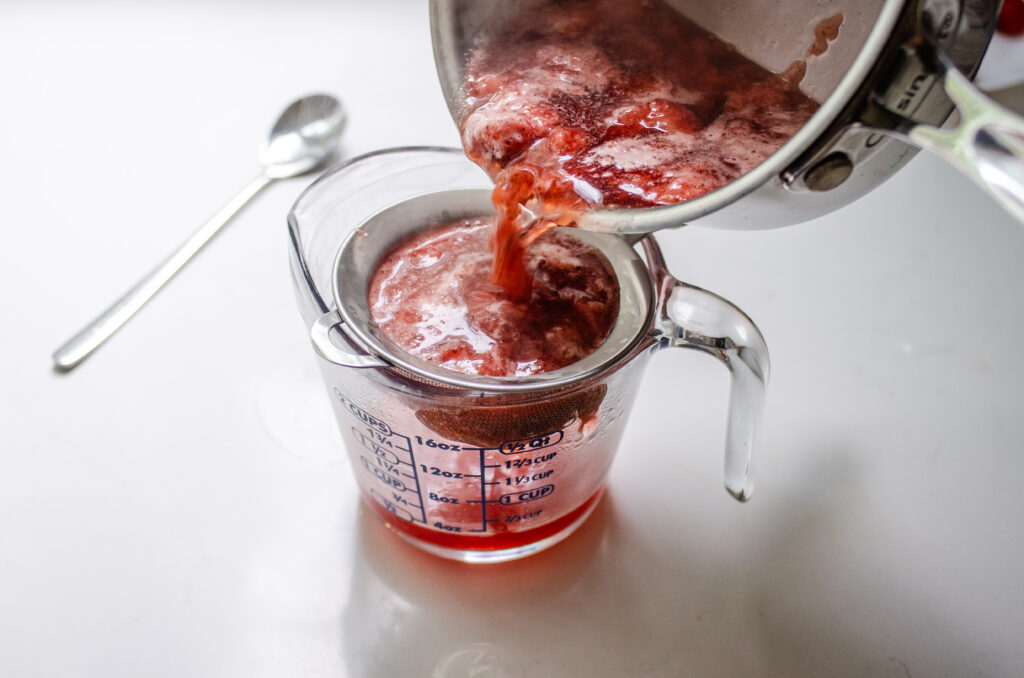 Place a fine mesh strainer over a heat proof container. I used a measuring cup since it's easier to pour out of later.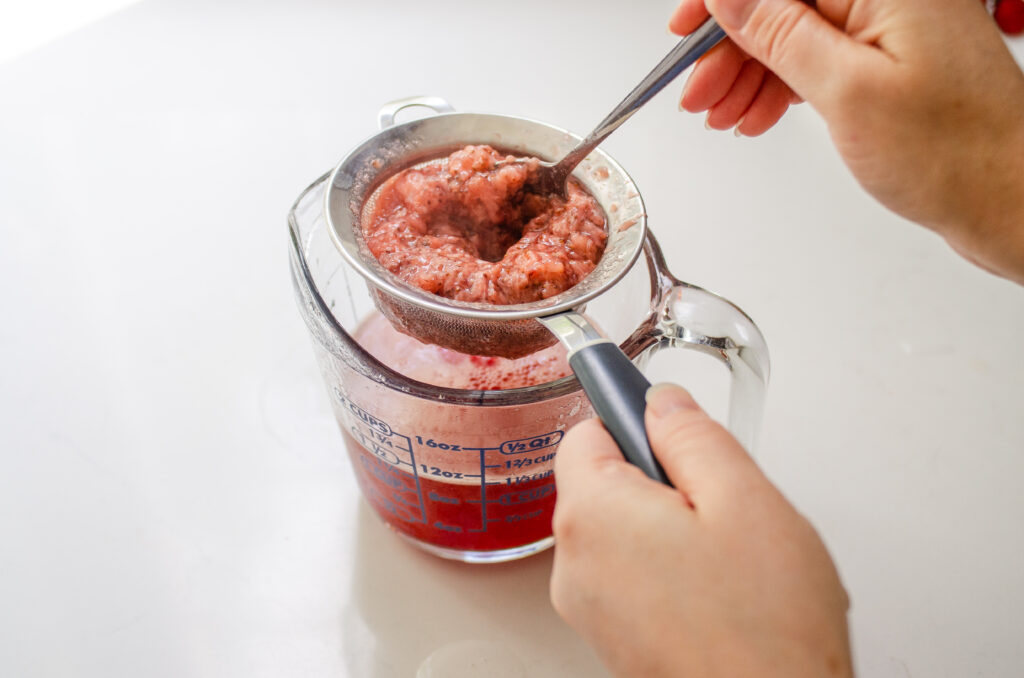 Make sure to stir/press the strawberries to extract more flavor!
The final syrup will have more "particles" in it if you press the strawberries through the fine mesh sieve.
You can either save the fruit pulp for smoothies, or discard.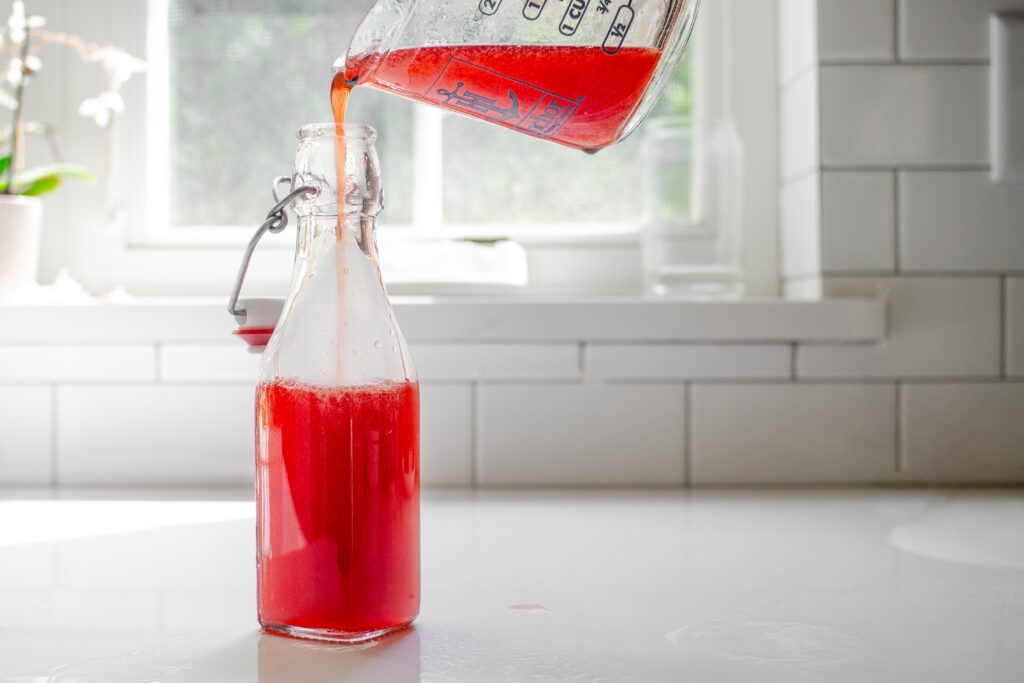 Storing Homemade Strawberry Syrup:
Now pour the fresh strawberry syrup into an airtight container.
I like this flip-top bottle (available on Amazon) because it's fairly easy to pour out of. And it's very very cute.
You could also just store it in a mason jar.
Or, you could purchase a bottle with a pump to make dispensing it a breeze.
Whichever storage container you choose, you'll want to store this fruit syrup in the refrigerator. Cool to room temperature before transferring to the fridge.
It will keep for about 2 weeks.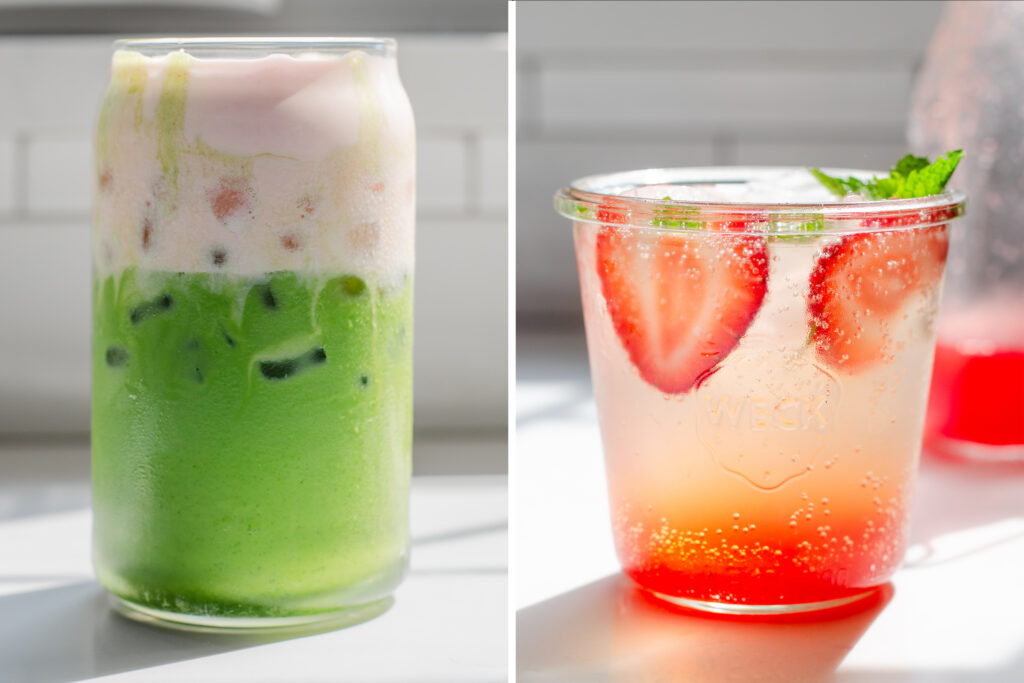 How to Use Strawberry Syrup for Drinks:
Make a strawberry lemonade by sweetening homemade lemonade with the syrup.
Stir into your favorite milk for an easy way to make strawberry milk.
Add it to your favorite iced tea for a burst of strawberry flavor.
Using this would be the perfect way to make strawberry Italian sodas.
Mix with mint leaves and lime flavored sparkling water or club soda for a strawberry mojito mocktail.
Have fun by mixing and matching different flavors (fresh herbs, flavored sparkling water, citrus juices, orange or lemon peel, etc.) for more homemade mocktails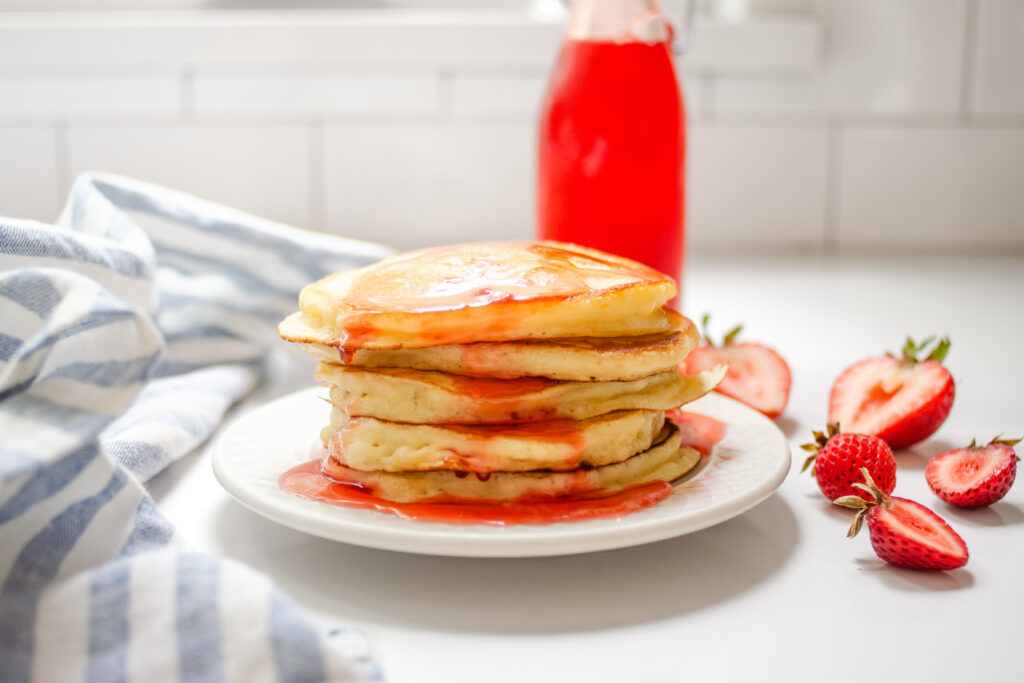 More Ways to Use Strawberry Syrup:
Pour over vanilla ice cream.
Make stuffed French toast and pour the syrup on top.
Use it to flavor a sponge cake by brushing the syrup on top of the sliced cake layers.
Pour over strawberry shortcake for a more intense strawberry flavor.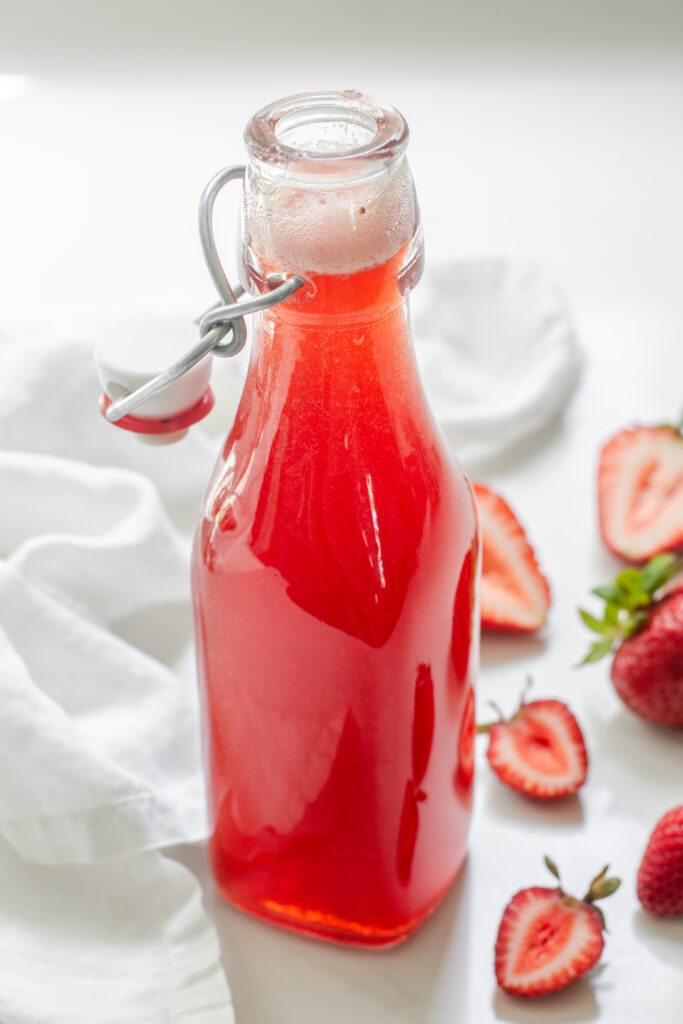 What is Strawberry Syrup Made of?
Many of the strawberry syrups you find in grocery stores are made from water, sugar, and flavoring. They're colored with either fruit or vegetable juice, or artificial food dyes. They rarely contain any real strawberry.
My homemade version is made with actual strawberries and just 3 ingredients!
What's the Difference Between Strawberry Puree and Strawberry Syrup?
Strawberry puree is simply strawberry that have been blended until completely smooth. Sometimes a sweetener, water, and/or flavoring is added, or it could be plain strawberries. A strawberry syrup is much thinner, and it may not contain any real strawberries, only strawberry flavoring.
What's the Difference Between Strawberry Jam and Strawberry Syrup?
Strawberry jam is made by mixing together strawberries, sugar, and pectin. It's thick enough to spread on toast. Strawberry syrup, on the other hand, is much thinner and can be poured like maple syrup or a regular simple syrup.
So that's my homemade strawberry syrup recipe! Make sure to check out the links below for more delicious recipes (made from scratch!):
More Strawberry Recipes:
Printable Recipe Card:
Yield: 1 1/4 cups
How to Make Strawberry Syrup for Drinks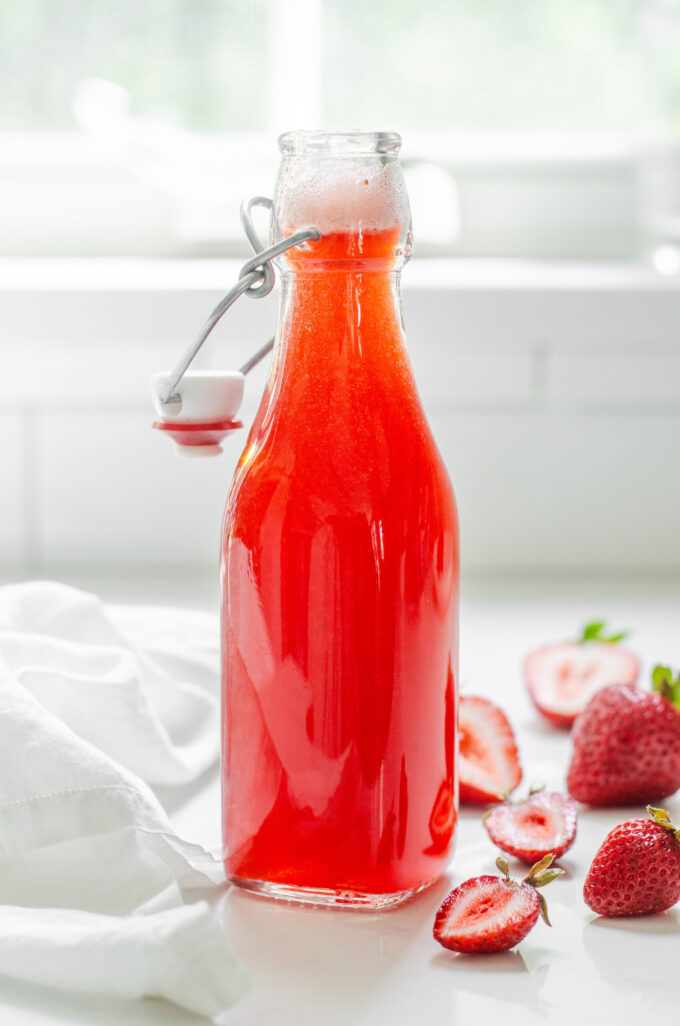 This homemade strawberry simple syrup is perfect for flavoring your favorite drinks!
Ingredients
2 cups de-stemmed strawberries (you can also use frozen)
1 cup water
1/3 to 2/3 cup sugar (see note)
Instructions
Place all inredients in a small or medium saucepan. Bring to a boil over medium-high heat.
Turn heat down to maintain a simmer. When the strawberries begin to soften, mash them with a potato masher.
Simmer for a toal of 15 minutes, or until the syrup thickens somewhat.
Pour through a fine mesh strainer, and press on the back of the fruit pulp to extract more flavor.
Pour into an airtight storage container. Cool to room temperature and store in the refrigerator for up to 2 weeks.
Notes
For a tart strawberry syrup, use the smaller amount of sugar. For a thicker, more stable syrup, use the higher amount of sugar.
You can use white sugar or organic cane sugar. Maple syrup or honey should also work.
Recommended Products
As an Amazon Associate and member of other affiliate programs, I earn from qualifying purchases.
Nutrition Information:
Amount Per Serving:
Calories:

110