Learn how to make a delicious iced strawberry matcha latte at home with my easy recipe!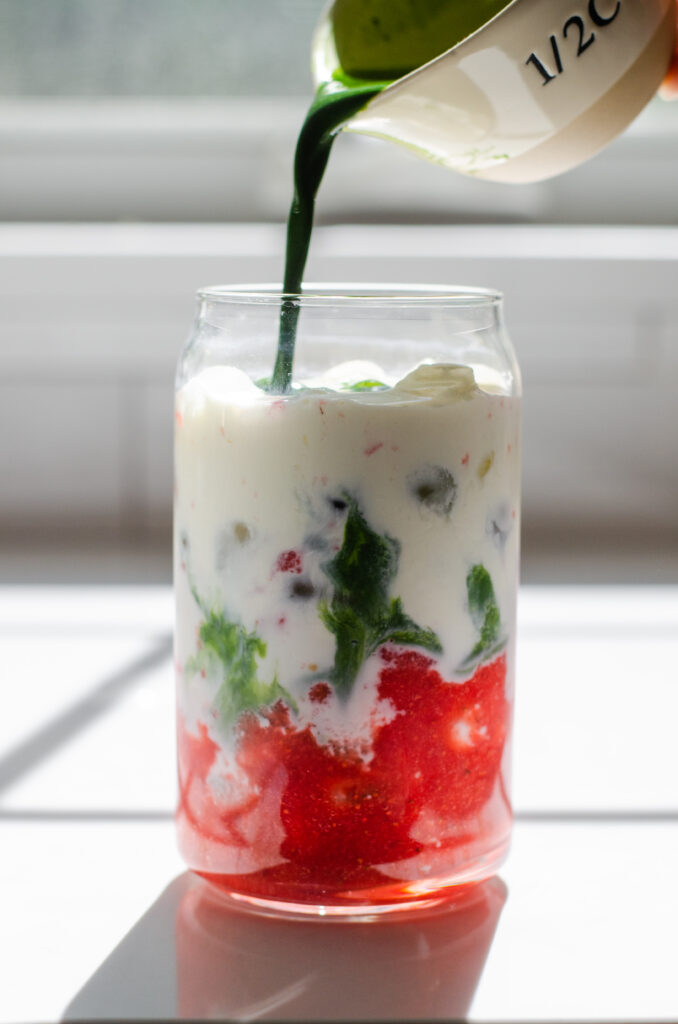 Y'all. Do you know what is an absolutely phenomenal flavor pairing? Matcha and Strawberry. 🍵🍓
Something about the lovely grassy notes of the matcha goes so well with the fresh, sweet-yet-tangy strawberry flavor.
And a lovely way to bring these two star ingredients together is in an iced strawberry matcha latte. All the heart eyes!
It's not certain where this drink originated, but some credit Boba Guys (a San Francisco, California Boba Shop) for first creating it.
Okay, let's dive in and I'll show you how to make a layered strawberry matcha latte so you can experience this scrumptious treat for yourself!
Here's a video tutorial in case you learn better that way. The written tutorial and full recipe are below!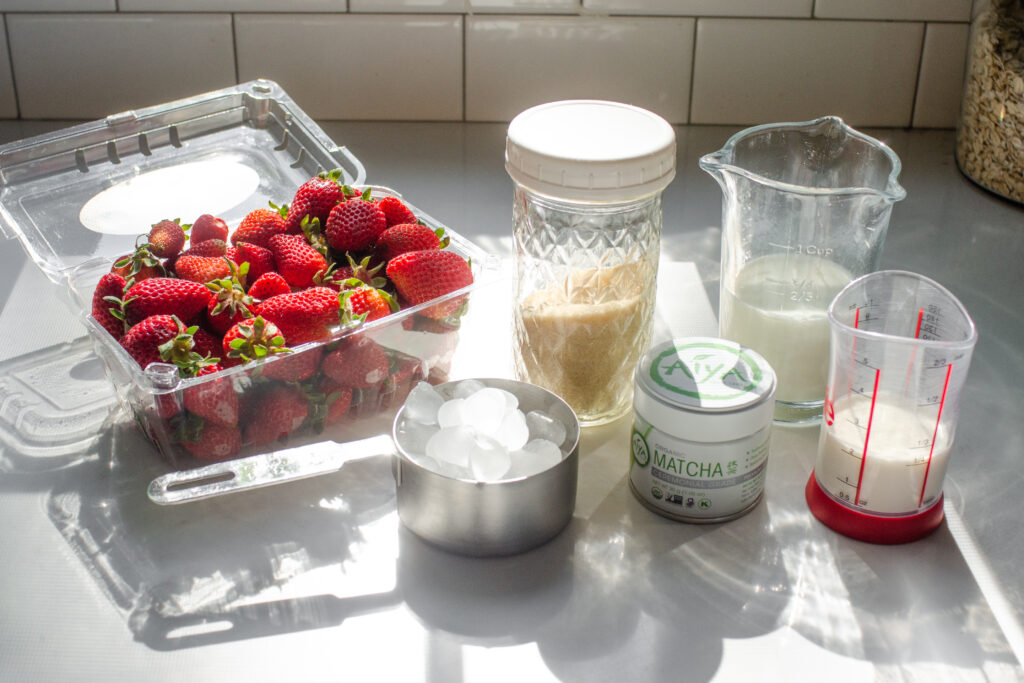 Note: Some links are affiliate. All opinions are 100% my own. If you click a link and make a purchase, I will earn a small commission. This has zero impact on the price you pay, and it helps Buttered Side Up out. Thank you!
Ingredients:
Here's everything you'll need:
1/3 cup fresh strawberry puree: I tested out this recipe using different methods of mashing, chopping, or pureeing the strawberries. And I found that the best way to get that strawberry flavor was by puree the strawberries. I'll discuss that more below!
1 to 2 teaspoons cane sugar: You'll want to sweeten up the strawberry puree a bit to really bring out and brighten up the flavors. I simply use cane sugar, but you could also use maple syrup, honey, vanilla syrup, brown sugar, coconut sugar, simple syrup, etc. Personally, I only use 1 teaspoon of sugar.
3/4 cup ice cubes: The amount of ice you need may vary based on the size of your ice cubes. I make small ice cubes using this ice cube tray (made in the USA), so if your cubes are larger you may way to adjust the amount.
1/2 cup milk: I use whole milk here. Feel free to experiment with oat milk, coconut milk, almond milk, soy milk, etc. I personally do not like plant-based milk in the majority of cold drinks, but that's just me. I did try out this recipe with coconut milk, and I did not care for it.
1/4 cup heavy cream: I love a creamy latte, so I included a bit of heavy cream. Feel free to substitute more milk if you prefer.
2 teaspoon matcha powder: Make sure to select a high quality matcha powder. If you cheap out here, your drink just won't be as good. I'll discuss this more below!
1 to 2 teaspoon cane sugar: It's also nice to sweeten up the matcha. Again, I prefer just 1 teaspoon of sweetener. But feel free to adjust to your preferences.
3 tablespoons water: There's no need to use hot water here. Cold water works just fine, and then you aren't warming up your iced drink!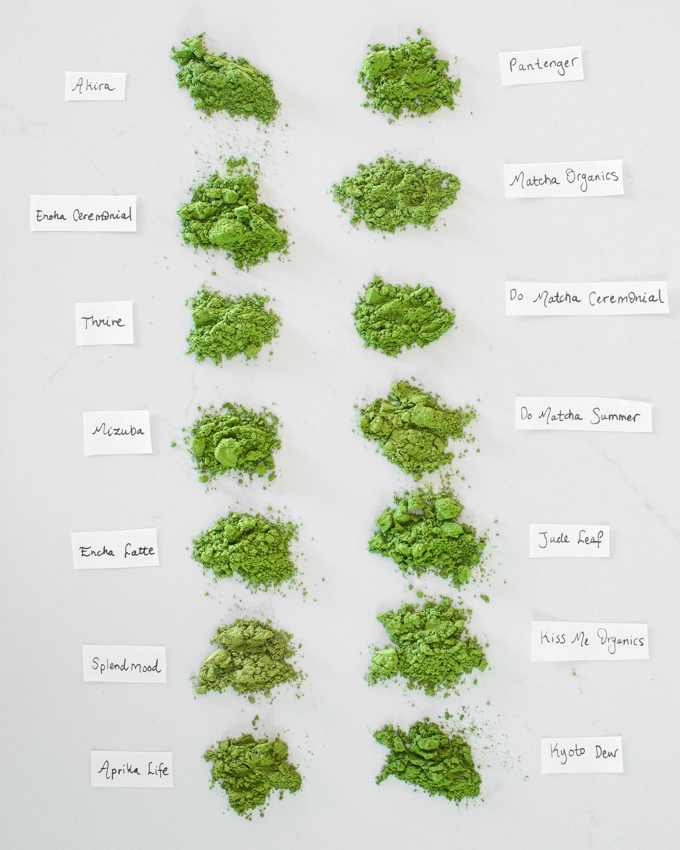 What is Matcha Anyway?
Matcha is simply green tea leaves that are ground into a powder. Instead of steeping the tea leaves and discarding, with matcha you consume the entire green tea leaves.
The green tea plants are also grown in a special way to ensure superior flavor.
Types of Matcha:
Okay, let's discuss matcha quality for a second.
There are many different grades or qualities of matcha available. But in the US, there are generally 3 different grades of matcha:
Culinary Grade Matcha: This is the lowest quality matcha, and it's also more affordable. The color is more dull and brownish. It can have a more bitter flavor than higher grades, and the overall matcha flavor can also be weaker.
Latte Grade Matcha: This grade is a step up from culinary grade. It typically has a mid tier price point. It has a less bitter taste than culinary grade, but not as sublime as ceremonial grade.
Ceremonial Grade Matcha: This is the cream of the matcha crop. It's harvested at just the right time, and it results in matcha that's a vibrant green color. It's much less bitter than culinary grade, and can almost have a sweet flavor depending on the brand.
I have a whole post reviewing 14 different brands of matcha, so make sure to check that out. But for a quick recommendation, I like the Thrive Market ceremonial grade matcha, Encha Latte Grade, Encha Ceremonial Grade, and Mizuba Culinary Grade.
How to Make a Strawberry Matcha Latte:
Okay, with that out of the way, let's get into actually making this delicious latte!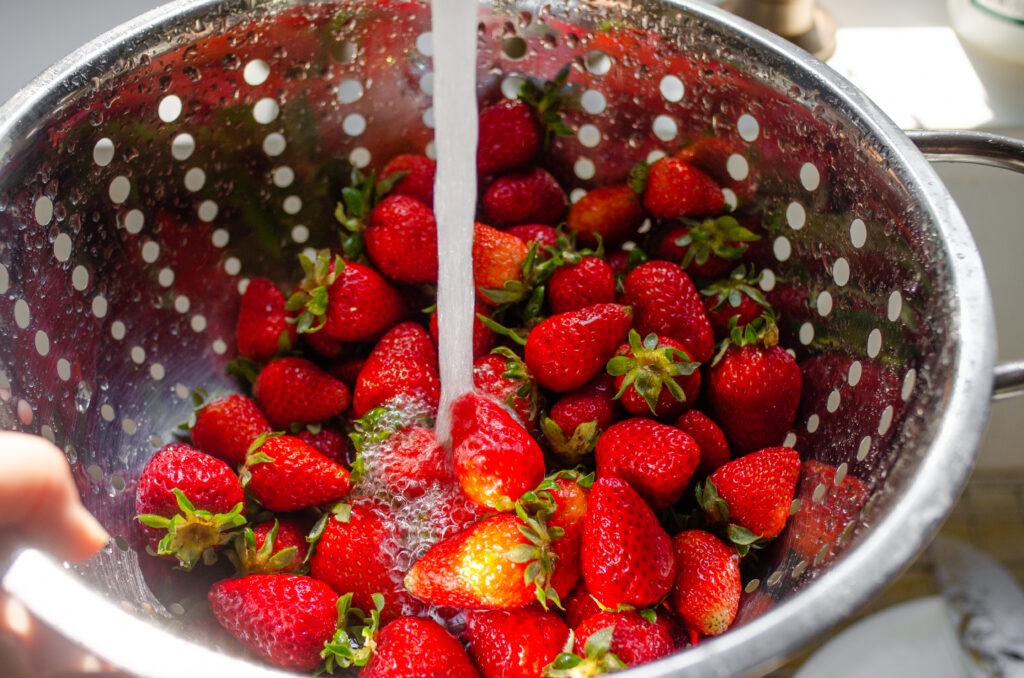 Making the Strawberry Puree:
Start by washing your fresh strawberries thoroughly and removing the green tops.
Technically you could thaw frozen strawberries and make a puree out of them if that's all you have access to.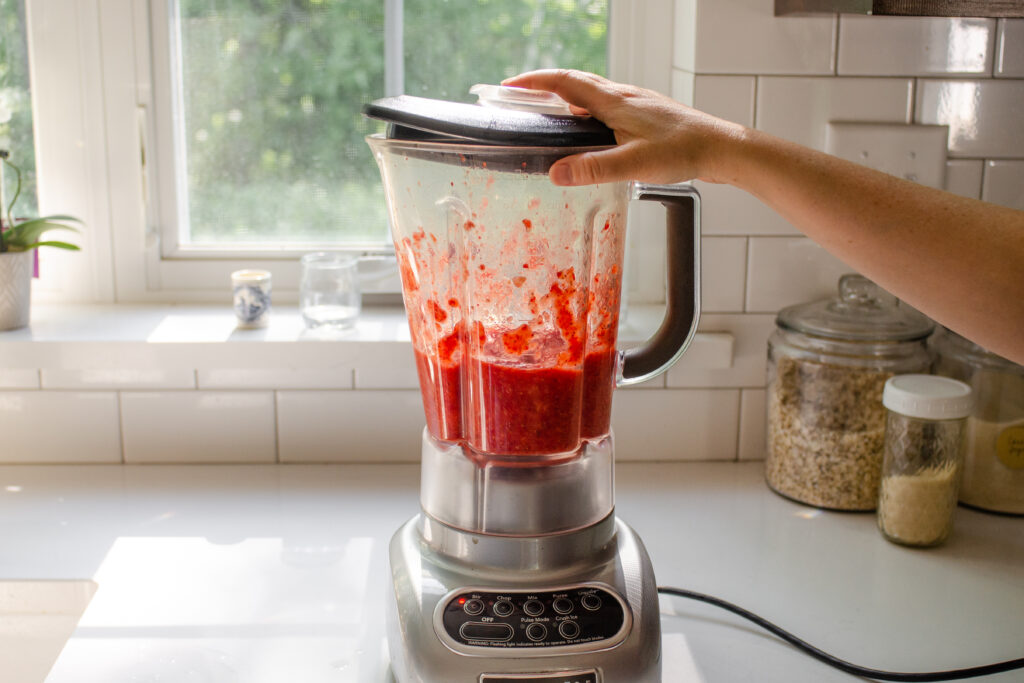 Place the strawberries in a blender and blend until smooth.
This could also be done in a food processor or small bullet blender.
You may need to scrape down the sides/stir the strawberries a couple of times before they'll actually start to puree.
It's okay if the puree isn't 100% completely smooth. But you don't want any big chunks. Otherwise the puree won't fit through your straw.
I don't find it necessary to strain out the seeds, but if you can't stand the seeds you could always run the puree through a mesh strainer.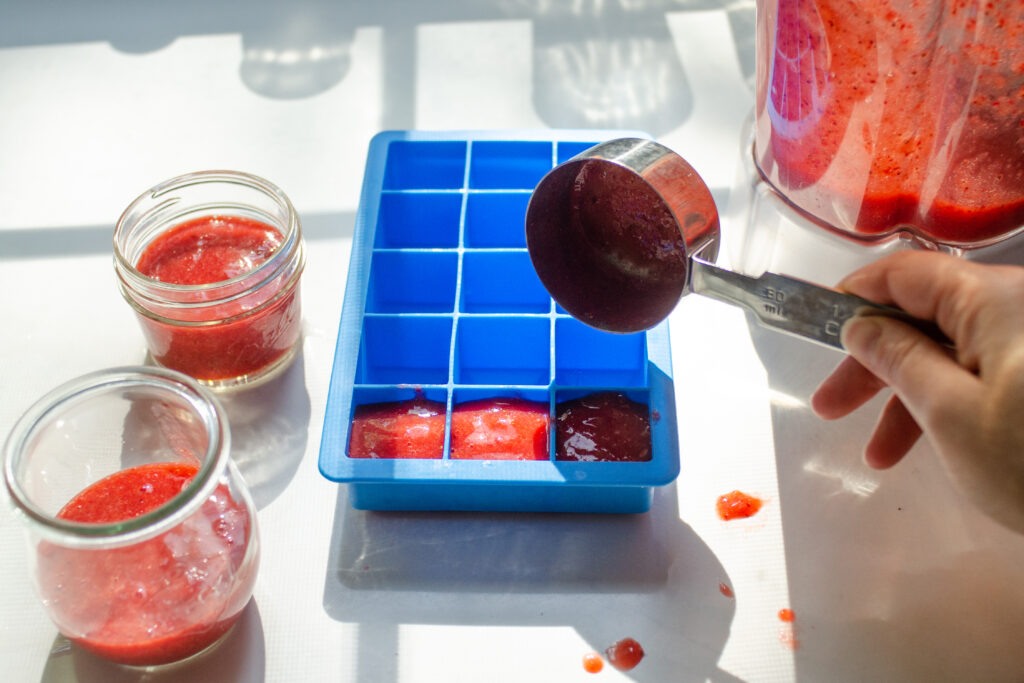 Storing the Strawberry Puree:
You'll have extra puree on your hands unless you're making multiple strawberry matcha lattes all at once.
I like to measure out the extra puree and store it in little glass jars or an airtight container in the refrigerator.
You can also freeze the puree in ice cubes trays. Strawberry puree doesn't last long in the fridge, so this is a great option for longer term storage.
Then you can simply place the frozen puree cubes in the fridge to thaw overnight.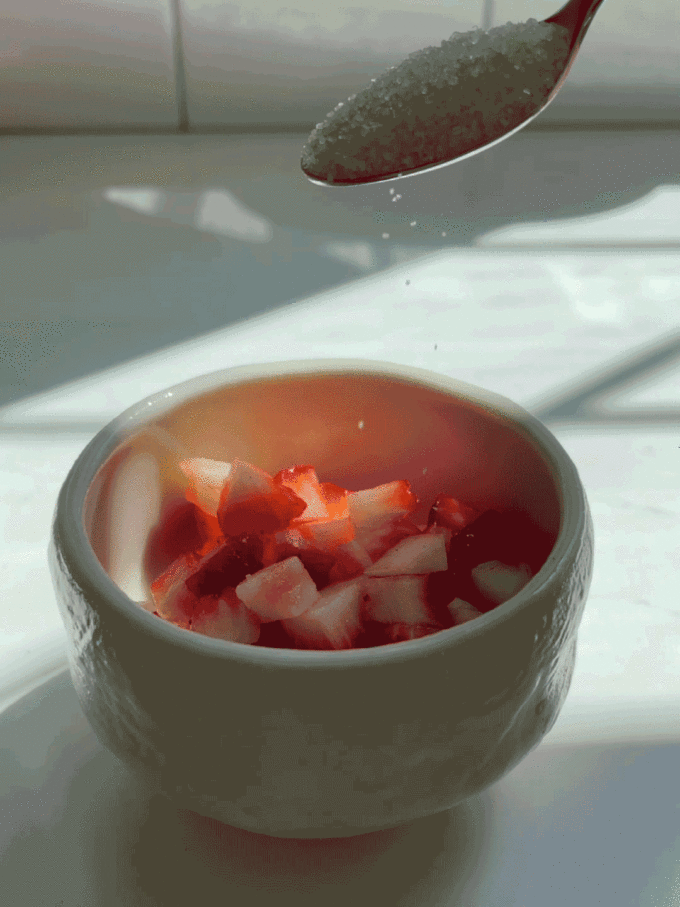 You can also make this latte by finely chopping a few strawberries and macerating them in the sugar (like I demonstrated in this reel).
Then mash them with the back of a fork.
However, you need to have a smoothie straw or boba straw to make it this way. Otherwise you'll be hard pressed to be able to slurp up the delicious strawberries!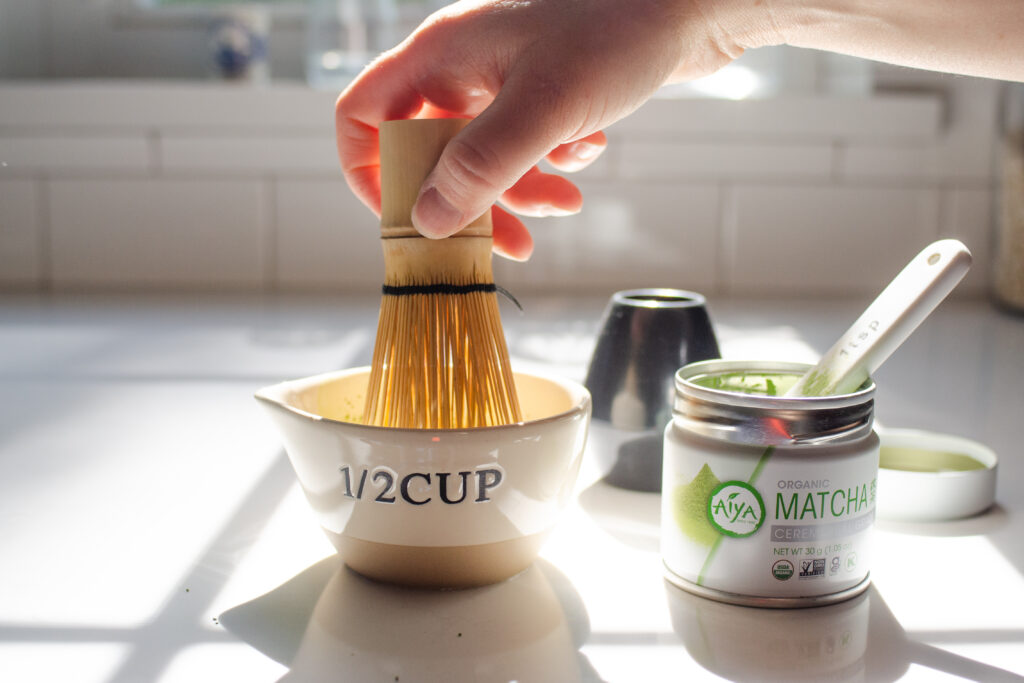 Whisking the Matcha and Sugar:
Now it's time to whisk together the matcha and sugar with water!
In a small bowl, place the matcha, sugar, and water.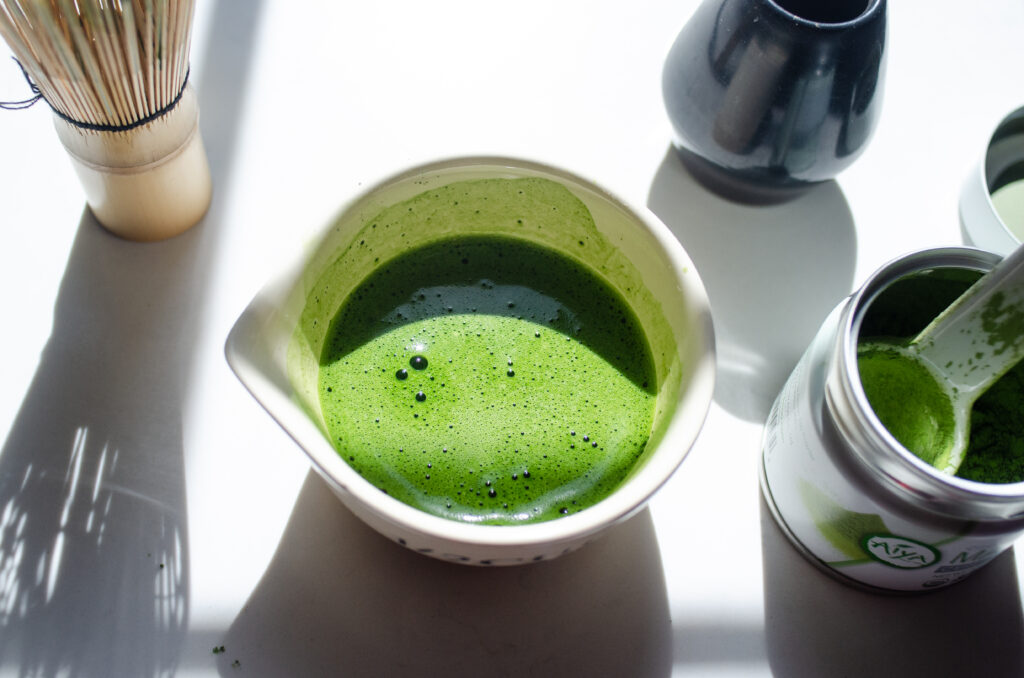 Whisk with a bamboo whisk until completely smooth. This should take about 20-30 seconds.
Make sure to watch the video if you're unsure how to use a bamboo matcha whisk.
Now, you don't necessarily have to purchase a special whisk for this. You could also use a small whisk or even a spoon.
However, an actual matcha whisk makes it SO much easier to whisk out any clumps of matcha!
If you place the ingredients in a deep glass instead of a shallow bowl, you could use an electric frother instead.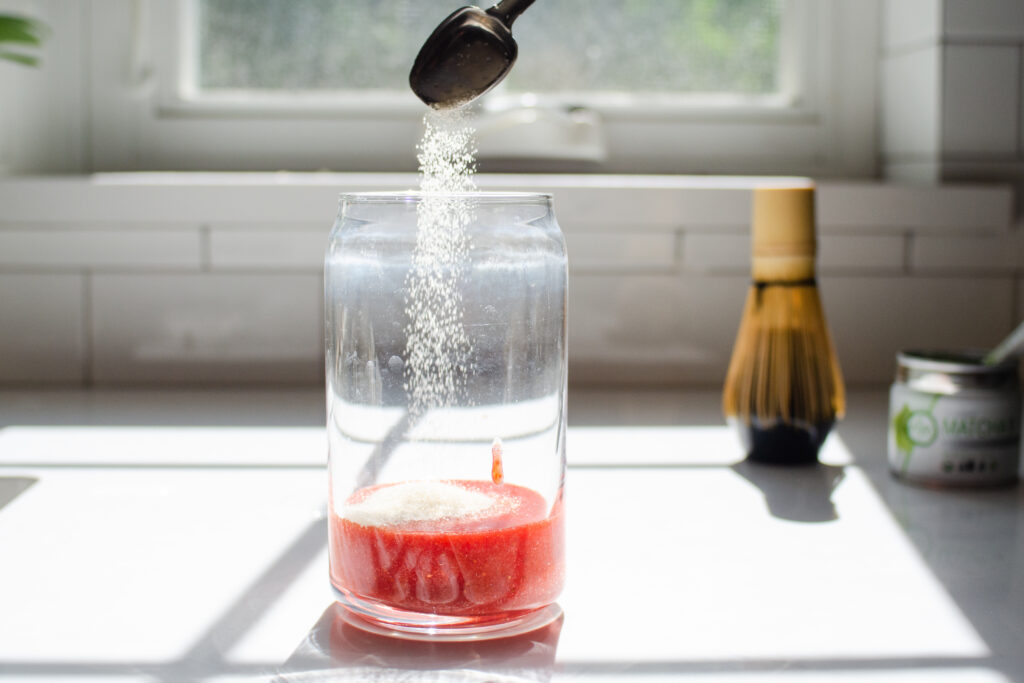 Assembling the Drink:
First, place the strawberry purée in the bottom of a 16 ounce serving glass or pint mason jar.
Next, add the sugar or sweetener of choice to the bottom layer and mix well.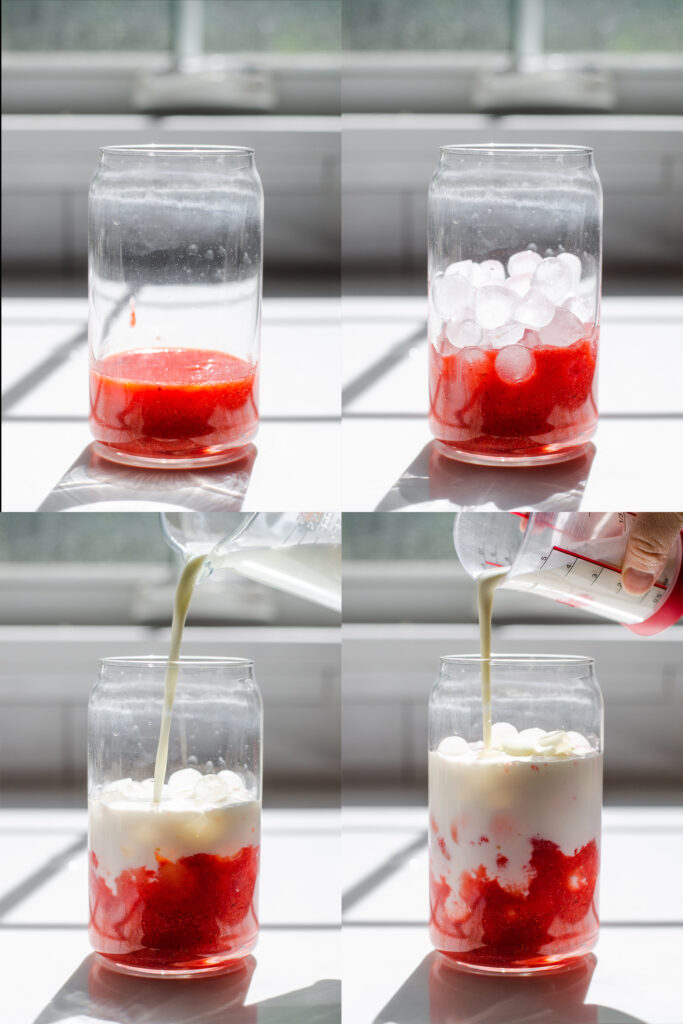 Layer the ingredients like this:
Strawberry mixture
Ice
Milk of choice
Cream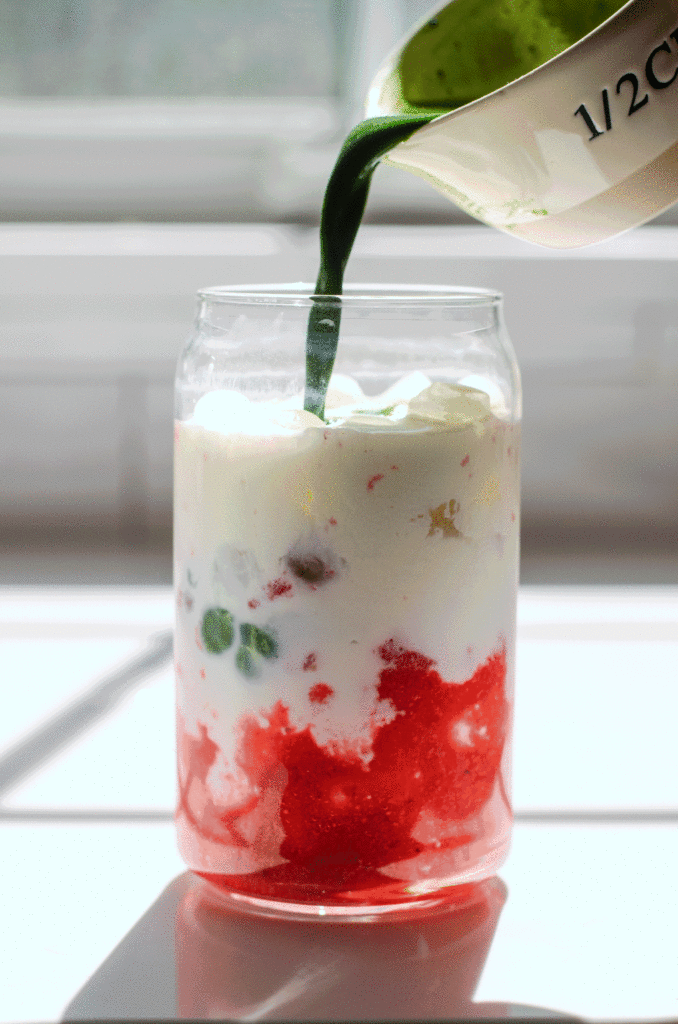 Here's where the magic happens!
Finally, pour the matcha/sugar mixture on top.
Isn't that just gorgeous?!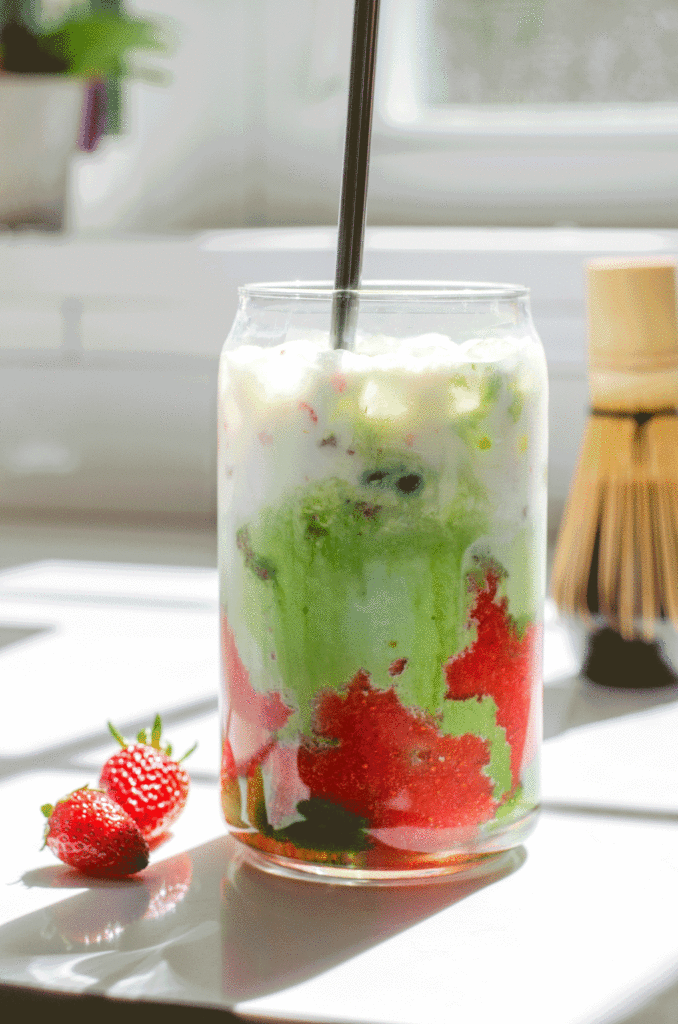 You can either stir together the whole drink, or keep distinct layers.
How to Get Clean Layers:
Speaking of layers, let's chat how to get that layered effect in your matcha strawberry latte.
Honestly, it's kind of down to chance. But here are a few things that will make it more likely to happen:
Try to get an even layer of ice on top of the strawberry layer.
Slowly pour each liquid on top of each layer.
Don't wait too long between adding the next layer.
The matcha layer is the most difficult for me to keep separate from the others. Just go slow, and hope for the best!
Or just embrace the lovely marbling!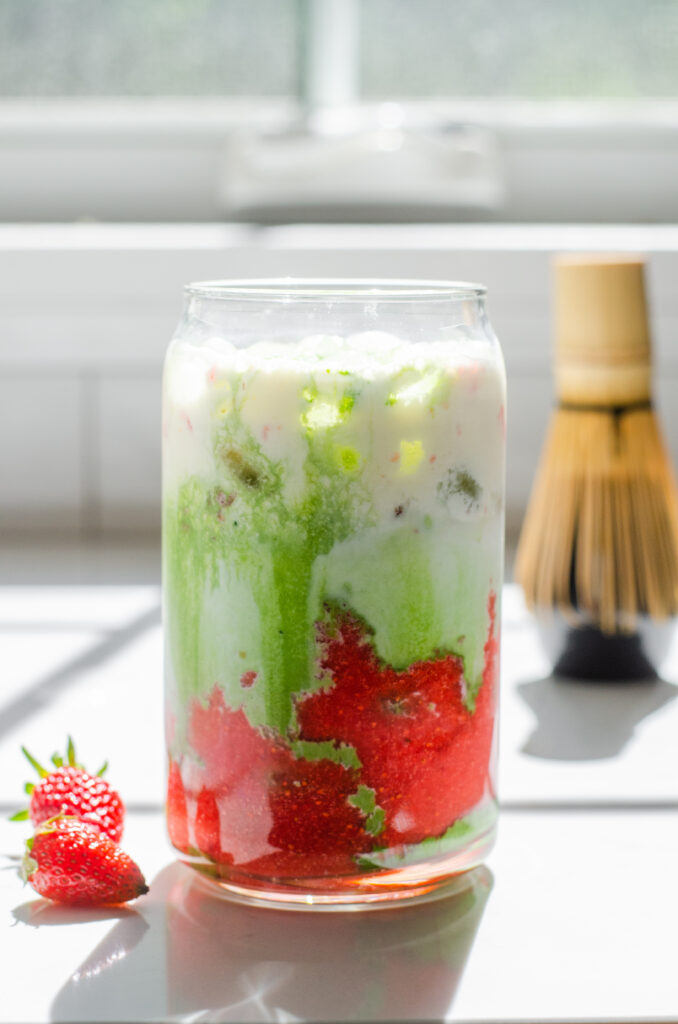 Variations:
You can also get a yummy strawberry matcha drink by making an iced matcha latte, and putting strawberry sweet cream on top (like I showed in this video).
Or you could make strawberry milk (here's my strawberry syrup recipe) and pour some matcha on top of that.
Add some tapioca pearls to make this into a bubble tea latte!
More Matcha Drinks:
Other Matcha Recipes:
Recipe Card:
Yield: 1 serving
Strawberry Matcha Latte Recipe
Ingredients
1/3 cup strawberry puree (see note)
1 to 2 teaspoons cane sugar or sweetener of choice
2 teaspoons matcha powder
1 to 2 teaspoons cane sugar or sweetener of choice
3 tablespoons cold water
3/4 cup ice cubes
1/2 cup whole milk
1/4 cup heavy cream
Instructions
Place the strawberry puree in the bottom of a 16 ounce glass or mason jar. Add the sugar or sweetener of choice and mix to combine.
In a small bowl, whisk together the matcha, sugar, and water until completely smooth (a bamboo matcha whisk works best).
Pour the ice cubes on top of the strawberry mixture in the glass. Pour the milk and cream on top.
Finish off by pouring the matcha mixture on top. Serve with a straw.
Notes
To make the strawberry puree, place a quart of cleaned strawberries in a blender pitcher and blend until completely smooth. Store extra puree in the refrigerator or freezer (freeze in ice cube trays) until ready to use.
Recommended Products
As an Amazon Associate and member of other affiliate programs, I earn from qualifying purchases.
Nutrition Information:
Yield:
1
Amount Per Serving:
Calories:

351
Total Fat:

26.2g
Sugar:

24g
Protein:

6g