This matcha ice cream recipe features delicious chunks of chocolate! This is the perfect dessert for a hot day.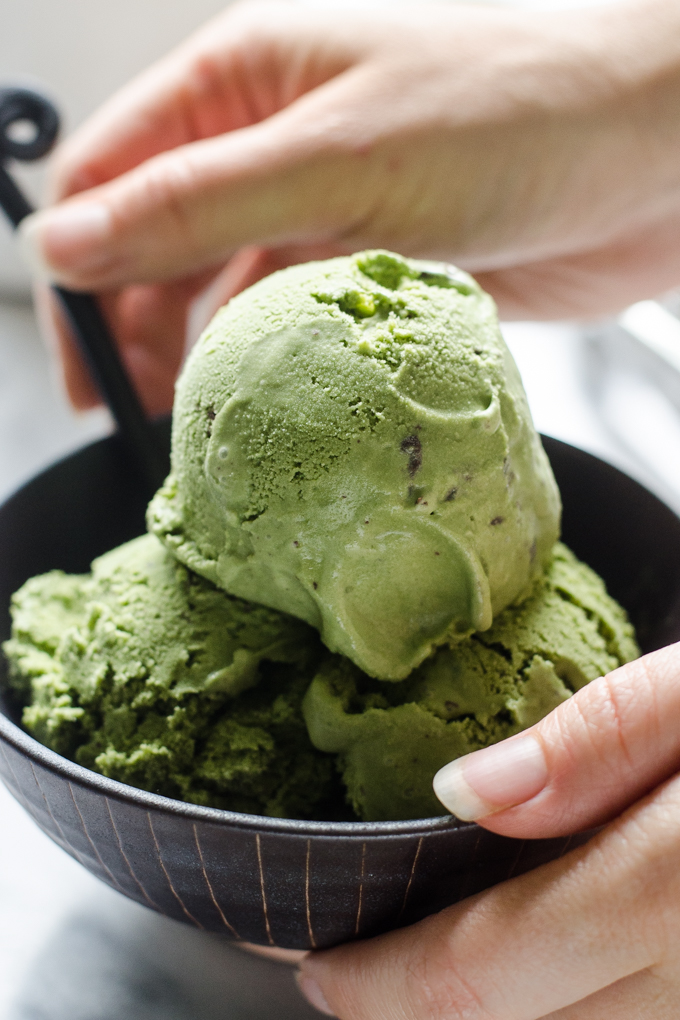 If you've been around here very long, you know that I'm a major fan of matcha. You could say it's one of my favorite things.
So creating a matcha ice cream recipe just made total sense.
The extraordinary thing is it kind of tastes like cookie dough flavored ice cream with matcha mixed in! It's a very good combo.
And it's actually pretty easy to make! I'll even talk about how you can make it without any special equipment.
Plus it's so much more flavorful than the matcha ice cream you typically find in ice cream shops.
Okay, let me walk you through my green tea ice cream recipe!
Ingredients:
First, here are the simple ingredients you'll need to make this delicious dessert:
3/4 cup whole milk: I don't recommend using a low-fat milk. The fat content of the whole milk helps to ensure a smooth, rich ice cream. I haven't tested this recipe with a non-dairy milk, so substitute at your own risk!
3-4 tbsp matcha green tea powder: You can adjust the amount of matcha depending on how strong of a matcha flavor you prefer. I recommend purchasing the best quality matcha you can afford. You can read my Best Matcha Powder review, but either the Encha Latte Grade or the Encha Culinary Grade would work great here. The Thrive Market ceremonial grade matcha is also great. You may even be able to find a high quality matcha in grocery stores as well.
2 1/2 cups heavy cream: Here's where the magic happens. I use a special technique to make this ice cream without having to use egg yolks and first make a custard base. This is what ensures a creamy matcha ice cream.
5 tbsp raw honey: I love the flavor combo of honey and matcha, so that's what I use in this recipe. You could substitute maple syrup, or even regular sugar if you make sure to dissolve it in the warm milk. I think the 5 tablespoons is the perfect balance of sweetness, but you can increase that amount if you prefer a sweeter ice cream.
1 tbsp pure vanilla extract: Yes, this is quite a bit of vanilla extract! So please make sure to use pure vanilla extract, NOT imitation vanilla flavor.
2/3 cup 70% dark chocolate chips: You can use either a chocolate bar or chocolate chips. If you opt for chocolate chips, make sure to chop them up a bit. Dark chocolate can get fairly hard when frozen, so you want to chop it into pieces that will be easier to chew. I like a 70% chocolate myself, but you might like yours lighter or darker. It's up to you!
How to Make Matcha Ice Cream: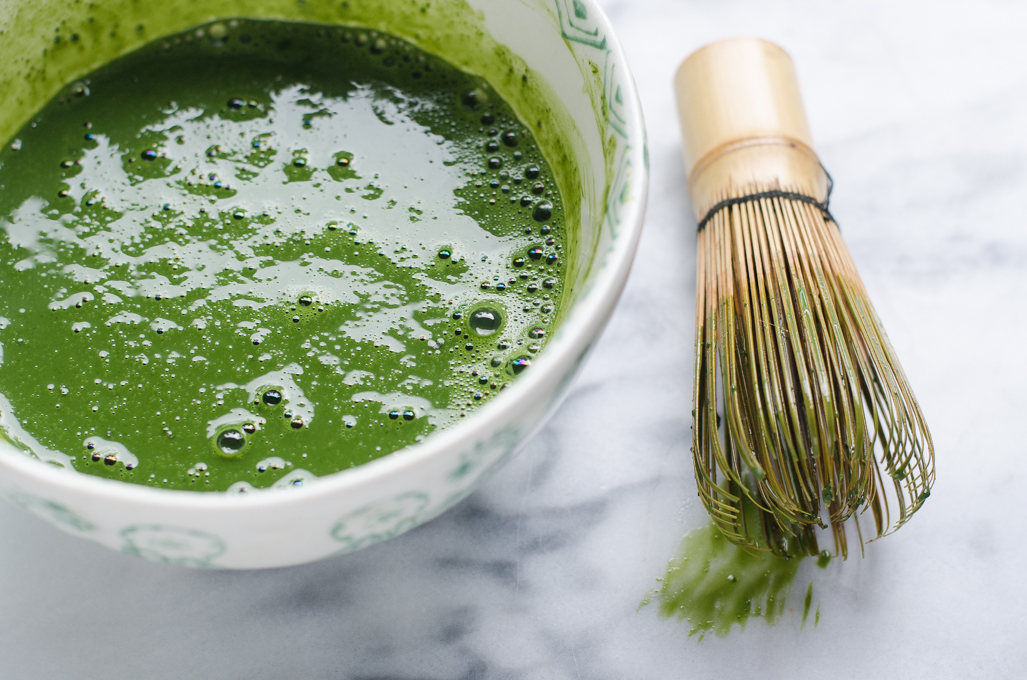 Start making with the matcha/milk mixture!
First, measure out the matcha into a medium-sized heat proof bowl.
Next, in a medium saucepan, warm the milk over low heat to 160 degrees F. Then pour it over the matcha in the bowl.
Whisk with a matcha whisk until completely smooth.
This can be accomplished with a regular whisk if you pour just enough milk over the matcha to make a paste, then gradually add more milk and whisk until smooth.
Place the matcha mixture into the refrigerator to chill for 30 minutes. If you don't cool the milk back down, this can lead to ice crystals forming.
Quick tip: You can skip warming up the milk in a pinch, and then you don't have to cool the milk back down.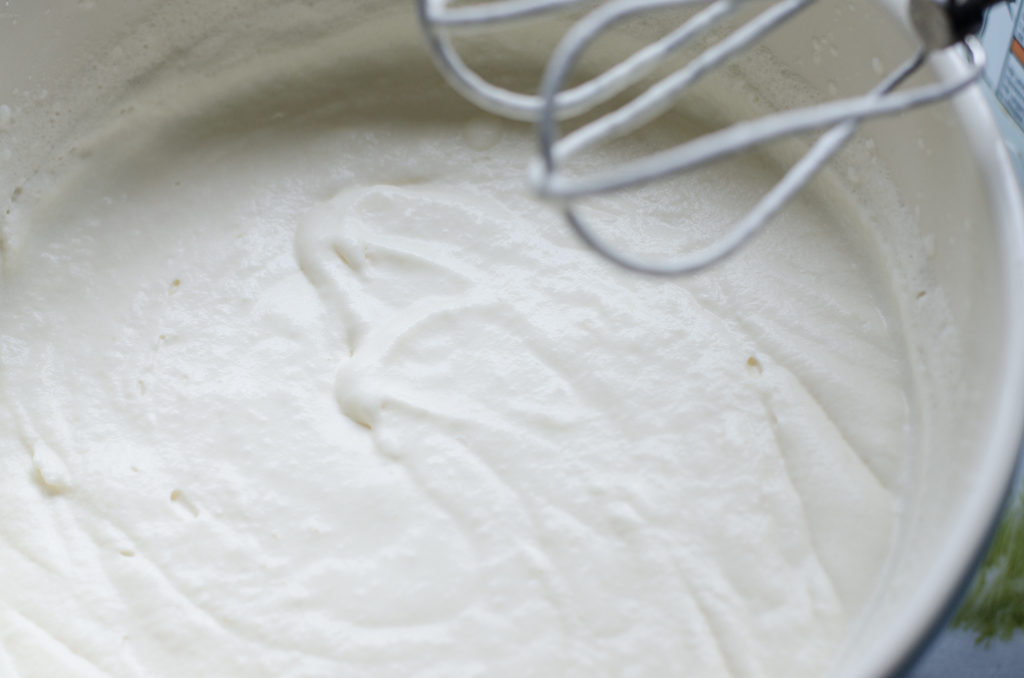 Making the Ice Cream Base:
Next, it's time to make the ice cream base:
In a large bowl, beat cream, vanilla, and honey together until the cream just starts to thicken. You don't want it to be the consistency of whipped cream or be able to hold peaks. It should still be pourable, about the consistency of custard before it sets.
If you over-beat the cream, it will start to turn to butter while you churn it. Not the correct mouthfeel for ice cream!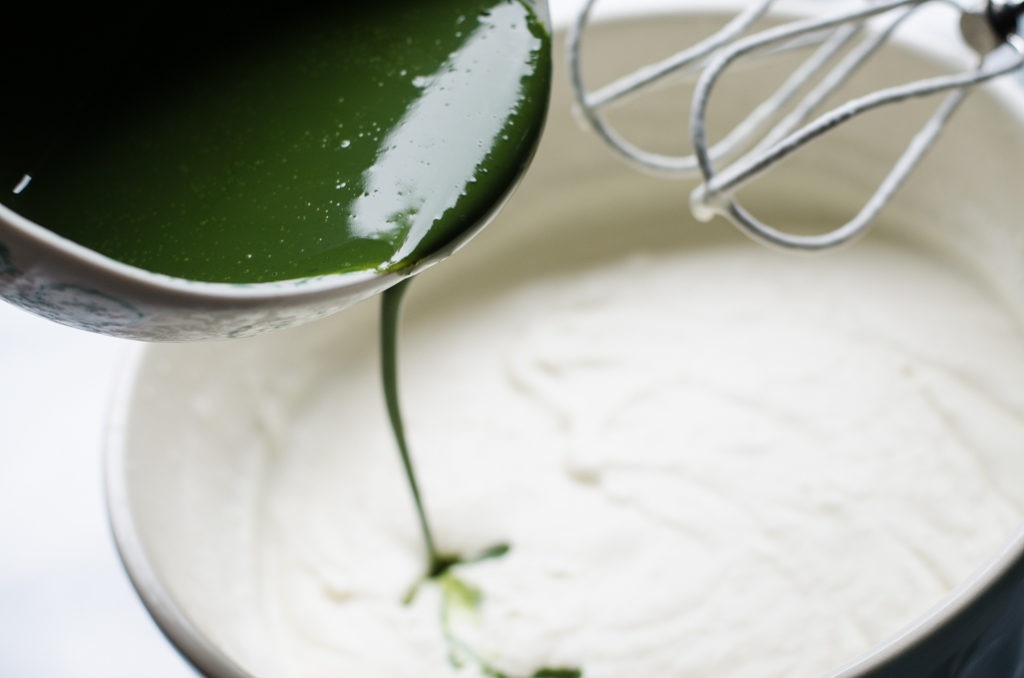 Now gradually add the chilled matcha mixture to the ice cream base and gently beat it together.
Again, avoid over-beating the cream!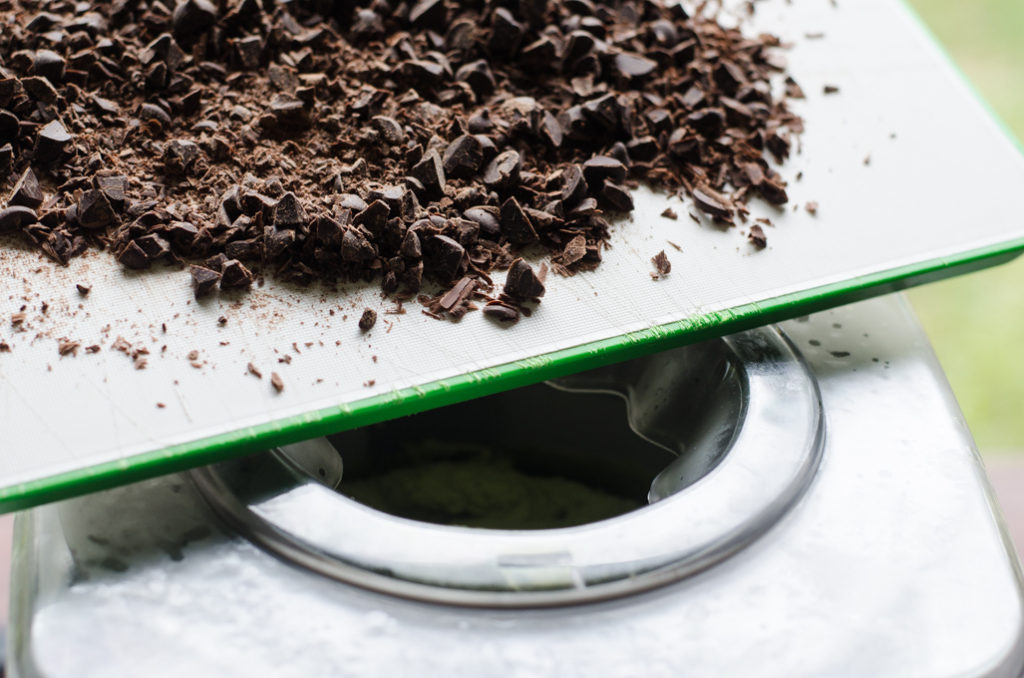 Churning:
Pour the ice cream mixture into your ice cream maker and churn according to the manufacturer's instructions. It takes mine about 20 minutes!
When the ice cream is almost done churning, add some chopped dark chocolate.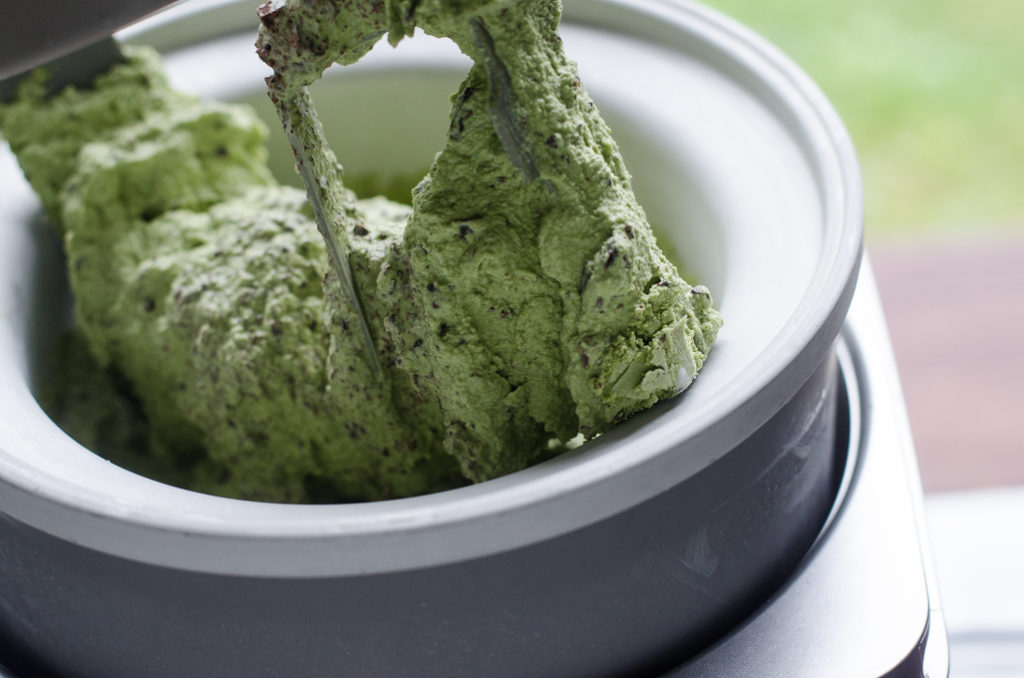 Finish churning the ice cream and scoop it into a freezer-safe container.
Or you can eat it directly from the ice cream maker if you prefer the consistency of soft serve ice cream.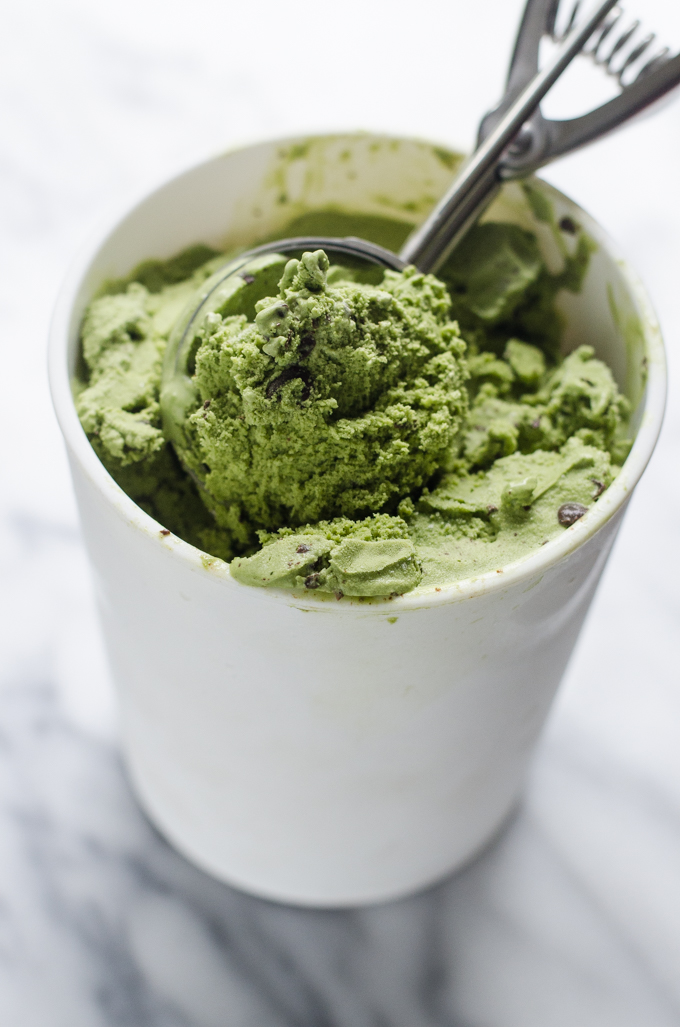 Freeze the matcha ice cream until firm, about 2-3 hours.
Now grab your favorite ice cream bowl, and scoop yourself up a delicious treat!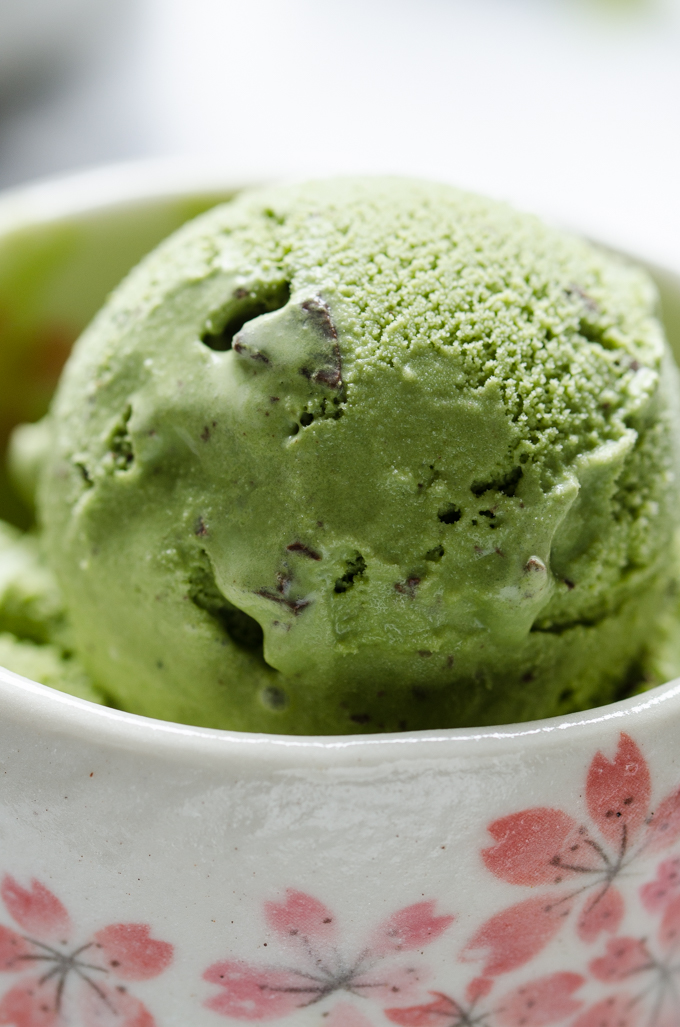 Can I Make this No-Churn?
If you don't own an ice cream machine, no worries!
You can easily make a no churn matcha ice cream: simply pour the ice cream base into a freezer container and freeze for about 3 hours, or until it's firm but still able to be stirred.
Then fold in the chocolate chunks and freeze until solid, a few more hours. Boom. No-Church Matcha Chocolate Chunk Ice Cream. That's a mouthful!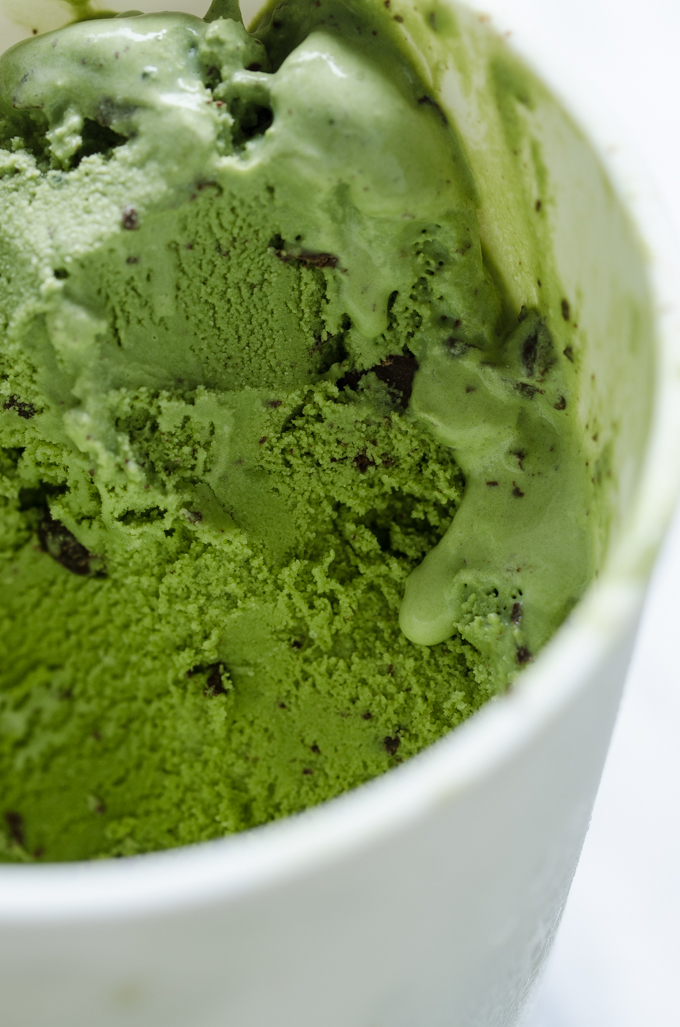 What is Matcha?
Matcha is made from ground green tea leaves. It's ground into a fine powder that can dissolve in hot water or even cold water.
So unlike regular green tea where you steep the leaves and then strain them out, you consume the whole leaf in powder form.
The tea plant (camellia sinensis) is grown in a special way to make matcha, including shading the plants at specific times, to ensure the best flavor.
What are the Different Grades of Matcha?
There are actually a lot of different grades of matcha tea, but in the US these are the main types of matcha:
Culinary Grade Matcha: This is the lowest quality matcha powder. It tends to be more bitter and have a more dull flavor. It typically comes from the second, summer harvest. It's used for baking, putting in smoothies, and for making matcha lattes.
Latte Grade Matcha: This grade is in between culinary and ceremonial. It's typically used for making a higher quality matcha latte, but it isn't suitable for a matcha tea ceremony. A good quality latte grade matcha can be quite delicious!
Ceremonial Grade Matcha: This is the highest quality matcha, so of course it comes at an extra cost. It's made with the first harvest of the tea leaves that are higher up on the plant. It's sweeter, less bitter, and has a stronger green tea flavor. Typically it's reserved for drinking with just hot water, but I use it to make matcha lattes as well.
More Matcha Recipes:
More Frozen Desserts: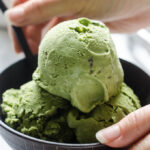 Matcha Chocolate Chunk Ice Cream
This matcha chocolate chunk ice cream is a delicious way to enjoy the beautiful flavors of matcha!
Prep Time
1
hour
5
minutes
Total Time
1
hour
8
minutes
Ingredients
3/4

cup

whole milk

3-4

tbsp

matcha green tea powder

(see note)

2 1/2

cups

heavy cream

5

tbsp

raw honey

1

tbsp

pure vanilla extract

2/3

cup

70% dark chocolate chips, chopped
Instructions
Place matcha powder in a bowl. Warm milk to 160 degrees F. Pour over the matcha and whisk until smooth. Cover and put in the refrigerator until cold, about 30 minutes.

Once the matcha/milk mixture is cold, make the ice cream base: Beat the cream, honey, and vanilla until the cream begins to thicken. You don't want to beat it so much that it holds peaks.

Gradually add the matcha/milk mixture to the ice cream base and beat gently until combined.

Churn according to manufacturer's instructions. A few minutes before the ice cream is done churning, add the chopped chocolate.

Scoop the ice cream into a freezer-safe container and freeze until solid, about 2-3 hours.
Recipe Notes
I've included 2 amounts of matcha in the recipe. So if you use the smaller amount, this ice cream tastes kind of like cookie dough. If you use the higher amount, you get more of that matcha flavor. Can you guess which one I prefer?
Updated on December 28, 2022. Originally published on September 5, 2018, at 8:25.