Learn how to make matcha milk tea at home! This delicious drink features beautiful green tea powder and chewy tapioca pearls (AKA Boba). It's a must try if you're a matcha lover!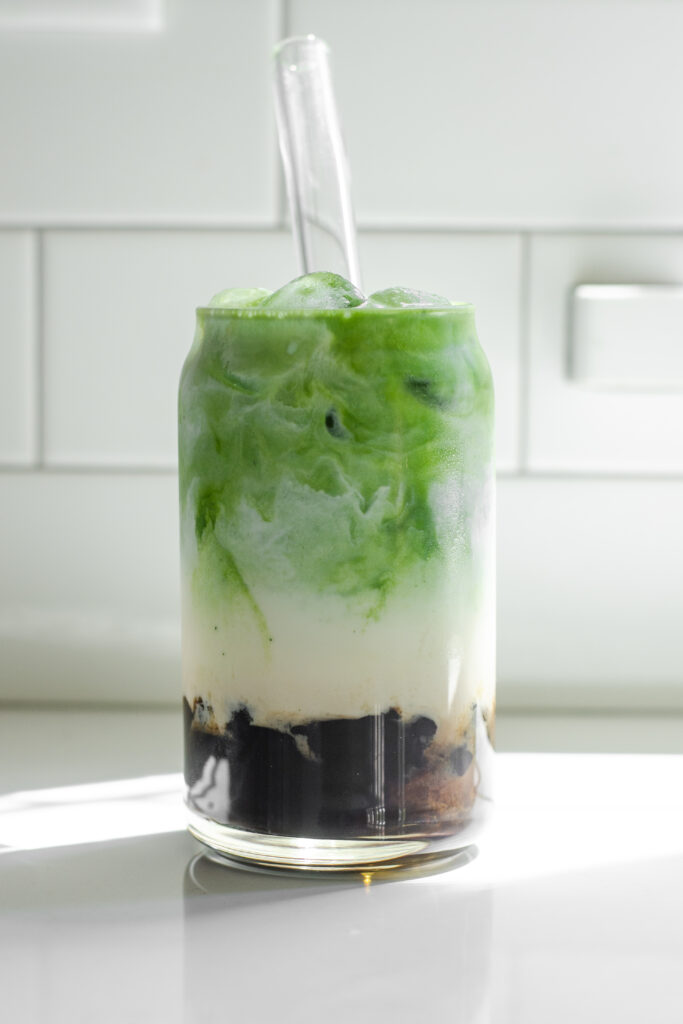 So you want to learn how to make matcha milk tea at home.
I've got you covered with a step-by-step tutorial with some tips along the way to ensure your success.
This is basically an iced matcha latte recipe with added tapioca pearls (AKA Boba).
Making Boba at home is really fun and rewarding, but you do need to follow the directions carefully to avoid some pitfalls.
Okay, let's make your taste buds sing!
Here's a video tutorial in case you learn better that way. The written tutorial is below!
What is Matcha?
Matcha is green tea that is grown in a special way and ground into a fine powder. Instead of steeping the tea and removing the leaves like regular green tea, you consume the whole green tea leaves.
What is Milk Tea?
First, some definitions.
Milk tea can refer to any tea drink that has milk added to it.
But it's also sometimes used to describe Boba tea specifically. And that's the kind that I'll be demonstrating today!
What is Boba?
Boba are large tapioca pearls that are cooked in water until softened, but still bouncy and chewy. This texture is known as Q, and it's similar to but different from al dente in Italian cuisine.
Boba can refer to either the finished drink, or the tapioca pearls themselves. Drinks made with Boba pearls are also called Bubble Tea, Pearl Tea, or Milk Tea.
Ingredients: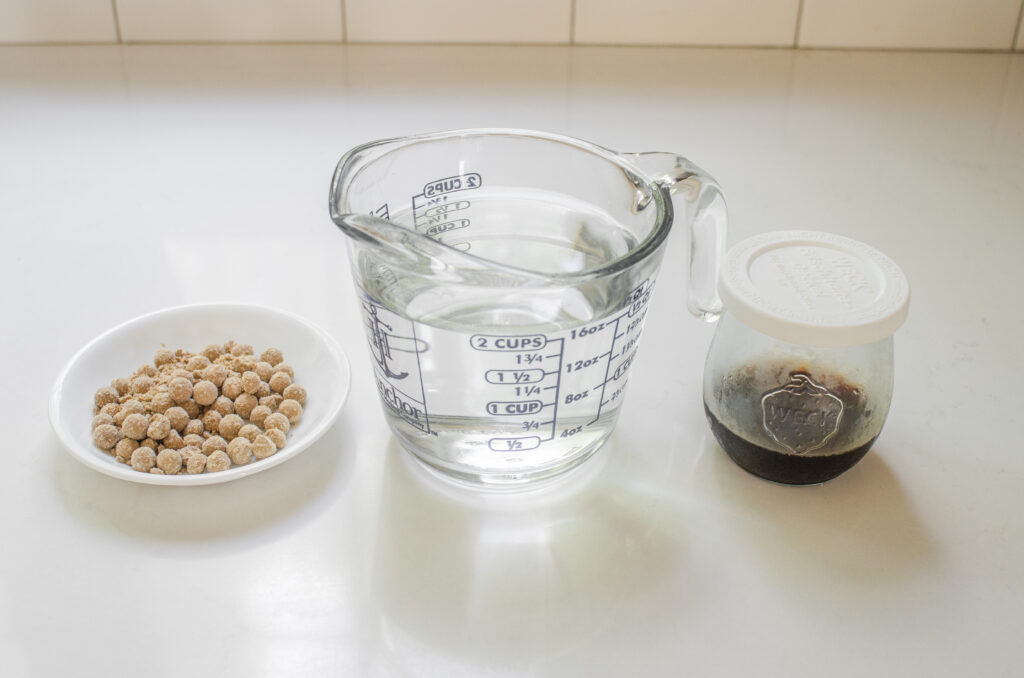 I'll list the ingredients for the boba and the milk tea separately.
To make the Boba you'll need:
¼ cup of tapioca pearls, AKA boba – I recommend the boba pearls sold by U.S. Boba Co. They're made in the USA and taste great! The first time they arrived all broken, but the company selling them sent me a new one. You can also purchase them from this independent company. I have also tried Bic's Boba tapioca balls – they're also made in the USA and have more natural ingredients. They aren't quite the same as the tapioca pearls you get at most boba shops, though. You could also try quick-cooking Boba, but I don't have experience with that (yet!).
2 cups of water: The amount of water you need may vary depending of which types of pearls you use. If I go under 2 cups, I find that too much water evaporates while cooking.
2 tablespoons of brown sugar simple syrup: You could also use maple syrup or a flavored syrup such as vanilla if you prefer, but I'll show you how to make a super easy homemade brown sugar simple syrup below!
To make the matcha milk tea you'll need:
2 teaspoons of matcha green tea powder: You can use 1 teaspoon of matcha powder if you prefer a mild matcha flavor. I recommend buying ceremonial grade matcha powder for the best flavor. It has a lovely, vibrant green color, and a better flavor than lower quality matcha. If you use culinary grade matcha it will most likely have an overly bitter taste. Thrive market and Encha matcha offer some great tasting ceremonial matcha for a great price. You can check out my matcha review post for more recommendations!
4 tablespoons of hot water: Make sure the water is no more than 170 degrees F or 76 degrees C.
¾ cup of cold milk: I like to use whole milk for richness. You can substitute a different type of milk or dairy free milk such as oat milk if you prefer, but keep in mind that it can mask the matcha flavor more than regular milk. I don't really recommend using coconut milk from a can – opt for an unsweetened coconut milk drink instead. And I personally don't care for almond milk or soy milk, but you are the best judge of flavor for yourself!
¼ cup of cream: Again, you can substitute a dairy free creamer if you like. But I haven't personally tested this, so keep that in mind!
Ice Cubes: I like to use either a square ice cube tray or these mini ice cube trays.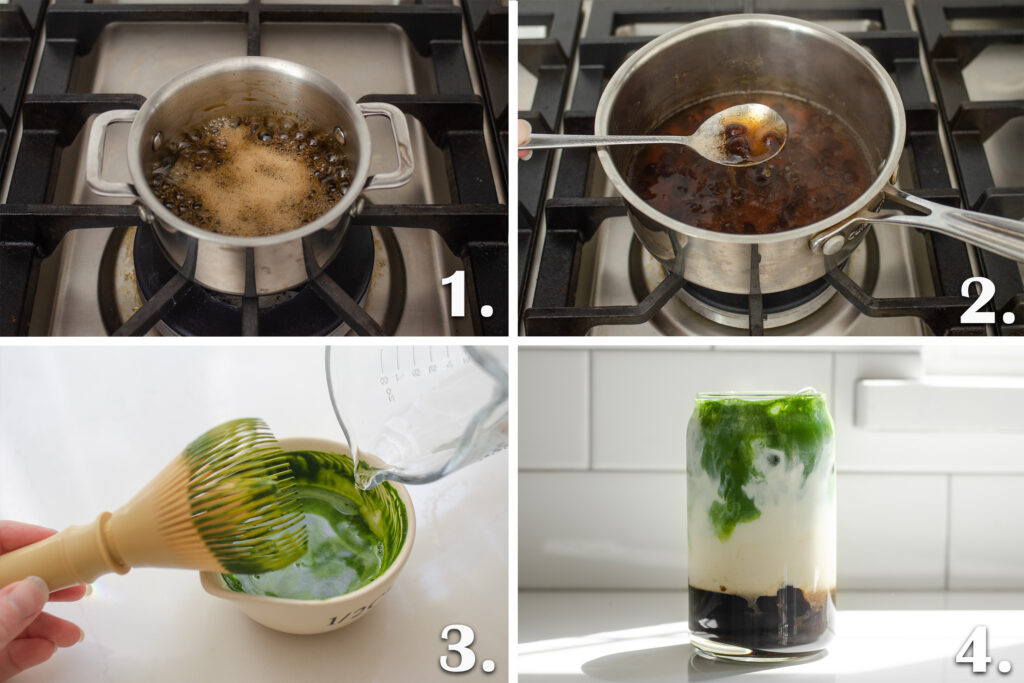 How to make Matcha Milk Tea:
The steps are pretty simple for making the matcha bubble tea, but again, you must follow them carefully!
They are as follows:
Make the Brown Sugar Simple Syrup
Cook the Boba
Make the Matcha Milk Tea
Put it All Together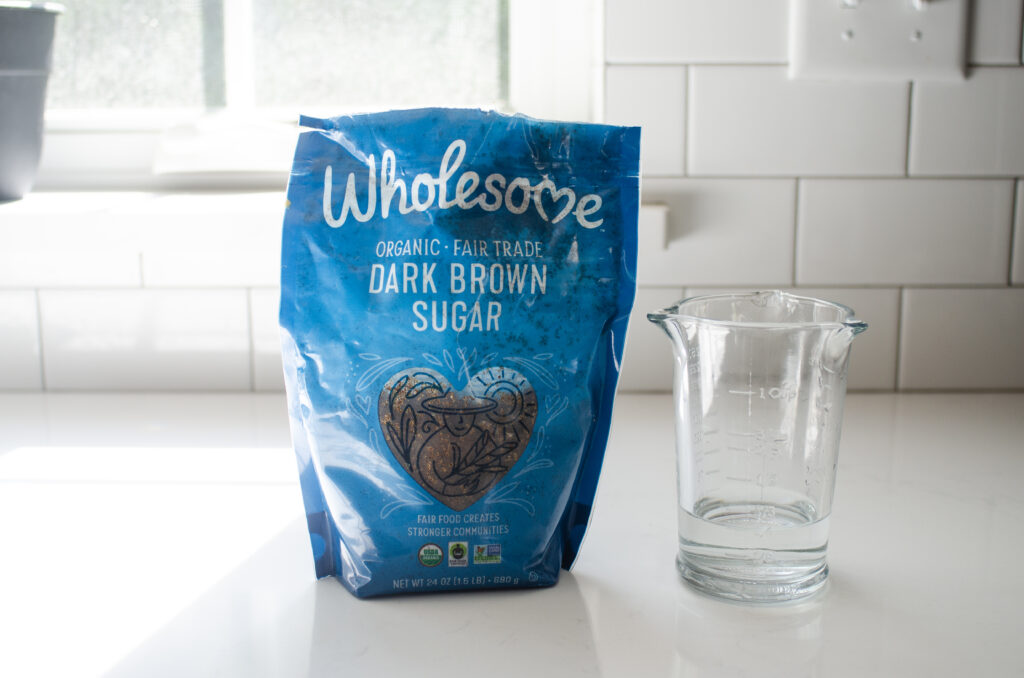 How to Make Brown Sugar Simple Syrup:
You only need 2 ingredients to make the brown sugar simple syrup: brown sugar and water!
You can use dark brown sugar or light brown sugar. The dark brown sugar will have more flavor, of course.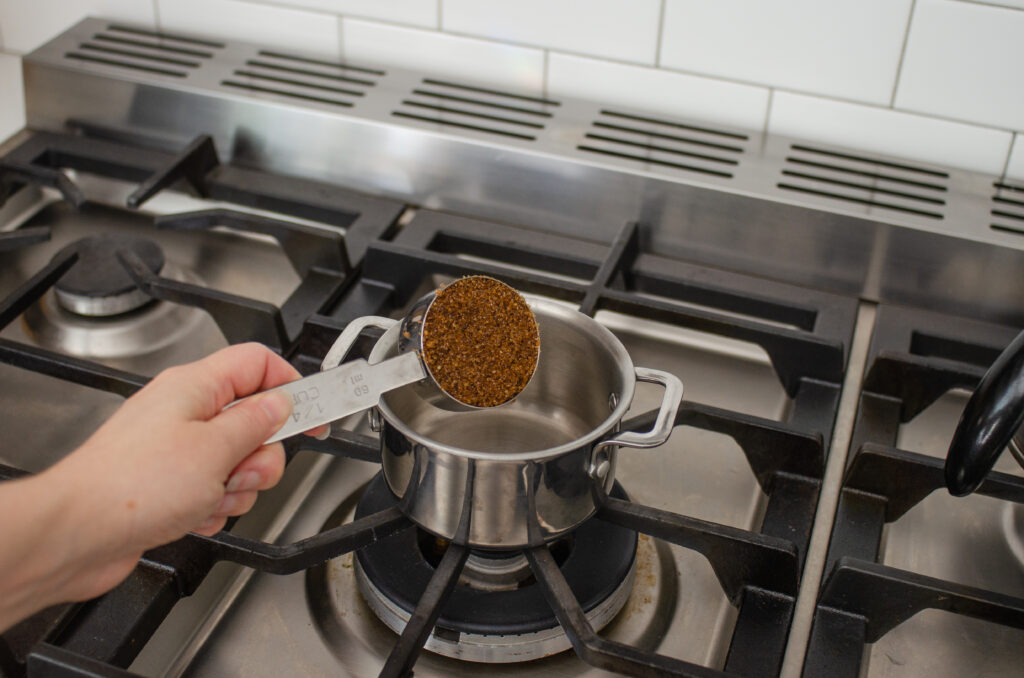 To make brown sugar simple syrup, place ¼ of brown sugar and ¼ cup of water in a small saucepan.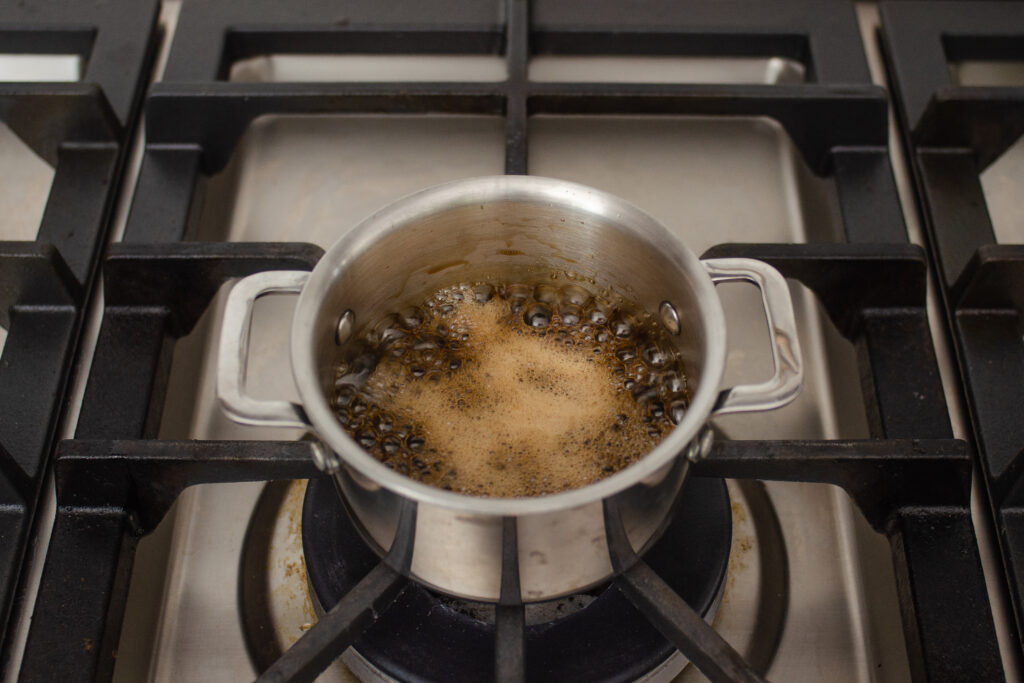 Bring to a boil over medium heat, stirring often, and remove from heat.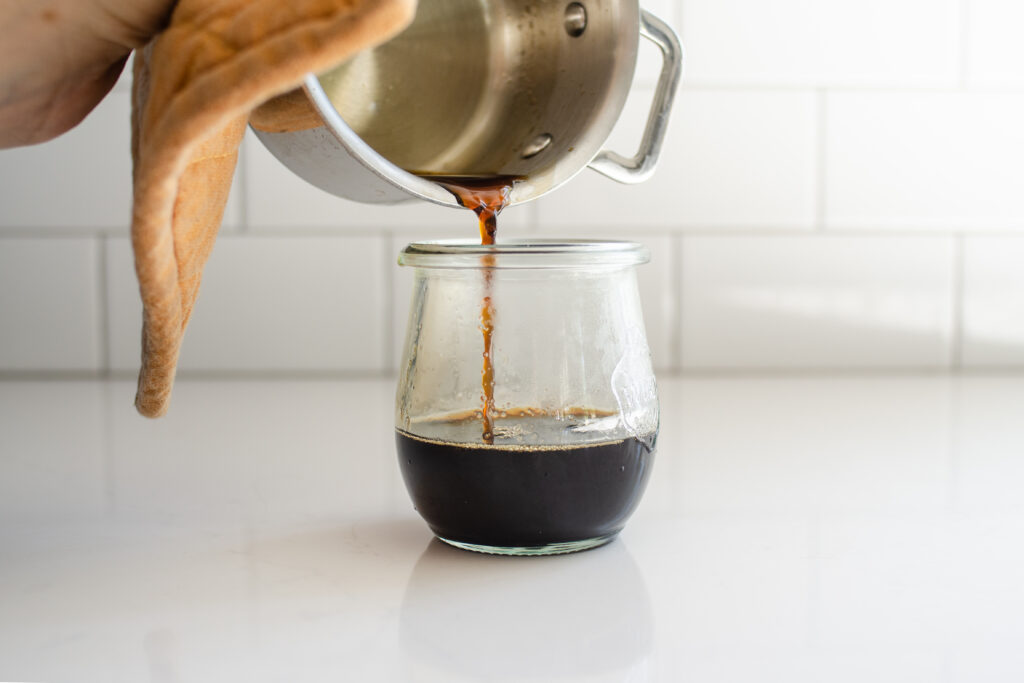 Pour into a jar or airtight container and allow to cool before storing in the refrigerator.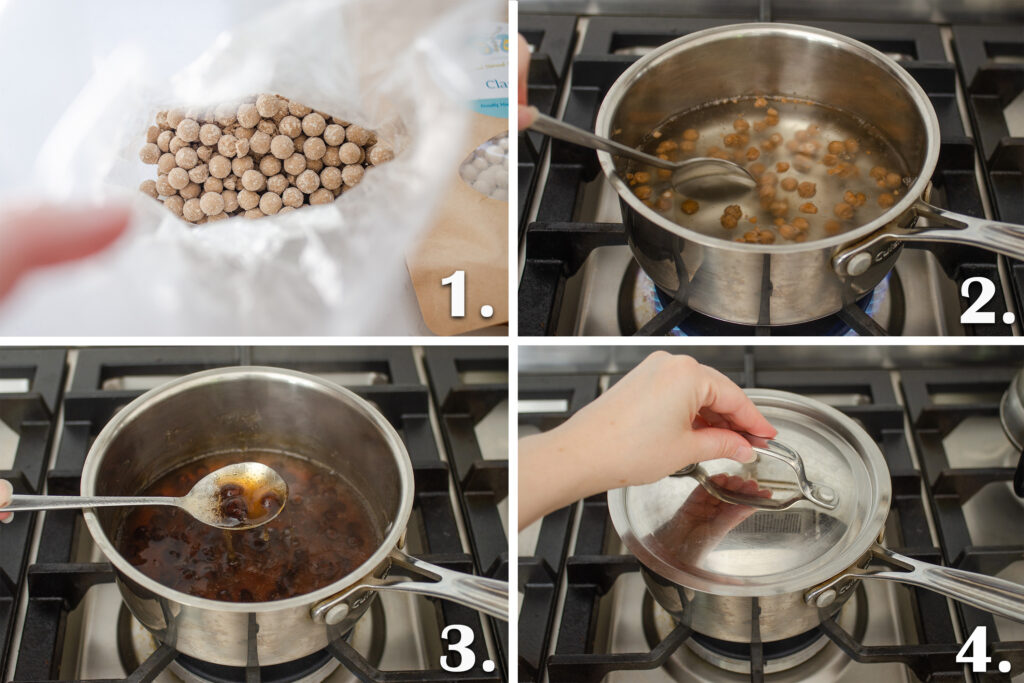 Making the Boba:
You should cook your Boba according to the package instructions, but here's how I cook mine.
Bring the water to a boil in a small saucepan. Add the Boba pearls and cook, stirring often, for 30 minutes.
If you don't stir the Boba pearls, they'll start to stick to the bottom of the pan.
Remove from heat, cover, and allow to rest for 20 minutes.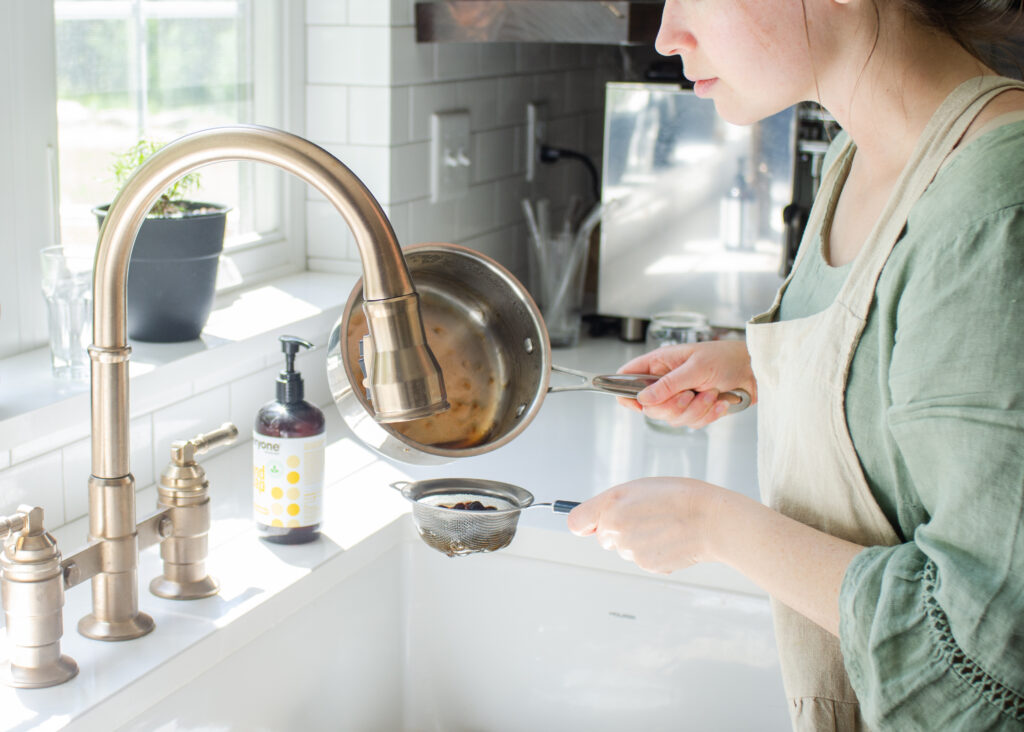 Strain the Boba. Some Boba requires you to rinse as well, but the ones from U.S. Boba Co. don't.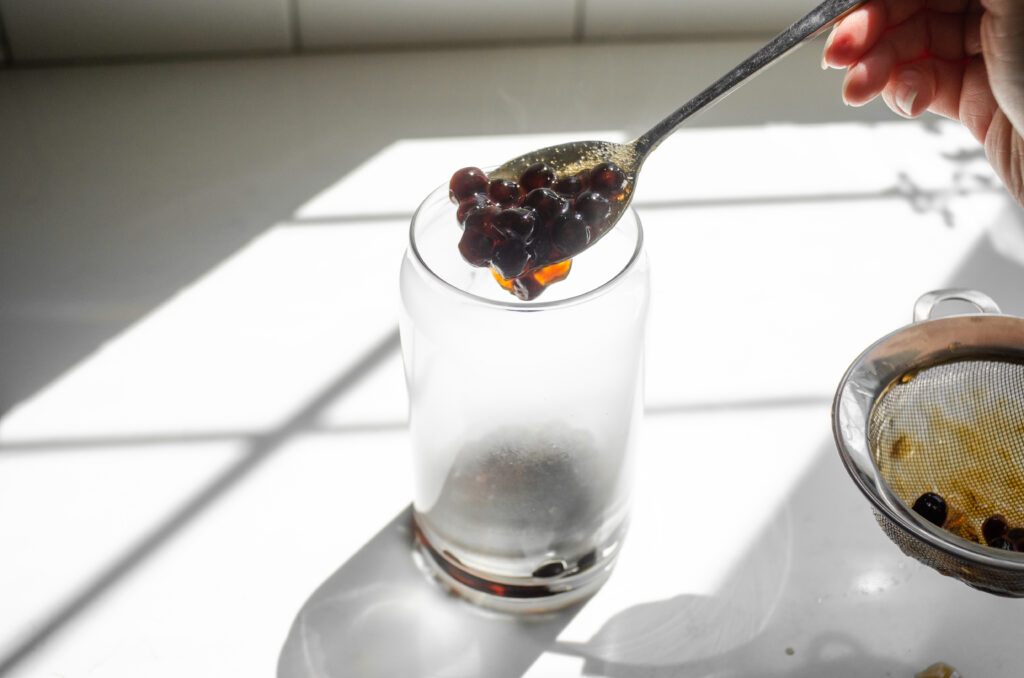 Place the cooked tapioca pearls in a 16 ounce glass. A pint mason jar would work perfectly.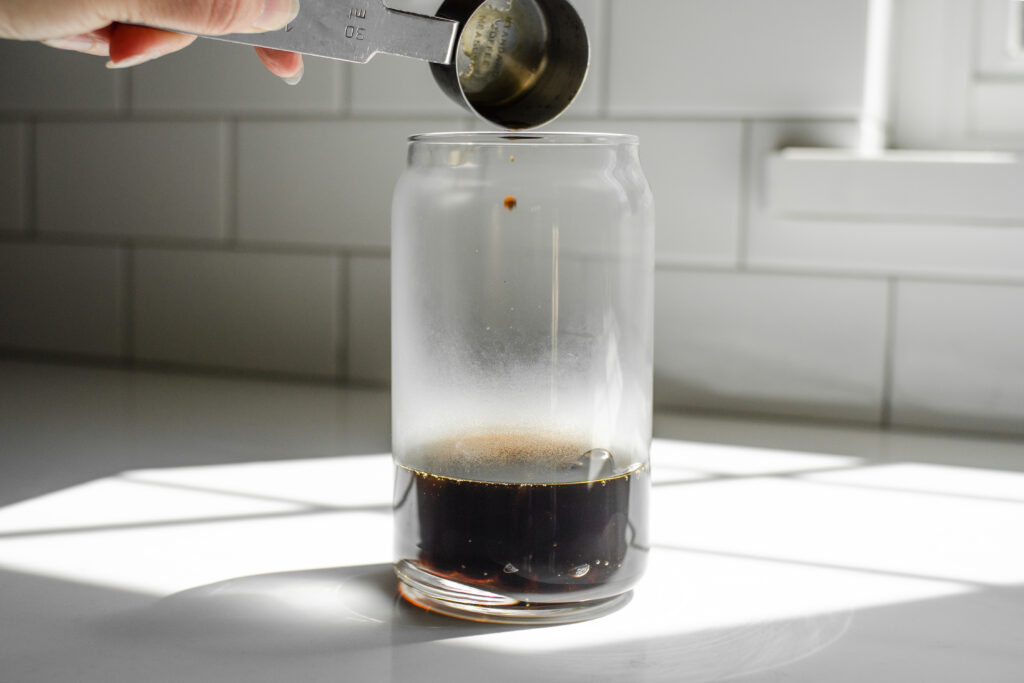 Place 1-3 tablespoons of the dark brown simple syrup on top of the Boba pearls and allow to sit for 15 minutes.
Letting the pearls sit in the water for 15 minutes allows them to absorb the flavor and sweetness of the brown sugar syrup. If you skip this step, the boba will be bland.
Check your package, but Boba will typically only stay good for about 4 hours after it's been cooked. This isn't something you can make up the day ahead and it'll still be good.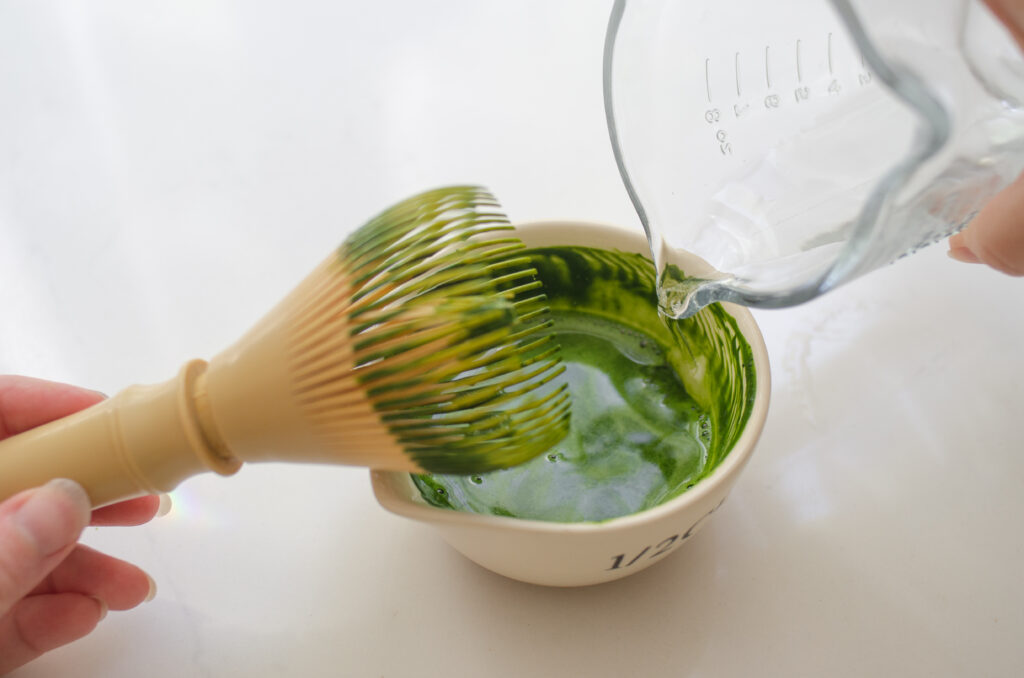 Making the Matcha Milk Tea:
Now while the Boba pearls are soaking up that syrup, it's time to make the matcha tea.
Place the matcha in a small bowl. A matcha bowl with a spout is really handy here.
Pour 2 tablespoons of the hot water on top of the matcha, and use a matcha whisk to whisk until smooth and there are no more clumps of matcha. Then pour the rest of the water on top and give it a whisk.
The reason I only whisk in half of the water at first is because it's easier to get the matcha smooth if there's less water.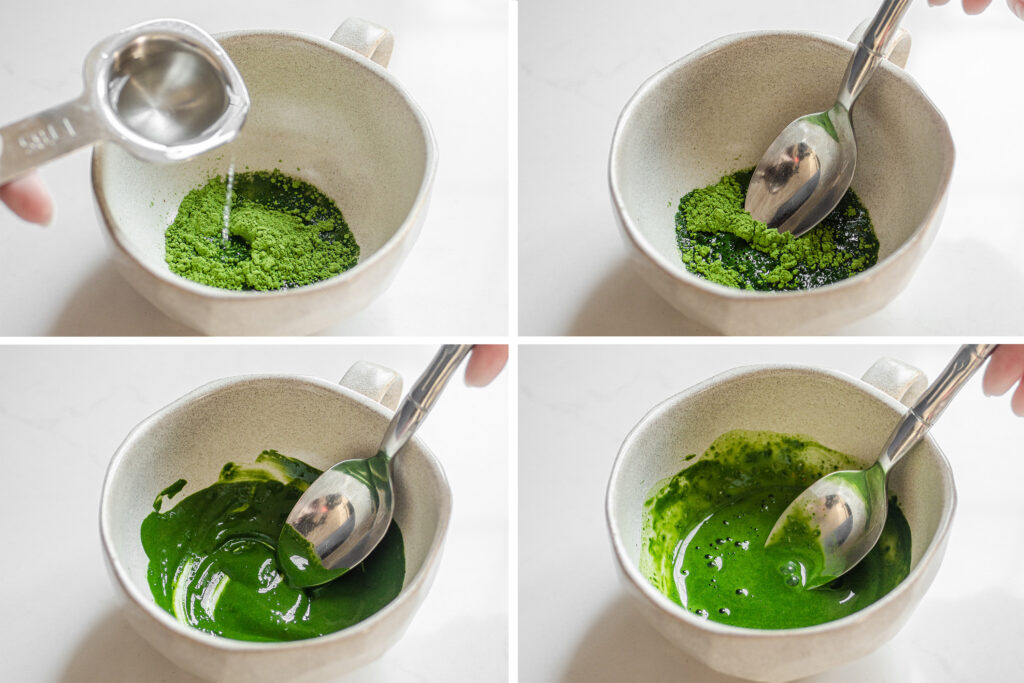 Now you can accomplish this without a bamboo whisk, but it will be more work. A bamboo whisk really is the best way to get matcha smooth.
To make matcha without a whisk, first pour in just enough of the water to make a paste, and use a spoon to mix up the matcha, smooshing it on the sides of the bowl to break up any clumps. Then gradually add the rest of the water once it's smooth.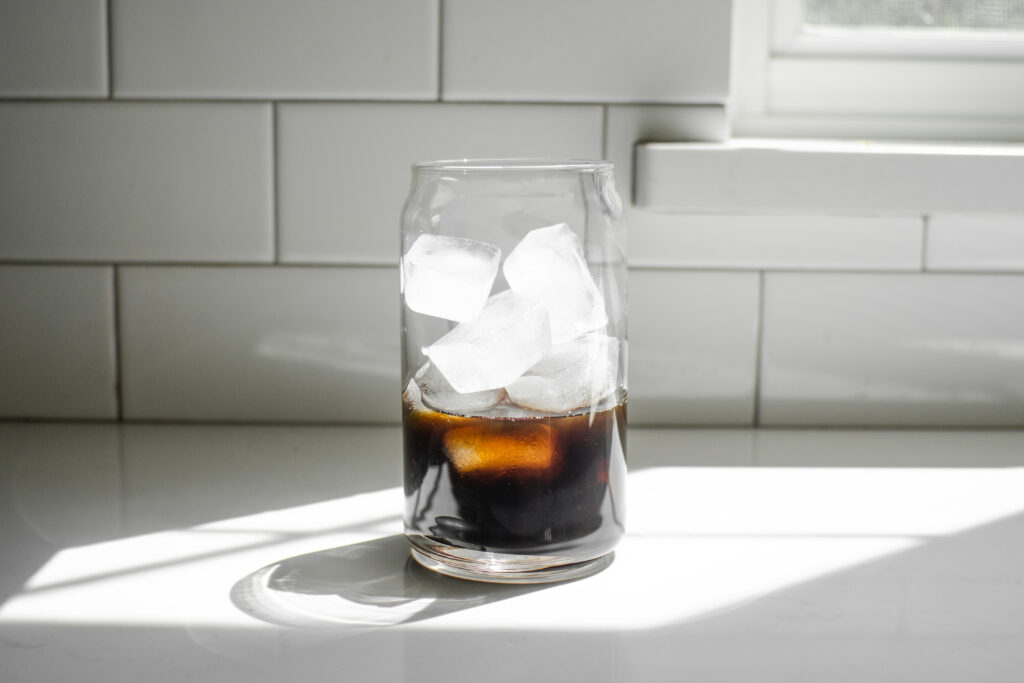 Okay, add some ice on top of the boba pearls in the glass.
Pour your choice of milk and cream on top of that.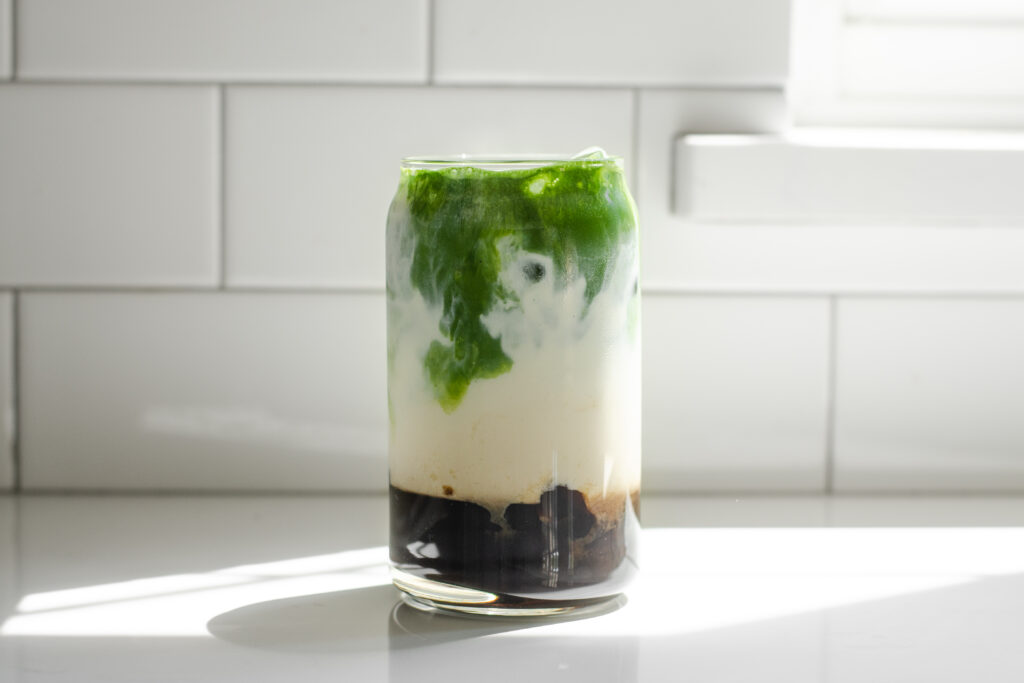 The last step is the best part: pour the matcha mixture on top of the milk, and watch the magic happen.
You could also use a milk frother to whisk the milk and matcha together, but it isn't nearly as dramatic.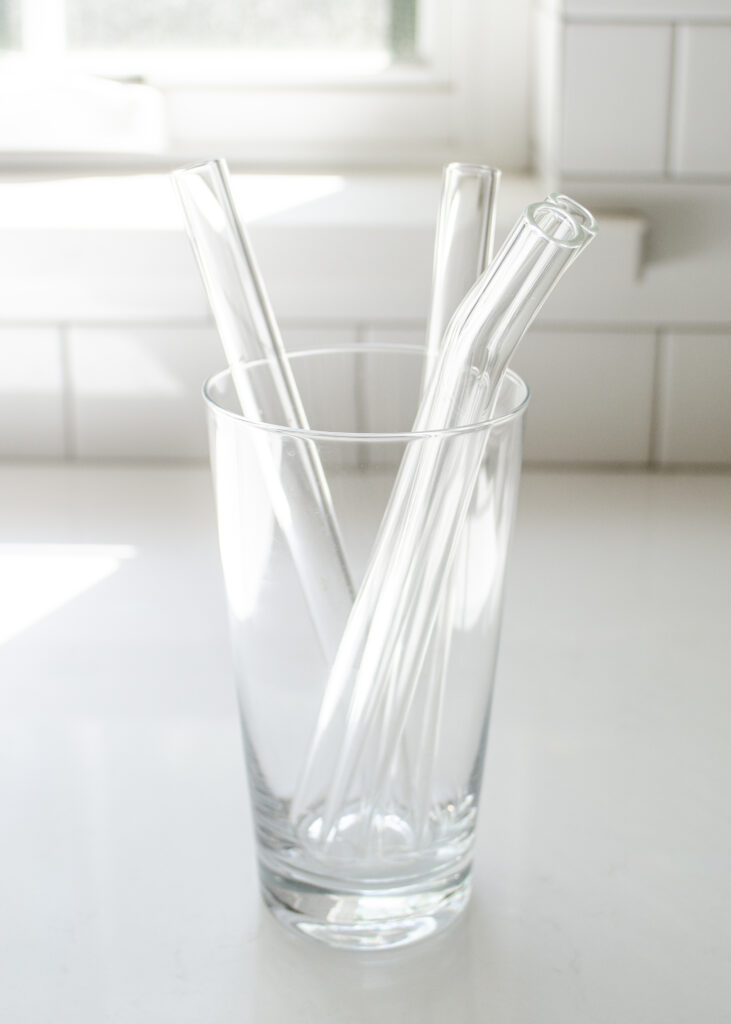 Where to Buy Boba Straws:
Something that is absolutely essential to enjoying matcha is a good boba straw. Boba straws are extra wide to allow you to slurp up the large tapioca pearls.
I purchased these glass straws from a company that makes them in the U.S.A. I got both the bent and the straight options.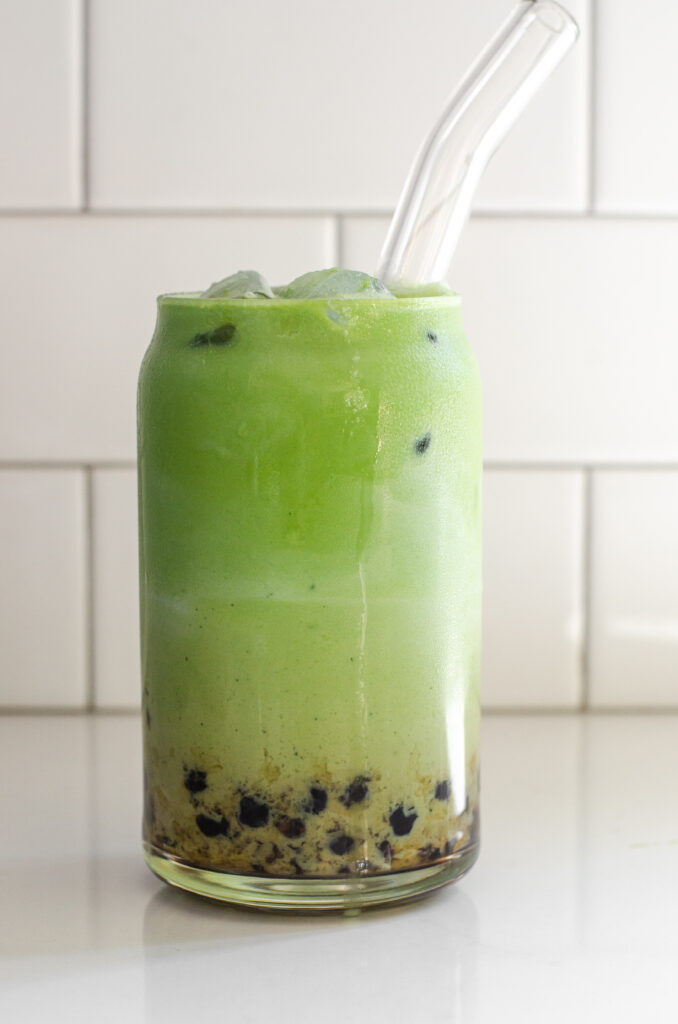 So that's how to make matcha milk tea in the comfort of your own home. Now let's quickly go over some of the healthy benefits of matcha!
Health Benefits of Green Tea:
Matcha has several protective benefits.
It contains plenty of antioxidants, particularly catechins, including Epigallocatechin gallate (ECGC), which help to prevent free radicals from damaging human cells.
Some studies seem to show that matcha can also help reduce the risk of heart disease, cancer, arthritis, high cholesterol, and high blood pressure, and could support skin health and your immune system.
How Much Caffeine is in Matcha?
The caffeine content of matcha may vary from brand to brand. But in general, there is about 60-70 mg of caffeine in 1 teaspoon of matcha powder. So this matcha milk tea recipe contains about 120 to 140 mg of caffeine.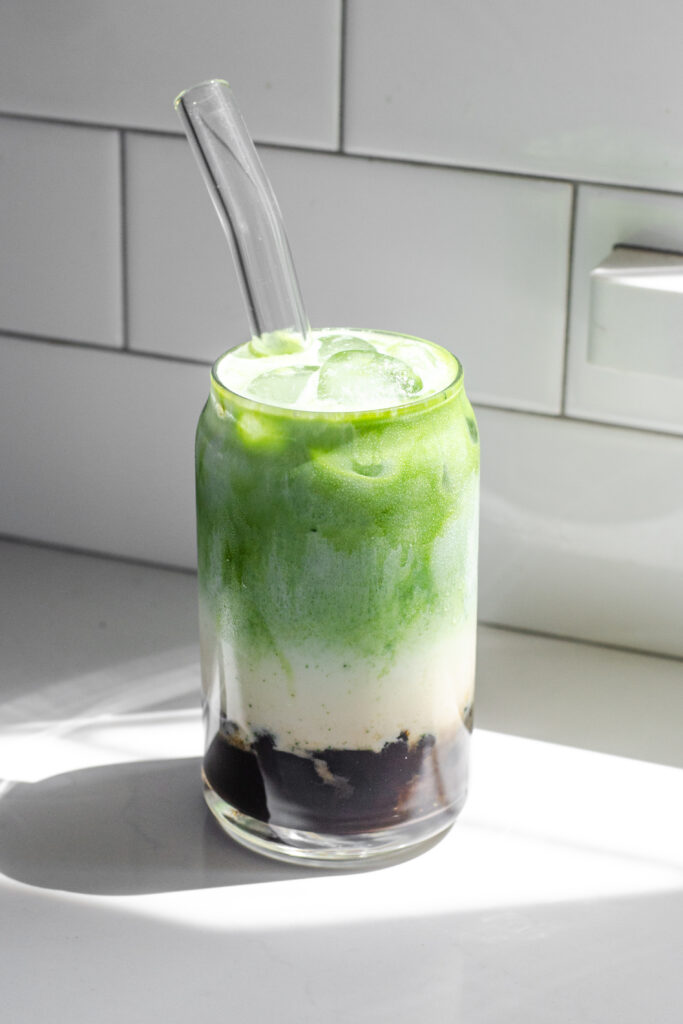 More Matcha Recipes:
Latte Drinks:
Iced Latte Drinks:
Yield: 1
How to Make Matcha Milk Tea with Boba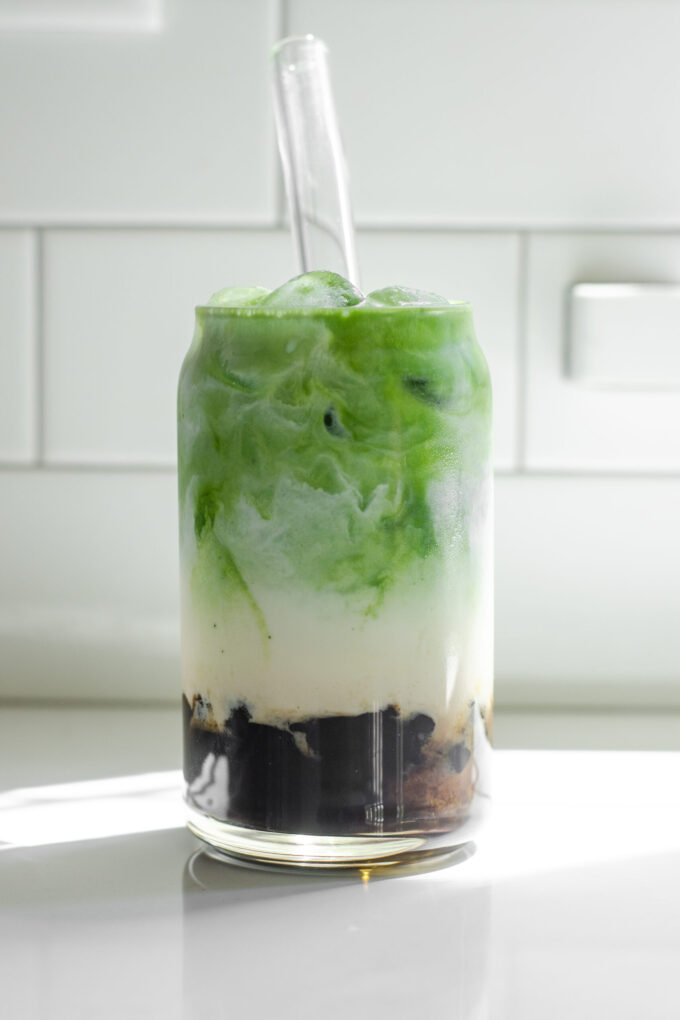 Learn how to make yourself a delicious matcha milk tea with tapioca pearls!
Total Time
1 hour
15 minutes
Ingredients
For the Boba:
2 cups water
1/4 cup boba (tapioca pearls)
1-3 tablespoons brown sugar simple syrup (see note)
For the Matcha Milk Tea
2 teaspoons matcha powder
1/4 cup hot water (no more than 170 degrees F)
Ice
3/4 cup whole milk or milk of choice
1/4 cup heavy cream or creamer of choice
Instructions
For the Boba:
Cook the boba according to the package instructions.
Place the cooked boba into a 16 ounce glass. Pour the brown sugar simple syrup on top and allow to sit for 15 minutes.
For the Matcha Milk Tea:
Place the matcha in a small bowl. Pour half of the hot water on top. Whisk until smooth with a bamboo whisk. Gradually add the remaining water and whisk until smooth.
Place the ice on top of the boba in the glass. Pour the milk and cream on top. Finish by pouring the matcha on top.
Enjoy with a boba straw!



Notes
To make the brown sugar simple syrup, brink 1/4 cup of water and 1/4 cup of brown sugar to a boil. Pour into an airtight container and allow to cool before refrigerating.
Nutrition Information:
Yield:
1
Serving Size:
1
Amount Per Serving:
Calories:

400