Learn how to make this Homemade London Fog Tea Latte recipe with Earl Grey tea and lavender, which is a favorite among tea drinkers!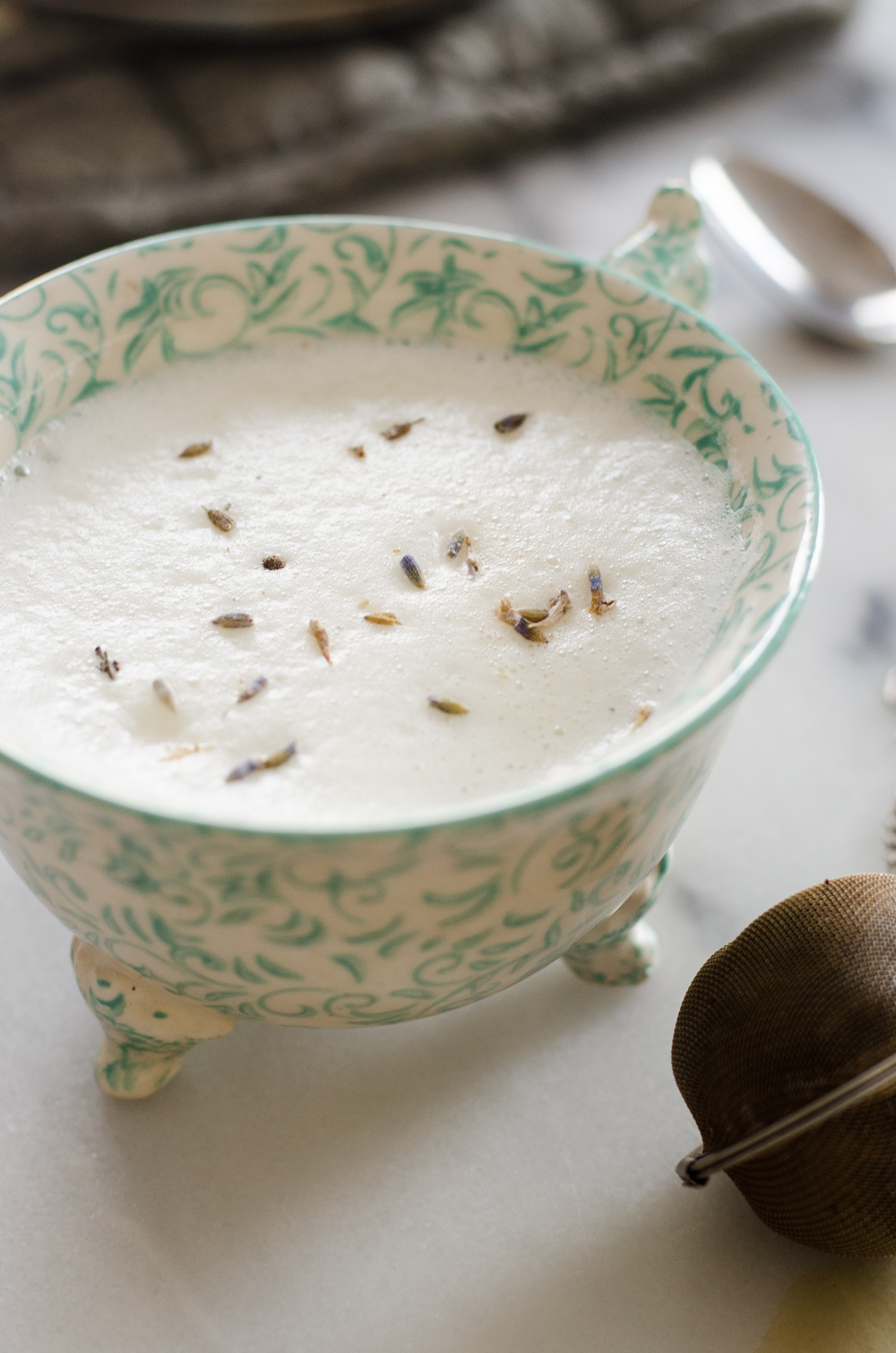 Have you ever heard of a London Fog Tea Latte?
It's a such a lovely invention! You simply make a tea latte with the addition of lavender and vanilla. Scrumptious!
Today I'm going to share my homemade London Fog Latte recipe with you, plus I'll give you a little background on the origin of Earl Grey tea and the iconic London Fog!
If you prefer to learn through video, here's a tutorial just for you!
And if you prefer to learn by reading, follow the tutorial below!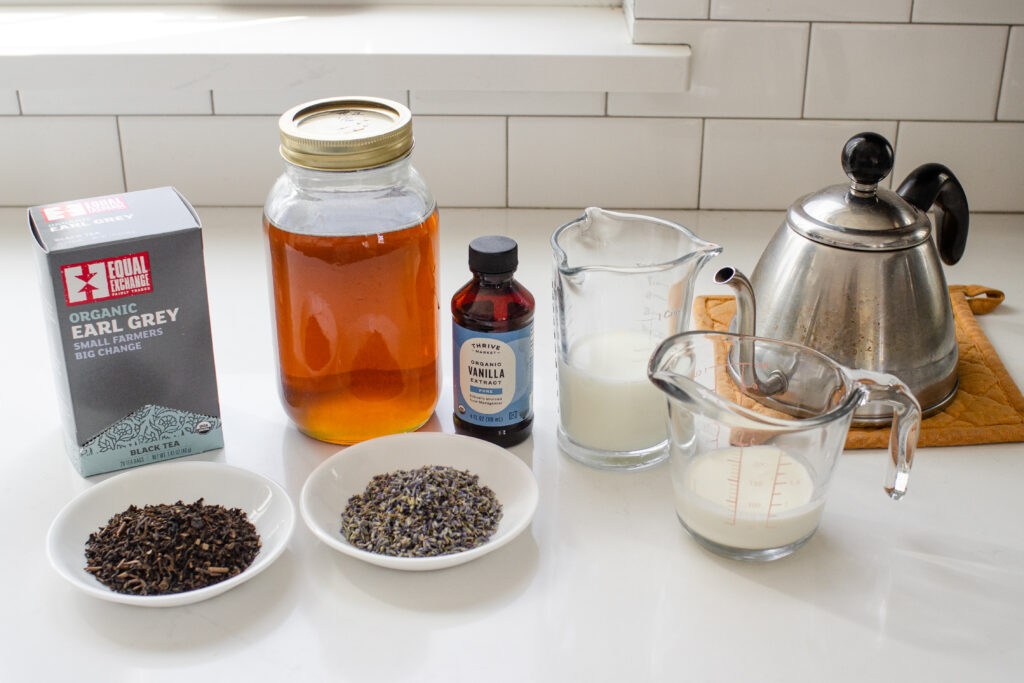 Ingredients:
Here are the simple ingredients you'll need to make a London Fog latte at home:
4 teaspoons Earl Grey tea or 2 tea bags: You can either use Earl Grey tea bags or loose leaf tea to make this latte. I like the Equal Exchange earl grey tea bags (it's organic and fair trade), and the Frontier Organic decaf Earl Grey tea is also good.
1 teaspoon organic dried lavender: Lavender is an optional addition to the London fog latte, but it is lovely. You can purchase edible organic dried lavender. But if you don't want to bother with loose tea and dried lavender, you can always purchase Earl Grey tea bags that have lavender. Here's an organic fair-trade lavender Earl Grey tea that looks nice.
1/3 cup boiling water
1 teaspoon pure maple syrup: I like to use maple syrup to sweeten this latte, but you can also use honey, vanilla syrup, simple syrup, or even brown sugar!
1/8 teaspoon pure vanilla extract: If you'd like to add that vanilla flavor but you don't have any vanilla syrup, simply add a few drops of vanilla extract.
1/2 cup whole milk: The type of milk you use will affect the final latte greatly. I recommend using full fat milk to get a creamy, rich flavor/texture. You could substitute oat milk for a dairy free version. I don't really recommend using almond milk or coconut milk – I just don't prefer the flavor and texture!
1/4 cup cream: To take this to the next level, I also recommend adding a splash of cream. Since the base of the drink has a good amount of water, the addition of the cream ensures it's extra luxurious. Feel free to substitute half and half for the milk and cream if you have that on hand.
How to Make a London Fog Tea Latte: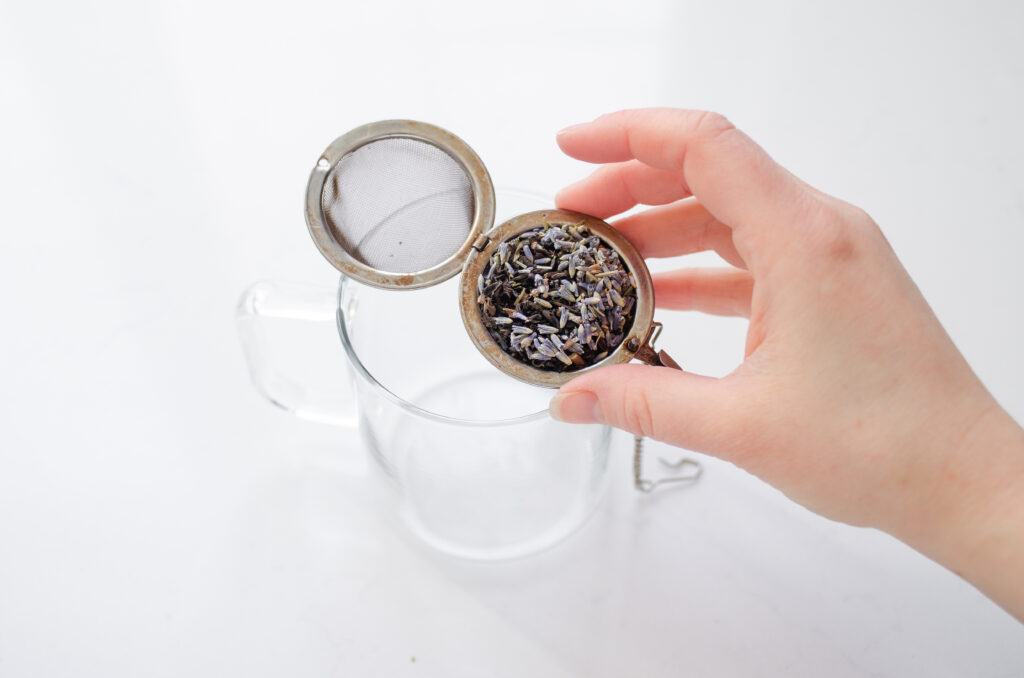 Place some water in a tea kettle and put it on the stove to boil. Or use an electric kettle if that's what you have.
If you're using loose tea leaves, place them and the lavender in a tea strainer and put it in a teacup or coffee mug.
Here's a tea strainer that's made in Japan, if you don't own one already!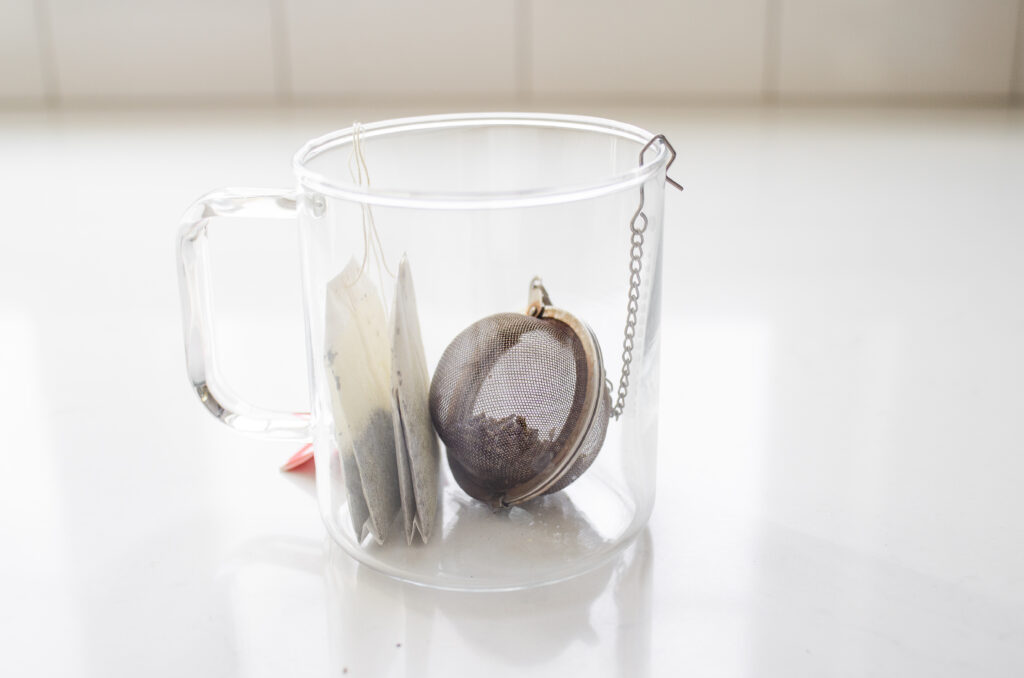 If you're using tea bags, place the lavender in the tea strainer by itself, and put the tea bags next to it in the mug.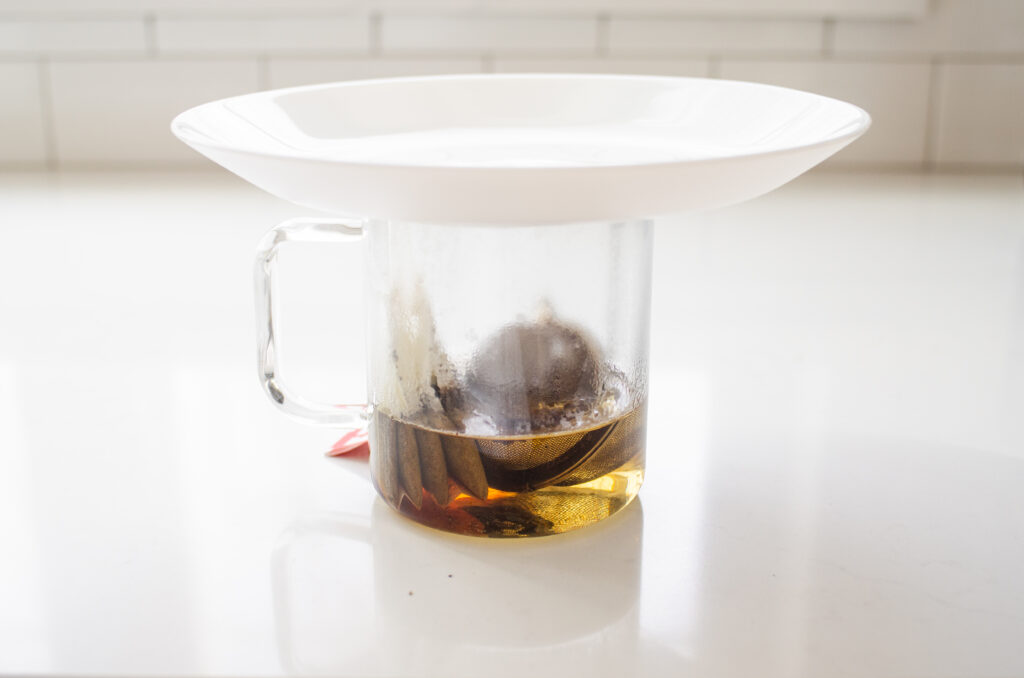 Now add 1/3 cup of boiling water on top of the tea and lavender. Put a plate on top to trap the heat, and allow to steep for 5 minutes
Remove the tea and lavender from the mug.
Sweeten with either maple syrup, vanilla syrup, or sweetener of choice.
If you're using maple syrup and you'd like to add that hint of vanilla, you can place a few drops of vanilla extract in the mug as well.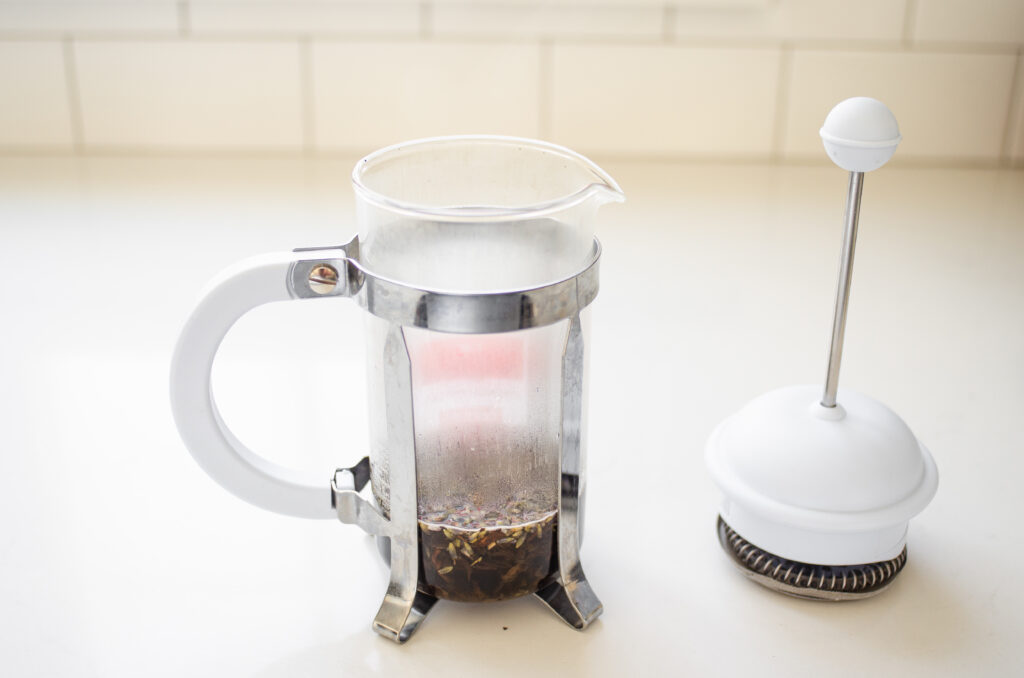 Steeping in a French Press:
You can also use a French press to brew and strain the tea instead of using a tea strainer and a mug.
Simply follow these steps:
Add the loose leaf tea and lavender to the French press.
Pour the hot water on top.
Put the lid on the French press, and allow to steep for 5 minutes before plunging down.
Pour the brewed tea into your mug.
Sweeten if desired.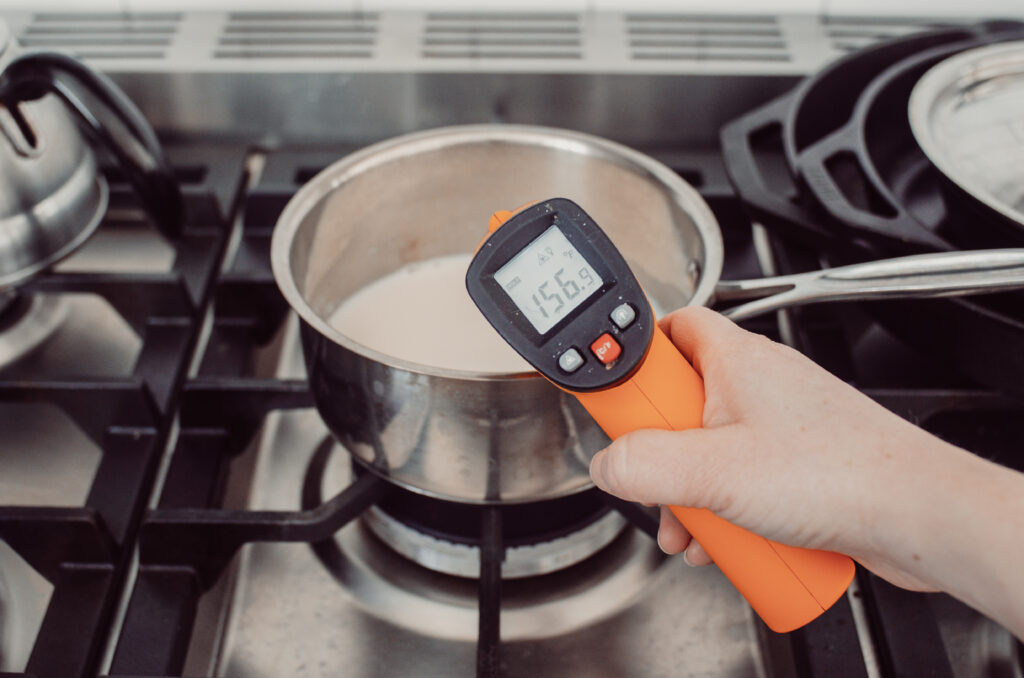 Frothing the Milk:
Now it's time to heat and froth your milk of choice!
If you own an espresso machine with a milk steamer wand, by all means use that!
But if you don't own a machine with the ability to make steamed milk, you'll need to heat your milk over the stove in a small saucepan.
I like to heat my milk to 155 degrees Fahrenheit (98 degrees Celsius). That way the milk won't get so hot that it will scald, but it will be warm enough after the frothing process.
You can use a handheld milk frother, hand pump frother, blender, whisk, etc. to froth the warm milk. Check out my How to Froth Milk without a Machine video to learn 8 different ways to get foamy milk.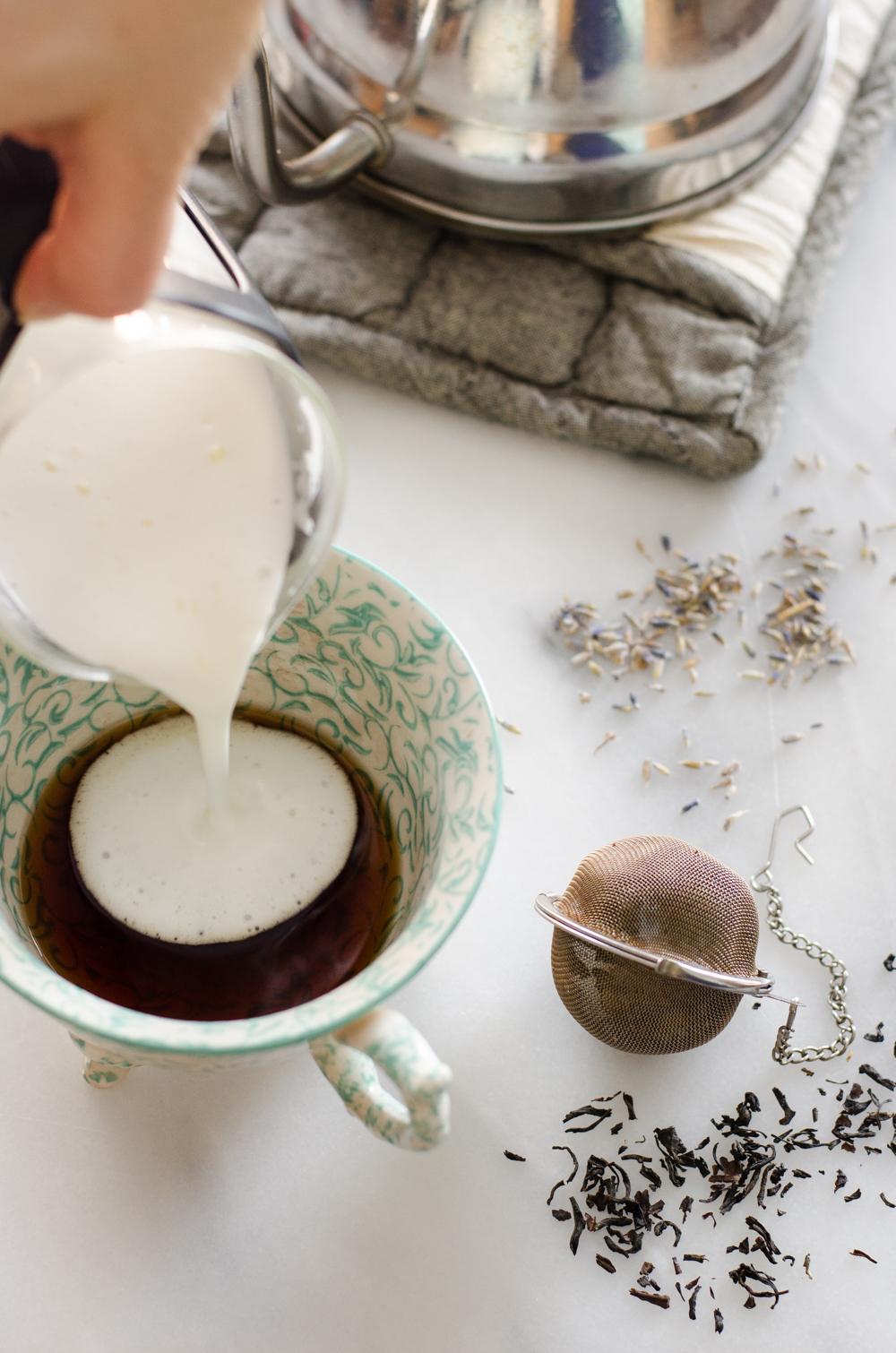 Now pour the frothy milk over the hot tea in your mug.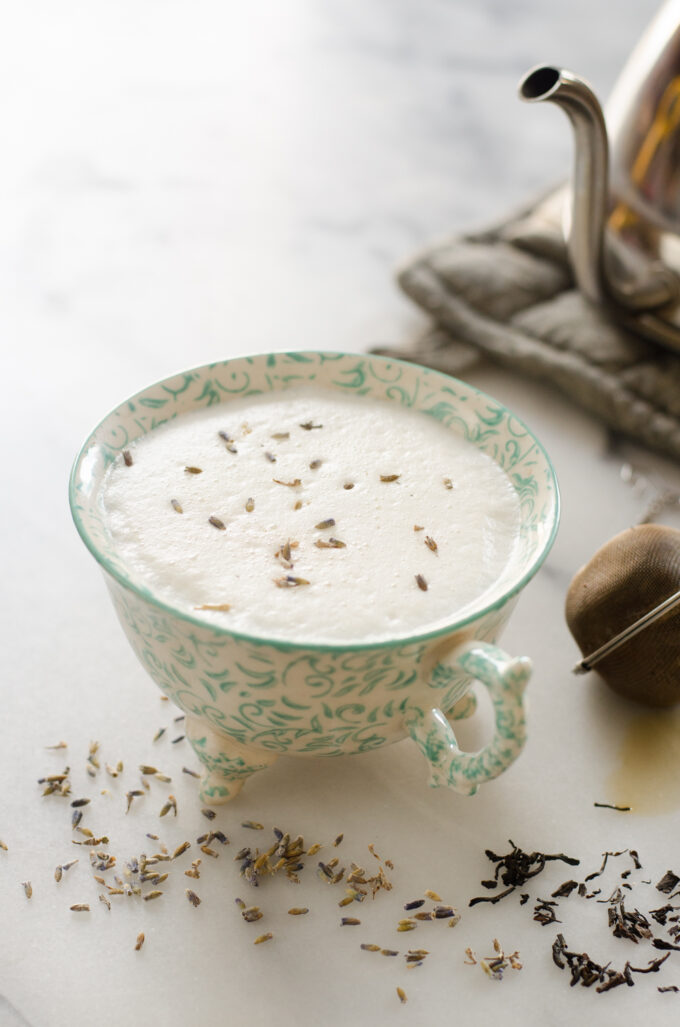 You can sprinkle some extra lavender flowers on top for garnish if you like.
It's mostly just for looks, and they can actually get in the way of drinking the latte. JSYK.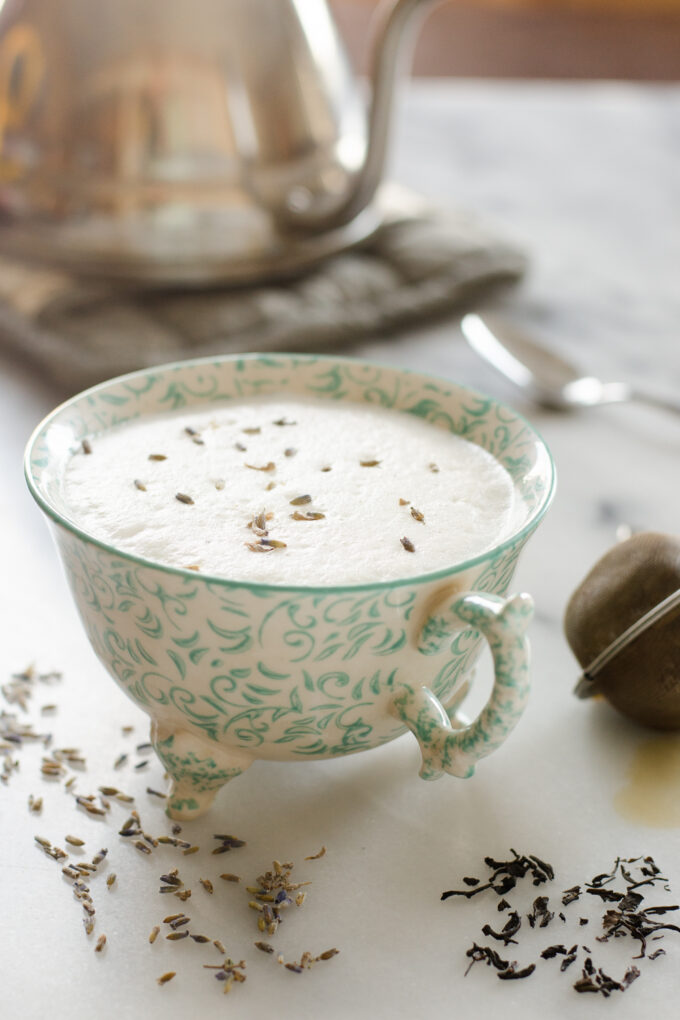 FAQ:
Now you know how to make a London Fog Latte at home, so you don't have to run out to a coffee shop all the time!
Let's move on to some background information on Earl Grey Tea and some frequently asked questions!
What is Earl Grey Tea?
I feel like there's something kind of posh about Earl Grey tea. It's most likely because of the name. It's just fun to say.
Early grey tea is a black tea that is flavored with bergamot orange oil. It has a distinct flavor which is better experienced than described.
Some companies offer a green tea version of Earl Grey instead of the usual black tea base. And you can also purchase decaffeinated Earl Grey Tea as well as herbal varieties.
Lady Grey tea is similar to Earl Grey, but it has lemon and orange as well as bergamot. It's actually a trademarked name of Twinings Tea, but other tea companies have developed citrus black teas that include those flavors. They're just not listed as a Lady Grey tea.
Who is Earl Grey tea named after?
There's a bit of controversy about the origin of Earl Grey tea. Legend has it that Charles Grey, the 2nd Earl of Grey (who was the British Prime Minister from 1830-1834), popularized the tea.
But historians question this. Instead, they speculate that perhaps tea merchants flavored their cheap teas with bergamot oil to disguise the low quality.
So there goes my notion that it's super sophisticated.
But whatever the origin, I love the flavor or Earl Grey tea. It's more exciting that a plain cup of black tea. And it's lovely made into a Lavender Earl Grey Tea Latte (AKA London Fog drink).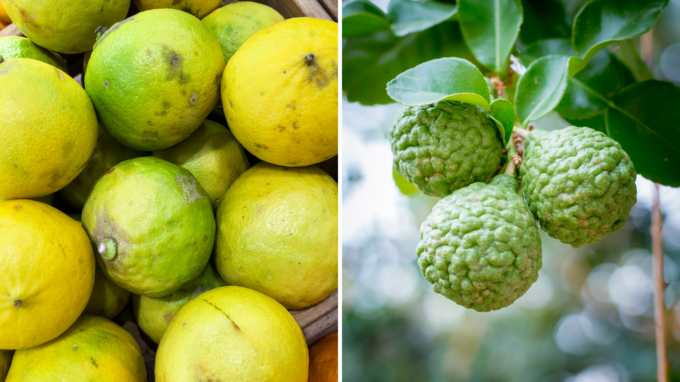 Photo via Getty Images
What is Bergamot in Earl Grey Tea?
Bergamot orange (Citrus Bergamia) is a type of citrus fruit that looks kind of like a cross between an orange and a lemon or lime. In fact, it's believed that it originated as a cross between a lime or lemon and a sour orange (AKA bitter orange).
It's primarily produced in southern Italy, but it's also grown in France, Turkey, northern Africa, and other parts of the world (they're even grown in California!).
Bergamot trees are small, about 10 feet or 3 meters tall.
The peel of the bergamot fruit can be either bumpy or smooth, and green when unripe or yellow when ripe.
Bergamot oranges are primarily used for the fragrant oil found in the peels. It's not just used to flavor an Earl Grey tea blend, either. It can also be used for perfumes, marmalades, and baked goods.
You can purchase bergamot orange essential oil, but essential oils are usually not considered edible. So if you want to experiment with the flavor, make sure to get a food grade oil such as bergamot extract, or use the rind of a fresh bergamot orange.
It's usually listed as "oil of bergamot" on an Earl Grey tea bag.
London Fog Tea Latte Origins:
The creation of the London Fog latte also has uncertain origins.
The story goes that in the 1990s, Mary Loria, who was pregnant, went to a local Vancouver café and requested a coffee alternative drink. She either concocted or was served a blend of Earl Grey tea and frothed milk.
Whatever the origin, Starbucks picked up the flavor combination, and it's now a regular menu item.
I have never tried the Starbucks London Fog Latte. All I know is this homemade version is lovely, and you need to give it a try! Your taste buds will thank you.
More Latte/Hot Drinks Recipes: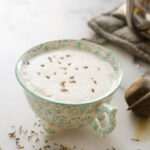 Homemade London Fog Latte
An Earl Grey latte perfumed with lavender!
Ingredients
4

teaspoons

Earl Grey tea or 2 tea bags

1

teaspoon

organic dried lavender

1/3

cup

boiling water

1

teaspoon

pure maple syrup

1/2

cup

organic/grass-fed whole milk

1/4

cup

organic/grass-fed cream

1/8

tsp

vanilla extract

(optional)
Instructions
Place Earl Grey tea and lavender in a tea strainer. Pour boiling water over tea. Let steep for 5 minutes. Remove tea leaves and add maple syrup.

Heat milk and cream to 150 degrees F (65 C). Froth the milk/cream and pour over the tea. Enjoy!
Recipe Notes
Adapted from Anna Elizabeth
This is the kind of tea strainer I use
, and this one is made in the USA
Originally published on: Mar 16, 2017 at 11:08