Learn how to make my homemade vanilla coffee syrup recipe with this easy, step-by-step tutorial! This is a must-make if you're a coffee lover!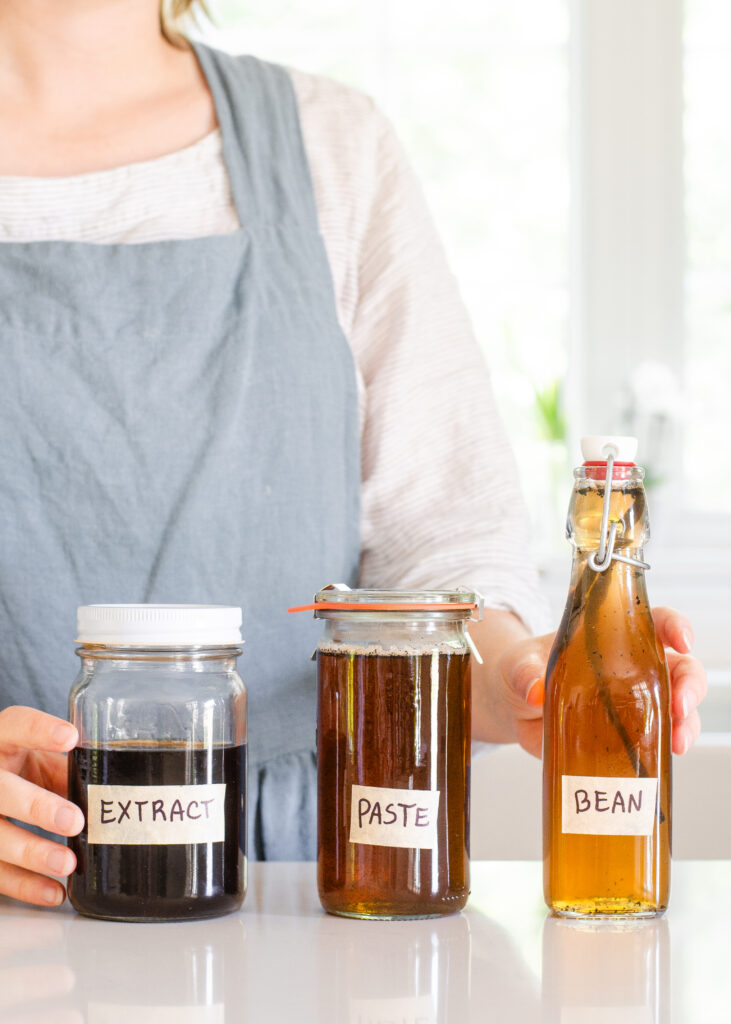 Whether you're a coffee connoisseur looking to up your coffee game, or you'd like to save some money while flavoring your morning coffee, this homemade vanilla syrup recipe is for you!
With just four ingredients and a few minutes of your time, you can make a syrup that would cost you two or three times as much to buy in the store.
Not only is it relatively simple to make, but you'll also be surprised with its ability to give drinks a burst of flavor.
In this post, I'll show you how you can easily make this syrup from scratch in your own kitchen.
I'll go over which ingredients you'll need, and helpful substitutions.
Plus, you'll get a few helpful tips on how to use it like a pro barista.
Here's a quick video tutorial in case you learn better that way. The written tutorial and printable recipe are below!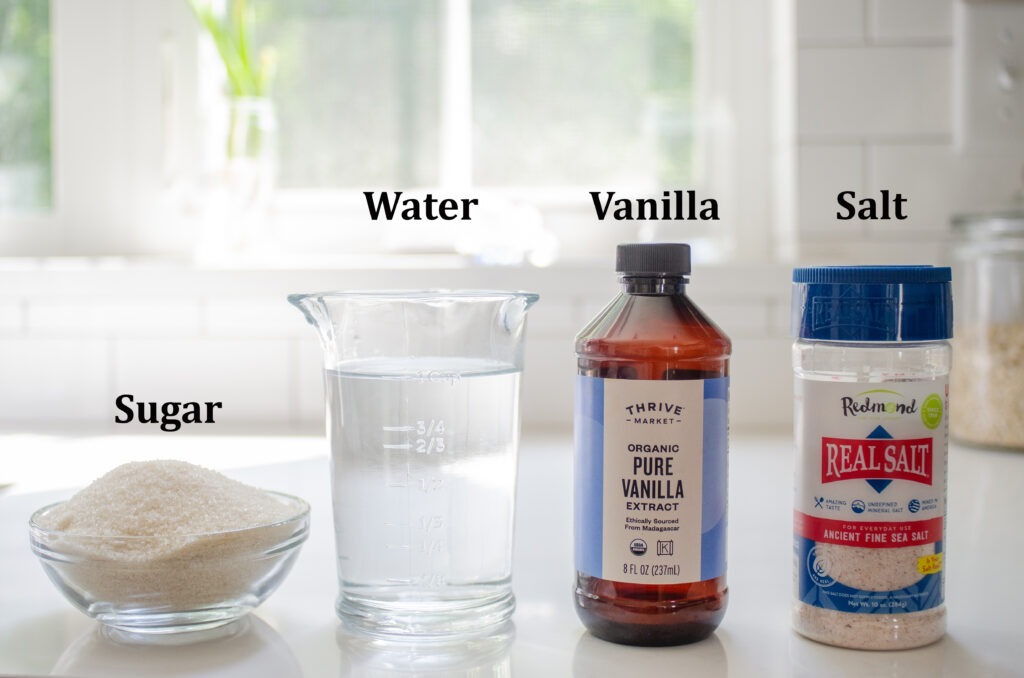 Note: Some links are affiliate. All opinions are 100% my own. If you click on a link and make a purchase, I will earn a small commission. This has zero impact on the price you pay, and it helps Buttered Side Up out! Thank you!
Ingredients:
You only need a few simple ingredients to make this syrup:
Sugar: I like to use unrefined cane sugar, but granulated white sugar will work as well. I'll discuss types of sugar more below.
Water: Not much to explain here: just use good quality water!
Vanilla: This is, of course, what you'll use to flavor the syrup. I'll discuss types of vanilla below.
Salt: This is optional, but I like to add a pinch of salt to draw out the flavors. If you use a hefty amount of salt, your syrup will take on more of a salted caramel flavor.
By the way, this may seem like a small amount of ingredients, but I suggest that you make this in small batches to avoid your syrup going bad before you use it up. Unless you're going through a serious amount of syrup per day, of course!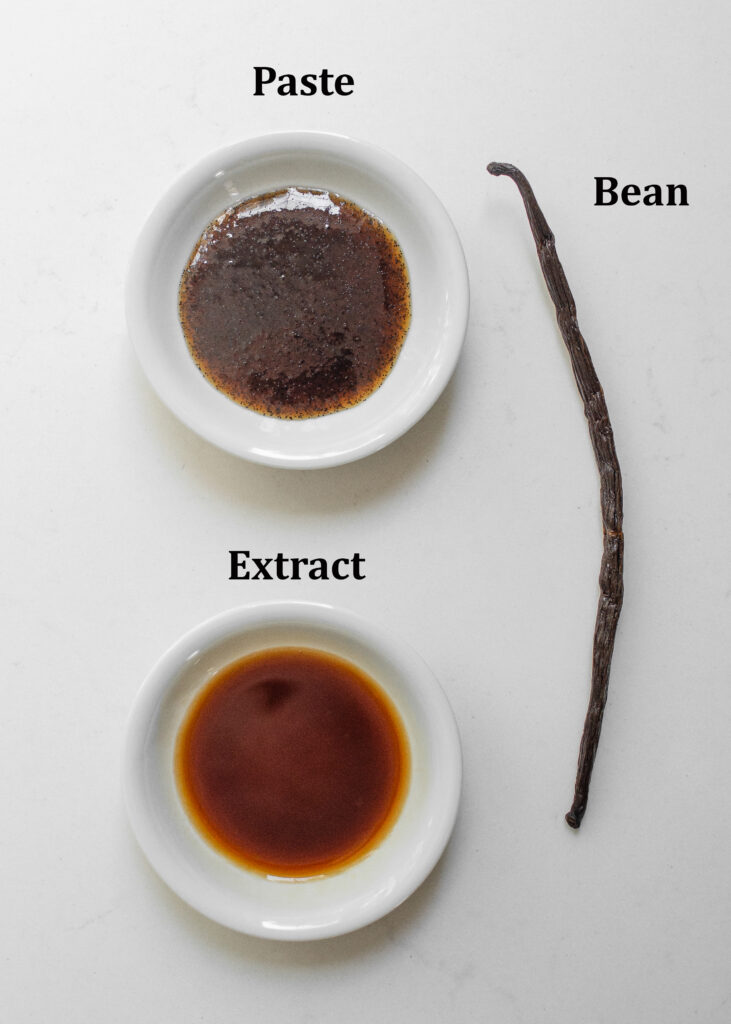 Types of Vanilla:
There are a few different types of vanilla that you can use to flavor your homemade syrup:
Vanilla Bean Paste: An easy way to make a vanilla bean syrup is to use vanilla paste. This is typically a mixture of sugar, vanilla seeds, and extract. Sometimes it also contains a thickening agent. I find that the paste lends a more intense vanilla flavor than the extract.
Vanilla Extract: Probably the most affordable way to make this coffee syrup is to use vanilla extract. It's also the most readily available form of vanilla.
A Whole Vanilla Bean Pod: Using vanilla pods is probably the most expensive way to make a homemade syrup. But it's also so much fun to use a real vanilla bean!
A quick note about flavors: The type of vanilla you use and where the vanilla bean was grown will greatly affect the final flavor of the syrup. For example, vanilla grown in Mexico has a much different flavor than vanilla grown in Madagascar.
Commercial vanilla syrups often rely on vanilla flavoring instead of pure vanilla extract to impart the signature flavor.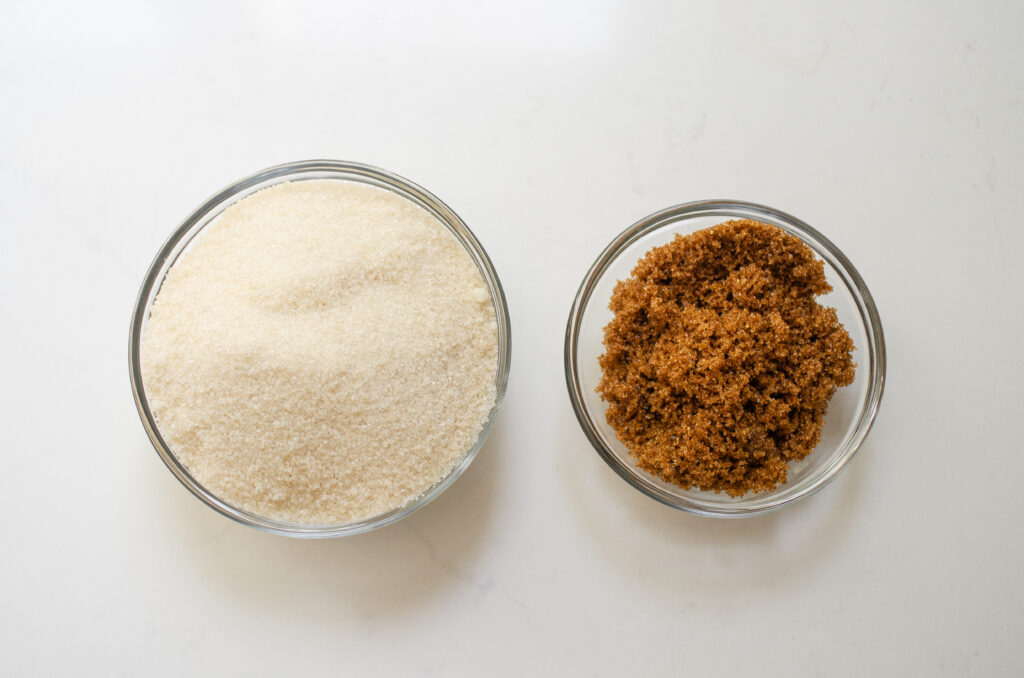 Types of Sugar:
Another way to adjust the flavor profile of the vanilla syrup is using different types of sugar.
You can replace 1/4 cup of the granulated sugar with brown sugar for a more caramelly, rich flavor.
Other options that I haven't personally tried are sucanat and coconut sugar.
Ratio of Sugar to Water:
The final way you can customize your homemade vanilla syrup is with the ratio of water to sugar.
To make a basic simple syrup, you use a 1:1 ratio of sugar to water. In other words, you use equal parts sugar and water.
But you can also make a rich simple syrup, which is made using a 2:1 ratio of sugar to water. This will, of course, result in a thicker syrup.
I personally like either a 1:1 ratio, or a 1.5 to 1 ratio of sugar to water (a syrup that's between a "regular" simple syrup and a "rich" simple syrup).
After testing out the Starbucks vanilla syrup (see section farther down the post), I would say that they use a 1:1 ration of sugar to water for their syrup.
If you opt for the higher ratio of sugar, you may want to increase the amount of vanilla a bit to accommodate.
How to Make Vanilla Syrup for Coffee:
The steps for making the syrup are as simple as the ingredients!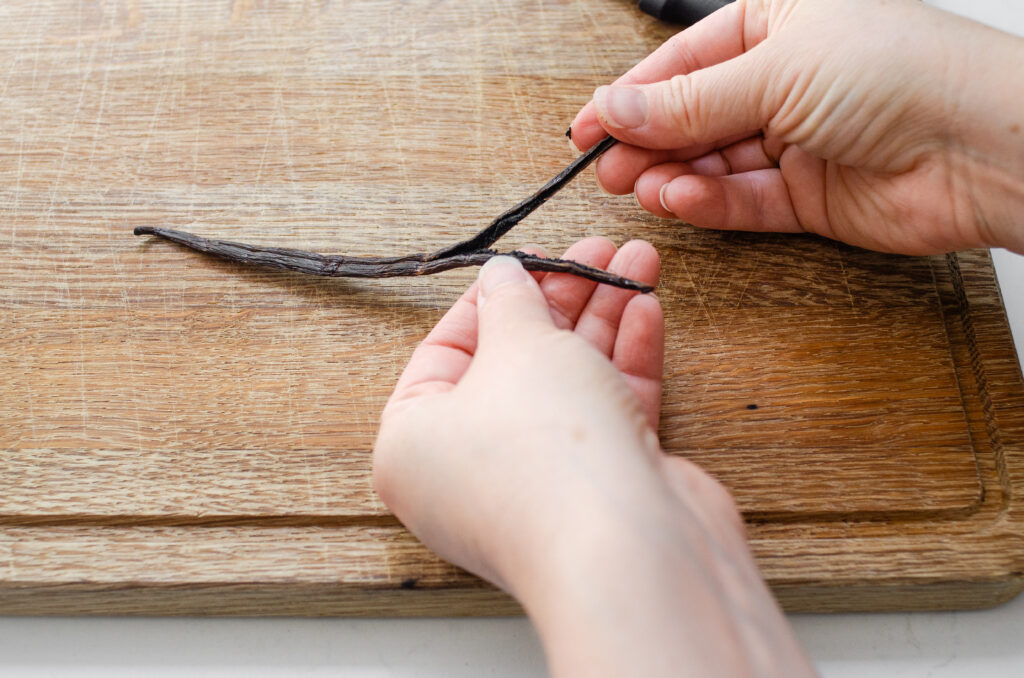 If you're using the vanilla bean pod, slice it in half, but leave a bit uncut at the top. This helps to hold it together as it cooks.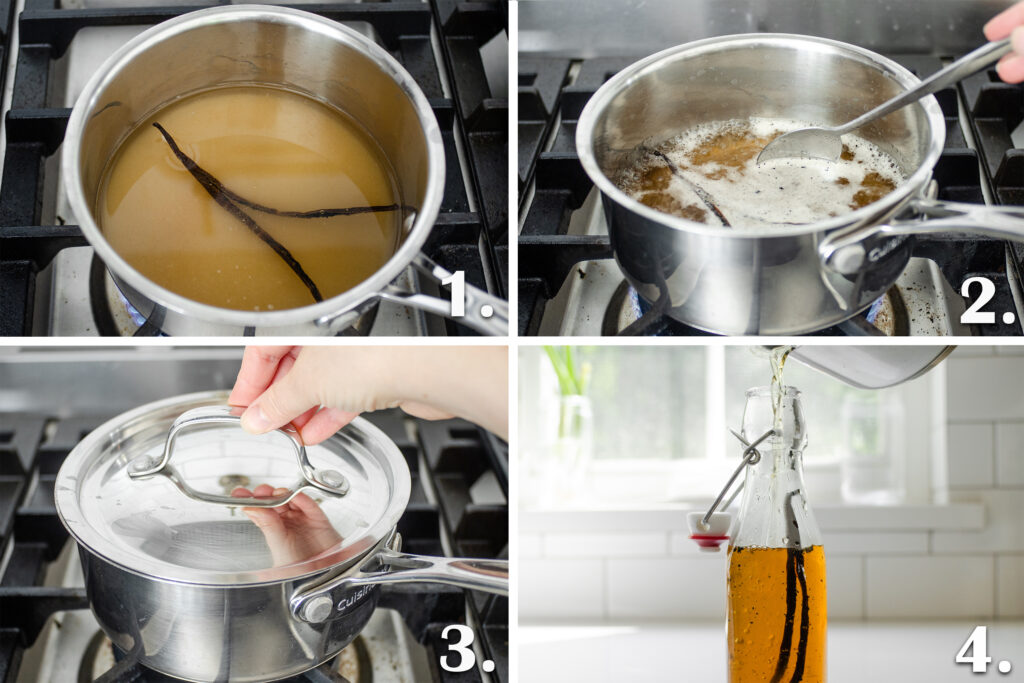 Place the water, sugar, salt, and vanilla bean pod (if using) in a small saucepan.
Bring to a boil over medium-high heat.
Turn the head down to medium-low and simmer for 3 minutes. You want to cook it until the sugar dissolves.
If you're using the vanilla bean, turn off the heat and put a lid on top of the pot. Allow the vanilla bean to steep for 10 minutes.
Then you can transfer the vanilla bean to your storage bottle if you like, or discard.
Pour the cooked syrup into the bottle.
If you opted for vanilla extract or vanilla bean paste, you'll want to remove the pot from the heat and stir it in before transferring to a storage bottle.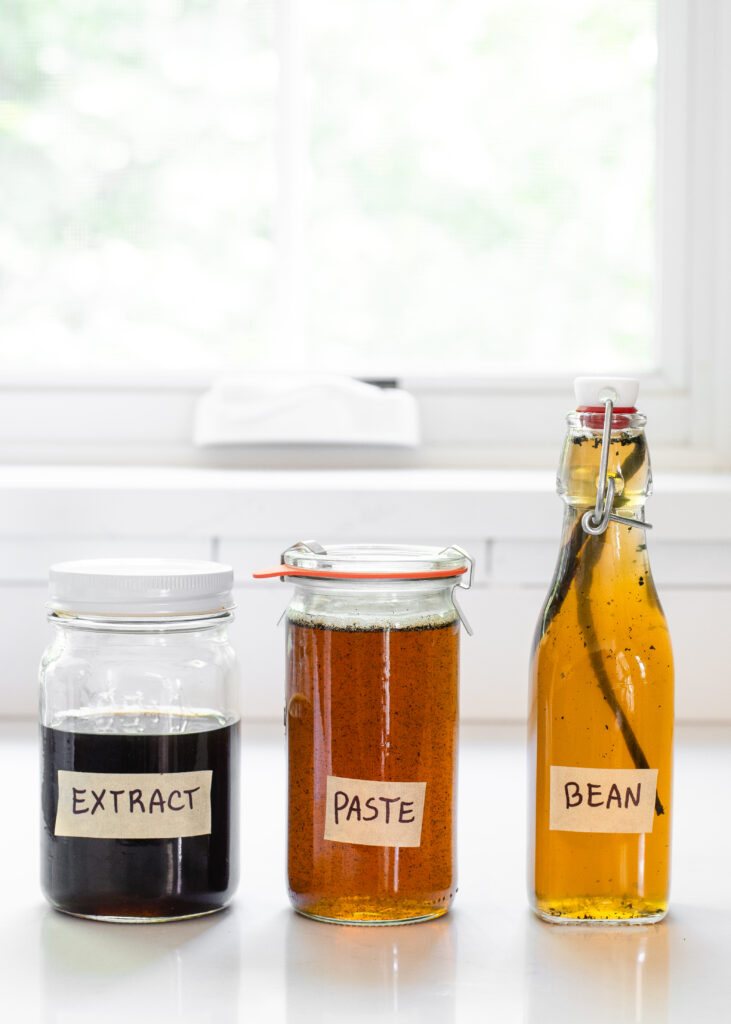 Storing:
1 recipe will make about 10-12 ounces of syrup, so select a storage container accordingly.
You could either select a jar that has a large enough mouth that you can easily fit a measuring spoon into it, or a bottle that pours easily.
You'll want it to be an airtight container to keep out bacteria or other pathogens that could spoil your syrup.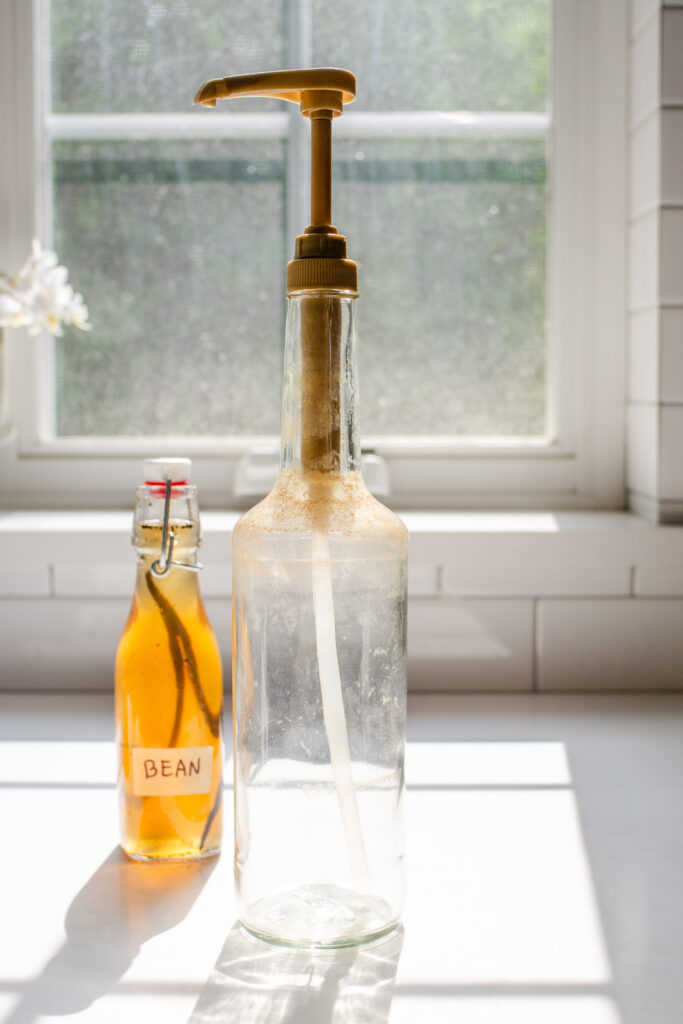 Another option is to purchase a glass bottle with a pump.
You can either purchase pumps separately, or purchase a bottle of vanilla with a pump included.
Or you could purchase a syrup pump for a mason jar if you don't want to have a separate bottle floating around your kitchen.
How Many Tablespoons of Syrup are in 1 Starbucks Pump?
If you're wanting to recreate your favorite Starbucks drink, it's handy to know how much syrup to add.
I did a bit of research, and the consensus online seemed to be that 1 pump of Starbucks syrup is 1/2 a tablespoon.
But I wanted to confirm that this was true, so I went to Starbucks and ordered 4 pumps of vanilla syrup. I figured it would rule out variations in pumps if I ordered 4 instead of 1.
I took it home and poured it into a measuring cup, and 4 pumps were almost exactly 2 tablespoons.
TL;DR: 1 pump of Starbucks syrup is 1/2 a tablespoon, or 1/2 an ounce.
Cost Comparison:
A 12 ounce bottle of store-bought vanilla syrup will typically cost around $4.99.
1 full recipe of my homemade vanilla syrup will set you back around $1.78 if you use all conventional ingredients.
And if you use all organic ingredients, it will cost around $3.20.
So as you can see, it's a significant savings to make your own!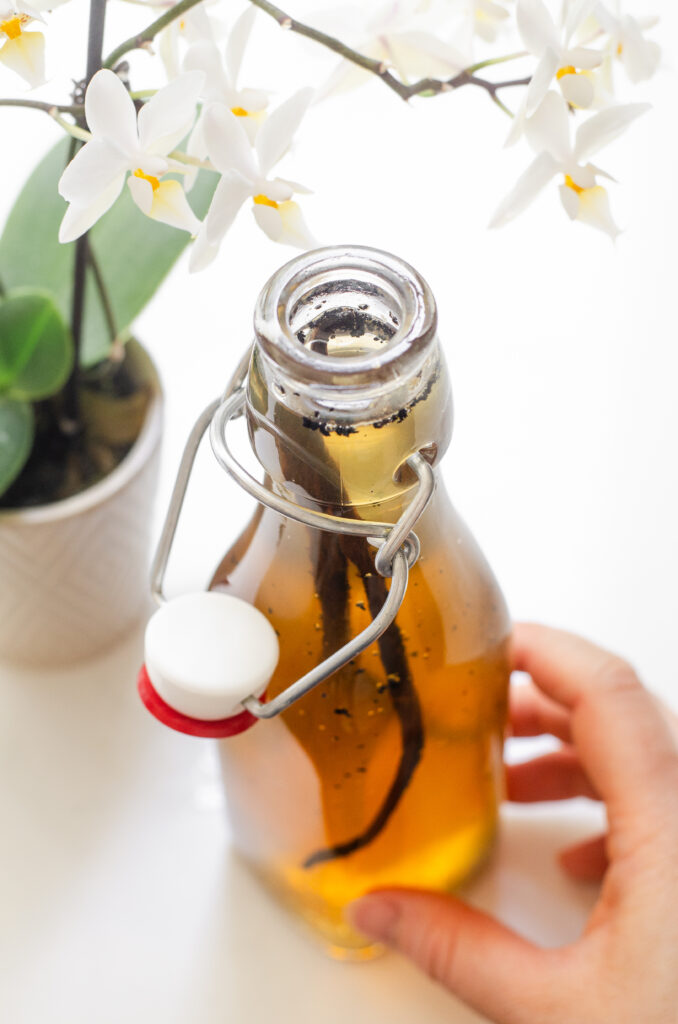 How Long Does Homemade Vanilla Syrup Last?
If you store your syrup at room temperature, it will only last a few days to a week.
That's why I recommend storing it in the refrigerator. It should last for a few weeks to a month in the refrigerator.
A rich simple syrup will last longer at room temperature since the higher sugar content preserves it better. You may find that it last for a long time, possibly months in the refrigerator.
However, you may also find that a rich simple syrup clogs up your syrup pump more quickly.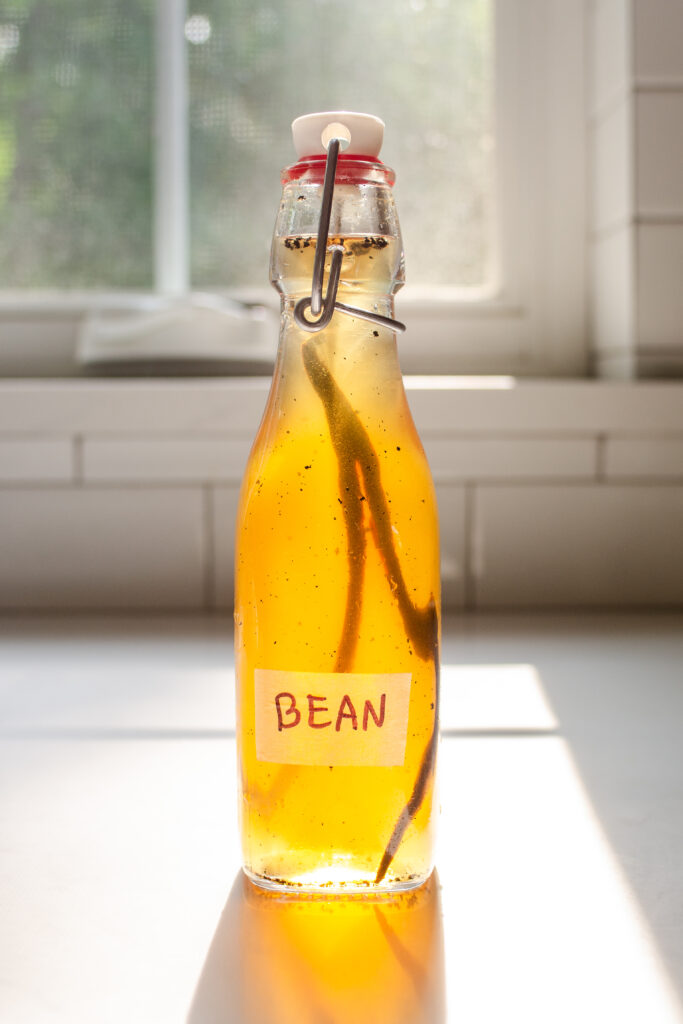 How to Use Vanilla Syrup:
The obvious way to use this is to add it to all of your favorite coffee drinks. But here are some other ways to utilize it:
Pour it over ice cream.
Use where a recipe calls for a liquid sweetener to impart an intense vanilla flavor.
Make some delicious mocktails by mixing sparkling water, fresh fruit, and herbs with the vanilla simple syrup.
Use in place of maple syrup to drizzle over your pancakes and waffles.
Add it to unsweetened iced tea to give it a vanilla flare.
Pour it into some cold brew for an amazing cold coffee drink.
Recipes Where You Can Use Vanilla Syrup:
Now that you know how to make your own vanilla syrup, here are some recipe that you can use it in! Simply replace the sweetener with the vanilla syrup, and leave out any vanilla extract:
By the way, this would make a great gift either around the holidays, or as a hostess gift!
Next week I'll be sharing my Starbucks copycat vanilla latte recipe, so be on the lookout for that!
Recipe Card:
Yield: 10-12 oz.
Vanilla Syrup for Coffee Recipe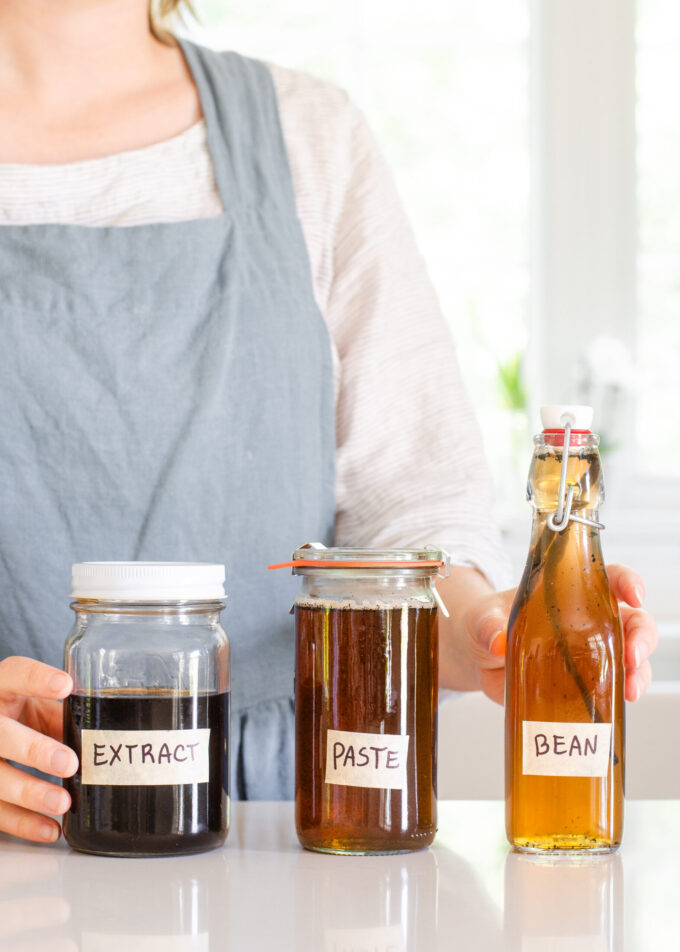 Learn how to make vanilla coffee syrup at home with a few simple ingredients!
Ingredients
1 cup sugar (see note)
1 cup water
1 pinch salt (optional)
1 tablespoon vanilla extract, vanilla bean paste, or 1 whole vanilla bean
Instructions
To Make with Extract or Paste:
Place the sugar, water, and salt in small saucepan. Bring to a boil over medium-high heat. Turn heat down to low and simmer, stirring occasionally, for 3 minutes, until all of the sugar dissolves.
Remove from heat and stir in the vanilla extract or vanilla bean paste.
Allow to cool a bit before pouring into a glass airtight container.
To Make with a Whole Vanilla Bean:
Split the vanilla bean in half lengthwise, leaving one end intact.
Place the sugar, water, salt, and vanilla bean in small saucepan. Bring to a boil over medium-high heat. Turn heat down to low and simmer, stirring occasionally, for 3 minutes, until all of the sugar dissolves.
Remove from heat, cover, and allow to steep for 10 minutes.
You can either discard the vanilla bean, or put it in your storage container.
To Use in Drinks:
For each pump of vanilla syrup, use 1/2 tablespoon of your homemade syrup.
To Store:
Store in an airtight container on the counter for up to 3-5 days, or in the refrigerator for up to 1 month. If you keep the whole vanilla bean in the syrup, make sure to store in the refrigerator.
Notes
To make a rich simple syrup, increase the sugar to 2 cups. This will result in a thicker syrup, which could clog up a pump, but it will also last longer.
Recommended Products
As an Amazon Associate and member of other affiliate programs, I earn from qualifying purchases.
Nutrition Information:
Yield:
12
Amount Per Serving:
Calories:

68
Total Fat:

0g
Saturated Fat:

0g
Trans Fat:

0g
Unsaturated Fat:

0g
Cholesterol:

0mg
Carbohydrates:

17g
Fiber:

0g
Sugar:

17g
Protein:

0g