This Matcha Cocoa is a delicious blend of a matcha latte and hot chocolate.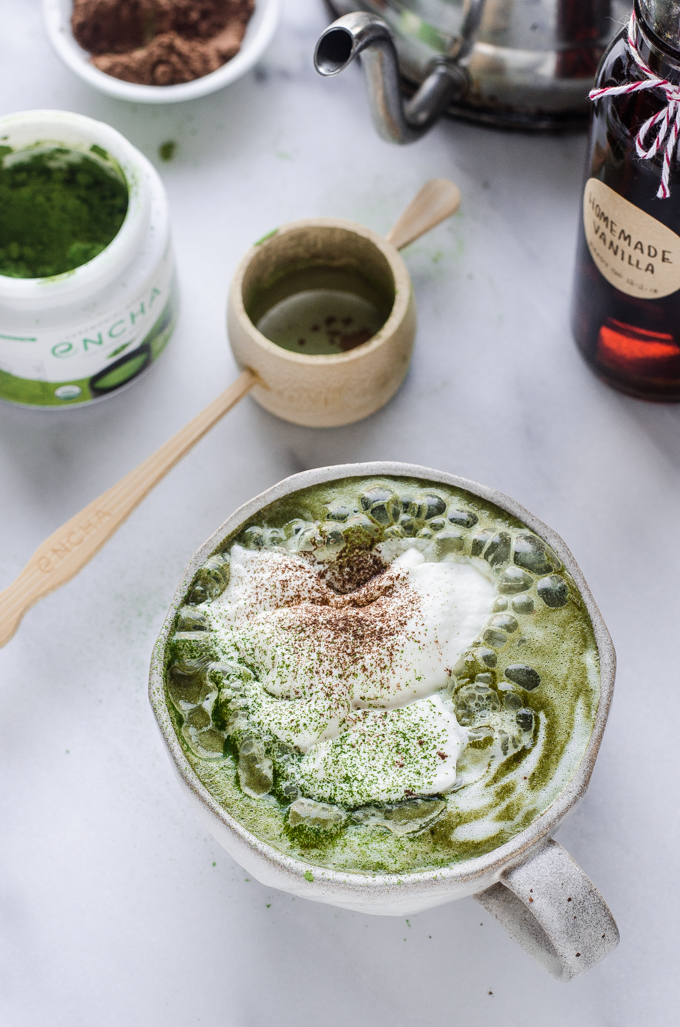 One day the idea to combine matcha powder and cocoa powder popped into my head.
Even though I was eager to give it a try, I was a bit unsure as to the results. Would the chocolate flavor overpower the delicate matcha?
But I forged ahead and made myself a mug of matcha hot chocolate.
To my surprise, it was good. Very good.
Both matcha and cocoa have earthy flavors, and they play well together.
If you're an avid matcha lover but would like to try something new, this matcha cocoa is perfect for you! Or if you're a little scared to give matcha a try, this is a nice way to break you in easy.
Let me show you how to make it!
NOTE: Some links are affiliate, and Encha Matcha sent me the matcha that I used in this post. I highly recommend their matcha – it's my favorite that I've tried so far! All opinions are, of course, completely my own!
Matcha Cocoa Ingredients: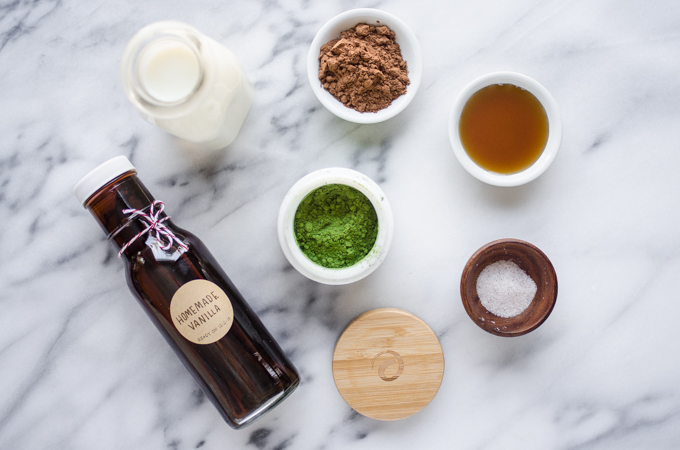 Here's everything you'll need: Whole milk (or half and half, cocoa powder, matcha powder, maple syrup, salt, and vanilla extract.
I like to use about 3/4 cup of milk and 1/4 cream for an extra rich matcha cocoa. But just whole milk is lovely as well!
If you want a truly sublime drink, go for ceremonial grade matcha. But latte grade matcha is still quite excellent and a little more affordable.
How to Make Matcha Hot Chocolate with Cocoa Powder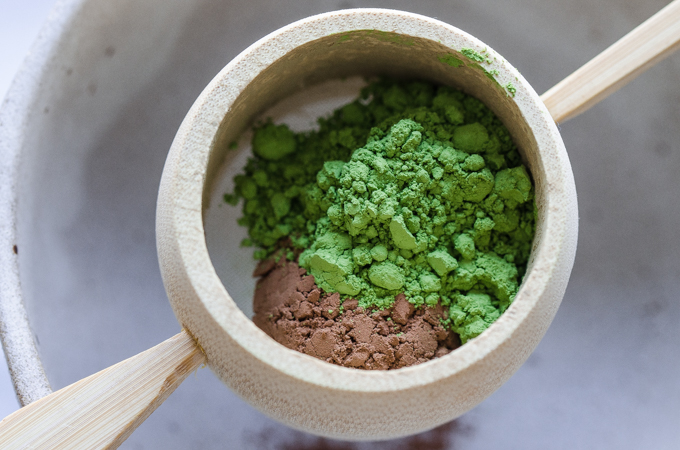 You can sift your matcha and cocoa together first to make getting a smooth end result easier. Cocoa tends to be difficult to mix with water, so sifting it first will give you a leg up.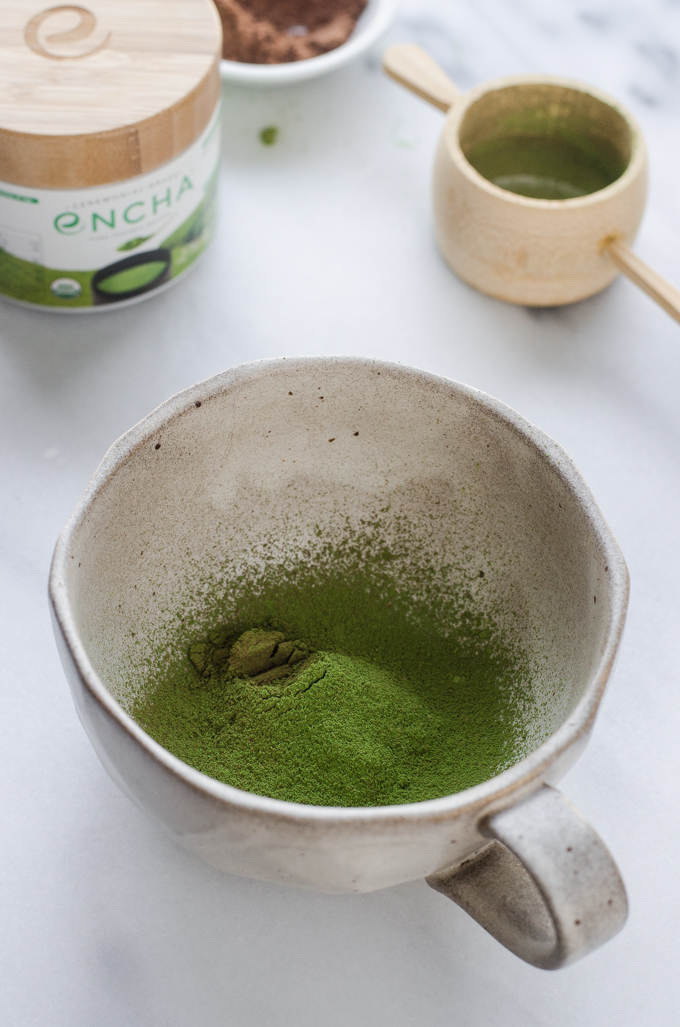 Isn't it a pretty color when they're sifted together?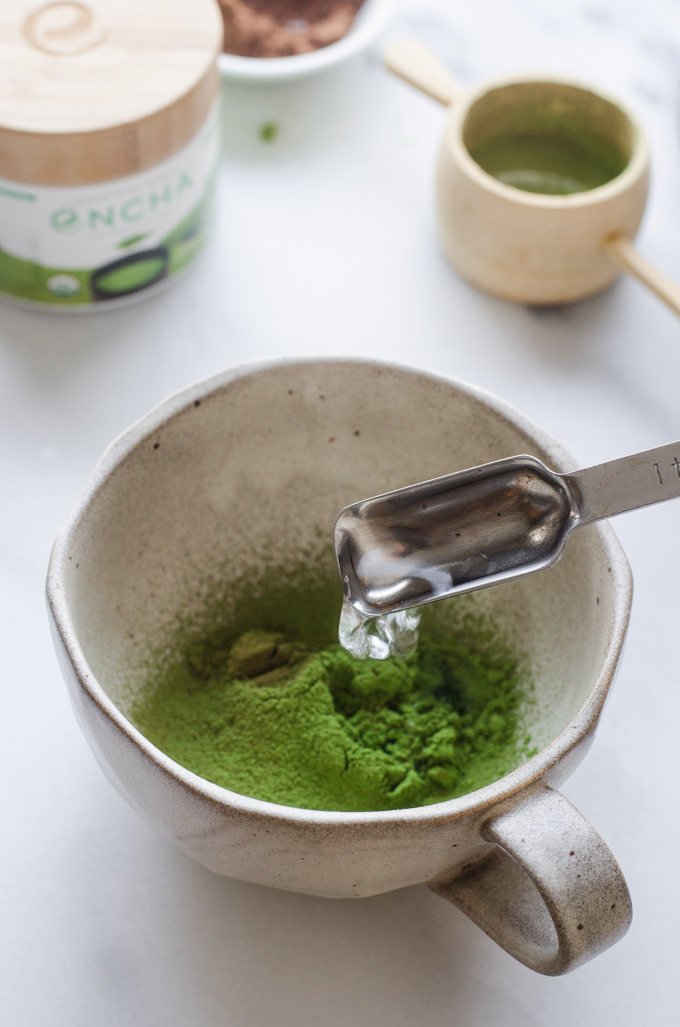 Now it's time to add some hot water! Make sure the water isn't hotter than 170° F (76° C). You can use a thermometer, or simply bring you water to a boil and let it sit for 2 minutes before using.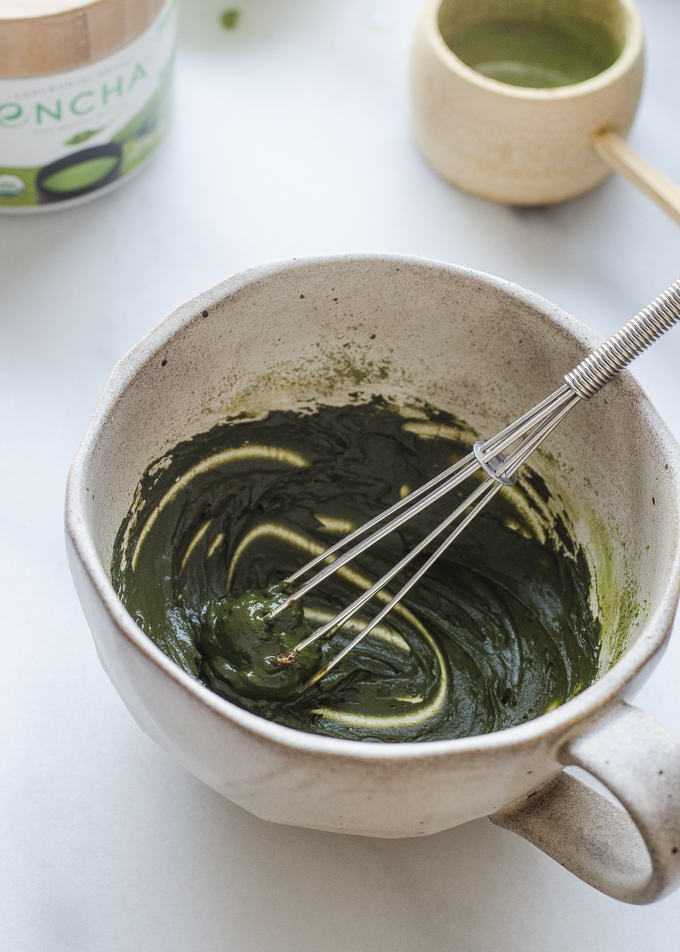 Add 2 teaspoons of the hot water and whisk together to form a paste.
It's best to start with a small amount of water, because it's easier to get rid of any lumps if you form a thick paste.
Then gradually whisk in 3 more teaspoons of the hot water.
Add the salt, maple syrup, and vanilla and whisk again.
Frothing the Milk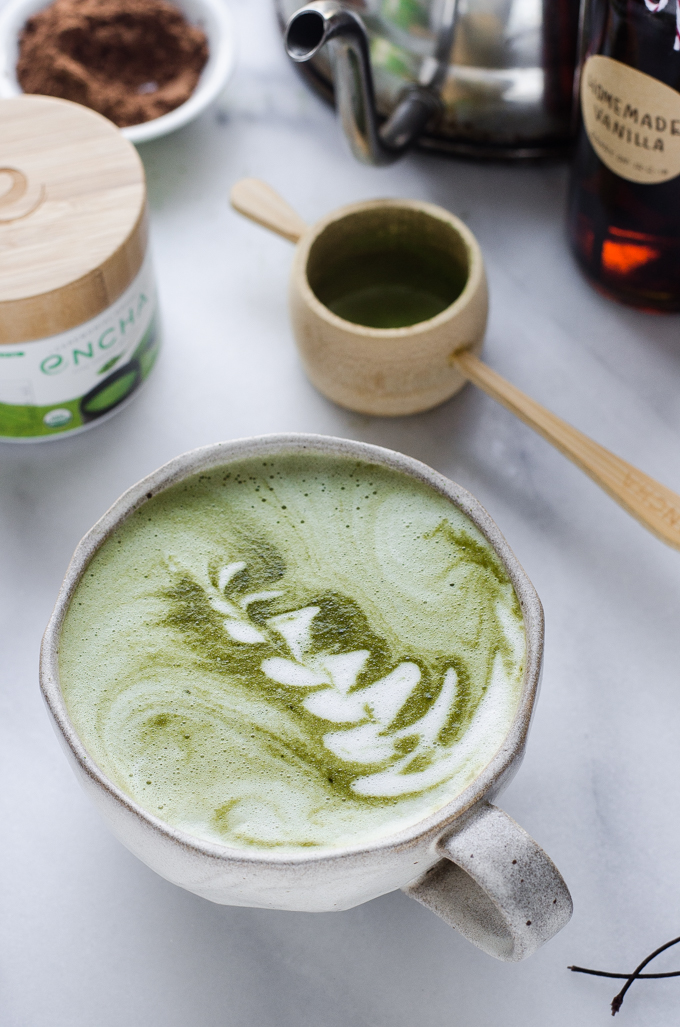 Next, heat your milk/cream to between 145° and 160°F (63° – 71°C).
Froth (check out my post on 8 Ways to Froth Milk if you don't own a steam frother) and pour over the matcha/cocoa mixture.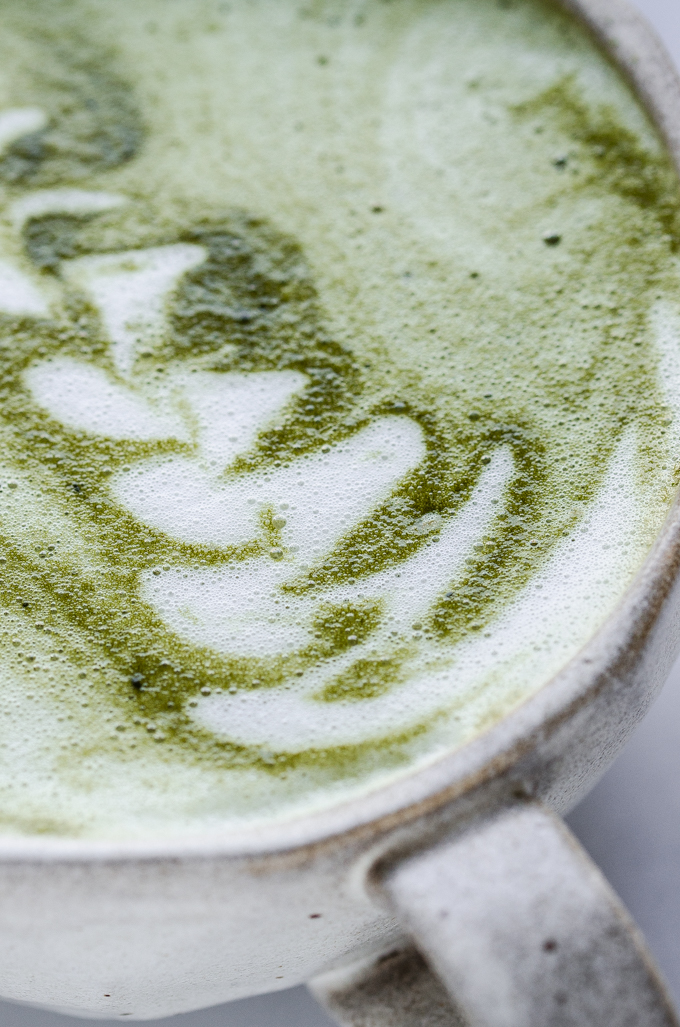 And voila! You've made yourself a delicious mug of matcha cocoa.
How to Make a Chocolate Matcha Latte Fancy: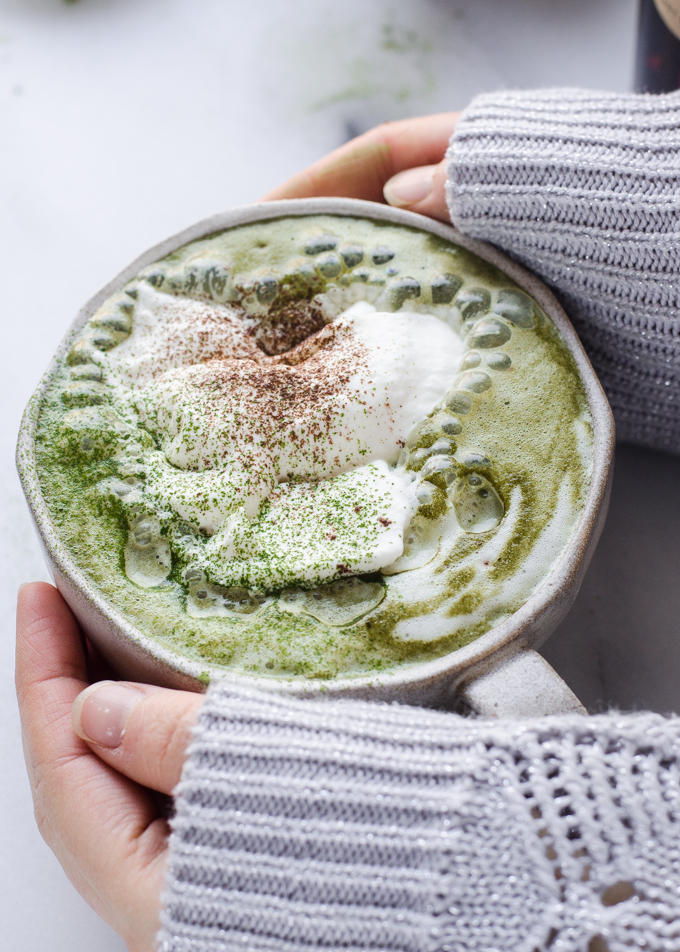 Of course you can add a dollop of whipped cream to make an extra special treat. Cocoa is always better with whipped cream, eh?
Sprinkle some matcha powder and cocoa powder on top to make it all pretty.
NOTES:
I like a lightly sweetened drink, so 1 teaspoon of maple syrup is just right for me. You can always increase that amount if you prefer things on the sweet side!
If you own a bamboo matcha whisk, you can simply place the matcha and cocoa in the mug, pour all of the water in at once, and whisk. No need to make a paste first!
I want to try pre-mixing the matcha and cocoa with some ground sucanat or coconut sugar and vanilla bean powder to make a DIY matcha cocoa mix.
Here's a video tutorial for you!
More Hot Drink Recipes: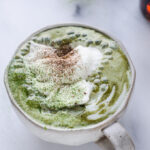 Matcha Cocoa
A matcha latte and hot cocoa are combined in this delicious drink!
Ingredients
1 1/2

tsp

matcha powder,

ceremonial or latte grade

1

tsp

unsweetened cocoa powder

5

tsp

hot water (160F, 71C),

divided

1

tiny pinch salt

1

tsp

pure maple syrup or sweetener of choice,

more to taste

1/4

tsp

pure vanilla extract

3/4

cup

whole milk,

grass-fed preferred

1/4

cup

heavy cream,

grass-fed preferred

whipped cream for serving,

optional
Instructions
Place the matcha and cocoa powder in a mug and whisk or sift to combine. Add 2 teaspoons of the hot water and whisk to form a smooth paste. Gradually add the remaining 3 teaspoons of water and whisk until smooth. Add the salt, maple syrup, and vanilla and whisk to combine.

Heat the milk to between 145° and 160° F (63° - 71°C). Froth and pour over the matcha/cocoa mixture in the mug. Serve immediately, or with a dollop of whipped cream.