Make yourself a Homemade Pumpkin Spice Latte this pumpkin spice season! It's SO much better than the chain coffee shop version.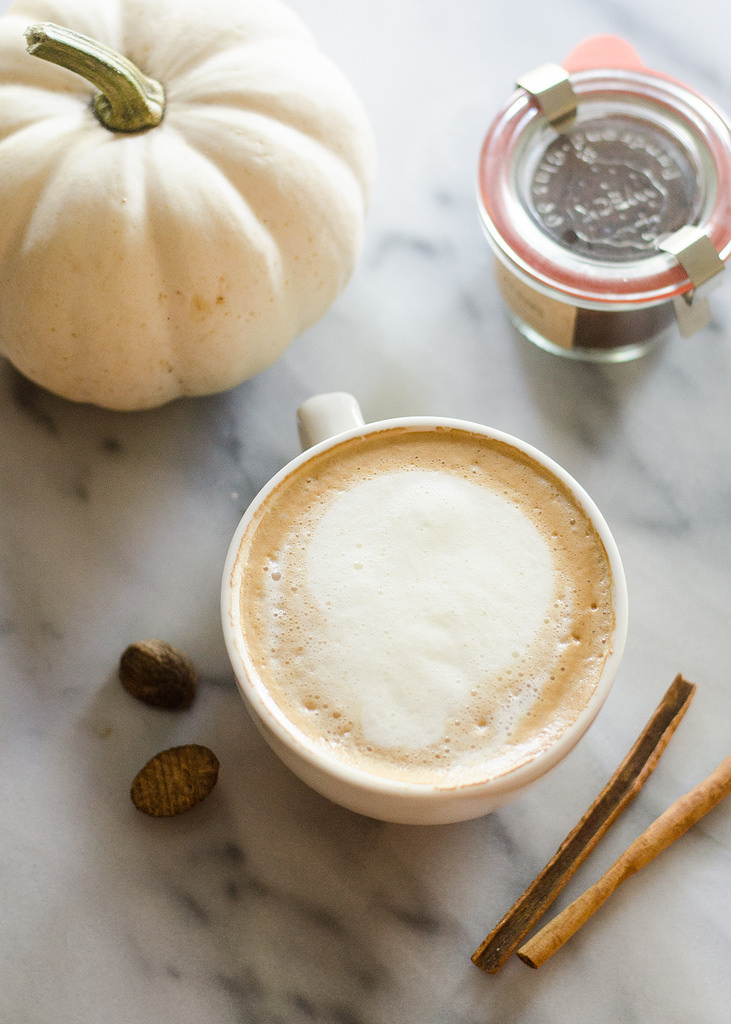 I remember the first time I ever had a Pumpkin Spice Latte.
Starbucks had fiiiiiinally come to our small town. It was a chilly fall day, and I felt like having a treat.
I ordered my Starbucks Pumpkin Spice Latte and walked back to my car, warming my hands on the to-go cup.
Sadly, it was disappointing. The flavor of pumpkin spice was not very strong, and what there was tasted a bit…fake. Womp womp.
I had been so excited about this iconic coffee drink, and it just didn't live up to my expectations.
Since I believe that most things taste better homemade, I tried to recreate it.
But I was disappointed with MY results as well.
There was sandy and pumpkin-y sediment at the bottom of my cup. Boo.
Then one day, it hit me: why not make a pumpkin spice syrup to flavor the coffee? That way you could infuse your drink with all those wonderfully warm flavors without getting icky leftovers in your cup.
I tested it out, aaaaaaand…it was a success!
Now I can experience a classic pumpkin spice latte this time of year (or any time of year!) without the chemically taste of the coffee shop ones.
Plus, I can control the quality of the ingredients and the sweetness level!
Okay, let me show you how to make your own homemade pumpkin spice lattes!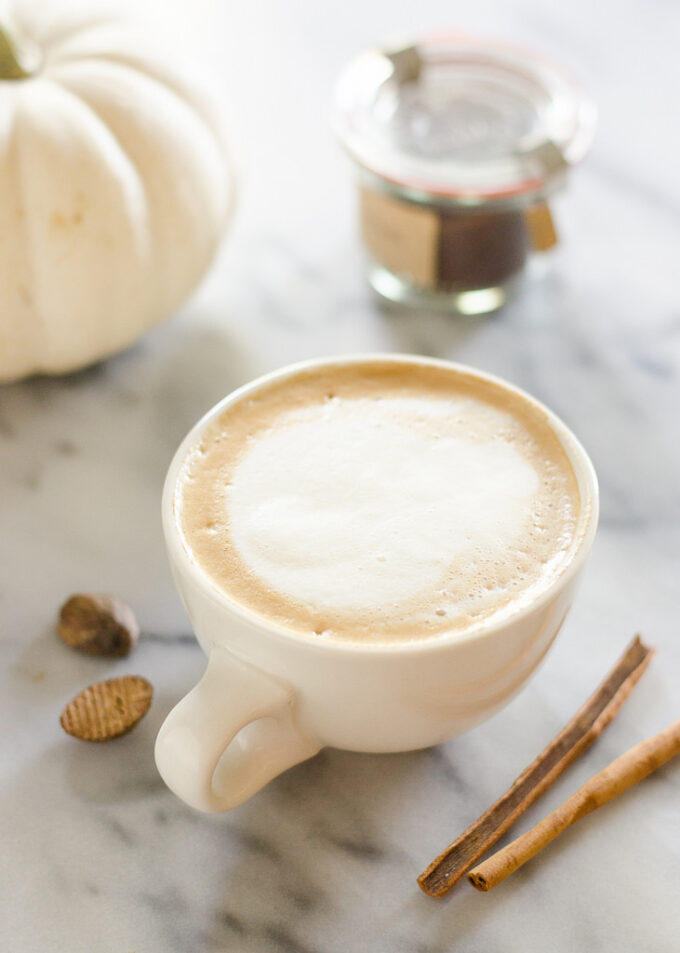 Ingredients:
First of all, here are all of the ingredients that you'll need:
Pumpkin Spice Syrup: First of all, head over to my pumpkin spice syrup recipe and make a batch! I recommend you use my homemade version, otherwise you'll get a different end flavor. It uses real pumpkin puree (not pumpkin pie filling), a brown sugar or sucanat simple syrup, vanilla extract, and pumpkin pie spice. Or in a pinch you can substitute 3-4 teaspoons of maple syrup plus 1/8 teaspoon of pumpkin pie spice blend.
Espresso or Strong Coffee: If you own an espresso machine, you can pull a single shot. But not to worry if you don't have a machine! I've provided instructions for how to make espresso strength coffee with a French press, Aeropress, or instant coffee below!
Whole Milk: I love my lattes on the rich and creamy side, so I make sure to use whole milk. I don't recommend using skim milk since the result won't be very creamy. Of course you could substitute oat milk or your favorite non-dairy milk if you're sensitive to dairy. I personally prefer oat milk to coconut milk or almond milk for lattes.
Heavy Cream: Like I said, I like my lattes creamy, so I usually use part cream as well. Feel free to substitute more milk if you prefer.
Extras: This is optional, but you can add a dollop of whipped cream and a sprinkle of pumpkin pie spice on top to make this extra decadent!
Note: The amounts in my recipe are for a small mug. If you want a large mug of pumpkin spice latte, just double everything!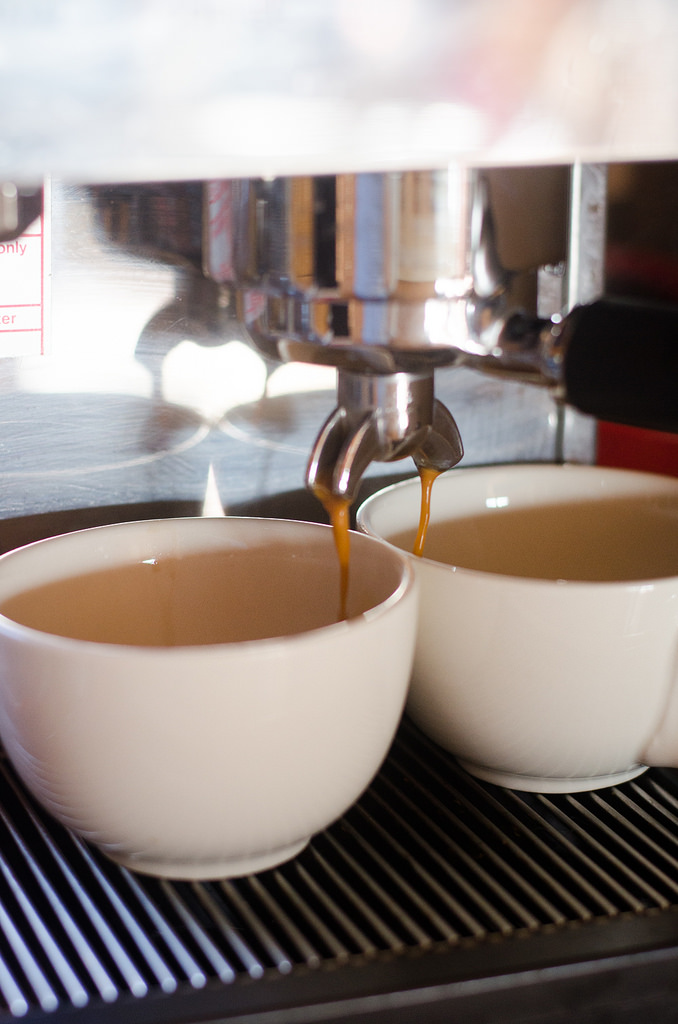 Note: Some links are affiliate. All opinions are my own, of course. If you click a link and make a purchase, I will earn a small commission. This has zero impact on the price you pay, and it helps Buttered Side Up out!
How to Make Espresso Without a Machine:
I'll quickly go over how to make espresso strength coffee if you don't own an espresso machine:
French Press Espresso:
For the French press, add 2 T of finely ground coffee to the canister of the French press.
Pour 2 ounces or ¼ cup of 190 degree F or 87 degree C water on top.
Stir, and put the lid on but don't plunge it down just yet.
Let it brew for 4 minutes, and then simply plunge it down and pour out the coffee.
Aeropress Espresso:
To make the espresso with an Aeropress, place a dampened paper filter into the filter basket and screw that onto the Aeropress.
Place 2.5 tablespoons of finely ground coffee into the chamber.
Pour 1.25 ounces of 175 degree F or 79 degrees C water on top.
Stir with the stir stick, and then plunge the Aeropress down.
Instant Coffee Espresso:
To make "espresso" with instant coffee, mix together 2-3 teaspoons of instant coffee with 2 tablespoons of hot water.
That's it! So simple.
I like to use Mount Hagen or Four Sigmatic instant coffee. They both have excellent flavor.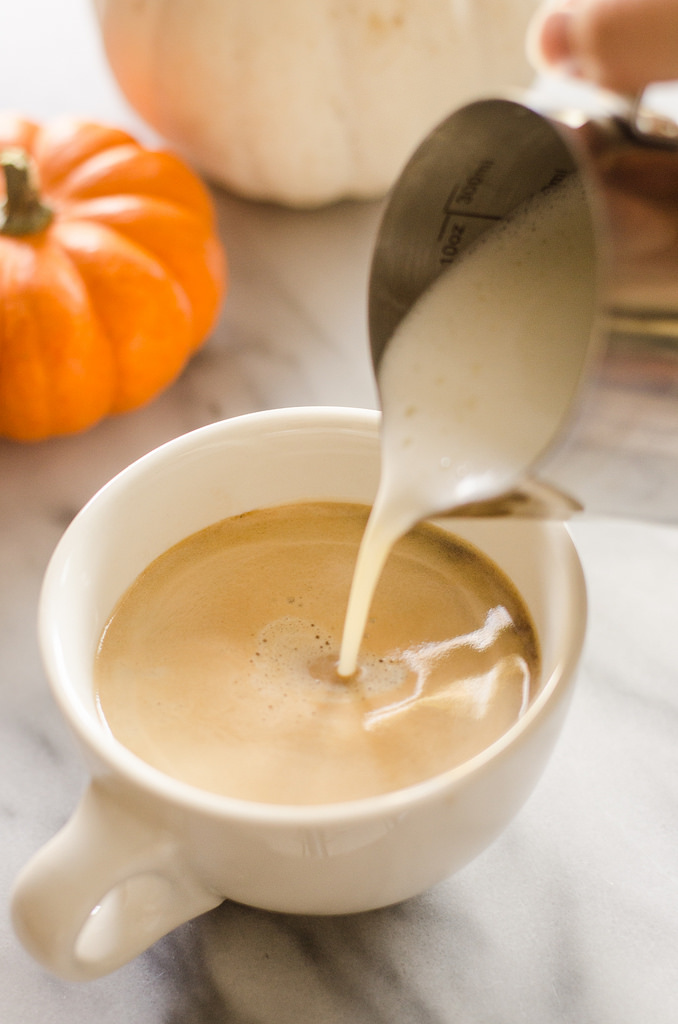 How to Make a Pumpkin Spice Latte at Home:
To make your own pumpkin spice latte at home, start with the homemade pumpkin spice syrup.
Put that in a mug along with some brewed espresso or really strong coffee.
Next, it's time to froth the milk and cream (if using).
If you don't own an espresso machine, warm the milk in a small saucepan over medium heat.
Make sure to check out my How to Froth Milk without a Machine video to learn 8 different ways to froth milk if you don't own an espresso machine!
Pour the frothed milk over the hot espresso (or hot coffee) and syrup in the mug.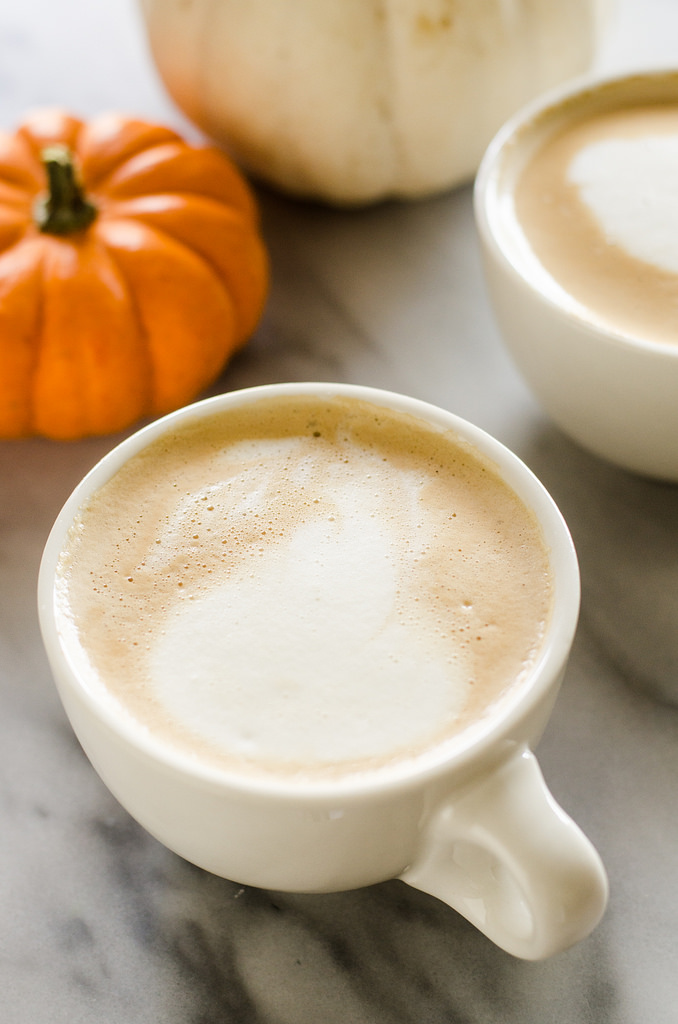 Now you've got yourself comfort in a mug.
And now you know how to make a healthy homemade pumpkin spice latte!
BTW, I'm trying to get better at latte art. Please don't laugh at my feeble attempts. Maybe one day I'll be as good as my dad…
Have you ever tried something you were expecting to be amazing only to be disappointed?
More Starbucks Copycat Recipes:
All Things Pumpkin: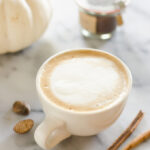 Homemade Pumpkin Spice Latte Recipe
A healthier homemade Pumpkin Spice Latte!
Ingredients
3-4

teaspoons

organic pumpkin spice syrup

(see note)

1

shot espresso

or 1 ounce very strong coffee,

1/4

cup

grass-fed/organic whole milk

1/4

cup

grass-fed/organic heavy cream

(or substitute more milk)
Instructions
Place the syrup and espresso in a single-sized coffee cup (8 oz.)

Warm the milk and cream to between 140 and 160 degrees F (60-70 C). Froth the milk/cream. If you own an espresso machine, simply froth with the steam wand.

Pour the frothed milk into your cup with the syrup and espresso. Enjoy!
Recipe Notes
You can garnish with whipped cream and a sprinkle of pumpkin pie spice to make this drink extra decadent.
I calculated the nutrition facts using 2 teaspoons of maple syrup since the calculator I used didn't have my pumpkin spice syrup recipe.