These gluten free pumpkin waffles are tender and full of spicy fall flavors!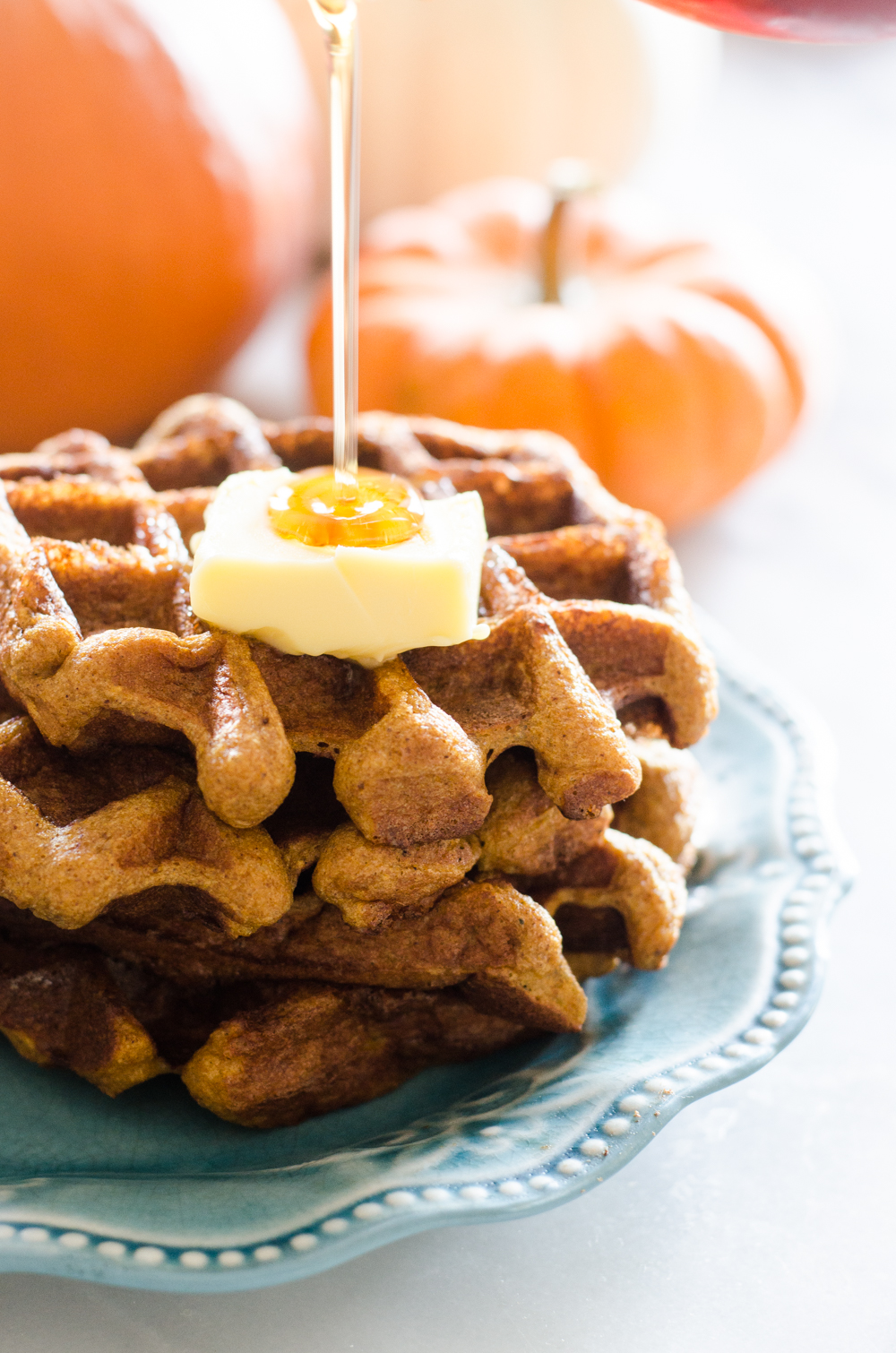 I know I said this in my last waffle post, but…life has been a bit…crazy? Is that the right word? Hectic? INSANE? Maybe that's exaggerating just a hair.
What with work, helping out my sisters after having their babies, battling an illness, and taking care of a clingy baby, I've been worn out more often than not recently. I know, I know…I should practice saying no. But I really feel that the majority of the things I do are necessary. And I know of moms that take on a LOT more than I do. Maybe I'm just a wimp…

This summer I made SO many batches of my gluten free plantain waffles. I was working on getting the recipe just right for Pioneer Woman's blog. Somewhere in the midst of my 10 or so batches, an idea struck me: why not turn the recipe into pumpkin waffles?
I tested it out, and Reuben preferred them to the plain waffles. So of course I had to share the recipe for these Gluten Free Pumpkin Waffles with y'all!
I made a few upgrades to the recipe: of course I added some pumpkin puree and pumpkin pie spice. I also decided to brown the butter. Somehow it just seemed to fit with pumpkins and fall.
These pumpkin waffles will have a different texture depending on the ripeness of your plantain. If your plantain is very green, the waffles will be crisper and drier. If your plantain is only green-tipped, the waffles will be very soft and tender.
I do not recommend using plantains with no green because your waffles will most likely just fall apart. You need the starch from the green plantain to act like flour!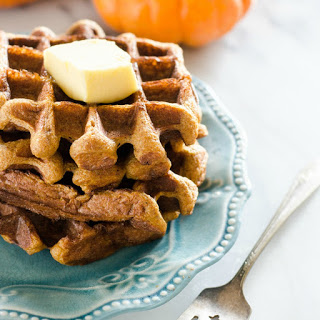 Gluten Free Pumpkin Waffles
By Erica Kastner,
These gluten free pumpkin waffles are tender and full of spicy fall flavors!.
Prep Time: 5 minutes
Cook time: 10 minutes
Yield: 3-4 servings
PRINT
Ingredients:
– 3 tablespoons butter
– 1 green or green-tipped plantain, peeled and chopped
– 1/2 cup pumpkin puree, homemade or store-bought
– 2 large organic eggs
– 2 teaspoons vanilla extract
– 1 tablespoon pure maple syrup
– 1 teaspoon apple cider vinegar
– 2 scoops collagen peptides
– 1/2 teaspoon salt
– 2 tablespoons pumpkin pie spice
– 1/2 teaspoon baking soda
Instructions:

Melt the butter in a small saucepan set over medium heat. Continue to cook the butter, swirling occasionally, until it becomes fragrant and brown (make sure to keep an eye on it so it doesn't burn!). Remove from heat and set aside.
Preheat your waffle maker on medium setting.
Place the browned butter, plantain, pumpkin puree, and eggs in a blender and blend until smooth. Add the vanilla, maple syrup, apple cider vinegar, and collagen and blend. Add the salt, pumpkin pie spice, and baking soda and blend until completely smooth.
Pour the batter into the preheated waffle maker (I used about 1/3 cup batter per section). Close the lid and cook until golden, about 3-5 minutes. Repeat with remaining batter.
Serve with loads of butter and a drizzle of maple syrup.


NOTE: Some links are affiliate. All opinions are my own. If you click on a link and make a purchase, I will earn a small commission. This has zero impact on the price you pay, and it helps to keep Buttered Side Up going strong. Thank you!