Here's my copycat Starbucks iced brown sugar oat milk shaken espresso recipe! It's really so simple with only 5 ingredients!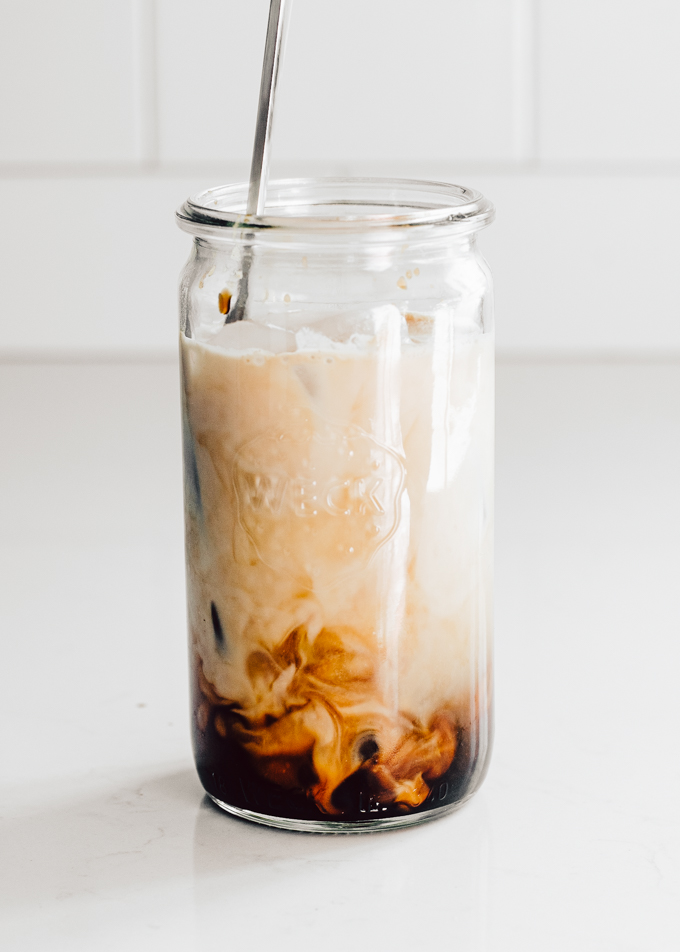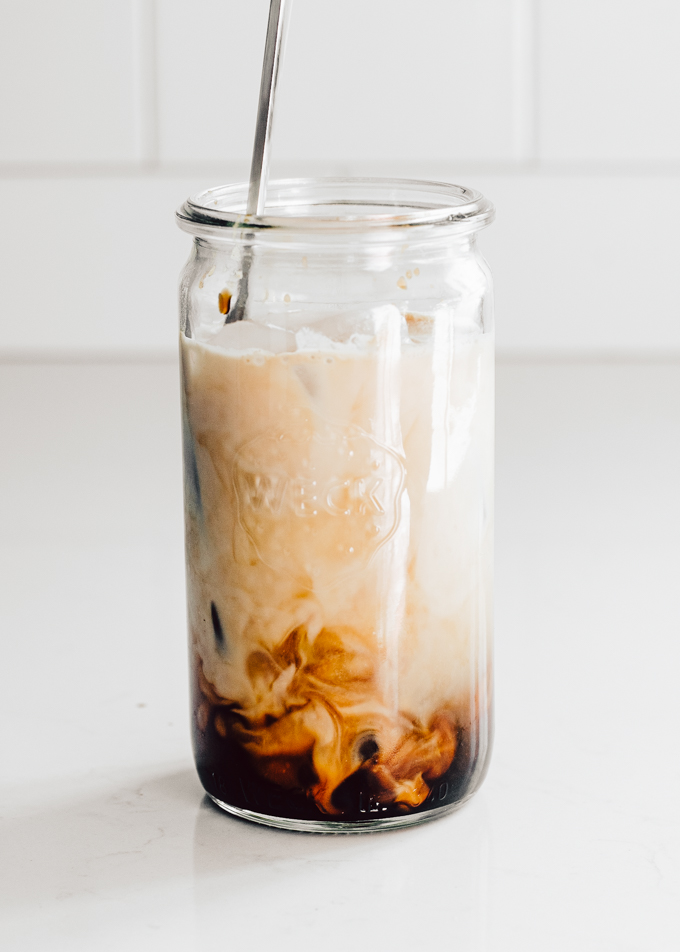 Have you heard about the new espresso drink at Starbucks?
Their Iced Brown Sugar Oat Milk Shaken Espresso (yes, that's a mouthful) hit stores this spring.
I'm here to talk all about it, and share my EASY Starbucks copycat recipe so you can enjoy it in the comfort of your own home!
Here's what we'll cover in this post: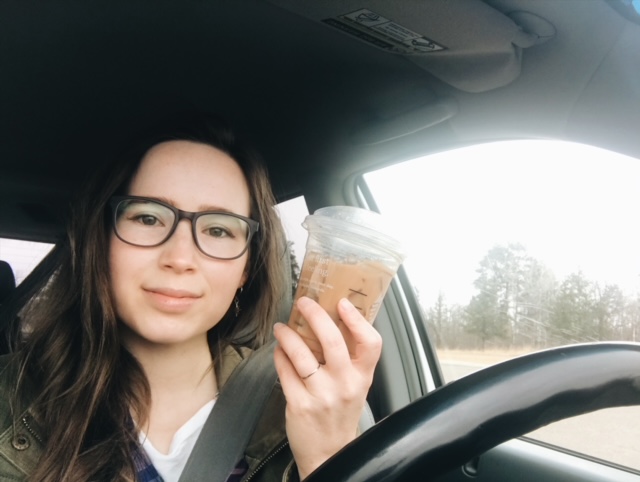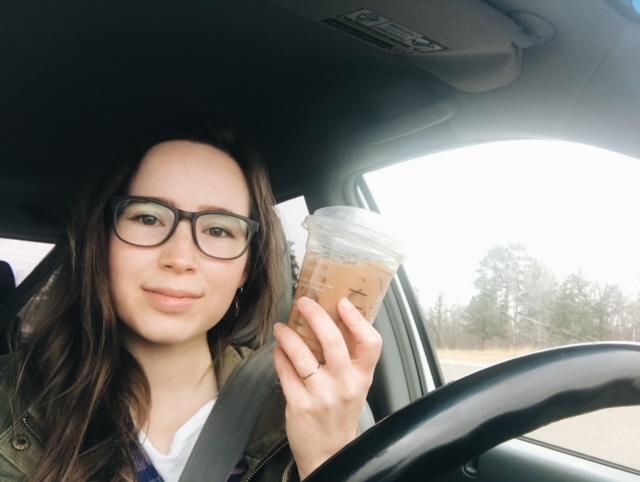 Starbucks Brown Sugar Oat Milk Shaken Espresso Review:
Now, before I even began recipe testing, I went out and ordered the real deal version of this espresso drink at my local Starbucks. I wanted to make sure I got the flavor profile correct.
The verdict: I liked it! The subtlety of the flavors surprised me. There were no chemically after flavors.
I got to recipe testing and, not to flex, but it tasted like the real thing on my first try.
What Does it Taste Like?
After my first sip or so, it almost had a graham cracker flavor to me. The brown sugar and cinnamon flavors play well together. And they both compliment the coffee flavor nicely.
Is it Sweet?
Yes! But to my surprise, it wasn't sickeningly sweet as a lot of coffee shop drinks are.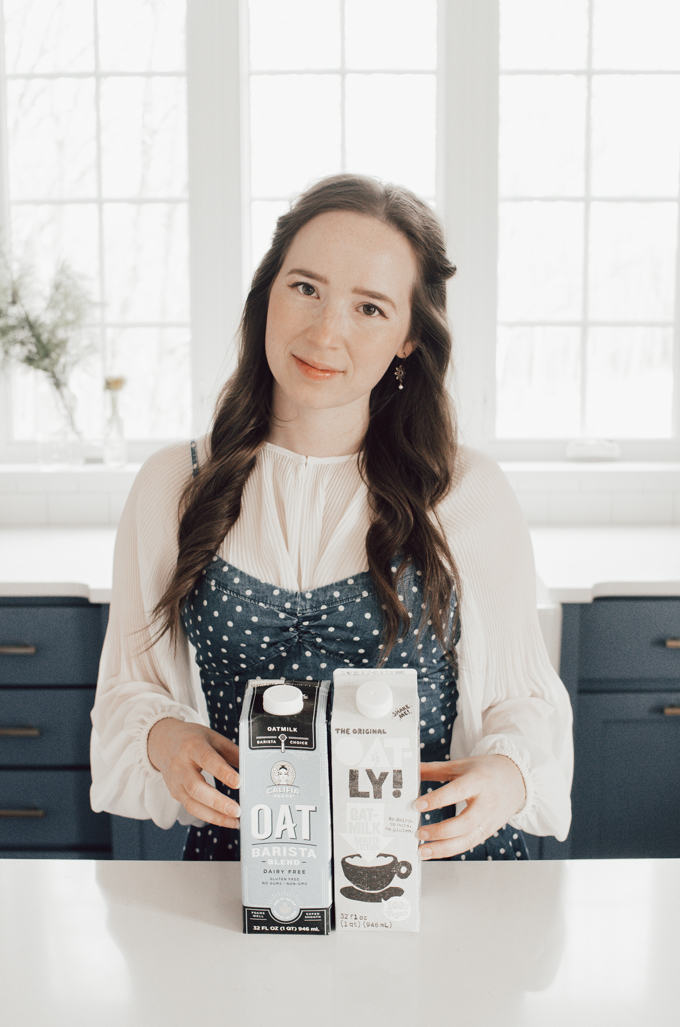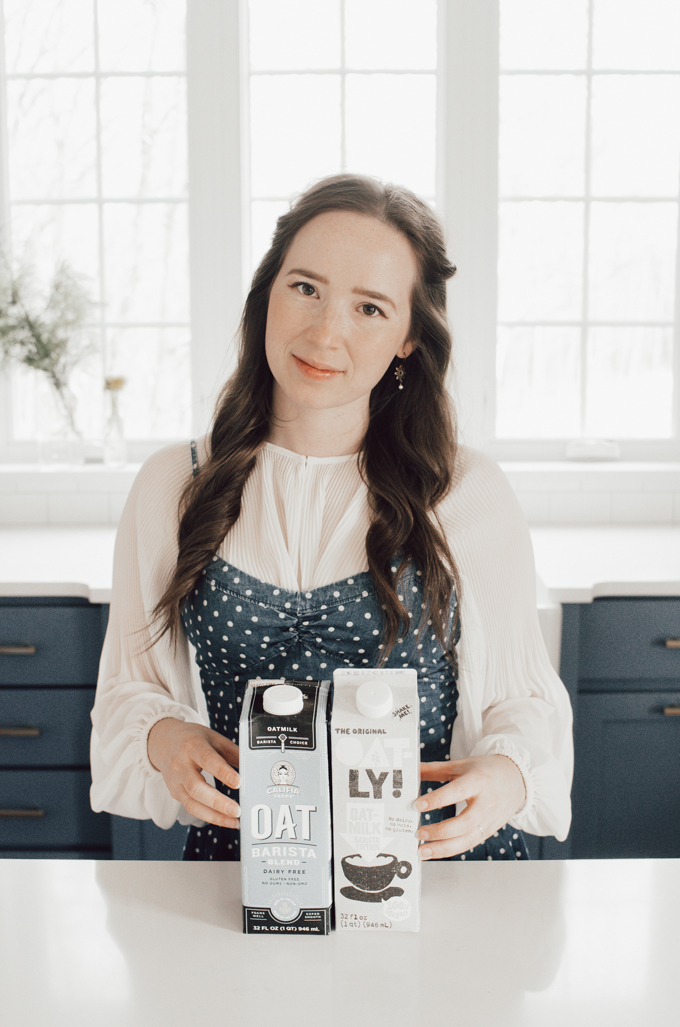 NOTE: Some links are affiliate links. All opinions are my own. If you click on a link and make a purchase, I will earn a small commission. This has zero impact on the price you pay, and helps Buttered Side Up out!
What is in the Starbucks brown sugar shaken espresso?
Here is the full ingredient list for the Starbucks version:
Ice, Oatmilk [Oatmilk (Water, Oats), Low Erucic Acid Rapeseed Oil, Contains 2 Or Less Of Dipotassium Phosphate, Calcium Carbonate, Tricalcium Phosphate, Sea Salt, Dicalcium Phosphate, Riboflavin, Vitamin A, Vitamin D 2, Vitamin B 12], Brewed Espresso, Brown Sugar Syrup [Invert Sugar, Brown Sugar, Water, Natural Flavor, Salt, Preservative Potassium Sorbate], Cinnamon
So basically, it's ice, oat milk, espresso, brown sugar syrup, and cinnamon. It's a bit different than an iced latte due to the way it's prepared, which we'll talk more about below.
By the way, Starbucks uses blonde espresso in this brown sugar espresso drink.
Is Blonde Espresso Stronger?
No! Actually, blonde espresso is roasted for a shorter amount of time. So it has a more mild flavor than a medium or dark roast. So if you want the most authentic flavor, you could purchase Starbucks blonde roast or a light roast coffee.
Personally, I usually use a decaf roasted by my dad.
Keep in mind that the kind of espresso you use will definitely affect the final flavor of the drink!
How Many Shots are in a Shaken Espresso?
A Starbucks tall has 2 shots of espresso, and grande has 3 shots, and venti has 4 shots.
My homemade Starbucks copycat version is made with 1 shot of espresso. But if you want a larger drink with more espresso shots, just double or triple the ingredients!
Also, a Starbucks tall has 3 pumps of brown sugar syrup, a Grande has 4 pumps, and a Venti has 6 pumps.
What Does Shaken Espresso Mean?
It really is just how it sounds! Ice, espresso, syrup, and milk are shaken by hand to chill and mix the drink. It also creates a lovely, foamy texture since it incorporates air.
Okay, let's get into making one for yourself!
If you'd like to learn by watching, click play on the video above!
The written instructions are below:
How to Make a Brown Sugar Oat Milk Shaken Espresso:
The steps for making this drink at home are SO simple:
Place all ingredients into a jar.
Shake it up really well, and enjoy!
Let's take a closer look: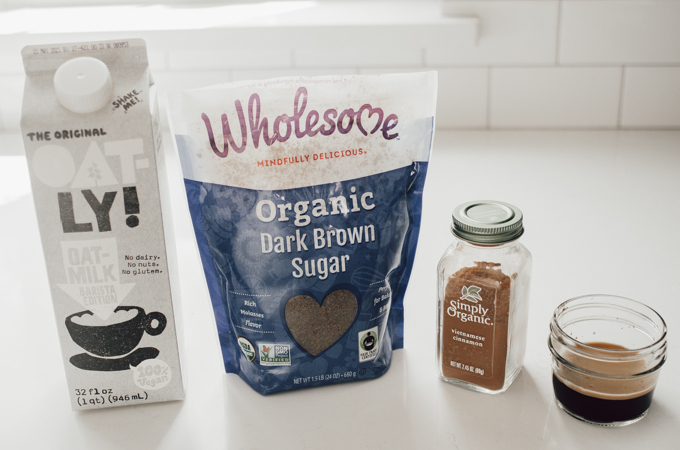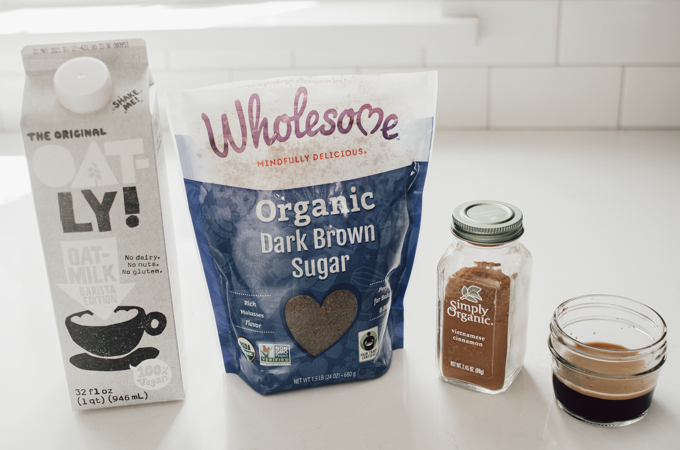 Ingredients:
The great thing about my homemade recipe is it uses simple ingredients that you probably already have on hand! And a lot of grocery stores cary oat milk now, so it should be easy to find locally.
Oat milk: Starbucks uses Oatly oat milk for their drinks, but I think most barista blend oat milks should work. I have also used Califia Farms barista blend. You should be able to find oat milk at your local grocery store. I don't recommend using an oat milk creamer, since it can have a strange mouthfeel due to thickeners. And definitely use unsweetened oat milk. I have not tested this with another non-dairy milk such as almond milk or soy milk, so keep that in mind.
Brown sugar: I decided to bypass syrups and simply use brown sugar for my homemade version of this iced coffee drink. You can definitely make a brown sugar simple syrup if you prefer (instructions below), but I don't find it necessary if you make sure to shake your drink well. Also, I use dark brown sugar, but light will work in a pinch. I use 2 teaspoons of brown sugar, but feel free to increase that amount to fit your personal preferences.
Ground Cinnamon: You only need about 1/8 of a teaspoon! If you prefer an even subtler flavor, you can add just a pinch.
Espresso: You can brew your espresso using an espresso machine, or you can use an Aeropress, Moka Pot, or French press if you don't own an espresso maker. Instructions for Aeropress or French Press espresso are in my Mocha Latte post. In a pinch, instant coffee is a great way to quickly make coffee (I have instant coffee espresso instructions in that post as well). Or substitute cold brew coffee for a smoother flavor – make sure to check out my Cold Brew Coffee Recipe.
Now, I had to hold back everything that was in me to not add a splash of vanilla extract. But the Starbucks version doesn't include it, so I left it out. But if you're a vanilla fanatic, feel free to add a bit!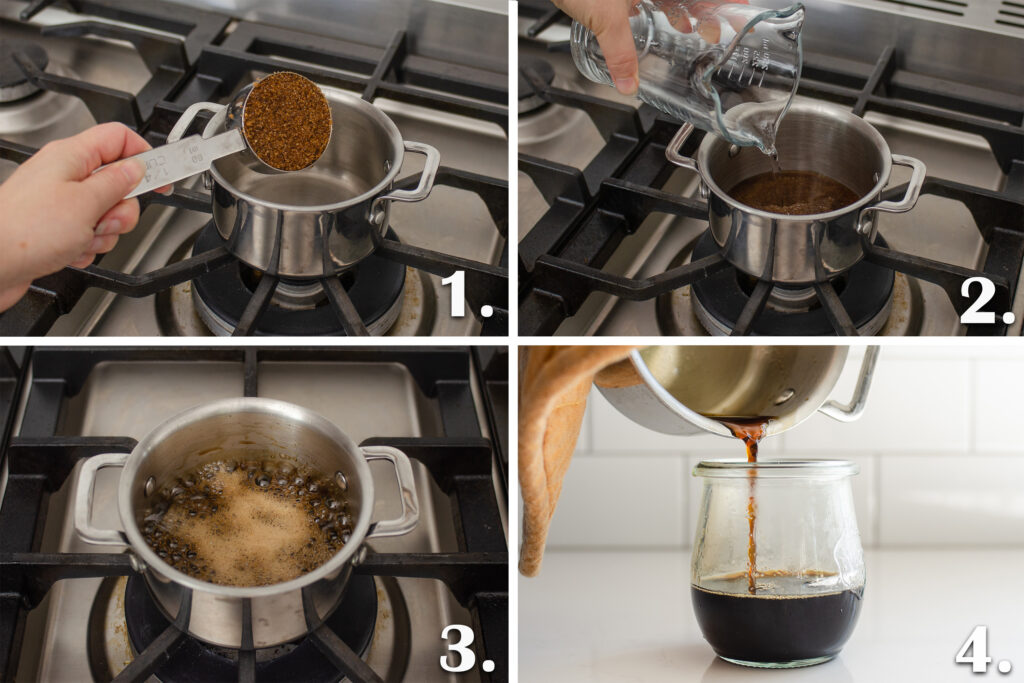 How to Make Brown Sugar Simple Syrup:
It's so very easy to make a brown sugar simple syrup if you want to go that route. Personally I don't find it necessary, but here's how to do it if you insist!
Place 1/4 cup of brown sugar into a small saucepan.
Add 1/4 cup of water to the saucepan.
Bring to a boil over medium heat, stirring often.
Remove from heat and pour into an airtight container. Cool completely before covering and storing in the refrigerator.
I would suggest using 1 to 2 tablespoons of syrup, and adjust from there.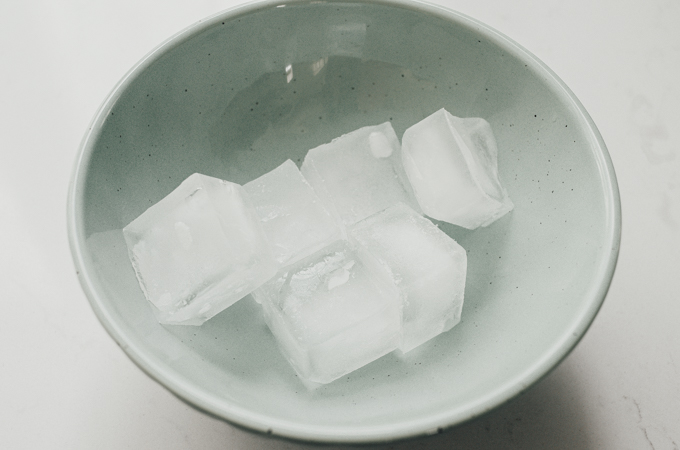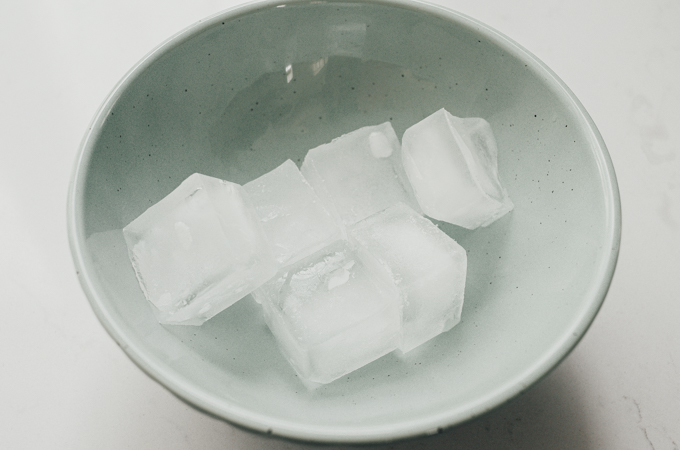 You'll also need some ice cubes. I use about 6 ice cubes per drink, but this will vary depending on the size of your jar and the size of your cubes.
You can either use regular ice cubes, or mini ice cubes. I like my mini ice cube tray, which is available on Amazon.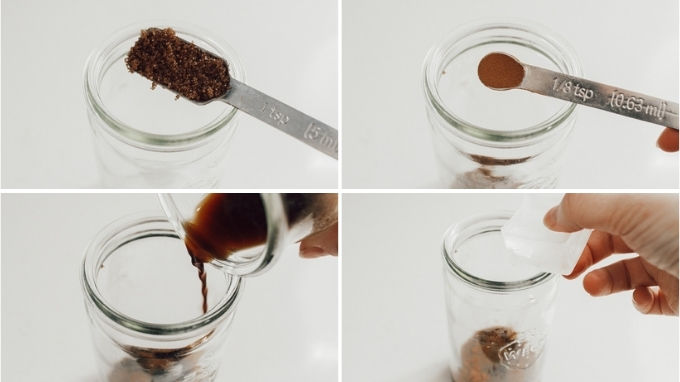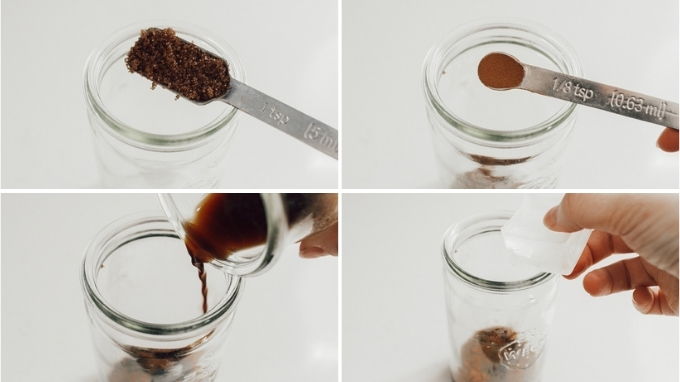 Mixing the Drink
Place the brown sugar, cinnamon, espresso, and ice cubes in a glass jar. I like these tall Weck jars, but you could also use a mason jar.
A tall glass showcases the drink nicely in my opinion.
This can also be done in a cocktail shaker if you prefer. That's the way my dad makes shaken drinks (we call it a shakerato), but a mason jar will yield similar results.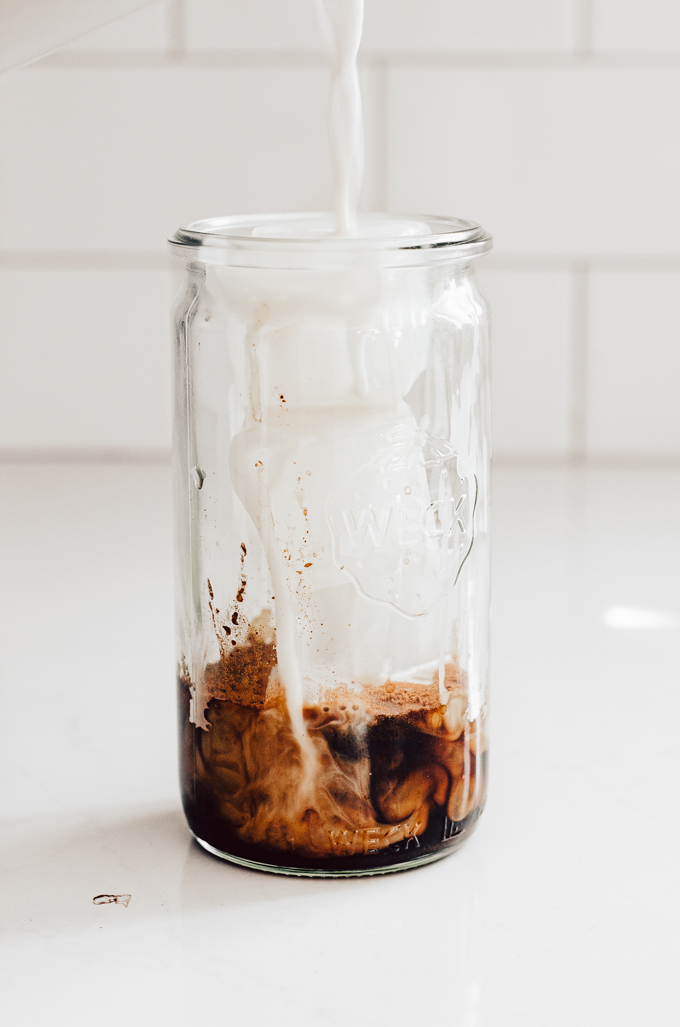 Pour the oat milk on top.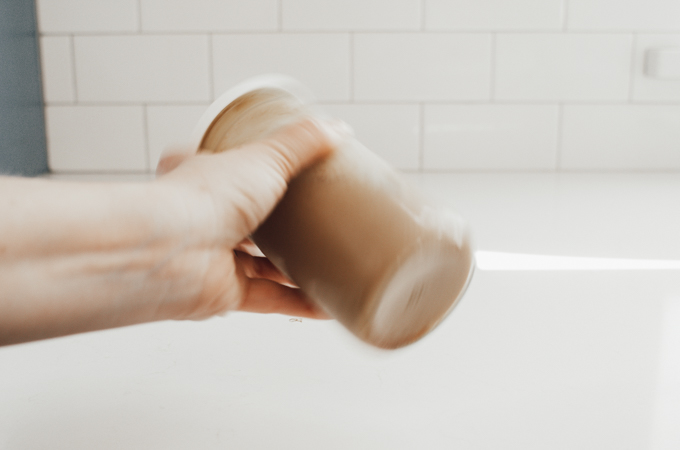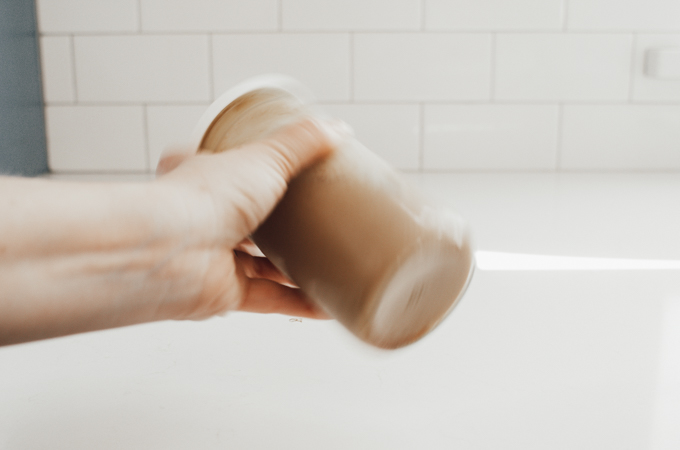 Put a lid on the jar, and shake it up really well. You want to spend about 30 seconds on this. This ensures that the brown sugar is dissolved, and it also creates that froth on top.
Serve immediately.
Now at Starbucks they actually shake together the expresso, cinnamon, and syrup first. Then they pour it into a tall glass and top with the oatmilk.
So for the most authentic Starbucks experience, follow those steps instead!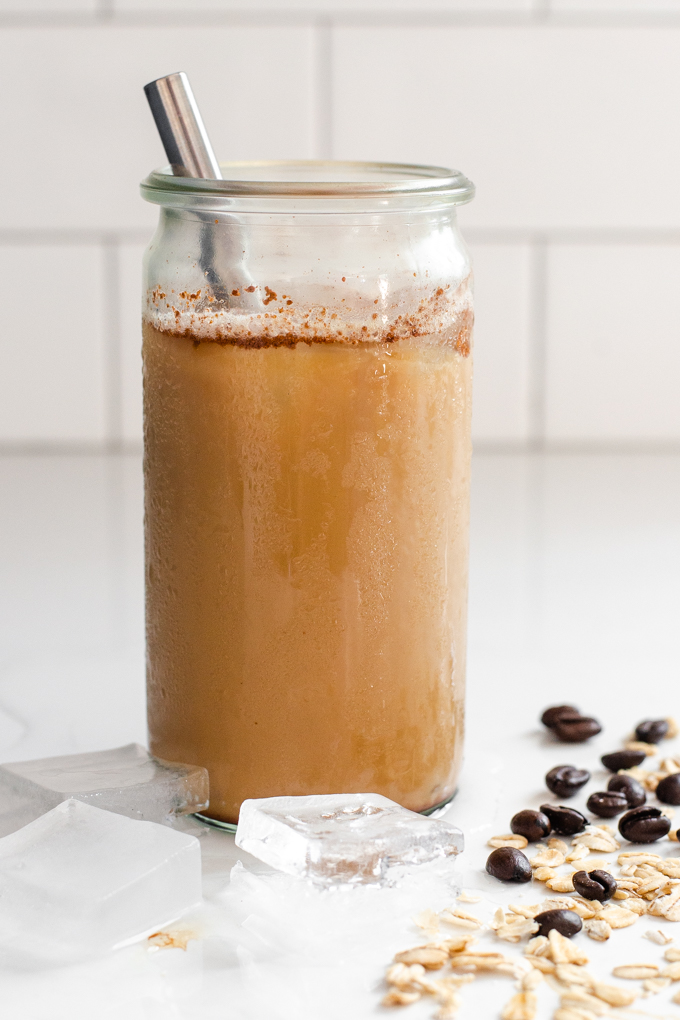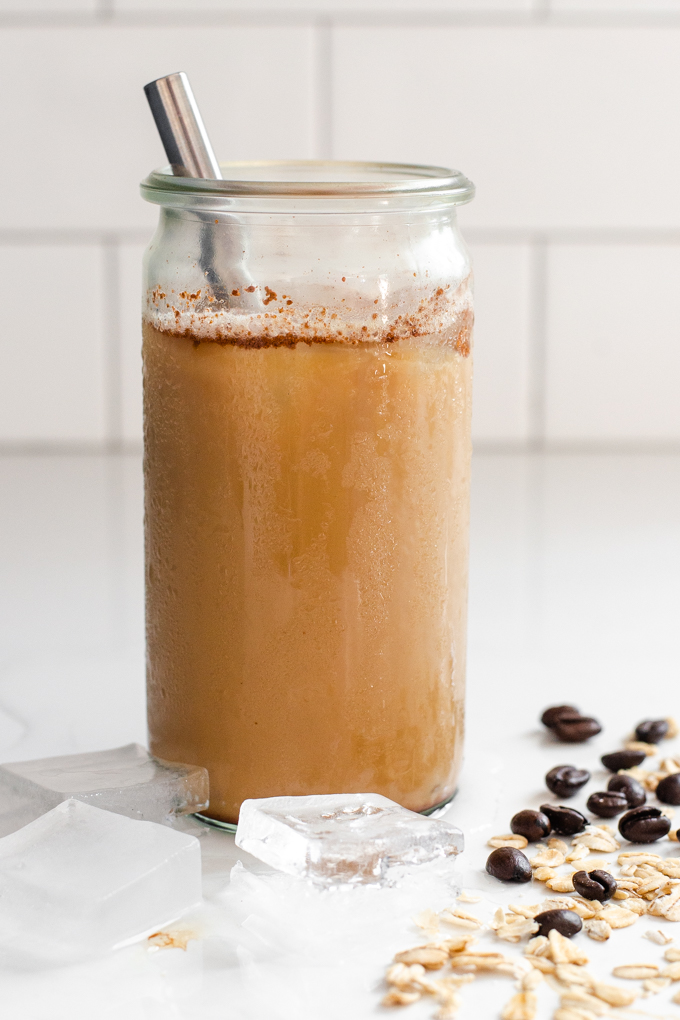 So that's how to make a copycat Starbucks iced brown sugar shaken espresso in your own kitchen! If you have any questions, let me know in the comment section!
And if you make and enjoy this recipe, please consider coming back and giving it a star rating!
More Homemade Drinks: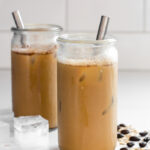 Iced Brown Sugar Oat Milk Shaken Espresso
Ingredients
2

tsp

dark brown sugar

(see note)

1/8

tsp

cinnamon

(less if you prefer just a hint of cinnamon)

1

shot

espresso

(see note)

1/2

cup

oat milk

(see note)

6

ice cubes
Instructions
Place all ingredients in a glass jar.

Put the lid on and shake for at least 30 seconds.
Recipe Notes
To make a brown sugar simple syrup, bring 1/2 cup dark brown sugar and 1/2 cup water to a boil. Pour into a jar and store in the fridge. Use 2-3 tsp or to taste.
You can also use 2-4 tablespoons of very strongly brewed coffee.
Use a barista blend, full fat oat milk.
Updated on March 29, 2023