This homemade oat milk latte is sweetened with honey. It's super easy, simple to make with just 5 ingredients, and tastes better than Starbucks!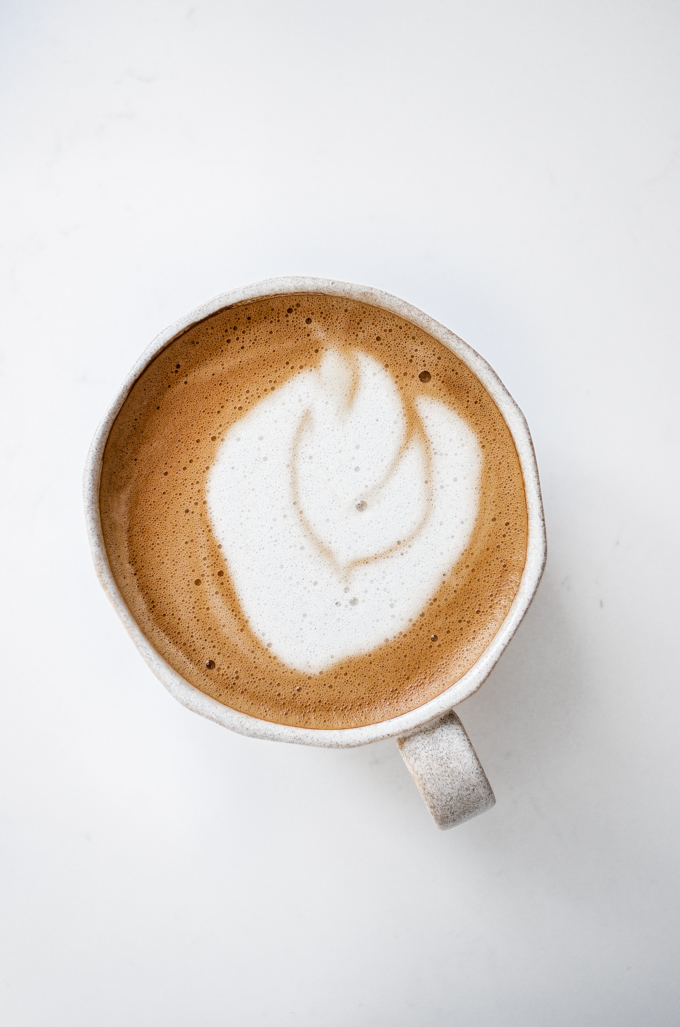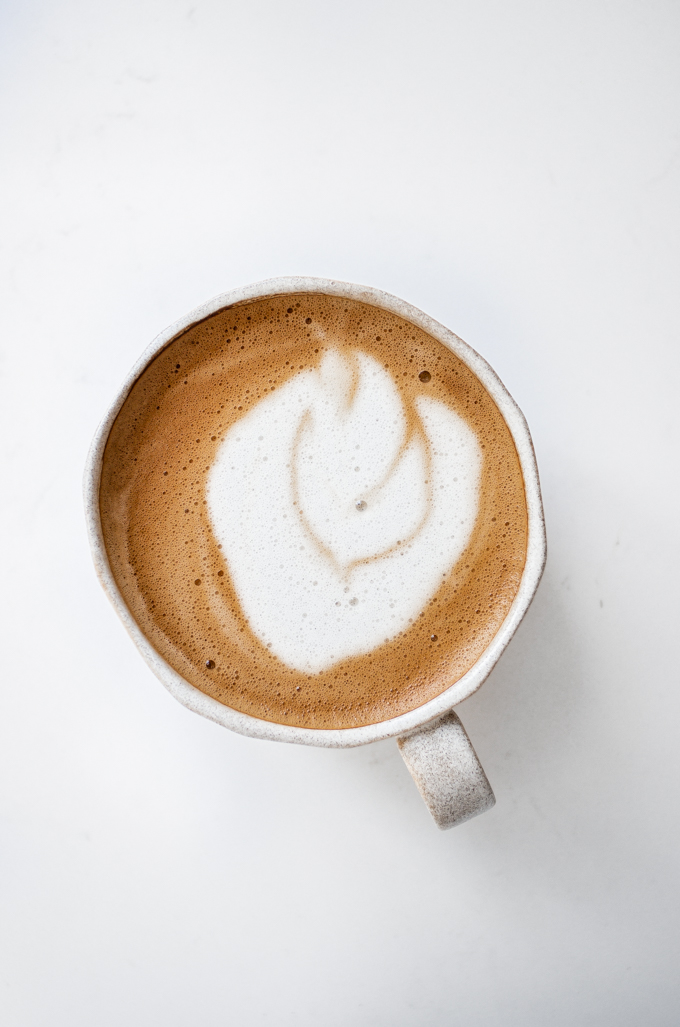 I cut out all dairy (and the other 7 top allergens) for the month of January this year.
Yeah. It was rough.
But, latte lover that I am, I had to learn to deal.
And that was with oat milk!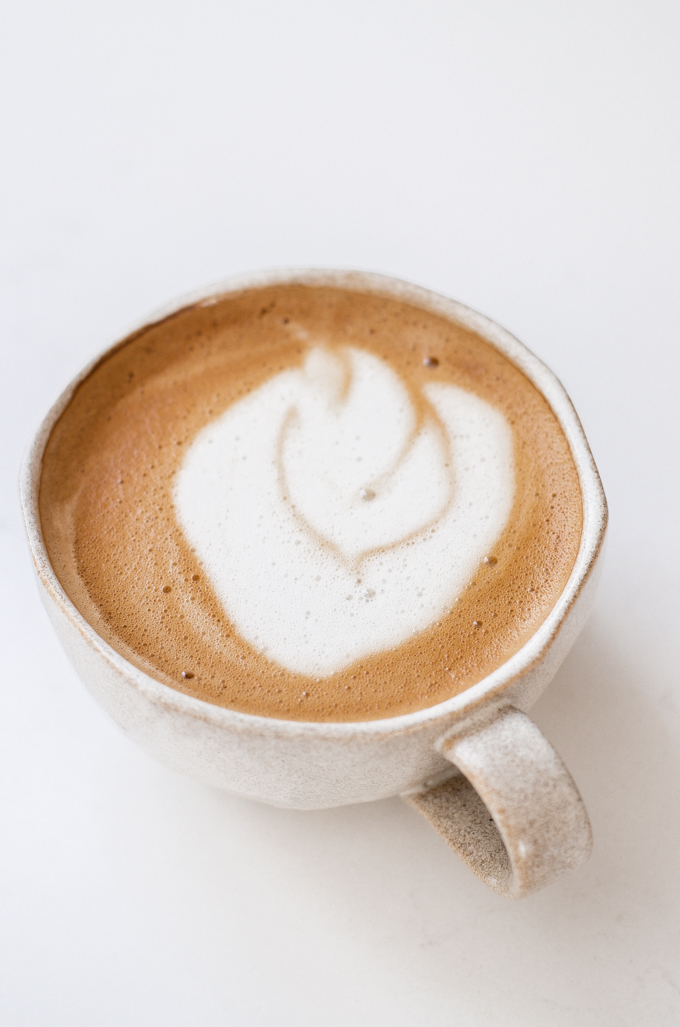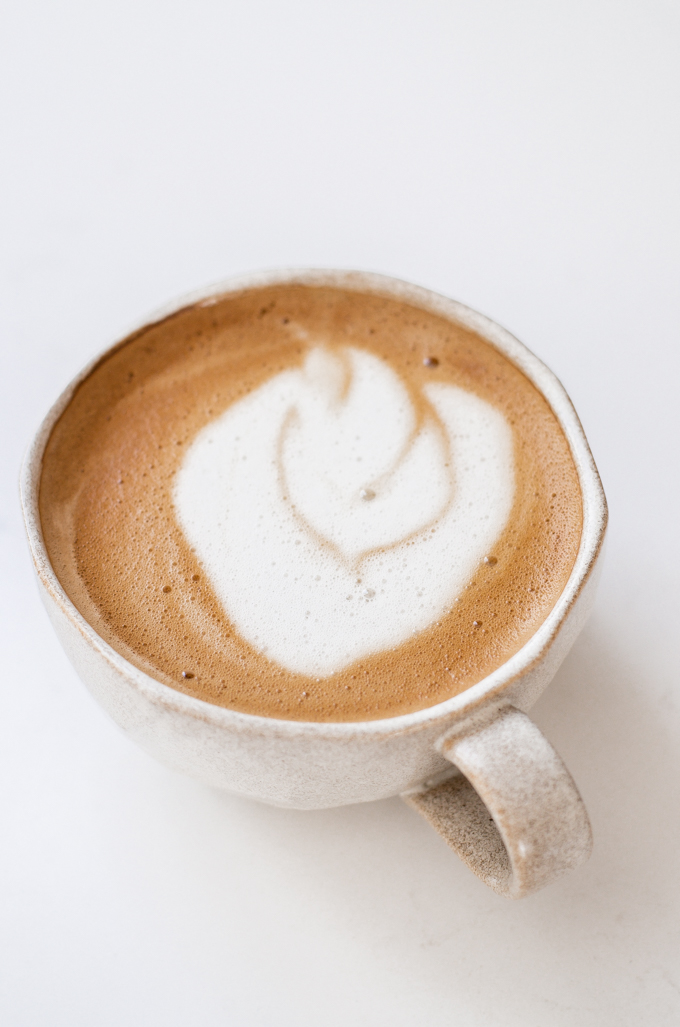 Now, I'm not going to tell you that I think that oat milk is just as good as regular milk in a latte.
But I will say this: it's pretty difficult to tell the difference!
In fact, the other day I made Reuben an oat milk latte, and he thought it was made with real milk!
The strong coffee flavor masks the oatiness quite well. So if you're actually looking for a latte that taste like oatmeal, you'll have to wait for my matcha version to come out!
How to Make an Oat Milk Latte:
Okay, enough chit chat. Let's dive in and make an oat latte!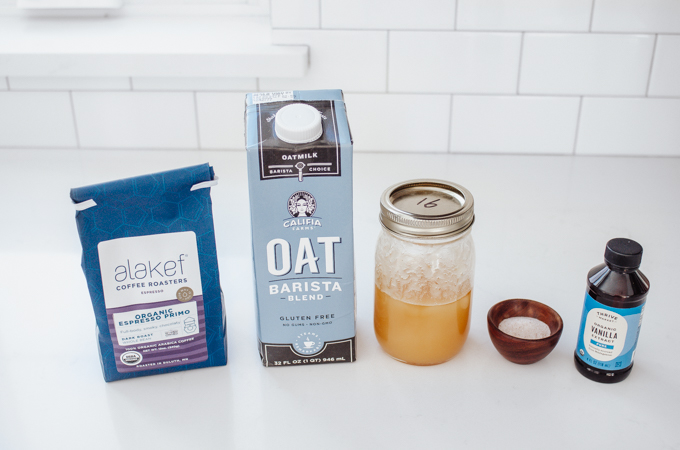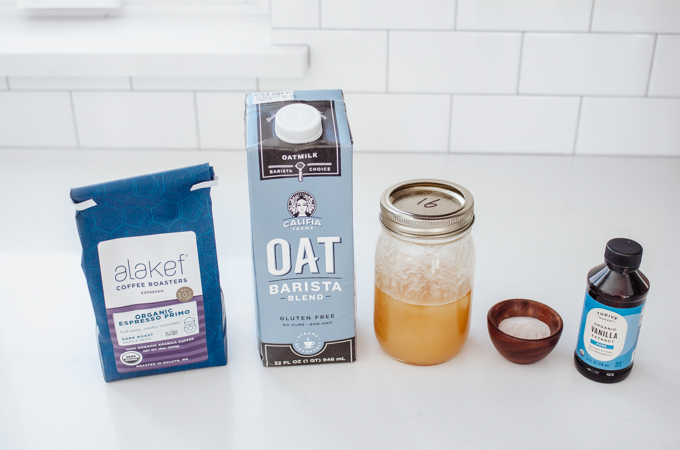 Ingredients:
Coffee: I like to buy espresso roast for homemade lattes. When I can, I try to source fair trade, organic beans.
Oat Milk: I'll discuss my favorite oat milk brands down below!
Honey or Maple Syrup: For an oat milk honey latte, you can simply use honey for the sweetener. But maple syrup is quite nice as well. Any other flavored syrup would work as well!
Unrefined Sea Salt: Adding a tiny pinch of sea salt helps to make this drink more flavorful.
Vanilla: I like a vanilla oat milk latte because that's just the flavor I associate with lattes. So I included a dash of vanilla extract in my recipe. Make sure to use pure vanilla extract, NOT imitation vanilla!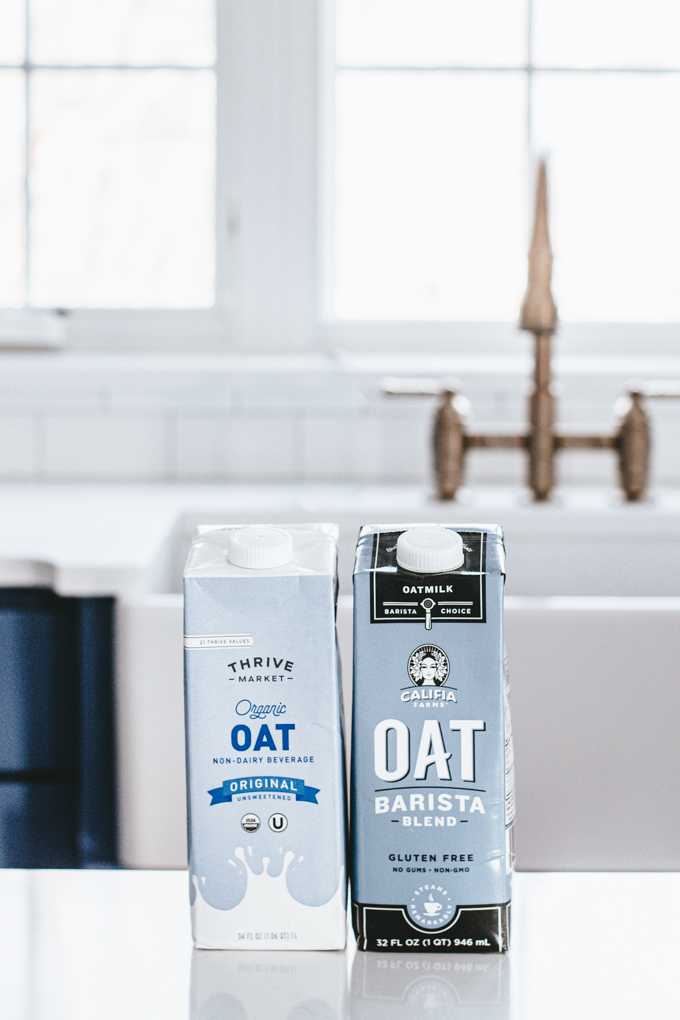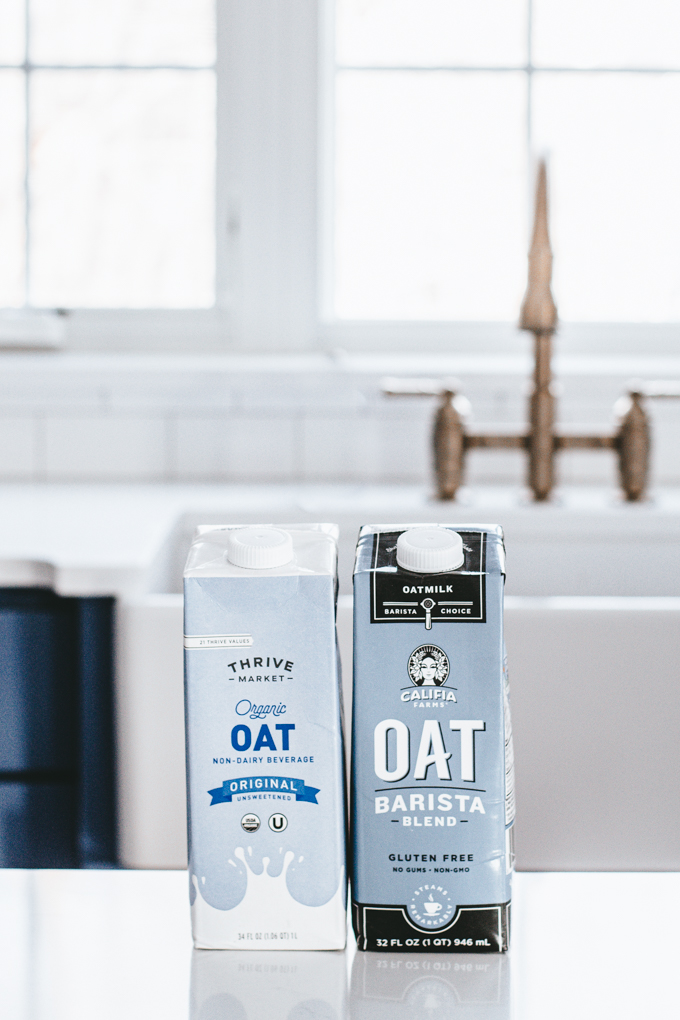 Best Oat Milk For Lattes?
I've tried a couple of oat milk barista blends, and I think that Califia Farms is a little better than Oatly.
But I accidentally stumbled upon something even better: if you mix half Califia Farms Barista Blend and half Thrive Market oat milk, the combo is perfect for lattes.
If you want to save money, or if it's important that your oat milk is organic, you can actually make your own barista blend oat milk!
Thrive Market oat milk is $2.49 per 34 oz carton, whereas Califia Farms is $3.75 per 32 oz carton. If you simply add a teaspoon of avocado oil and a pinch of sea salt to the Thrive Market oat milk, you've got a DIY barista blend!
I'll make sure to include the recipe at the bottom of the post.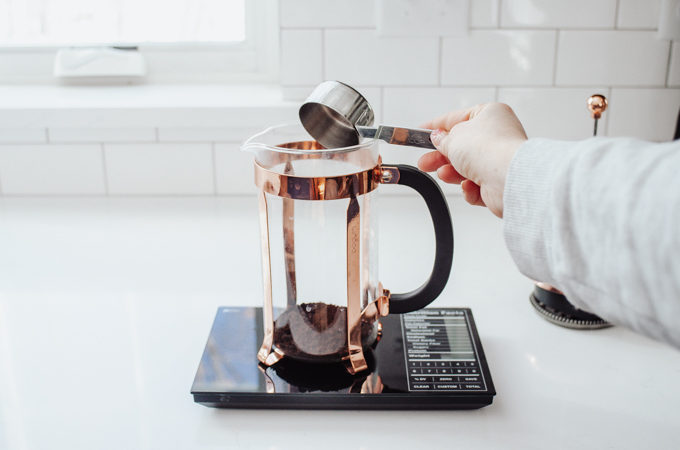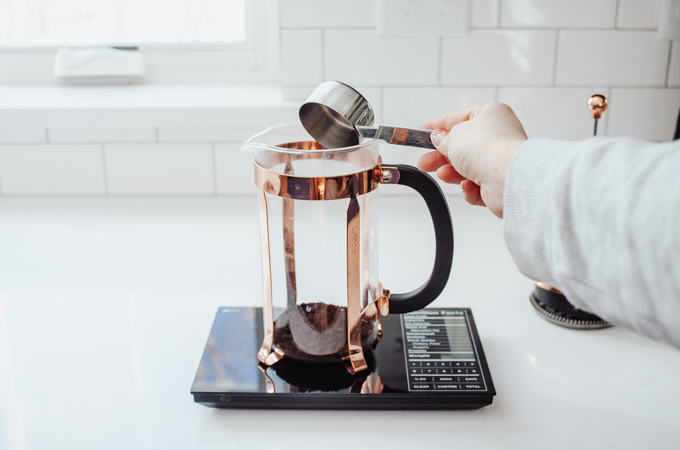 Brewing the Coffee:
I own an espresso machine, so that's how I typically make my espresso for an oat milk latte. But I'm going to show you how to make espresso with a French press and an Aeropress.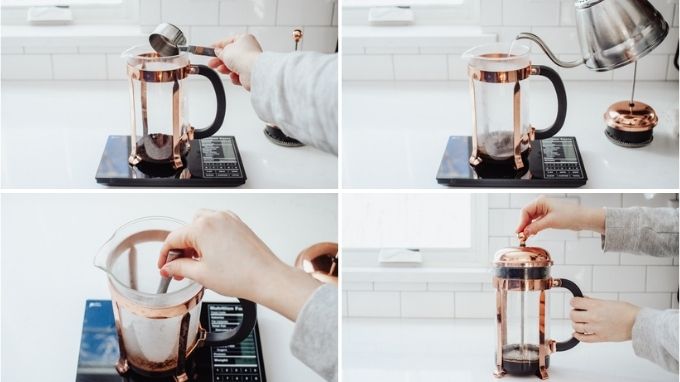 French Press:
Place 1/4 cup of finely ground espresso roast coffee beans in the canister of a French press.
Pour 4 ounces (1/2 cup) of 190° F (87° C) water on top of the grounds.
Stir the water and grounds together with a spoon until it's evenly moistened.
Put the lid on top of the French press and let it stand for 4 minutes.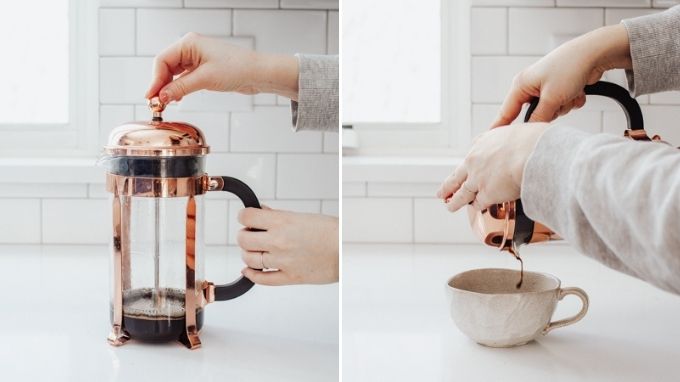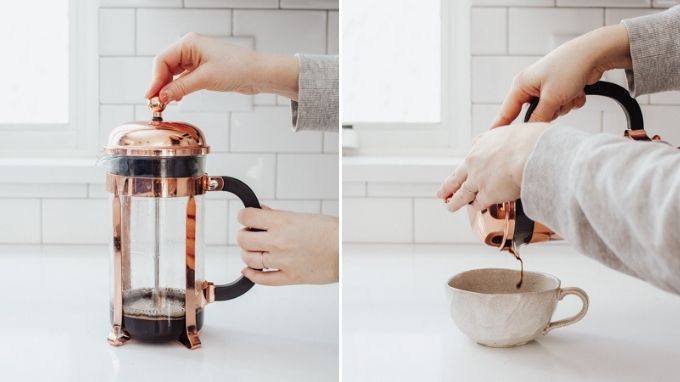 Plunge the French press down.
Pour the coffee out into your mug.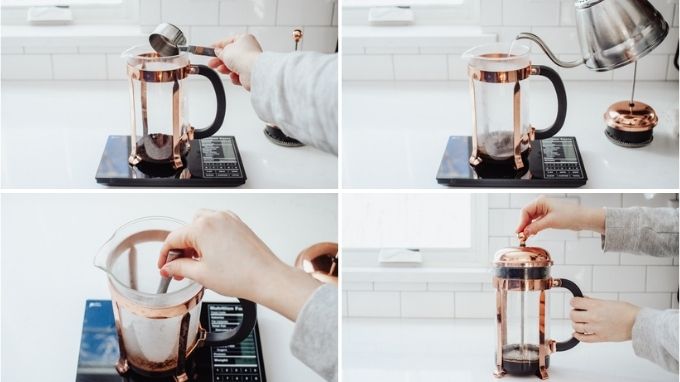 Aeropress:
Dampen a paper filter and place it in the filter basket. Screw the basket onto the chamber of the Aeropress.
Put 1/4 plus 1 tablespoon of finely ground espresso roast coffee beans into the chamber of the Aeropress.
Pour 2.5 ounces of of 175°F (79°C) water over the grounds in the chamber.
Stir with the provided stir stick.
Plunge the Aeropress down, pressing the plunger all the way down to the grounds.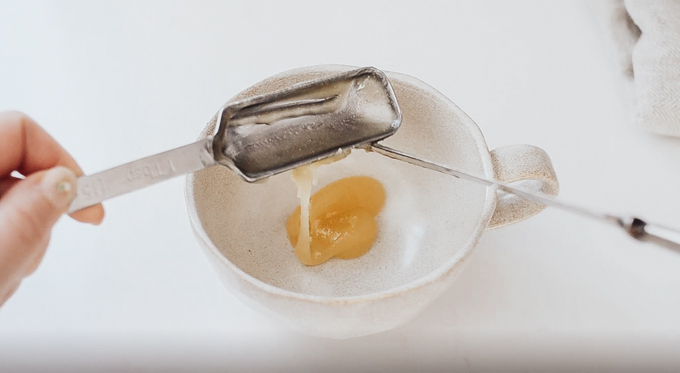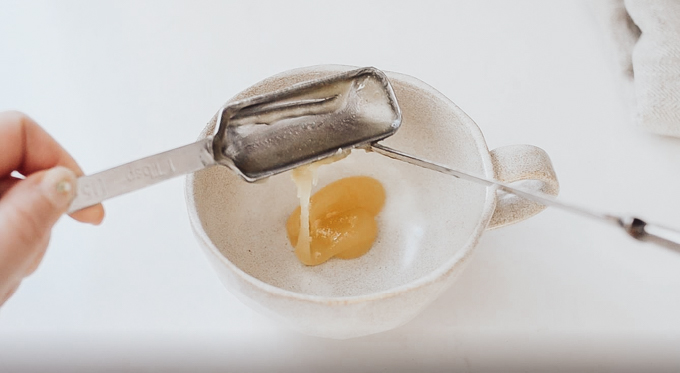 Now you can add the honey or maple syrup, vanilla extract, and sea salt to the mug.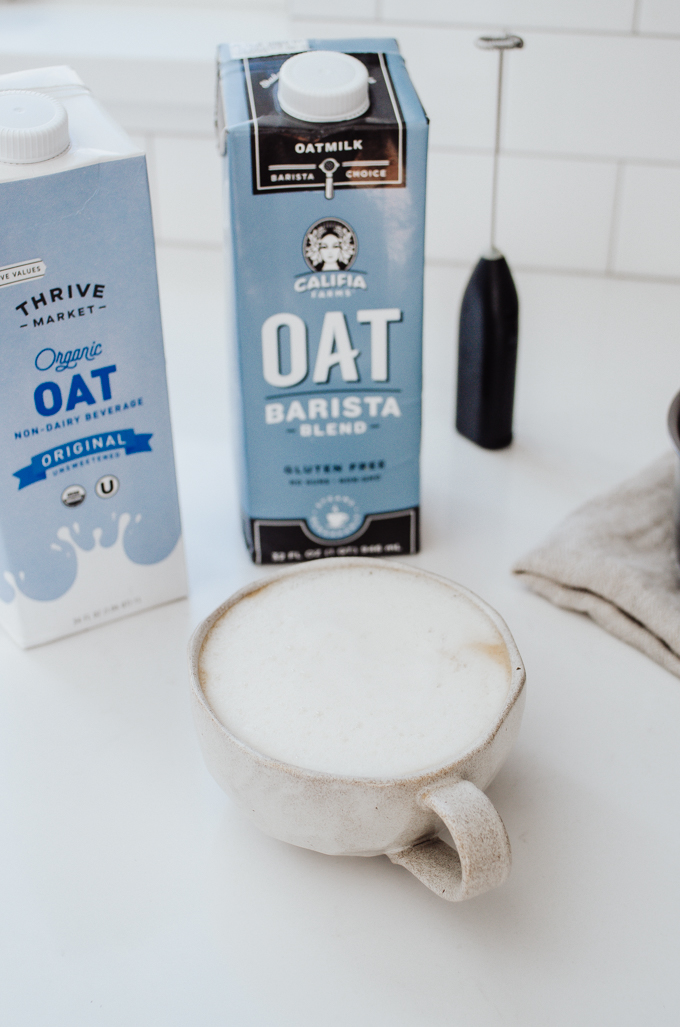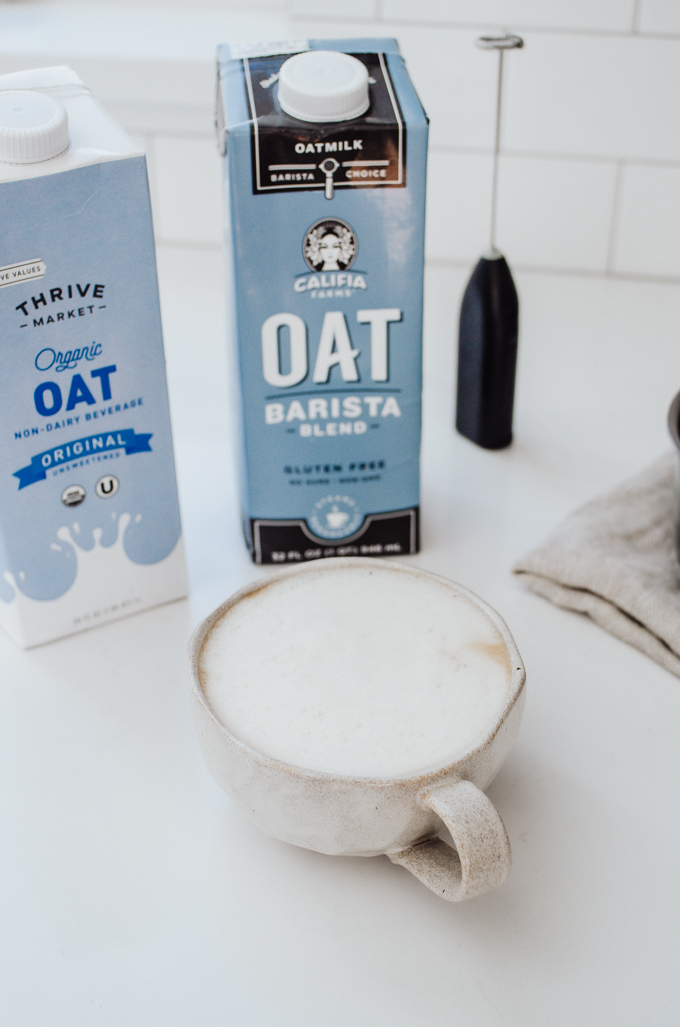 Top with your frothed oat milk, and you've got yourself a delicious vanilla and honey oat milk latte!
If you've never frothed milk before, I've got a YouTube video all about How to Froth Milk Without a Machine! Make sure to check it out, because it has some awesome tips.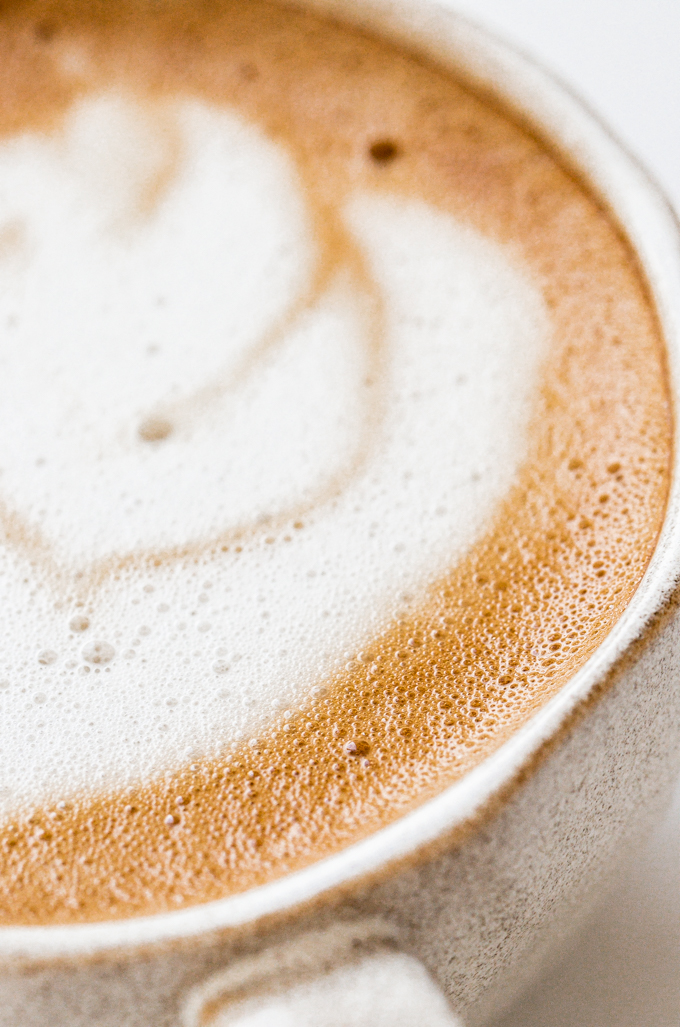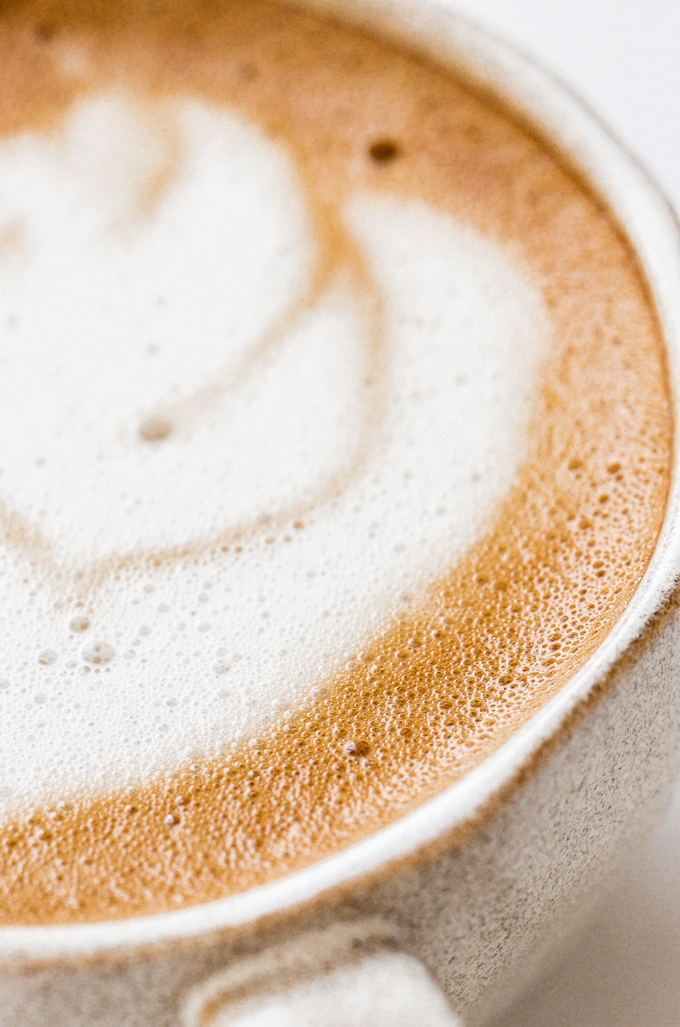 Are Oat Milk Lattes Good?
That depends on what kind you're talking about! I tried out a Starbucks honey oat milk latte yesterday, and it wasn't great. To be honest, it kind of tasted like cardboard.
But my DIY version is SO much better. It tastes very similar to a traditional latte in my opinion.
Oat Milk Latte Calories:
If you're talking about the Starbucks honey oat milk latte, a short is 140, a tall is 200, a grande is 270, and a venti is 360.
My homemade version is 143 calories if it's made with Califia Farms Barista Blend. And it's 169 calories if it's made my DIY barista blend.
So that's how to make an at home coffee oat milk latte!
Here's a video tutorial in case you learn better that way:

More Latte Recipes: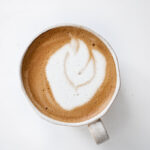 Oat Milk Latte Recipe
Make a honey oatmilk latte in the comfort of your own home!
Ingredients
1

shot

espresso

(see note)

1-3

tsp

honey, maple syrup, or flavored syrup of choice

tiny pinch of unrefined sea salt

1/4

tsp

pure vanilla extract

3/4

cup

oat milk

(see note)
Instructions
Place the espresso, honey (or sweetener of choice), sea salt, and vanilla in a mug.

Heat the oat milk to 155 and froth. Pour over the coffee in your mug and enjoy!
Recipe Notes
Instead of a shot of espresso, you can use 1/4-1/2 cup of very strongly brewed coffee.
You can use a barista blend oat milk, or you can make your own by adding 1 teaspoon of neutral-flavored oiled and a pinch of sea salt to 3/4 cup of regular oat milk.