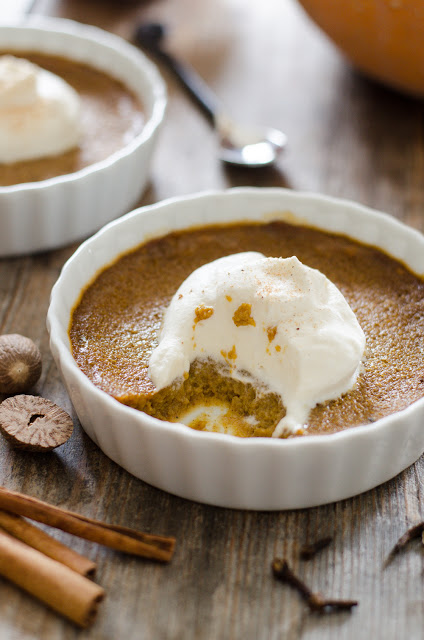 This Baked Pumpkin Custard recipe is so easy – just mix everything together and pour into ramekins to make pumpkin custard cups. No pie crust required! It's basically a mini crustless pumpkin pie, perfect for your Thanksgiving dinner!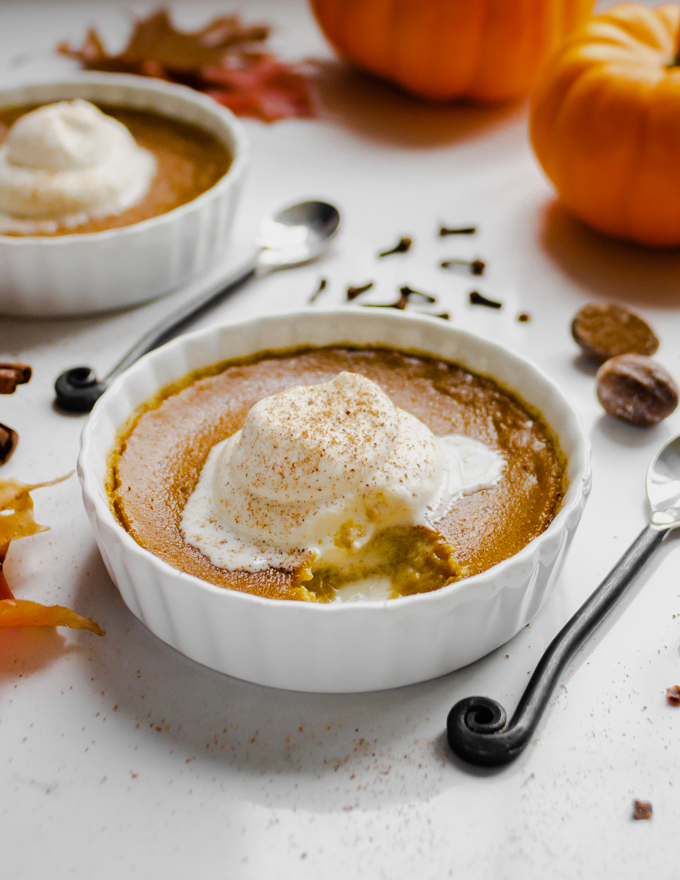 If you're looking for an easy way to get your traditional pumpkin pie fix, this easy baked pumpkin custard is definitely the ticket.
It's such a simple recipe. All you need to do is whisk together the custard ingredients, pour into individual ramekins, and bake until set.
Serve with nutmeg whipped cream and an extra sprinkling of freshly grated nutmeg on top and this will seem like a fancy dessert.
This is also gluten free since it doesn't require you to go to the extra effort to make a pie crust.
It's the perfect dessert for those times when you want to experience a pumpkin, but also don't want to put in too much effort.
Okay, let me show you how to make it!
Video Tutorial:
Here's a video tutorial in case you learn better that way! The written tutorial and printable recipe are below!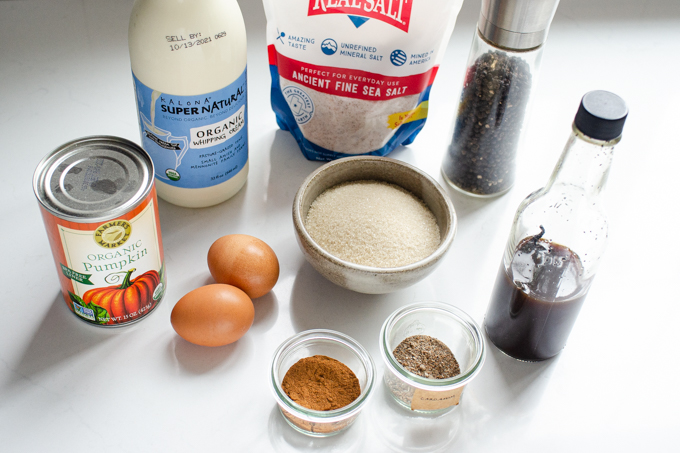 Ingredients:
You only need 9 simple ingredients to make this easy pumpkin custard recipe:
Pumpkin Puree: You can use canned or homemade pumpkin puree. If you use homemade, make sure your pumpkin purée is not too watery. Please use pure pumpkin puree, NOT pumpkin pie filling, which isn't the same thing.
Whipping Cream: Make sure to use heavy cream or whipping cream, not half and half or whole milk! This ensures that this is a nice, creamy pumpkin custard. The original recipe I adapted from used coconut cream, but I have not personally tested that out.
Eggs: Use large eggs. I like pastured raised eggs. Use the egg whites as well as the egg yolks.
Sugar: You can use coconut sugar, cane sugar, sucanat, brown sugar, etc.
Vanilla Extract: Please use real vanilla extract, not imitation vanilla flavor!
Pumpkin Pie Spice: You can use a premade blend from the grocery store, or my Homemade Pumpkin Pie Spice Mix.
Cardamom: If you'd like to add an extra kick of spice, add a bit of cardamom! If you don't like cardamom, feel free to leave it out.
Black Pepper: This is also optional, but it does boost the spiciness.
Salt: To enhance all these flavors, don't forget to add a little bit of salt! I use unrefined sea salt.
How to Make Baked Pumpkin Custard: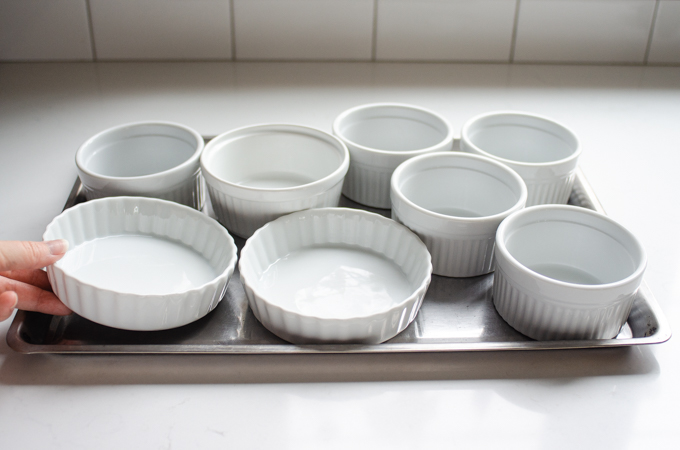 Place 6 oven safe ramekins in a shallow rimmed baking sheet.
I got carried away and did 8 instead of 6.
4-ounce ramekins would work great, but 6-ounce would also be fine.
I recommend using a metal pan here if you can since it will probably be lighter than using a glass shallow baking dish.
No water bath needed here!
Preheat your oven to 350 degrees F, or 175 degrees C.
Mixing the Pumpkin Custard: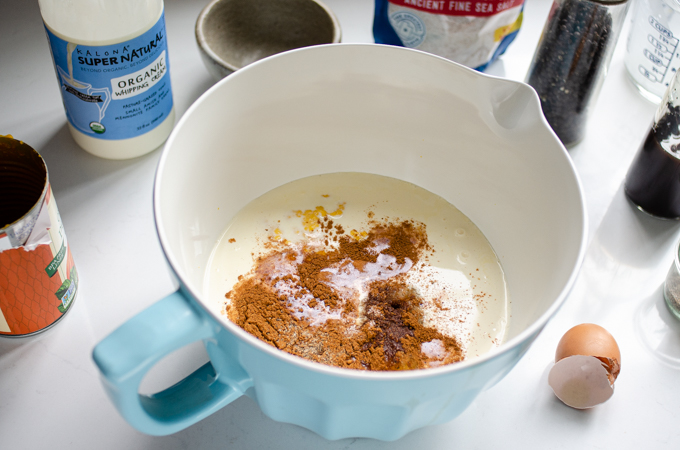 Combine pumpkin puree, cream, eggs, sugar, vanilla extract, pumpkin pie spice, cardamom, black pepper, and salt in a large bowl.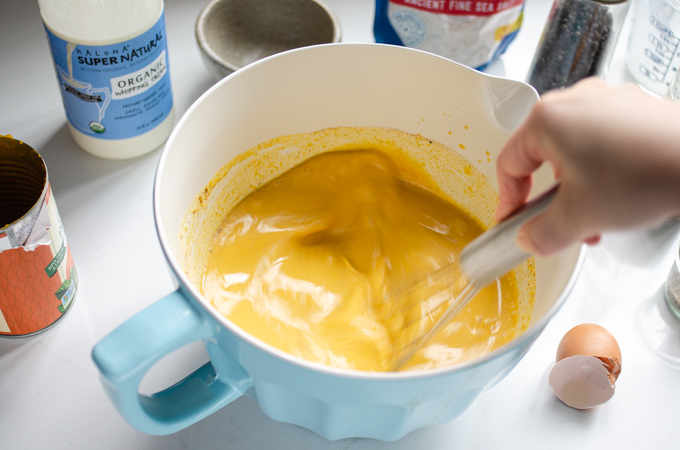 Whisk everything together very well.
This can also be done in a blender.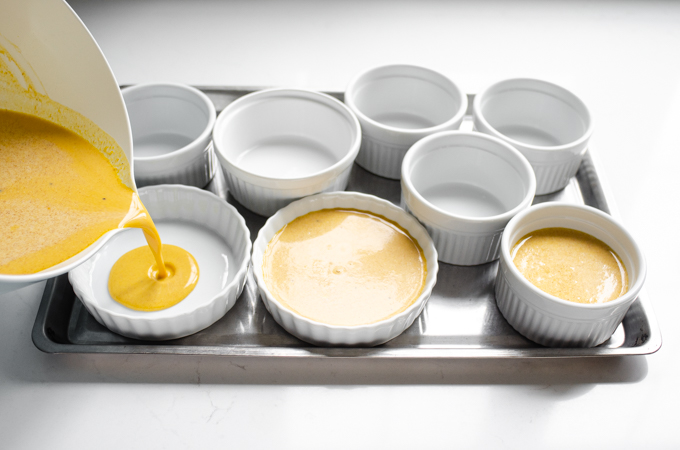 Pour the custard mixture into the prepared ramekins.
Baking the Pumpkin Egg Custards: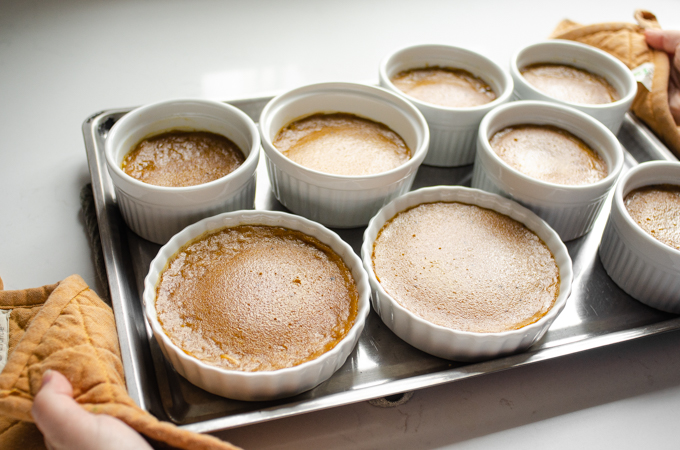 Bake in preheated oven for 35-40 minutes, or until just set. Don't over bake!
The cooking time will vary depending on the size of your ramekins, how hot your oven runs, etc.
Tip: Be very careful when you're placing the baking tray on the oven rack since the custard could spill out of the ramekins.
You can place the pan on a wire rack to help it cool down faster.
Cool and serve either warm or at room temperature.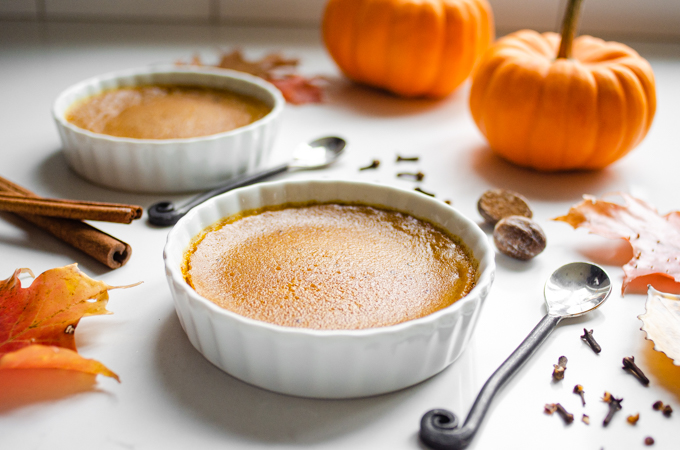 Now you can stop right there and serve as-is, or you can elevate this further with my Nutmeg Whipped Cream.
Nutmeg Whipped Cream Garnish: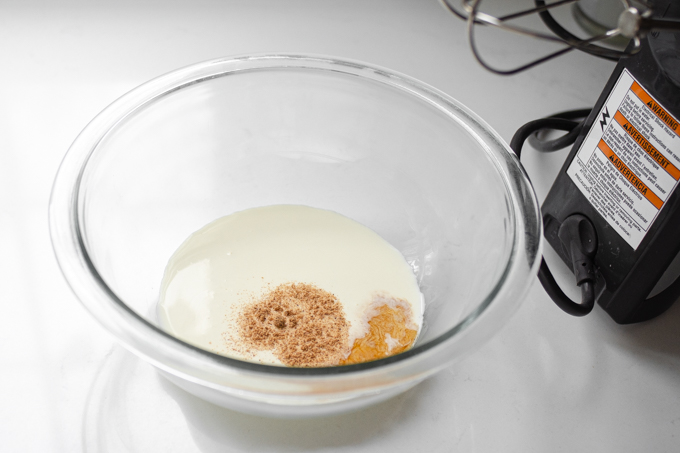 Place 1/2 cup of whipping cream, 2 teaspoons of pure maple syrup, 1/4 teaspoon of vanilla extract, and 1/4 teaspoon of nutmeg into a mixing bowl.
Freshly grated nutmeg is amazing by the way.
Ground cinnamon would be another great option if you prefer that flavor over nutmeg.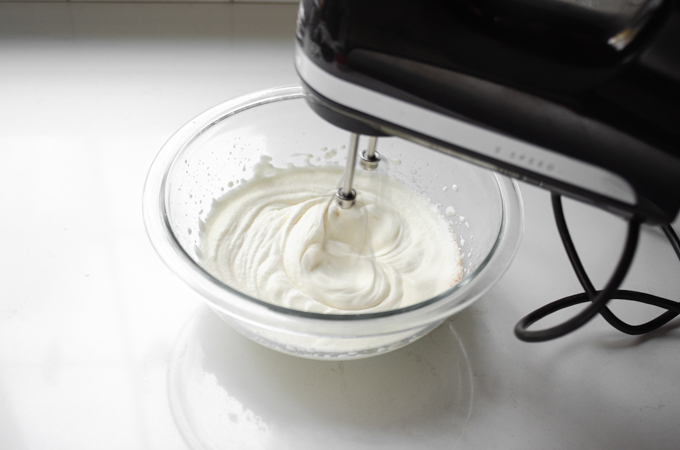 Whip the mixture with a hand mixer until soft or stiff peaks form, depending on how you like your whipped cream.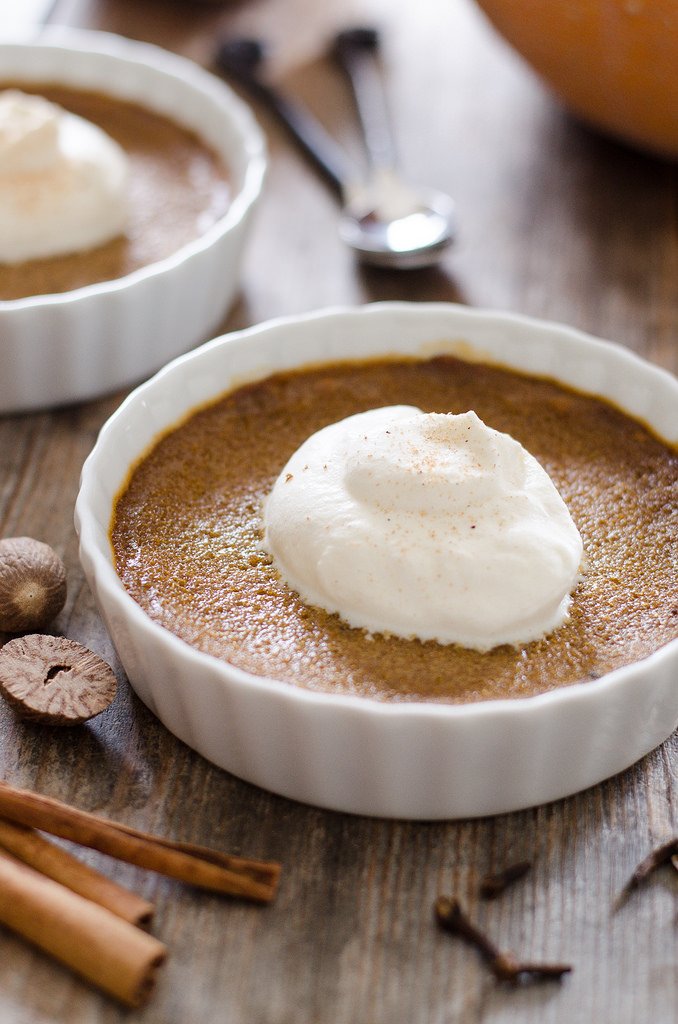 Serving:
Dollop that on top of the baked and cooled pumpkin custards.
You could also sprinkle some roasted pumpkin seeds on top to make this extra decadent.
Or add a scoop of vanilla ice cream on top!
Storing:
Store any leftovers in the refrigerator. Make sure to press a small piece of plastic wrap on the surface of each custard to prevent dryness.
So there you have my easy pumpkin custard dessert, perfect for the fall and winter months!
This is perfect for special occasions during the holiday season when you don't want to break a sweat in the kitchen.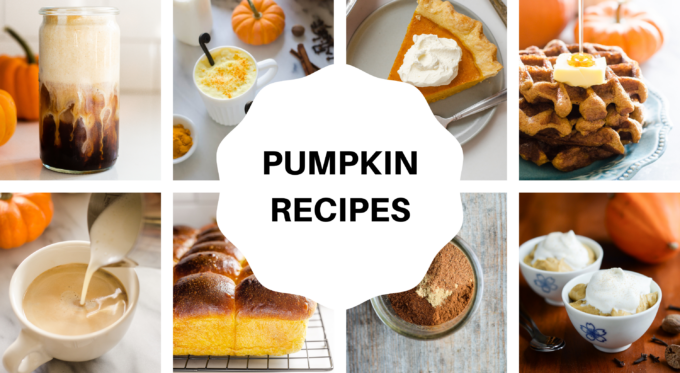 By the way: you could also make my Pumpkin Pudding – another great crust-free pumpkin option!
And if you want to bake a traditional pumpkin pie, check out my Perfect Pumpkin Pie Recipe.
Or for a less-sweet option, check out my Low Sugar Pumpkin Pie Recipe.
More Pumpkin Recipes:
More Fall Dessert Recipe: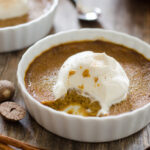 Easy Baked Pumpkin Custard
This Baked Pumpkin Custard is so easy - just mix and pour into ramekins. No crust required!
Ingredients
15

ounces

pumpkin puree

canned or homemade

11

ounces

heavy cream

about 1 1/3 cups

2

large eggs

3/4

cup

coconut sugar

organic cane sugar, sucanat, etc.

2

teaspoons

pure vanilla extract

2

teaspoons

pumpkin pie spice

1/4

teaspoon

cardamom

a few grinds of black pepper

1/2

teaspoon

salt
Instructions
Preheat oven to 350 degrees F (175 C). Place 6 ramekins on a shallow rimmed baking sheet.

Whisk together all ingredients in a medium bowl. You could also use a blender to do this.

Fill ramekins about 3/4 full with the custard. Bake for about 35-40 minutes, or until just set.

Cool on a wire rack. Serve warm or room-temperature with nutmeg whipped cream (see note). Sprinkle extra nutmeg on top.
Recipe Notes
Adapted from

Primal Palate

To make the nutmeg whipped cream, place 1/2 cup of whipping cream, 2 teaspoons of pure maple syrup, 1/4 teaspoon of vanilla extract, and 1/4 teaspoon of nutmeg into a mixing bowl. Beat until soft of stiff peaks form.
Calories calculated without nutmeg whipped cream.
Updated on August 31, 2023