This cozy spiced apple tea latte is the perfect fall drink for curling up under a blanket and relaxing. Such a comforting drink!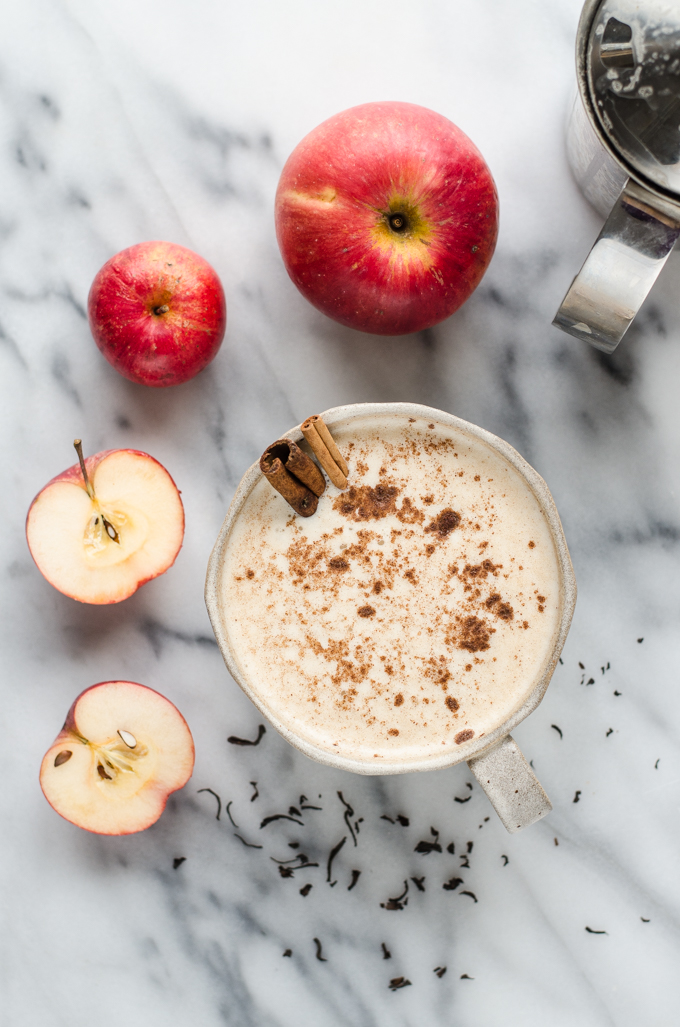 One of my favorite things about fall is getting to enjoy ALL THE HOT DRINKS.
Don't get me wrong, I like a good latte year-round.
But there's just something special about holding a hot mug in your hands on chilly nights. It just ups the enjoyment level for me.
This Spiced Apple Tea Latte is pretty much autumn in a cup.
You've got the flavors of one of the quintessential fall fruits plus warm spices and creamy frothed milk.
Let me show you how to make my simple recipe for this delicious homemade tea!
Ingredients for a Spiced Apple Tea Latte: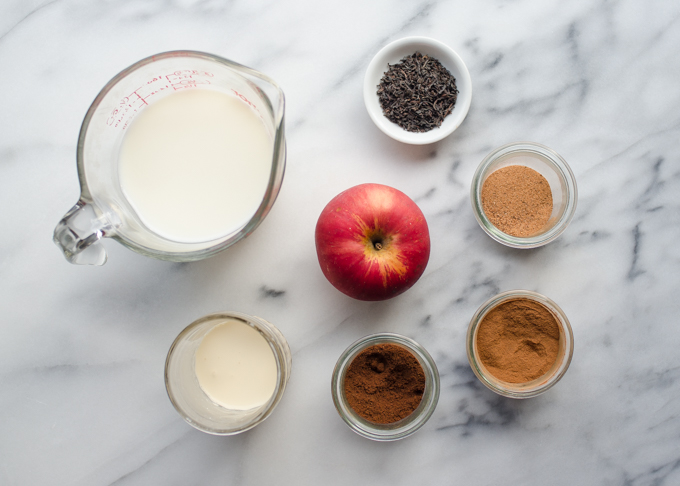 Ingredient checklist:
Tea: I used English breakfast, but any black tea will work as well. Green tea might be lovely. You could also experiment with rooibos if you're trying to avoid caffeine. I used loose leaf tea, but feel free to substitute 2 tea bags.
Fresh Apple slices: I used just apples in this recipe to impart flavor: no apple juice or cider needed! Many different types of apples will work in this recipe. Gala, Pink Lady, Braeburn, or whatever is growing on your trees are all good choices. Sweet apples will obviously add more sweetness to the drink, whereas something like a Granny Smith apple will be more tart.
Cinnamon: I used cinnamon powder (AKA ground cinnamon). You could also use cinnamon sticks, but most people have ground cinnamon on hand.
Nutmeg: I adore nutmeg, but if it isn't your thing, feel free to leave it out.
Cloves: Again, I used ground cloves. You could substitute a whole clove if you prefer.
Cream: I love my hot drinks on the creamy side, so of course I included cream.
Milk: But to get the latte to froth up well, you must include milk as well. I like grass-fed whole milk.
How to Make an Apple Cinnamon Tea Latte: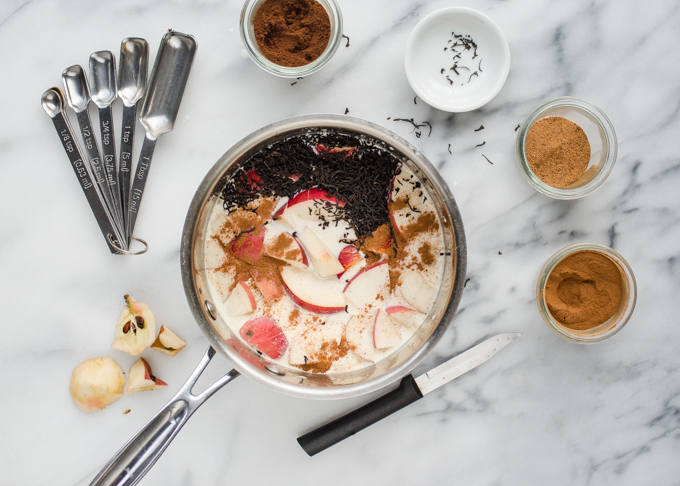 Now simply put all of the ingredients in a small saucepan. It's okay to leave the apple peels on, by the way!
Heat to 175 degrees F over low heat. I had to find that balance between not heating the milk so hot that it takes on a cooked flavor, but hot enough that it will extract flavor from the tea.
Cover the pot, and let it steep for 15 minutes.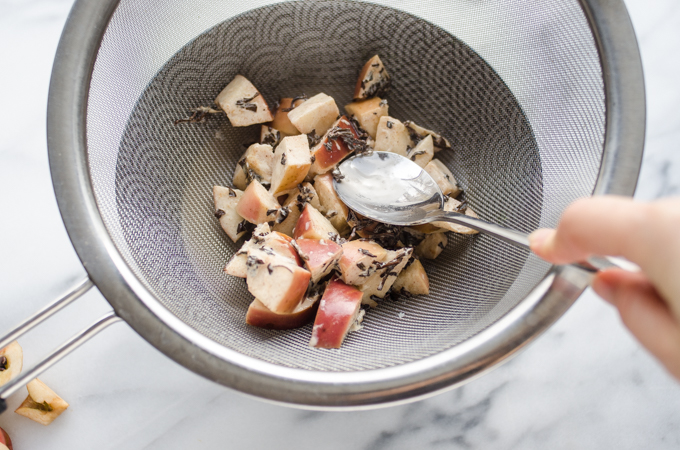 Then just strain out the solids using a fine mesh strainer, being sure to press on the apple pieces to extract even more of their flavor and juices.
You can also add a splash of maple syrup if you prefer a sweeter drink.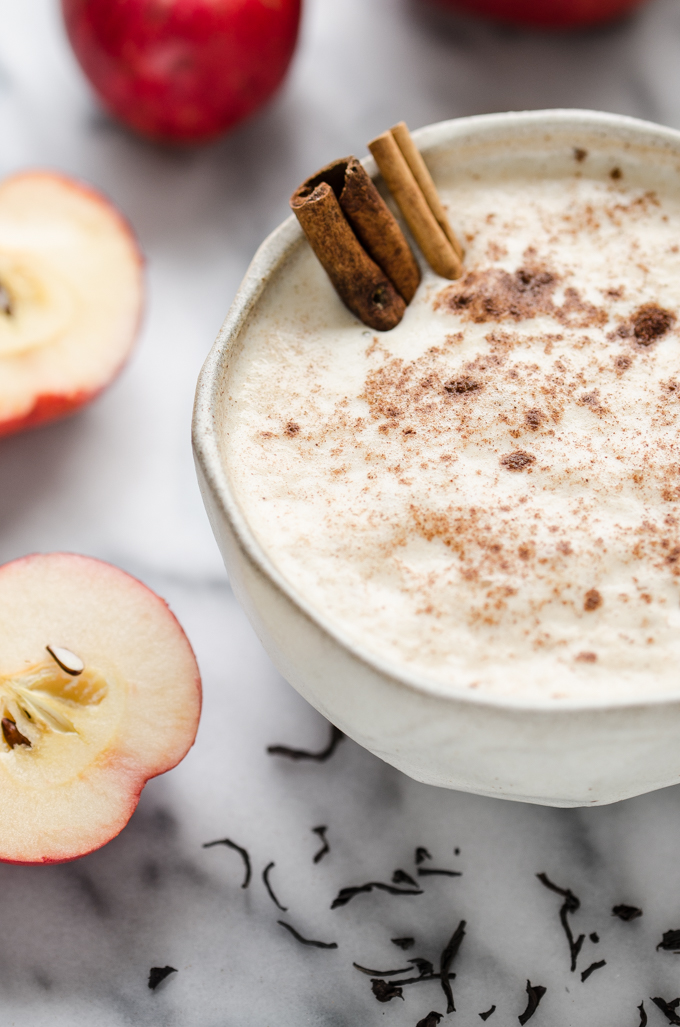 Froth and enjoy your spiced apple tea latte!
Don't worry if you don't own a special milk frother. I've got the post just for you: 8 Ways to Froth Milk!
Or watch my YouTube video tutorial.
I recommend making a double batch of this apple tea and saving half of it for later. That way when you get a craving for this delicious tea latte, you can simply reheat and froth!
What cozy fall drink I should try next?
Check out my other latte recipes: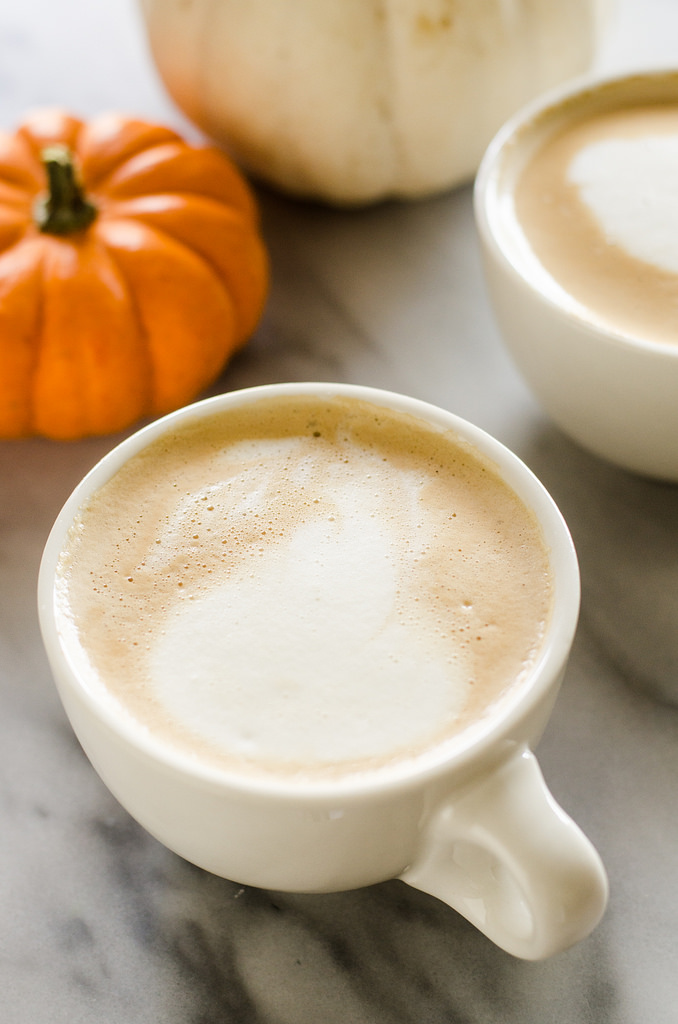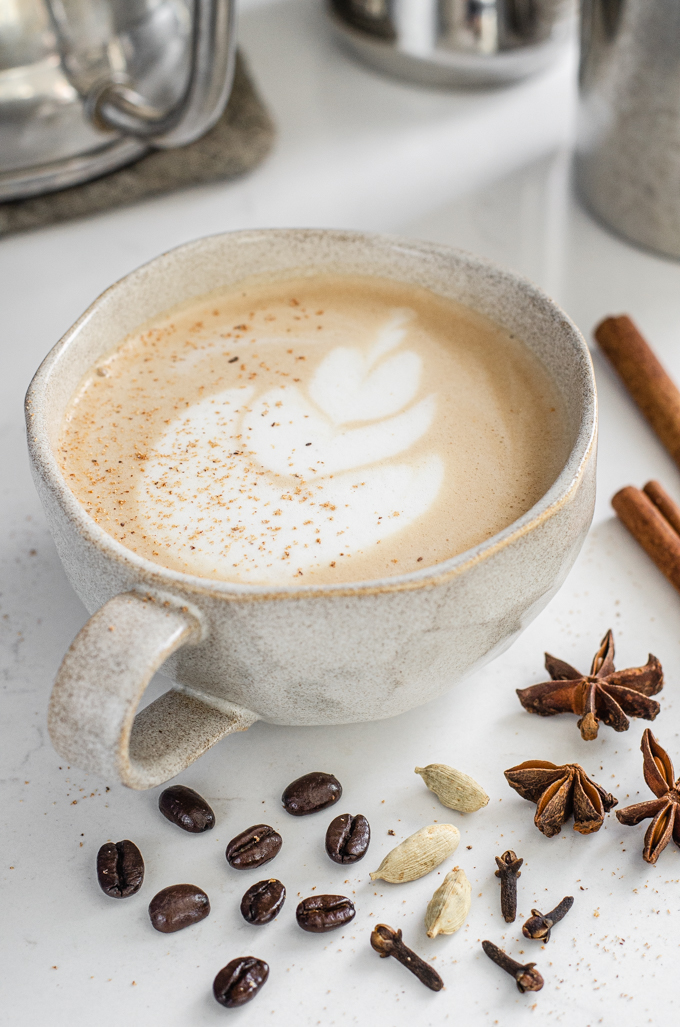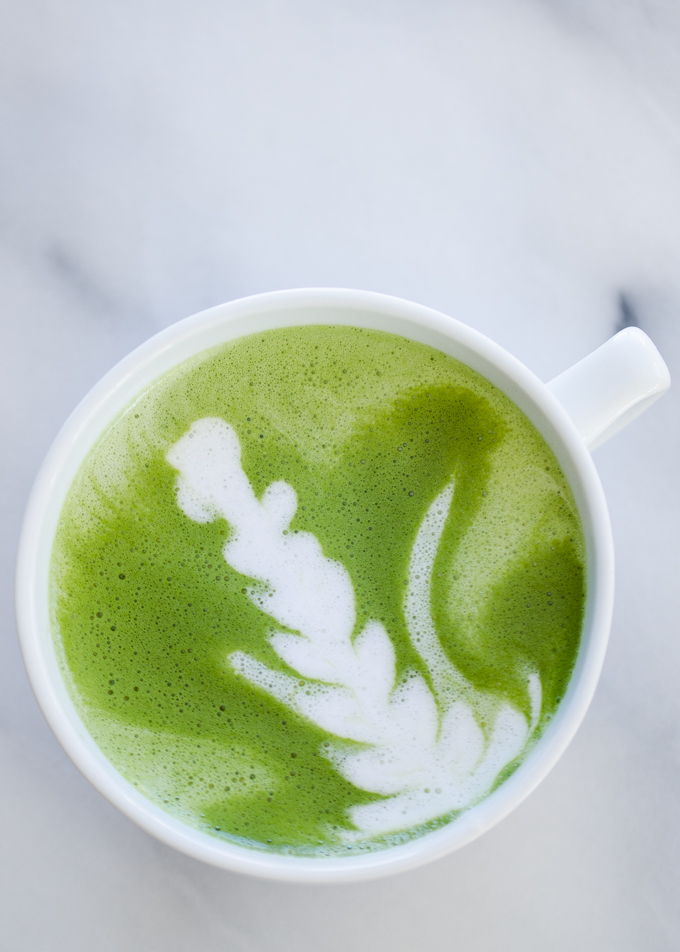 How to Make a Sugar Free Matcha Latte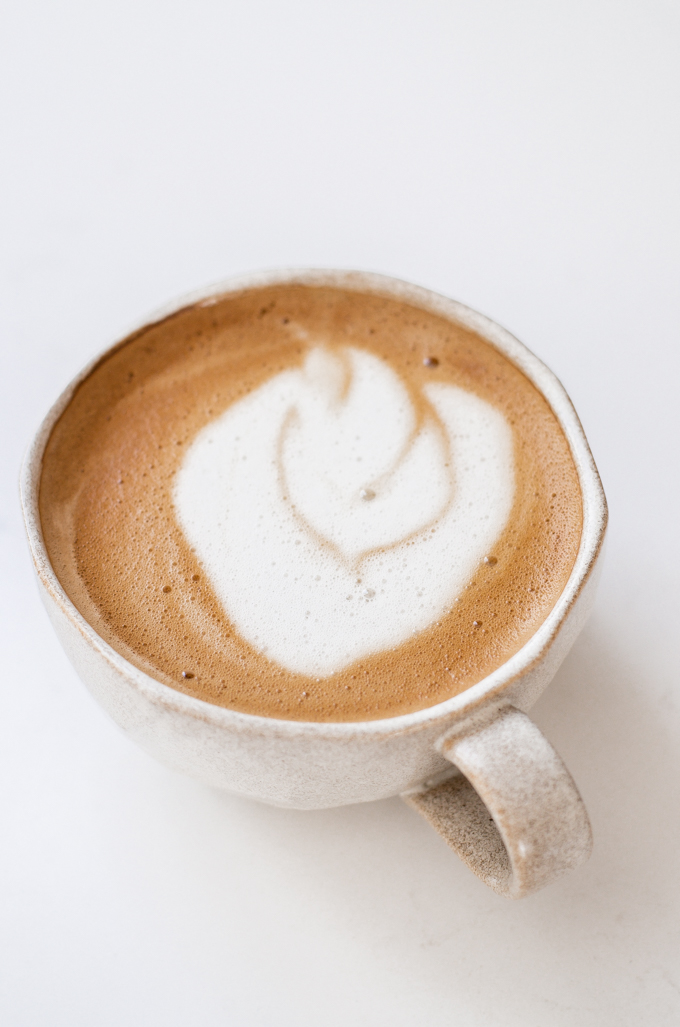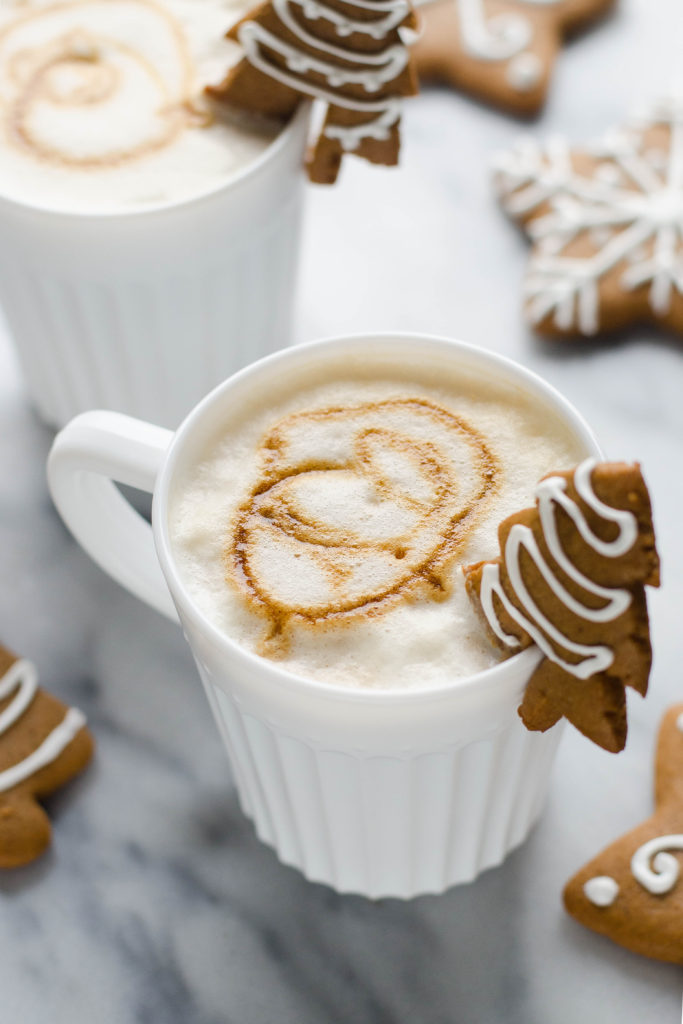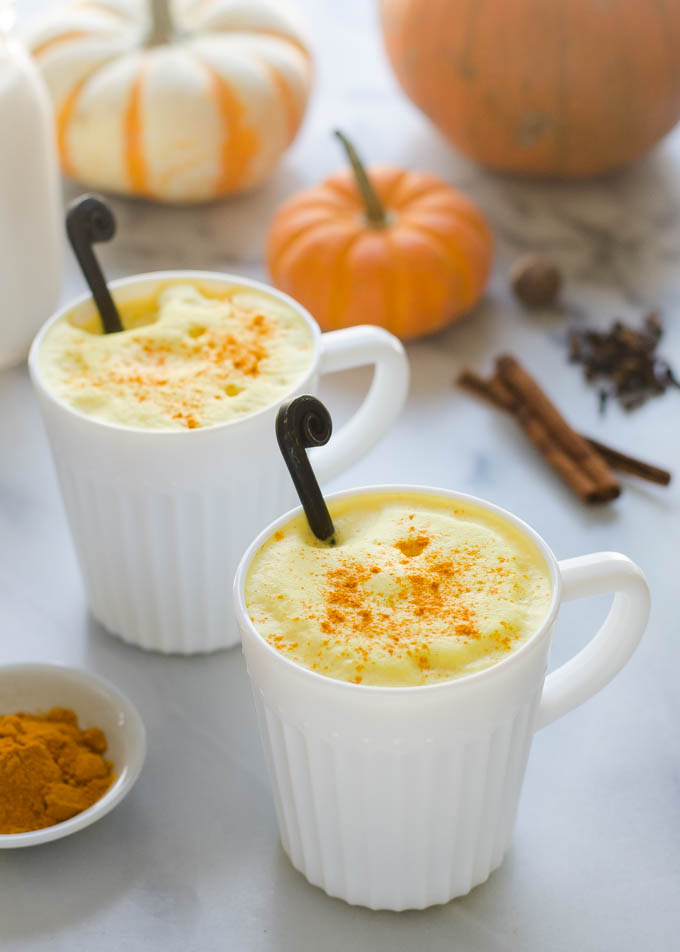 Maple Pumpkin Spice Golden Milk (Turmeric) Latte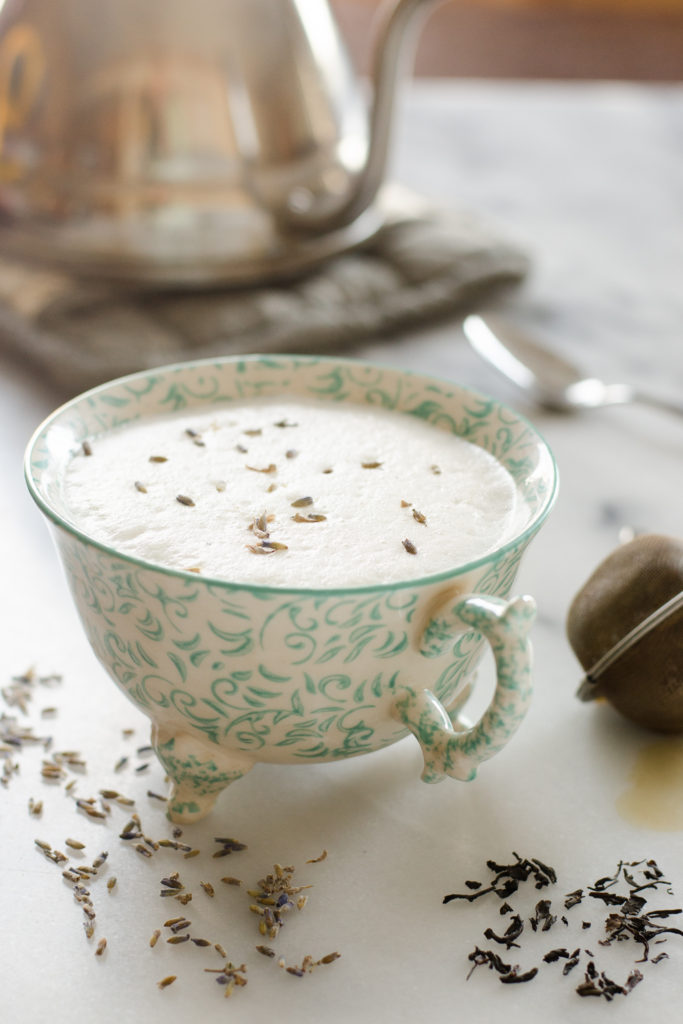 Homemade London Fog (Early Grey) Tea Latte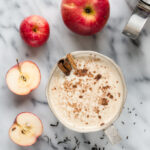 Spiced Apple Tea Latte
This cozy spiced apple tea latte is the perfect fall drink for curling up under a blanket and relaxing.
Ingredients
1 1/4

cup

grass-fed whole milk

1/4

cup

grass-fed cream

1

medium organic apple,

cored and chopped

1

tbsp

organic black tea

1/8

tsp

cinnamon

1

pinch

cloves

1

pinch

nutmeg
Instructions
Place all ingredients in a pot and heat to 175 degrees F. Remove from heat, cover, and let steep for 15 minutes.

Strain to remove solids, making sure to press on the apple pieces with the back of a spoon. Reheat if needed and froth. Sprinkle with cinnamon to serve if desired.
Recipe Notes
Recipe adapted from Montana Happy