If you're in the mood for an icy, refreshing beverage, this homemade Starbucks Iced Green Tea recipe is just the ticket! This healthy drink is a must-try if you're an avid tea drinker on hot summer days!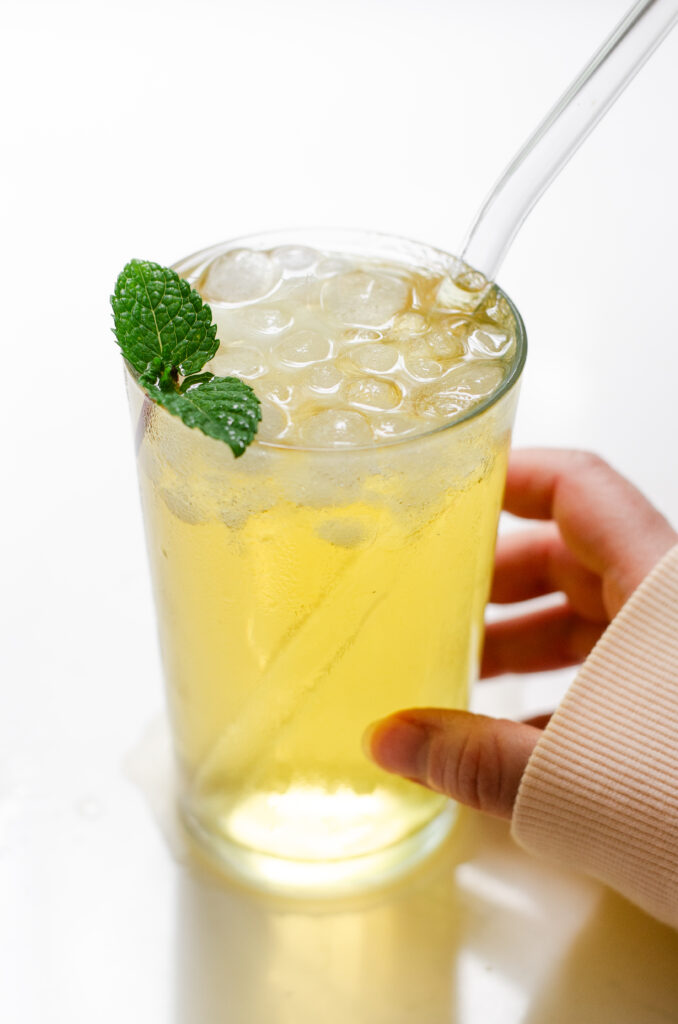 If there's one Starbucks copycat recipe that I would implore you to make at home, it's this Iced Green Tea recipe.
Not only is it quite the savings to DIY, it's also SUPER simple and easy to pull off in your own kitchen. It's made with just 3 ingredients and a few minutes of your time!
Okay, let me show you how to make this silly-simple iced drink recipe!
By the way, if you're looking for an iced latte made with matcha powder, check out my Iced Matcha Latte recipe.
And if you're looking for a green tea lemonade, check out my Peach Green Tea Lemonade post!
Here's a video tutorial in case you learn better that way. The written tutorial and printable recipe are below!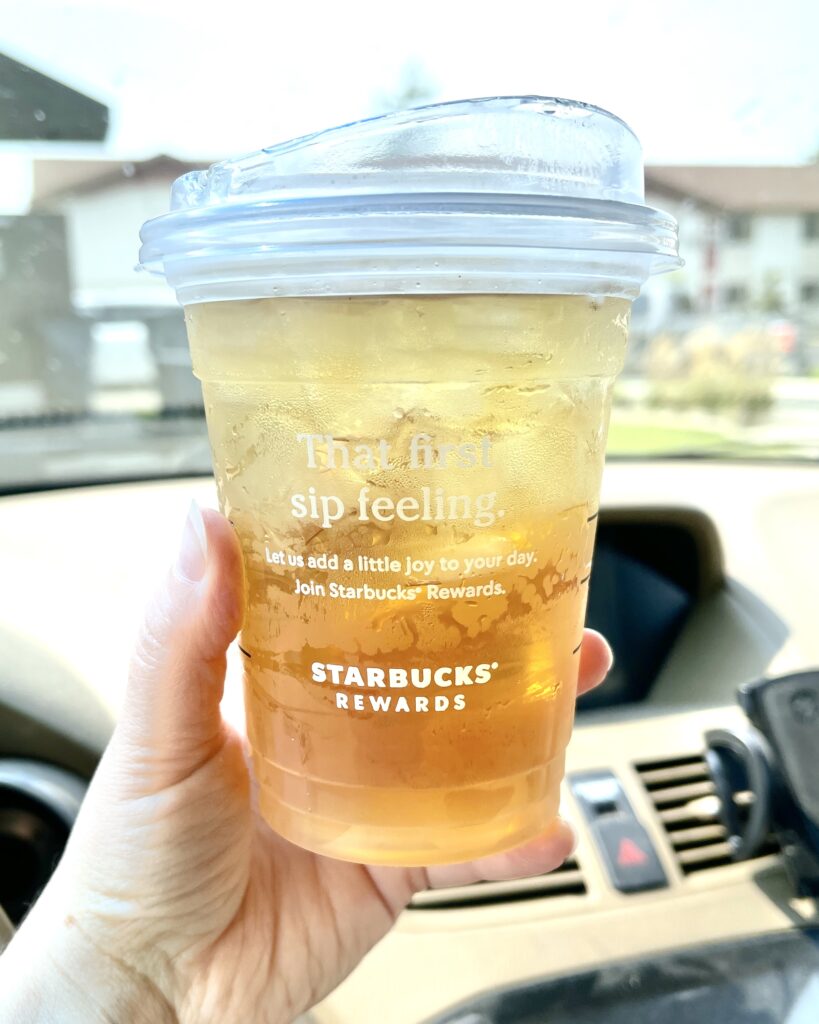 Now I went out and ordered the iced green tea from Starbucks so I could get an accurate read on the taste.
It was refreshing with hints of lemongrass and mint. There's no added sugar, so it's a great option if you aren't feeling like a sugary drink.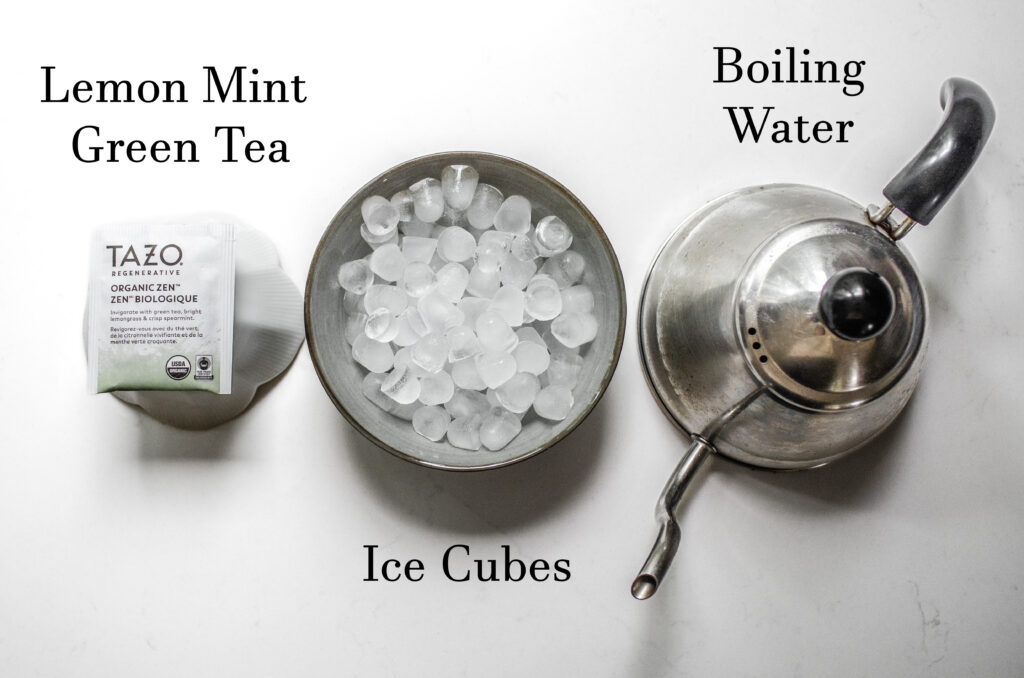 Note: Some links are affiliate. All opinions are 100% my own, of course! If you click a link and make a purchase, I will earn a small commission. This has zero impact on the price you pay, and it helps Buttered Side Up out! Thank you!
Ingredients:
Here are those 3 simple ingredients that you'll need:
1 lemon mint green tea bag: As far as I know, Starbucks uses Teavana teas for their drinks, and here they use the Teavana Jade Citrus Mint Tea to make their iced green tea. But any green tea with lemongrass and mint will work! I like the Tazo Zen Green Tea because it's organic, fair trade, and doesn't contain any "natural flavors," so I personally find that it's a better quality tea. If you like a little bit of fruity flavor in your tea, the Yogi Green Tea Kombucha is really yummy (I actually prefer it!). By the way, this is NOT the same tea that's used to make iced matcha lattes or green tea Frappuccinos.
2/3 cup boiling water: Not much to say here, just use good quality water!
3/4 to 1 cup ice cubes: The amount of ice you need will vary depending on the size of cup you select. But it will probably be around 1 cup.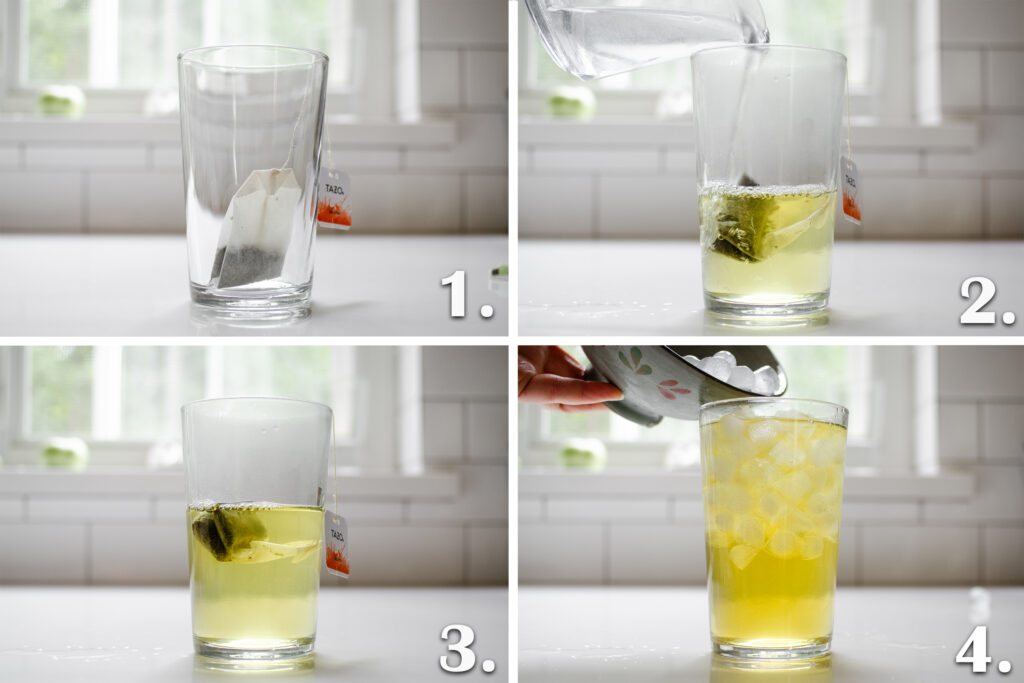 How to Make Starbucks Iced Green Tea:
The steps to making this drink are as follows:
Brew a green tea concentrate.
Add ice to fill.
It really is that simple!
But let's break it down further…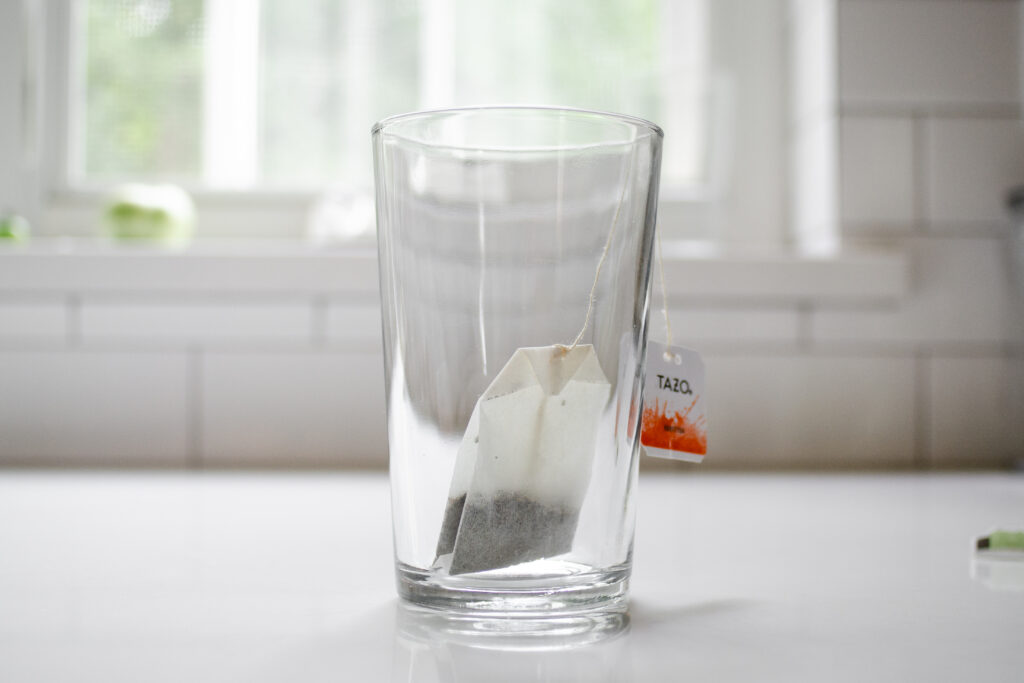 Brewing the Tea:
Place your lemon mint green tea bag in a 12 ounce, heat proof glass.
If you want to make a Grande, use 1 to 2 green tea bags and a 16 ounce glass. For a Venti use 2 to 3 tea bags and a 24 ounce glass, and 3 to 4 bags and a 30 ounce glass for a Trenta.
You'll also want to increase the cups of water a bit for each additional tea bag.
Don't use a glass that will shatter when you pour in the boiling water!!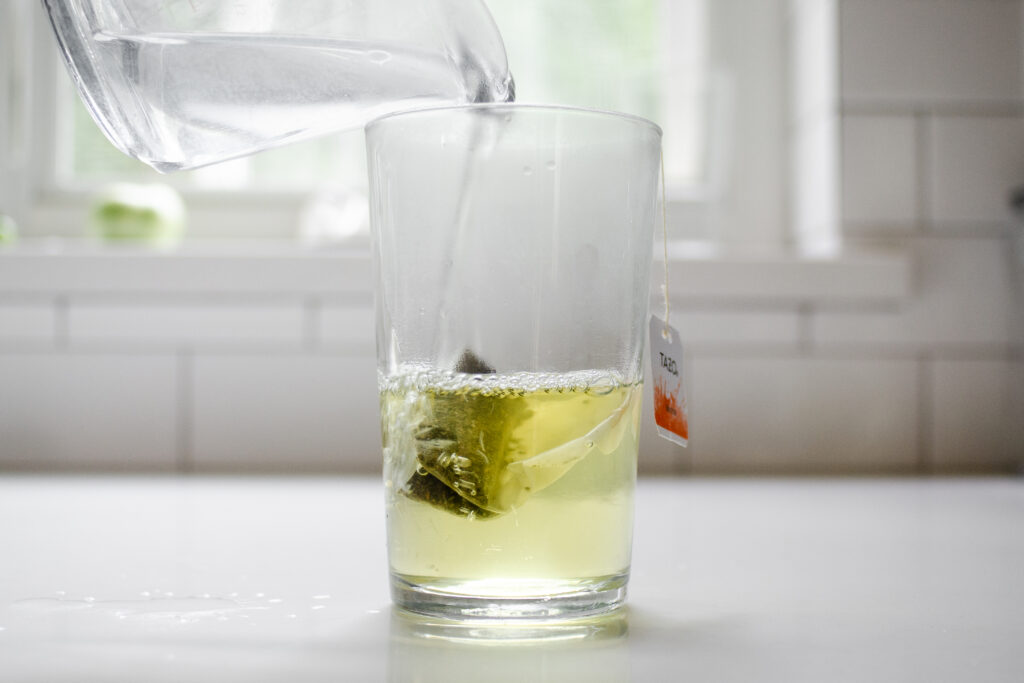 Pour 2/3 cup of boiling hot water on top of the tea bag.
Brew for 2 minutes, or the amount of time recommended on the tea box.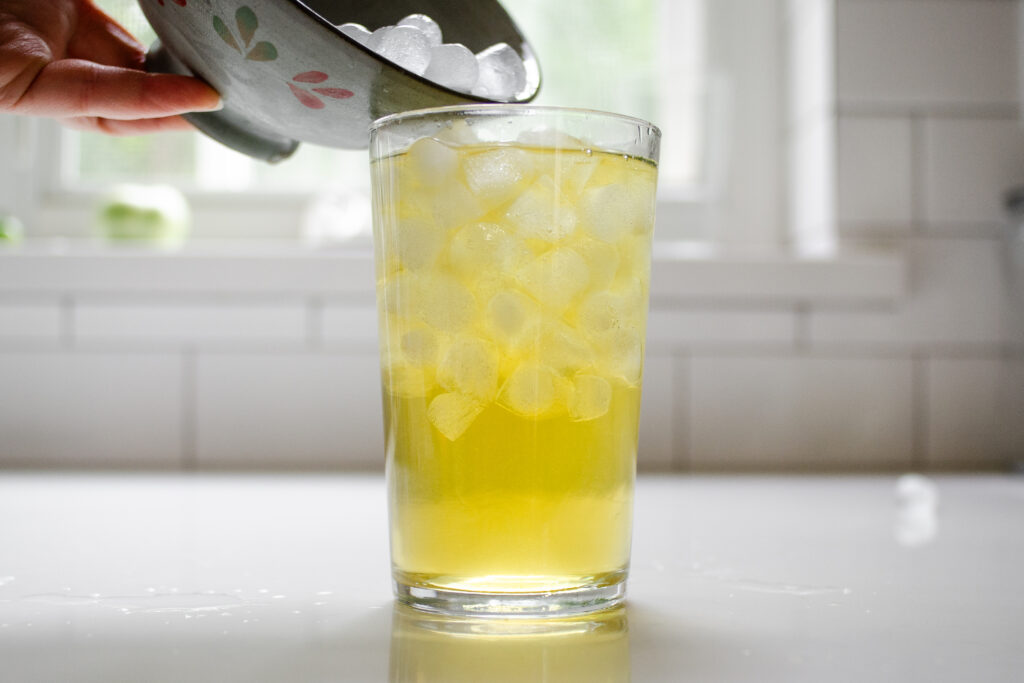 Adding the Ice:
After the tea is done steeping, remove the tea bag.
Then pour enough ice on top of the hot tea to fill the cup.
I use these mini ice cube trays (made in the USA and available on Amazon!).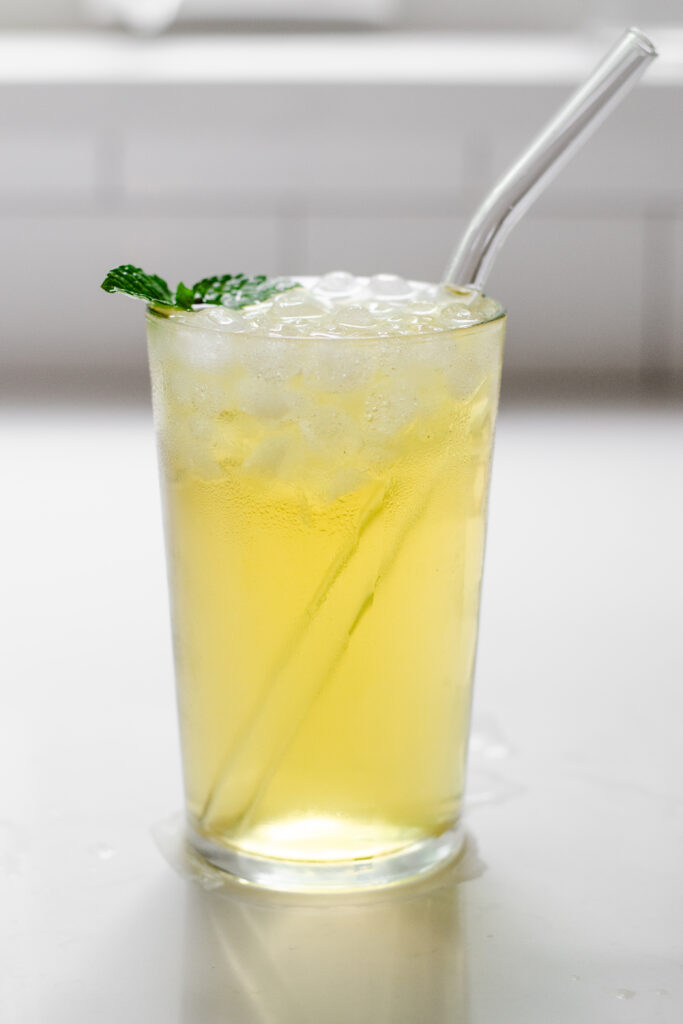 Stir well to ensure that the entire drink is icy cold!
Ah, this is the perfect drink for a hot summer day, or anytime you're craving a cold, thirst-quenching drink!
Variations:
If you prefer a sweet drink, you can add some maple syrup, simple syrup, vanilla syrup, honey, or sugar to taste. Keep in mind that 1/2 tablespoon of simple syrup equals 1 pump of Starbucks syrup.
If you're looking for a more fruity drink, make sure to check out my Starbucks Peach Green Tea Lemonade recipe! I show 2 different ways to make it: with peach juice or real peaches.
You could add a tablespoon of fresh lemon juice and 1 tablespoon of sweetener for a green tea lemonade flavor.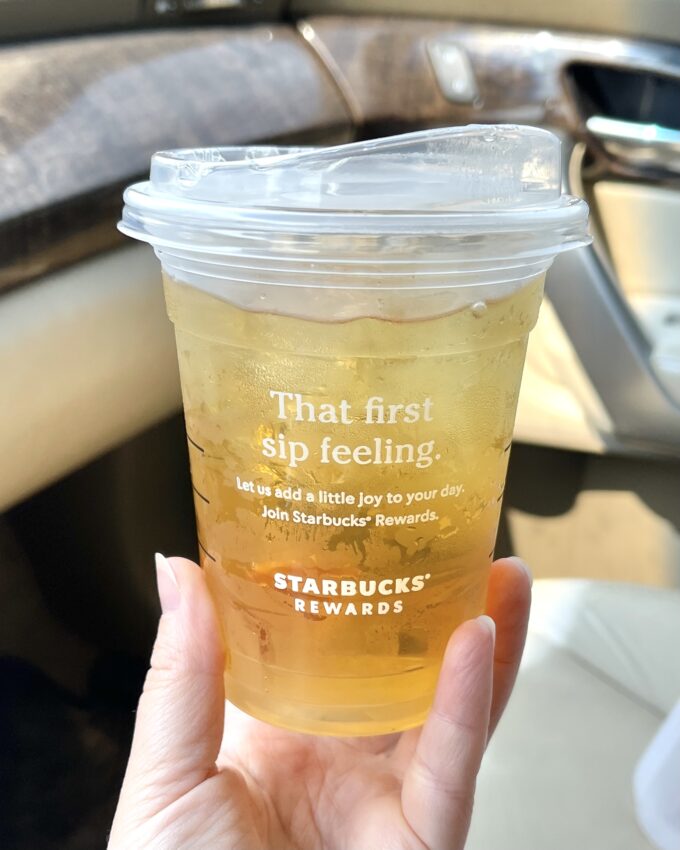 What's in the Starbucks Iced Green Tea?
The Starbucks iced green tea is made from water, a tea bag, and ice.
Here's the full ingredient list:
Water, Tea [a mix of different green teas, spearmint, lemon verbena, lemongrass, natural flavor], and Ice.
How Much Sugar is in the Starbucks Iced Green Tea?
There is zero grams of sugar in the Starbucks iced green tea since there is no added sweetener. The iced peach green tea, iced peach green tea lemonade, and iced green tea lemonade do contain sugar, however.
They don't have any pumps of liquid cane sugar/classic syrup, but the Starbucks lemonade has added sugar of course and the peach juice contains stevia extract.
How Much Caffeine is in it?
Here are the caffeine amounts for each size of the iced green tea:
Tall: 20 mg of caffeine
Grande: 25 mg of caffeine
Venti: 40 mg of caffeine
Trenta: 50 mg caffeine
Keep in mind that the caffeine levels are just an approximation. There are various factors that could affect how much caffeine ends up in a particular cup of iced tea.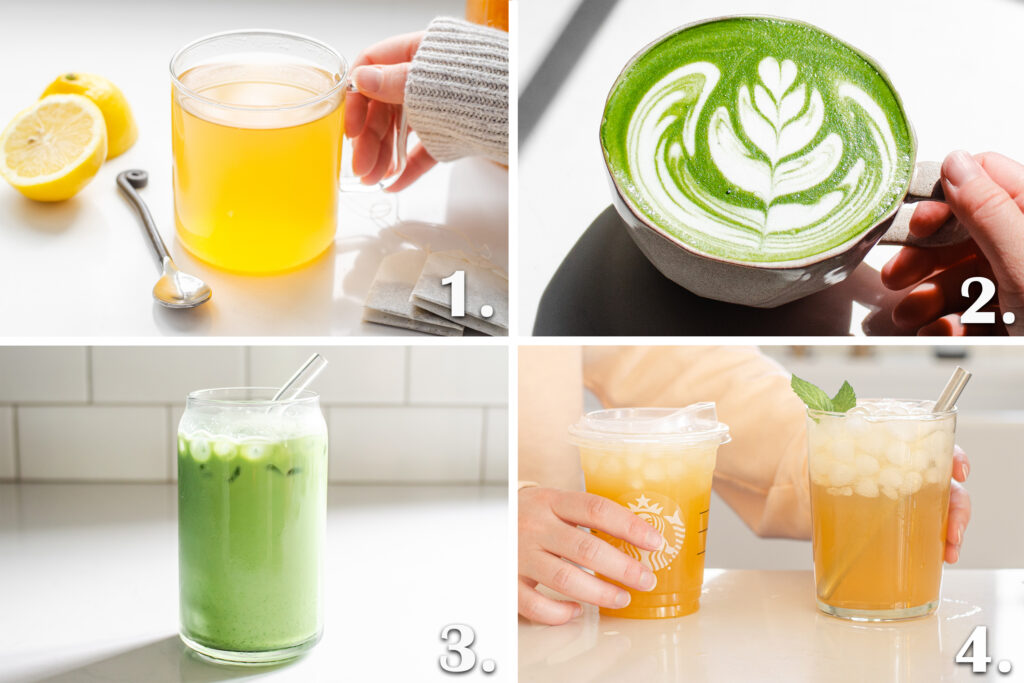 More Copycat Starbucks Green Tea Recipes:
Recipe Card
Yield: 1 serving
Starbucks Iced Green Tea Recipe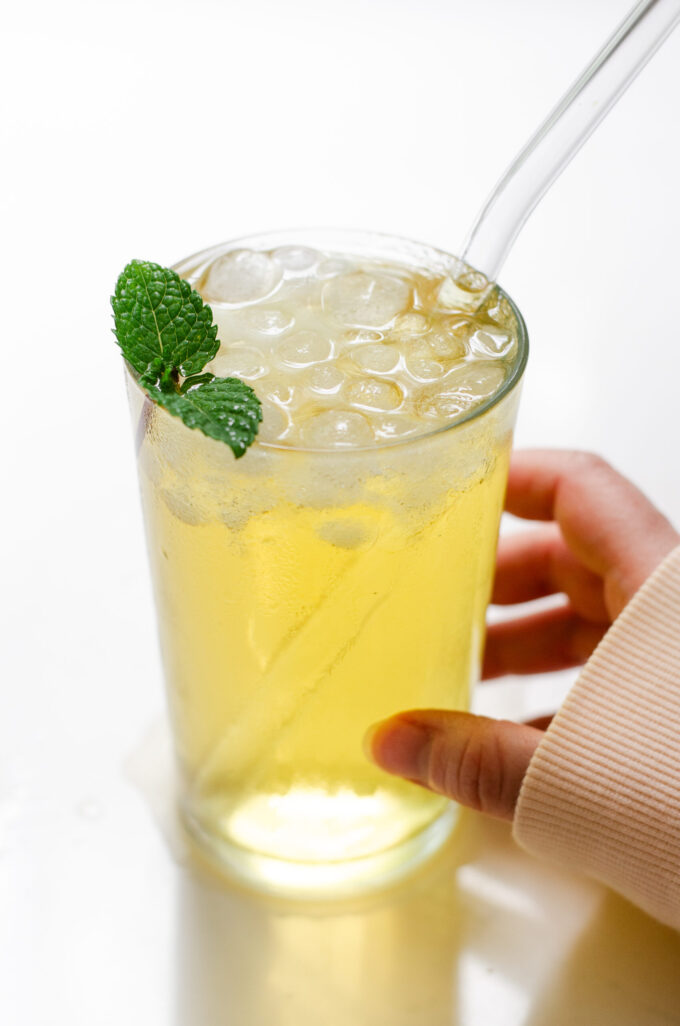 Homemade Starbucks Iced Green Tea Recipe (With Variations!)
Ingredients
1 lemon mint green tea bag (see note)
2/3 cup boiling water
Ice cubes to fill your cup
Instructions
Place the tea bag into a 12 to 16 ounce heat proof glass (a mason jar would work well here).
Pour the boiling water on top of the tea bag, and allow to steep for 2 minutes.
Remove the tea bag, and add ice to fill the glass. Give it a good stir to cool everything down, and enjoy!
Notes
Starbucks uses the Teavana Jade Citrus Mint green tea, but you can use any green tea that's flavored with lemongrass and mint. I like the Tazo Zen green tea and the Yogi Kombucha Green Tea.
Recommended Products
As an Amazon Associate and member of other affiliate programs, I earn from qualifying purchases.
Nutrition Information:
Yield:
1
Amount Per Serving:
Calories:

0
Sugar:

0g
Protein:

0g