Learn how to make a Starbucks Iced Matcha Latte at home for a fraction of the price with my easy recipe!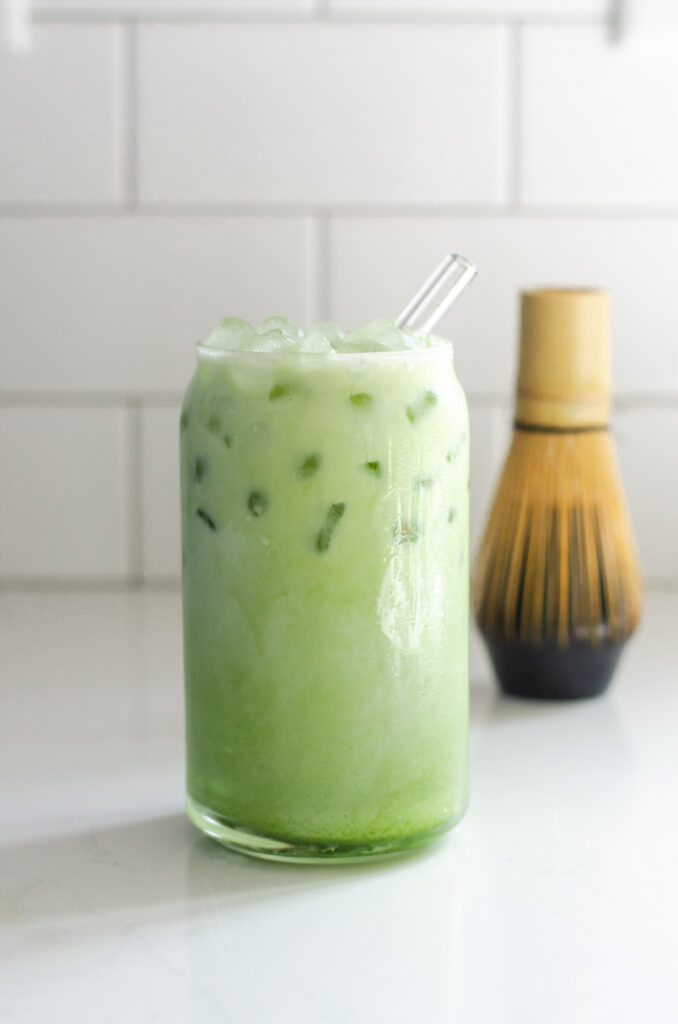 The iced matcha tea latte is one of my favorite drinks to order from Starbucks. Compared to a lot of other coffee shops, theirs is actually pretty good!
But it's actually really easy to make it at home, and you can make it with higher quality ingredients for less cost!
Plus you can enjoy it in the comfort of your own home instead of rushing out of the house whenever you have a matcha craving.
Okay, let me show you how to make a perfect iced matcha latte!
BTW, this is the iced version of my Hot Matcha Latte Recipe, so make sure to check that out if you want a warming drink!
Here's a video tutorial in case you learn better that way. The written tutorial and recipe are below!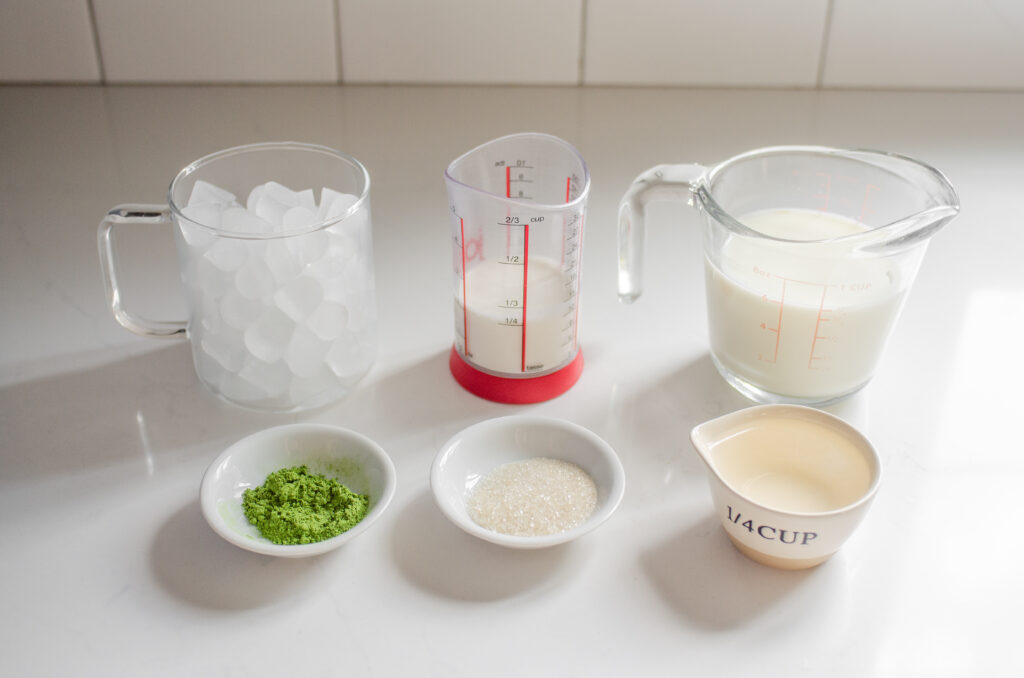 Note: Some links are affiliate. All opinions are 100% my own, of course! If you click a link and make a purchase, I will earn a small commission. This has zero impact on the price you pay, and it helps Buttered Side Up out! Thank you!
Ingredients:
You only need a few simple ingredients to make this at home:
1-2 Teaspoons Matcha powder: I'll discuss matcha powder and which are my favorite brands below. But I recommend opting for a high-quality matcha powder if you can. You can use 1 to 2 teaspoons, depending on how strong of a matcha flavor you prefer.
1-2 Teaspoons Sugar: Starbucks uses sugar to sweeten their matcha, but you could also use maple syrup, honey, coconut sugar, a simple syrup, etc. You should aim to use the same amount of sweetener as matcha. If you like a really sweet matcha drink, you could increase the sweetener level.
4 Tablespoons Water: This can be warm water or cold water, it doesn't really matter. Just make sure it's good quality!
¾ Cup Whole Milk: I'll be honest, I strongly prefer dairy milk in my matcha drinks. You can definitely substitute oat milk, coconut milk, cashew milk, almond milk, etc. But I personally think they taste inferior to regular milk. 🤷‍♀️
¼ Cream: I like to use part cream to make for a creamy iced matcha latte. Starbucks doesn't use cream in their iced matcha tea latte, so feel free to substitute more milk if you like.
Ice Cubes: Aim for around ¾ – 1 cup of ice cubes. I like my mini ice cube trays (made in the USA and available on Amazon!). The little ice cubes sound like sea glass when you stir them.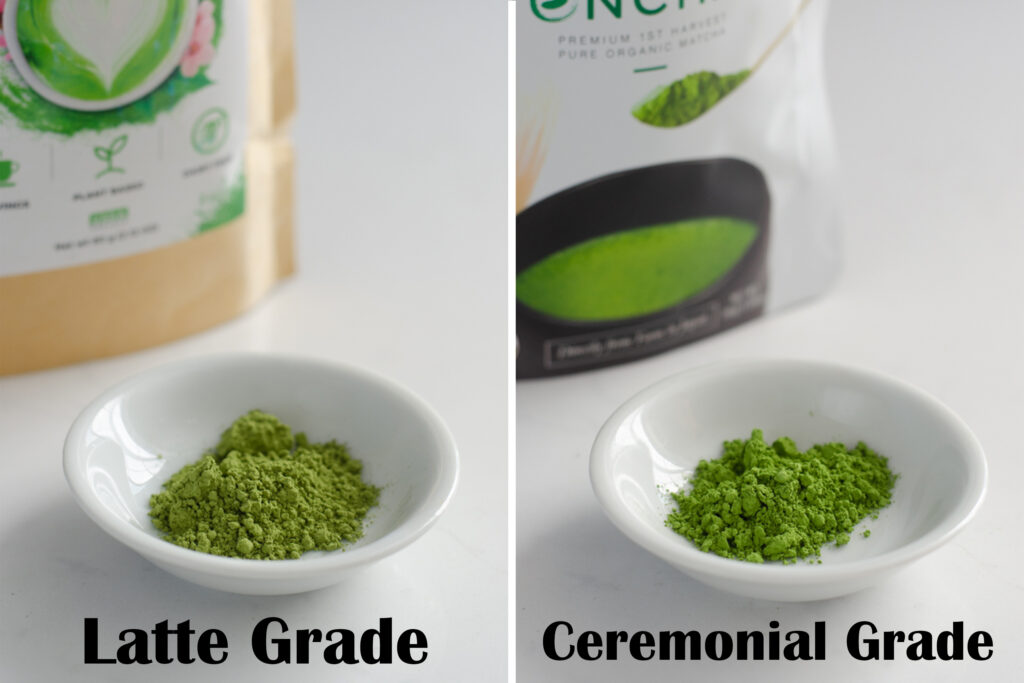 What is Matcha?
Matcha is made by grinding green tea leaves into a fine powder. It's made with the same type of green tea (Camellia Sinensis) as that found in tea bags, but these green tea leaves are grown in a special way to ensure flavor and nutrients.
Grades of Matcha:
In the US, you usually see 3 different grades or qualities of matcha:
Culinary Grade Matcha: This is the lowest quality matcha, and it's consequently more affordable. The color is more dull and brownish. It can have a more bitter flavor than higher grades, and the overall matcha flavor can also be weaker.
Latte Grade Matcha: This grade is a step up from culinary grade. It typically has a mid tier price point. It has a less bitter taste than culinary grade, but not as sublime as ceremonial grade.
Ceremonial Grade Matcha: This is the cream of the matcha crop. It's harvested at just the right time, and it results in matcha that's a vibrant green color. It's much less bitter than culinary grade, and can almost have a sweet flavor depending on the brand.
I recommend that you opt for high quality matcha powder if you can! Otherwise you may be disappointed in the final results.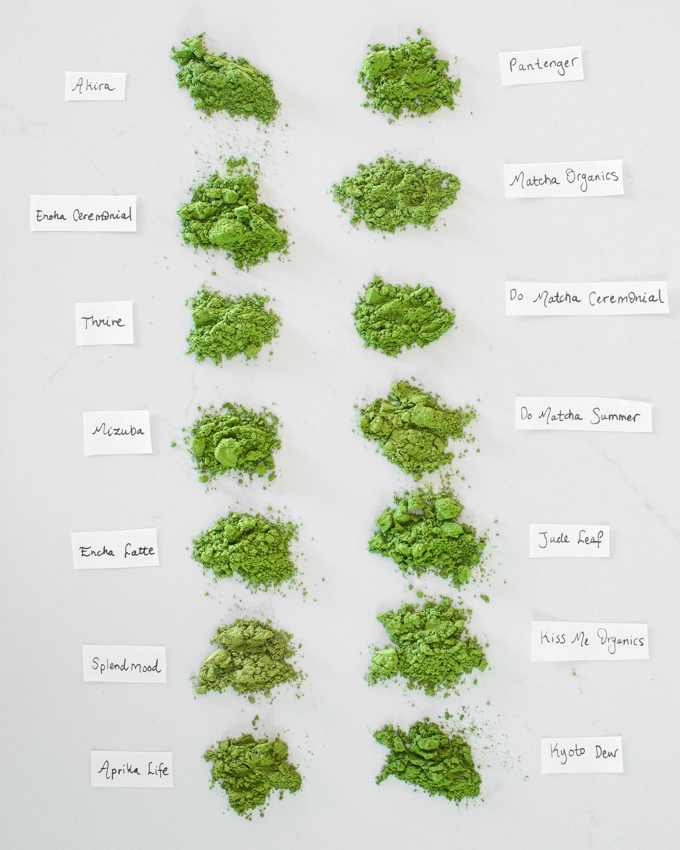 Matcha Health Benefits:
Matcha contains high levels of catechins, most noteably Epigallocatechin gallate (ECGC), which is a type of antioxidant.
An antioxidant is a substance that prevents free radicals from damaging your cells. Matcha contains more catechins (antioxidants) per serving than regular green tea since you eat the whole leaf instead of just steeping and discarding the leaves.
Some studies seem to indicate that matcha can be beneficial for reducing the risk of heart disease, cancer, arthritis, high cholesterol, and high blood pressure, and could support skin health and your immune system.
Matcha also contains an amino acid known as L-Theanine (also simply Theanine). This amino acid can promote alpha wave activity in the brain. When your brain is at the alpha frequency, you're neither sleepy nor hyper-focused/anxious. You're calm but awake.
Matcha contains both caffeine and L-Theanine, so it can push you towards a state of alert/calm at the same time. So if coffee gives you the jitters, you might try matcha for waking you up but keeping you calm!
This is also known as Zenergy, and I have personally experienced this. When I drink coffee, I can get kind of jittery. But a similar amount of caffeine from matcha doesn't do that to me!
This iced latte (and my hot version) is by far my favorite way to get my antioxidants in!
Best Brands of Matcha?
You can check out my Best Organic Matcha Powder post for an in-depth review of 14 different brands.
But if you want a quick recommendation, I really the Encha Ceremonial Grade, Encha Latte Grade, Thrive Market Ceremonial Grade, and Mizuba Culinary Grade matchas.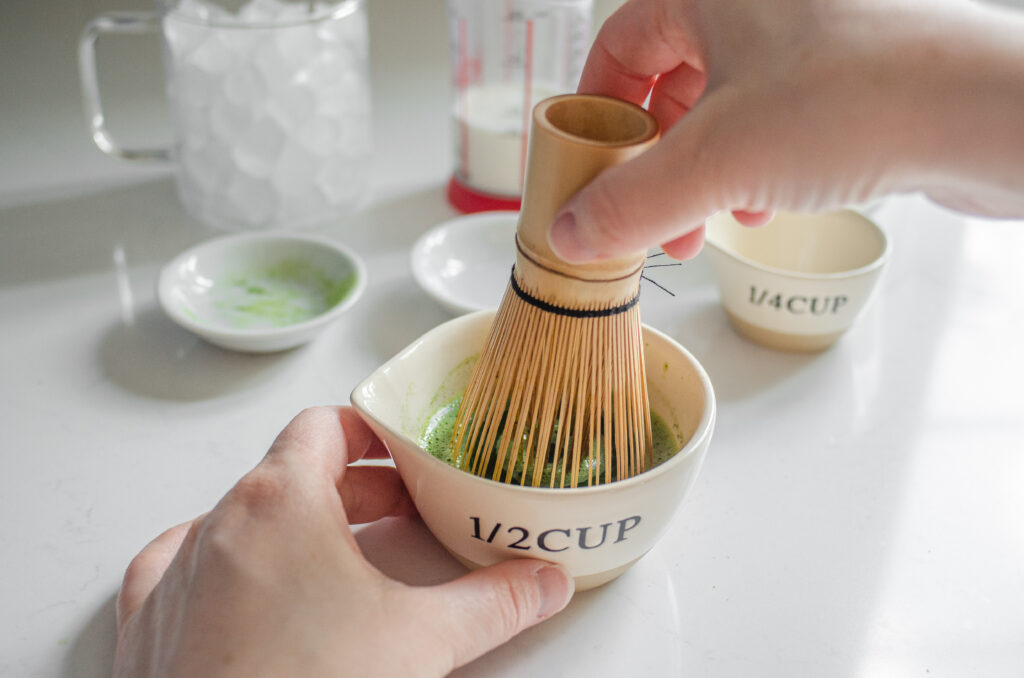 How to Make an Iced Matcha Latte at Home:
Okay, let's get to making it!
Place 1 teaspoon of matcha powder in a small bowl. You can buy a special matcha bowl for this (here's one made in Japan available on Amazon), or just use whatever you have on hand!
Add the sugar or your sweetener of choice.
Pour the water on top.
Whisk vigorously with a matcha whisk until completely smooth.
BTW, you could even add a smidgeon of vanilla extract if you like!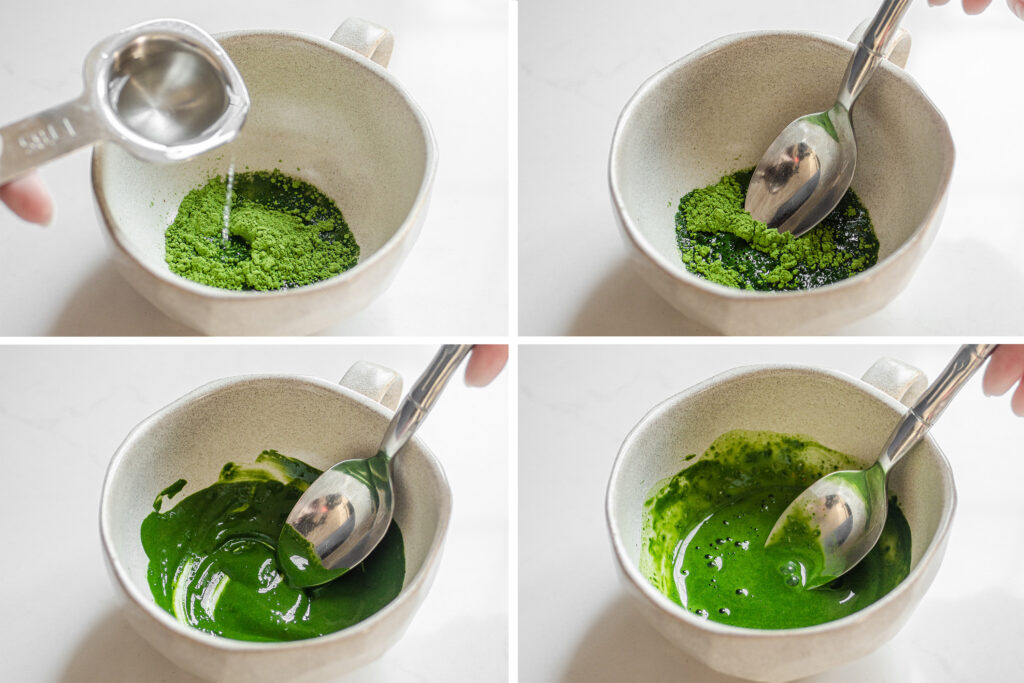 How to Whisk Matcha without a Bamboo Whisk:
Now this can be done without a bamboo matcha whisk, although that is the easiest way.
You'll need to make a matcha paste with the matcha powder and a small amount of water, and mix with a spoon until completely smooth. Then gradually add the rest of the water.
However, this takes absolutely forever. I highly recommend investing in a matcha whisk if you plan on making a lot of matcha at home.
I personally own this bamboo matcha whisk (available on Amazon), as well as this plastic one (also available on Amazon).
People sometimes use an electric milk frother to whisk their matcha, but I personally find that it can make kind of a mess. But it will work in a pinch!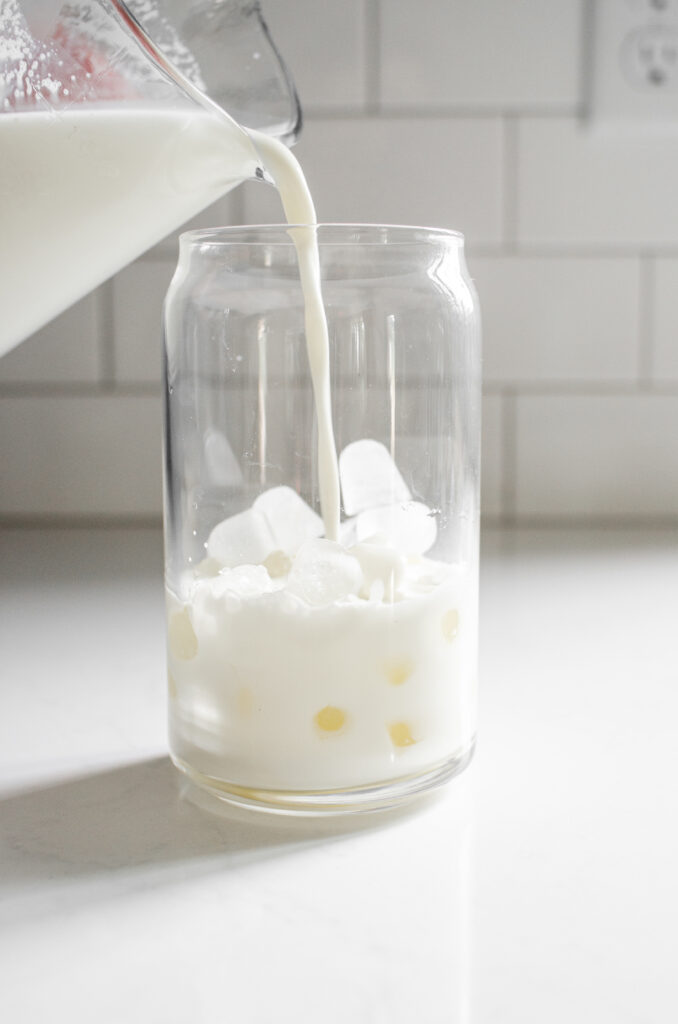 Assembling the Drink:
First, place the ice in a 16 oz. glass. I use these beer can glasses, and love them! A pint mason jar would be perfect for this as well.
Next, pour your milk of choice and cream on top of the ice.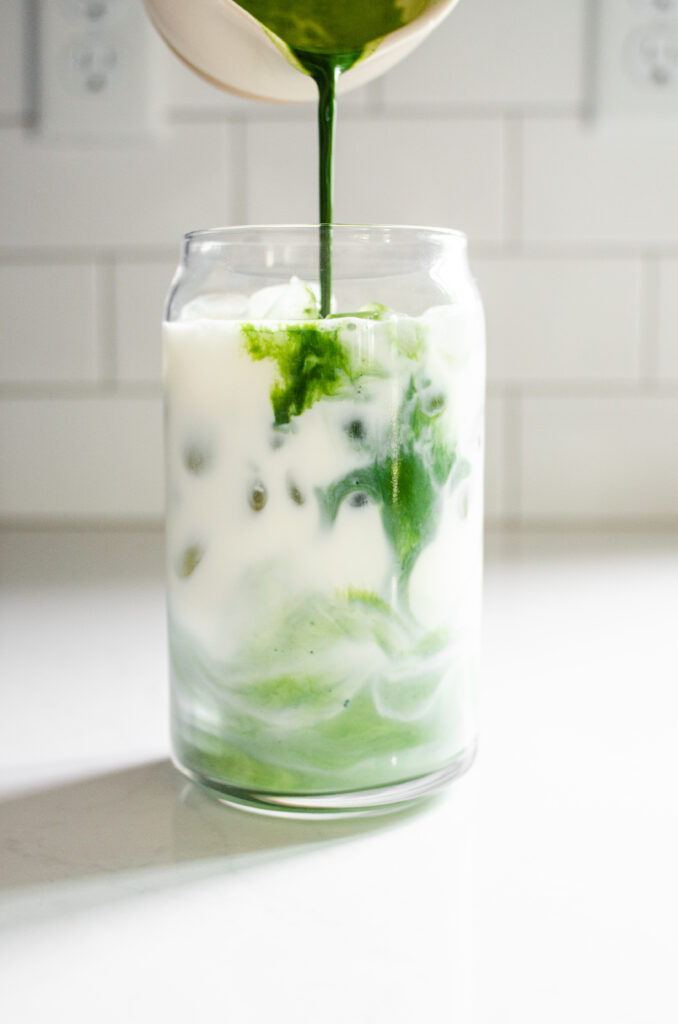 Now for the best part!
Finally, pour the matcha mixture on top of the ice, milk, and cream in the glass or jar.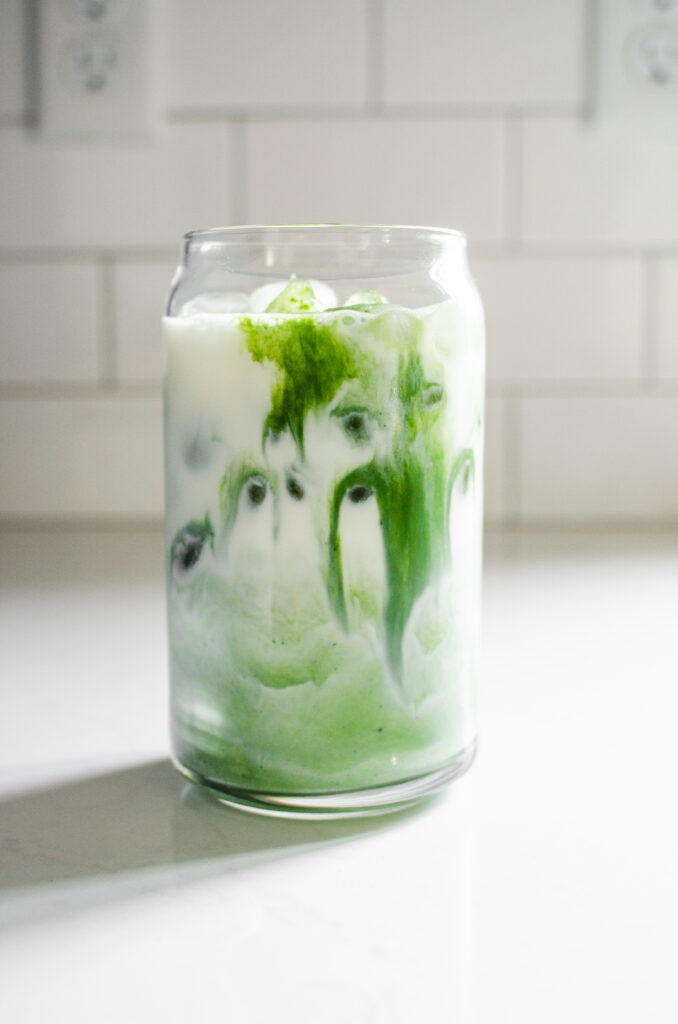 And there you have a delicious iced matcha latte!
What's in a Starbucks Iced Matcha Latte?
Starbucks matcha lattes are made with milk, ice, and a matcha and sugar blend.
Here's the full ingredient list: Milk, Ice, Matcha Tea Blend [Sugar, Ground Japanese Green Tea].
That's actually a pretty short ingredient list!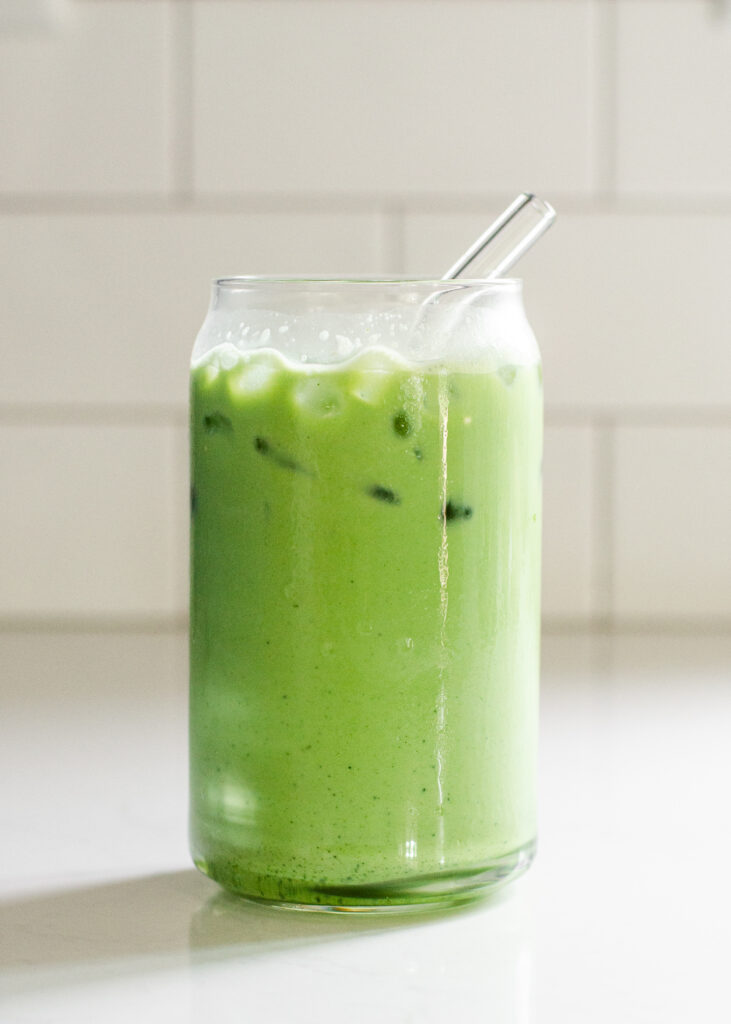 How Much Caffeine is in a Starbucks Iced Matcha Latte?
A Grande Starbucks iced matcha tea latte contains 80 mg of caffeine. In comparison, a Grande iced latte from Starbucks contains 150 mg of caffeine. So it definitely has less caffeine (almost half the amount!) comparted to coffee.
1 teaspoon of matcha contains about 60-70 mg of caffeine. So if you use 1 teaspoon in my homemade recipe, it will be similar to Starbucks. But if you use 2 teaspoons, it will be about equivalent to a Grande coffee drink.
Price Comparison:
A Grande Starbucks iced matcha green tea latte will set you back around $5.25 before taxes and tips.
If you use the same quality of ingredients as Starbucks, my homemade iced matcha latte will only cost about $1.50.
And if you opt for all organic ingredients and ceremonial grade matcha, my homemade version will cost about $2.25.
If you use 2 teaspoons of matcha powder instead of 1, you can add about an extra $1 to that cost.
If you make this recipe and enjoy it, please consider coming back and leaving a star rating! It really helps the blog out!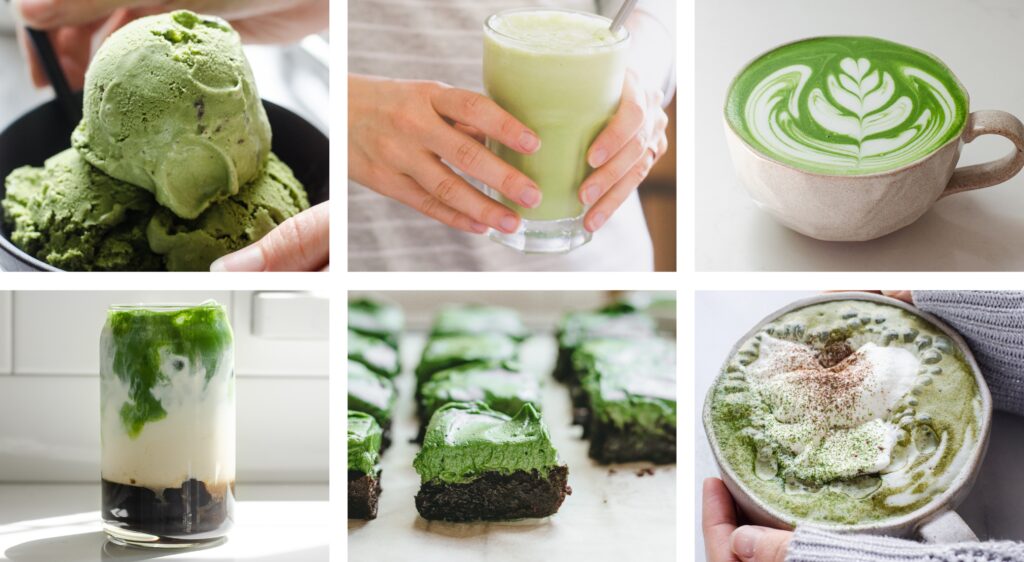 More Matcha Recipes:
More Cold Drink Recipes:
Yield: 1 serving
Iced Matcha Latte Recipe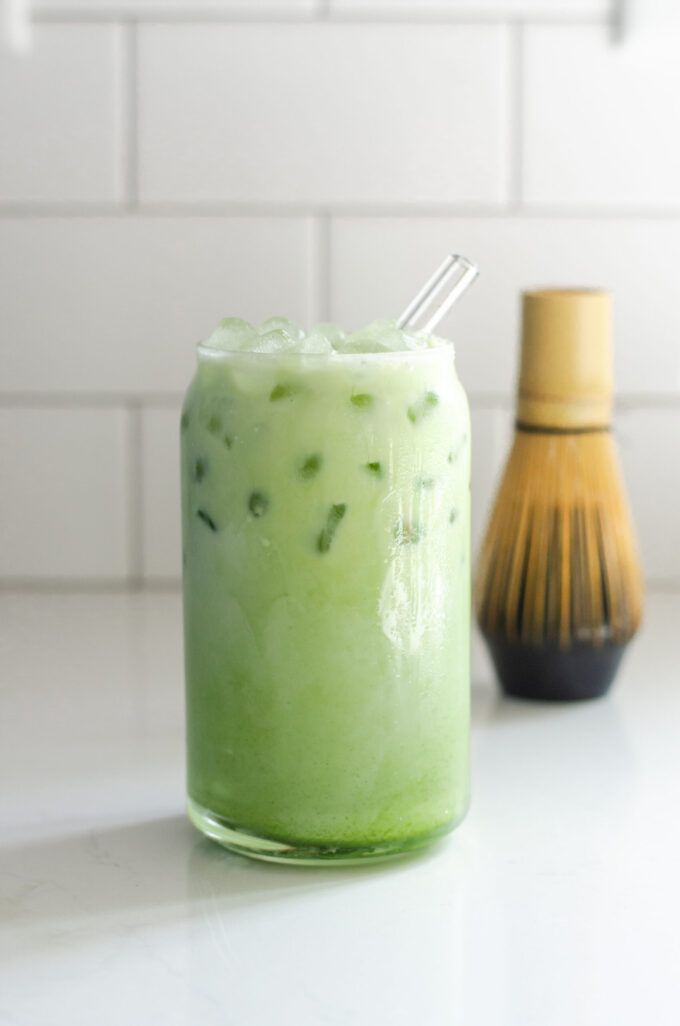 Learn how to make a Starbucks Iced Matcha Latte at home for a fraction of the price with my easy recipe!
Ingredients
1 -2 teaspoons good quality matcha powder (see note)
1-2 teaspoons sugar or sweetener of choice (see note)
4 tablespoons water
3/4 cup whole milk
1/4 cup cream (or more milk)
ice cubes
Instructions
Place the matcha, sugar, and water in a small bowl. Whisk until completely smooth.
Place the ice cubes in a 16 ounce glass or pint mason jar. Pour the milk and cream on top. Pour the matcha mixture over the milk/cream/ice.
Gently stir and enjoy!
Notes
Use the higher amount of matcha for a more intense matcha flavor. See post above for brand recommendations.
You could also use maple syrup, honey, simple syrup, etc. Use the same amount of sweetener as matcha.
Recommended Products
As an Amazon Associate and member of other affiliate programs, I earn from qualifying purchases.
Nutrition Information:
Yield:
1
Serving Size:
1
Amount Per Serving:
Calories:

350
Total Fat:

27g
Saturated Fat:

17g
Trans Fat:

1g
Unsaturated Fat:

8g
Cholesterol:

86mg
Sodium:

98mg
Carbohydrates:

20g
Fiber:

0g
Sugar:

20g
Protein:

7g