This Roasted Garlic Mushroom Soup is the perfect cozy recipe for the fall and colder months.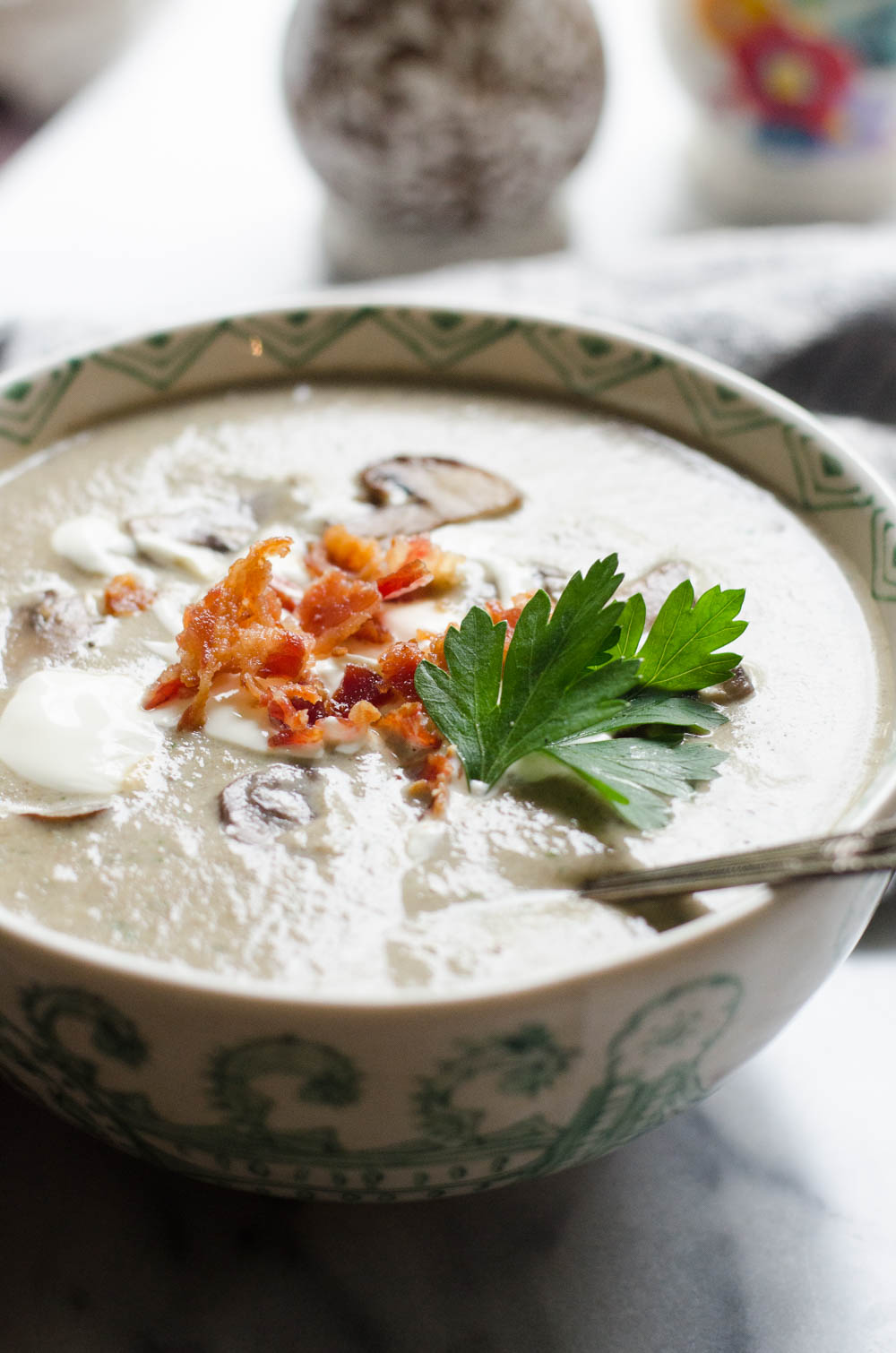 For some reason I'm reluctant to admit that fall is here. Normally I welcome it with open arms. It's my favorite season of the year, after all.
I just don't feel ready for it. Perhaps I'm afraid that I'll blink and miss it. Soon the leaves will slip silently to the ground, leaving a cold, brown world until the snow flies.
And then it will be another long, cold Minnesota winter.
Even so, I'm transitioning to fall food, *trying* to savor the moment. Cold suppers just don't sound good anymore. This roasted garlic mushroom soup is perfect for gray, chilly, dreary days.
Let me show you how to make it!

Ingredients:
2 heads garlic: You can roast up the garlic however you like, but make sure to check out my How to Roast Garlic without Aluminum Foil for some inspiration!
3 tbsp butter: I like to use salted grass-fed butter. You could substitute olive oil, coconut oil, avocado oil, or bacon grease if you prefer. I typically try to avoid vegetable oil, but it will work it that's all you have on hand.
1/2 medium onion: You can use a yellow onion, white onion, red onion…whatever you like! You'll want to finely chop the onion.
16 ounces fresh mushrooms: I used baby Portobello mushrooms, but you can really use whichever mushrooms you like or have on hand. The variety of mushroom you use will greatly affect the final flavor profile, of course!
3 tablespoons flour: This is for thickening the soup up. You could skip it for a gluten-free version, but the soup will be thinner.
Salt and Black Pepper to taste
2 1/2 cups beef broth: You can use homemade beef broth or store-bought. Or you could substitute chicken broth in a pinch!
1 cup heavy cream: This is what makes for a creamy mushroom soup and adds that rich flavor.
1/4 cup finely chopped parsley: Not strictly necessary, but a little bit of fresh parsley adds such a lovely, fresh flavor. Other fresh herbs that you could use include fresh thyme and rosemary.
Chopped cooked bacon and sour cream for serving: These are completely optional, but will make this mushroom soup feel more like a complete meal.
How to make Roasted Garlic Mushroom Soup:
You start with sautéing some onions and loads and loads of chopped mushrooms in a large stockpot or Dutch oven over medium heat.
Sprinkle in the flour and season with salt and pepper to taste. Cook and whisk for 3 minutes.
Next you slowly add the beef broth, whisking to ensure there's no lumps. Bring to a boil.
Stir in the cream and parsley. Then you add the two heads of roasted garlic. 😍 You can squeeze the garlic cloves right into the pot.
Finally, blend it all together with a stick blender (AKA immersion blender) into a creamy soup. You could also allow the soup to cool and process in batches in a blender or food processor.
You can also skip the blending if you prefer sliced mushrooms in your soup. Or you could only puree half of the soup.
And voila! You've got a creamy, flavorful soup.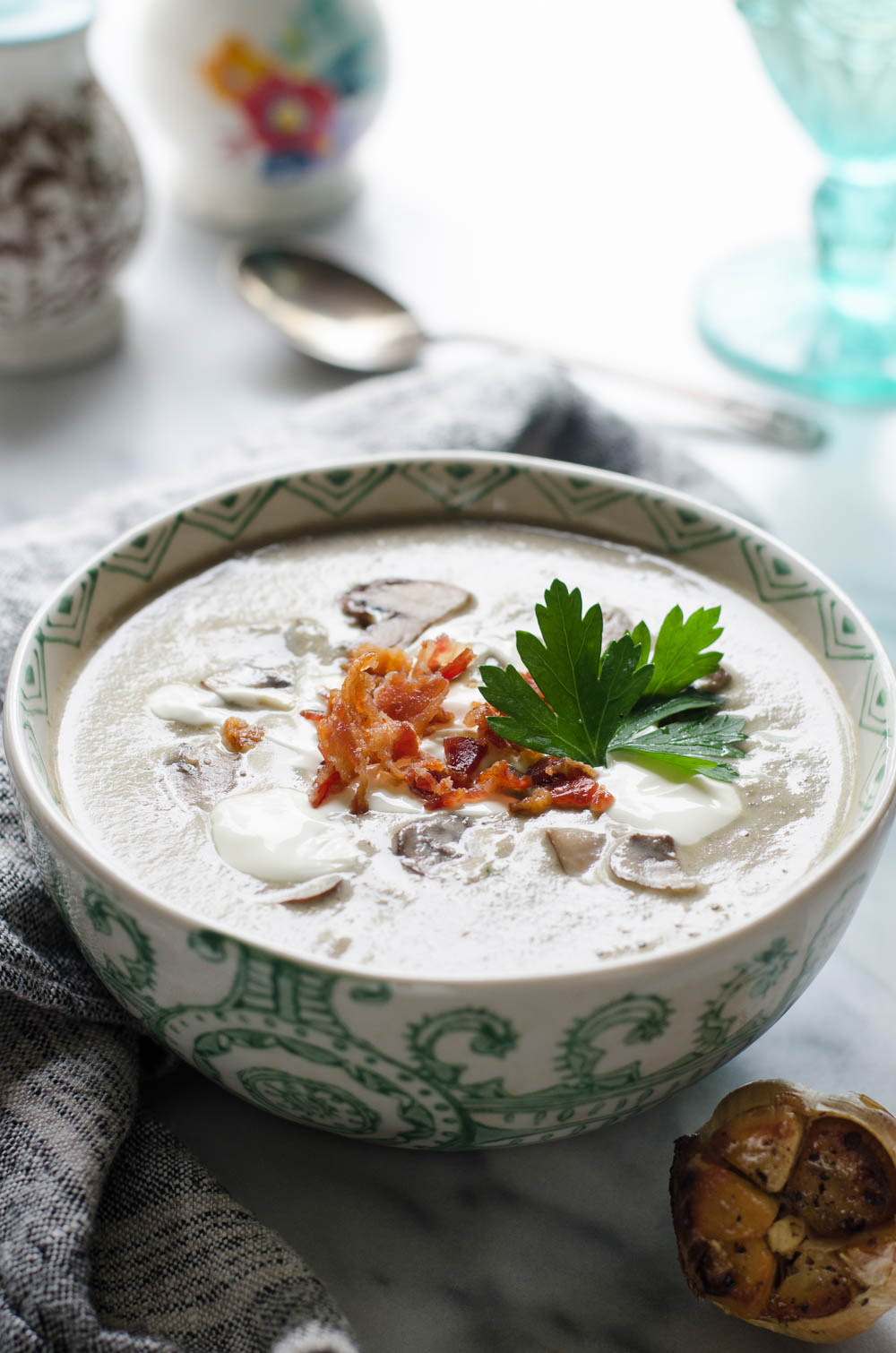 When I made the first batch of this soup, we thought it was really good.
But I wasn't satisfied. For my next batch I doubled the roasted garlic, and nearly doubled the mushrooms for maximum flavor. MOOOAR MUSHROOMS!
Then I was satisfied.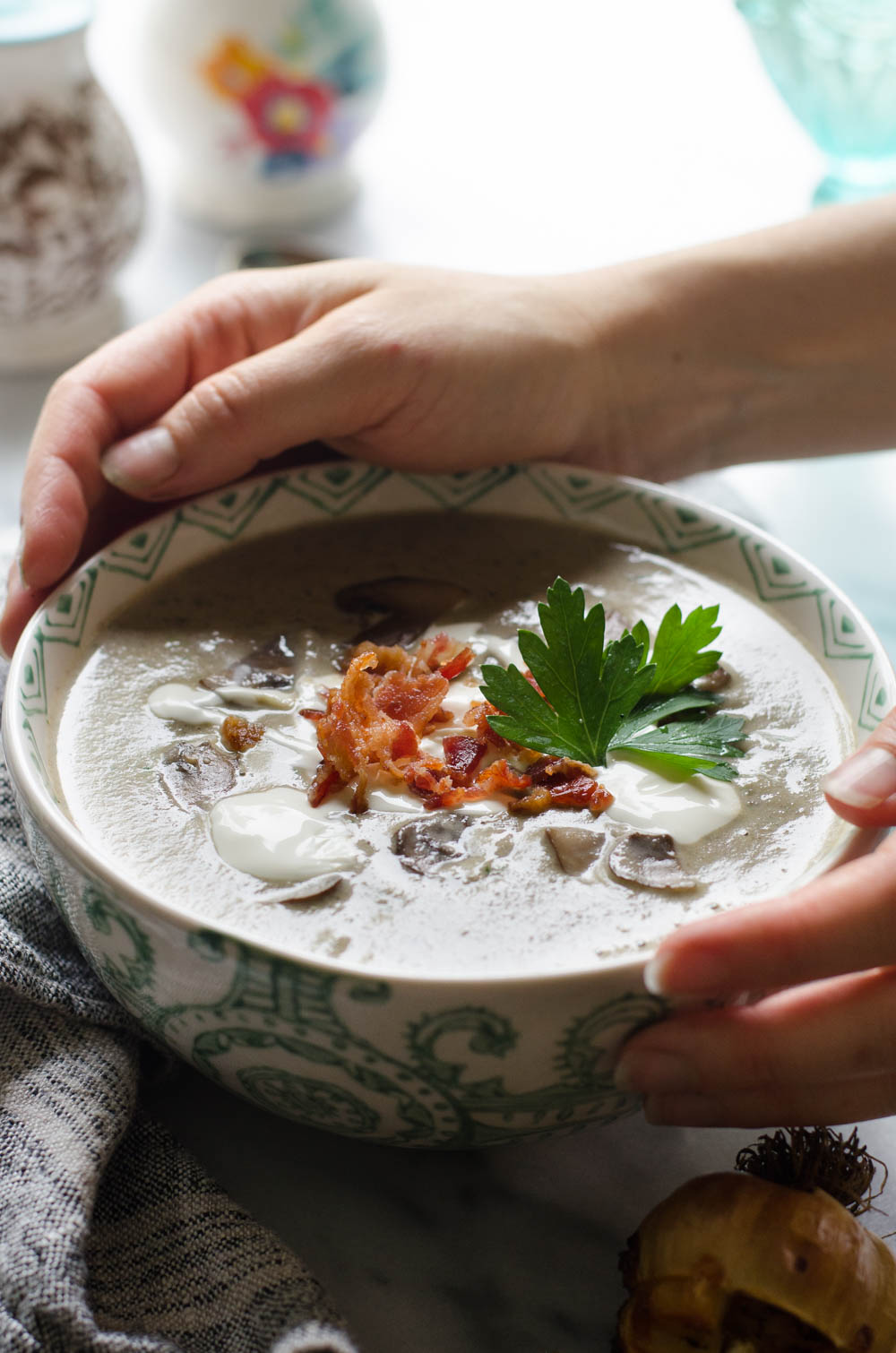 Serving:
Obviously I had to serve it with a dollop (or two) of sour cream and some crispy bacon. Mmhmm.
This would be wonderful with some crusty bread or cornbread.
A bit of parmesan cheese would be a great addition, as well as sliced green onions.
You could experiment with adding a drizzle of balsamic vinegar on top.
Variations:
Switch up the type of mushrooms you use! Instead of Baby Bella, try oyster mushrooms, shiitake mushrooms, cremini mushrooms (AKA white button mushrooms), wild mushrooms, etc.
Replace some of the beef broth with cooking sherry.
You could also add some kale or arugula for extra leafy greens. I think I'll try that next time.
Storing:
Allow the soup to cool to room temperature before transferring to an airtight container.
Store in the refrigerator for up to 5 days.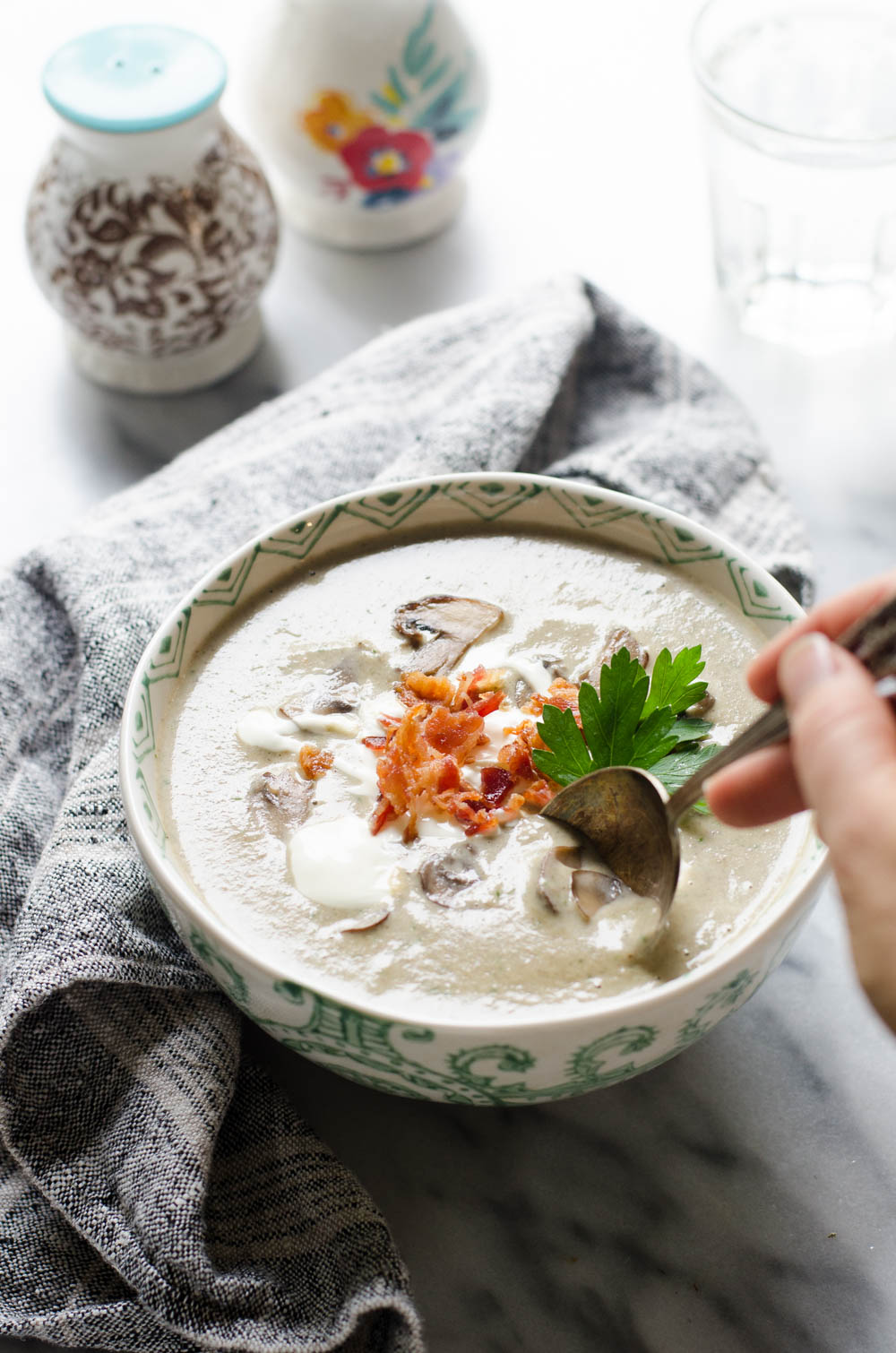 How about you? Are you accepting the changing season with joy, or with mixed emotions like I am?


More Soup Recipes:
Recipe Card:
Yield: 4 people
Creamy Roasted Garlic Mushroom Soup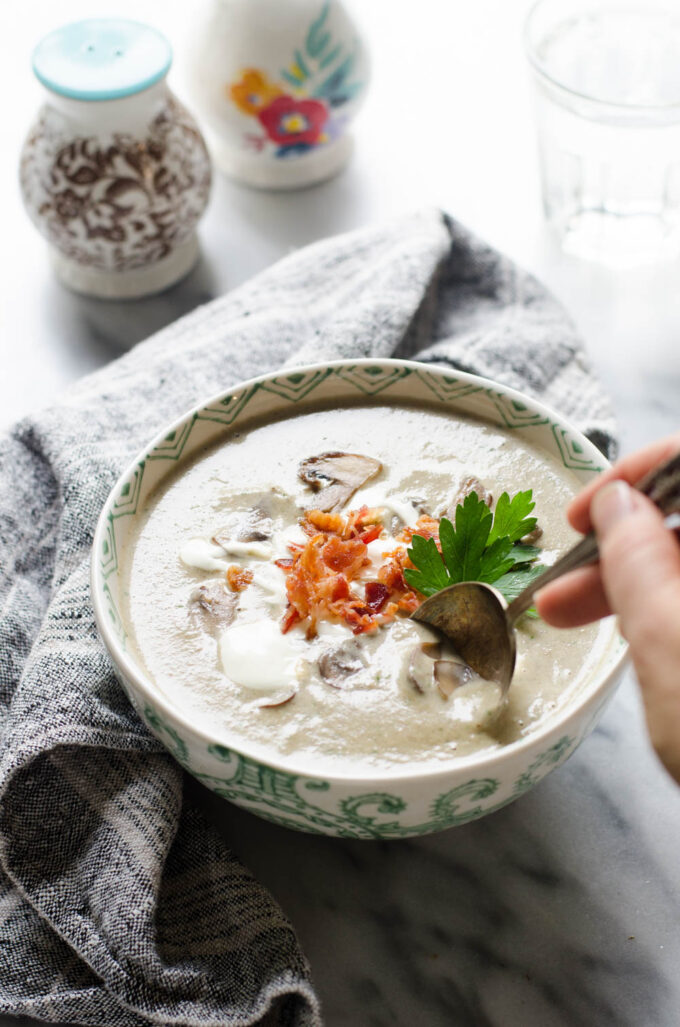 A creamy mushroom soup recipe loaded with flavor.
Ingredients
2 heads garlic, roasted
3 tbsp butter
1/2 medium onion, finely chopped
16 ounces mushrooms, sliced
3 tablespoons flour
salt and pepper, to taste
2 1/2 cups homemade beef broth
1 cup heavy cream
1/4 cup finely chopped parsley
chopped cooked bacon and sour cream, for serving
Instructions
In a large soup pot, melt the butter over medium heat. Add the onions and cook until beginning to soften, about 5 minutes. Add the mushrooms and cook until tender, about 5 more minutes.
Sprinkle in the flour. Season with salt and pepper to taste. Cook and whisk for 3 minutes.
Slowly add the beef broth, whisking all the while. Bring to a boil and stir in the cream, parsley, and roasted garlic cloves (you can squeeze the cloves out of the head directly into the soup).
Using a stick blender, being careful so as not to burn yourself, blend the soup until completely smooth. You can skip this step if you prefer whole mushrooms and garlic cloves in your soup. Taste and adjust seasonings if necessary.
Serve with crispy bacon and sour cream.
Notes
Calories calculated from soup base. If you add bacon and sour cream, this will be different.
Nutrition Information:
Yield:
4
Serving Size:
1 grams
Amount Per Serving:
Calories:

237
Unsaturated Fat:

0g
Originally posted on September 27, 2017, and 6:00 AM