This ramen recipe is made from scratch and has delicious chicken and veggies on top!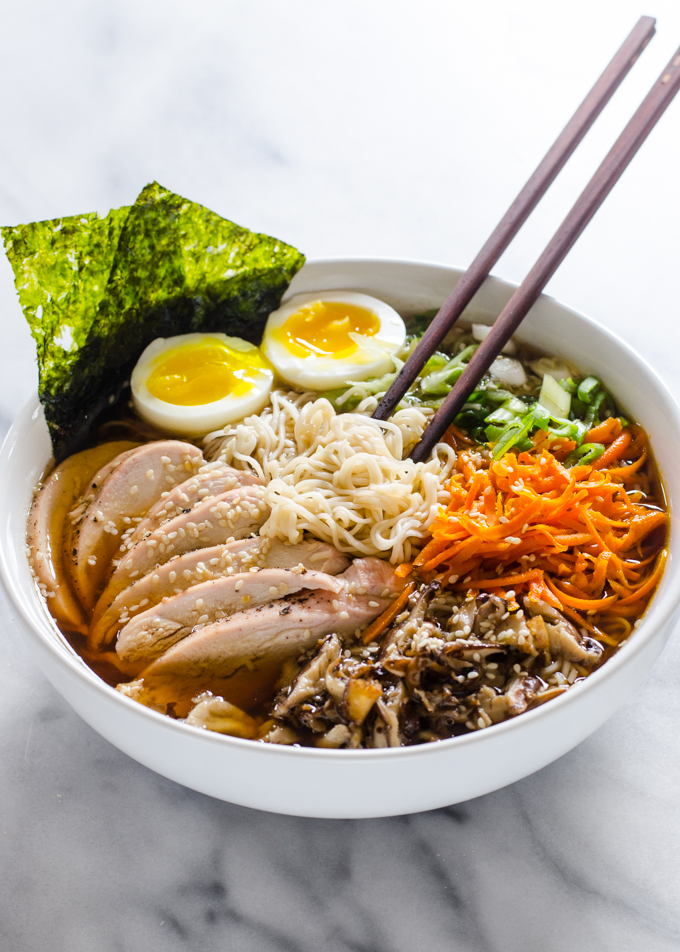 Raise your hand if you love ramen noodles! ?‍♀️
Something I DON'T love about prepackaged ramen is all the junk ingredients. Like MSG, TBHQ, anti-caking agents, etc. I think that's fine for an occasional treat, but if it makes up a large part of your diet, you *might* run into some health issues down the road.
Thankfully you can make delicious ramen from scratch that's much healthier than most store-bought varieties. It's really pretty easy, as you'll see in this post!
Ingredients for this Ramen Recipe: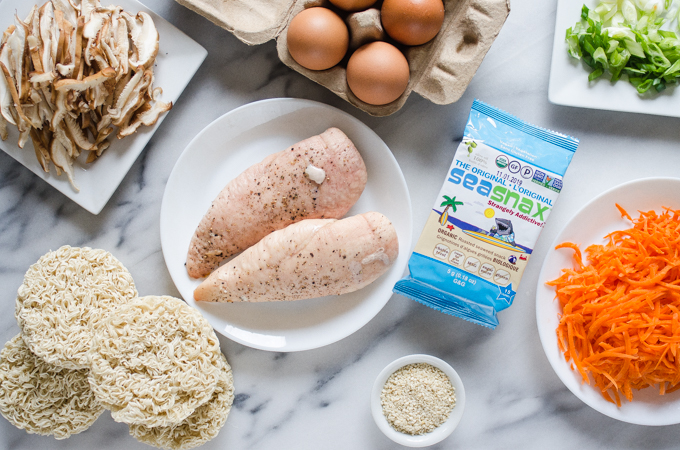 The ingredients for this ramen recipe are simple and widely available. Remember last week when I showed you how to bake boneless skinless chicken breasts? That's the method I like to use for this ramen. But you could use leftover chicken from a roast, chicken thighs, whatever you want!
The most difficult ingredients to source would be the shiitake mushrooms, the seaweed snacks, and the ramen noodles. If you absolutely can't find shiitake, you can substitute baby bella mushrooms. Personally I like to buy organic ramen noodles (which you can find at Walmart!). But in a pinch you can buy regular ramen and toss out the seasoning packet. You could also just substitute spaghetti noodles! Check the Asian section of your grocery store – you might be surprised to find toasted seaweeds snacks! These are my favorite brand.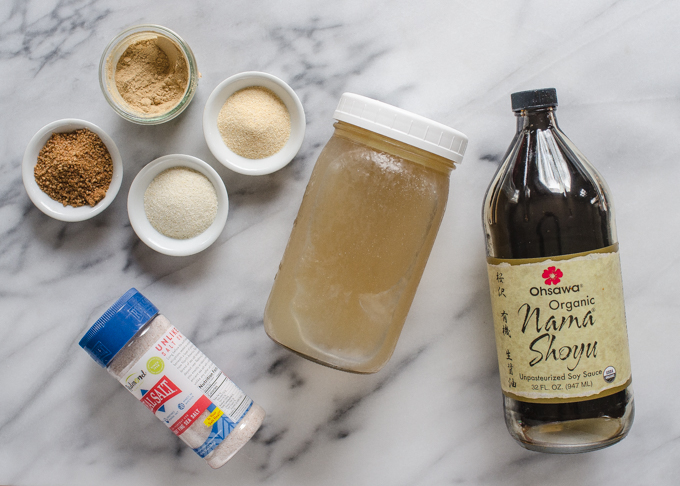 You'll also need to make a broth, but the ingredients are super simple as well: chicken broth (refer to my How to Make Chicken Bone Broth post), soy sauce, ginger, garlic, onion, coconut sugar, and salt. You just dump it all in a pot and heat it up!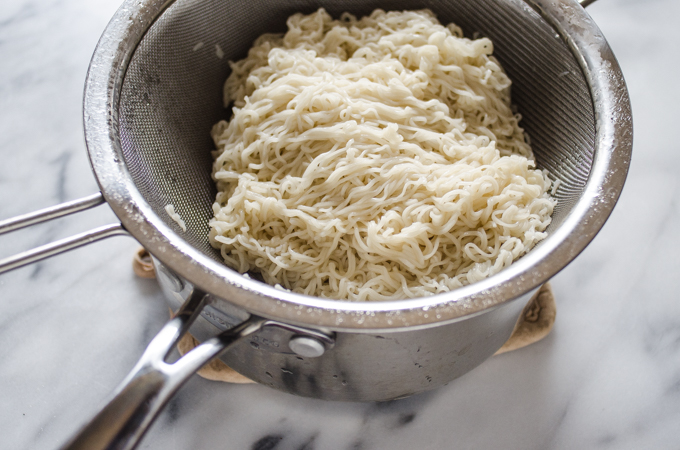 If you're going to eat the ramen immediately, you can go ahead and cook the noodles directly in the broth. But if you're making this a little in advance, it's better to par-cook the noodles, run them under cold water, and have them at the ready for serving. That way they won't get all bloated from sitting in the hot broth.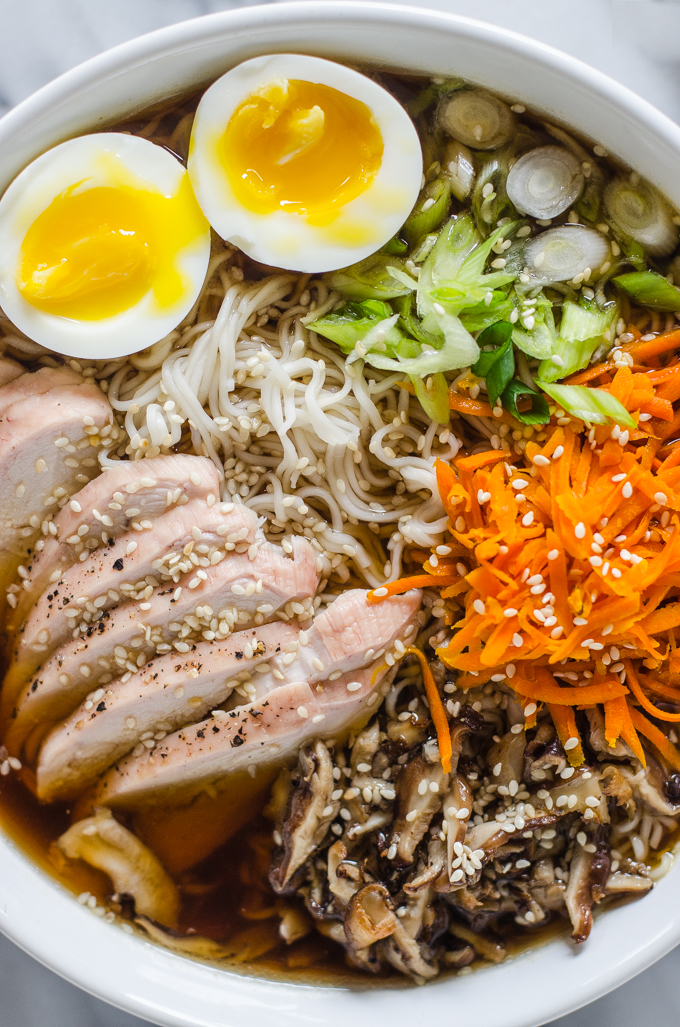 To bring it all together, put the broth and noodles in a large bowl. Top with sliced chicken, soft boiled eggs, green onions, carrots, shiitake, sesame seeds, and toasted seaweed.
Pro tip: a slice of cheese on top is amazing. Sounds weird, but don't knock it 'til you've tried it!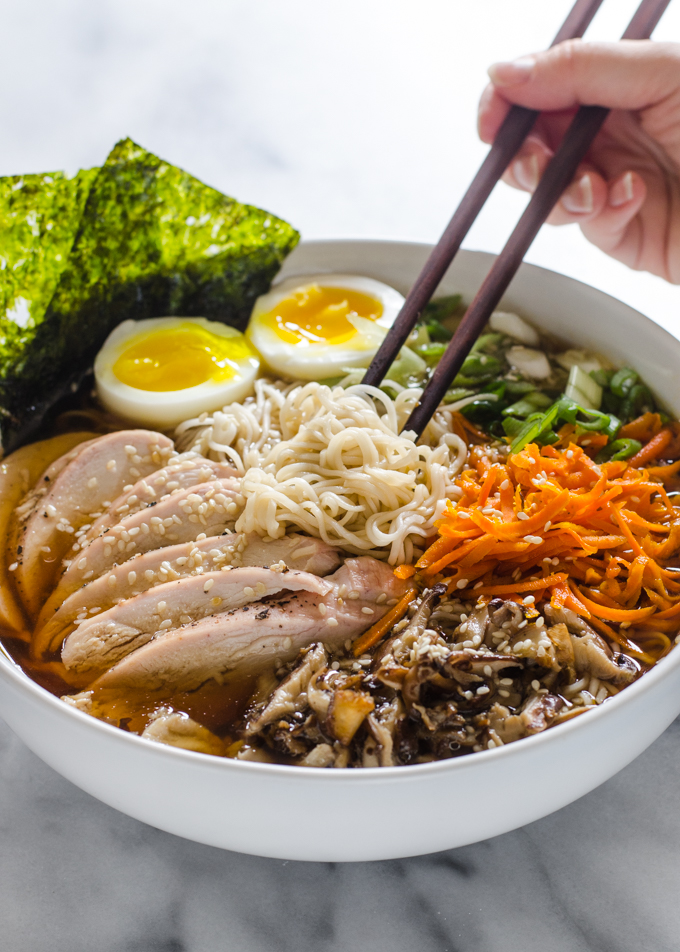 Here are a few tips for making this ramen recipe a doable weeknight meal:
If you make a large batch of all of the individual ingredients, you can eat almost-instant ramen all week long!
Have you ever tried making your own ramen noodles before? What's your favorite way to top them?
More Soup Recipes: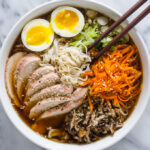 Ramen Recipe with Chicken and Veggies
A healthier way to enjoy ramen noodles!
Ingredients
For the Toppings:
2

boneless skinless chicken breasts, cooked and sliced

(see note)

4

soft boiled eggs

(see note)

2

tbsp

avocado or coconut oil

4

oz

shiitake mushrooms, sliced

2

large

carrots, peeled and shredded

2

green onions, thinly sliced

4

packets

ramen noodles, about 10-11 oz

toasted sesame seeds and toasted seaweed snacks
For the Broth:
5

cups

homemade chicken bone broth

(see note)

1/4

cup

non-pasteurized soy sauce

(see note)

1

tsp

ginger

1

tbsp

coconut sugar or sucanat

1/2

tsp

garlic powder

1

tsp

onion powder

salt to taste
Instructions
Heat a medium skillet over medium heat. Add 1 tablespoons avocado oil and wait for it to get hot. Add the shiitake mushrooms and cook until browned and tender, about 5-8 minutes. Season to taste with salt. Remove to a plate. Add the remaining tablespoon of avocado oil to the now-empty skillet. Wait for it to get hot and add the carrots. Cook until tender-crisp, about 2-3 minutes. Remove to a plate.

Cook the ramen noodles for about a minute less than recommended on the package. Immediately run the noodles under cold water to stop the cooking. Set aside.

Place all of the broth ingredients in a pot. Heat until boiling. Taste and add salt if needed. It should be quite salty!

Divide the noodles between 4 large serving bowls. Ladle the broth on top. Add the chicken, eggs, mushrooms, carrots, green onions, sesame seeds, and seaweed snacks. Eat immediately.