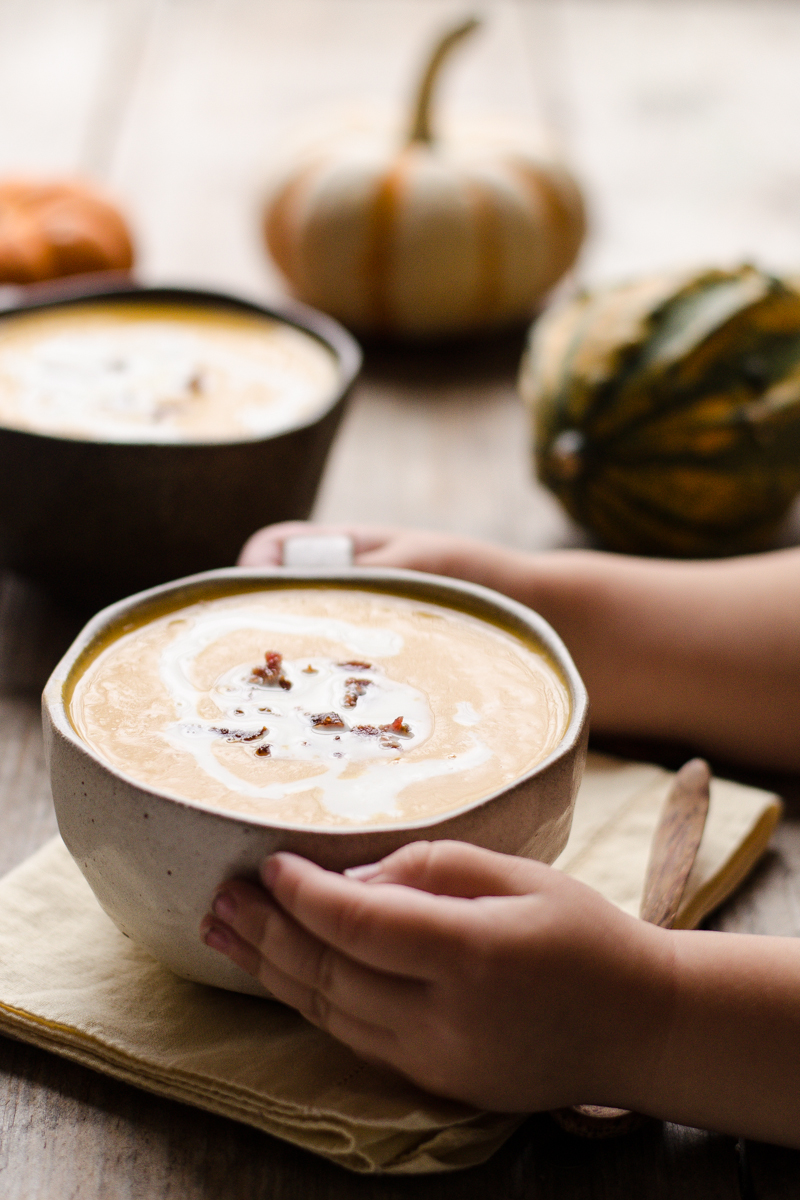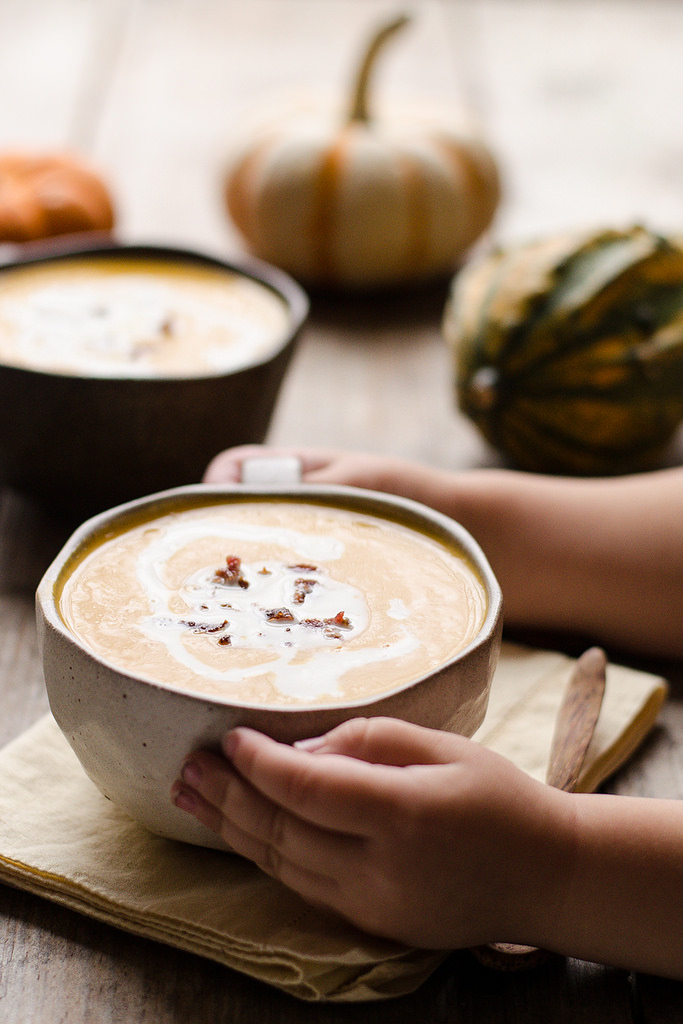 I have been planning to make this soup for about a month. You see, some squash are at their best if you let them "cure" for a while after they are harvested. So I waited patiently for the optimal flavor/texture to develop. And last week I finally cut into my precious butternut squash.
You see, I had procured it from the farmers market a month earlier. When I told Reuben that I was planning to make soup from it, he objected vehemently. I told him the soup was for Helen and I and that he couldn't have any.
It was delicious. I know Reuben would have hated it (as he did last year), but my sister and I adored it.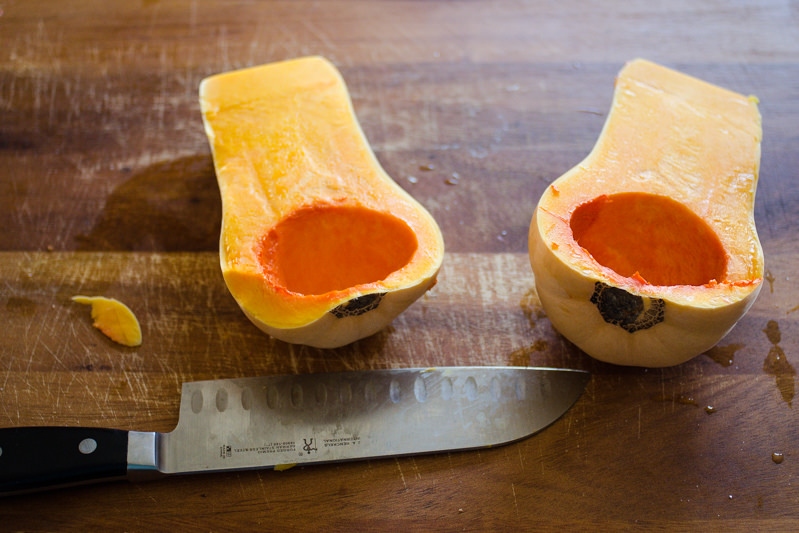 This soup is quite easy to make. Start by chopping your squash in half. It's SO much easier if you use a rubber hammer to tap on the back of your knife, y'all.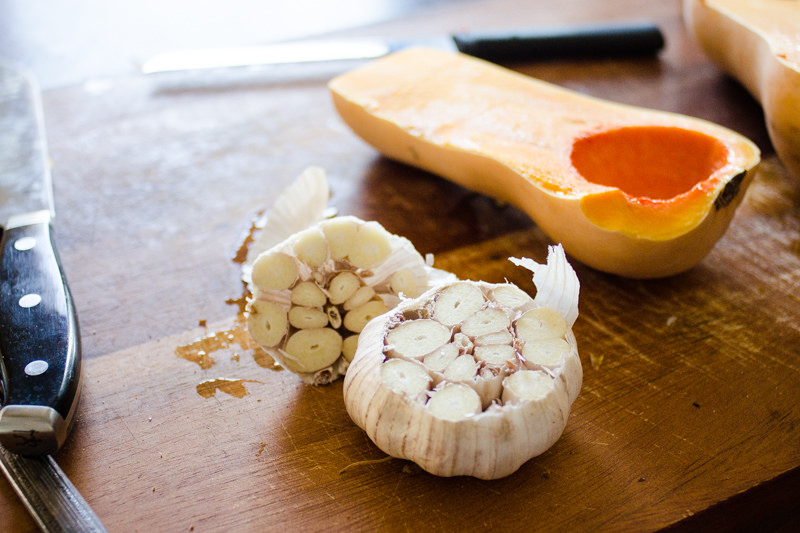 Slice the top off of a head of garlic.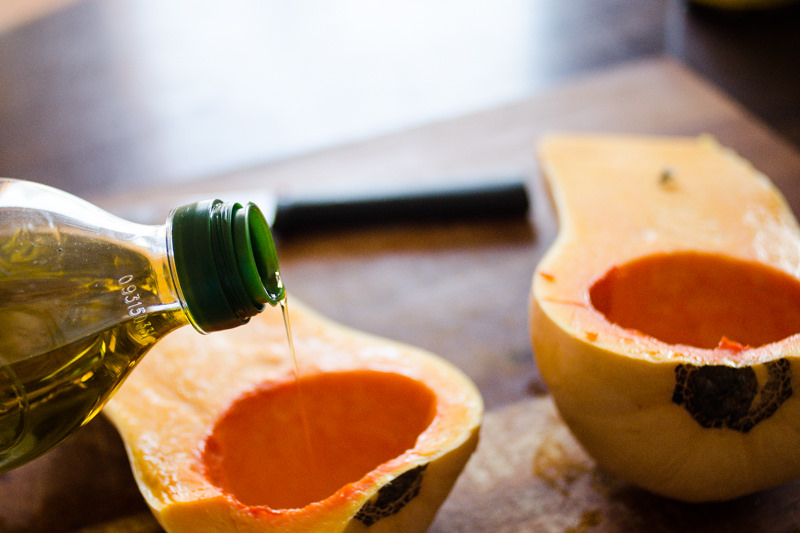 Pour about half of a tablespoon of olive oil into the cavity of each squash.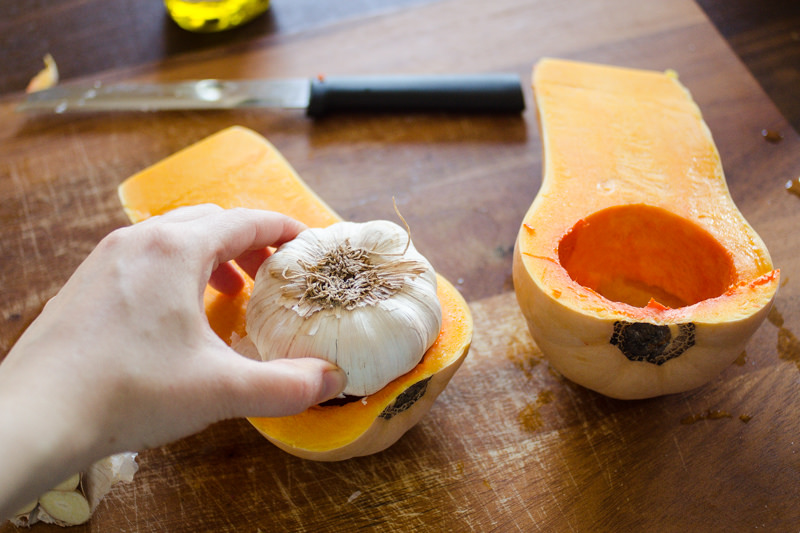 Place the head of garlic upside down in one of the holes.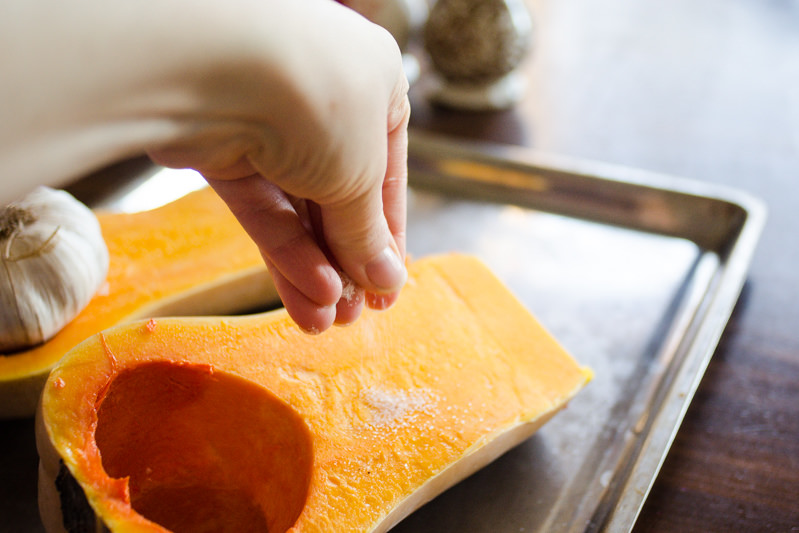 Sprinkle the squash with salt.
Pour a bit of water into the pan.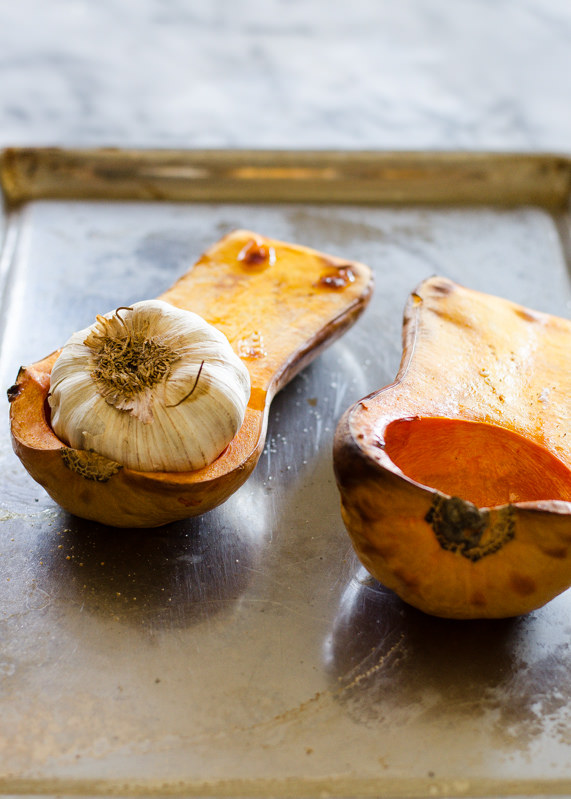 Roast in a hot oven for 45-60 minutes, or until the squash is fork-tender. Cool and remove the squash flesh from the skin.
Heat up some broth (chicken or beef) and bacon grease. Add the squash, garlic, and some cream. Pour into a blender and blend until smooth. Return to pan. Heat just until hot. Serve with bacon. Mmhmm.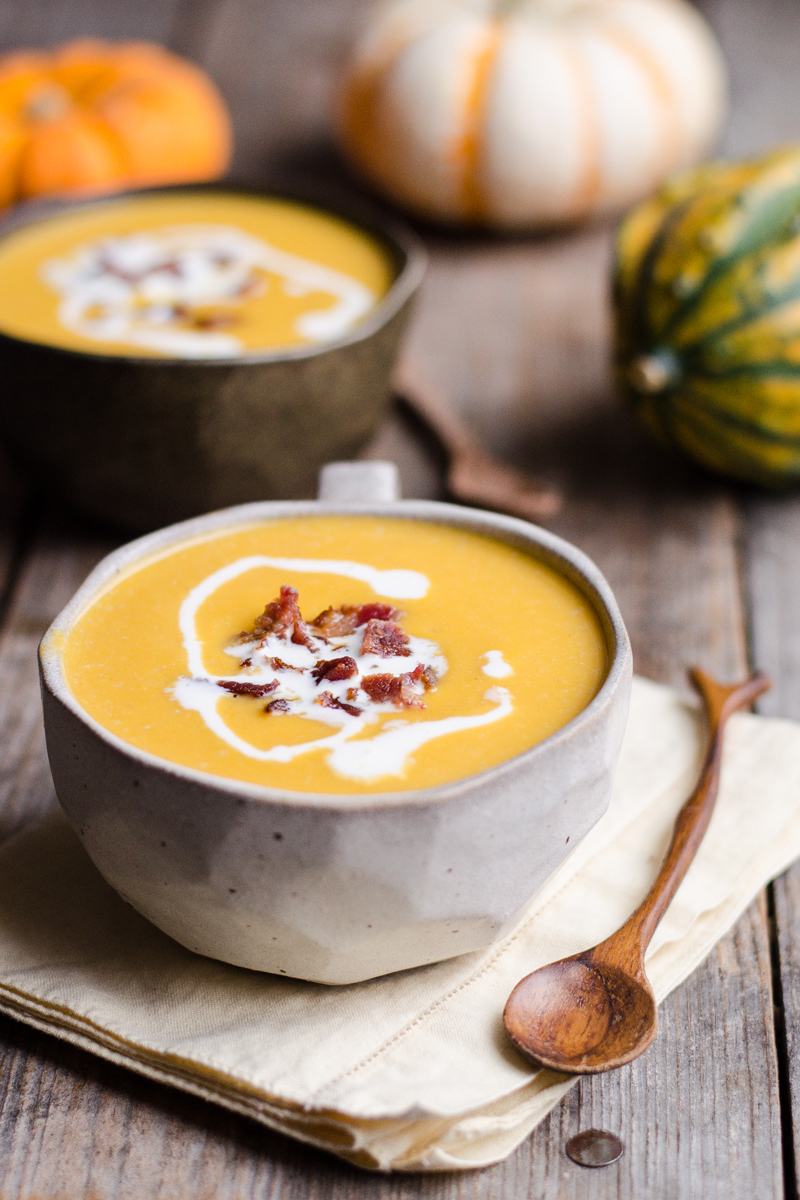 My sister made cheddar chive scones to go along with this soup. It was a wonderful pairing.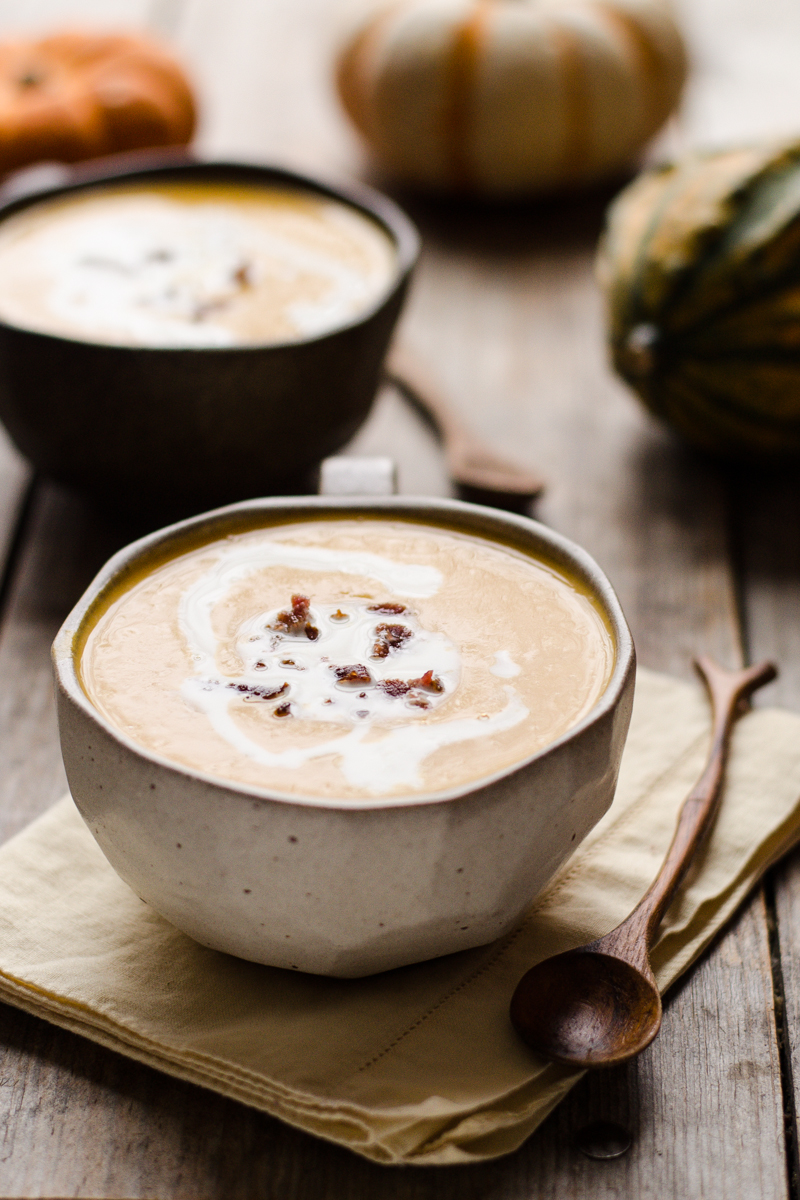 Roasted Butternut Squash and Garlic Soup
recipe by Erica Kastner
| Makes 4 servings |
PRINT
Ingredients:
1 butternut squash
1 head of garlic
1 tablespoon olive oil
salt to taste
2 cups chicken or beef broth
1 tablespoon bacon fat
1/2 cup cream
crumbled bacon, for serving
Directions:
Preheat oven to 400 degrees F.
Slice the squash in half lengthwise. Scoop out the seeds and stringy parts. Pour about half a tablespoon of olive oil in each cavity. Slice the top off of the garlic head and place it upside down in one of the cavities.
Place the squash on a baking sheet. Pour a bit of water in the bottom of the pan. Bake in preheated oven until fork tender, about 45-60 minutes. Allow to cool and scoop out the flesh of the squash and squeeze the garlic cloves out of the head.
Meanwhile, heat the bacon fat and broth in a pot over the stove. Add the squash, garlic, and cream. Remove from heat and allow to cool slightly. Pour into a blender and blend until smooth. Taste and adjust seasonings if necessary. Return to pot and heat just until hot.
Serve with crumbled bacon.