This Roasted Butternut Squash Bisque is the perfect cozy fall soup recipe. It's like a warm hug on a cold day!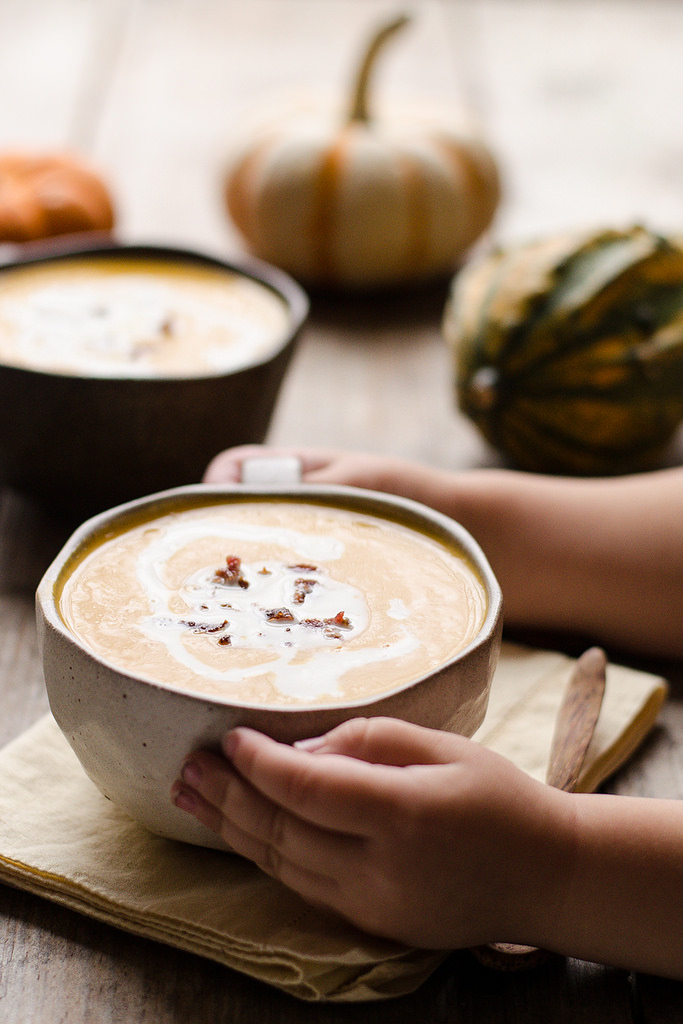 If you're looking for a cozy, comforting soup to add to your fall or winter meal list, this Roasted Butternut Squash Bisque is just the ticket!
With the cozy flavors from the roasted squash and garlic, it's the perfect comfort meal this time of year.
In this post I'll take you through the step-by-step process for making this easy-yet-delicious soup. Plus I'll share my hack for roasting the garlic that seriously simplifies the process.
Okay, let me show you how to make this easy butternut squash soup recipe!
Video
Here's a quick video in case you learn better that way. The written tutorial and printable recipe are below!
Ingredients:
(Some links are affiliate. All opinions are 100% my own.)
You only need 8 simple ingredients to make this butternut soup:
1 butternut squash: If your butternut squash is freshly harvested, make sure you let it "cure" for a while before using it. This helps the flavor and texture to develop to an optimal level.
1 head of garlic: Yes, you'll be using an entire head or bulb of garlic in the recipe! It gets roasted along with the squash, so the flavors mellow out a lot.
1 tablespoon olive oil: You could also use avocado oil or coconut oil if you prefer. Butter would work as well, but keep in mind that it might burn in the hot oven.
salt to taste: I use unrefined sea salt, but you can use whatever you have on hand!
2 cups chicken stock or beef broth: To make this a really nourishing soup, you can use homemade chicken bone broth. But store-bought chicken broth will work as well. You could also substitute vegetable broth or vegetable stock if that's all you have.
1 tablespoon bacon fat: This is optional, but it adds a lovely, smoky flavor to the bisque.
1/2 cup heavy cream: This is what makes for a rich butternut squash bisque! If you're avoiding dairy you could substitute coconut milk, but keep in mind that it will affect the final flavor.
crumbled bacon for serving: This is also optional, but it takes this soup to the next level! Leave it out and substitute butter for the bacon grease to make this a vegetarian soup.
How to Roast a Butternut Squash for Soup: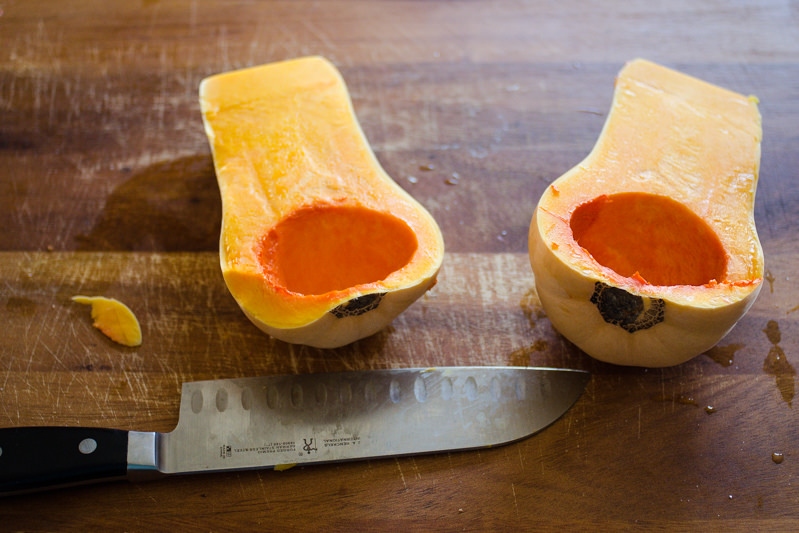 This soup is quite easy to make.
Start by chopping your squash in half with a sharp knife on a large cutting board.
BTW, it's SO much easier if you use a rubber hammer to tap on the back of a your knife, y'all.
Scoop out the seeds and stringy parts. You can save the squash seeds to roast later, or compost them.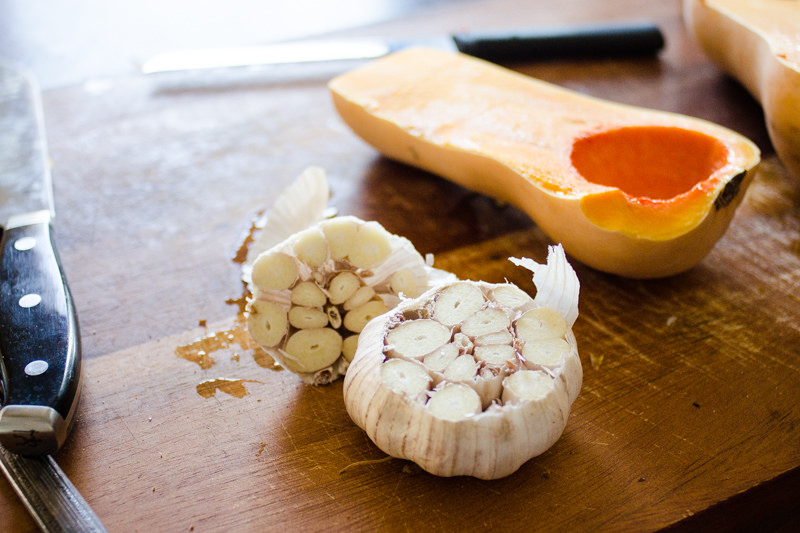 Slice the top off of a head of garlic.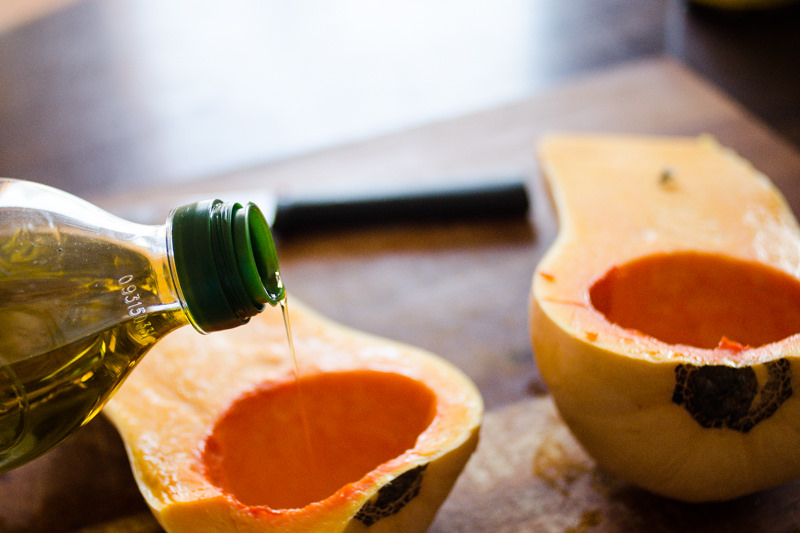 Pour about half of a tablespoon of olive oil into the cavity of each squash.
How to Roast Garlic in a Squash Half: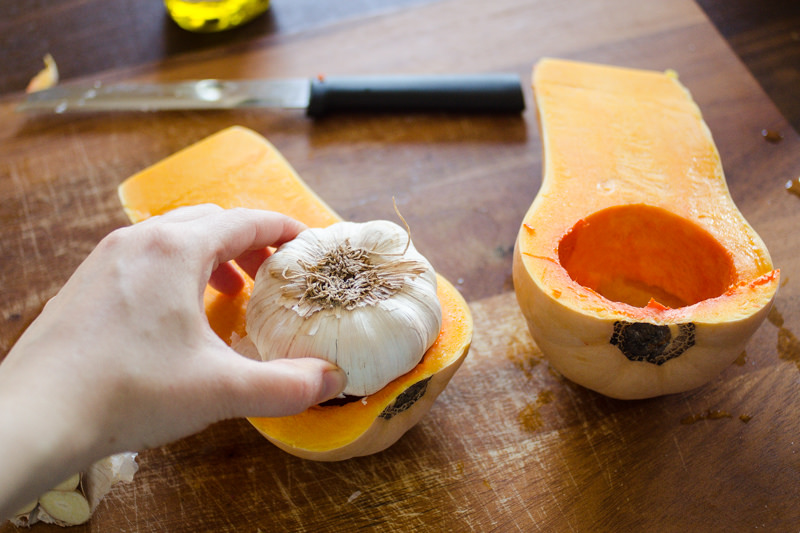 Place the head of garlic upside down in one of the holes.
If you use this method, there's no need to wrap the garlic in foil or parchment paper!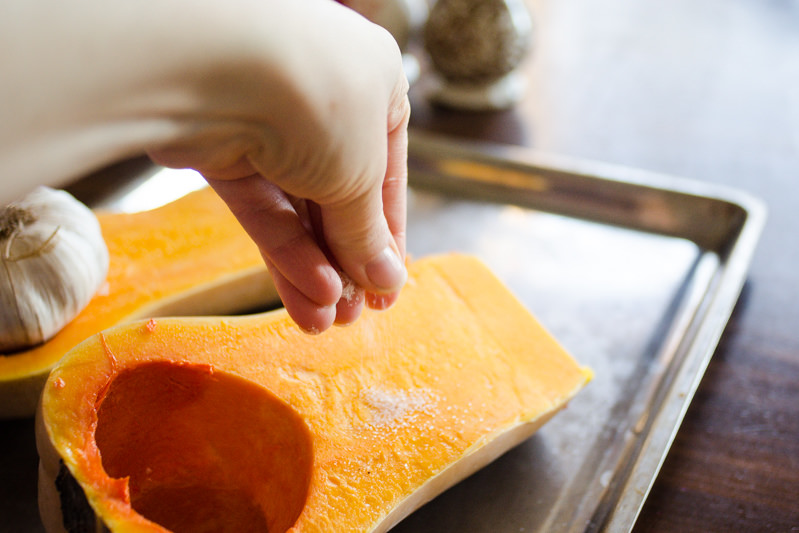 Place the squash halves and garlic on a rimmed baking sheet.
Sprinkle the squash with salt.

Pour a bit of water into the baking sheet.
Finishing the Soup: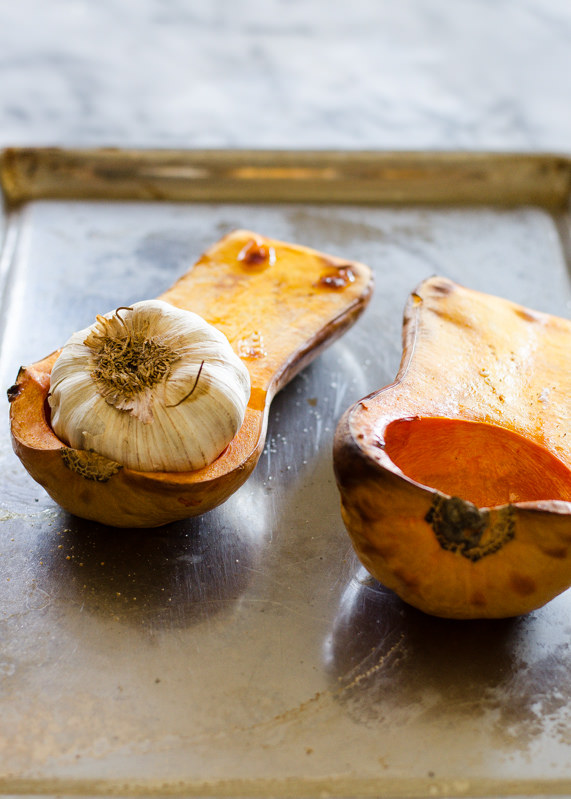 Roast in a hot oven for 45-60 minutes, or until the squash is fork-tender. Cool and scoop out the squash flesh from the skin.
Heat up some broth (chicken or beef) and bacon grease in a large pot or Dutch oven. Add the squash, roasted garlic cloves, and some cream.
Allow the soup to cook, then pour into a blender and blend until smooth. This can also be done with a food processor or immersion blender.
Just make sure that the soup isn't too hot – stick blenders + hot liquids can equal burns!
Return to pan. Warm over medium heat just until hot.
Note: If you like your butternut squash soup to be a bit sweet, you could add a little maple syrup or brown sugar at this point. The butternut squash has a little bit of natural sweetness, but if you add maple syrup it will really draw out the sweet flavor.
Another option would be to add some warm spices such as ground nutmeg, cinnamon, or ginger. You could even experiment by adding a bit of curry powder for a completely different flavor profile.
Or add a dash of cayenne pepper for a kick of heat.
Serving:
You can serve this with crispy bacon crumbles, pumpkin seeds, a dollop of sour cream, balsamic vinegar, croutons, parmesan cheese or sharp cheddar, freshly cracked black pepper, fresh herbs such as parsley or rosemary, etc.
My sister made cheddar chive scones to go along with this soup. It was a wonderful pairing.
Another pairing option would be a grilled cheese sandwich.
This could be served for lunch, or as the first course of a fall dinner.
Storing:
Cool any leftovers to room temperature, and store in an airtight container in the refrigerator for 3-5 days.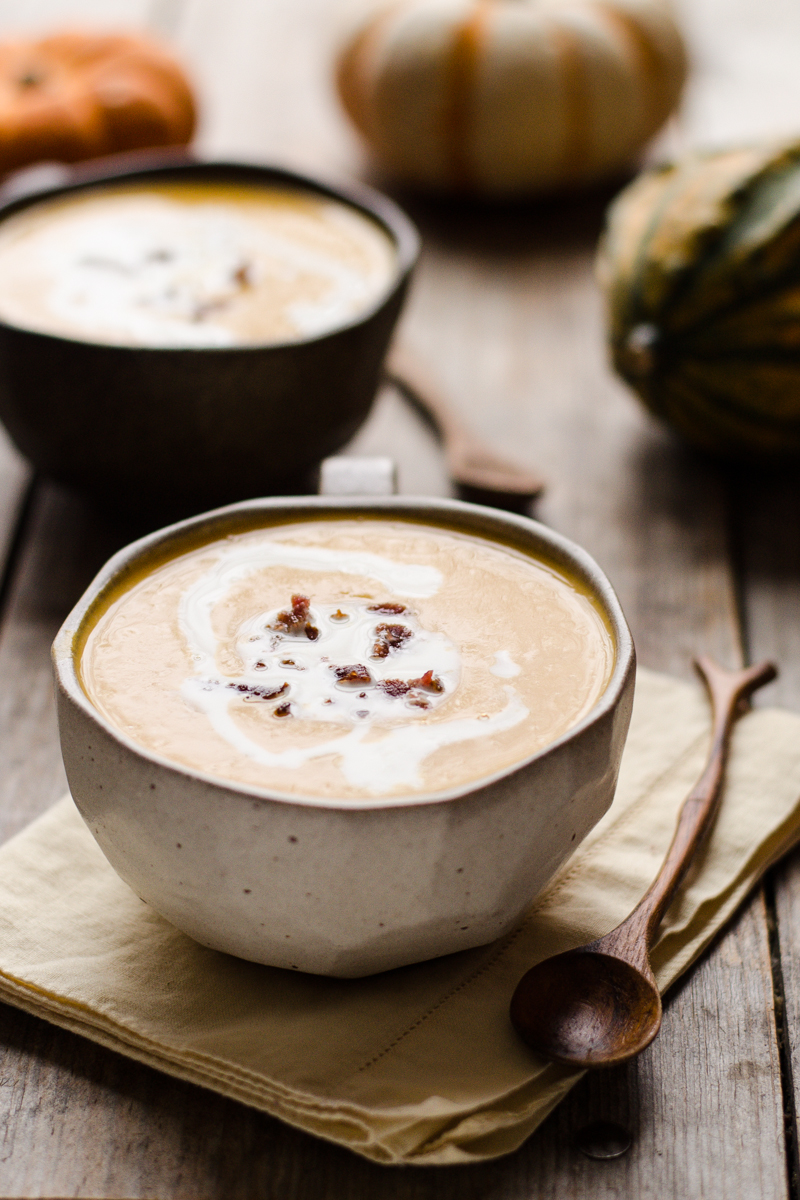 What's the Difference Between Soup and Bisque?
A soup simply refers to a food that's mostly liquid, often with meat or vegetables mixed in. A bisque, on the other hand, specifically refers to a soup that is smooth and creamy.
A traditional French bisque is made in a specific way, and features seafood such as lobster or shrimp. However, it's also used to refer to any creamy, smooth soup, such as this butternut squash bisque.
Do You Have to Peel a Butternut Squash to Make Soup?
Technically, you don't need to peel a butternut squash for making soup since the skin is edible if cooked.
However, if you prefer a creamy, smooth soup, you may want to remove the skin before pureeing this soup. Otherwise you might run into issues with getting the soup completely smooth.
So that's how to make a delicious, creamy butternut squash bisque soup. Make sure to check out my other soup and squash recipes below:
More Squash Recipes:
More Soup Recipes:
Recipe Card:
Yield: 4-6 servings
Roasted Butternut Squash and Garlic Bisque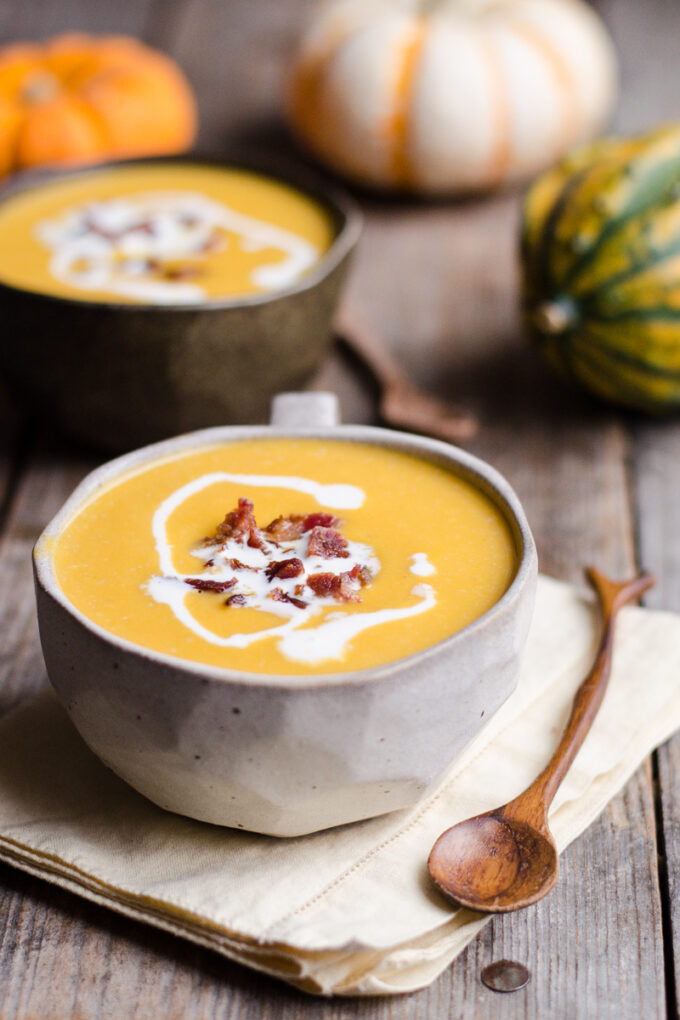 Roasted Butternut Squash and Garlic Soup
Total Time
1 hour
10 minutes
Ingredients
1 butternut squash
1 head of garlic
1 tablespoon olive oil
salt to taste
2 cups chicken or beef broth
1 tablespoon bacon fat
1/2 cup cream
crumbled bacon, for serving
Instructions
Preheat oven to 400 degrees F.
Slice the squash in half lengthwise. Scoop out the seeds and stringy parts. Pour about half a tablespoon of olive oil in each cavity. Slice the top off of the garlic head and place it upside down in one of the cavities.
Place the squash on a baking sheet. Pour a bit of water in the bottom of the pan. Bake in preheated oven until fork tender, about 45-60 minutes. Allow to cool and scoop out the flesh of the squash and squeeze the garlic cloves out of the head.
Meanwhile, heat the bacon fat and broth in a pot over the stove. Add the squash, garlic, and cream. Remove from heat and allow to cool slightly. Pour into a blender and blend until smooth. Taste and adjust seasonings if necessary. Return to pot and heat just until hot.
Serve with crumbled bacon.
Nutrition Information:
Yield:
6
Serving Size:
1 grams
Amount Per Serving:
Unsaturated Fat:

0g
Originally published on November 2, 2015 at 10:00 AM.