Learn how to make this homemade apple pie spice blend, and what's the difference vs pumpkin pie spice!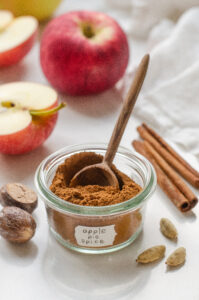 Whether you're looking to make your own spice blend, or you're simply wondering what the difference between apple pie spice vs pumpkin pie spice is, this post is for you!
I'm going to answer your burning questions, break down the essential ingredients you need for homemade apple pie spice, and walk you through the process step-by-step.
Plus I'll share some helpful tips for storing and using this flavorful combination of spices.
This is one of the more popular spice blends, and it's perfect to have on hand during the fall season.
Okay, let's get started!
Video Tutorial
Here's a video tutorial in case you learn better through being shown. The written tutorial and full recipe are below!
But first, let's address the difference between apple pie spice and pumpkin pie spice blends…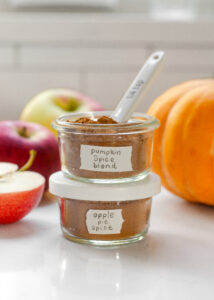 Apple Pie Spice vs Pumpkin Pie Spice:
Apple pie spice blend and pumpkin pie spice blend are very similar when it comes to ingredients. However, there are a couple of differences.
Most pumpkin spice blends that you'll find at the grocery store contain cinnamon, nutmeg, allspice, ginger, and sometimes cloves.
Apple pie spice on the other hand is usually a mixture of cinnamon, nutmeg, allspice, and sometimes cardamom.
The main difference in the flavor profile of these two spice combinations is apple pie spice usually doesn't contain cloves or ginger.
But this definitely isn't a hard and fast rule. Typically each spice company has a little different blend with different ratios of each of the spices.
I went to the store and compared store-brand apple pie spice and pumpkin pie spice, and the difference was as stated above.
McCormick pumpkin pie spice and apple pie spice have slightly different ingredients, and their pumpkin pie spice contains sulfiting agents.
Note that commercial blends of apple pie spice typically do not contain cardamom.
Can You Substitute Pumpkin Pie Spice for Apple Pie Spice?
You can substitute an equal amount of pumpkin pie spice for apple pie spice, and there shouldn't be a distinct flavor difference.
Just keep in mind the flavor profiles of the different spices. Will cardamom pair well with pumpkin? Will cloves or ginger go with apples?
Or you can always check out my homemade pumpkin pie spice recipe and keep a jar of each on hand.
Okay, let's get back to the apple pie spice recipe…
Ingredients: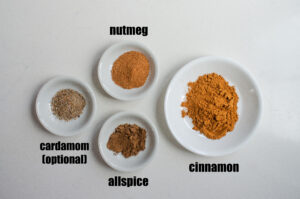 Note: Some links are affiliate. All opinions are 100% my own, of course! If you click on a link and make a purchase, I will earn a small commission. This has zero impact on the price you pay, and it helps Buttered Side Up out! Thank you!
Believe it or not, you only need a few simple fall spices to make this homemade spice blend:
1 tablespoons Cinnamon: The type of cinnamon you choose will affect the final flavor, especially since cinnamon is the main ingredient. Vietnamese cinnamon has a stronger flavor than Ceylon cinnamon, in my experience.
2 teaspoons Nutmeg: If you aren't a fan of nutmeg, I suggest you try freshly grated – it's amazing!
1 teaspoon Allspice: This is probably the least common spice in the bunch, but I think it's worth a purchase to capture the proper flavors. You could substitute cloves or leave it out in a pinch.
1 teaspoon Cardamom (optional): This is completely optional since most spice blends don't include it. But I love cardamom, so I went ahead and added it to my recipe. Again, freshly ground cardamom is just awesome.
Notes:
These are the most commonly used spices in apple pie spice, but you can experiment with adding other spices such as star anise, cloves, ginger, black pepper, etc.
Your DIY blend will have stronger flavors if you make sure your spices are really fresh. The best way to ensure that is to grind your own, and the next best would using a freshly opened jar.
How to Make Your Own Apple Pie Spice Mix: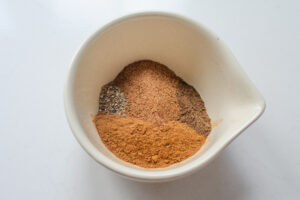 Place all of the spices into a small bowl.
I like to choose one with a spout, since it makes for easier pouring into the storage container later.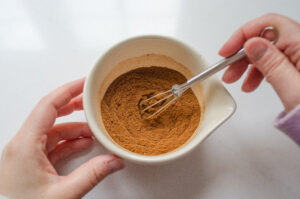 Whisk until the spices are well combined.
Alternatively, you could simply place the spices in a jar, screw on the lid, and shake until well combined!
Storing: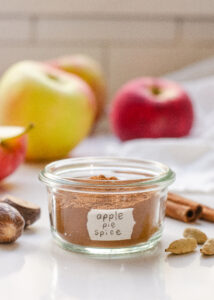 But if you go the whisking route, you'll want to transfer the apple pie spice mix into an airtight container.
I like these Mini Mold Jars from Weck. They're the perfect size for this recipe. And they're SO much easier to measure your spices out of than tall, skinny jars.
By the way, why are almost all spice jars so skinny?! They're so frustrating to measure out of! Spice companies, change the jars you use!
Anyway.
If you want to make a larger batch, these Weck jars are a better size. Or you could use a half pint jar.
Make sure to store your homemade spice mix in a cool, dry, dark place (out of direct sunlight is best).
A spice cabinet or drawer that's located far from the stove would be perfect.
If you started with fresh spices, and if you store this mix properly, it should last for about 6 months.
After that it will still be safe to consume, but the spices will lose some of their potency.
How to Use: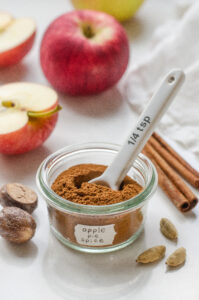 You can use this homemade apple pie spice recipe as a 1 to 1 substitute for store-bought apple pie spice.
Of course it would be the perfect addition to apple pies, apple crisps, or apple turnovers.
For a more complex flavor profile, use in place of cinnamon in my Baked Apples, Apple Pecan Bread, or Apple French Toast Casserole.
You could also experiment with adding it to savory dishes, such as Roasted Butternut Squash Soup.
Or sprinkle on top of homemade caramel corn, apple cider, or pumpkin spice lattes.
I've been adding about 1/8 teaspoon to my matcha latte, and it's a lovely combo!
How to Make 1 Teaspoon of Apple Spice:
If you only need 1 teaspoon of apple pie spice, here's a quick recipe:
3/4 teaspoon of cinnamon
1/4 teaspoon of nutmeg
1 pinch allspice
1 pinch cardamom (optional)
So that's how to make your own apple pie spice blend! Make sure to check out my other homemade spice blends below!
More Homemade Spice Mixes:
More Apple Recipes:
Recipe Card:
Yield: 3 tablespoons
Homemade Apple Pie Spice Blend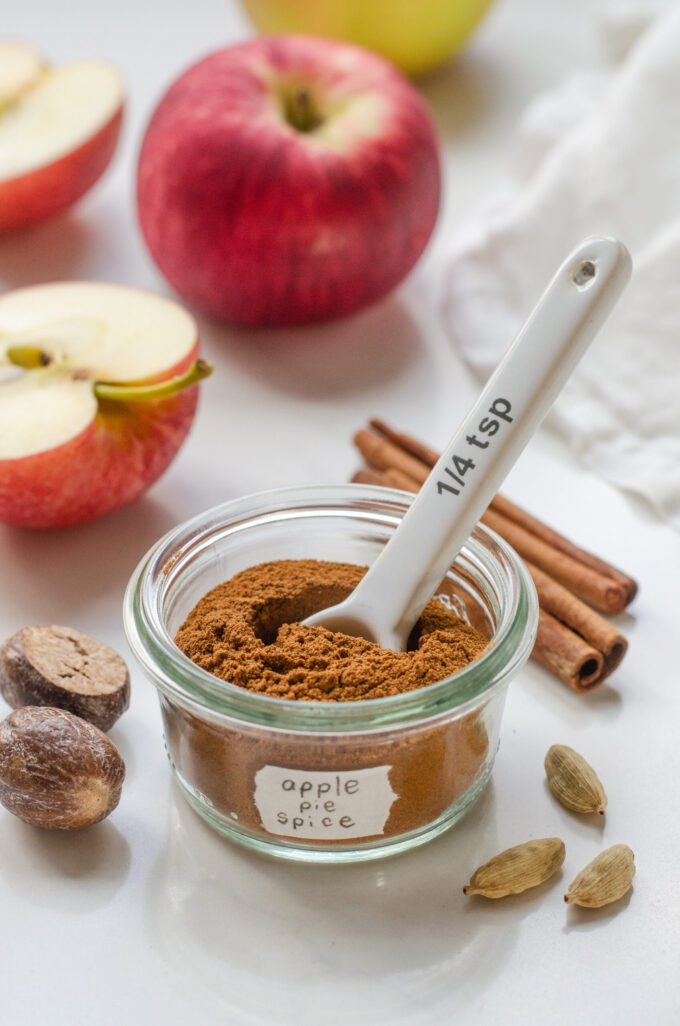 Learn how to make your own apple pie spice blend with this simple recipe!
Ingredients
2 tablespoons ground cinnamon
2 teaspoon ground nutmeg
1 teaspoon ground allspice
1 teaspoon ground cardamom (optional)
Instructions
Place all ingredients in a small bowl. Whisk until smooth.
Transfer to an airtight storage container.
Alternately, you could place all ingredients in a jar and simply shake to combine.
Notes
It's best to use fresh spices for optimal flavor. You can even grind your own if you own a spice grinder or grater.
To make just 1 teaspoon of apple pie spice, use 3/4 teaspoon cinnamon, 1/4 teaspoon nutmeg, and a pinch each of allspice and cardamom.
You can double, triple, quadruple, etc. the ingredients to make a larger batch.
Recommended Products
As an Amazon Associate and member of other affiliate programs, I earn from qualifying purchases.
Nutrition Information:
Yield:
9
Amount Per Serving:
Calories:

8