Learn how to make a delicious cranberry pecan chicken salad with my easy recipe. Perfect as a side dish for your Thanksgiving or Christmas dinner, a baby shower, potluck, ladies' luncheons, BBQs, etc.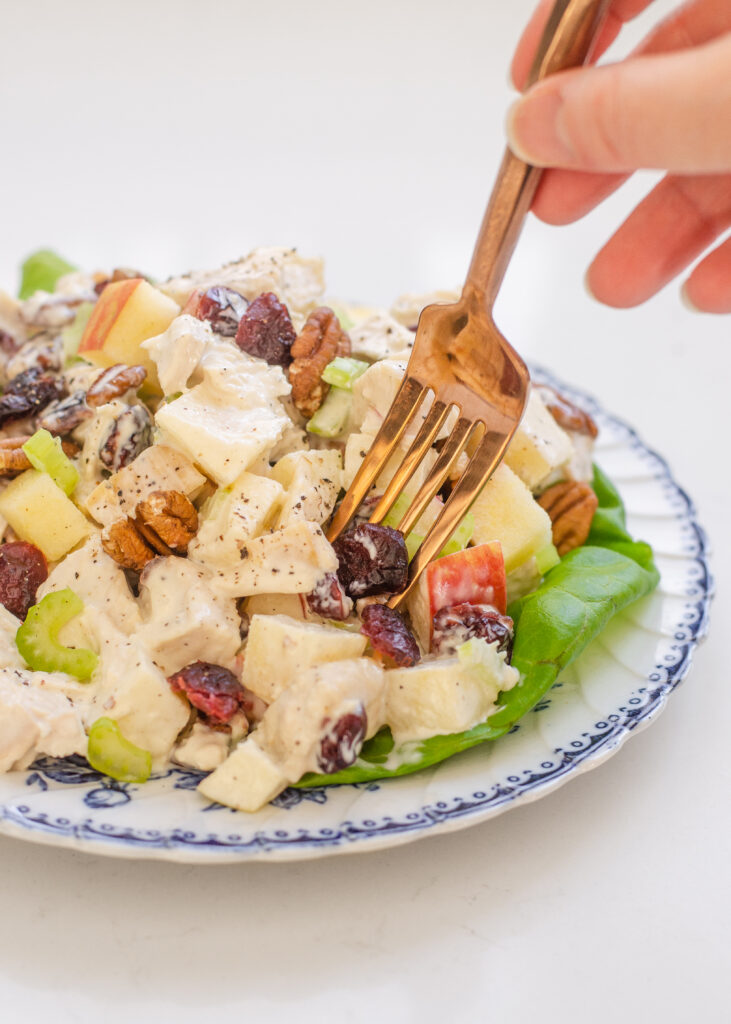 Okay, it's time to share one of my favorite salads with y'all.
You've got that tart sweetness from the cranberries and apples, the crunch from the celery and pecans, and the creaminess from the mayonnaise and sour cream.
It definitely has a savory flavor, but it has sweet elements that balance it all out and make an amazing flavor combination.
Okay, let me show you how to make this pecan cranberry chicken salad!
Here's a video tutorial in case you learn better that way! The written tutorial and printable recipe are below…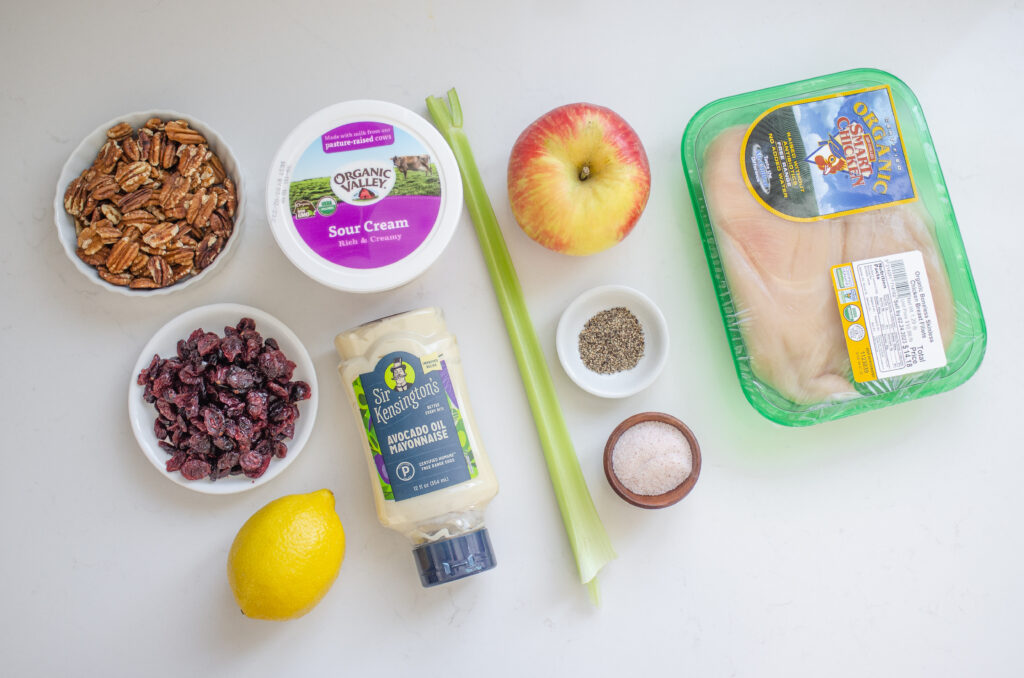 NOTE: Some links are affiliate. All opinions are 100% my own. If you click a link and make a purchase, I will earn a small commission. This has zero impact on the price you pay, and it helps Buttered Side Up out! Thank you!
Ingredients:
Here are the simple ingredients you'll need to make this scrumptious chicken salad:
2 large chicken breasts: I use boneless, skinless chicken breasts. But you could also substitute purchased rotisserie chicken, boneless skinless thighs, etc. You'll want about 1 1/4 pounds uncooked chicken, or approximately 2 to 2.5 cups of chopped chicken. You could even experiment with canned chicken, but I personally don't prefer the texture.
1 apple: You can use Gala, Fuji, Pink Lady, or really whichever is your personal favorite! I prefer sweet apples with a bit of tartness, but you could use a Granny Smith apple if you prefer a tart apple. But please select fresh, crisp apples!
1 stalk of celery: I don't like my salad too celery dense, so I keep it to 1 stalk. Feel free to bump up the amount if you really like crunchy celery!
Juice of ¼ of a lemon: I love the brightness and freshness that a bit of lemon juice lends to this salad. You can get away with leaving it out, but it does enhance the flavors!
¾ cup mayonnaise: I like to use avocado oil mayonnaise (you can purchase it here on Amazon), but you can use whichever is your favorite! But please use real mayonnaise!
¼ cup sour cream: Adding a little sour cream to the mix helps to brighten up the flavors. You can substitute more mayonnaise if you prefer/don't have sour cream on hand. But I think it's better with the added sour cream! You should be able to get away with plain Greek yogurt as well, but I haven't personally tried that.
⅔ to ¾ cup dried cranberries: These are sometimes referred to as craisins. If you like to go lighter on the dried cranberries, you can use the smaller amount. I like the full ¾ cup myself!
¾ to 1 cup of pecans: I use pecan halves (here are some organic ones on Amazon). You'll want to toast your pecans to really bring out the flavors. I do this over the stove, but you could also put them on a baking tray in the oven for a bit. Check out my soaked pecans recipe if you have trouble digesting nuts!
salt and black pepper to taste: Since the saltiness of different mayonnaises can vary, you'll want to season to taste. I would suggest tasting the completed salad before adding any extra salt!

How to Make Cranberry Pecan Chicken Salad:
Begin by cooking your chicken. Make sure to check out my How to Cook Boneless Skinless Chicken Breasts tutorial to learn how to make non-dry, tender chicken!
Allow the chicken to cool, and then cut it into bite sized pieces.
If you're using leftover chicken, simply dice it into bite sized pieces.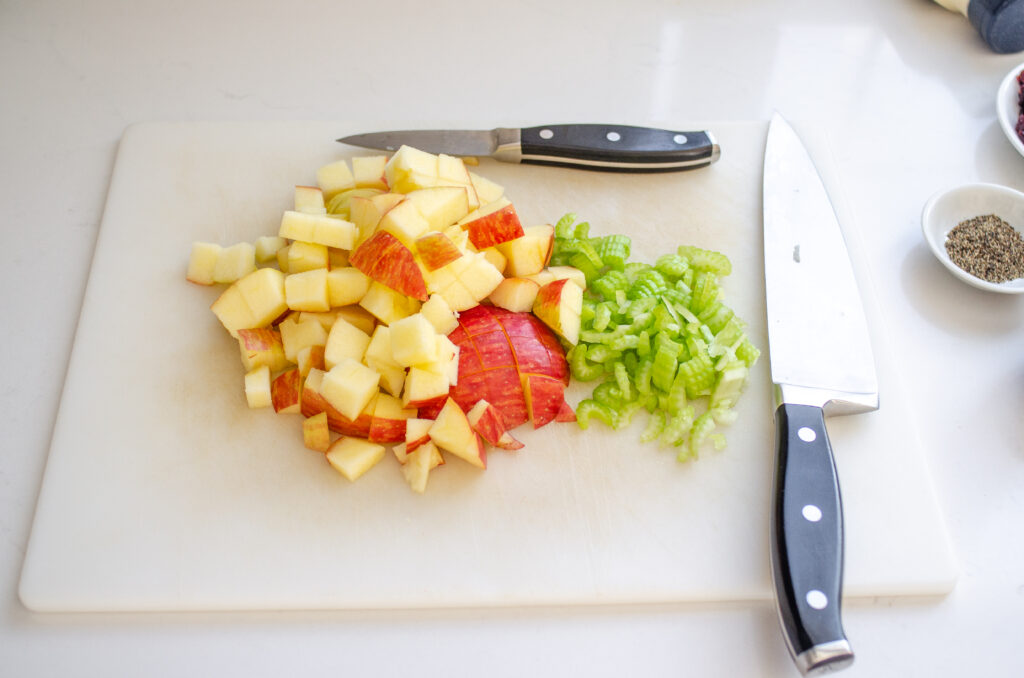 Next, toast the pecans and set them aside to cool. You can either chop the pecans a bit or leave them in halves.
Then chop the apple into bite-sized cubes.
Finally, slice the celery thinly.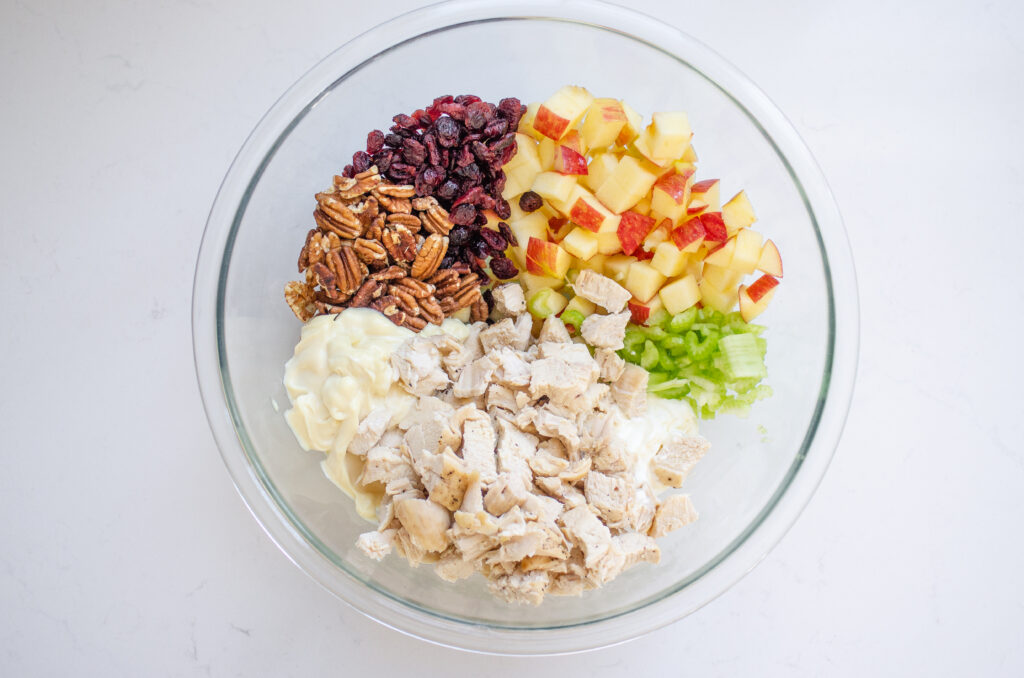 Putting it All Together:
Now it's time to mix it all together!
Place all of the ingredients, including the cooled cooked chicken, into a large mixing bowl.
It should be bigger than you think! Don't get caught using a too-small bowl! 😉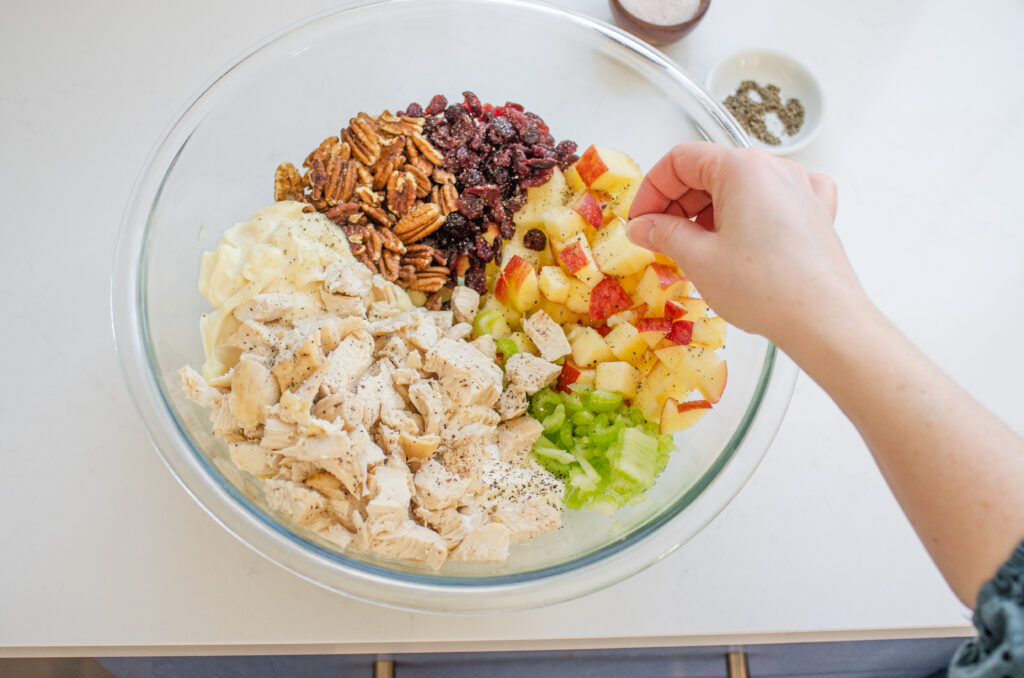 Seasoning:
Now I didn't take my own advice to season after everything is mixed together, but this time it turned out just fine.
BUT I still recommend that you wait until you taste to add any seasonings to the chicken salad.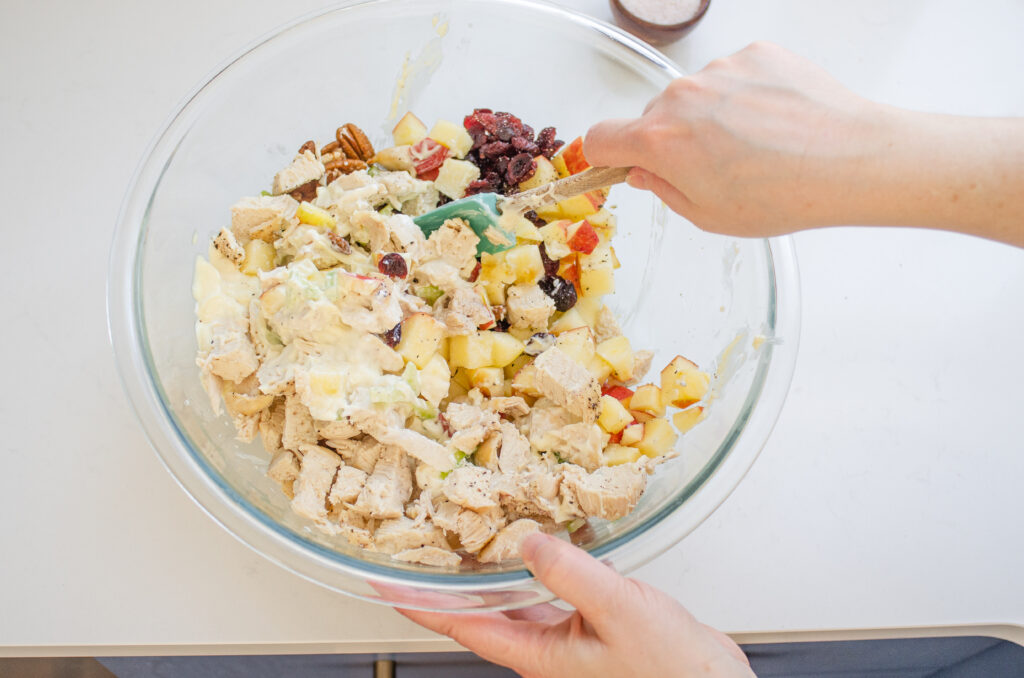 Okay, give everything a really good toss. This when you'll be glad you chose a large bowl.
Sometimes ingredients will hang out at the bottom of the bowl, so make sure to dig all the way down to the bottom when stirring!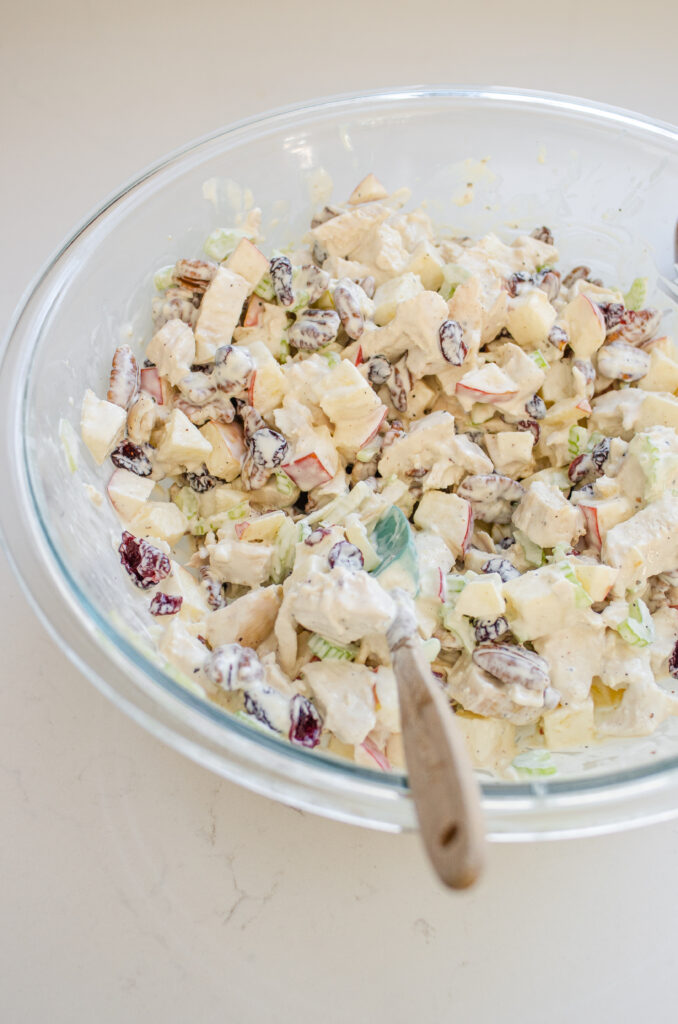 Keep going until everything is evenly mixed, and coated with the mayonnaise/sour cream.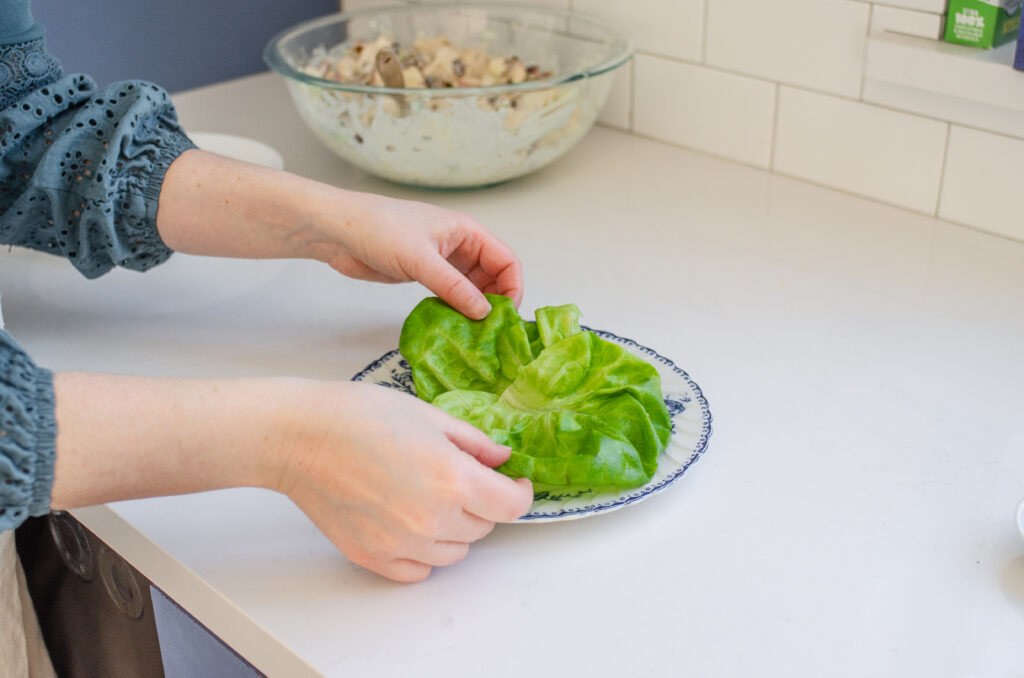 How to Serve Cranberry Pecan Chicken Salad:
Now it's time to serve!
You can simply scoop the chicken mixture into bowls and eat it with a fork.
Or you could serve it on top of a bed of lettuce. I like butter lettuce, but you could also use romaine lettuce, fresh spinach, or salad greens.
You could even make lettuce wraps – yum! Or tortilla wraps would be absolutely delicious.
Or place between slices of your favorite bread to make a chicken salad sandwich!
If you make this in advance, it can be a delicious, protein-packed, easy lunch!
I've personally served it as a quick dinner. My kids love it, and get excited when they see we're having it for supper!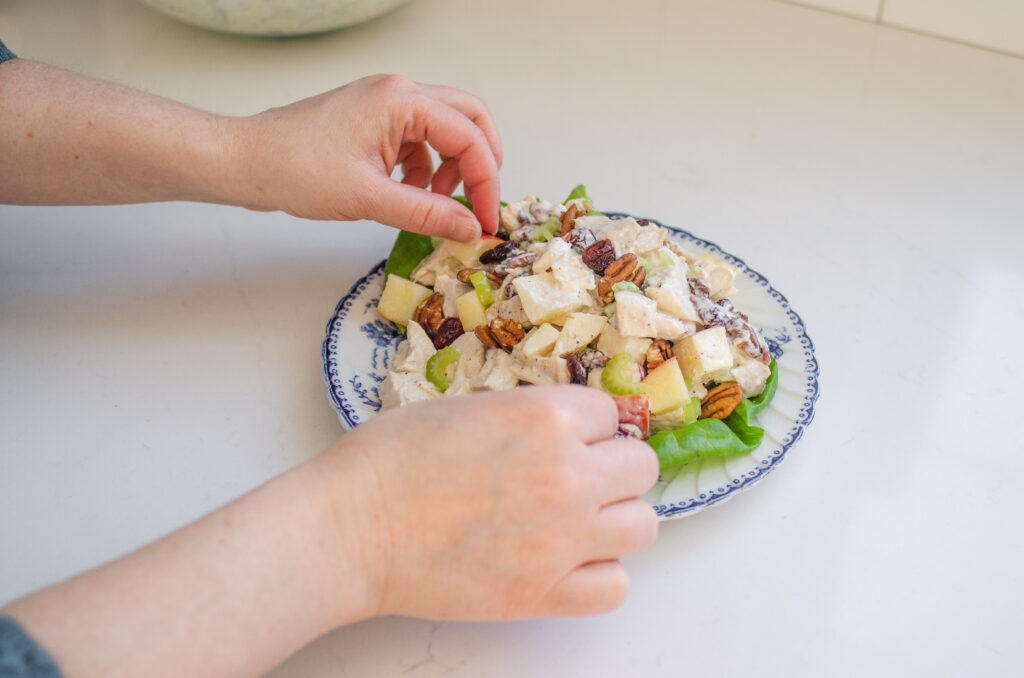 Now this is totally optional, but for the photos I saved out a few of the components, and then added them on top.
If you place pecans and cranberries on top that aren't coated in the mayonnaise, they stand out more.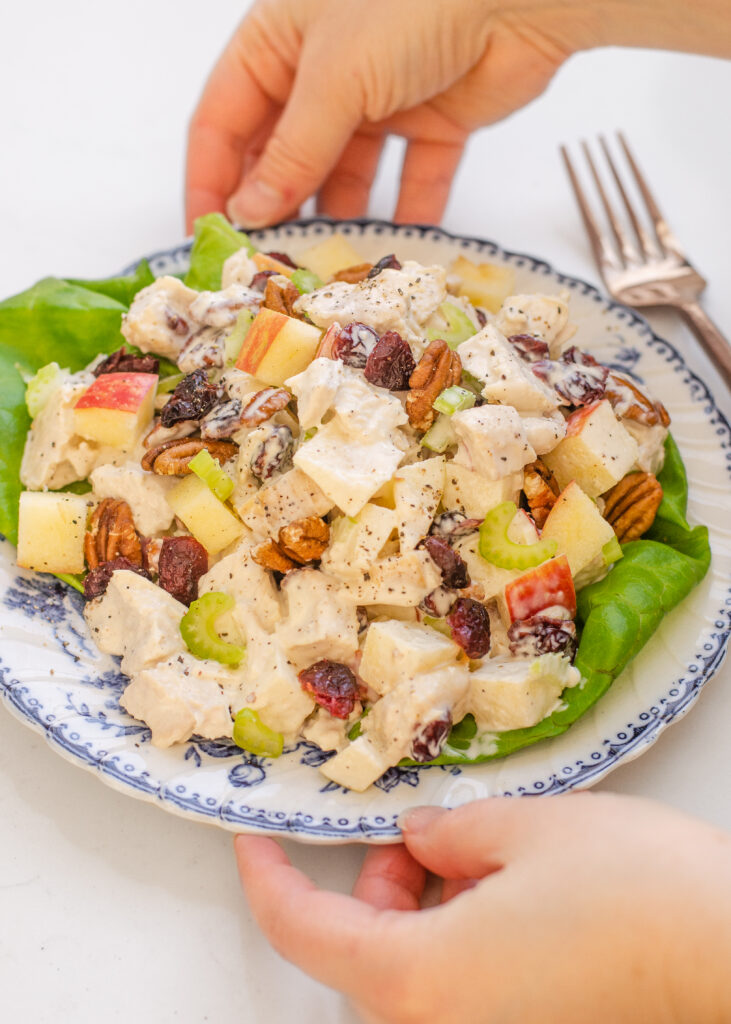 Storing:
Place any leftovers in an airtight container and store in the refrigerator.
It should be safe to eat for up to 3-4 days, but the pecans may get soggy.
If you know you'll be storing the salad in the refrigerator for more than a few hours, consider keeping the pecans out and adding them just before serving. That way you can still have crunchy pecans! This is also a good meal prep option.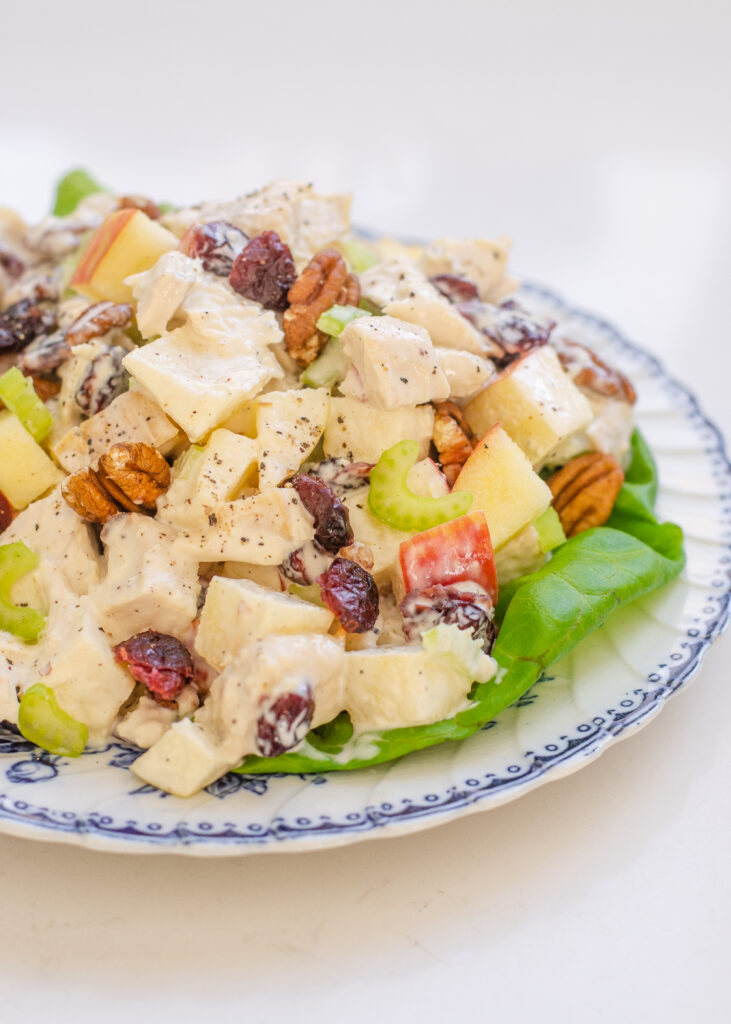 Variations:
This is such a great recipe because it's so versatile! You can totally customize it to your liking.
Feel free to add a bit of red onion or some green onions if you like a kick of spiciness in your salad. Raw onion tends to hurt my stomach, so I prefer to leave it out.
You could substitute your favorite nuts, such as walnuts, slivered almonds, or cashews. Pecans are my personal favorite nut, so I love to use those!
For a little extra crunch, you could sprinkle some poppy seeds on top.
Instead of chicken, you could use leftover turkey from your Thanksgiving or Christmas feast.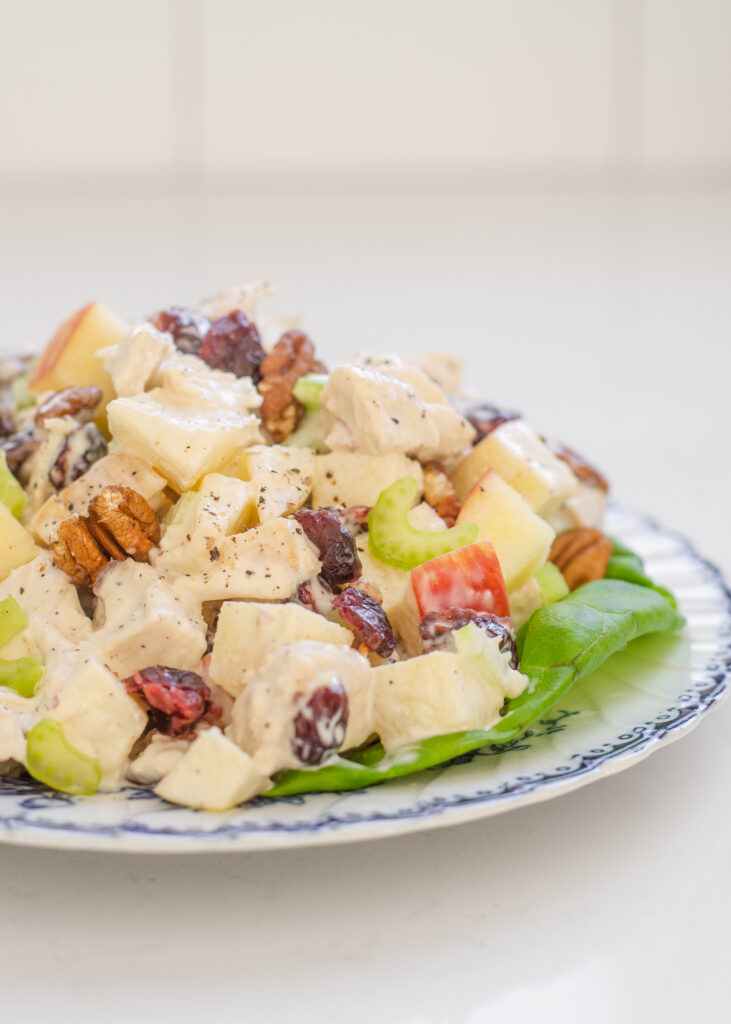 So that's my cranberry pecan chicken salad recipe! Make sure to check out my other simple recipes below for more inspiration!
Salad Recipes:
Chicken Recipes:
Recipe Card
Yield: 6 servings
Cranberry Pecan Chicken Salad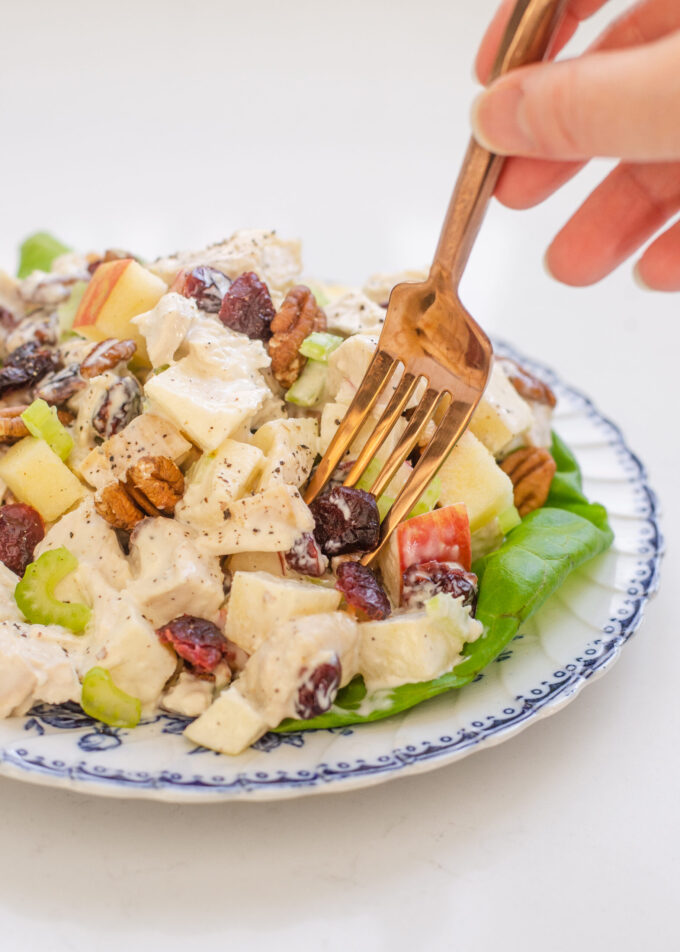 A delicious, hearty, yet fresh chicken salad with tart cranberries and crispy pecans!
Total Time
1 hour
5 minutes
Ingredients
2 large chicken breasts (about 1.25 pounds), or 2 to 2.5 cups chopped chicken
1 apple, chopped into bite-sized pieces
1 stalk of celery, thinly sliced
¼ lemon, juice of
¾ cup mayonnaise
¼ cup sour cream
⅔ to ¾ cup dried cranberries
¾ to 1 cup of pecan halves, toasted
salt and black pepper to taste
Instructions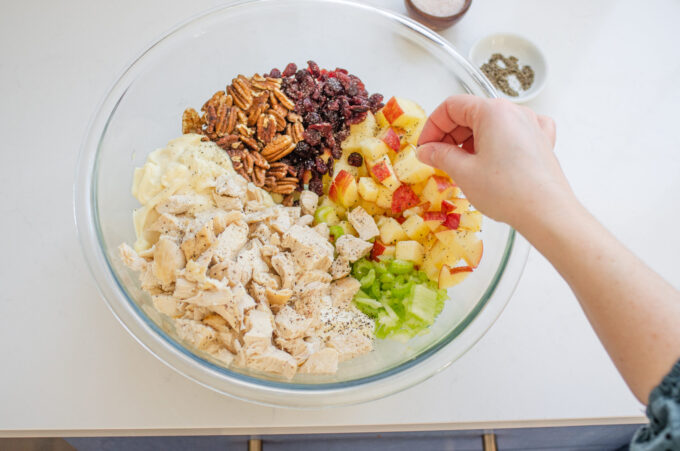 If using raw chicken, season with salt and pepper and bake it in a 425 degree oven for 25-30 minutes, or until it registers 165 degrees F in the thickest part. Cool completely and then chop into bite-sized pieces.
Place all ingredients in a large bowl. Toss until everything is evenly coated with the mayonnaise/sour cream.
Taste and season with salt and pepper if needed. Chill, covered, until ready to serve. Flavors will meld if allowed to chill for at least 1 hour before serving, but you can also serve immediately!
Store in an airtight container in the refrigerator for up to 3-4 days.
Notes
Make sure to read the post for ingredient recommendations and substitutions!
Refer to post for ideas for how to serve.
Consider leaving the pecans out if you're planning on storing in the refrigerator for more than a few hours. Then stir them in just before serving.
Serving size will provide a good sized portion. You can get more servings if this is a side dish.
Recommended Products
As an Amazon Associate and member of other affiliate programs, I earn from qualifying purchases.
Nutrition Information:
Yield:
6
Serving Size:
1
Amount Per Serving:
Calories:

683
Total Fat:

51g
Saturated Fat:

10g
Trans Fat:

0g
Unsaturated Fat:

38g
Cholesterol:

157mg
Sodium:

390mg
Carbohydrates:

15g
Fiber:

3g
Sugar:

11g
Protein:

42g