Chicken pot pie gets an update with a delicious biscuit crust!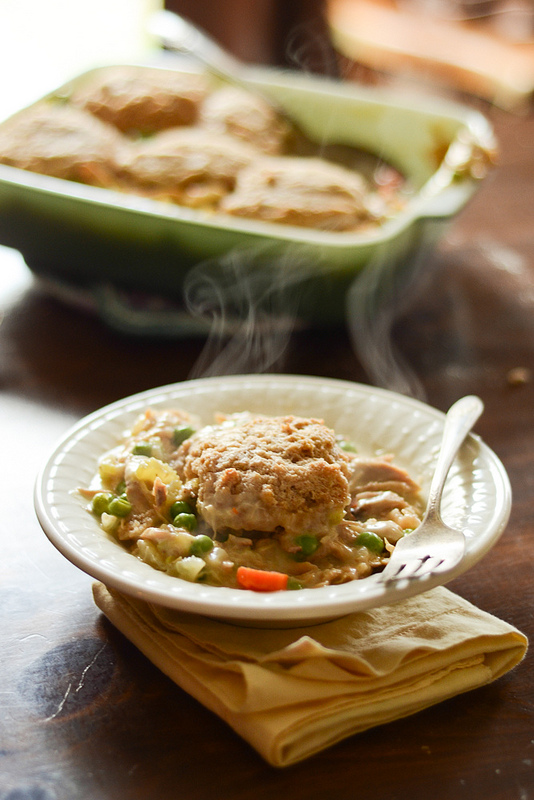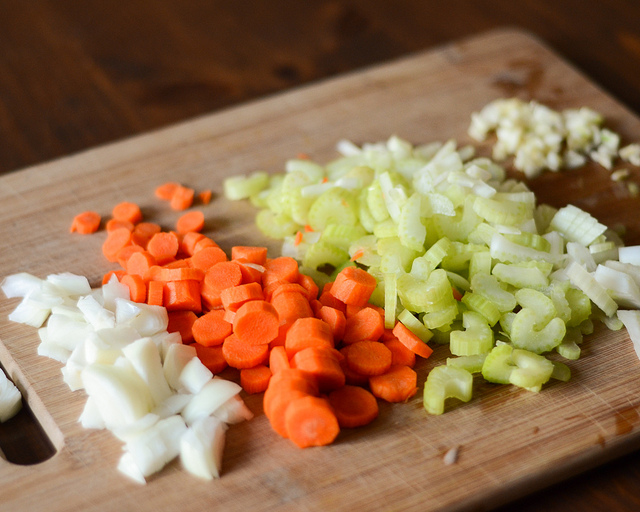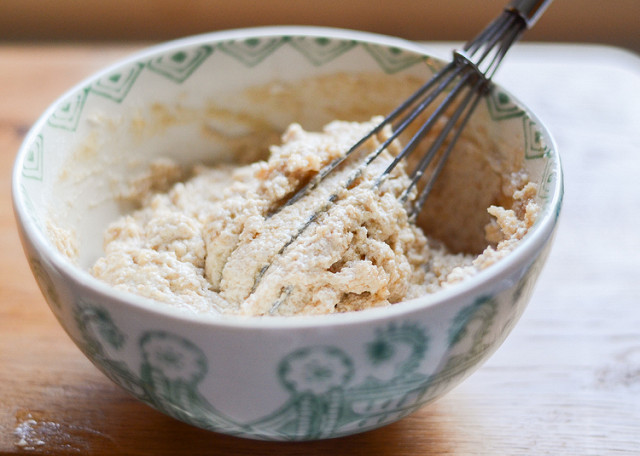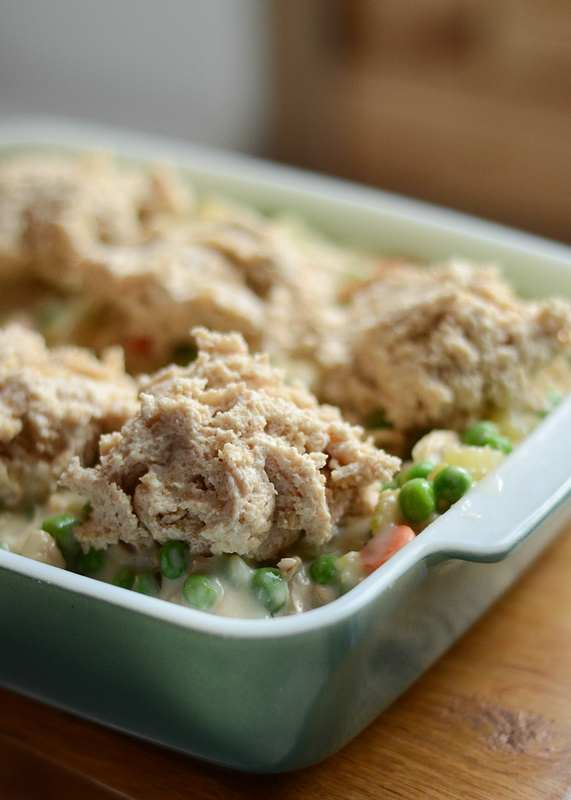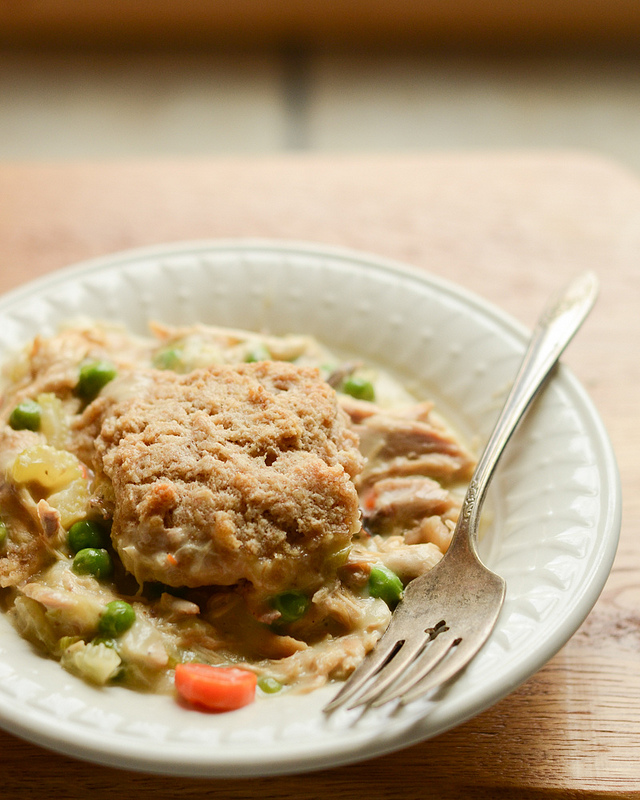 I have the hardest time coming up with Things to Make for Supper. It's not like it's actually hard to make tasty dinners; but I usually wait until Helen's second nap (around 2:30) to even begin to contemplate supper, and by that time it's pretty much too late to take any meat out of the freezer. Then Helen wakes up and I need to feed her, change her diaper and get her in a good mood so she doesn't scream at me while I'm chopping vegetables. And it's 4:30 and I'm wracking my brain for something to make.
Enough was enough. I decided to start A Planned Menu.
I consulted with Reuben and came up with a 2 week rotating menu. Somehow just knowing what I need to cook makes me get it done. I know to plan ahead and buy the food I need for the week and take meat out of the freezer the night before. So far I'm loving it.
This chicken pot pie is one of my favorite suppers on the rotation. It's delicious and so so easy. You needn't fuss over a pie crust: the carbs come in the form of an easy-peasy drop biscuit crust.
Confession: I dislike cutting butter into flour. It feels like so much work, slicing the butter into small pieces and working it into the flour with a pastry cutter. So I cheated with these biscuits: I melted the butter and added it to the flour along with the sour cream. I really couldn't tell the difference!
Do you ever cheat in the kitchen to make your life easier?
PS: Let me know if you guys would be interested in seeing my two-week-rotating-menu.
Also, here are some more easy, comforting meals: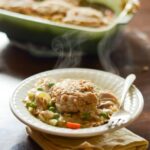 Easy Chicken Pot Pie with Sour Cream Biscuits
An easy yet comforting meal!
Ingredients
For the filling:
1

tablespoon

butter

1/4

of a medium onion

more if desired, chopped fine

2

carrots

peeled and sliced thin

2

stalks of celery

sliced thin

2

cloves

garlic

minced or chopped fine

salt and pepper to taste

1/2

teaspoon

dried thyme

1/4

cup

all-purpose flour

2 1/2

cups

liquid

I used 1/2 cup cream and 2 cups chicken broth, but you can use a combination of milk and any broth you wish

4

cups

cooked chicken

2

cups

frozen peas
For the biscuits:
1/2

cup

sprouted spelt flour

1/4

cup

all-purpose flour

3/4

teaspoon

baking powder

1/4

teaspoon

baking soda

1/4

teaspoon

salt

5

tablespoons

butter

melted

1/2

cup

sour cream
Instructions
For the filling:
1) In a medium saucepan, melt the butter. Once it's nice and hot, add the onion and cook until softened and transparent. Add the carrots and celery and cover; cook until tender. Add the garlic, salt and pepper to taste and thyme and cook for 2 minutes. Whisk in the flour and cook for an additional 2 minutes.

2) Slowly add the broth and milk or cream, whisking constantly. Bring to a boil. Add the chicken and peas. Taste and adjust seasoning if necessary. Pour into a baking dish (mine was 7" x 9" but you could use a square pan as well).
For the biscuits:
1) Meanwhile, as the filling is coming to a boil, preheat your oven to 375 degrees F (190 C).

2) In a medium bowl, whisk together the flour, baking powder, baking soda and salt. Add the melted butter and sour cream and mix just until combined.

3) Scoop the biscuits over the prepared filling in 6 large lumps. Bake in preheated oven for 20-25 minutes, or until the filling is bubbly and the biscuits are golden. Remove from oven and allow to cool slightly before serving.