Thank you so much to the Vidalia Onion Committee for sponsoring this post! All opinions are completely my own, of course!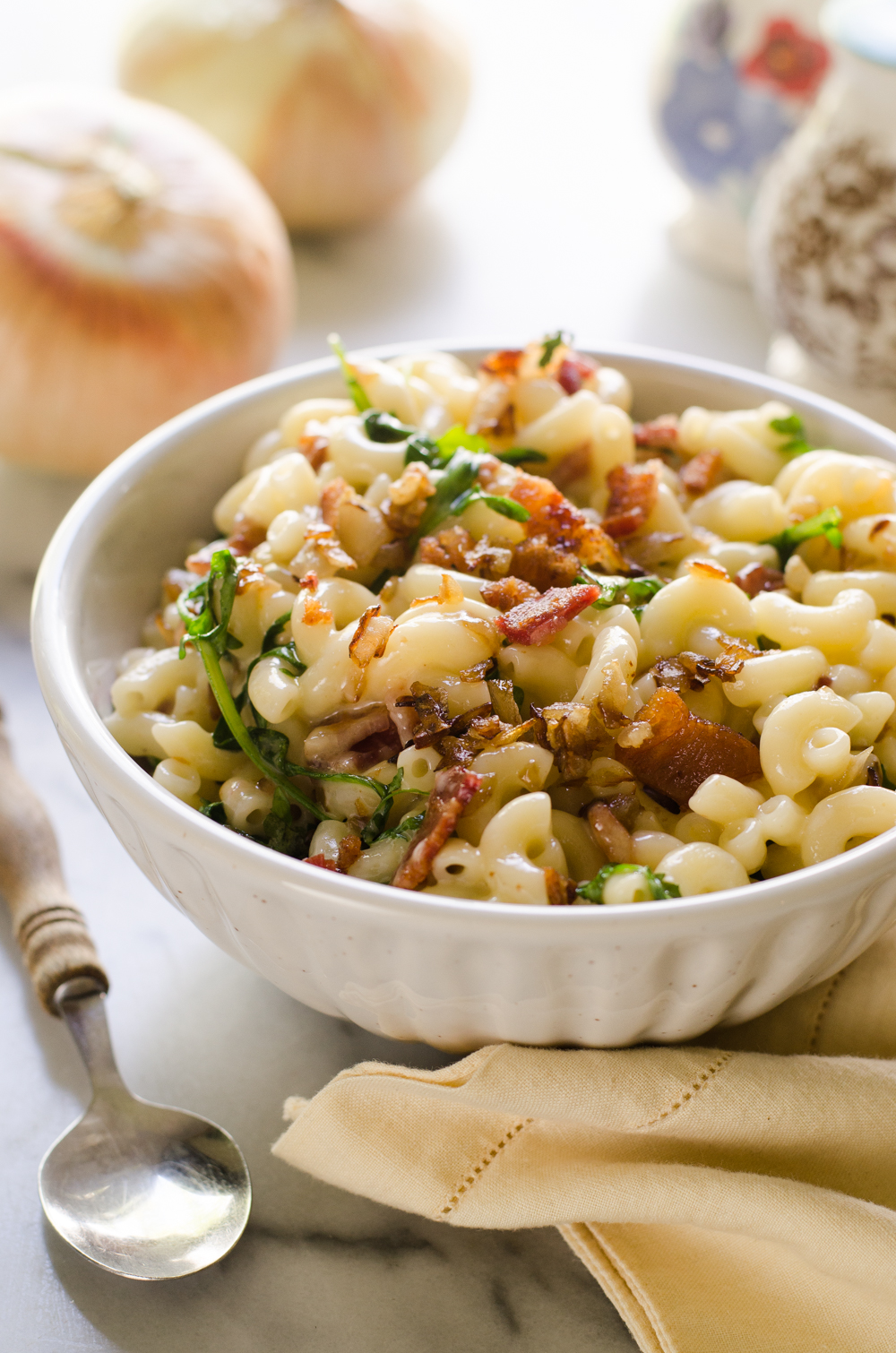 Are you ready for a recipe that will knock your socks off? 'Cause this caramelized onion, bacon, and arugula mac & cheese will do just that. It basically takes all of my favorite foods and packs them into one amazing bowl.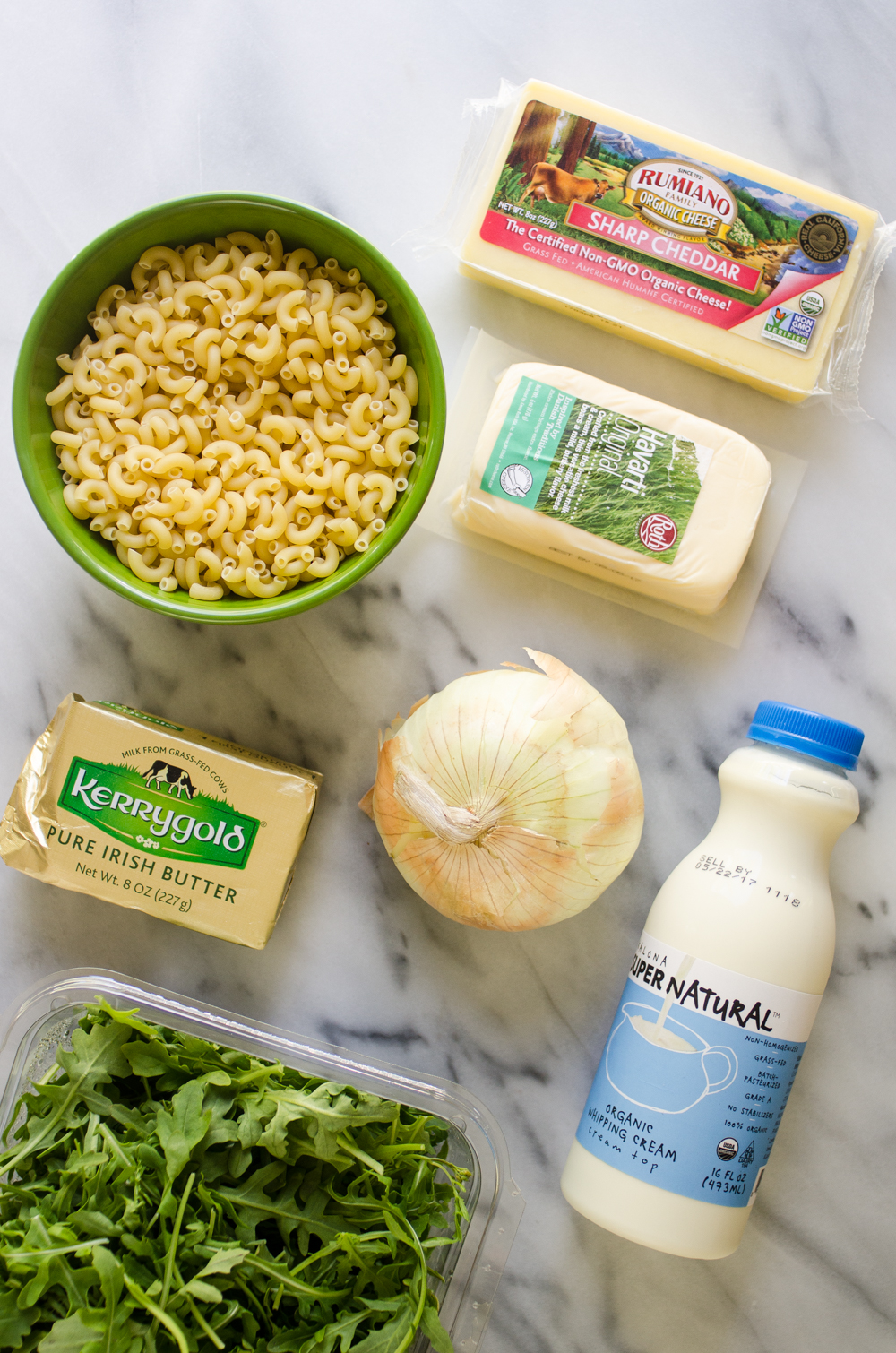 Butter, cream, cheese, bacon, pasta, Vidalia onions, arugula…I mean, how could you possible go wrong with these ingredients?!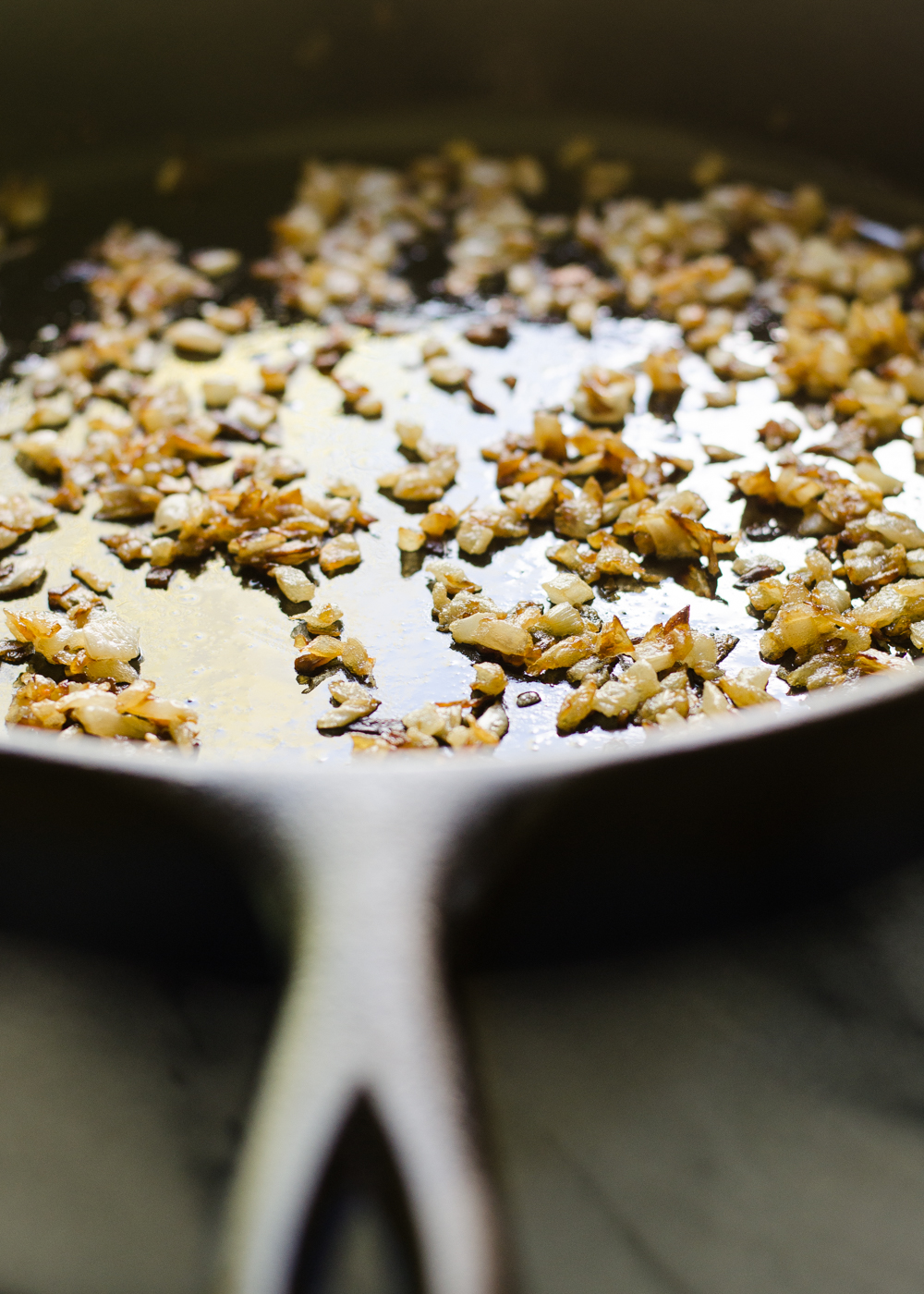 I loooove the sweetness that the caramelized Vidalia onions lend to the dish. This mac and cheese is very rich and fatty, which I'm a big fan of: don't get me wrong! But it's nice to cut through that a bit with the sweetness of the onions.
If you're uncertain about how to caramelize onions, check out the video I made for y'all:
This is basically my cheater method of making caramelized onions. You cook them on medium heat until they start to brown, then you turn the heat down to low and continue to cook, stirring frequently, until they're super soft and deep golden brown. Mmhmm.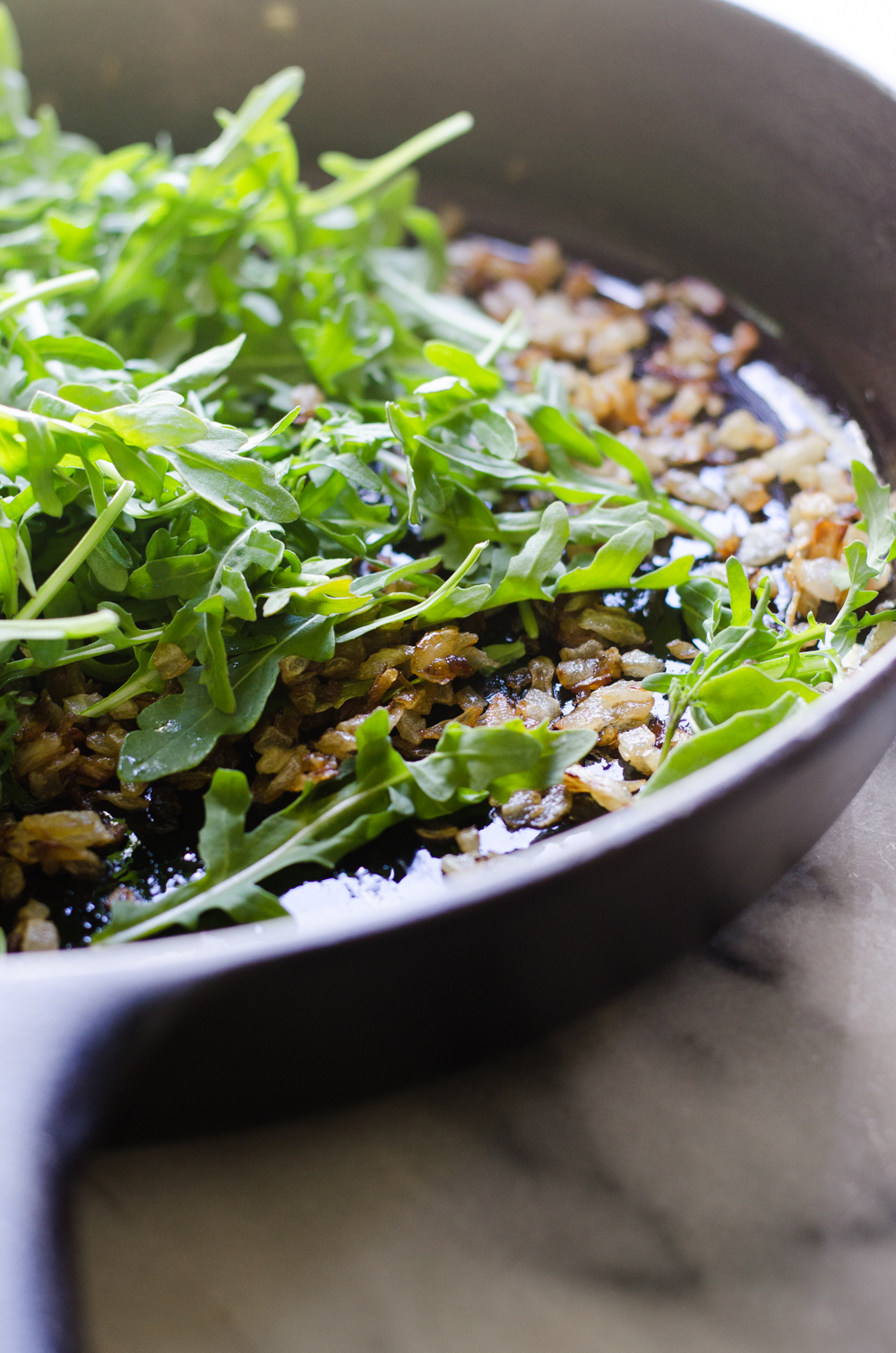 The arugula is not there just to make you feel better about eating mac and cheese for dinner (though it does just that). It also lends a peppery flavor note which complements everything else nicely. You can substitute any seasonal green if you prefer. I also have used baby kale which was quite good.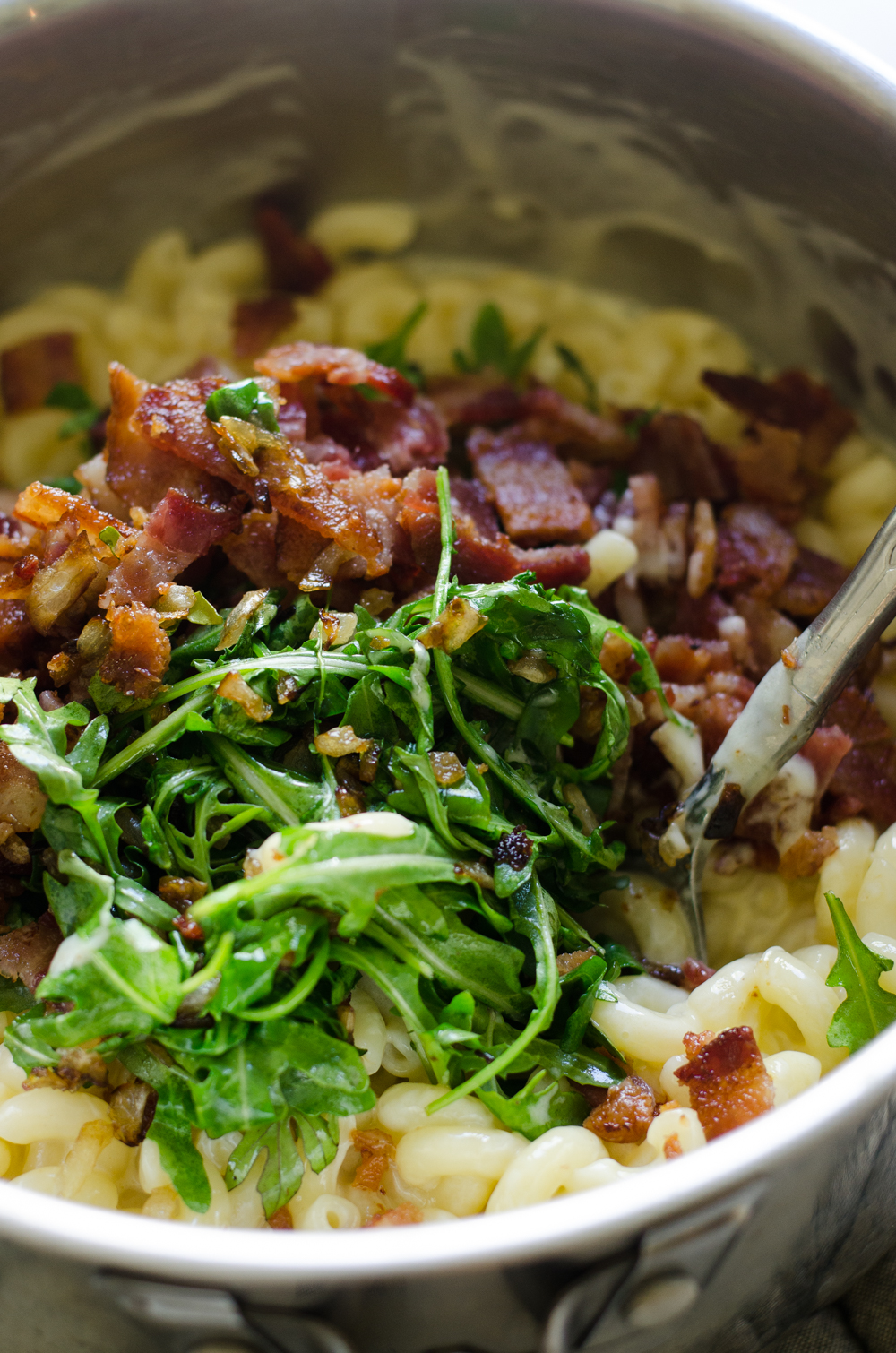 It's kinda magical how this all comes together: You cook the pasta and create the sauce all in one pot! Once the pasta is cooked to your liking (I prefer mine a bit past al dente), you add the butter, cream, and cheese, cover, and let it be. The cheese melts and melds into the cream, making a fantastic sauce with very little effort. Then you just have to stir in the onions, arugula, and bacon. Boom. Done.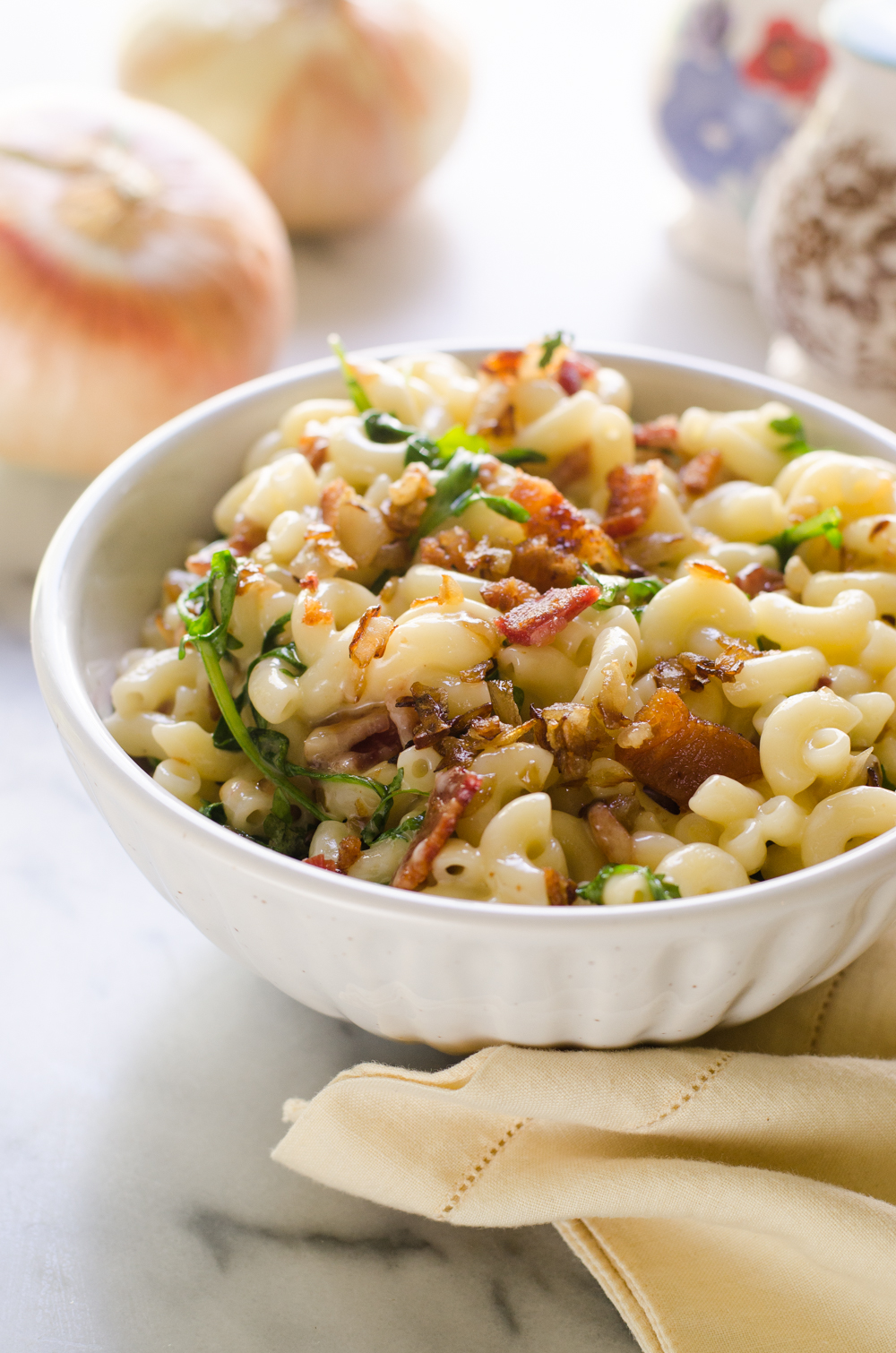 This is a great recipe to encourage your family to eat more veggies. It takes a universally loved dish and jams in some nourishing ingredients. To make it the most nutritious, make sure to use grass-fed cream, butter, and cheese if possible. And choose the most natural bacon you can find.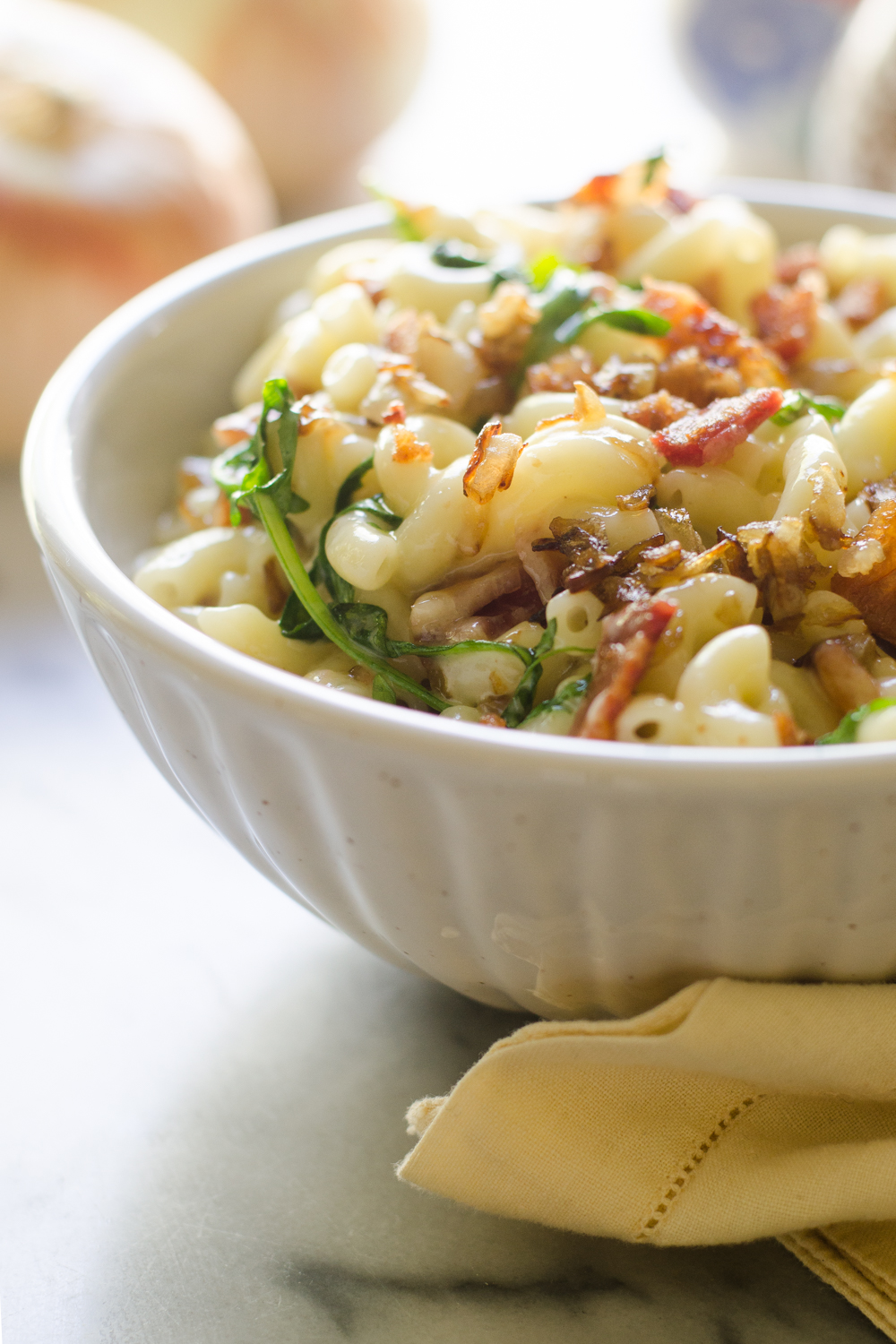 I made this recipe with 1 Vidalia onion, and with 2 onions. I preferred the version with 2 Vidalia onions, whereas Reuben liked it better with just 1 (he's not the world's biggest onion fan). If you want a bold, sweet onion flavor, go ahead and use 2. If you want it more subtle, just use 1.
Reuben also requested twice the bacon…I think that would be overkill TBH.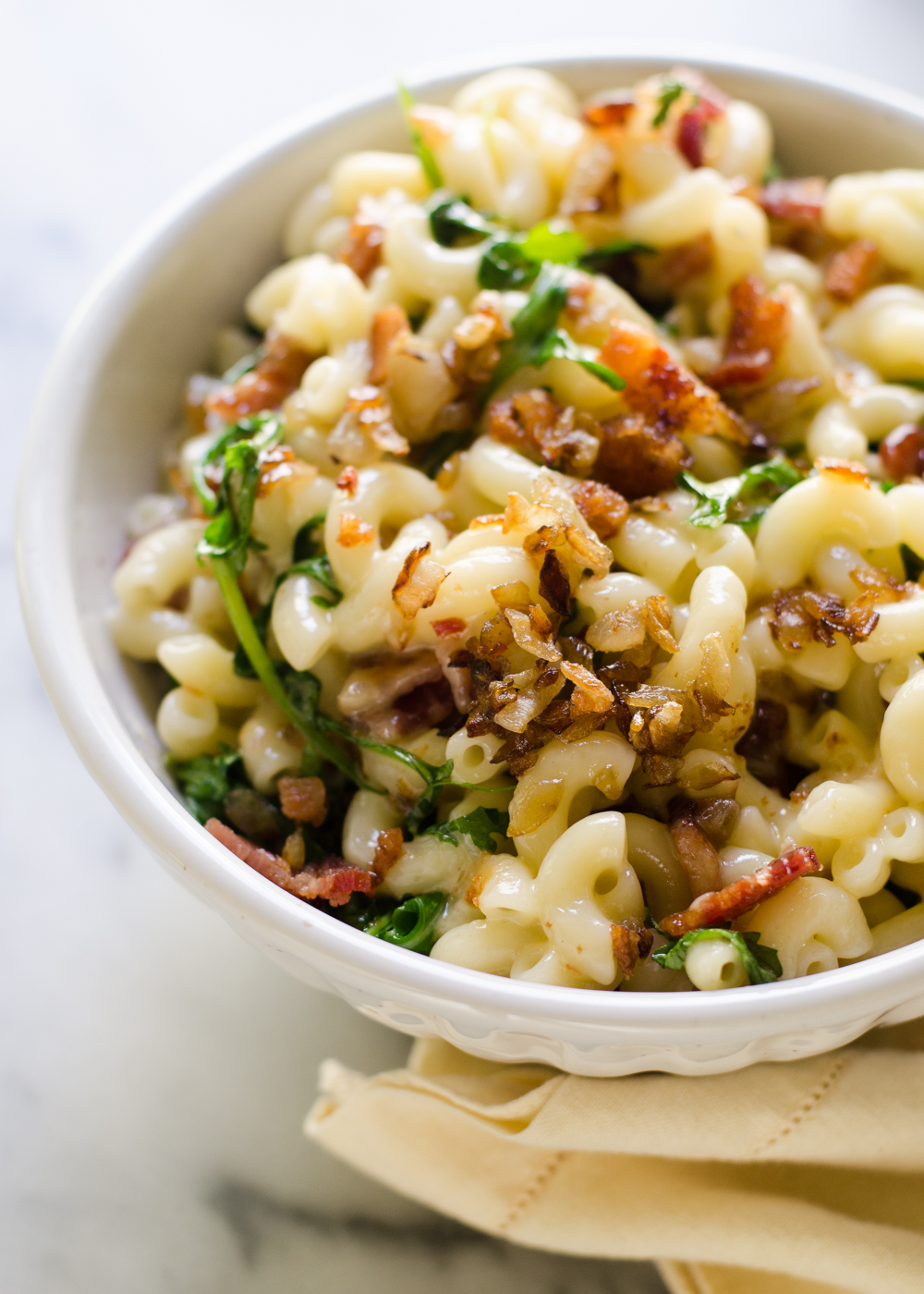 Make this mac and cheese and bring it to your next family gathering, BBQ, or potluck. You could keep it warm in a small crockpot – just make sure to add a little extra cream so it doesn't dry out.

NOTES:
I used a combination of sharp cheddar and Havarti for the cheese part of this mac & cheese. You can use all cheddar if you prefer, or part Parmesan, park cheddar, part Havarti. A tiny bit of blue cheese might be amazing as well. Have fun and play around with the flavors!
Don't feel like you HAVE to use elbow macaroni for the pasta. I have also used penne, or you could use shells, spirals, etc. etc.
I have the serving amount listed as 4. This is if you want to have the pasta as an entire meal. If you're taking it to a gathering as a side dish, obviously it will serve many more.
P.S. – If you're a fan of sweet onion recipes, make sure to check out the Vidalia Onion Instagram, Facebook, and Pinterest pages for inspiration! They share some yummy-looking recipes. I also wrote a post all about 'em with some fun facts – you can read it HERE.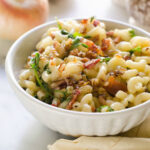 Caramelized Onion, Bacon, and Arugula Mac & Cheese
A gourmet mac and cheese recipe full of flavor.
Ingredients
5

tablespoon

grass-fed butter

divided,

1-2

Vidalia onions

finely chopped,

2

cups

baby arugula

8

ounces

pasta

shells, elbows, penne, etc.,

3

ounces

sharp cheddar cheese

shredded

3

ounces

Havarti cheese

shredded

2/3

cup

heavy cream

8

ounces

thick-cut bacon

cooked and crumbled

salt and pepper

to taste
Instructions
In a large cast iron skillet set over medium heat, melt 1 tablespoon of the butter. Add the onions. Cook, stirring often, until the onions start to turn a bit brown. Turn the heat down to low and continue to cook, stirring often, until the onions are very soft and deep golden brown. Add the arugula and cook for about 2 minutes, or until it starts to wilt. Remove from heat.

Meanwhile, place a pot of water on the stove to boil for the pasta. Make sure to salt it very generously. Add the pasta and cook according the package instructions. Drain and immediately return the pasta to the pan.

Add the remaining 4 tablespoons of butter to the pasta, cover, and let it melt for a couple of minutes. Add the cheeses and cream, give it a good stir, and put the lid back on. Let it sit for a few minutes. When you come back and give it another stir, everything will melt together and create a nice cheesy sauce.

Stir in the bacon, onions, and arugula. Taste and season with salt and pepper if needed. Serve immediately.

Store any leftovers in the refrigerator. To re-heat, add a bit of extra cream to the pan and cook, covered, over medium-low heat until heated through, stirring occasionally.